CHURCH NEWS - June 2005
New minister -We are still looking for a minister on a house for duty basis. See www.kbnet.co.uk/odell/vacancy.htm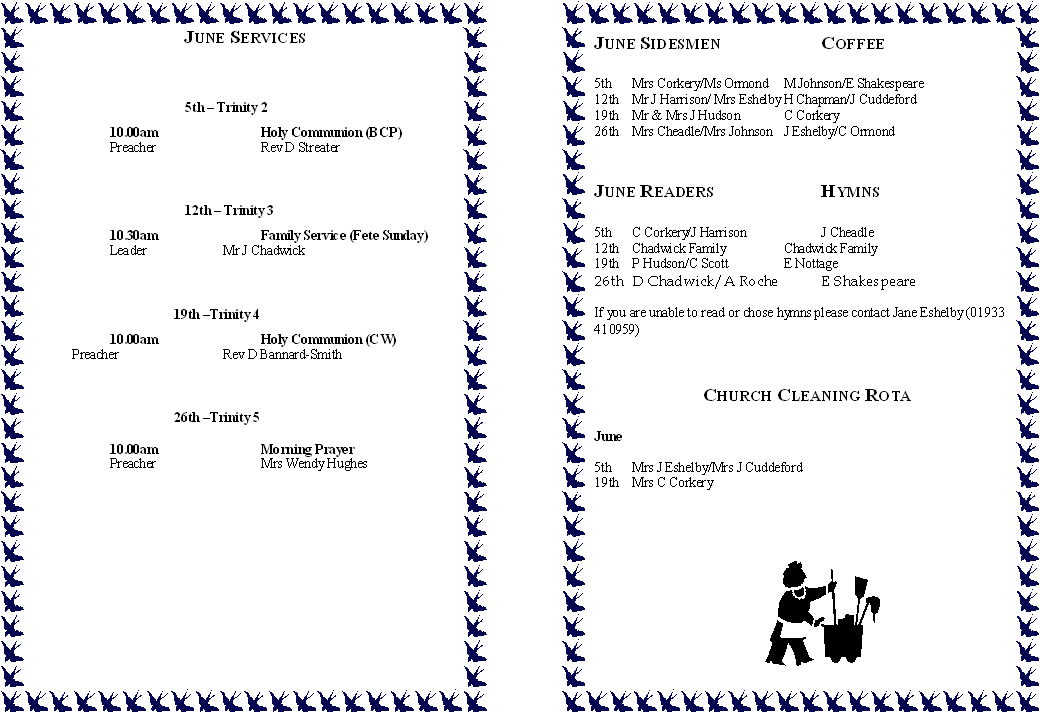 June 2005

Summer is on the way. Frosts must surely be a thing of the past, the growing season is with us and we put all our energies into seeing that the garden is healthy and productive, a fit place for the flourishing of nature. The Christian calendar has celebrated Easter, Ascension tide and Pentecost. From now on, Sundays are labelled by the week after Trinity (or Pentecost if you will). The Church is getting on with the serious and vital business of propagating the Gospel.

We might well envy the way the early church spread the Gospel to all who would listen. The Acts of the Apostles (perhaps better called "The Acts of the Holy Spirit") describes a vibrant message carried by inspired men and women to every corner of the known world.

Today, the church of Christ faces problems and difficulties that seem insuperable. We live in a "post-Christian" culture that has chosen to reject the truth, in favour of "every man for himself"! We have a vital message to proclaim, will anyone listen? I believe that prayer is the key. We serve a God for whom nothing is impossible. Do we lack direction? Pray for the guidance of the Holy Spirit. Do we lack opportunity to serve Christ? Pray that the Holy Spirit will show us where our gifts are best exercised for Him. Do we lack the resources that working for God will require? Pray to God that His Holy Spirit will find the means to supply the needs of the Gospel.

The Christian life is not a matter of going it alone, buoyed up by the support of our friends and seeking the way forward in our own understanding and ability. It is a matter of commitment to the directing of God's Holy Spirit. The Holy Spirit will lead, the Holy Spirit will inspire, the Holy Spirit will give us all that is necessary in the service of the Gospel.

May "Sundays after Pentecost" be a time of renewed commitment and refreshing Grace for us all.
John F. Wood, Reader, Clapham

Odell Village Fete 11th June 2005

This year's village fete is on

Saturday 11th June, at 2pm. It will be held in the field in Horsefair Lane as in previous years.

The Fete will be opened by Peter Colman, representing one of the oldest families in Odell. There will be all the usual attractions.
The Prayer Chain

The Prayer Chain is there if you need prayer for yourself, for others or for members of your family. Please don't ask for prayer outside your own family without people's

permission. To have a number of people pray just

telephone Dennis (822992).

e-Round News from the Diocese of St. Albans

St. Etheldreda's Eucharist celebrating work with the sick and with children in Bedford

.

Sister Fanny Eagles began the work in Bedford, which would later be known as St. Etheldreda's in 1869. During the small pox epidemic of 1872, she and the curate at St. Paul's, Bedford, attended the sick and

dying; it was common knowledge that Sister Fanny went where no one else would go, and would herself lift the dead into coffins ready for

burials. As time went on, the work with children began to take

precedence and continued under Sister Ada at Bromham Road, Bedford, and was taken on by the community of St. Andrew in 1936. In the sixties boys joined the girls, and what was now a long term home, with

accommodation for young would-be leavers and workers, flourished. In the last two years of Bromham Rd. a day nursery was running with over sixty on the books. To celebrate the work of St Ethelreda's there will be a Eucharist at St Paul's, Bedford, on 31st May at 6pm. The preacher will be the Bishop of St Albans.

For more details contact Sister Hazel 01908 397267.

Bedford Ecumenical Lay Training Centre.

Exciting plans are developing to set up an ecumenical lay training centre for individuals and churches in Bedfordshire. The Centre will probably have a base at St. Andrew's Church in Bedford and be part

of a network of lay training. It is hoped to be in action by September 2006 and is a

response to a plea for good quality training which can be delivered

accessibly and locally so that Christians can be equipped to be the body of Christ in the world. More details from Revd Dr Ian McIntosh, Chair of the Steering Group, The Vicarage, Thurleigh Rd, Milton Ernest,

Bedford MK44 1RF, 01234 822885 benefice@tiscali.co.uk

Elstow Abbey, Music and Choral Concert by the Bozet Windmill

Singers, 7.30pm-9.30pm, June 9th. Tickets from 01234 267948;

refreshments available.

St Peter de Merton with St Cuthbert, Bedford, welcome the Samkor Reykjavikur – the Choir of Reykjavik – who will be giving a concert in the church on June 10th, 7.45pm. Programme includes madrigals,

Gospel music, Icelandic folk music, and an opportunity to meet the singers afterwards. Tickets £5 available from the church and from

Classic Music, Lime Street, Bedford. Details: 01234 211499.

St Mary's, Cardington, Brass Band Concert in aid of the chancel roof appeal, 7.45pm, July 10th. Tickets/details from 01234 266920/261477.

House available. Thurleigh, North Bedfordshire for a year from early June 2005 whilst owners are abroad. Owners happy for it to be rent-free for a clergyperson who may want space to write or a base to do other work from. Details from: Revd. Nicola and Revd. Dr Ian McIntosh, The Vicarage Thurleigh Road, Milton Ernest, Bedford, MK44 1RF, 01234 822885 benefice@tiscali.co.uk Issued by:Anna McCrum Communications Officer Diocese of St. Albans,www.stalbans.anglican.org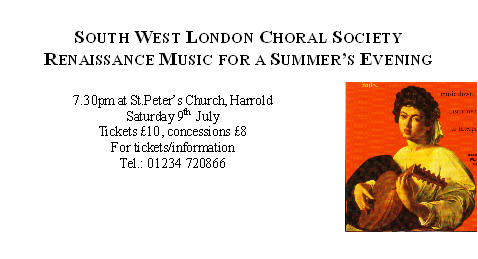 Meeting Point
June

Wednesday 1st 10.30am at Jill's, Rectory Farm, Odell.

Wednesday 15th 10.30am at Eileen's, Corner House, Wymington Park, Rushden.

Wednesday 22nd 10.30am at Catherine's, Manor

Cottage, High St., Harrold.

July

Wednesday 13th 10.30am at Jane's, Newton House, Avenue Rd., Newton Bromswold, Rushden.

Our Giving in June is to CPAS

(Church Pastoral Aid Society).

The work of C.P.A.S. is to give aid to both churches and individuals in such wide-ranging areas as evangelising, training for clergy and laity, youth work, holiday activities for young people, provision of resources (books, courses etc.), working with older people and specialised ministry to both men and women. However, their primary goal is supporting the mission of the local church in taking the gospel to the poor.

Please give generously to this worthwhile charity.

Looking To Jesus

Maintaining a good attitude.

'Seven times a day I praise you...' Psalm 119:164 NIV

Each morning you have to tell yourself, 'Today I will make whatever

adjustment is necessary to keep my attitude right.' Here are some guidelines:

1)...realise that your attitude needs daily adjustment. Anything you do not maintain deteriorates. The stronger your natural inclination to be negative or doubtful, the more you will have to work at it. So begin each day with an attitude check. And watch for red flags throughout the day, signalling that you are not doing well.

2) ...ask God to help you. Someone sent us this humorous prayer: 'Dear Lord, so far today I have not gossiped, lost my temper, been greedy, grumpy, or nasty, selfish or self-indulgent. But in a few minutes I am

going to have to get out of bed, then I will need all the help I can get'. The truth is, you will need God's help to maintain a good attitude, so seek it!

3)...always look for what is good. Mother Teresa had only two requirements for those working with her in Calcutta: a desire to work and a

joyful attitude. Think: if somebody could be joyful amongst the dying and the poorest of the poor, surely you can too!

4)...seek out faith-filled people. They are everywhere. You will find them soaring above the doubters like eagles. If you are having a hard day, get close and into the slip stream behind them the way racers do. And if they are having difficulty, you should be the one to get out front and make things easier. To maintain a good attitude the Psalmist said, ' Seven times a day I praise you' - try it!

Printed with kind permission of United Christian Broadcasters, and taken from' Word for Today'. (Stoke on Trent ST4 8BR)

Tel. UCB Headquarters

: 0845 60 40 401, Prayer line: 0845 45 67 729

Amongst Ourselves

We are sorry to hear of the death of Frank Mackman (Mack) of Horsefair Lane who died recently aged 68yrs. He was admitted to hospital in November with very ill health, and prior to that he was a driver on the Villager. We send our thoughts and prayers to his family.

Father God, we come to you with thanks and adoration for our beautiful village and for Horsefair Lane where we are able to hold the yearly fete. We give you thanks for all the people who will be involved to help raise money for our beautiful church. We know that Odell is a special place to so many people, and we welcome back The London Boys Brigade to whom Odell and the 'BB field' means so much. Some are travelling from as far away as Hereford and Norfolk. Lord we look forward to a day of blessings and lots of lovely 'Heavenly Sunshine'.

Please continue to bless all the sick and suffering, the lonely and the bereaved. We do continue to pray for peace not just abroad but in our homes, towns and villages too.

Thank you for your wonderful love and care for us all and the blessings that we receive daily, and for keeping us safe. Thank you for our limbs, sight and hearing so that we are able to enjoy your wonderful world, and for the beautiful birds that come into our gardens. All this reminds us "How great thou art". Thank you Lord for the greatest gift we could have, that of salvation through Jesus Your Son. Amen.

Thank you to all those people who continue to pray for me as I go through more traumatic times at Cambridge. "Lord I pray for your blessings upon them as we look to you for the answers and hopefully a Miracle".
Anne Turner
Odell Church Flower Rota
June
5th J Eshelby
12th Fete weekend
19th R Halton
26th G Harrison
Diary
June
1st 10.30am Meeting Point at Jill's, Rectory Farm, Odell.
8th 10am Bird Walk, Country Park.
11th 2.00pm Village Fete.
12th 10.30am Service of Worship, Scout Field, Horsefair Lane.
12th 12.30pm Bar-b-q for fete helpers and residents of
Horsefair Lane and Mill Lane.
12th 1.30pm Carlton Open Gardens.
15th 10.30am Meeting Point at Eileen's, Corner House,
Wymington Park, Rushden.

22nd 10.30am Meeting Point at Catherine's, Manor Cottage, High St., Harrold.

26th 2-4pm Just Puppets at Odell Village Hall – workshop and show.

29th 2pm Heritage Walk, Country Park.
Magazine Deadline
Please send all entries for the joint July/August 2005 magazine to Tricia Hudson (patriciahudson@kbnet.co.uk), Anne Turner or Catherine Corkery by June 12th 2005 at the latest. May we remind you that the editorial team exercises the right to edit, shorten or alter any items that are submitted. Also, the opinions expressed in the articles are those of the contributors and are not the responsibility of the editorial team.
http://www.jonhudson.net/

FAX number
01234-721004

Back to the Odell Home Page
---
Last revised: June 04, 2005.