ODELL VILLAGE NEWS
June 2005
Odell Village Fete 11th June 2005
This year's village fete is on
Saturday 11th June, at 2pm. It will be held in the field in Horsefair Lane as in
previous years. The Fete will be opened by Peter Colman, representing one of the oldest families in Odell. There will be all the usual attractions:
Boys brigade
Trad Jazz Band Family Dog Show Cash Raffle
Tombola Children's Sports
Lucky Programme Draw Children's Stalls Ice Creams
Refreshments Many Sideshows
Gifts White Elephant Bottle Stall
Books Cakes Plants Produce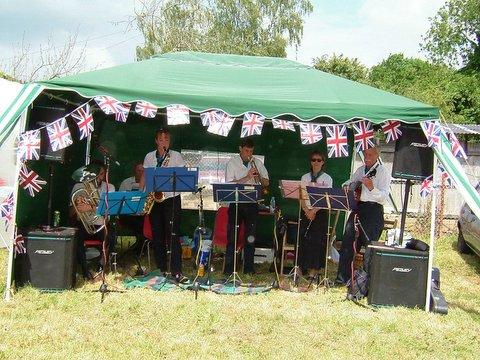 Once again, the Wodehill One-Steppers Jazz Band will entertain fete-goers in the fete grounds. The Band play regularly in local events and have been spotted in the garden of The Bell in Odell in summer months!
Fete weekend Barbeque 12th June
Following the church service in the Scout Field on Sunday morning all residents of Horsefair Lane and Mill Lane and fete helpers are invited to a BBQ at 12.30pm. Meat and salads will be provided but please bring your own crockery, cutlery and drink.
Please let either Mandy Sharpe (720414) or Jill Cheadle (720261) know if you are able to come.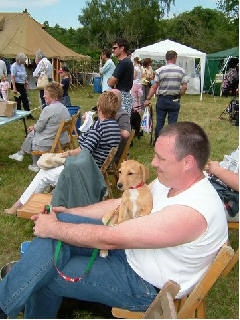 Family Dog Show
(entry fee – £1 per dog per class)
Classes:
1. Children's Handling (14 years and under).
2. Puppies under 1 year.
3. Country Sporting Dog or Bitch.
4. Best Rescue or Re-homed Dog or Bitch.
5. Best Condition Dog or Bitch.
6. Dog or Bitch with the Most Appealing Eyes.
7. Best Cross-bred Dog or Bitch.
8. Dog or Bitch the Judge would most like to take home.
9. Best in Show.
Sponsors needed! If you are interested in sponsoring a class for £5 please contact Jill Cheadle 01234 720261.
Haunted Castle in Flames

The following is taken from a tattered newspaper cutting that I have come across which I thought may interest our readers especially Temprance Alston who lives in Australia and receives our magazine. Anne Turner

A Report dated February 25th 1931

Devil and Ghost

"Odell Castle, an ancient and historic seat in Bedfordshire, was destroyed by fire. The roof fell in and a great deal of valuable furniture was lost, including oil paintings by famous masters, but one - which is described as "Diana of the Chase" by Gainsborough - was saved.

As Lord of the Manor, Mr Ronald Crewe Alston who owns the castle, but who lives in a wooden bungalow a mile away, directed salvage operations.

In spite of his 80 years he actively assisted in rescuing the furniture from the drawing rooms, and urged the firemen on to save specially valuable pieces.

Odell Castle, more than 600 years old, dates from Norman times. It is steeped in legend and tradition, and is reputed to be ghost-walked, and has for long had a haunted chamber.

Apparently the legend is that Sir Roland Alston, a former owner of the castle, sold his soul to the devil, and when the devil came to claim him Sir Roland took sanctuary in the church. The devil seized the stone fabric to shake it down in revenge.

The five finger marks of the devil upon the stonework of the church can be seen today.

Strange noises are said to be heard in the night in the castle. Servants who at one time occupied what was reputed to be the haunted chamber refused to stay in the castle".

NB:I do recall Betty Wilcox, a carer for The Lukes whilst they were at the Castle, saying that she experienced the sight of a person standing in the doorway.

Sadly within the last few years someone covered the finger marks over with cement which I felt was sad, and as an 'Odellian' it was 'part and parcel' of my life at All Saints', as I'm sure it was to all us local children. We know though that God is so much greater than the evil one - and it appears from the marks that satan did not make it through the door!

(as if he would!!)

Birthday Greetings To

:

Alexander Tringham who will be 3 years old on 16th June,

Eleanor Robinson on the 17th June

Elliott Swift on the 19th June (8 yrs)

and to anyone else with a birthday in June!

Round and About

That's Convenient!

How many times, I wonder, have you found yourself contemplating the various forms of breaking and entering open to you. I am not, of course, talking about housebreaking but forcing an entry into what is laughingly, and quite erroneously, called "convenience packaging".

This "convenient" form of wrapping our every day requirements comes in a number of forms, from the hermetically sealed packet of biscuits to the bubble pack containing anything from a pair of scissors to a couple of screws. Whatever the contents, however, one thing is certain - we are bound to be driven crazy as we try to prise open the packet with our finger nails, only to fail completely and then be sent into a frenzied search round the kitchen for anything sharp enough to enable us to gain access to the contents.

Mother Nature's most perfectly formed, hermetically sealed, object must surely be the egg, but it is relatively easy to gain access to this item of food when compared to what food manufacturers put us through trying to get into that packet of biscuits or frozen peas.

According to a recent survey 71% of people questioned had injured themselves trying to get into a product! The most common complaint was a cut finger but there were also reports of strained wrists and shoulder muscles, to say nothing of bruises. The survey also reveals that over 60% of those questioned were reduced to what can only be described as "package rage" as they try to prise their way into the packet or jar, using anything that comes to hand - from a knife, to scissors and even pliers. Such methods, of course, usually result in the contents being liberally distributed around the kitchen!

But it is not just packets, there are bottle tops you just cannot unscrew, the tin of sardines where the handily provided "key" ceases to work half way round the tin, the ring-pulls that snap off, juice cartons and that large selection of "shrink-wrapped" products. Then, of course there is cling-film - an excellent idea in principle - if you can get it off the roll in the first place. You just have to snap it across the top of the container of food to keep it fresh, but it has this wretched habit of sticking to just about anything but what you had in mind. Above all, cling-film just loves to cling to itself! I have purposefully kept the most infuriating item of all to last...the child-proof lids. In my experience children can get them off as easy as pie - but me?!

Then we come to the packaging itself. There can be anything up to four layers of it. There can be a sleeve, wrapped around a box, which contains a polystyrene pre-formed tray all wrapped around with shrink film. And that is just one item. Have you looked, really looked, at the contents of your dustbin lately? It's full of wrapping and packaging. We are drowning in a sea of wrapping.

Manufacturers are making a whole industry around wrapping - and they call it "convenient"...but convenient for whom?!

Barbara Corley

W.I.News

This meeting was our A.G.M. when we reviewed the past year and looked forward to the coming one. It also gave us the opportunity to thank everyone who helps to keep the W.I. active in Odell. Our Competition Cup was presented to Mandy Sharpe – well done.

After a break we then discussed this year's Resolutions- Farm Gate milk prices and Waste and Recycling. It was decided to support both these at the A.G.M of the W.I. at the Albert Hall.

June meeting

There will be no meeting in June as so many of the members are involved with the Village Fete.

Odell Parish Council Annual Meeting.

On May 16th the Parish Council held the Annual Meeting.

Mrs R Halton was elected Chairman.

Mr B Cheadle was elected Vice Chairman.

The repairs to the Village sign were commended.

We propose to use the mobile speed testing equipment in the village during June. Be warned!

We propose to apply for a grant for the restoration of the old School Bell.

Some of the benches in the village are in need of repair or replacement. The one in Horsefair Lane has been damaged, and is the subject of a claim on the insurance policy.

Horsefair Lane is to be closed on 11th June for the Fête.

Road Repairs. The sum of £3000 is available for work on items not normally the responsibility of Beds CC. It was decided that this would be applied to the footway on the south side of the High Street starting at No 125 and working easterly for as far as the money will permit.

It was noted that the foot gate to the park at the end of Horsefair Lane has disappeared. Enquiries are in train.

The Paula Radcliffe Sports Facilty is now available at the Sharnbrook Upper School. Membership can be taken up at £30 per month. Details can be obtained from the School.

It is understood that the Police station at Riseley will revert to being a proper Police Station for rural North Bedfordshire. Their telephone number is 275 175. If there is no reply the call is switched to Kempston - tel 271 212. In emergency you should dial 999. We await further details.

Harrold's skate Board facility will again be available to this village in the summer holidays. Dates to be advised.

It was decided to contribute to the cost of replacing the net on the goalpost in the Country Park.

We have been advised to our regret that the paramedic unit formerly based at Harrold Medical Centre has now been relocated to the Ambulance unit off Goldington Road in Bedford. We shall enquire the reason for this change.

The Luncheon Club has been awarded a grant of £250 for the provision of ramps to ease access by wheel chairs in the Village Hall.

Nuon Ltd held an exhibition in Podington about their proposed erection of 15 wind turbines on Airfield Farm, Podington. The blades are 125 metres high and the nearest one to Odell church is 3000 yards away, say 1 3/4 miles.

If you have any views about this proposal please convey them to Alistair Burt MP at the House of Commons, Westminster, London SW1, or to County Councillor Mrs P. Gershon at Beds CC, or to Borough Councillor Mr M Bridgman at Orchard Cottage, 56 High St Odell MK43 7BB.

Podington Parish is to hold their first open meeting about this proposal shortly.
Jonathan Harrison, Parish Councillor
Proposed Wind Farm at Airfield Farm, Podington.
As many local residents may know, 'Nuon' – a leading independent international energy company – has submitted to Bedford Borough Council a proposal to erect 15 wind turbines, each with a total height of 125m, at Airfield Farm, Podington, to produce electricity for 17,000 homes. As stated in the Parish Council Annual Meeting Minutes, a public exhibition was held in Podington and the Project Managers are now awaiting public response to the proposal. Nuon maintain that the construction, which takes on average six months to complete, will not damage wildlife, cause a noise or interfere with recreational uses of the site. Moreover, Nuon would set up a community fund, to be administered by members of the community and to which the wind farm would make contributions, to help pay for environmentally based projects. There may also be the possibility for some local residents living near to the construction to co-own part of the wind farm, with resulting economic benefits.
However, the nearest turbine would be only one and three quarter miles approximately from Odell Church and quite likely to be visible from several places in Odell. It is also possible that it will create a low level of noise, again detectable in certain parts of Odell nearer to Podington. It is important that any views regarding this construction are registered quickly. They can be sent to Alistair Burt MP or to any of the Councillors named in the Parish Council Minutes.
Harrold-Odell Country Park
Why not join us for some of the following events. They are all free but any donations are gratefully received. This means we can then put on more events at the Park. You will need to phone or email the Park if you want to reserve a place.
Bird Walk
Weds 8 June, 10am – 1pm
Summer Visitors to the Park...Listen and learn those calls and songs! Sort out your LBJ's and experience the JIZZ!
Heritage Walk
Weds 29 June, 2.00 – 5.00pm
Discover the hidden history of the Park and visit heritage sites within the village of Harrold, learning about recent archaeological discoveries.
Mammal ID
Thurs 21 July, 10am – 4pm
An introduction to the tracks, trails and signs of Bedfordshire's mammals; and how to identify them. Slide presentation and hands on session before a walk around the Park to put what you have learned into practice.
You may also like to join in with the Friends Group conservation tasks on Monday 27 June starting at 10am and finishing mid afternoon. You need stay only as long as you want.
Contact tel/fax 01234 720016 or email lyndsey.bignell @bedscc.gov.uk
Senior Citizens Summer garden party
Odell Luncheon Club invites you to a Strawberry Tea
by the River Great Ouse, in Roma's garden,
Horsefair Lane
On Wednesday 6th July
At 3.00pm
All senior citizens are invited.
Please note that personal invitations will not be sent out.
Please let Roma know by 28th June if you wish to attend –tel. 720431.
Carlton Open Gardens
Sunday 12th June
Light lunches 12.30am – 1.30pm
Gardens open 1.30pm – 5.30pm
Proceeds to local charities
All types of garden – formal, landscaped, organic, natural
Cream teas plants stall displays
Parking and tickets available on the day from Carlton Village Hall/School
Prices - £3.00 adults, £2.00 concessionary, £1.00 children over 12 years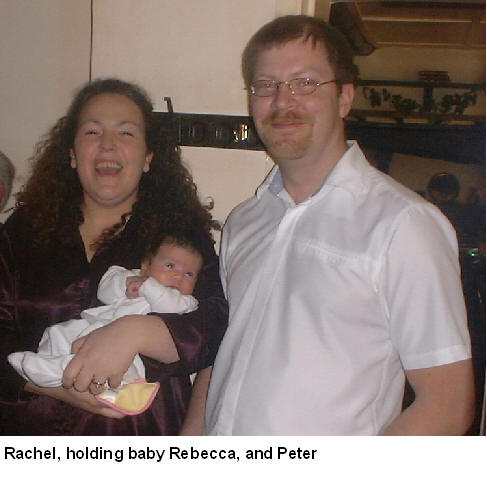 A Note from Peter and Rachel – new tenants at the Bell.
We would like to thank everyone for making us feel so welcome since taking over the tenancy at The Bell last week.
We have had little time, so far, to get out and explore but we are very happy to now call this beautiful village home and we look forward to playing an active part in village life.
Our main aim over the next few months will be to ensure that we offer good quality food, friendly, prompt and efficient service and well kept beer. To this end, the new members of our team are now settling in and we look forward to expanding our menu over the coming weeks with ever changing home made specials and puds.
It is evident that, with it's 'olde worlde' charm, The Bell is a wonderful example of what is so special about the traditional village pub and we are confident that, by focusing on the above, we can return it to the buzzing place it once was.
We look forward to greeting those of you we have yet to meet and a big thank you again to those we have already had the pleasure to serve.
Peter and Rachel The Bell
Ps. The inside of the pub will be getting a new lick of paint in
September - if any of you have any old black and white pictures of the pub and the village which we could take copies of it would be
appreciated (with a drink on the house of course!)
Village Hall News
Events
If you have an idea or can help with these let us know, and if you would like a venue for a private function, the very reasonable hire fee helps us maintain the hall.
Puppet Show - Sunday 26th June (2 - 4 pm). We are having a puppet workshop and show during which the children will be shown how to make their own puppets and then 'Just Puppets' will present a show. It is for all the family but obviously focused on helping the children make their own puppets. Surplus proceeds from the Xmas Party funded by the Parish Council with a contribution from the Village Hall have enabled this to take place. Please let a committee member know if you/your children are able to attend. Parental support is of course much appreciated.
Barn Dance and Pig Roast - we are hoping to arrange an event and would welcome any recommendations for barn dance bands. If you know of someone who fits the bill we would love to hear from you!!
Waste Paper Collection - Thank you for bringing your waste paper to the bins. Though the return is small, every little bit helps financially and of course the waste is recycled.
Do please support our events, and do suggest to us your ideas for alternative activities.
Rob Lee (720730) on behalf of the Village Hall Committee.
The Mill Theatre, Sharnbrook
2005 Season
Nelson Mandela and Winnie – A Love Story
Saturday 11th June, 7.45pm - one performance only!
An original one-man play in three acts:
AFRICA! WINNIE! FREEDOM!
written and performed by Michael Prior as Nelson Mandela
Book Now! Only at Bedford Central Box Office 01234 269519
Plan ahead! Christmas is coming early this year!
Season's Greetings - Alan Ayckbourn's hilarious comedy
Tues. 20th - Fri. 24th September, 7.45 pm
Disabled Access: This production will mark the inaugeration of the new Foyer to Clubroom Lift and Auditorium Access to two wheelchair positions.
Advance Booking available, only during the above show, for
Scrooge – Fri 12th – Sat 19th November, 7.45pm (Matinee Sat. 19th 2.30pm).
The wonderful, seasonal, family musical by Leslie Bricusse, based on Charles Dickens' "A Christmas Carol".
Tickets:
Sharnbrook Post Office – in person
Bedford Central Box Office 01234 269519
Party Bookings 01234 781372 (10+) – 10% discount excluding charity performances.
Access for the disabled
The Governors (Trustees) wish to record their sincere gratitude to all those individuals and organizations who have contributed to this scheme, thus enabling The Governors to announce the go-ahead of this major and vital improvement to our facilities. The installation of a cabin style passenger lift, to convey up to 4 persons + 2 wheelchairs from the Foyer to The Clubroom, with level, covered balcony access continuing from the Gallery Bar to 2 wheelchair positions in the Auditorium, is scheduled to proceed at the end of May, for completion in time for our September show 'Season's Greetings'. Further details will follow.
However, we apologise for any inconvenience that may arise during the connection of facilities.
Our 4th Annual Youth Theatre Summer School –Mon. 1st– Sat. 6th August, for those aged 9-18; professional tuition, concluding with a performance on the 6th August. Weeklong course; Fee: £100. Details: Erica Lester 781210. Only a few places left – act now!
Diary
June
1st 10.30am Meeting Point at Jill's, Rectory Farm, Odell.
8th 10am Bird Walk, Country Park.
11th 2.00pm Village Fete.
12th 10.30am Service of Worship, Scout Field, Horsefair Lane.
12th 12.30pm Bar-b-q for fete helpers and residents of
Horsefair Lane and Mill Lane.
12th 1.30pm Carlton Open Gardens.
15th 10.30am Meeting Point at Eileen's, Corner House,
Wymington Park, Rushden.

22nd 10.30am Meeting Point at Catherine's, Manor Cottage, High St., Harrold.

26th 2-4pm Just Puppets at Odell Village Hall – workshop and show.

29th 2pm Heritage Walk, Country Park.
Magazine Deadline
Please send all entries for the joint July/August 2005 magazine to Tricia Hudson (patriciahudson@kbnet.co.uk), Anne Turner or Catherine Corkery by June 12th 2005 at the latest. May we remind you that the editorial team exercises the right to edit, shorten or alter any items that are submitted. Also, the opinions expressed in the articles are those of the contributors and are not the responsibility of the editorial team.

Electronic mail address
email is mag@jonhudson.net

FAX number
01234-721004

Back to the Odell Home Page
---
Last revised: June 04, 2005.