CHURCH NEWS - July/August 2005
New minister -We are still looking for a minister on a house for duty basis. See www.kbnet.co.uk/odell/vacancy.htm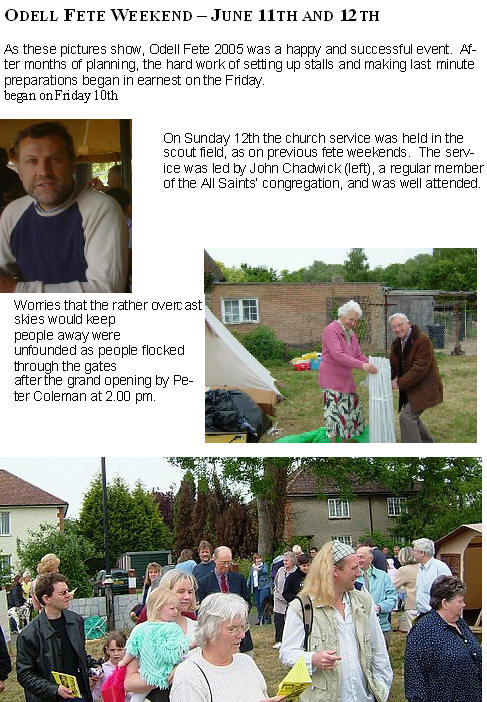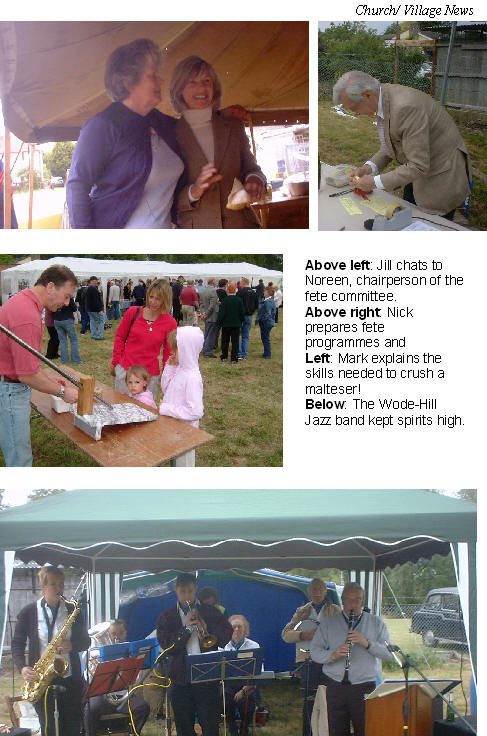 more pictures on Village News page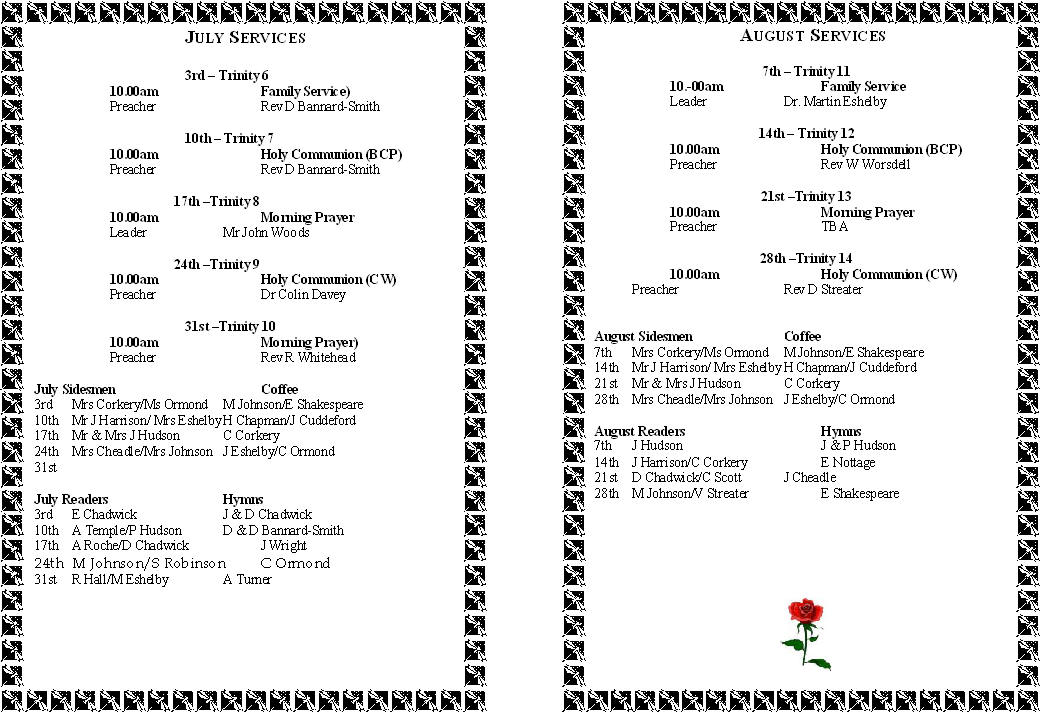 July 05

Politicians appear to be at a loss to understand why at the present with all the advantages of modern living there is a loss of respect for those in authority and moral and social disorder is endemic to our society. Many reasons are put forward and many suggestions made from antisocial behaviour orders to lowering the age of criminality. While some of the measures may meet with some partial success, overall there is no great improvement and all authority figures suffer, police, teachers, clergy and others. Hospitals and surgeries are particularly prone not only to rudeness but to violence. The question is why?

Many years ago, while undergoing National Service which I did not

enjoy at the time but for which I have been grateful ever since, I was in uniform in Aldershot with some other soldiers. The street was busy and I just managed to see an officer coming through the crowd in time to salute. The others did not and he pulled us up and rebuked us in the middle of Aldershot. The discipline of the army insists that officers carrying the Queen's commission must be saluted as a mark of respect, not firstly to the officer but to the Crown. It is respect due to the highest authority in the land, that of the Crown. What is true of the Queen and the army is also true in life. If we believe that there is no higher authority than me and my human rights (notice responsibility does not seem to figure in that legislation) then I will do as I like. I am not responsible to anyone except my own particular selfish desires at any one time.

How did we get into this position? The answer is that since the 1960s with the sexual revolution, the era of the Beatles and the beginning of the dumbing down of any form of censorship, particularly on television, the nation has become desensitised to what is right and open to all manner of behaviour and conduct that our forbears would not have tolerated for very long.

Behind all this is the dumbing down of the Christian faith and the

leaders of the Christian Church cannot evade responsibility for this. This is particularly true in religious education in State schools. A very interesting survey was done by a research group called Civitas which was highly critical of the standard in schools. That is not to say that all schools performed as badly as some. However, that was the trend. The net result is that successive governments have backed away from a belief in God and we are now supposed to be a secular nation. So there is no God, no accountability, no judgment, no life after death. All is here and now in this best of all possible worlds!

To consider that is to obtain the answer. There has to be a return to a

belief in God through Jesus Christ. Man is responsible and accountable and we all must stand before the judgement seat of Christ. Therefore life is not meaningless and going nowhere. On the contrary, it is full of meaning and in Christ Jesus full of hope in this life and in the life to come. The authority of the Lord God Almighty must be asserted again and society will settle down once more as it has done in the past.

Your sincere friend and former Rector,
David


The Prayer Chain

The Prayer Chain is there if you need prayer for yourself, for others or for members of your family. Please don't ask for prayer outside your own family without people's

permission. To have a number of people pray just

telephone Dennis (822992).

e-Round News from the Diocese of St. Albans

Chellington re-opens

. The Chellington Centre is holding an open

weekend on 27th, 28th and 29th August. It will be a great opportunity to visit the Bedfordshire countryside and see the magnificent work that has been achieved at Chellington. Come and be wowed by the view from the new Ibbett Room, gaze on the new stained glass window created by a local artist, enjoy the changes that will ensure this Centre can be used by young people for many years to come. It will be open on:

Saturday 27th August from 11am to 5pm.

Monday 29th August from 11am to 5pm

On Sunday 28th August there will be a Commissioning Service during the afternoon which, due to the size of Chellington, will be by invitation only. If you would like to receive an invitation please send your request to Reach Out Projects. More information from Ann in the office on 01727 818168, or visit www.Chellington.org.uk.

Support church buildings in Herts and Beds. The Beds & Herts Historic Churches Trust annual sponsored cycle ride takes place on 10th September to raise money for churches in need of grants for repairs. The 2004 Ride raised £89,204. For more information look at the Trust's new website, www.BedsHertsHCT.org.uk , from which forms for membership and for the Bike Ride can be downloaded.

St Peter's Church, Harrold, 'Renaissance Music for a Summer's Evening' performed by the South West London Choral Society, 7.30pm, July 9th. Tickets £10,

£8. Details: 01234 720866.

St Martin's Church, Clapham Road, Bedford, Flower Festival –

Celebrations in Church, August 27th-29th, 10am-5pm (Sat & Mon); 12noon-5pm (Sun); Sung Eucharist 10am (Sun). Music and refreshments throughout. Suggested donation – £2 . Details: 01234 347603.

St Mary's, Keysoe, Annual Fete from 3pm, July 9th at Keysoe Village Hall. Stalls, entertainments, games, teas, hog roast with licensed bar. Details: 01234 378878.

Issued by:

Anna McCrum Communications Officer Diocese of St. Albans,
www.stalbans.anglican.org

Meeting Point
July
Wednesday 13th 10.30am at Jane's, Newton House, Avenue Rd., Newton Bromswold, Rushden.
August No meeting
September
Wednesday 14th 10.30am at Doris Bannard_Smith's,
Friends of Odell Church
Many thanks to those of you who responded to the request in the March Magazine to become a Friend of Odell Church. We have had a number of responses from around the Village and beyond and it has helped
considerably with the every-day running costs of the Church. At this time every little helps and makes it easier for us to see our way forward so if anyone else would like to join, please contact the Treasurer, Helen
Chapman, who will be pleased to advise you on how to make your
contribution.
Martin Eshelby
Our Giving in

July is to CMS (Central Funds).
Proclaiming the gospel involves more than you think!

Ask anyone what is the first thing they think of when they hear the words 'proclaiming the gospel', and they will probably imagine a person standing on a street corner preaching loudly with a Bible in hand.

Depending on your point of view, it is either a compelling or an amusing image. But the truth is that proclaiming the gospel involves a lot more. 'Gospel' language in Paul's letters covers a whole range of activities. People need to hear the gospel to become Christians at first, but they also need to hold on firmly to the gospel to grow in their faith and be part of congregations which are ready for the return of Christ.

CMS is committed to proclaiming the gospel through a wide range of ministries. Its fundamental motivation for proclaiming the gospel

is to bring glory to God. It is the divine intention that on the final day 'at the name of Jesus every knee shall bow…and every tongue confess that Jesus Christ is Lord, to the glory of God the Father'.

Founded in 1799, CMS has attracted upwards of nine thousand men and women to serve as mission partners during its 200-year history.

Today there are about 150 mission partners in 26 countries in Africa, Asia, Europe and the Middle East. A budget of £5.75 million a year is needed to maintain and expand this work.

Thank You Lord

Lord I have so much to thank you for

My hands to you I raise

For blessings so abundant

I give to you my Praise.

Three loving children with families,

A home where I can safely sleep,

My sight, My limbs, My hearing

And, precious memories to keep.

The happy children in the lane,

They give me so very much pleasure;

Laughing so joyfully and innocently -

It is a sound I truly treasure.

The beautiful birds at the nuts they so love,

Then they swish in and drink in their 'bath',

Their plumage so pretty, a sight to behold,

Chirping away in love - not wrath!

The trees in the garden are blossoming so blue,

Fragrance of blossom filling the air.

The beautiful flowers, yes there's even rhubarb too,

Your splendour brings joy everywhere

So, Thank you Dear Father for this special haven

Of which I am humbly a part,

For your provisions, Your healing, Forgiveness too

And your awesome love filling my heart.

A "Beautiful Things Inspirational"

Anne Turner

Amongst Ourselves

A Daily Prayer

Father God I put on the 'Shoes of Peace', the 'Belt of Truth', the 'Helmet of Salvation'. I take the 'Shield of Faith', and the 'Sword of the Spirit' to cut the arrows of the evil one. I trust that you will continue to lead me in the way I should go, and that your Holy Angels will keep me and my family safe all through this day. Thank you Lord. Amen.

Thank You Lord for the Fete

Once again the fete has been a success and we do thank and praise God for the weather; although not quite so hot this year, we still did not experience the rain that was forecast. The amount of supporters and

visitors seems to swell every year. Roma tells me she had 153 entrants in the Dog Show. That certainly helps to swell the numbers. Everyone seemed to enjoy all that was going on;. the jazz band playing happy music, and reminiscing while the sound of the 58th Old Boys Brigade seemed to take my mind back to the 50's when they were a regular sight in Odell for the 'August week'. The joy on Miles Tringham's face as he received the football donated by Rushden and Diamonds was a sight to behold. Well done Miles and "Happy Birthday" for the 24th August. I am sure the overall profits will be high as usual and I say a very big thank you to all those who worked to make the day a big success. The unseen work that goes in to this day, especially the Friday when the tents are erected and preparations made behind the scenes is something a lot of people do not see. I do, and believe me there is a lot of hard graft that goes on during this pre-fete day. Thank you and God bless all the helpers for the joy that they give to so many.

Anne Turner

Tribute to Willie Wesley, Odell 27/4/05

Bill, as he was always called, was born in Odell in 1908 into the very

religious family of Arthur and Lucy Wesley. Arthur was a well-known Leather Manufacturer and built the original Odell Leather Works. He was also Sexton and Clerk to the Odell Parochial Church Council for 28 years.

Bill was a complete country boy at heart. He loved all birds, animals and flowers. In his younger days, he worked for the Church, doing most of the mundane things like stoking the boiler and helping with the hymn numbers board, books, bell ringing etc.

He had his own seat at the back of the church at the end of a row. Should it be vacant during the service, he felt the awful wrath of his

Father who was very a strict Victorian and his word was law! But in spite of this, he was much loved by the family.

In 1926, Bill met Mary Brown of Islip whilst walking in the Park. They married two years later, aged 19, and they spent 77 years together and were blessed with two children, Terence and the late June Boston. He was a keen

sportsman and in his youth he excelled at cricket being a prolific batsman almost to County standard. He was also a very keen motor cyclist and raced with the pre-war Irthlingborough Bats Club in the 1930's.

His enthusiasm for motor cycles provided the Home Guard with a first class despatch rider. He was not called up in the Second World War

because of his age and being employed in a reserved occupation. After Dunkirk, however, he volunteered for National Service. He was soon attached to Whitehall and delivering top secret despatches, taking them overnight with an armed escort.

During the War, the amount of headlight allowed was very restricted and on one occasion he ran into a stray cow in the early hours. Luckily, his escort behind got him to hospital. where he spent several days on the critical list with head wounds.

After the War, he went back to work with his Father in the leather

business. His new sport became small bore shooting and bowls for the Rushden Windmill Club. Soon he really excelled at bowls and joined the Wellingborough Club and he was soon in the County Team where after 6 appearances he achieved his County Badge and played until

October 2003. His wife advised him not to enter any more competitions otherwise she would have to get another display cabinet.

Because of his love of the country, on a warm day, he was content to sit in his garden, puffing his pipe and you often heard him say, 'come on down, then', talking to the sparrows and blackbirds that would come into the kitchen doorway and sit under his chair whilst he sat on it. He had a very good sense of humour and played many a joke on people with his lifetime friend Eric Hullet who used to come and visit him each week-end. They would reminisce

on their childhood days about the woods and the river at Odell. One of his favourite tales was the time when a new local policeman caught them on his Father's land near the

continued from page 15

factory. He marched them back to his Father as suspected of trespass and illegal entry. They didn't disclose who they were until placed in front of Father, much to the embarrassment of the policeman.

He was a very good husband and father and very devoted to all his

family. He gave them all a genuine loving and warm welcome and they all experienced close family ties. He was very much loved and will be sadly missed, leaving a vacuum in all their lives.

The Shakespeare Ladies Club

Due to popular demand, Alison Neal is returning to Odell, this time with her new one-man show, "The Shakespeare Ladies Club". Last summer Alison gave us a mesmerizing performance as Richmal Crompton, 'The Just William Lady'. The date for this year's

performance, again in the Village Hall, is October 22nd. Look out for more details in the September magazine. Again, all profits will go to the All Saints' Appeal Fund.

Birthday Greetings To

:

Miles Tringham on August 24th

And to everyone who has a birthday in July or August.

Church Flowers for July and August

July

3rd Jill Cheadle

10th Nikki Freeman

17th Sue Robinson

24th Margaret Jones

31st Jane Eshelby

August

7th Mandy Sharpe

14th Carol Ormond

21st Georgina Harrison

28th Eileen Shakespeare

Diary

July

Wed 6th 3.00pm Senior Citizens Garden Party at Roma's

Tues 12th 7.30pm W.I., Village Hall.

Wed 13th 10.30am Meeting Point at Jane's, Newton House, Avenue Rd., Rushden.

Thurs 21st 10.00am Mammal identification, Harrold and Odell Country Park.

Fri 22nd 7.00pm Wode-Hill Trad Jazz in the Bell Garden

Wed 27th 7.00pm Morris Men, Village Green.

August

Mon 8th 8.45pm Moth Trapping, Harrold and Odell Country Park.

Tues 9th 7.30pm W.I. barbeque, Linden House.

Sat 20th 10 – 1.00pm Introduction to Wildlife Photography, Harrold and Odell Country Park.

Magazine Deadline

Please send all entries for the September 2005 magazine to Tricia Hudson (patriciahudson@kbnet.co.uk), Anne Turner or Catherine Corkery by August 12th 2005 at the latest. May we remind you that the editorial team exercises the right to edit, shorten or alter any items that are submitted. Also, the opinions expressed in the articles are those of the contributors and are not the responsibility of the editorial team.
http://www.jonhudson.net/

FAX number
01234-721004

Back to the Odell Home Page
---
Last revised: June 24, 2005.