ODELL VILLAGE NEWS
July/August 2005
Sudden Footpath closure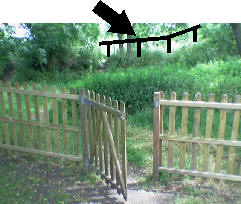 At the time of going to press a sturdy fence was being erected to stop people crossing directly between the Bell and the river foot bridge. The land owner who is erecting it may be entitled to do so if the mini fence erected by Greene King across the Bell garden has already been acting as an impediment to otherwise unobstructed regular public use for at least 20 years. Since it has a very pedestrian-friendly gate in it , most people think this is unlikely. If reason doesn't prevail anyone wanting it reopened as a right of way, may need to provide evidence of regular use as a path by non pub visitors over the past 20 years. Send in any evidence of this by email to the council – contact: adrian.fett@bedscc.gov.uk or call 01234 228335 – a spokesperson for the Parish council was unaware of this at the time of going to press, but said that they may discuss this at their next meeting on July 18th.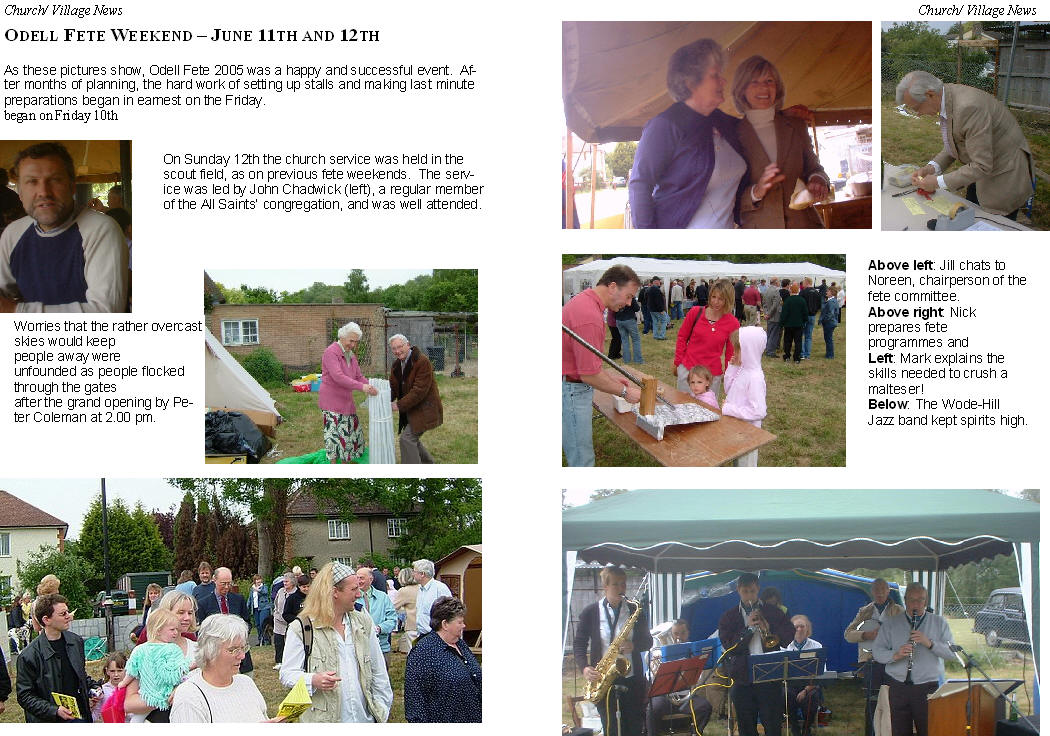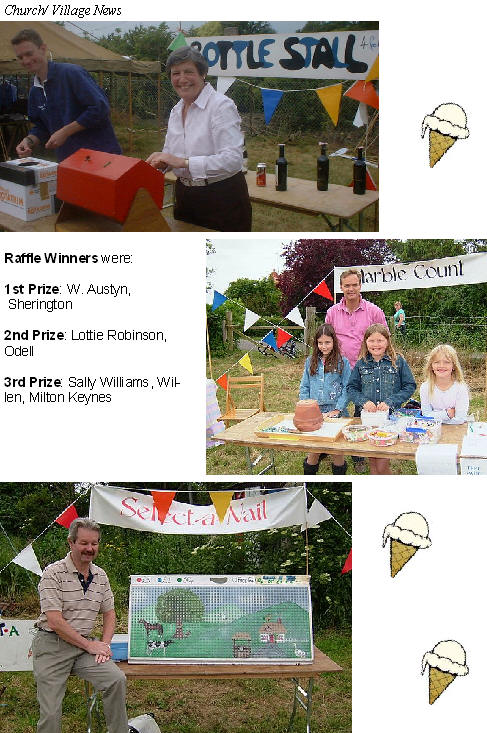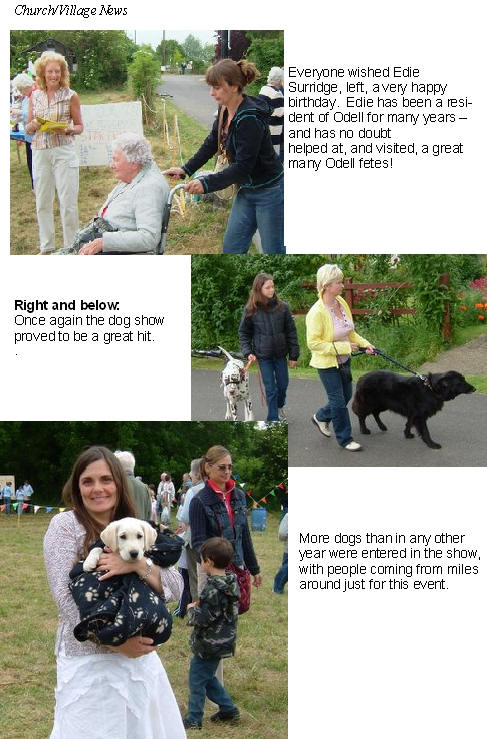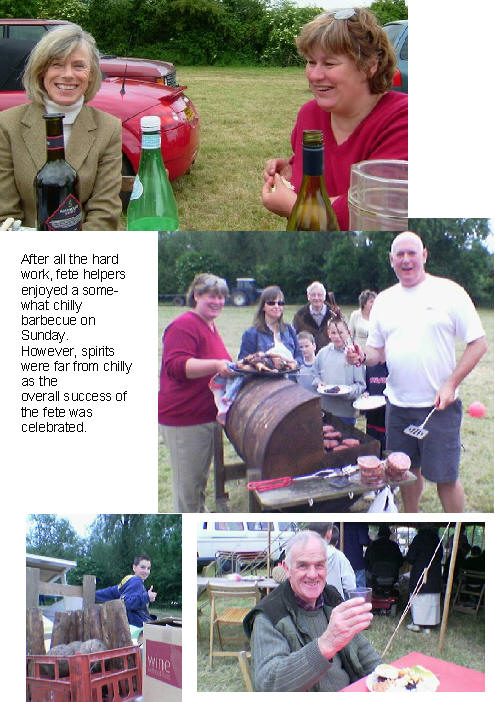 The Shakespeare Ladies Club

Due to popular demand, Alison Neal is returning to Odell, this time with her new one-man show, "The Shakespeare Ladies Club". Last summer Alison gave us a mesmerizing performance as Richmal Crompton, 'The Just William Lady'. The date for this year's

performance, again in the Village Hall, is October 22nd. Look out for more details in the September magazine. Again, all profits will go to the All Saints' Appeal Fund.

Birthday Greetings To

:

Miles Tringham on August 24th

And to everyone who has a birthday in July or August.

Round and About

It's All White, Right!

I have been watching, with some fascination, the progress of a series of photographs that have recently appeared in my daily newspaper and, for all I know, will continue after I have completed this article.

It all started with a set of photographs of a white blackbird that had been seen in Cornwall. This was quickly followed by a story, and photograph, sent in from Durham of a white raven called Crackerjack. Now I had always thought that albinos were a rarity but it seems the newspaper had really started something because photographs have been pouring in, some from overseas, so I presume that it has also been on the internet.

From Louisiana we had a really cute little picture of a white alligator - smiling nicely, naturally, for the camera; from Barcelona Zoo came a picture of Snowflake a pure white gorilla which I found rather disturbing as the pink face looked most unnatural. Although not stated from where it came was a curious aerial photograph of a whale accompanied by a white calf, immediately bringing into mind the story of Moby Dick, making me wonder whether the author had actually heard of an all white whale upon which to base his fishy tale.

Closer to home at Flamingo Park, Buckinghamshire, we had an albino kangaroo complete with a white baby peeping out; an all white lobster netted off the coast of Alderney and a pair of white squirrels, Frosty and Snowflake, from Wallington in Surrey. Wakefield's Hedgehog Centre contributed an albino hedgehog whilst the Customs Service detained a white bullfrog at Heathrow Airport!

By now the general public had really warmed to the subject with an albino fawn from Scotland, a somewhat startling white starling rescued from being mobbed by other birds at Rochester, Kent to a rather handsome thrush quite happily managing for himself (or possibly herself) in Staffordshire. A somewhat game bird was spotted just outside Lincoln, although this pheasant, albeit otherwise completely white, did have a dark patch over one eye.

Finally I come to the pair that really caught my eye. The cutest of all must surely be the newly fledged blue tit looking like a white puffball. For sheer spectacle I turn to the male, albino, peacock in full display, putting me firmly in mind of a firework show featuring a silver spray of sparks shooting off in all directions - what a spectacular finish!

Barbara Corley

Odell Village Fete 11th June 2005

The final figure for the profit made at the fete is still to be announced following the fete meeting on July 19th.

However, the estimate is somewhere around the sum of £2,500, which is an excellent amount and reflects the very successful event this year. Many thanks to everyone who gave their time and energy and donated goods – and of course all those who came along, enjoyed the afternoon and spent lots of money!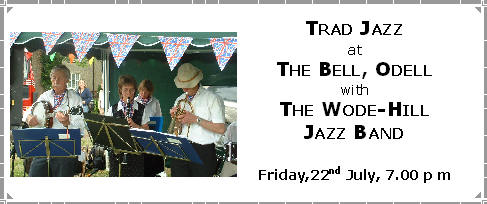 Invalid Electric Rider for Sale.
Invamed TE – 888NR battery operated shoprider, made in 2003, used only a few times.
£800.00 O.N.O.
Telephone Jill Cheadle, 720261.
Senior citizens Summer garden party
Just a reminder that the Odell Luncheon Club will meet for a Strawberry Tea in Roma's garden, by the River Great Ouse, on Wednesday 6th July at 3.00pm. All replies to this event should have been given to Roma by the 28th June.
W.I.News
There was no meeting in June as members were busy with the fete.
July Meeting.
This will take place on Tuesday 12th July in the Village Hall at 7.30pm. Sheila Ward will be the guest speaker, revealing the secrets of "watercolour quickies" to the members.
Rachel Halton 720572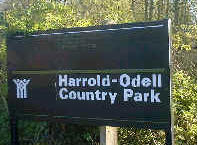 Harrold-Odell Country Park
Experience the countryside by taking part in one of the Park's workshops. You need to book a place as some events have limits on numbers. The events are free but if you would care to make a donation to the Park it will enable us to put on more events.
Mammal ID
Thurs 21 July, 10am – 4pm
An introduction to the tracks, trails and signs of Bedfordshire's mammals; and how to identify them. Slide presentation and hands on session before a walk around the Park to put what you have learned into practice.
Moth trapping
Mon 8 Aug, 8.45pm - Using light-traps, learn to identify the many species of moth living in the Park at this time of year.
Introduction to Wildlife Photography
Sat 20 Aug, 10am - 1pm - Visiting different areas of the Park, receive expert advice on how to get the best landscape and wildlife photos from your camera (primarily for non-digital camera users).
Bat Detecting
Sat 10 Sept, 6 – 8.30pm - Become a bat detector, and identify which species of bat hunt for insects around the different habitats of the Park.
Charcoal Making
Tues 27 Sept, 10am – 4pm - Practical hands-on opportunity to learn about this ancient coppice-craft and make your own charcoal.
Friends of Harrold-Odell Country Park
Volunteers help to keep the Park welcoming for humans and wildlife. All tools and training provided. Please wear old clothes.
Come along on 25th July, 14th August or 26th September from 10am. All tasks finish mid afternoon, but you only need stay as long as you want.
For further information about the events or becoming a Friends Volunteer, please contact us on:
Tel/fax 01234 720016 or email lyndsey.bignell@bedscc.gov.uk
Bedford Morris Men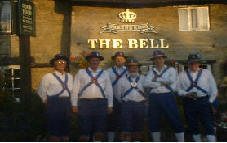 Look out for the annual visit of the Bedford Morris Men to Odell Village on the evening of Wednesday 27th July. Dancing on the green is usually followed by songs in The Bell! Events generally begin early in the evening.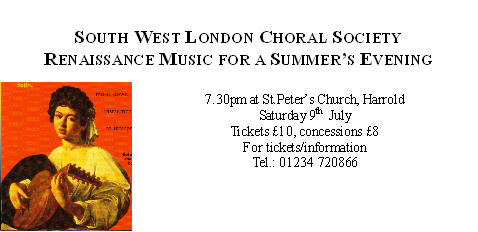 Village Hall News

Events

If you have an idea or can help with these let us know, and if you would like a venue for a private function, the very reasonable hire fee helps us maintain the hall.

Puppet Show - Sunday 26th June (2 - 4 pm). By the time you read this we hope to have had an enjoyable afternoon making and

displaying puppets.

Barn Dance and Pig Roast - we are still hoping to arrange an event and would welcome any recommendations for barn dance bands. If you know of someone who fits the bill we would love to hear from you!! (We are following up some ideas, so thank you for your

recommendations).

Disability Access

Our new planning application is due to be submitted about this time, so we hope to have more news in due course.

Planning for adjacent property

Statement on behalf of the Odell Village Hall Management

Committee

Villagers will be aware that over recent months a local planning application for the barn conversion adjacent to the rear of the village hall has drawn the hall committee into the debate regarding the validity of the application. It is a matter of public record that the village hall

committee objected to the initial application and the subsequent

appeals, the latest of which was conducted by The Planning Inspectorate based in Bristol.

On a separate occasion the applicant requested the village hall

committee to consider re-siting the Fire Exit from the rear of the hall to the side, where the route would pass between two properties; these

being the bungalow adjoining the hall and car park and the other the subject of the planning application. Agreement in principle was made subject to the full

achievement of the hall's own planning application and funding for the disabled persons access. This temporary alteration has been made though some minor works are outstanding at the time of writing.

Whilst responding to the Inspectorate Appeal, it has been brought to our attention that permission may be granted at a future Planning Meeting following a site visit for either a holiday home or "affordable" housing as all but one condition has been complied with. This

remaining condition refers to "amenity", which is in fact the garden space across which the Fire Exit route has always passed. The village hall committee were not aware of the most recent meeting, proposal for a joint planning application or asked for views, however, should the applicant wish to discuss a proposal with the village hall committee, reasonable consideration would be given whereby the best interests of the village hall were foremost. The village hall committee members are Trustees who are required to comply with Charity Legislation and as such should:
Manage and protect the property of the charity

Not be in a position where personal interest might conflict with their duties as Trustees
It has been unfortunate that the applicant had let the property prior to

planning approval and caused unnecessary distress to the occupants and others and that the hall has become a focal point for some resolution but be assured, due consideration to the best interests of the village hall will remain our priority.

Waste Paper Collection - Thank you for bringing your waste paper to the bins. Though the return is small, every little bit helps financially and of course the waste is recycled.

Do please support our events, and do suggest to us your ideas for alternative activities.
Rob Lee (720730) on behalf of the Village Hall Committee.
The Mill Theatre, Sharnbrook
2005 Season
Plan ahead – Christmas is coming early this year!
Season's Greetings – Alan Ayckbourn's hilarious comedy
Tues 20th – Sat. 24th September, 7.45pm
Tickets will be available for 'Season's Greetings' from 1st August, from:
Sharnbrook Post Office, in person
Bedford Central Box Office (01234 269519)
Party bookings: 01234 781372 – 10% discount for parties larger than 10, excluding Charity/Gala performances.
This production will mark the inauguration of the new Foyer to Clubroom cabin-style Lift and Easy Access, via a covered balcony from the Gallery Bar, to 2 wheelchair positions; also to neighbouring seating in the Auditorium. Please mention need when booking.
Advance booking will be available during the above show for Scrooge, the wonderful, seasonal, family musical by Leslie Bricusse, based on Charles Dickens' @A Christmas Carol'. (Fri. 11th – Sat. 19th November, 7.45pm; matinee Sat. 19th 2.30pm.
NORTH-EAST BEDFORDSHIRE CONSERVATIVE
ASSOCIATION – SHARNBROOK BRANCH,
Sharnbrook, Souldrop, Yielden, Melchbourne, Knotting
invites you to
Summer Sunday Lunch
on Sunday 3rd July, 2005
12 for 12.30 pm – 2.30 pm
at Manor House, Middle Farm, Souldrop,
by kind permission of Mr & Mrs C.J. Dunmore.
Tickets: £10 available from Theo Gibbs 782377 Wine and Soft Drinks
Diary
July
Wed 6th 3.00pm Senior Citizens Garden Party at Roma's
Tues 12th 7.30pm W.I., Village Hall.
Wed 13th 10.30am Meeting Point at Jane's, Newton House, Avenue Rd., Rushden.
Thurs 21st 10.00am Mammal identification, Harrold and Odell Country Park.
Fri 22nd 7.00pm Wode-Hill Trad Jazz in the Bell Garden
Wed 27th 7.00pm Morris Men, Village Green.
August
Mon 8th 8.45pm Moth Trapping, Harrold and Odell Country Park.
Tues 9th 7.30pm W.I. barbeque, Linden House.
Sat 20th 10 – 1.00pm Introduction to Wildlife Photography, Harrold and Odell Country Park.
Magazine Deadline
Please send all entries for the September 2005 magazine to Tricia Hudson (patriciahudson at kbnet.co.uk), Anne Turner or Catherine Corkery by August 12th 2005 at the latest. May we remind you that the editorial team exercises the right to edit, shorten or alter any items that are submitted. Also, the opinions expressed in the articles are those of the contributors and are not the responsibility of the editorial team.
Electronic mail address
email is mag@jonhudson.net

FAX number
01234-721004

Back to the Odell Home Page
---
Last revised: June 24, 2005.