CHURCH NEWS - March 2005
New minister -We are still looking for a minister on a house for duty basis. See www.kbnet.co.uk/odell/vacancy.htm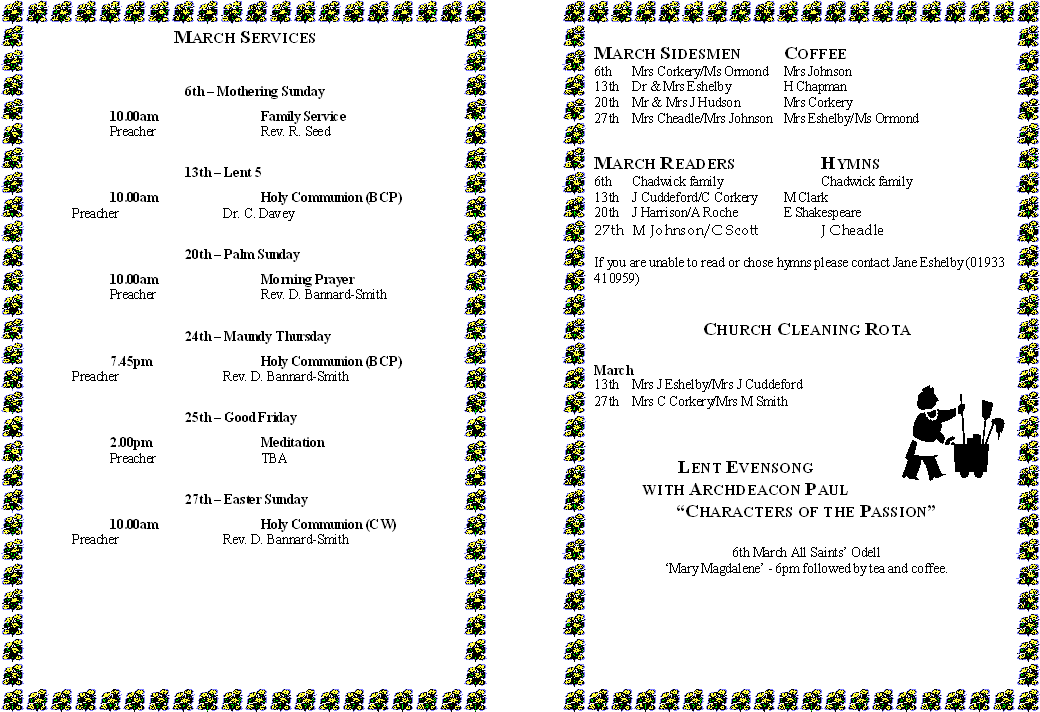 Easter Week At All Saints', Odell
Maundy Thursday 24th – March
There will be a service of Holy Communion (Book of Common Prayer) at 7.45pm in the church, led by Rev. D. Bannard-Smith.
Easter Saturday 26th – March
Church decorating will take place from 10.00am in All Saints' Church. Please come along with or without flowers and greenery to help make the church beautiful for Easter Day. Children are invited to come along and help create the Easter garden in the church.
Easter Sunday 27th – March
We will be celebrating Easter Day in All Saints' with a service of Holy Communion (Common Worship) at 10.00am.
Reverend D. Bannard-Smith will preach.
March 2005
Alleluia! Christ is risen
The display in the window of a religious bookshop had as its centre piece a large picture of the crucifixion of Jesus. One day a young lad stood peering in the window and a man came and stood beside him.
"Who's that?" the man asked loudly enough to be heard. The lad explained that it was the Lord Jesus Christ, the Son of God, who died on the cross for our sins. "H'm", muttered the man and started to move away. But as he did the lad shouted after him: "Hi, I've not told you the best bit yet. He came to life again!"
In a nutshell, this is the message of the Christian Gospel, the Good News about Jesus Christ, brought home to us this month in the celebrations of Good Friday (25th), and Easter Sunday (27th). Jesus Christ died for our sins (crucified on Good Friday) and rose again for our justification (came to life on Easter Sunday). Those are the bare liturgical facts. But what do they mean? What can they mean for us?
They mean, first of all, that we can be sure that Jesus is the Son of God. The resurrection is a vindication of His claims – it proves Him to be what He claimed to be. "He was marked off as the Son of God by a mighty act in that He rose from the dead". (Romans 1:4). His credibility was proved to the full because He rose from the dead as He said He would.
They mean, also, that we can be sure of forgiveness and acceptance with God. When Jesus was put to death on the cross and His body buried in the tomb did that mean He had lost the battle with the forces of evil? Did that signify the end of Him? We might think so, if it were not for the resurrection. But the facts are that the cross is empty and the tomb is empty. He has been raised from the dead by the glory of the Father and this tells us that His sacrifice was accepted by God. So if we put our faith in Him, for His sake and because of what He has done, we can be sure of the forgiveness of our sins and acceptance by God as His sons and daughters.
Jesus died – that's a fact. Jesus rose again – that's a fact and it means that He is alive for evermore and will never die again. "We know", writes St. Paul, "that since Christ was raised from the dead, He cannot die again; death no longer has victory over Him". (Romans 6:9). And so Jesus says to us as He said to the Apostle John, "Do not be afraid. I am alive for ever and ever". (Revelations 1: 17, 18).
And so we cannot limit Easter and its message to one day in the year or even to one weekend, because every day is Easter Day. We can live every day knowing that Jesus lives, to be our constant companion if we trust Him and accept Him as our saviour and friend. We can be sure that He is always with us even though we do not see Him. We have His word for it, "I am with you always" (Matthew 28:20). Whatever we do, wherever we go, whatever happens to us we know that He is with us. Because He has risen from the dead He is alive for evermore – that's a fact. And because He is alive for evermore, He is with us always – and that is a fact too.
A children's chorus sums it up:-
'Jesus is with me, with me all day,
With me at work, and with me at play;
With me at home, or wherever I go,
How I should love Him who watches me so.'
Douglas Smith
The Prayer Chain

The Prayer Chain is there if you need prayer for yourself, for others or for members of your family. Please don't ask for prayer outside your own family without people's permission. To have a number of people pray just telephone Dennis (822992).

e-Round News from the Diocese of St. Albans

Fair trade.

Parishes across the Diocese will be active in promoting Fair Trade from 1st to 13th March 2005 as part of the annual national Fair Trade Fortnight. This year we are being asked to 'check out Fair Trade'! You may have heard of Fair Trade tea and coffee but did you know that there are now 500 products available to you on shop shelves? Also this year we are focussing on the importance of the Fair Trade mark. If you want to know more about Fair trade visit www.fairtrade.org.uk

Charles and Camilla. To read the statement of the Bishop of St Albans visit www.stalbans.anglican.org. To read the statement of the Archbishop of Canterbury visit www.cofe.anglican.org

Maundy Thursday. The eucharist with the blessing of oils takes place on Maundy Thursday, March 24th, at the Cathedral and Abbey Church of St Alban at 11.00am. It is a service at which the Bishop calls together all clergy, readers and lay ministers who hold his licence in the Diocese and also those who are retired. But it is also a service at which anyone is welcome to be present and it is hoped that many people from congregations around the Diocese will wish to come. Clergy are asked to draw the attention of congregations to the service.

LEP in Beds. The inauguration of the Local Ecumenical Partnership between St Mary's Church Carlton, St Peter's Church Harrold and Harrold United Reformed Church took place on Sunday 23rd January. The three churches had gradually developed closer links over a period of many years that led to a Covenant Service in 2001 where they formed 'Churches Together' in Harrold and Carlton. Full article will appear in March SeeRound

Elstow Abbey, 23rd April, Diocesan Taize Service. 6.30 p.m. music rehearsal; 7 p.m. service for all; 8 p.m. hot supper in the hall. Please let the Revd Jeremy Crocker know if you are coming on 01234 261477 for catering.

Issued by: Anna McCrum ,Communications Officer
Diocese of St. Albans,
www.stalbans.anglican.org

Meeting Point
March
Tuesday 8th 10.30am at Jill's, Rectory Farm, Odell
Wednesday 23rd 10.30am at Catherine's, Manor Cottage, High St., Harrold.
The Children's Society – collecting boxes
March is the time for boxes to be opened. Please could box holders give their boxes to Catherine Corkery or bring them to church on Sunday. Many thanks. Catherine Corkery
Women's World Day of Prayer
Let Our Light Shine
Interdenominational Service
Harrold Chapel, 10am, Friday March 4th
Everybody Welcome
Coffee will be served after the Service
This is a very special annual service, which members of our Church like to support. It is friendly and informal and gives us the opportunity to meet other ladies from Carlton, Harrold, Stevington and Milton Ernest. This year the Christian Women of Poland have prepared the service. In 2004 Poland became a member of the European Union, which hopefully spells security in a country slightly larger than twice the size of England and Wales. The Roman Catholic Church played a crucial role in preserving Polish tradition and independence, especially during Communism (1945-1989). Please do come along and help unite women in growing numbers in many Polish towns, from various Christian traditions. Transport to the Service can be arranged by contacting Jane Eshelby on 01933 410959.
Birthdays
Happy birthday to:
Liane Fulford who will be 12 on the 4th March,
And to anyone else with a birthday in March!
Odell Church Flower Rota
6th Mothering Sunday posies TBA
13th Faith Hartwell
20th E Shakespeare
26th Decorate the church for Easter

Our Giving in March is to tear fund
Please give generously to this charity dedicated to helping struggling people in third-world countries.
Easter Monday Pilgrimage: Come Alive in 2005
Monday 28th March. Meet in the orchard at St Albans Abbey at 1.00pm.
Processions begin at 2.30pm.
Worship in the Abbey at 3.00pm.
e-mail: subdean@stalbanscathedral.org.uk
Website: www.stalbanspilgrimage.com
Mother's Day – Sunday 6th March
"Mothers hold their children's hands for a while, their hearts forever"
″Dear Mother″
Every day is Mothers' day
"Dear Mother, Angel in disguise, forgive me whilst I wipe my eyes.
As I think of all you were to me, oh how I loved to sit upon your knee.
When I had a fall you would give me a hug, nursing me better from many a bug.
You were my everything and above all other,
I miss you, how I love you. My wonderful Mother."
Anne Turner
A "Beautiful Things" Inspirational Poem
bridgettanne@tiscali.co.uk
An old autograph
If you have a Mother
Treasure her with care
For you'll never seem to miss her
Until you see her empty chair Anne Turner
Looking To Jesus At Easter
The tomb is empty!
'…"I am the Resurrection and the Life".'
Nine year old Philip had Down's Syndrome. In Sunday School the kids made fun of him because he was 'different'. The Sunday before Easter the teacher gave each child a plastic egg and asked them to look for symbols of new life like seeds and leaves, then place them inside the egg. The idea was to open their eggs next Sunday and discuss what they'd found. When the kids gathered they'd collected things like flowers, butterflies and rocks. But when the teacher opened Philip's egg it was empty. One kid said, 'That's not fair, he didn't do it right!' Philip tugged at the teacher's sleeve and said, 'I did do it right. It's empty because the tomb is empty. That's why we have new life.' The class gasped and from then on he became part of the group.
Philip's family knew his time would be short; too many problems for one small body. That summer he died. As the class of eight-year olds faced the reality of death, they marched up to the altar, but not with flowers. Together with their teacher they each placed an empty plastic egg on their friend's tiny casket.
Jesus said, '...I am the resurrection and the life. He who believes in Me, though he may die, he shall live.' Max Lucado says, ' The cross is rich with God's gifts...As you feel the timber...trace the braid of the crown...finger the point of the spike - pause and listen. Perchance you'll hear him whisper: "I did it just for you."
So, are you willing to live for Him?
Taken from "Word for Today" with kind permission of United Christian Broadcasters. 0845 6040 401
Dear Lord of the empty tomb
Thank you for dying on the cross for me.
You took my punishment so that I could be free.
Thank you too for relaying the prayers, to 'Our Father in Heaven' via Heavenly Stairs.
Can you please ask Him to bless the old and the sick, and, Jesus, we do need a leader to make our Church tick.
Add also those 'Tsunami' victims so many needing a home, and also the abused and the wanderers all tending to roam.
We pray against 24 hour drinking, as it's called "demon drink".
It will cause so much damage to people's health - don't You think?
Jesus there's many more things I could ask You to intercede, but, Your Father knows best, and I leave You to plead.
You took all our sins so that we can survive –
Oh Wonderful Lord: the Easter Miracle.
You're alive! You're Alive!!
Anne Turner
Amongst Ourselves
We are sorry to learn of the death of Barbara Bennett; Barbara with husband Gordon ran The Bell for over twenty years, and their "Beef Sandwiches" and other basket snacks such as Scampi and Chips were the talk of people for so many miles around. The elderly living within The Bell area particularly enjoyed the New Year party that the Bennetts invited them to. Barbara spent almost four years in Dial House Nursing Home being a patient with PSP (Progressive Supranuclear Palsy), any donations to this can be sent to Kim. The funeral service took place in Bedford and was attended by many friends. We send our love and prayers to Debra and Kim and the family and thank God for Barbara's life and all that The Bell meant to us through their friendship and business techniques.
Kim and husband Geoff run the "Queens Head" pub at Boreham, near Chelmsford, and I am assured you would be most welcome to visit and try their food specialities. Both Kim and Geoff are first class chefs so expect the food to be first class.
Our thoughts are with Steve Robinson who has recently had a knee operation, and we pray for a quick recovery for him so that he can be properly mobile again. Steve is an important asset to All Saints' and many village functions.
Phil Lawson Johnson has recently sent me a newsletter informing of a new book that he has written: "The song of the Father's Heart". 'A book to read with the heart as well as the mind', (Michael Ramsden).
Phil, as many will know, is the son of Lord and Lady ' Barbara' Luke and is a founder member of the music group "Cloud". He works as a glass engraver and conducts many worship services in the Oxford area, in the UK and abroad. Quite often you will hear one of Phil's songs on "Songs of Praise", especially "Oh Lord my God how majestic is your name...we will magnify", and various others. It is always goodhearing Phil's name and music as "that special link to Odell".
″No Smoking Day" – 9th March.
Anne Turner
Diary –

March

Fri 4th 10am Women's World Day of Prayer Interdenominational Service, Harrold Chapel.

Sat 5th 10am Voluntary Park Warden Training, Harrold/Odell Country Park.

Sun 6th 6pm Lent Evensong with Archdeacon Paul at All Saints'.

Tue 8th 10.30am Meeting Point at Jill's, Rectory Farm, Odell.

Tue 8th 7.30pm W.I., Village Hall.

Fri 11th 2pm Otter and Water Vole Walk, Harrold/Odell Country Park.

Sun 13th 10am Harrold/Odell Country Park Tree and Hedge Maintenance.

Mon 14th 8pm Odell Parish Council AGM, Village Hall.

Sat 19th 7.30pm Quiz, Village Hall.

Sun 20th 10am Coppicing at Yelnow New Wood.

Wed 23rd 10.30am Meeting Point at Catherine's, Manor Cottage, Harrold.

Thur 24th 7.45pm Maundy Thursday Service of Holy Communion (BCP), All Saints'.

Fri 25th 2pm Good Friday Service of Devotion, All Saints'.

Sat 26th 10am Church decorating for Easter, All Saints'.

Sun 27th 10am Easter Day Holy Communion (CW) All Saints'.

Mon 28th 1pm Easter Pilgrimage in St. Albans.

Calling all Paparazzi!
The editorial staff are always pleased to receive pictures of local events to include in the magazine. Now that many people have digital cameras it is easy to e-mail photographs - so please send in any that have local interest – but be sure that any people in the photographs are happy to be featured in the magazine!
Magazine Deadline
Please send all entries for the April 2005 magazine to Tricia Hudson (patriciahudson@kbnet.co.uk), Anne Turner or Catherine Corkery by March 12th 2005 at the latest. May we remind you that the editorial team exercises the right to edit, shorten or alter any items that are submitted. Also, the opinions expressed in the articles are those of the contributors and are not the responsibility of the editorial team.
electronic mail address is <mag@jonhudson.net>
http://www.jonhudson.net/

FAX number
01234-721004

Back to the Odell Home Page
---
Last revised: March 05, 2005.