CHURCH NEWS - April 2005
New minister -We are still looking for a minister on a house for duty basis. See www.kbnet.co.uk/odell/vacancy.htm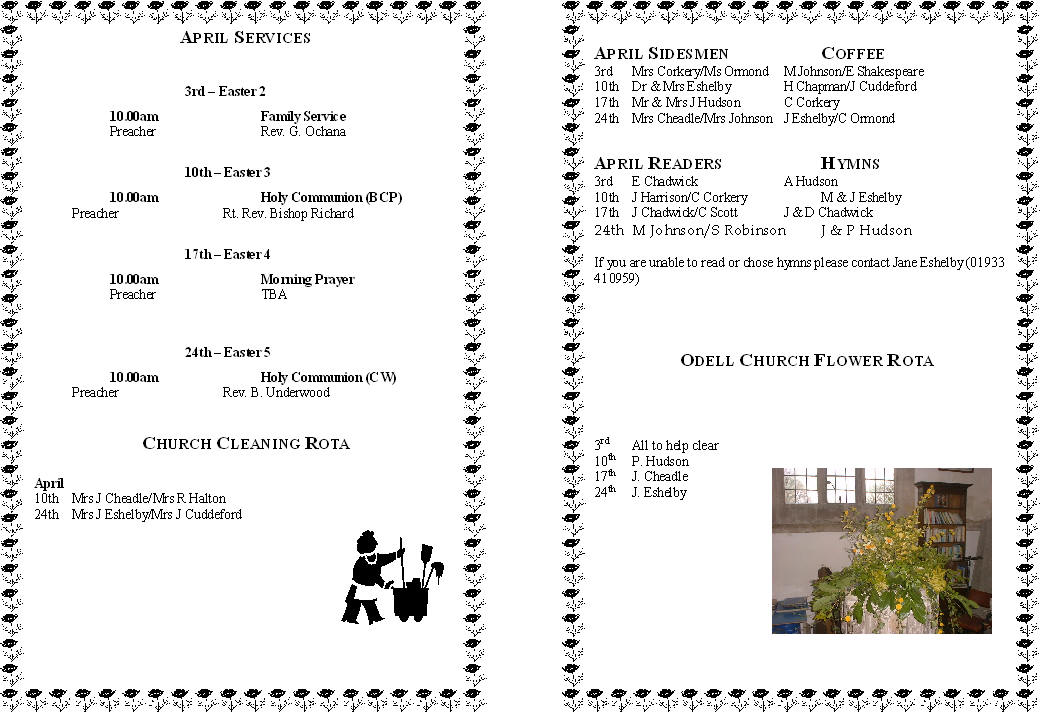 April 2005
Three years ago at about this time Enid and I went to minister for a time in the English-speaking Church in Leipzig in Germany. We were there to enable the chaplain to go on sabbatical leave. One of the pleasures for us was the musical tradition – it was the Leipzig of Johann Sebastian Bach who lived between 1685 and 1750. It was also the Leipzig of Felix Mendelssohn. Bach was a teacher of music and organist at St Thomas's Church and school. Mendelssohn was Principal of the Music Conservatoire and Conductor and Director of the Gewandhaus Orchestra. The houses in which they lived are now museums and fascinating to visit. The St Thomas's School Choir perform Bach's works at concerts in the Church every Saturday afternoon and it was a delight to attend.
Bach's task was to train the choir, play the organ and compose new music. The pieces were written, played and sung and then placed in the vestry cupboard! They were never published in Bach's lifetime. And they would have been lost forever but for Mendelssohn (1809-1847). He found Bach's 'St Matthew's Passion' in the home of a music teacher and recognising the quality of it began to search for more, and found cantatas, concertos and overtures.
Much of the output was lost because the choirboys raided the manuscripts in the vestry cupboard with which to wrap up their sandwiches – for eighty years!
Bach composed without thought of fame – he was just a man with a job to do, and he got on with it. His fame was posthumous. He had a passion for music and a passion for God and he brought both together. Mendelssohn discovered hidden treasure which he brought to the attention of the public (see Matthew 13. 44).
Our task is to work for the glory of God and our life, like Bach's, is measured not by what we do (or failed to do) but by our obedience to God – without thought of recognition. We can leave 'fame' to God!
Brian Underwood

The Prayer Chain

The Prayer Chain is there if you need prayer for yourself, for others or for members of your family. Please don't ask for prayer outside your own family without people's permission. To have a number of people pray just telephone Dennis (822992).

e-Round News from the Diocese of St. Albans

Chellington Co-ordinator joins the team!

The building is progressing, the money is coming in and now we are pleased to say that Liz Saunders has joined the Reach Out Projects team as Chellington Co-ordinator. The centre is due to be completed in August and will be available for bookings from September 2005. Liz is looking for volunteers for Chellington. For more details contact the office on 01727 818168.

Web link:

www.chellington.org.uk

Developing friendships with the Church of Norway. A recent visit by members of the St Albans Diocese to counterparts in the Church of Norway in Oslo has sowed the seeds of friendship between the dioceses and offered opportunities to learn from the contrasting ways in which the Norwegian church engages with its communities. Full article in April SeeRound.

Preserving oral histories. A project initiated by the Rev'd Jay MacLeod and Simon Tibbs of All Saints' Church, Queens Park, Bedford, has resulted in 'Queens Park Lives', a fascinating series of personal histories of five Queens Park locals. The project preserves the history of a culturally rich district of Bedford. Full article in April SeeRound.

Fashion show

St Andrew's Church Centre, Bedford, 16th April 7.30pm, Fairtrade Fashion Show. Tickets £1 from Ann Francis (01234-211764) or church office (01234-216881) or pay on the door.

'nChant' in concert, St. Andrews Church, Kimbolton Road, Bedford, 2nd April, 7.30pm.

Programme to include: Hildegard of Bingen, Lord of the Rings, Madonna, Shadow and Ashes - A Gothic Requiem and "Red Book" of Montserrat - 13th Century Spanish Pilgrim Songs.

Tickets £6, Those at school £3, available from St. Andrews Church,

Tel 01234 216881.

nChant is a young women's choir (ages 12 - 25) singing medieval and alternative music for the spiritual journey.

Elstow Abbey, 23rd April, Diocesan Taize Service. 6.30 p.m. music rehearsal; 7 p.m. Service for all; 8 p.m. hot supper in the hall. Please let the Revd Jeremy Crocker know if you are coming on 01234 261477 for catering.

Issued by:

Anna McCrum, Communications Officer, Diocese of St. Albans,
www.stalbans.anglican.org

Meeting Point
April
Tuesday 5th 10.30am at Jane Eshelby's, Newton House, The Avenue, Newton Bromswold, Rushden.
Wednesday 20th 10.30am at Eileen's, Corner House,Wymington Park, Rushden.
May
Tuesday 3rd 10.30am at Jill's, Rectory Farm, Odell.
Geoffrey Ochana in England
Geoffrey is spending a few weeks in England before joining Helen who is visiting their son and his family in America. We look forward to welcoming him to Odell where he will be staying from 1st to 4th April.
Friends old and new are invited to meet him at Abigail House between 10.00am and 5.00pm on Saturday 2nd. On Sunday 3rd he will be leading the Family Service in church at 10.00am
Service of Dedication in All Saints' Church
of the newly restored Stained Glass Window
All Saints' Church, Odell, on Sunday April 10th April at 10.00am.
Everyone is invited to join us for our Morning Fellowship of Holy Communion (Book of Common Prayer), when the Right Reverend Bishop Richard will be preaching. He will be dedicating the restored stained glass window and its re-instalment in All Saints' Church. This will be followed by a glass of wine and nibbles. We are hoping that the many people who have donated to this cause will be present.
A Wine and Cheese Evening and AGM, All Saints

Odell.
The Annual General Meeting of any organisation is an important open event. It is the opportunity for anyone with any interest in the organisation to attend the meeting, to see how it operates and functions and to question the officials. Unfortunately, Annual General Meetings are usually very dry, formal affairs and unlikely to attract visitors unless there is a crisis looming or there is great concern about the running of the organisation – or of course, an attraction! This year, Odell PCC proposes to make its AGM an attraction; it will be a social event that gives the opportunity to see the activities of the Church without the pain of having to sit through a tedious meeting and listen to endless reports.
The AGM of Odell PCC is to be planned around a wine and cheese evening with the business kept to a necessary minimum. The reports will be presented as poster displays so that they can be read as you walk around and talk with us. The business will be conducted at intervals during the evening as briefly as possible. In this way we hope that you will be able to ask questions more freely than you would in a formal meeting and to get a better perspective of the work that goes on behind the scenes.
The AGM of Odell PCC will be on Wednesday, 27th April 2005, from 7.45pm onwards, at Odell Village Hall. Please come and join us in a glass of wine; everyone is welcome!
Churchyard clear up and continuing Spring Cleaning
This will take place on Saturday 9th April from 10.00am. Lots of help needed – please come along, armed with gardening tools, and enjoy the fresh air!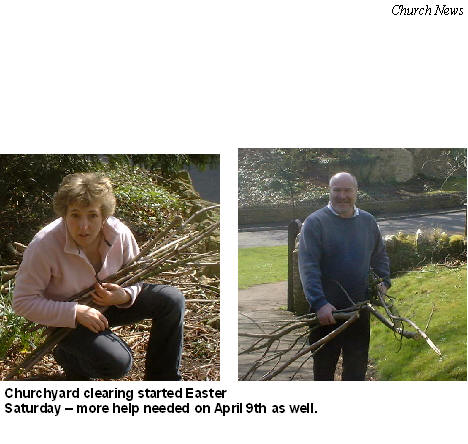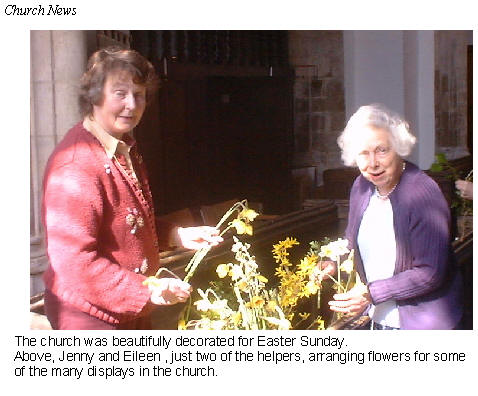 Odell Village Fete 11th June 2005

This year's fete is to take place on June 11th in the field in Horsefair Lane. As ever, we are hoping for a lovely sunny day and lots of visitors!

There will be all the usual attractions, including the popular dog show. There will be more details in next month's magazine.

However, please note the following appeal:

The Dog Show relies on sponsors. At this moment nine classes still need sponsors at £5 each. If you are willing to become a sponsor please contact Roma tel. 720431.

Our Giving in April is to Feba Radio

.

FEBA continues to broadcast the good news of Jesus Christ in many parts of Asia and Africa where it is against the law to preach the Christian faith. The programmes are designed to speak to the particular needs of people who are only too aware that they are involved in a spiritual battle. As a result of the broadcasts many come to a true faith in Jesus and are given strength to witness to their families and neighbours. Sometimes it means exile or death but there are also many stories of whole families coming to faith and seeking to take the gospel to neighbouring states.

The non-threatening medium of radio provides a unique opportunity for hundreds to learn of the way of life which can free them from the shackles of a religion which offers no hope. Making and broadcasting programmes in dozens of different languages is time consuming and costly. Please give what you can so more people can hear the Good News.

Looking To Jesus

"Then He told them plainly, Lazarus is dead, and for your sake I am glad I was not there, so that you may believe". John 11.14,15

When God Waits

When God waits it's because He knows more than you do. He has a better plan in mind. Martha said: "If only You had been here, my brother would not have died." (Jn 11,21). Are you saying that? "If only God had prevented this from happening!" Never doubt in the dark what He has promised you in the light! Never doubt His character or His promises or His track record in your life. Your critics are wrong! The day of miracles is not over! God does care about you! It may look 'dead and buried' as far as you're concerned, but from where HE stands, it's just a miracle in disguise. Notice a few things here:

First, Jesus waited! Tradition say's that certain Jews believed that the sprit of the dead hovered near the body for three days then left on the fourth. That day, Jesus left no doubt about His power over death and His willingness to work on behalf of those He loves.

Next, He wept. He was genuinely moved. You're not alone today; He feels your pain, He knows your heartache and He can be touched by the feeling of your infirmities. (Heb 4:15)

Finally, He worked. He asked them to do something: "roll away the stone!" Whatever stands between you and your answer - get rid of it. Faith and unbelief don't mix! Billy Sunday said, "Jesus called Lazurus personally by name, for if He had not, the moment He spoke the whole graveyard would have got up and started walking!"

Rejoice! The One who can, is going to come through for you today,

Taken from "Word for Today" with kind permission of United Christian Broadcasters. (Tel:01782:642000)

Amongst Ourselves

Congratulations and lots of blessings to Ron and Rosemary Heatley who are celebrating their Ruby Wedding Anniversary (40th) on 3rdApril. Well done and we pray that the next forty years will be just as happy and healthy! God bless you both.

Belated Birthday greetings go to Walter Nottage who celebrated his 85th Birthday on 10th March. Walt, we trust that you had a really happy day, and that you will be blessed with good heath and days of peace and happiness in the years to follow.

We are sorry to learn that Florence Shellard has been unwell and has been in Bedford Hospital, and trust that she is now progressing toward a good recovery and hope it will not be too long before we see her out enjoying her daily walk. We send our love and prayers to both Florence and Ken as we understand Ken has also been unwell.

Sadly we report the death of Margery Owen, (the lady with a lovely smile), who died at Charter House Nursing Home on 5th March aged 96 years old. Back in the 50s Marge and husband Tom lived in Mill Lane whilst Tom worked for the Odell Castle Estate. Later they moved away and then a few years ago Marge moved to 2 Horsefair Lane where she spent some really happy years. Ill health sadly meant she had to retire to Charter House where Sheila (Edie's daughter) used to visit her regularly and keep an eye on her as a very special link in her life. Our love goes to Sheila, and Edie, Betty and family. Another village which she loved and lived in was Carlton and Margery's funeral was held at St Mary's Carlton, where her ashes will be interred.

FATHER GOD we come to you with thanks and praise as once more spring has shown us your greatness through the lambs skipping around in the fields and the wonderful daffodils, primroses, and all the spring flowers that say 'how mighty you are'. The variable weather has shown us rain, snow and lots of sunshine, all these things tell us how awesome you are and that man could never be compared to you. You keep us so safe in this special haven of Bedfordshire. You hear the prayers and you answer them at your given time. Thank you Lord.

We do continue to remember those poor souls in Asia, and those suffering through terrible events in Africa and other parts of your world, especially where Aids is killing so many. Have mercy O Lord! Also we pray against the 'bird flu' that could reach this country and ask for your protection should it travel this far.

We do thank and praise you for our hospitals and all those who work in them, for our local doctors and the medical staff in our surgeries; for fireman, policemen and ambulance staff, having to face so many distressing hazards. We are truly thankful for them.

Be with all the sick and suffering, the homeless, and all those who look for love in a bottle or a drug. Father, please help them.

We feel so helpless and trust always in prayer for the answer.

Through Jesus we pray, Amen .

"Love so amazing, so divine, demands my soul, my life..........my all."

Green 'wheelie bins'.

Did you remember to order your green wheelie bin from the Council for your garden refuse, grass cuttings etc., which is collected fortnightly? If not there is still time to get one. And don't forget the Council do have a collection service for unwanted household items ie. household suites etc. It is an 'environmental health hazard' to burn these.

A tip for hospital visiting. As you know I have regularly visited hospital, and with MRSA so rampant I - and those who go with me - was advised to wash all clothing that I wore for that day, and to regularly wash my hands whilst I am at the hospital. A tip well worth noting!
Anne Turner
Birthdays
Happy birthday to:
Tania Fulford who will be 9 on April 5th and
Alex Swift who will be 13 on April 11th.
...and to all other readers who have a birthday in April!
Children's Society Boxes
A big thank you to all box holders and donors. Following the annual count-up I have been able to send off £186.05 to the Children's Society.
If there is anyone who would like to have a collection box please let me know. Catherine Corkery 720348
Diary

April

2nd 10.00am Geoffrey Ochana at Abigail House

5th 10.30am Meeting Point at Jane Eshelby's, Newton House, The Avenue, Rushden.

9th 10.00am Churchyard clearing and spring clean.

10th 10.00am Service of dedication of stained glass windows.

12th 7.30pm W.I., Odell Village Hall.

16th 10.30am W.I. Coffee Morning, Village Hall.

20th 10.30am Meeting Point at Eileen's, Corner House, Wymington Park, Rushden.

27th 7.45pm Odell PCC AGM and Wine and Cheese evening.
Magazine Deadline
Please send all entries for the May 2005 magazine to Tricia Hudson (patriciahudson@kbnet.co.uk), Anne Turner or Catherine Corkery by April 12th 2005 at the latest. May we remind you that the editorial team exercises the right to edit, shorten or alter any items that are submitted. Also, the opinions expressed in the articles are those of the contributors and are not the responsibility of the editorial team.
http://www.jonhudson.net/

FAX number
01234-721004

Back to the Odell Home Page
---
Last revised: April 02, 2005.