CHURCH NEWS - October 2004
New minister -We are still looking for a minister on a house for duty basis. See www.kbnet.co.uk/odell/vacancy.htm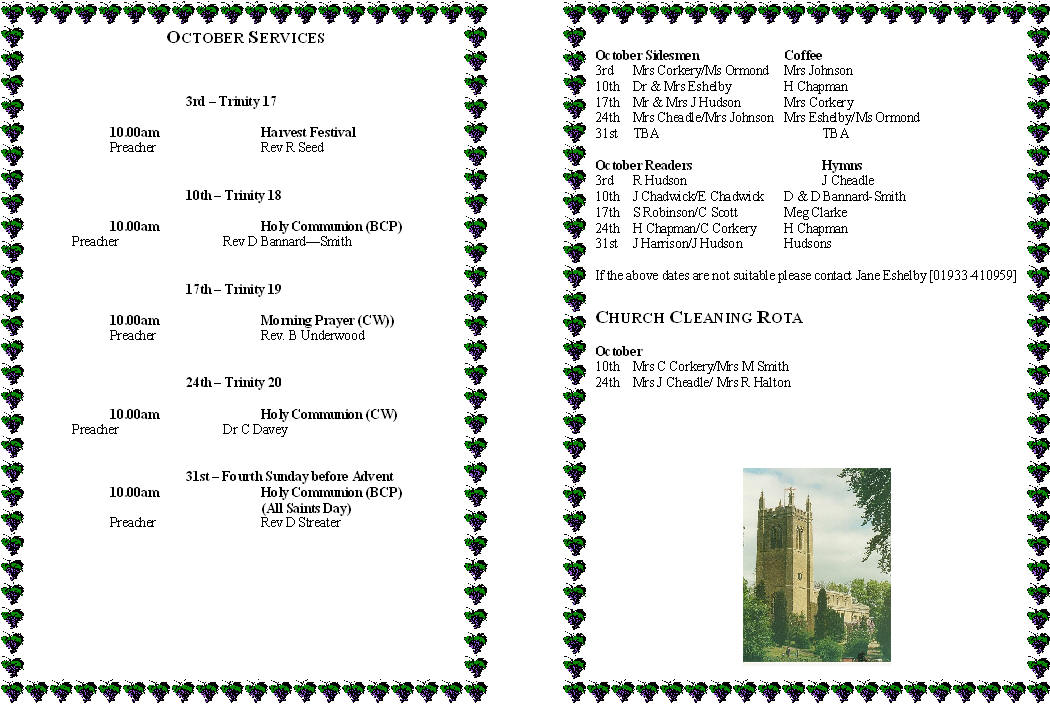 October 2004
The Shepherd
Jesus during his ministry told stories (parables) to get across his message and help people to think how it affected them. So let me tell you a story. In parts of the Cotswolds there is a lovely old tradition about shepherds. When a shepherd dies a piece of wool is placed on his chest before he is buried. The reason for it is rather unusual one. Legend has it that on the Last Day when people appear at the Golden Gate, St Peter will look at his book and say: "I don't understand why this man expects to be admitted, because according to my book he never used to go to church".
Then St Peter's orderly will explain; "Yes, but you see, sir there is a piece of wool on his chest, and that means that his reason for not going to church was that he was employed looking after his sheep; they need his care seven days a week". Legend goes on to say that the saint remarked: "That is quite alright. Come in."
Imagine what could happen if there was any truth in the story. What would you have on your chest and what should I have on mine??? Maybe some people would be found garnished with a golf ball; others with a football coupon. Many would be found with carpet slippers and the Sunday newspaper, and so on. I wonder what would happen to you personally.
There might be a girl with a nurse's cap, or a woman with a baking tin on her chest. Mothers who look after their families; the ambulance driver; the policeman, all the other people who guard and help us and make our worship possible. In short what the legend suggests is that where there is a good reason, it will be accepted – but let there be a reason and not just an excuse.
But there are many people who argue that there is no real need to go to church. "After all", they say, "you can worship God in the open air".
To that I think one answer is; "Yes, you can, but do you?
Rev. Cyril Harris
The Prayer Chain

The Prayer Chain is there if you need prayer for yourself, for others or for members of your family. Please don't ask for prayer outside your own family without people's permission. To have a number of people pray just telephone Dennis (822992).

Church Opening

Many of you will know that because of the problems of vandalism and theft from Churches generally, the Parish Church is kept locked. Unless there is a specific reason for opening it earlier, it will be opened for Sunday and occasional services half an hour before the Service is due to start.

e-Round News from the Diocese of St. Albans

New World Development Adviser Appointed

. Jonathan Ellis is to become World Development Adviser to assist the Diocese in its work tackling poverty and injustice in the world. Key amongst Jonathan's early priorities will be to promote the Bishop of St Albans' Harvest Appeal. He has also been charged with leading the bid for the Diocese to become a fair trade diocese. The Bishop has given Jonathan his permission to preach in the Diocese. For more details contact Valerie Geldard on 01727 851748.

The i-church is launched. i-church, the groundbreaking new church on the Internet, has gone online. Though formally part of the Diocese of Oxford, the church already has more than 700 members from around the world, including a South American bishop. i-church can be found at www.i-church.org

Issued by:
The Communications Unit
Diocese of St. Albans,


www.stalbans.anglican.org

Meeting Point

October
Tuesday 5th 10.30am at Eileen Shakespeare's, Corner House, Wymington Park, Rushden.
Wednesday 20th 10.30am at Catherine's, Manor Cottage, High St., Harrold.
Harvest Festival at All Saints' Odell
Saturday October 2nd
10.00am. Please come and help decorate the church for our Harvest Festival. Flowers, fruit and greenery are always needed but most of all we need your help!
7.00 for 7.30pm. Harvest Supper in the Village Hall. Everyone welcome. Tickets from Jill Cheadle 720261, £3.50, £2.00 concessions.
Sunday October 3rd. 10.00am Harvest Thanksgiving Family Service. Any produce donated by the congregation will be distributed among the elderly of the village.
Churchyard Tidy and Bonfire Night
An autumn churchyard tidying day is to be held on Saturday November 6th, from 10.00am, followed in the evening at 6.30pm by a bonfire and fireworks. Everyone in the village is invited to attend either or both events!
Our Giving in October is to C.M.S.
This month we are giving to our mission partners in the Church Missionary Society, to aid them in the very worthwhile projects they undertake for C.M.S. C.M.S. is committed to proclaiming the gospel
through a wide range of ministries. Their fundamental motivation for proclaiming the gospel is to bring glory to God.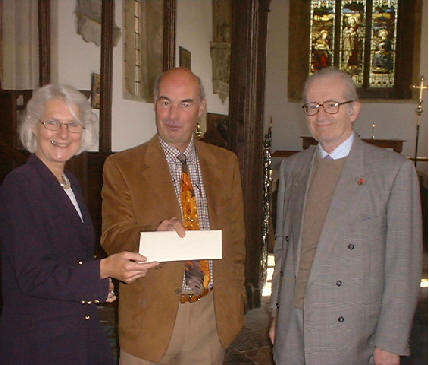 Lord and Lady Luke leaving Odell
On Sunday 19th September after the morning service the congregation of All Saints' said goodbye and thank you to Lord and Lady Luke who are leaving Odell and moving to Leicestershire. Their departure is a great loss to Odell which has been the home of 'The Lord Luke of Pavenham since the 1930s.
Lord Luke is the Patron of All Saints' Church in Odell and as such has given support to the church over many years. Lady Luke has been very involved in village life, showing an interest in and helping with a large number of the village activities. They will be greatly missed. We wish them much happiness in their new home in a village not far from Corby..
"Feast of Tabernacles"
Sunday 3rd October, 6.30pm St. Bartholomew's Church
Green's Norton
Booking essential. You will need to purchase meal tickets for this at £3 per person. Wine will be on sale. Cheques payable to "United Christian Conferences".
Payment, together with a stamped addressed envelope, should be sent to: The Revd. Canon John Knight, The Rectory, Towcester Rd., Green's Norton NN12 8BL.
Annual Historic Churches Sponsored Bike Ride
This year All Saints' Odell was represented by two brave cyclists, Tom and Hannah Hudson, who took to their 'bikes' in spite of the unsettled weather. Tom and Hannah managed to visit seven churches in the area. A steady stream of cyclists visited All Saints' throughout the day.
Many thanks to Tom and Hannah and to all those who manned the church and welcomed visitors. We hope to give the amount raised in the next edition.
"Sorry, no Trick or Treat" – a unique Christian approach to hallowe'en.
For a few years now a Christian project has been operating in North Staffordshire aiming at dissuading young people from an interest in the occult and in Hallowe'en.
The project has focused on the practice of 'Trick or Treat' and simply suggests that local Christians display a window leaflet in their homes that dissuades children from joining in with this practice.
This strategic community campaign has gained the support of schools, police and OAP organizations.
This campaign is now extending nation-wide, with both community and local church involvement.
Special 'No Trick or Treat' information packs are now available. Each contains 10 window leaflets, details of how to run a local campaign and sample leaflets for school involvement.
Just send a £4.99 cheque (payable to 'The Saltbox') with your name and address to: Saltbox Leaflets, Gitana St., Stoke-on-Trent ST1 1DY.
Information provided by United Christian Broadcasters, in their publication 'Breakthrough'
Douglas Smith – our thanks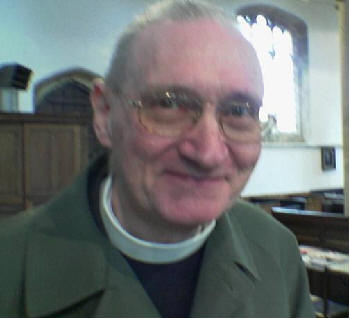 On Sunday August 29th Douglas delivered what was in his own words "his last sermon" after very nearly 51 years in the ministry.
In the October 2003 edition of this magazine we celebrated with Douglas his 50 - year anniversary in the ministry; to our delight he gave us yet another year of inspiring teaching. We are very sorry indeed to see Douglas finally step down from the pulpit but we understand that his health no longer allows him to be so active. We shall all remember his exceptionally uplifting sermons and his personal warmth – a friend to all, young and old – and his inspiration as a Christian leader. We do hope you have a comfortable and well– deserved retirement, Douglas, and still hope to see you from time to time in Odell.
Farewell to the Lewis family.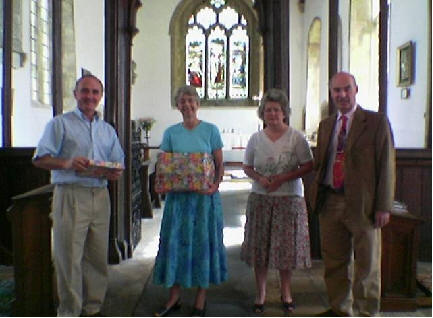 On Sunday 22nd August we said our 'official' goodbye to Phil and Liz Lewis – "official" as Phil had agreed to return to All Saints' on the following Sunday to lead the worship. However, by the time this is published Phil and Liz will really have moved down to Kent, where Phil is to take up a post in The King's School, Canterbury.

Phil and Liz have lived in Sharnbrook for over eighteen years and for much of that time attended All Saints' Church in Odell. They quickly became involved in the life of the church, Phil as lay preacher and Liz as one of our organists and leader of the church orchestra. They gave support to every church event, accompanied over the years by Alastair, Anna and Tim. Tim and Anna will be remembered for the musical support they gave to the church. In particular Tim will be remembered for the magnificent trumpet 'Reveilles' and 'Last Posts' played at Remembrance services. More recently, Phil, Liz and Anna enchanted us with a concert of Duets and Poetry readings, performed in aid of the Church Appeal.

Most especially, we shall miss them greatly as they were very much a part of the family of our church. We wish them every happiness in their life in Canterbury and do hope that we shall hear from them regularly.

The High Cost of Revenge

Do not avenge Yourselves

Romans 12.19

Chuck Swindoll tells the story of a lady whose doctor said to her "You've got rabies." Immediately she pulled out a pad and pencil and began writing. Thinking she was making out her will, the doctor said, "No, no, this doesn't mean you're going to die. There's a cure." "I know that," she said, "I'm making a list of the people I'm gonna bite!"

Revenge is like rabies; sometimes it devastates the one who gets hurt, but it always destroys the one who does the hurting. It's insidious, because: (1) it convinces you that it's justified (2) it forces you to get bogged down in bitterness and self-pity (3) it makes you spit in a well you may someday have to drink from (4) it sidetracks you (5) it causes you to take the low road. Listen: "Don't insist on getting even; that's not for you to do. `I'll do the judging,' says God. `I'11 take care of it'. (Rom 12:19 TM)

You're not qualified to judge because: (a) you don't really know what's in somebody else's heart, causing them to do the things they do (b) you're setting the standard by which you yourself will be judged. Listen: " Whatever measure you use in judging others, it will be used to measure how you are judged" (Matt 7:2 NLT). Can you live with that??

If you've been hurt, forgive! Then, for your own good, put it into God's hands. He's the only One who is qualified to handle it. And He will, if you let Him!

Printed with kind permission of UCB PO Box 255 Stoke-on-Trent. ST4 8YY

AM

ongst Ourselves

Father God we do thank you for Your forgiveness! Help us to ask for that special forgiveness should we hurt others. Please continue to give us lots of Grace to go through each and every day. We continue to place before your throne in prayer all those who are sick and lonely. Comfort those poor souls in Russia in the school tragedy and the thousands of children already in the orphanages there. Many are losing their homes and lives in the latest hurricanes abroad and we pray for those too. Thank you for keeping our little hamlet safe. Still we continue to ask you to bring a leader into the Church here. Thank you for guiding us in all we do, for supplying our needs, bringing your healing and answering our prayers. In this sad and hurtful world one thing we can certainly do is to pray and believe that you are The God who knows all things, from the end to the beginning. We bring this prayer to you in the name of Jesus our Saviour and Intercessor. Amen.

We are sorry to hear that Douglas Smith is unwell and we send our prayers to both Douglas and Mollie thanking Douglas for his most welcoming sermons that we have listened to avidly, and hope it will not be too long before he is back in our midst albeit as a member of the congregation.
Anne Turner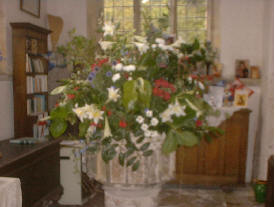 Church Flowers
October
3rd Harvest Festival
10th Georgina Harrison
17th Jill Cheadle
24th Tricia Hudson
31st Nikki Freeman
Village Carol Singing – Advance Notice!
The date for this year's carol singing around the village has been set at Saturday December 18th. As usual, singers should meet at 6.00 pm on the village green, with warm clothes and torches.
This is always a fun event and a chance to spread Christmas cheer around the village. There is always a warm snack and drinks to end the evening. Money raised goes to support several good charities.
Put this date in your diary and come and join in the fun this year.
Diary
October
2nd 10.00am Church decorating for Harvest.
2nd 7 for 7.30pm Harvest Supper, Village Hall.
3rd 10.00am Family Service of Harvest Thanksgiving, All Saints'.
3rd 6.30pm Feast of Tabernacles, St. Bartholomew's Church, Green's Norton.
5th 10.30am Meeting Point at Eileen Shakespeare's, Corner
House, Wymington Park, Rushden.

12th 7.30pm W.I. Meeting Village Hall.

13th 12 for 12.30 Senior Citizens Harvest Lunch, Village Hall.

16th 7.30 for 8.00 Quiz, Village Hall.
20th 10.30am Meeting Point at Catherine's, Manor Cottage,
High St., Harrold.

23rd, 10am-4pm The Big Draw at Harrold-Odell Country Park.

24th & 25th

27th 10.00am Cycle Day, Harrold-Odell Country Park.

November

6th 10.00am Churchyard tidy

6th TBA Bonfire and fireworks, churchyard.
Magazine Deadline

Please send all entries for the November 2004 magazine to Tricia Hudson (patriciahudson@kbnet.co.uk), Anne Turner or Catherine Corkery by October 12th 2004 at the latest. May we remind you that the editorial team exercises the right to edit, shorten or alter any items that are submitted. Also, the opinions expressed in the articles are those of the contributors and are not the responsibility of the editorial team.

New minister - the candidate we met in June decided to take another position - so we are still looking for a minister. See www.kbnet.co.uk/odell/vacancy.htm

We now have the figure for the final profit made by this year's fete – a magnificent £2780.62. Once again, many thanks to all helpers and those who contributed in any way.

electronic mail address is <jh at kbnet.net>



FAX number
01234-721004

Back to the Odell Home Page
---
Last revised: September 30, 2004.