CHURCH NEWS - December 2004/ January 2005
New minister -We are still looking for a minister on a house for duty basis. See www.kbnet.co.uk/odell/vacancy.htm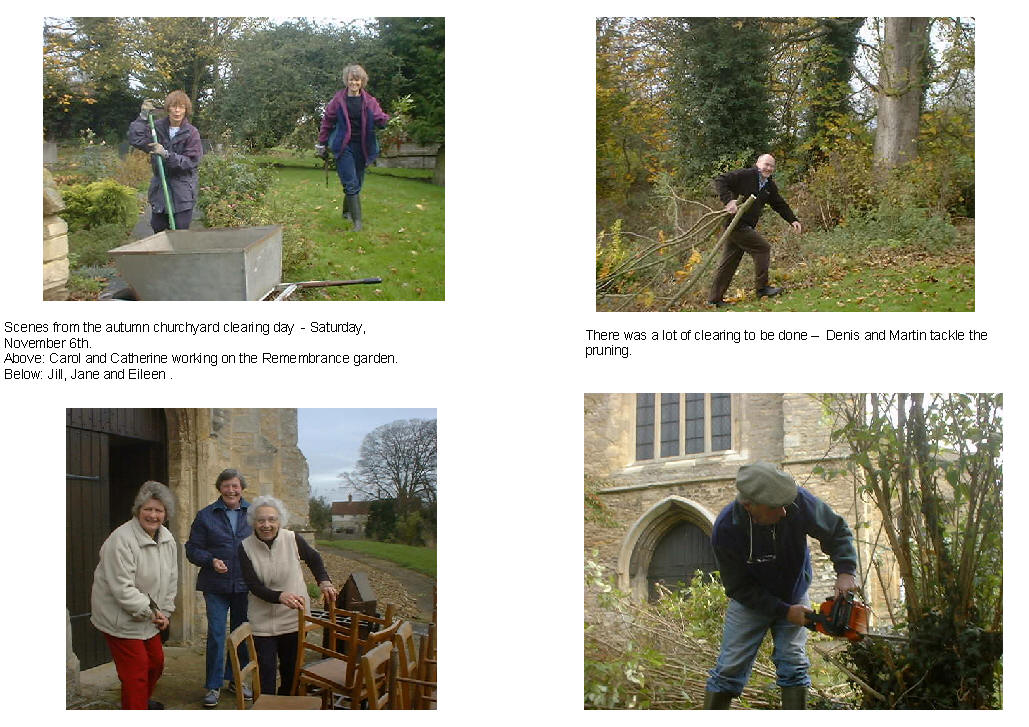 Christmas Week In Odell
Church Decorating will take place on Saturday 18th December from 10.00 am. Everyone invited to join in the fun.
Carol Singing round the village: Saturday 18th. Singers meet at 6.00 pm outside The Bell. Everyone welcome. Warm refreshments to follow.
Carols by candlelight: Sunday 19th at 6.00 pm at All Saints.
Midnight Communion: Friday 24th December at 11.30 pm, All Saints.
Christmas Day: Morning Worship and short Holy Communion, 10.00 am.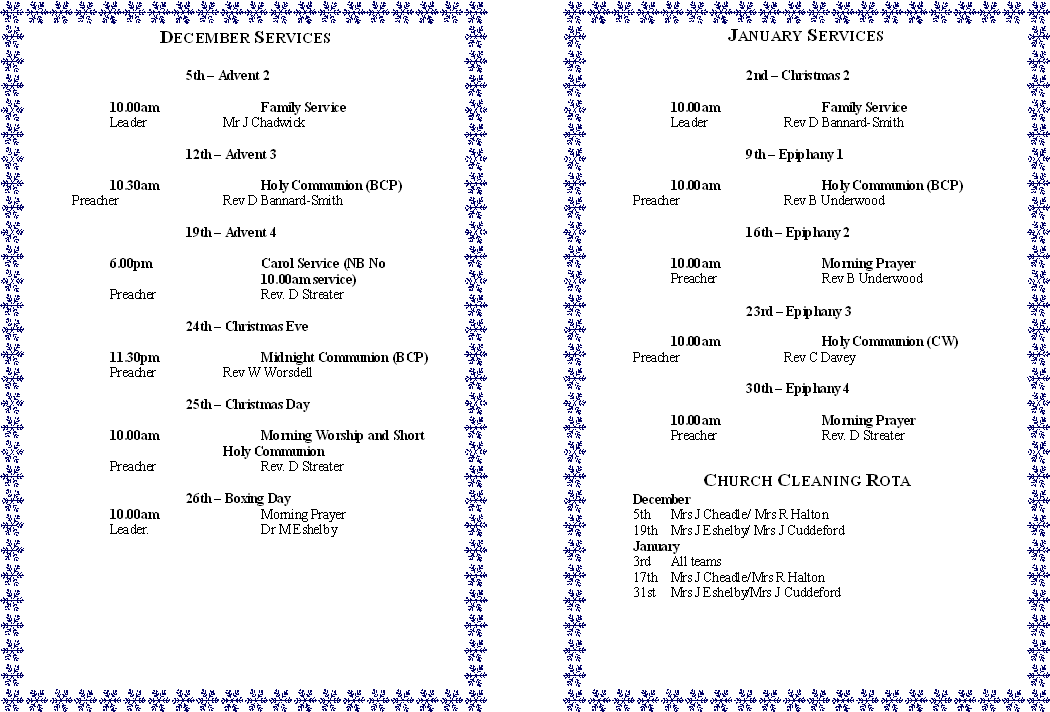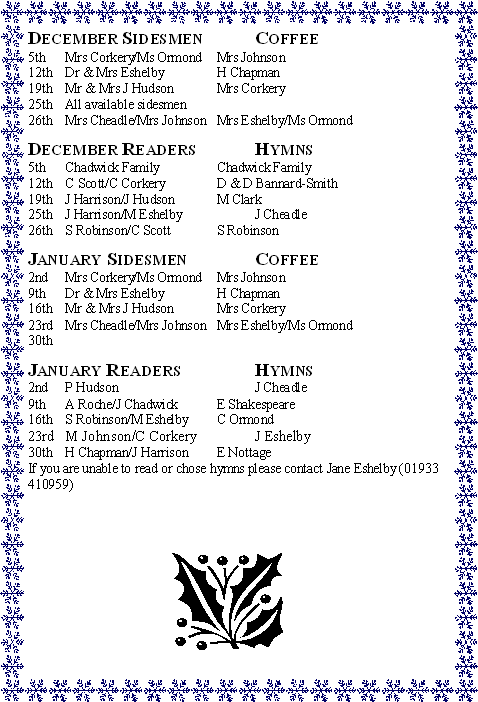 December 2004
I am pleased to be invited to contribute to this Christmas and New Year edition of All Saints' Church magazine. We value the link with you. The invitation gives me the opportunity on behalf of Enid and me to wish you all a Christmas blessed with the peace and joy of Christ, and a New Year full of the happiness he alone can give.
Streets and shops are now bedecked with Christmas bunting and full of goods being offered as suitable presents. Have you begun to gather together your gifts and to write your greeting cards? Commerce encourages us to be well prepared!
I wonder how many boxes of chocolates you will give or receive as presents this year? Almost everybody finds chocolate irresistible but we like different shapes and centres. I read recently that our preferred shapes and types of chocolates can be taken as indicators of our personality – and can be analysed! A book has even been printed to help us to discover our 'inner centre'. If you prefer circular chocolates you love to party (it seems) and so are likeable and friendly. If you look for oval ones you like to stretch your limits and you are (apparently) creative, socially adept and make friends easily. Square chocolate lovers are supposed to be dependable, balanced and honest, and those who prefer rectangular shapes are calm, good listeners and enjoy organizing others. Triangle shape lovers are the movers and shakers of the world. Milk chocolate lovers are fond of the past, dark chocolate lovers are forward looking, bitter chocolate lovers are (we are told) connoisseurs of the finer things in life!
But whatever it is claimed, and whatever character our preferences are supposed to betray, we take delight in such gifts and enjoy the benefit – and rightly so! This receiving and enjoying is a mirror of our reception and enjoyment of the gifts of God our Father.
St John's Gospel tells us that God the only Son became a human being and made God known to us – he is the Father's supreme gift whom we need to receive personally to enjoy our relationship with God. John goes on to say that we have seen his glory full of grace and truth. Our experience teaches us that we seek truth and need grace to live by. These kinds of choices do reveal our inner selves because we can choose to give God the control of our lives so that he can produce in us the fruit of Christian character and empower us for Christian service in the New Year.
We both of us hope that you have a wonderful celebration of the Saviour's birth and joy as you grow in Christ in the New Year.
Brian Underwood
The Prayer Chain
The Prayer Chain is there if you need prayer for yourself, for others or for members of your family. Please don't ask for prayer outside your own family without people's permission. To have a number of people pray just telephone Dennis (822992).
Church Opening
Many of you will know that because of the problems of vandalism and theft from Churches generally, the Parish Church is kept locked. Unless there is a specific reason for opening it earlier, it will be opened for Sunday and occasional services half an hour before the Service is due to start.
e-Round News from the Diocese of St. Albans
BBC at the Abbey. On Wednesday 15th December BBC Radio 4 will be at St Albans Cathedral to record a service of Sunday Worship to be
broadcast on Boxing Day morning. Worshippers from around the Diocese are welcome to come and take part in the recording of the service. All those attending must be seated at the Abbey 7:15pm. The service will include seasonal hymns, a meditation on St Stephen's day, and music from Britten's Ceremony of Carols.
News from the Church of England
Women Bishops in the Church of England. " Women Bishops in the Church of England?", the report of the House of Bishops' Working Party on Women in the Episcopate, chaired by the Rt Revd Dr Michael Nazir-Ali, the Bishop of Rochester, was published on Tuesday, 2nd November. The General Synod will discuss the report in February. Watch out for an article on the report in the December issue of SeeRound.
National Framework for Religious Education. Religious Education in all schools will be given a strong boost by the launch of the new National Framework. RE has been increasingly recognised in recent years as a vital and popular part of the school curriculum. Representatives of the Church of England, alongside those of other churches and faiths and other professionals, have been actively engaged in the development of the framework.
Christmas events
December 30th, 7 pm, 31st December at 3pm and 5pm, St Saviour's Church, Sandpit Lane, St Albans, 'Amahl And The Night Visitors'. This enchanting short opera is an ideal way to introduce children to music theatre and the perfect conclusion to the Christmas season for all ages. St Albans Chamber Opera, orchestra and chorus conducted by David Ireson in; Tickets £7.50 adults, £3 children (under 14) £3, and family ticket (2 adults and 2 children) £17.50. From 01727 858307.
Issued by:
Anna McCrum
Communications Officer Diocese of St. Albans,
www.stalbans.anglican.org
Meeting Point
December
Tuesday 14th Christmas lunch – 11.00am start at Jill's, Rectory Farm, Odell.
January
Wednesday 12th 10.30am at Catherine's, Manor Cottage, Harrold.
Our Giving in December

will be to the following Charities:

The National Society for the Prevention of Cruelty to Children

Christian Family Care

The Bedford Area Schools Christian Support Trust (SU)

In January our giving will be to Mission Aviation Fellowship. This is an airborne mission, which takes the Word and much-needed help to many remote and inaccessible places – a very worthy cause.

Christmas Hamper Coffee Morning

In support of Christian Family Care

Friday 3rd December

Hobbs Green Farm

Church Lane, Odell

From 10.30am to noon.

Admission Free

Looking to Jesus For Christmas and the New Year

Come let us adore Him

"For Unto you is born this day in the city of David a Saviour,, which is Christ the Lord" Luke 2:11

Jesus Christ was born in the humblest of settings, yet heaven was filled with the song of the angels. His birthplace was a cattle shed, yet a star brought princes 2,000 miles to worship Him.

He was born contrary to the laws of life. His death was contrary to the laws of death. Yet no miracle is as inexplicable as His life and teaching.

He had no cornfields or fisheries, but He spread a table for 5,000 and had bread and fish to spare! He walked on no expensive carpeting, yet He walked on the waters and they supported Him.

His crucifixion was the crime of crimes, yet from God's perspective no less a price could have made possible our redemption. When He died, few men mourned, but God hung black crepe over the sun. Those who crucified Him didn't tremble at what they'd done; yet the earth shook under them.

Sin never touched Him. Corruption could not get hold of His body. The soil that had been reddened with His blood could not claim His dust.

Three years He preached the Gospel. He wrote no book, built no church, had no money to back Him. Yet after 2,000 years He is still the one central character of human history, the perpetual theme of all preaching, the pivot around which the events of the age revolve, and the only Redeemer of the human race.

Come let us adore Him – Christ the Lord!!

Taken from Word for Today with kind permission of United Christian Broadcasters. 178 2642000. PO Box 255, Stoke-on-Trent. ST4 8YY

Amongst Ourselves

Father God we come to you in this most wonderful time of the year, the time when we celebrate the special birth of your son Jesus Christ, - Christmas. The only reason we can celebrate is because You brought Jesus into this world to save us from hell. We believe that He was born, and died, for us all; that we may have everlasting life and have it more abundantly. Forgive us for our sins, for the fighting that is taking place in different parts of the world. Oh Lord we do pray for world peace, especially at the moment when Christian TV channels are going further into isolated and dangerous places. We truly ask you to bless them that they may bring more souls to come to know you.

We ask you to bless and take care of the elderly, sick and lonely; Derrick Gadsby - having recently been into hospital, the homeless and especially those mourning the death of servicemen who have died fighting for peace. Each person is special and Christmas is the time when many tears will be shed.

Father we know in our hearts there is so much unrest in so many places, especially where drugs and alcohol are concerned. Love is really the thing that is so lacking in so many peoples lives. This Christmas we pray for Your love to enter people's hearts, filling that vacuum - that they may find that the lowly one born in a stable manger is a King who is so rich in love and forgiveness.

What can I give Him, poor as I am; if I were a shepherd I would bring a lamb. If I were a wise man I would do my part. Yet, what can I give Him? Give Him my heart. Amen

O LORD GREAT IS THY FAITHFULNESS

A year ago I was going through a really traumatic time, facing the fact that I had cancer and being told by a GP that there was nothing they could do for me. A year on Addenbrookes have taken great care of my situation, taking me through an operation and a series of Chemotherapy, and scans etc. Sadly the type of Chemotherapy they gave me did not actually destroy all what was there and, after having yet another scan, it has been decided to give another course of 6 Chemotherapies (3 of a different type - two through a drip and one in tablet form to bring home) which takes me up to February.

It certainly has been a time of learning, a testing time, and a time of trust with loneliness being the hardest factor to deal with, and I am really indebted to those kind people who have emailed me, written to me, and have telephoned me to have a most welcome chat, and those who have knocked on my door to bring me gifts and have a chat too.

Going to Addenbrookes for my treatment takes 12 hours of the day, leaving home about 7.30am and not getting home until after tea-time. My thanks go to Jill Cheadle, Catherine Corkery, Jen Cuddiford, Liz Dodwell, Carol Ormond, who takes time out from work to take me, and my daughter Rosemary who has given up her holiday time for various appointments and treatment times, and Sheila (my cousin) always ready to accompany me. I really am so blessed but I know and believe that God will bless you all abundantly for your love and care for me. This situation has proven so much especially in the unselfish, unconditional love of people! Dennis and Carol daily walk my Border Collie 'Misty' for me and Roma checks her for me whilst I am at the hospital. I feel so humble as if words are not enough, so I can and do offer my heartfelt thanks to God for all the people who have helped in some way, small or large to bring me through this challenging time. My faith upholds me. Thank you to a Mother who, always singing "What a friend we have in Jesus", taught me so much about the love of God. It is as Jesus said ,"I bid you to 'walk on the water' you will not sink with me as your Captain."

I do not know God's will in this, but I do believe and will continue to believe in all that is good. Prayer is so valuable. It works.

God bless you all and thank you for enabling me to continue my daily walk, "When there was only one step of footsteps, it was then that I carried you."

Thank you Lord for your love and for touching the hearts of so many, here and abroad. The prayer has snowballed. I love you Lord. Amen

I take this opportunity to wish a really happy, healthy and blessed Christmas and New Year to all our readers, especially thanking you for the welcoming words that I have received regarding my contributions to the magazine. Thank you. If they touched one heart, great. If they touched more than one, hallelujah!

God bless you.
Anne Turner
Church Flowers
December
5th Caroline Scott
12th Jane Eshelby
19th Church decorating for Christmas
26th Clear the Church after Christmas
More Church Cleaners Needed!
There is currently a need for at least two more willing volunteers – male or female - to help clean the church.
Cleaners work in teams, each team only needing to clean on one morning every six weeks. Please contact Jill Cheadle (720261) if you can help.
Diary

December

3rd 10.30am Christmas Hamper Coffee Morning, Hobbs Green Farm.

7th 10-2.00pm Bedford Volunteer Bureau, Visitor Centre Harrold and Odell Country Park.

14th 11.00am Meeting Point Christmas lunch at Rectory Farm.

14th 7.30pm W.I. Christmas Supper at Doreen Wheeler's.

15th 12.30 Odell Luncheon Club Christmas Lunch in Village Hall.

15th 2-4.00pm Country Park Guided Walk.

17th 7.00pm Children's Christmas Party, Village Hall.

22nd 10-1.00pm Winter birds guided walk, Country Park.

January

11th 7.30pm W.I. Odell Village Hall.

12th 10.30am Meeting Point at Catherine's, Manor Cottage, Harrold.

17th 8.00pm Parish Council Meeting, Village Hall.

29th 7.30pm Burn's Night celebration, Village Hall.
Magazine Deadline
Please send all entries for the February 2005 magazine to Tricia Hudson (patriciahudson at kbnet.co.uk), Anne Turner or Catherine Corkery by January 12th 2005 at the latest. May we remind you that the editorial team exercises the right to edit, shorten or alter any items that are submitted. Also, the opinions expressed in the articles are those of the contributors and are not the responsibility of the editorial team.
electronic mail address is <mag@jonhudson.net>
http://www.jonhudson.net/

FAX number
01234-721004

Back to the Odell Home Page
---
Last revised: December 04, 2004.