ODELL VILLAGE NEWS
June 2000
The Mill and River in May featured below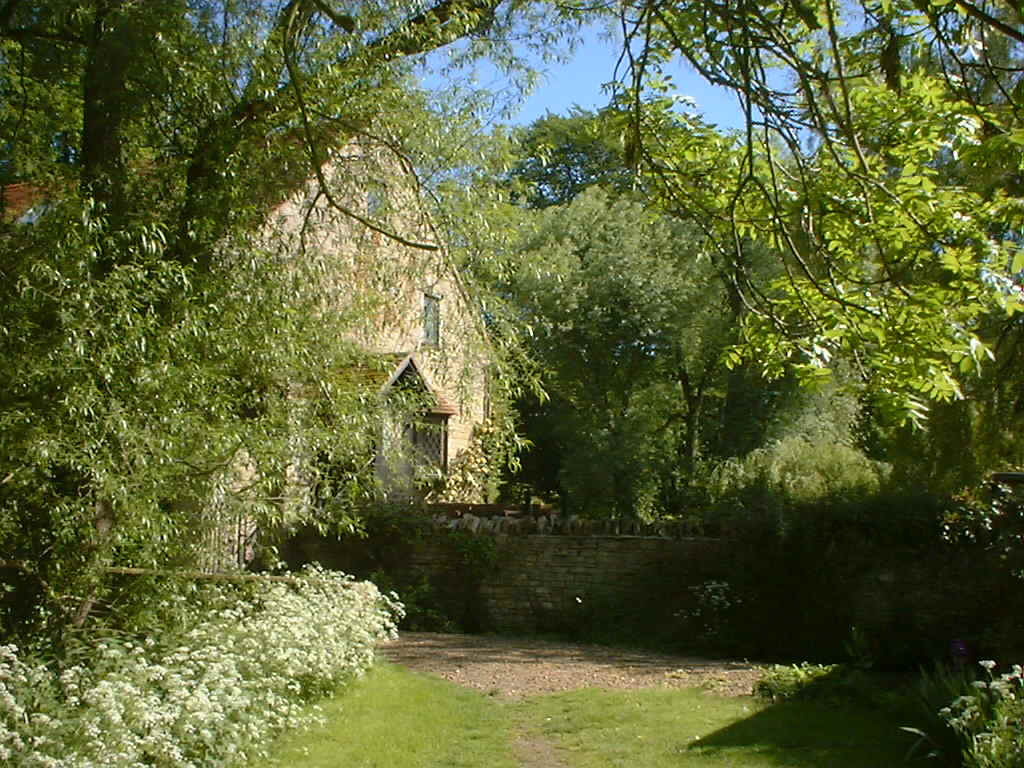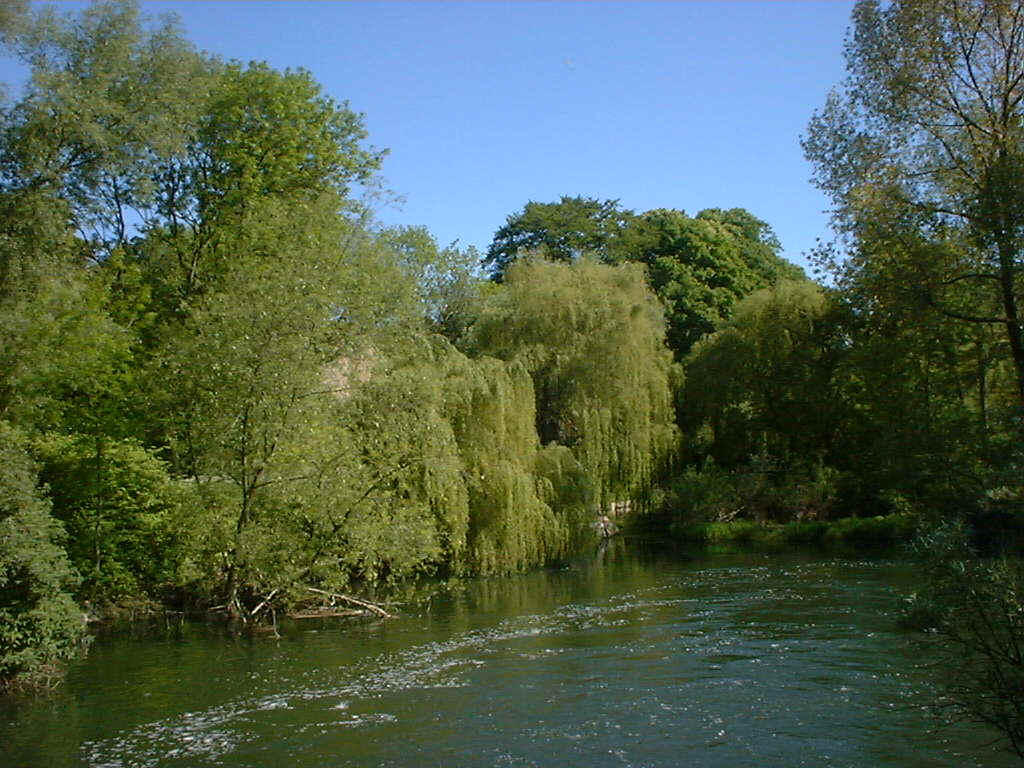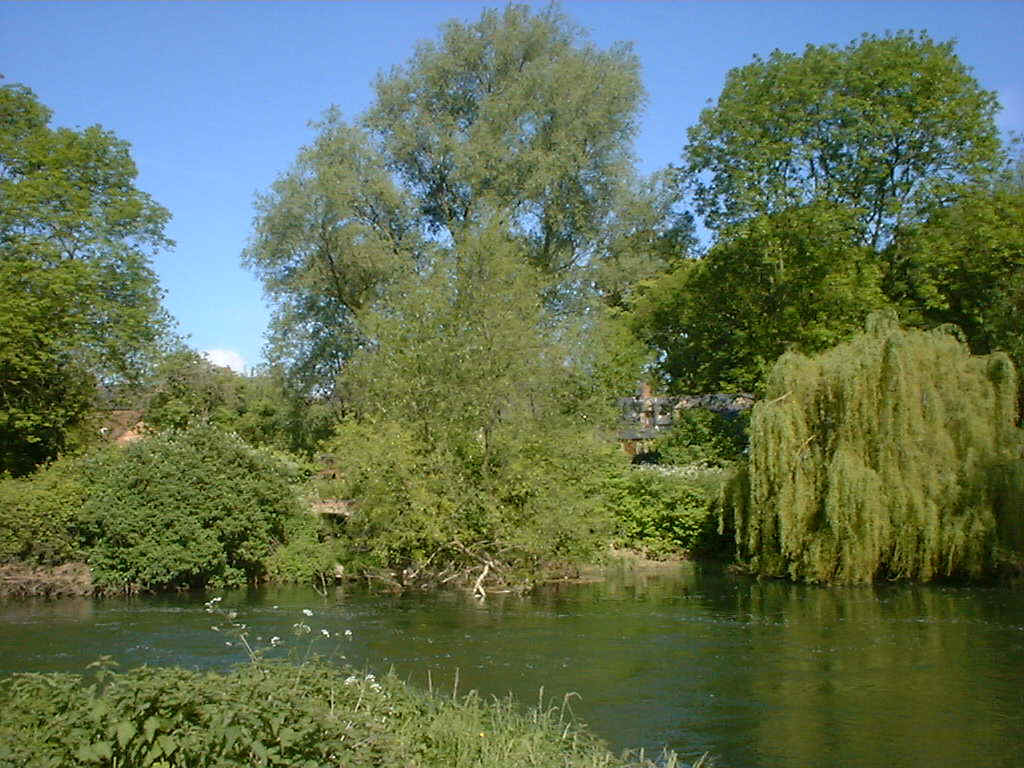 Birthdays
Birthday Greetings to Robert Merret who will be 10 on the 11th
And to anyone else who celebrates a birthday in June!
Round and About
The Millennium Book of Odell.
After nearly four years of research and preparation, the writing is finally done and the book is with the printers. The date for distribution is now firmly in their hands and all we can do is wait…but mid-June is looking good.
The Millennium Book of Odell…what does that mean? A millennium is a thousand years and that is exactly what the book offers:- one thousand years of Odell's history. Walter Flandrensis came to England with William the Conqueror and when the fighting was over he was granted great tracts of land of which our parish of Odell, or Wahull as it was then known, was but a part. However, he chose to settle here and adopted the title Baron of Wahull. It was here that he started to build his castle and the family was to remain for nearly 400 years. The family "dwindled" into the female line and the castle and estate fell into neglect.
William Alston was a successful lawyer and he grew rich as Keeper of Briefs on the Kings Bench – a "post of considerable profit" – and when he had made his fortune he began to look for a suitable country estate. His eye fell upon the crumbling fortunes of Odell. He rebuilt the castle into a fine mansion and the Alston family remained with us until the twentieth century.
If you are not interested in the rich, how about the poor? In those earlier, far off centuries, the rich enjoyed a life of relative ease and comfort but for the poor life was one long, unremitting grind of hard labour just to get by. Most of those who aspired to have a little land had to pay their "lord" rent. As most of them could not give money they had to offer their labour instead – without pay. Some of the early rents paid to the Baron Wahull are quite intriguing. Why, for example, did Henry Legerman pay an annual rent of a garland of roses and yet Matilda de Pentyne was required to deliver just one single rose? Why in the eighteenth century did our burgeoing Parish Council force certain residents to wear badges emblazoned with the letters of "P" and "O"? This was in a time before Social Security and if you were unlucky enough to find yourself "on the parish" you would receive a pittance to live on and were expected to wear a badge of shame for all to see. This was known as "badging the poor".
We hear of Peter Bulkeley leaving for America and in a later century of Charles Searle who assisted many of the young men of Odell to seek a better life in the New World. We also hear the sad story of little Kitty Askew, with her plans to join her brother in Canada, all of which came to tragic climax.
If you prefer lighter reading there is the section on Myths and Legends. The black-hearted Baron of Radwell coveted the pretty daughter of Baron Wahull and way-laying her True Knight he secreted him in the dungeons of Radwell Castle. His evil plans came to nothing and right eventually won the day when the happy young couple was married. The thwarted Baron Radwell attacked Odell Church in his rage, seizing the tower. The imprint of his hand was burned into the stonework. There are many stories concerning the "fingerprints" on the church tower. The most popular is that they were left there by the wicked Sir Rowland Alston. Yet again, it is reputed that the fingerprints were left there by the Devil himself. These stories and many other legends all find their way into the Millennium Book.
Perhaps you prefer anecdotes from the turn of the twentieth century such as that of Sally Moffatt selling ice-cream from her little pony and cart, or of the Wesley brothers and their sporting prowess. There are anecdotes of cricket matches and bare-knuckle fighting and the regular pastime of waylaying poachers in Odell Wood, to say nothing of the Odell thunderbolt.
There is all this and much, much more to be found in the Millennium Book. However, with all my research I found myself in possession of far more information than I could make use of, so from time to time I hope to dig into this excess material when bringing you my monthly item.
After all, waste not, want not! Barbara Corley
Odell Fete – 1920s style – 10th June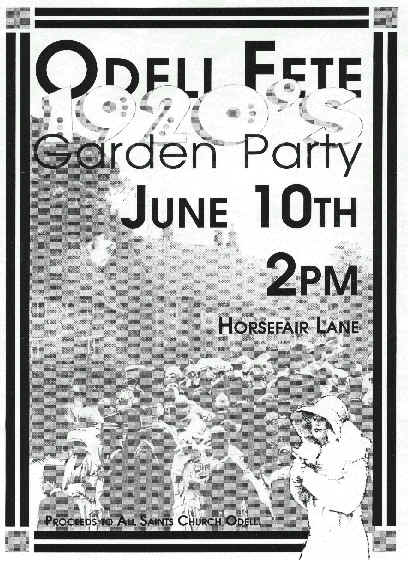 On June 10th visit Horsefair Lane and go back some 75 years. Meander down the lane in brilliant summer sunshine (it will be!), listen to Lilly the dance organ as you make your way to the riverbank for a soothing trip on the river in a punt. After something that exhausting how about some tea – cucumber sandwich dear? - or maybe something a little stronger. Whilst you sip your Pimms reflect on all those Americans, tortured by prohibition. Admire the season's fashions, dropped waisted dresses, long strings of pearls and those fetching little feather headdresses. All that bliss before you have to go and collect your raffle prize and knock yet another coconut from its perch.
How are all the decorative containers coming along? Bring your completed entry along on the day, include your name and address and you could win £10 to spend at Milton Ernest Garden Centre.
Once you have turned the loft out and found all those old clothes – wear them! - and enter our Fancy Dress Competition. Prizes for children 7 and under, 8 to 11 and over 12 and adults.
Forget the National Lottery for one week and buy one of our raffle tickets - the chances of winning are far greater. 35% of ticket proceeds will be returned in cash prizes (first prize 20%).
Do you own a ferret? If you do why not put it into training and bring it to the Fete to compete against our Ferret Racing Team.
On the appealing for help side the Committee could do with items for the following stalls. Here are all the contact names and numbers:
Cakes for Teas Doreen Wheeler 720358
White Elephant Jackie Stubbs 720123
Gifts Catherine Corkery 720348
Sunday School Valerie Streater 720234
Come along and have a great day. Evening BBQ for all helpers and residents. All funds raised go to the fabric fund of All Saints, Odell.
Open Garden
The garden of Yelnow Farm, Church Lane Odell, will be open on
17th and 18th June from 11am – 6pm.
Adults £1, children 50p.
Proceeds to go to the Henry Doubleday Research Association.
Something for all garden lovers: a developing kitchen garden converting to organic status, woodlands and nursery.
Teas served. Plants for sale.
Dogs on leads welcome.
W.I. News
This month saw our AGM which gave us the chance to review the past year. We have had some enjoyable meetings and with the support of friends and residents, two successful fund raising events. It gave our President, Pat Allen, a chance to say thank you to all who had supported her throughout the year and gave us, the members, a chance to say thank you to her for all her hard work as president and a long standing committee member. She has decided to stand down from both the committee and her position as president so a small presentation was made to her. Our competition cup was won by Jill Cheadle.
We welcomed Dot Wig, a visitor from Bedfordshire Federation, who brought us up to date with W.I. news, answered our questions and finally entertained us with some humorous recitations.
After a coffee break we then resumed the meeting to discuss the resolutions, which were then voted on.
Next Meeting:
Village Hall on June 13th at 7.30. Our speaker will be Mr Deacon who will demonstrate the art of stained glass making.
Competition: A favourite piece of glass.
Hostesses: Mandy Sharpe and Barbara Corley.
As always all are welcome , just come along or contact me at the number below for further details
Rachel Halton 720572
Parish Council Minute Book 1937 - 1972
While doing some research into the history of the Parish Council the Council has become aware that this particular minute book has gone astray. It was in use when the pictorial histories of the village were put together, so if any one has any idea of its location the Council would be grateful if it could be returned. Please contact any Councillor or ring me Rachel Halton on 720572.
Indulge Yourself!
Afternoon Tea
At Linden House, 93 High Street, Odell,
on Wednesday 21 June from 3.00 to 5.00 pm.
All proceeds to the Corner Club, a weekly club held in Harrold, for adults in North Bedfordshire with learning disabilities.
Cream teas – strawberries and cream
Thanksgiving for Marriage
Were you married in St. Peter's Church, Sharnbrook?
If so, you may like to take part in a service of celebration and thanksgiving for marriages in St. Peter's Church on Saturday, 17th June at 2.30pm.
For more details please contact
Anne Osborn 781317, Lynda Newman 781780 or Barbara Woplin 781200
Odell Village Hall
We have provisionally booked Dennis Love for the "Old Tyme" Dance on November 4th 2000. Dennis played a great array of different music, which was thoroughly enjoyed by all who attended the dance last year. Details in future editions.
We would welcome some more members to the committee so if you have some spare time and would like to join us please contact Rob Lee 720730.
Odell Parish Council
The Annual Open Meeting of the Odell Parish Council was held on Monday 15th May. The following items were covered:
We have chosen and will install a new seat at the end of Horsefair Lane.

We are continuing to battle with the Bus service to improve the service for children going to school.

Mr.Prigmore came from Bedfordshire C.C. and heard our concerns about the roads. He agreed that Horsefair Lane needs re-surfacing and this will be done later. He also undertook to improve the road marking at the eastern entrance to the village. To improve the centre lining is a matter for the Ministry of Transport, and the Bedfordshire C.C. cannot do anything for that.

At the meeting on 3rd July Miss Gillian Cook will address the Parish Council on the subject of affordable housing. Anyone in the Parish may attend.

Mr B Cheadle was elected Vice Chairman, and Mr J Harrison was elected Chairman of the Parish Council for the coming year.

Jonathan Harrison

Chairman.
The Mill Theatre, Sharnbrook
Following the successes of 'Bouncers' and 'Oliver', there is more to delight and entertain you in our 21st Anniversary Season of contrasts.
"Dancing at Lughnasa" Monday 25th to Saturday 30th September, 2000.
A charming insight into Irish rural family life in the 1930s. Tender, poignant, humorous..
Tickets:
£6 on 25th and 26th, £8.50 on 27th (Gala Night) and £7 all other nights.
"A summer evening with John Zaradin" September 1st
Arrangements are underway to have an evening of Spanish Guitar music with Odell's John Zaradin performing at the Mill Theatre in a special event in conjunction with Sharnbrook Mill Restaurant to provide a superb evening of music, wine and food. Watch out for more details.
Sharnbrook Mill Theatre Trust & The Friends of St. Peter's Church, Sharnbrook
Invite you to a
Charity Gala Performance of " Dancing at Lughnasa"
Wednesday 27th September, 2000, at 7.45pm.
Tickets: £8.50 (including wine and nibbles)
Available ONLY form Village Trader.
Proceeds in aid of The Mill Theatre & The Friends of St. Peter's Church.
"Chase Dark" Friday 10th to Saturday 18th November, 2000
The world premiere of a dynamic, original musical.
Tickets: £6 on 13th & 14th, £8 all other nights.
Bookings may be made one month beforehand from:
Bedford - Central Box Office, Harpur Suite - tel: 01234 269519
Wellingborough - The Castle Box Office - tel: 01933 270007
(Both of the above accept credit card bookings).
Sharnbrook -by returning your booking forms in person to The Village Trader, 28 High Street.
Group Sales - Alison Bean - tel: 01234 781372 – 10% reduction for parties of 10 or more.
Enquiries/Mailing list 01234 782377
All performances start at 7.45pm. Seats can be reserved.
Summer Evenings of Music at Hill House Barn, Carlton
The Piccadilly Dance Orchestra – Friday, June 9th £15
The Piccadilly Dance Orchestra, directed by Michael Law, presents an all-new celebration of the Golden Age of the Hollywood Musical. "Isn't it Romantic", "Happy Feet", "Puttin' on the Ritz" and "42nd Street" are just a few of the songs that will transport you to when the Hollywood Musical was at its best.
Haffner Wind Ensemble – Friday, June 16th £15
One of the leading groups of its kind, it is noted for its colourful, interesting and diverse programmes.
The Best of British Jazz – Friday June 23rd £14
Digby Fairweather – trumpet, Don Lusher – trombone, Ronnie Verrell – drums, Roy Willox – alto sax/clarinet, Lennie Bush – double bass and Brian Lemon on piano.
Mellstock Band – Friday June 30th £7
The band has appeared in various BBC Television programmes and on radio with its repertoire of songs, dances and carols of the English village and church bands from the 18th century to the present day.
Bedford Brass – Friday July 7th £7
Under the Musical Directorship of Terry Hext, Bedford Brass consists of Junior, Intermediate and Breakaway Bands, playing a wide variety of popular brass music to a very high standard.
Tickets and further information from:
Mr and Mrs J Tusting 01234 720908
Carlton Village Stores 01234 720273
Words Bookshop, Olney 01234 712176
Speeding
The Police are increasing their efforts to trap speeding motorists through the village. 5 people were booked for speeding in Odell over a 2 month period before Easter.
Home Watch
Break-ins continue in the area. Please report any concerns to Bedford 275225 (suspicions) or 841212 (urgent information).
Recovered at last!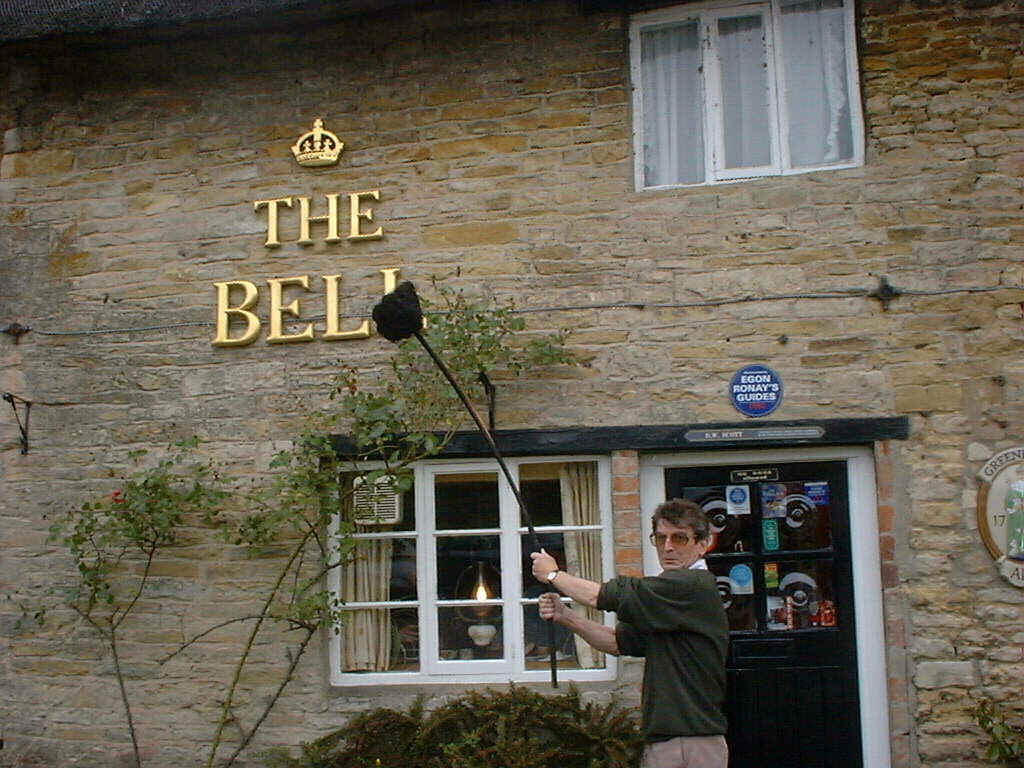 Visitors to the Bell may have noticed the trouble with smoky fires. Landlord Derek despaired as the smoke refused to go up the chimney. Finally he decided to have the 400 year old chimney lined and the builders found a strange obstruction – George Knight's chimney sweep brush together with 6 rods which had been stuck up there from the days of Gordon Bennett in the 60's.
June Diary
6th 10.30am Meeting Point at Jill's, Rectory Farm.
10th 2.00pm Odell Fete, Horsefair Lane
11th 11.30am Outdoor Pentecost Service with Harrold and Carlton Churches, Country Park, followed by BBQ lunch.

17th, 11am-6pm Yelnow Farm open gardens in aid of Henry

& 18th Doubleday Research Association.

17th 2.30pm Service of Thanksgiving for Marriage, St. Peter's, Sharnbrook.

17th 5.00pm Hopes and Dreams Banquet

7.00pm Hopes and Dreams Musical

21st 10.30am Meeting Point at Catherine's, Manor Cottage, High St, Harrold.

21st 3 – 5.00pm 'Corner Club' Cream Tea, Linden House, High St., Odell.
July
1st 7.30pm Brain Tumour Society Charity Supper, Watermead.
4th 10.30am Meeting Point, Mary Rogers', 2 Hall Close, Sharnbrook.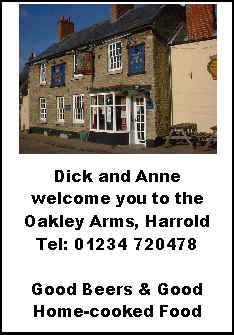 Accomodation at the Oakley Arms in Harrold starts July 1st, call +44-1234-720478 for more details.
Magazine Deadline
Please send all entries for the July and August magazine (nb DOUBLE EDITION) to Tricia Hudson (triciahudson@kbnet.co.uk), Anne Turner, Mandy Sharpe or Catherine Corkery by June 12th at the latest. May we remind you that the editorial team exercises the right to edit, shorten or alter any items that are submitted. Also, the opinions expressed in the articles are those of the contributors and are not the responsibility of the editorial team.
Electronic mail address
triciahudson@kbnet.co.uk

FAX number
01234-721004

Back to the Odell Home Page
---
Last revised: May 24, 2000.