ODELL VILLAGE NEWS
July/August 2000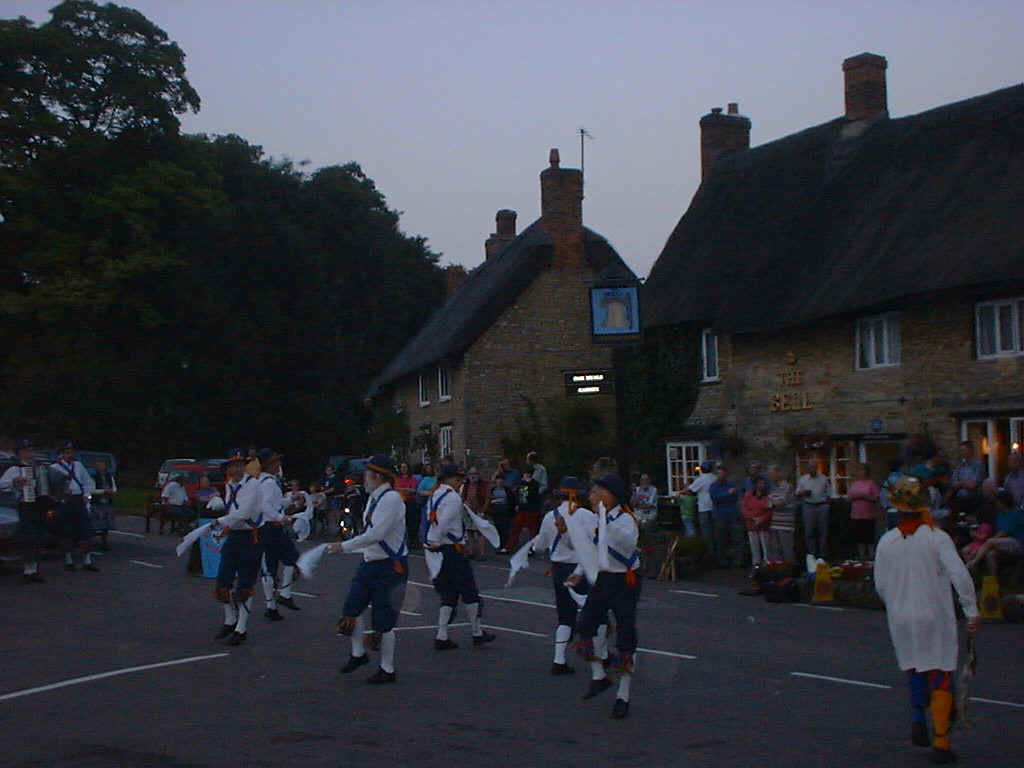 July 26th - The Bedford Morris Men.....
livened up the Village Green.........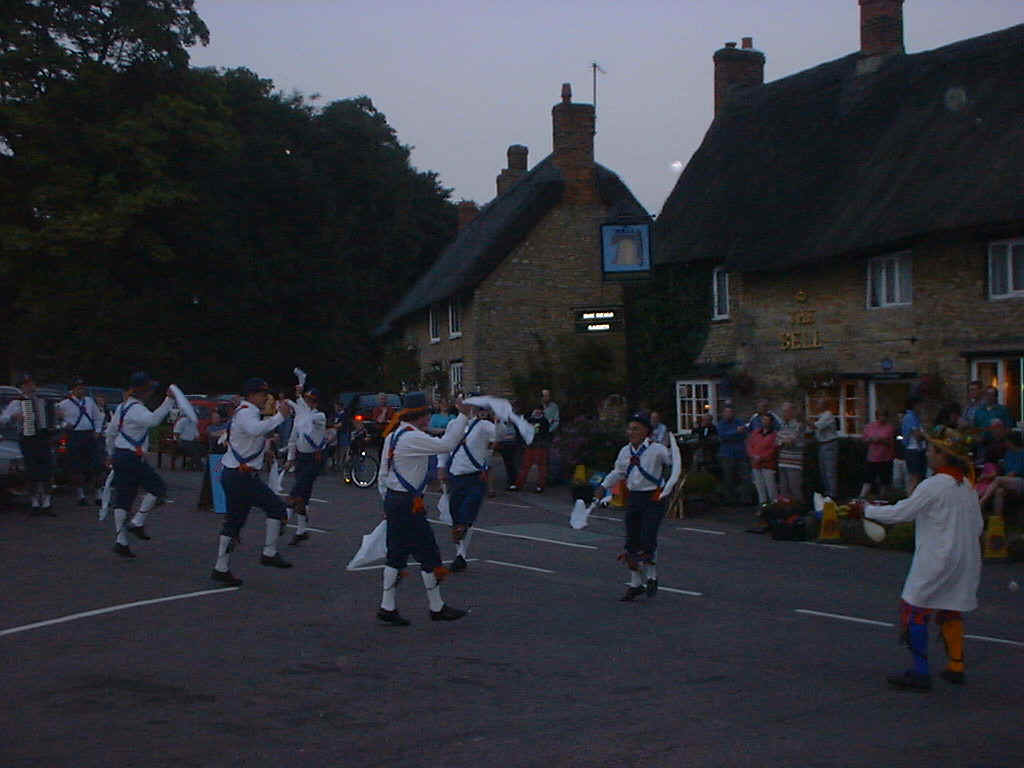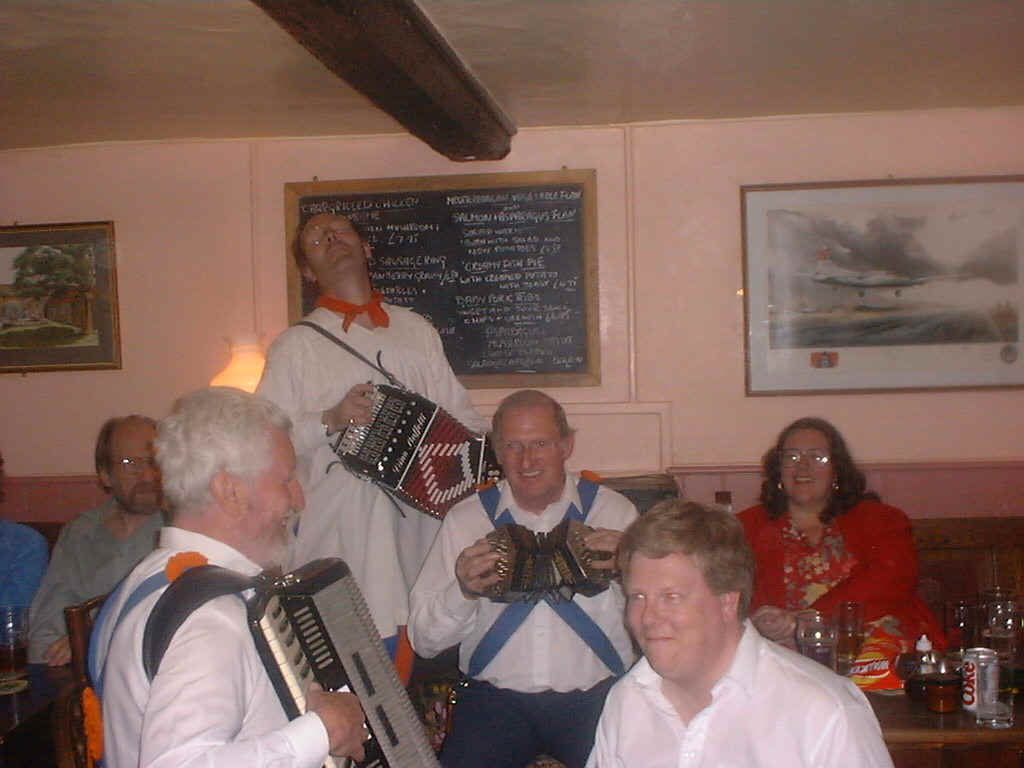 ......and the Bell as well !
inspiring new modes of transport in Horse Fair Lane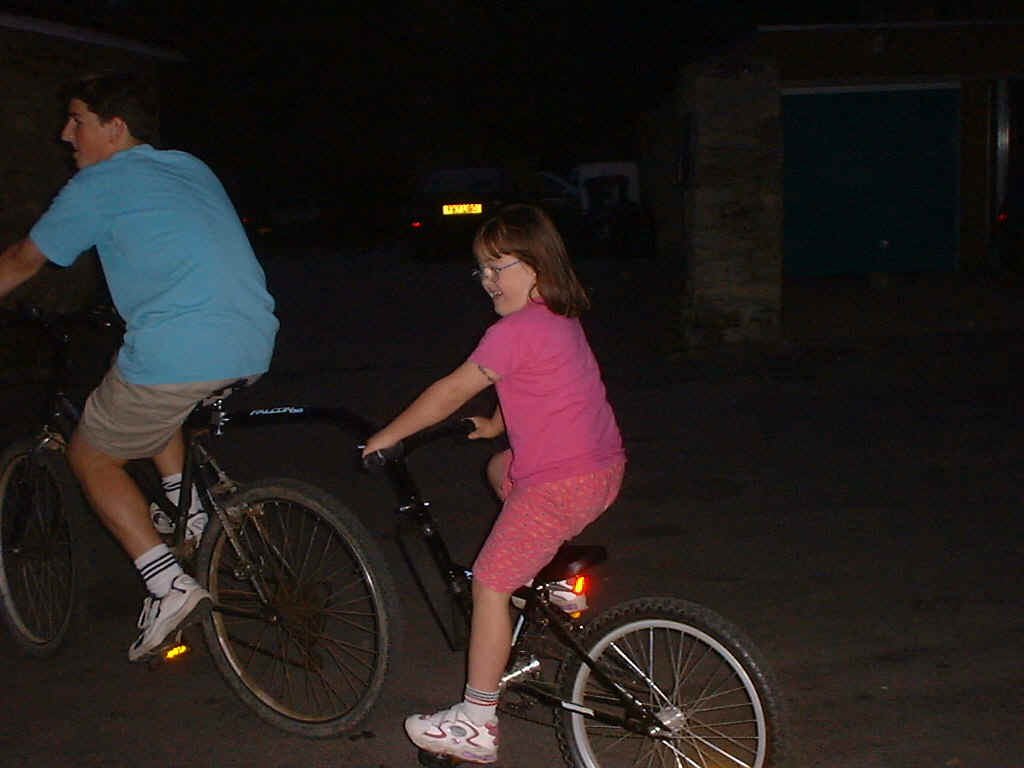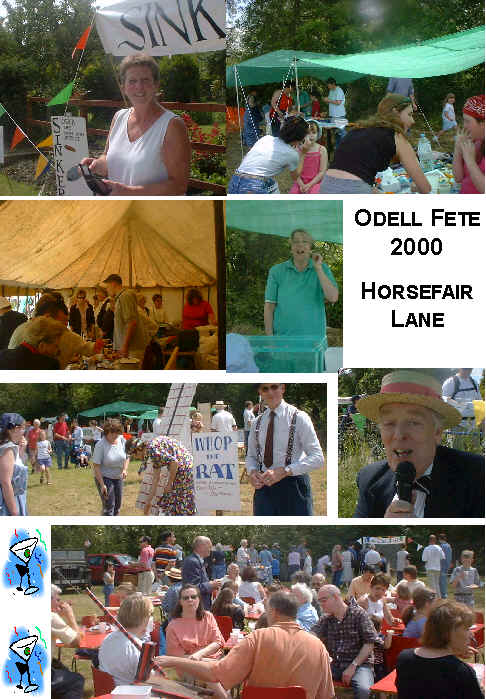 more pictures on http://www.kbnet.co.uk/odell/fete2.htm

Odell Fete – The Success Story

June 10th dawned, as I promised it would in last month's magazine, with brilliant summer sunshine. The weather could not have been better, a lovely sunny day with a cooling breeze – ideal Fete weather. A couple of weeks beforehand the field had been underwater as our nearly resident groundsman Richard Fowler found out one evening when he went down there to mow it. The river also caused problems for our boat ride crew as the levels changed so much over the previous weeks it was impossible to know at what height to build the landing stage. However the field dried out beautifully and looked wonderful ,a perfect setting. Very many thanks to Mandy for letting us use it and for all her hard work to bring it up to Fete standard.

Odell attracted the crowds ! Numbers attending were well up as the results from the side shows and raffles testify - over £1,300. My Fete

profit records go back to 1989 and this year tops the previous best result in that section by £500. The draft profit for the whole Fete looks to be in the region of £2,300 which compared to 1999 (£2,025) may seem a little disappointing but last year the cold grey skies and rain attracted the sympathy vote and donations in 1999 amounted to an amazing £373 plus a £75 grant.

However, as we all know money is not everything and I think we all derived a great deal of pleasure and satisfaction from working together as a community as well as raising funds to help preserve Odell's finest landmark.

Fete Competition results

Garden Furniture Raffle Mr. & Mrs. Sinclair, Odell

Raffle 1st Martin Eshelby

2nd Kim Beardow

3rd Peter Redman

Colouring Competition Hannah Hudson

Katherine Freeman

Dominic Clarke

If anyone is interested in joining the Fete Committee and has May and June free next year (only joking) we are always pleased to welcome new members. Please contact the Rector (720234).
Helen Chapman, Treasurer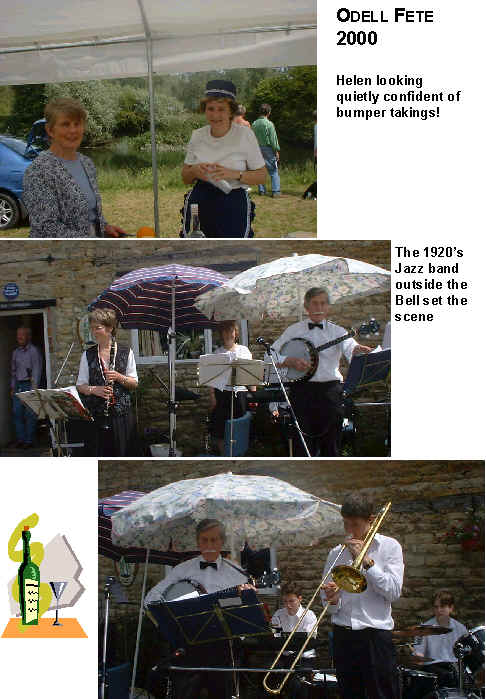 Round and About
Now that we have safely negotiated the Millennium I thought I would take a look backwards in time to some of the predictions made earlier in the century for this our Bright New Age - and a pretty strange bunch some of them are too! I also found it rather scary when I realised how close to the truth some of these early tongue-in-cheek predictions have become.
Food, for example, would be a thing of the past. In 1928 it was predicted that by this time appropriate nutritional components would be compressed into "meal tablets" - to be taken three times daily. After about three generations our jaws would begin to diminish in size and strength due to lack of use. On the brighter side, however, world hunger would no longer be a problem as there would be enough tablets for all. Real food would still be available, chemically produced, but it would only be for the very wealthy, as an expensive luxury.
In the 1960s it was anticipated that groups of heli-gangsters would terrorise the skies, landing on the roof-tops of targeted buildings. These heli-gangsters would be a force to reckon with as they would have the capability of showering bullets over the cowering population below. On the side of law and order, however, there would be electronic alarm devices that would alert the police and at the same time trigger off closed circuit television to record the crimes as they took place.
In 1928 it was thought that everyone would be living underground by the year 2000. Lighting and heating would be provided by Radio Power and a network of hydraulic tubes would supply the food tablets at pre-determined times. An alternative view to this was that we would be living in giant floating spheres, anything up to two miles across, and housing up to 5000 people. All housework by this time would be carried out by robots controlled by a central control panel operated by the "maid". In 1928 it was not thought outlandish for the work to be carried out by robots but life without a maid was clearly beyond consideration!
Politics would be carried out not just on an international but an inter-planetary scale operating within a "Cosmic Treaty of Perpetual Peace" which would be formed at the close of a long period of Space Wars in which world super-powers would fight over the colonisation of Space. The ceremony to honour the signing of such a Peace Treaty, it was thought, would most likely take place on Mars.
Our children would be jetted all around the world by supersonic buses, ferrying them to foreign language classes, geography or history, to the actual country of the prescribed studies. The time spent on these supersonic buses would not be wasted as the buses would be fitted with individual telescreen teaching units for in-flight lessons. It was also thought probable that children could be taught their lessons while they slept at night. This would be achieved by Automatic Memory Impressors pumping information into the sleeping child's sub-conscious mind. A whole term's work could be achieved in just one night!
Travel would naturally have taken off, quite literally, in a grand way. The family vehicle would be capable of flight at the very least, with the top-of-the range hydroaerocar combining the features of a boat, plane and car. The average supercar, for everyday use, would be a trifle more mundane, but the driver of all vehicles by this time would require a pilot's licence to enable said driver to cope with the countdown leading up to take-off.
Countless futurologists have predicted that man would be able to control the weather by the year 2000, that it would be possible to choose the kind of weather required for various events, and to switch it on and off as required. For example, snow for fun, and sun and rain in correct proportions for the farmers. Individual sunlight would be beamed into every home by special rays.
Clothing would be a thing of the past. The fashion-conscious would be wearing spray-on clothing with different textures achieved by varying the pressure of the spray gun. As for communications - they came very close. It was anticipated that all correspondence between companies and private people would be by "electronic transmission".
The best I have kept until last. Amazingly, in the 1960s they thought that by the year 2000 "Coronation Street" would be the British National Programme and would run for three hours, every night of the week, and only be interrupted for the News programmes. There would be simultaneous worldwide transmissions in 47 languages and 430 dialects. The viewer would also be able to smell the action, courtesy of odour wafting.
Let us be thankful that some of these predictions at least remain as remote today as when they were first dreamed of! Barbara Corley
W.I.News
tained Glass was the subject of the talk given by our speaker, Mr. Deacon. He obviously has a great love of, enthusiasm for and skill in his hobby. He gave us a potted history of glass making and then led us through the process of stained glass making using lead and then on to his own love of using copper adhesive tape to make three dimensional objects. He demonstrated all the stages required in constructing a box, a process which takes him at least 8 hours. He had a wonderful display of items he had made. He certainly made an interesting and amusing start to our new programme.
Next Month's meeting:
This will be our annual barbecue on Tuesday 11th July at Kathy Dunn's. Don't forget the earlier start of 7pm and lets hope for better weather than in the past few years.
Rachel Halton

720572
Parish Council Minute Book 1936 - 1972
Being one of the five people who compiled the "1860 – 1990 Pictorial History Books of Odell", I borrowed the Parish Council Minute Book 1936 - 1972 for the research relating to the gravel workings of January 1965. With the research completed this Minute Book was returned by me to the Clerk of Odell Parish Council at that time . It was suggested by the Council that the Clerk should lodge this Minute Book with the other items of interest she may have been holding pertaining to Odell parish history with the County Archives at the County of Bedford Record Office.
Florence Shellard
Village Hall Update – July 2000
Forthcoming events.
July 16th – Family BBQ and Treasure Hunt
Join us at the field site (end of Horsefair Lane or Village Hall if wet!) Past BBQs have been a pleasant social event with eats, drinks, chat and games for the children.
Watch out for flyers.
August 5th – Queen Mums' birthday
You don't need to be a royal watcher to know the country's favourite grandmum is 100 years young. Her birthday is actually on the 4th but we thought a celebration after all the official events would give us the chance to toast this special occasion as a village. We thought something along the lines of a birthday party (of course), with a sing-song. Any willing musicians please get in touch. If you have copies of traditional songs, again please let us know so that we can ensure copies are made.
November 4th – Dance
Dennis Love will once again provide the music, you can provide the dance! Put the date in your diary and watch out for posters and flyers with more details nearer the time.
December 2nd – Disco
Music from the 60s to the current chart. We will have a bar and a good time dancing away a cold night in readiness for Christmas. Watch out for details nearer the time.
We are still waiting to have further discussions regarding improved access to the hall. In the meantime anyone wishing to use the hall but is worried about the steps etc., let us know and we can make arrangements to ease your access.
Thank you for your continued support. The hall can be booked through Doreen Wheeler, tel.: 720358
Rob Lee tel:720730

On behalf of the Village Hall Committee
Friends of Harrold Medical Practice
Fast Track Clinic.
Monday 26th June sees the start of a new style clinic at the Harrold Medical Practice called the Fast Track Clinic. The clinic is run jointly by the Doctor and the Minor Illness Nurse. The aim of the clinic is to enable patients with acute complaints to be seen within 24 hours.
The clinic will run on weekday mornings. Patients wishing to be seen present themselves to reception before 10.30 a.m. and they will be seen by either the Nurse or the Doctor covering the clinic (on a rota basis). On presenting at the Surgery the patient will decide if their problem is in the area of expertise of the Minor Illness Nurse (printed guidelines will be at reception) or, alternatively the Doctor. Patients will be seen on a first come first served basis.
The present system of appointments will run in tandem with the new clinic (i.e. you will still be able to telephone for a pre-bookable appointment). We hope that the introduction of the Fast Track Clinic for acute problems should enable us to free up more pre-bookable appointments.
The Surgery
Childrens Corner – because of Health & Safety factors the loose toys have had to be removed. However, the Wendy House and a selection of books is still available. "The Friends" have now purchased a child's static activity Spaghetti Legs Table and we are sure children will have great fun playing with it.
New Equipment - we have recently purchased an Onyx Pulse Oximeter for checking oxygen in the blood and this is now part of the Practice equipment.
Bereaved Families - the District Nurses, Social services and Physiotherapy workers have started a friendship group for bereaved families. The group meet monthly in Milton Ernest Hall; if you would like to take part, or would like more information please ring the Practice.
Turvey Book Sale - despite all the hard work by our band of volunteers (for which many thanks) we suffered badly with the weather. Some folks did brave the elements, however, and we managed to take some £135 - again our thanks to all concerned.
Friends Of Harrold Medical Practice Need You!
The Friends of Harrold Medical Practice (reg. Charity 1067735) are an informal group established to support the work of the Practice and to help promote greater awareness of health in the community. Our fund raising activities help to provide extra items of medical equipment that benefit the care of patients and widen the scope of health services offered by the Practice. Can we tempt you to join us? We meet three or four times a year, our next formal meeting is 12 September 2000 at the Surgery at 7.30 p.m. It would be good to see some new faces.
Contact Arthur Jones 01234 888884 for more details.
The Mill Theatre, Sharnbrook
Exemption Dog Show – Sunday 3rd September – Mill Theatre Riverside Grounds. Entries from 11am. Judging at noon.
Pedigree and novelty classes. All dogs welcome.
Rosettes, prizes, stalls, light lunches, teas, bar.
Enquiries: Gibbs 01234 781298.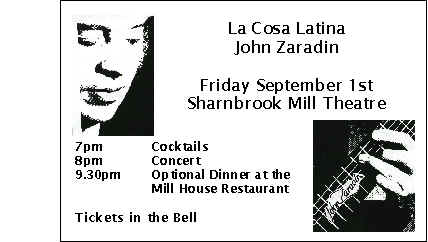 John Zaradin will present an evening of Original, Brazilian and Cuban music at Sharnbrook Mill Theatre on Friday September 1st. The evening will begin with cocktails by the river at the Mill House Restaurant before the performance in the theatre. The theatre and the restaurant will be linked for the first time by a walkway providing easy access between the two. After the performance the bar will be open and there is also an optional dinner in the Restaurant. (Tickets for combined concert and dinner are available from the Mill House Restaurant, tel 781678). Cocktails and Concert tickets are available now from the Bell, Odell and the Village Trader in Sharnbrook.
"Dancing at Lughnasa" Monday 25th to Saturday 30th September, 2000.
A charming insight into Irish rural family life in the 1930s. Tender, poignant, humorous..
Tickets:
£6 on 25th and 26th, £8.50 on 27th (Gala Night) and £7 all other nights.
Gala Night: includes wine and nibbles. Tickets only from Village Trader. Proceeds in aid of The Mill Theatre & The Friends of St. Peter's Church.
"Chase Dark" Friday 10th to Saturday 18th November, 2000
The world premiere of a dynamic, original musical.
Tickets: £6 on 13th & 14th, £8 all other nights.
Bookings may be made one month beforehand from:
Bedford - Central Box Office, Harpur Suite - tel: 01234 269519
Wellingborough - The Castle Box Office - tel: 01933 270007
(Both of the above accept credit card bookings).
Sharnbrook -by returning your booking forms in person to The Village Trader, 28 High Street.
Group Sales - Alison Bean - tel: 01234 781372 – 10% reduction for parties of 10 or more.
Enquiries/Mailing list 01234 782377
All performances start at 7.45pm. Seats can be reserved.
Summer Evenings of Music at Hill House Barn, Carlton
Bedford Brass – Friday July 7th £7
Under the Musical Directorship of Terry Hext, Bedford Brass consists of Junior, Intermediate and Breakaway Bands, playing a wide variety of popular brass music to a very high standard.
Bedfordshire County Youth Chamber Orchestra – Friday July 14th £7
And Saturday July 15th £7
The Bedfordshire County Youth Chamber Orchestra recently celebrated its 25th Anniversary. The organisation of the orchestra is carried out by Bedfordshire students. The orchestra has been giving concerts in Tuscany, Picadilly and Regent's Park as well as locally.
Skampa Quartet – Friday July 21st £15
The Skampa Quartet was formed in Prague in 1989 and have now established themselves as one of the leading quartets of their generation. Tonight they will be joined for Schumann's Piano Quintet by the outstanding pianist, Melvyn Tan.
The Hanover Band – Friday July 28th £15
Four Principal players from this prestigious band will perform Mozart's beautiful forte-piano quartet in G Minor F.478 and a selection of Sonatas and Trios by Beethoven and Brahms.
Tickets and further information from:
Mr and Mrs J Tusting 01234 720908, Carlton Village Stores 01234 720273, Words Bookshop, Olney 01234 712176
All concerts will commence at 7.30pm.
Recipe
Summer is the season for salads, but the thought of serving up the same old endless salad mixtures is almost enough to make us wish winter were here again! The following two salad recipes will add a touch of variety when 'salad' is on the menu, the second dish being particularly popular with salad-shy children!
The measurements in both are given in "cups", 1 cup being approximately the same as an average drinking mug filled to the brim.
Chicken Salad.
3 cups cooked diced chicken
1½ - 2 cups diced celery
1 cup cold cooked rice
juice 1 fresh lemon
3 finely chopped green onions
½ cup mayonnaise
2 tsp. Curry powder
1 tsp. Salt
¼ - ½ cup slivered toasted almonds
Toss chicken well with celery and rice. Beat remaining ingredients, except almonds; add and toss with a fork. Pepper and taste for seasoning, then cover and refrigerate until needed.
To serve, line a glass salad bowl with leaves of lettuce. Pile chicken salad in middle and sprinkle with almonds.
Serves 6.
Five – Cup Fruit Salad. (Savoury)
1 cup miniature marshmallows
1 cup grapes, cut and seeded, or, coconut
1 cup canned mandarin oranges, drained
1 cup pineapple tidbits, drained
1 cup sour cream, or natural yoghurt
Toss and chill for 24 hours.
Although this resembles a dessert, the addition of the sour cream makes it taste surprisingly good with savoury dishes.
Home Watch
Bedfordshire police ask us to watch out for someone pretending to be from the Water Board. They report that a white male of about 40 years, stocky build, short brown hair, casually dressed has used this pretence to gain access to homes in rural areas. If you see anything suspicious call 275225.
Congratulations
To Christian Ardley who has passed his exams with distinction and now is a qualified medical doctor.
Millennium Book
The Odell Millennium book is now with the printers and should be available in July.
The Odell Website
The Odell website is on:
http://www.kbnet.co.uk/odell/
Lots of colour photos of recent Odell events are available on the Odell Website. If anyone has interesting local pictures, I would be happy to borrow them, scan them and put them on the website for others to enjoy.
Jon Hudson, tel 721112, fax 721004
July Diary
1st 7.30pm Brain Tumour Society Charity Supper, Watermead, Harrold.
4th 10.30am Meeting Point, Mary Rogers', 2 Hall Close, Sharnbrook.
7th 7.30pm Bedford Brass, Hill House Barn, Carlton.
11th 2.30pm Tea & Talk at Doris Bannard-Smith's, Goodly Heritage, The Bury, Pavenham.
11th 7.00pm W.I. Barbecue at Kathy Dunn's.
14th & 7.30pm Beds. County Youth Chamber Orchestra, Hill
15th House Barn Carlton.
16th T.B.A. Family Barbecue and Treasure Hunt, end of Horsefair Lane or Village Hall.
21st 7.30pm Skampa Quartet, Hill House Barn, Carlton.
26th 7.30pm Morris Men perform on the Village Green.
28th 7.30pm Hanover Band, Hill House Barn, Carlton.
August Diary
5th T.B.A. Village celebrates Queen Mother's 100th Birthday. Details to be posted in village.
September Diary
1st 7.00pm John Zaradin at the Mill Restaurant and Theatre,
Sharnbrook
3rd 11.00am Exemption Dog Show, Grounds of Sharnbrook Mill Theatre.
Magazine Deadline
Please send all entries for the September magazine to Tricia Hudson (triciahudson@kbnet.co.uk), Anne Turner or Catherine Corkery by August 12th at the latest. If you have any ideas for articles or items of church or village interest, we'd be happy to hear from you.
May we remind you that the editorial team exercises the right to edit, shorten or alter any items that are submitted. Also, the opinions expressed in the articles are those of the contributors and are not the responsibility of the editorial team.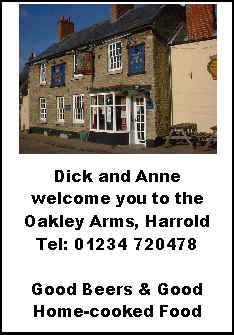 Accomodation at the Oakley Arms in Harrold , call +44-1234-720478 for more details.
Electronic mail address
triciahudson@kbnet.co.uk

FAX number
01234-721004

Back to the Odell Home Page
---
Last revised: July 29, 2000.