ODELL VILLAGE NEWS
September 2009
Lottie wins coaching session with Frank Lampard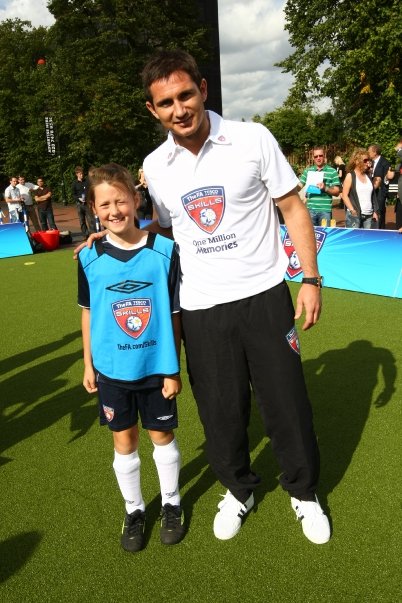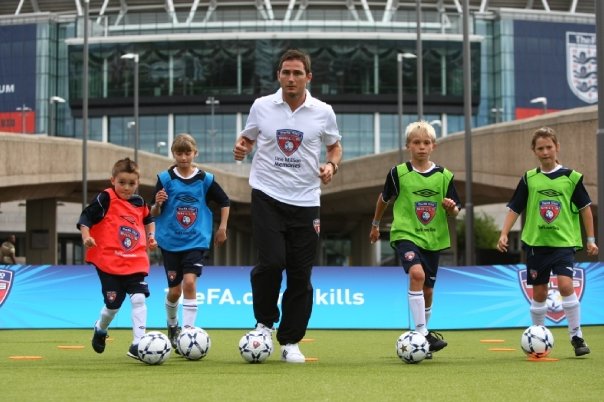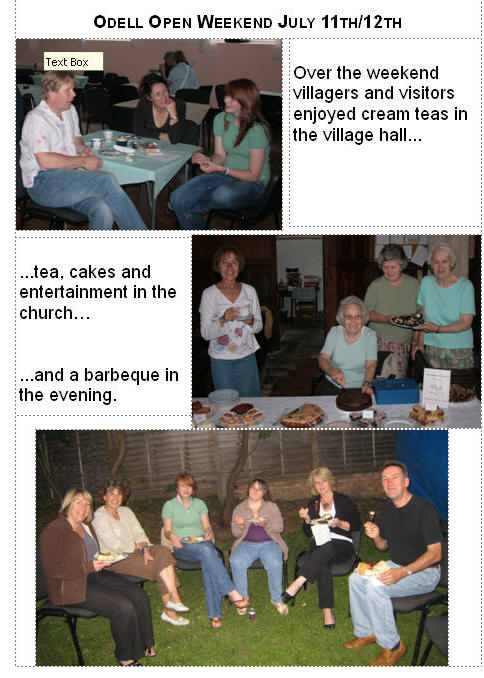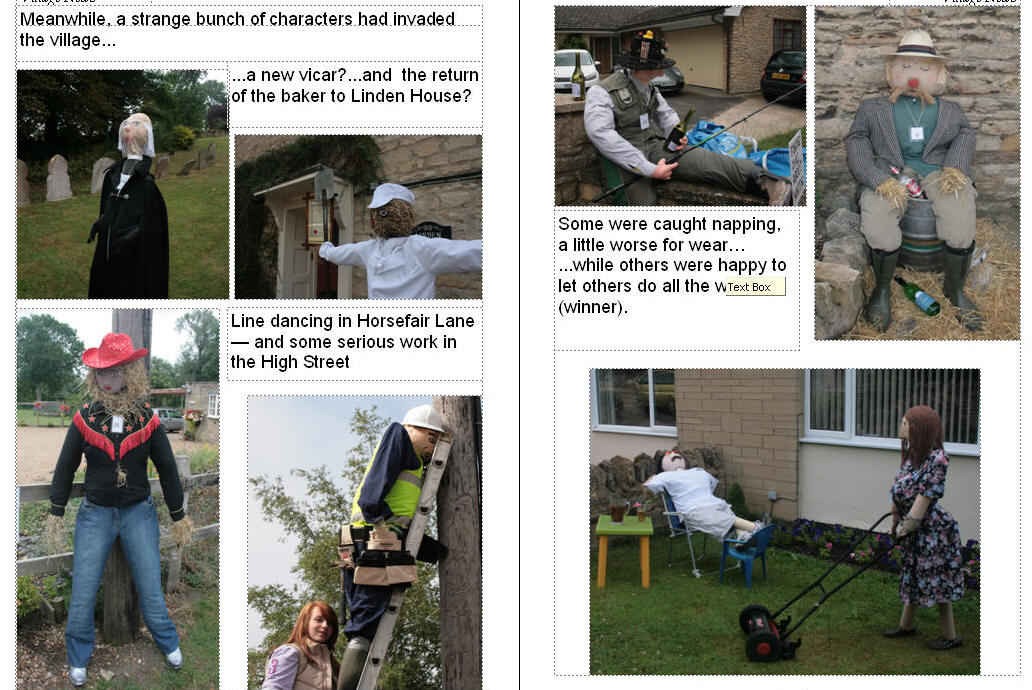 more pics in July mag
Did you miss…
the talented all-girl close harmony group
*** Pink Gin ***
when they sang at the Open Weekend in July?
You have another chance to hear them at this year's Harvest Supper
in the Village Hall from 7pm Saturday 26th September
Tickets £2.50 each (no charge for school-age children)
available from Nikki Freeman (720893) or Jill Cheadle (720261). Please bring a dish of something to share, either sweet or savoury, & let Nikki or Jill know what it will be.
- Licensed Bar -
Collection for the Bishop's Harvest Appeal 'Water Action' bringing clean piped water to villages in Ethiopia
Swine 'Flu – drivers needed to deliver drugs!
Volunteers are required for a temporary home delivery service for antiviral drugs to people in the Bedford area who do not have 'flu friends' able to collect on their behalf. There will be no contact with any symptomatic patients and mileage will be recompensed. If you can drive, have a driving licence, MOT, insurance, breakdown cover and a mobile 'phone and you would like to help by being included on a call-out rota, please e-mail emergency@centralbedfordshire.gov.uk
Ken Shellard
Many of you will have heard the sad news that Ken Shellard, formerly of 97 High Street Odell, passed away on 19th August at 'The Willows' Nursing Home, Bedford. As he requested, a funeral service will take place in All Saints' Church - on Wednesday 16th September at 11.00am.
Who is the person in the photograph?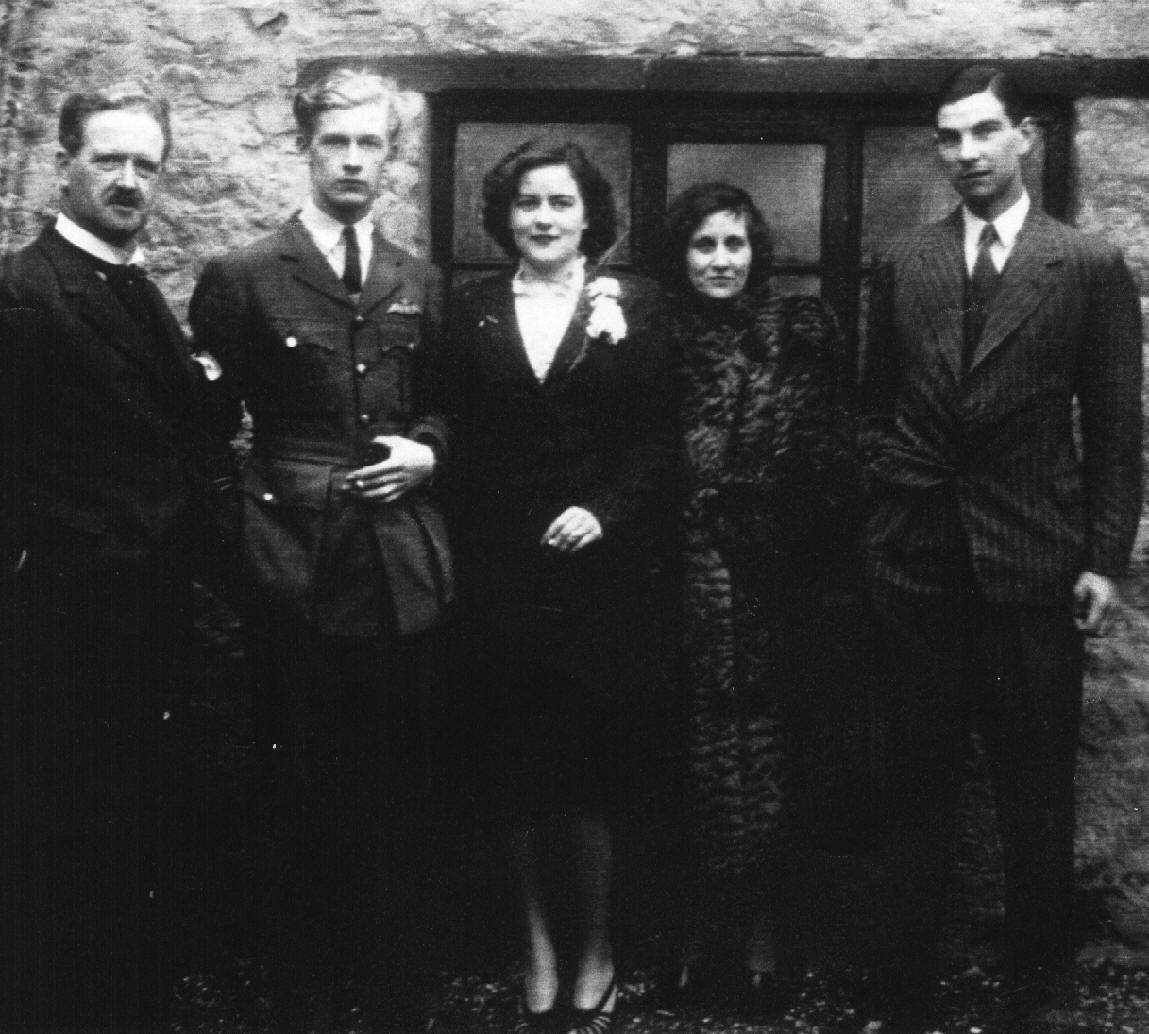 In the May 2002 edition of this magazine, we published this photograph taken in Odell in 1940, with the caption "Who is the person in the photograph?" We received a reply to our question a month later, when Temperance, nee Alston - a former resident of Odell and member of the Alston family, now living in Queensland Australia - wrote to say:
". It states that the picture was taken in 1940 and shows Flt Off. Newton, nephew of Pat Warren, who crashed his plane in Odell. Who are the other people, etc.?"
This is a wartime wedding photo; the bride was Valerie Harper who lived in Carlton, where the wedding took place. The young airman in the picture, the bridegroom was not Flt. Off. Newton, but was a Pilot Officer and I am almost sure his name was Peter Walker. I only met him a few times before the wedding, but I had known Valerie for years. The other girl is Valerie's cousin Peggy Clarke, who also lived in Carlton, and the young man on the right is Jack Harper,Valerie's brother. I think the other man on the left of the picture must be the clergyman - he appears to be wearing a dog collar! My mother and I were there!!
I have recently received an email from a Mr Christopher Walker in the USA, who throws further light on the mystery:
Dear Editor,
During the process of compiling a family history here in the USA I published a request on a Royal Air Force (RAF) old comrades web site.
Subsequently a letter arrived from a Mr Mackenzie in England enclosing the above picture which you published together with the article below and information about Pilot Officer Peter Bannister Walker # 39953 - 1919-1941 (my cousin) who as a member of the 22nd Air Training Group was killed in Vereeniging, South Africa in July 1941 .
The lady in your article incorrectly identified the man on the left as being a priest. This man on the left is in fact Reuben Ward Walker 1859-1958 (my uncle) and father of Peter Bannister Walker and father in law to the bride Valerie Harper. I would appreciate your publishing this article again and expressing my interest in contacting any of Valerie Harper's or the Clark's or Pat Warren's, family as mentioned in the article. Any assistance with birth dates that would clearly identify the members of each family or events would also be greatly appreciated.
For those readers seeking evidence of a continuity of life after death it may be of interest to hear that my sister Rosemary Bergen (formerly Walker and at that time an 11 year old girl) was awakened from her slumber in England at 2.0am by Peter B. Walker on the day of his death in Africa who dressed in Flying Officer Uniform appeared to her (as a ghost or spirit) and said to her " I have to leave you all now, please remember me to the family"
Can anybody help us with further information about any of the families mentioned in the email? If so, please email mag1@odellbeds.net and the information will be forwarded to Christopher Walker.
Editor
Senior Citizens' Autumn lunch.
Odell Senior Citizens Lunch Club invites you to the Autumn Lunch on
Wednesday October 14th
From 12.30 in Odell Village Hall
RSVP to Jill Cheadle - 720261 - by Sunday October 4th
Birthdays in September
Happy birthday to Christy Vyvyan who will be 10 on the 13th September.
And happy birthday to everyone with a birthday in September!
Wode-Hill Jazz Band
The Wode-Hill Jazz Band will make its regular appearance in The Bell – in the garden if the weather is good—on Wednesday 2nd September.
Round and About
All Our Yesterdays
I am trying something quite different this month and I now invite you to travel back in time to an imaginary day in Odell some 120 years ago.
This is very different from the Odell we know today. Odell is a small isolated community of stone cottages with thatched roofs lining a couple of dirt roads and set in a rural landscape. Most of the cottages are in a poor state of repair and the whole scene is dominated by three families.
The Alston family has owned the estate since the 1600s, building the large mansion that stands on the hill opposite the church. They are absentee landlords now, however, and live in Harrold. The Castle has been leased to Mr. Guy Repton, a very wealthy man, and his wife Lady Jane Repton. Lady Jane holds the title "Lady" in her own right as she is the daughter of the Duke of Leinster. All told the Reptons lived in Odell for 33 years. The third family is that of the Rev. William Cornish Hunt, Rector of this Parish, who lived with his wife Jane and ten of their children (sadly they lost one) and lived at The Old Rectory - now known as The Manor. These three families were the local gentry who lived a life of considerable ease. Next in line came the tenant farmers who were, in the main, comfortably placed. They rented their land from the estate and most farms averaged between 100 acres to 600 acres, employing between 5 and 28 men and boys. Boys of quite a young age would work a considerable number of hours on these farms as well as attending school. It was the despair of Rev Cornish Hunt that children, especially the boys, would be pulled out of school in order to earn money to add to the family income and there was nothing that he could do to stop it. Apart from a few tradesmen such as the miller, the blacksmith and the publican practically everyone else in the village was employed on the land.
The population of Odell at the 1871 census was 485 - a fair sized community - bearing in mind it had dropped to 223 by the start of the 20th.century. Most of the people were crowded into tiny little cottages, two up and two down, with the ground floor frequently being of hard-packed earth swept shiny by generations of broom-wielding housewives. People had large families in those days as many children were not expected to survive into adulthood. Take The Row, for instance: a row of cottages that used to stand beside The Green, opposite The Bell. It is believed that The Row was five cottages and it was recorded in 1900 that it housed 19 adults and 39 children. Wages were low and food was poor, rent for the cottages was 1/6d. per week, 2/0d. for the larger ones. Men earned a meagre 11/0d. for a 7 day week or 12/0d. if they cared for livestock. There was, of course, no water laid on to these cottages and each morning the women would place a wooden yoke across their shoulders and collect 2 buckets of water from the spring that gushed out of the hillside at a point just below the Village Hall car park. The pipe can still be seen today, although it is now blocked. The cottage gardens were surprisingly large and most families grew their own vegetables, had a few fruit trees and kept chickens. The majority of families also kept a pig or two but it only needed the man of the house to be injured, taken ill or lose his job and financially the family could not cope.
I have set the scene, let us imagine the day. It is late summer and it is harvest time. The sun is up, housewives have thrown open their doors to admit some light into their dark homes. The old and infirm take up positions on the doorstep to make lace or plait rushes to earn a few pennies for the family purse. A small group of women gathered around the spring in the High Street pause in their labours to bob a curtsy to a passing carriage. The Reptons are off to Bedford for the day. Harvest time calls for everyone who is fit and healthy to work in the fields - even the school has closed for the duration of the harvest ... with permission or without it the children would all be working at the harvest anyway. The corn must be got in while the weather is fine. The men folk file out into the fields while the boys, some as young as 8, clamber on to the backs of the farm horses in order to take them out into the fields. Some of the smaller boys have to scramble on to farm gates in order to mount their charges because, in Odell, it is the boys who tend the horses some of them becoming expert horsemen. The housewives follow behind, some of them carrying bowls covered with damp cloths. As they pass The Green they call a cheery greeting to the blacksmith toiling over his
furnace even at this early hour. Those women carrying bowls stop off at the Bake House with freshly kneaded dough or oven ready pies. Many of the cottages do not have an oven and the baker accepts the uncooked dough and pastry to bake in his own oven. The womenfolk will call again later to collect their baked goods.
Out in the fields the corn has to be cut by hand and this is the task of the men. Women and children carefully pull the strands together and place them in stooks to dry. When the time is right the loose straw will be gathered and stored in giant stacks at the side of the fields to be kept as bedding for the livestock. Half way through the day the tired and dusty families draw together in groups to have their lunch. Usually this takes the form of a cold drink and a Bedfordshire Clanger. The traditional labourer's meal of a suet roll with meat (usually bacon from their own pigs) at one end and fruit or jam at the other.
Today the recipe frequently calls for a pastry case but in those days it was more likely to be suet and boiled in a cloth - remember most cottages did not have an oven. All too soon they are back at work, the only break coming when the Rev. Cornish Hunt rides by to inspect the work in progress. Pausing in their work the men doff their caps, as gentry rides by.
When all the stooks have been removed the families go gleaning. They scour the ground for any stalk of corn that has been overlooked and gather up every grain they can find. When the fields have been cleared the grain is taken to the miller who grinds the grain into pudding flour - a low grade flour - which the housewives carefully store in bins which they keep beside the hearth. This flour is an important part of their diet and might save them from hunger in the harsh reality of winter.
Change is looming over Odell at this time, had they but known it. Mr. Repton dies in 1890 although his widow remains at The Castle until her own death in1898. The Rev. Cornish Hunt and his family leave the Parish in 1891 for pastures new.
The various details mentioned in this article can all be found in the Millennium Book of Odell - copies of which are still available.
Barbara Corley
Odell Parish Council
Minutes of a meeting of Odell Parish Council held on Monday, 20th July 2009 at 7.30 p.m. In Odell Village Hall.
Present: Cllr. R. Halton [Chair]; Cllrs. B. Cheadle, T. Freeman, S. Robinson, A. Sharpe. Borough Cllr. N. Charsley
In attendance: Mr. R. Hall [Member of the Public]
1. Apologies for absence
Apologies received from Cllrs. P. Crotty and J. Harrison.
2. Minutes of last meeting
The Minutes of the AGM held on 19th May were approved and signed as a true record of the proceedings.
3. Matters arising:
SID: After some delay due to staffing shortages at Riseley, Cllrs. Crotty and Robinson were trained in the use of this equipment. Cllr. Crotty used the equipment at three 7am sessions, and Cllr. Sharpe accompanied him on one of these occasions. These were conducted at two separate sites – near the Church bend and further towards the end of the village. Cllr. Sharpe commented that clearly speed was an issue but it was interesting to note how speeding drivers immediately braked on seeing the equipment. Cllr. Robinson had hoped to undertake some evening sessions but to date has not been able to do so due to work commitments. The equipment is available to the Parish Council for another week or so before being passed to another parish.
It is clear that this particular equipment is inferior to the much larger and more robust equipment trialled a few years ago, and which is apparently currently sitting idle at Borough Hall. Borough Cllr. Charsley said he would try to find out who is responsible for the latter.
Road signs: Cllr. Charsley has been in contact with Andrew Prigmore regarding the possibility of extending the 30 mph signage to include all the road from Little Odell to the current 30 mph signs. Initially a letter of support for this action is required from the Parish Council before any action can be initiated; upon receipt of this, checks will be made with the appropriate agencies – i.e. the Police and relevant government department – to determine if the required criteria are met. It was agreed that the Clerk should send the required letter to Mr. Prigmore to get the process started.
Bridges update: The Chairman had asked Mr. Hall to attend the meeting to give a personal update on the progress to date. Mr. Hall stated that the Project Manager, Adrian Fett, had informed him that work would commence on Wednesday of last week and on the due date equipment did arrive. It had been agreed by the householders in Mill Lane that the contractor could move the required equipment via their back gardens as it had been envisaged no heavy equipment would be necessary. The old bridge has been removed but it has now been found that some heavier machinery is required which cannot be taken through the gardens. The contractor is confident that, weather conditions permitting, the work will be finished during August.
Cllr. Freeman said that with regard to the movement of the heavier machinery, he believed negotiations were under way with the tenants of The Bell for access via their garden, which would provide a workable solution to the problem of moving the plant.
4. Village Hall Update
Disabled facilities: Work is now well under way and the footings are in, and the first invoice submitted to WREN. It is hoped the project will remain on schedule with completion due September.
Windows etc: The SITA contract has been completed and a copy returned to the Clerk, so this project is now in order to proceed according to the proposed work schedules. The windows should be installed end August/beginning September, after which the interior work and the porch canopy repairs will be carried out.
Car park purchase: The balance of £4000 has been paid so the purchase is now complete.
Proposed new play area: Cllr. Halton has been in contact with the Borough person responsible for the government's Playbuilder project. After some considerable delay a response was received to say that an Advisor is being appointed for this scheme. It does appear that the scheme is primarily aimed at the 8-13 age group so it is unclear whether or not it would be possible to include provision for the younger age group, as we have been instructed to do by the Borough Council. It has been obvious from grant sourcing this year that there is little in the form of large grants available anywhere, and as the Parish Council has had both a WREN and SITA grant, no more could be expected from these particularly as Odell shortly will fall outside their geographical area under revised criteria. All we can do is await the next stage of the Playbuilder scheme and see if this is possible.
Cllr. Sharpe said it was recognised how much work had been undertaken this year by the Chairman, [Cllr. Halton], Vice Chairman [Cllr. Cheadle] and the Clerk in respect of all the foregoing projects and requested that this be formally minuted.

5. Highways
In Cllr. Crotty's absence the Chairman said she knew Cllr. Crotty was not happy with the new arrangements, and missed the working rapport he had had with the previous County Council representative, Celia Sellars. He was not satisfied with the responses and reactions to some of the problems highlighted but would continue to press issues such as kerbing in Horsefair Lane with the new liaison officer. Cllr. Cheadle said he had accompanied Cllr. Crotty on one occasion so he could meet the new Borough liaison person. It was noted that the weeds had finally been sprayed, as requested.Although the Borough had indicated that the Highways Partnership Scheme would be implemented this year, at least, to date there has been no indication that this is happening. Under the previous system parishes had to submit their proposed work for approval by the end of June in order to qualify for the funding, so it is unclear what format the Borough is adopting. The Clerk and Cllr. Charsley will investigate with the Borough their plans for this year for the scheme.

6. Bedford Borough matters
Cllr. Charsley said the schools consultation was now nearing its close and so far little comment has been made to him in the Harrold ward. If anyone with school age children has any firm opinions he would be pleased to be made aware of them; otherwise he will have to report that the residents of this ward do not appear to have a problem with whichever way the school system evolves.
Cllr. Charsley wished to make people aware of the dangers the hot weather can bring when young children enter unsupervised and unsafe waters at such times. In the recent hot spell a disaster was narrowly avoided at the Harrold Mill Pond when two young children became at risk.
Cllr. Charsley explained the new Borough 'Ward fund' which allocates money to councillors on a per capita basis. This means that the Harrold ward will receive around £9000 for the whole ward, so on a parish basis the sum for Odell would be in the region of £1000+. This money is available to any group or organisation in the parish and can be used for any purpose for which other funding is not available.

7. Harrold/Odell Country Park
Cllr. Halton gave an update; the Park is delighted to have achieved Green Flag status and an award ceremony is being held on Thursday evening. Ed Burnett is currently very stretched as, when taking on this Park, he also took on Priory Park so staff wise the situation is very difficult. Hopes of resolving this and starting new ventures are dependent on funding being available.
There has been a lot of vandalism in the Park – benches have been damaged and the skate wall covered in graffiti. Although CCTV is installed it is not yet linked to the Borough system.

8. Finance
The Clerk explained the figures on the Reconciliation of Accounts; no interest is currently being given by the bank and the value of the Charity Bond is still falling. In spite of the Bond's declining value, however, the small amount of interest on it remains at the same level due, it is understood, to the initial agreement that the interest would always be held at 10%. The Borough has been chased for their grass cutting contribution which would normally have been paid in May. The Borough says they 'operate a different system to the County' – whatever that means – and hence the delay but hopefully the money will be received within the next month.

9. Correspondence and requests: Nothing received this month.

10. Specifically for the business of the meeting
Cllr. Sharpe asked who was responsible for the maintenance of the car park retaining wall as some repair is urgently required. One large stone has fallen out and it is possible others may follow. As there is various stone available within the village efforts will be made to effect a repair.
Cllr. Freeman said the street light outside his house is still not working; this will be followed up yet again.
Cllr. Robinson attended the launch of the new Villager bus at Sharnbrook on behalf of the Parish Council.
Cllr. Halton asked Cllr. Robinson if he was able to check the light on his house or if he wished the Parish Council to arrange for this to be done. Cllr. Robinson said in the first instance he will ask the roofing contractor to investigate; if there is a problem he will report back.
Cllr. Robinson commented on foliage obstructing one of the village seats; he offered to cut it back if no other remedy was possible. Cllr. Cheadle said that such cutting was undertaken on a three yearly basis and it was due to be done this year.
Next meeting: the next meeting will be held on Monday, 14th September at 7.30 p.m.
There being no other business the meeting closed at 9.15 p.m.
W.I.NEWS
Our July meeting in the Rectory Garden was an evening of games. David inducted most of us into the mysteries of croquet; it's still a mystery to some of us but nevertheless we had an enjoyable time not understanding the rules and I fear some us would never have the killer instinct which seems to be a requirement. Easier to understand was Boules but the contours of the lawn led to some interesting results. As dusk fell we retired inside to partake of the bring and share nibbles.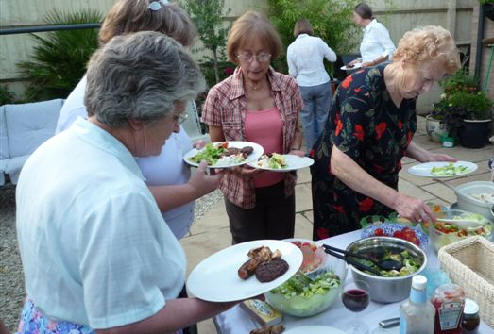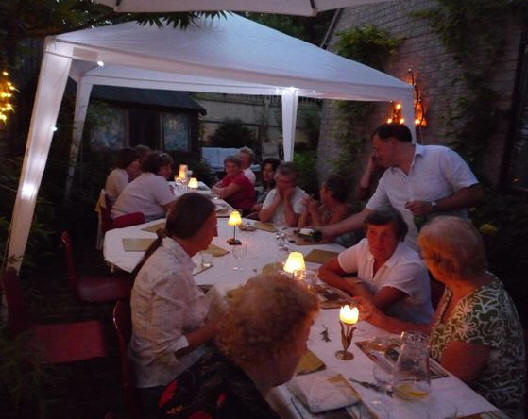 Thanks to all the members for their food contributions but a big thank you to Christine and David who made us so welcome.
August found us meeting for our annual BBQ at the home of Roberta and Nick Goodwin. We managed to hold it on one of the few warm and dry evenings that we are having this summer. Roberta and family made us very welcome with a beautifully decorated table, a welcome drink and expertly cooked meat. It was a super evening and thanks to the whole family for making us so welcome.
SEPTEMBER MEETING
We will be in the Village Hall on Tuesday September 8th at 7.30p.m. to listen to our speaker Helen Elleston talk about the 'Art of William Morris'
COMPETITION
September's competition is 'Your favourite book cover'.
HOSTESSES
Stasia Wherrett and Kathy Dunn Rachel Halton 720572
Jumble Sale Odell W.I. will be holding a Jumble Sale at 2pm on Saturday 3rd October in Odell Village Hall.If anyone has any jumble they would like to contribute please contact either Rachel Halton 720572 or Doreen Wheeler 720358 or bring it to the Village Hall between 10.30-11.30 on the morning of the sale.
Wildlife Trust – Sharnbrook Group
A photographic celebration of Bedfordshire wildlife: an illustrated talk by Barrie Mason, on Friday 18 September, 8pm
Methodist Church, Park Lane, Sharnbrook. Everyone welcome.
Village Hall
Events
Harvest Supper
When: Saturday 26th September. Time: 7pm
Entertainment by all-girl close harmony group Pink Gin
Tickets £2.50 each (no charge for school-age children) available from Nikki Freeman (720893) or Jill Cheadle 720261. Please bring a dish of something to share – contact Nikki for details.
Coming up in October..
Quiz night
Date: 17th October
Time: 7:30 for 8:00
Tickets: £2.50 per person
Tel: Rob 720730-to book a table, 6 per table (limited numbers)
Harrold-Odell Country Park
Carlton Road, Harrold, Bedford MK43 7DS
What's happening…
Health Walks: Thursday September 3rd and 17th: Health Walk around the big lake led by Ed Burnett, lasting just over half an hour. You can book beforehand or simply meet at 10.30am on the day at the café. For more details call 01234 720016. These walks are free.
Viking Day: Saturday 19th September: Viking encampment, skills and activities.
Friends of Harrold-Odell Country Park Conservation Tasks
Come and join in with the practical work to enhance the Park for wildlife and visitors on the following dates, from 10.00am – 3.00pm: Monday 28th September, Monday 26th October
Wear appropriate clothing and footwear. Drinks provided. Come for an hour or two or stay as long as you like.
Email: hocp@bedscc.gov.uk Website: www.hocp.net
Tel: 01234 720016
The Mill Theatre, Sharnbrook
Reg. Charity No 242164
Entertaining Mr Sloane
Tuesday 22nd – Saturday 26th September 7.45 pm
Prepare to be shocked - and amused - by this classic, black drama of a murderous, sexual ménage à trois, from the pen of the famous playwright Joe Orton. Full of humour and innuendo, but with a very dark undercurrent…
Tickets £9 to £11 are available now from:
Sharnbrook Post Office (in person)
Or Bedford Central Box Office, Tel 01234 269519
10% Discount on parties of 10 or more (excluding Charity Performances)
The Annual Mill Youth Theatre Summer School

 (20

th

 – 25

th

 July – ages 9-18) was again a great success; demand for places was high and this year's school was sold out by February.  The theme for this year was 'Mind, Body and Soul' and focused on the skills of physical theatre, soundscapes, dance, music and improvisation

.
Sharnbrook, Souldrop, Knotting, Melchbourne and Yielden Conservatives invite you to:
An insight into current Local and National Projects
A Presentation by John Barker, Regional Volunteer Coordinator
Tuesday 20th October 7.00 for 7.30pm
St Peter's Room, (adjacent to St Peter's Church), Sharnbrook
Tickets £6.50, including Wine and Canapés Proceeds to NEBCA Raffle—available in advance from Theo. Gibbs (01234) 782377
This replaces the meeting originally arranged for 13th May 2009 that the speaker regrettably had to postpone at short notice for family reasons. We look forward to you joining us.
Diary
September
2nd Wodehill Jazz Band play at The Bell.
3rd 10.30am Health walk, HOCP
6th 2.30pm Cream teas and open tower, St Mary's, Carlton.
6th 7.30pm Saxophone concert, St Mary's, Carlton.
7th 5.30pm Odell Monday Club meets, The Rectory.
8th 7.30pm W.I. Village Hall.
9th 10.30am Meeting Point at Catherine's, Manor Cottage, Harrold.
12th 10am Bike 'n Hike.
14th 'Pilgrims' meet, The Rectory.
14th 7.30pm Parish Council Meeting, Village Hall.
16th 11.00am Ken Shellard's Funeral. All Saints' Odell
17th 10.30am Health walk, HOCP.
18th 8pm Wildlife Trust, Sharnbrook Group, talk at Methodist Church.
19th 9.45am All Saints' Amblers meet at The Bell.
19th Viking Day, HOCP.
26th 7pm Harvest Supper in Village Hall.
28th 10.00am Conservation tasks, HOCP.
October
3rd 2pm W.I. Jumble Sale, Village Hall.
14th 12.30 Senior Citizens' Autumn Lunch, Village Hall.
Magazine Deadline
Please send all entries for the October 2009 magazine to Tricia Hudson (mag1@odellbeds.net) or Catherine Corkery by September 12th 2009 at the latest. May we remind you that the editorial team exercises the right to edit, shorten or alter any items that are submitted. Also, the opinions expressed in the articles are those of the contributors and are not the responsibility of the editorial team.
Alex Stubbs Flooring
Carpets, Vinyls, Laminates, Safety Flooring, Adaptions, Refits, Repairs
Supplied and Fitted
07976 260572
01234 240954
Do you look after someone who is frail, ill or disabled?...
...that makes you a carer.
For information, support and advice you can now ring the Bedfordshire Carers Helpline: 0300 0123435

Great local pubs
---
Last revised: September 04, 2009.