ODELL VILLAGE NEWS
May 2009
Songs for a Summer Evening
at All Saints' Church, Odell
Saturday May 16
th
at 7.30pm
An evening of light music will be presented by The Ouse Valley Singers with soloists Naomi Hudson (soprano) and Senthuran Bhuvanendra (tenor).
Refreshments and a glass of wine are included.
Tickets £7.50 - call 01234 720587, 01234 720261 or 01234 720113.
Below: Ouse Valley Festival in Odell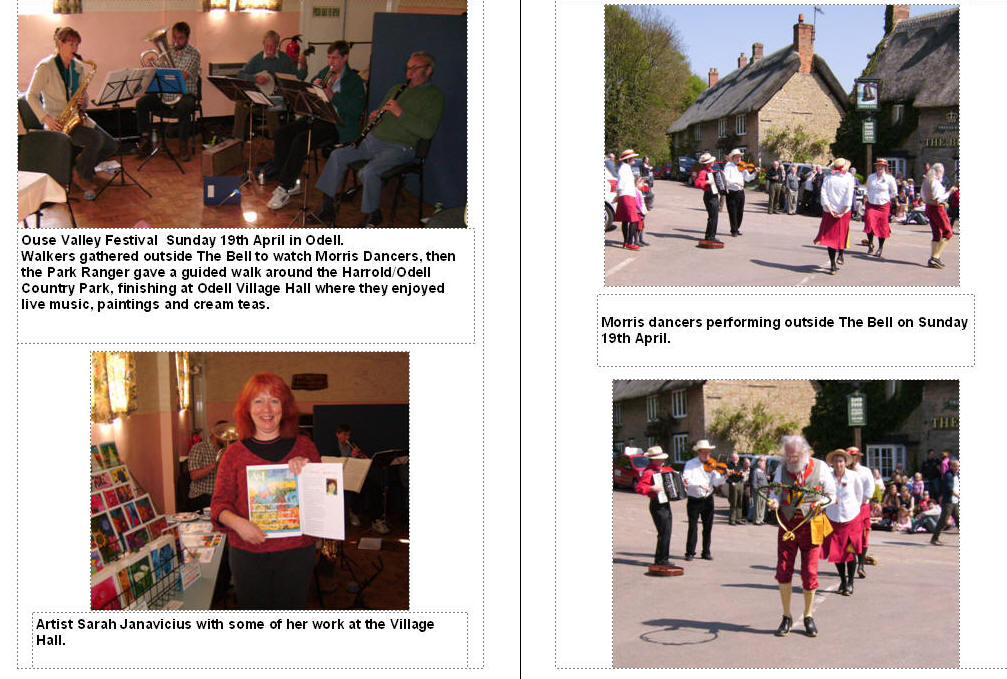 Round and About
Play Up, Play Up and Play the Game.
Feeling in a somewhat nostalgic mood, I was thinking of how childhood had changed just in my own lifetime. The children of today are such amazing little techno-wizards and for older people, who do not always understand all these new gadgets, you can feel a little left out. Indeed, if you do not have a grandchild, preferably under the age of ten, to keep you up to speed then you are probably past it!
But don't you ever find yourself longing for a more simple age where expensive gizmos have no place? When a handful of stones could introduce you to the game of fives or a flat pebble can be sent skimming across the water to see how many times it will bounce before finally sinking into the depths. Perhaps, in Odell, we are lucky in that our children still have the opportunity to run freely outdoors, but for many children their free time seems to be spent huddled over a computer, often isolated from their family, alone in their bedroom
instead of out and about in the sunshine. Children today seem to be losing touch with the old childhood games of yesteryear and that does seem such a shame as many of those games have their roots buried in history, some, indeed, going back as far as ancient Greece and Rome.
Do children still play rounders and hide-and-seek? Do young boys still carry a treasured model ship to the local pond to sail off into adventure? I don't know when I last saw a group of young girls skipping together, sometimes with as many as six all in the loop at the same time. It takes a lot of skill to keep the rope turning under such circumstances, let alone the team jumping all at the same time. Of course, you did have to raid mother's washing line to do it - but somehow, Mum never seemed to mind!
We have all heard how the game of conkers is dying out, lest the children rap their knuckles with the flying conkers but nobody was ever hurt by the game of marbles. This is a game that originated in Roman times. You need a "tolley" ball and by such moves as shooting - flicking and fudging players seek to be first to strike the "tolley". This is a game that can be played by teams or individuals. When I was a kid the game was usually played in the gutter!
Hop Scotch is another very old game, with its origins lost in time. This is played on an oblong grid pattern marked out on the ground and usually having 10 or 12 divisions. A small stone is tossed into play with players hopping on one foot into each division. Hoodman's blind for instance is the forerunner of blind-man's-buff. It was first played by the ancient Greeks. A player would be hooded and then buffeted by his fellows until he was able to catch one of them. This player would then be hooded and so the game progressed. Wind ball is another ancient game, rather like football, but played with a very light ball and either punched or slapped between the players. Bob cherry, or bob apple, would have fruit suspended by a string above the player's head and individuals would jump to try and catch the fruit in their mouth. A more vigorous game would be hunt-the-fox. This could be played in two ways, either in a relatively small area or across country like a steeplechase. One player would run on ahead of the "pack" and be given a head start before the pack would give chase and try to catch the "fox" before he could reach home.
Less energetic would be cats cradle. A loop of knitting wool or string would be held between the two hands and by deft movements of the hand or fingers, different patterns could be formed with the string - such as farmer's gate or parachute. Some of these moves required a partner to take the pattern over, with quite a long sequence of patterns being achieved. Then again, there is cup and ball - a game that required some skill. The cup, made of wood or metal, would be shaped rather like a goblet and mounted on a stem or handle. At the base of the handle, either a length of string or a lace would be threaded through a hole and attached to the ball, the object being to toss the ball into the air and catch it in the cup. The smaller the cup and ball the more difficult the game became.
I hope you have enjoyed this stroll through childhood pastimes and games and perhaps, along the way, I have stirred a few memories of your younger years.
Barbara Corley
W.I.NEWS
We had a fun and sociable meeting this month. The birthday of one of our oldest members was to be later in April and following our tradition of celebrating significant birthdays we duly presented Joyce Knight with some flowers and a present to mark her 80th birthday. After a rousing rendition of 'Happy Birthday' we toasted our birthday girl with a glass of wine.
Mandy Sharpe then took to the floor: our speaker had unfortunately had to cancel so she bravely stepped into the gap and volunteered to demonstrate the art of stir frying. Using a wide variety of ingredients she created three delicious dishes, which we were all able to sample. We give our thanks to her for filling in so successfully.
To finish the evening and our meal Lynette Hall had baked a beautiful chocolate birthday cake for Joyce which we were pleased to help her eat.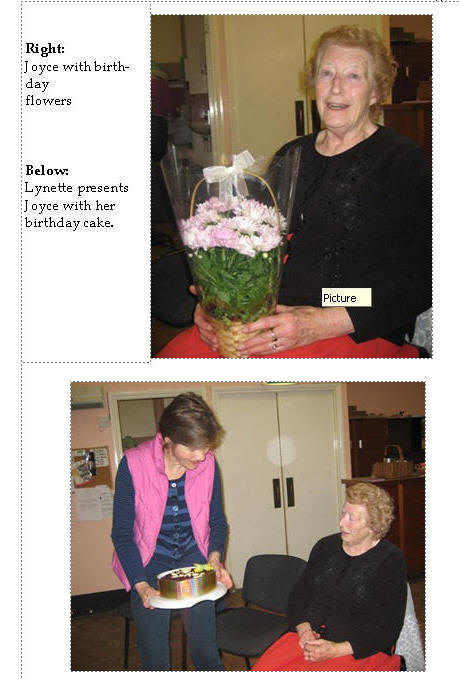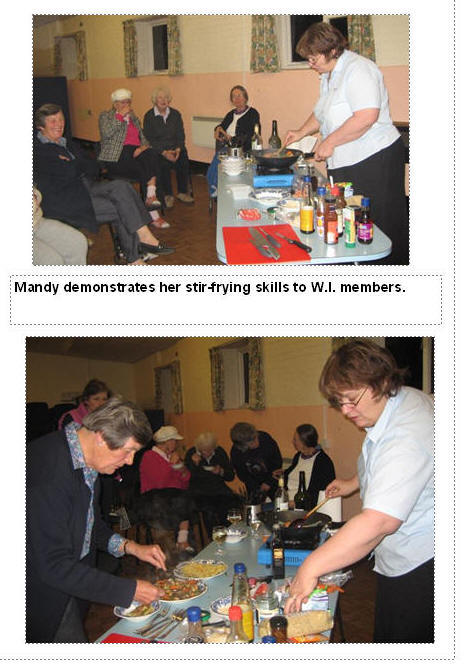 Presentation of cheque to Podington Lower School
On March 24th, Walter Nottage presented Mrs McNally, Headmistress of Christopher Reeves Lower School, with a cheque for £509, to be used for books for the school's library. The cheque was sent by Mrs Vera Brockmeyer in remembrance of her late husband William Brockmeyer of the 92nd Bomb Group of the U.S. Airforce, stationed at Podington during World War 2. Bill was the last survivor of the three crew members who Walter rescued from a B17 Flying Fortress which crashed on take-off, on Christmas Eve, 1944.
Bill was very keen on books so his widow thought this donation to the school's library would be a fitting tribute to him; it was also very fitting for Walter to make the presentation.
Walter and Eileen were entertained by the school children, who sang an Easter song and also a song for Mother's Day.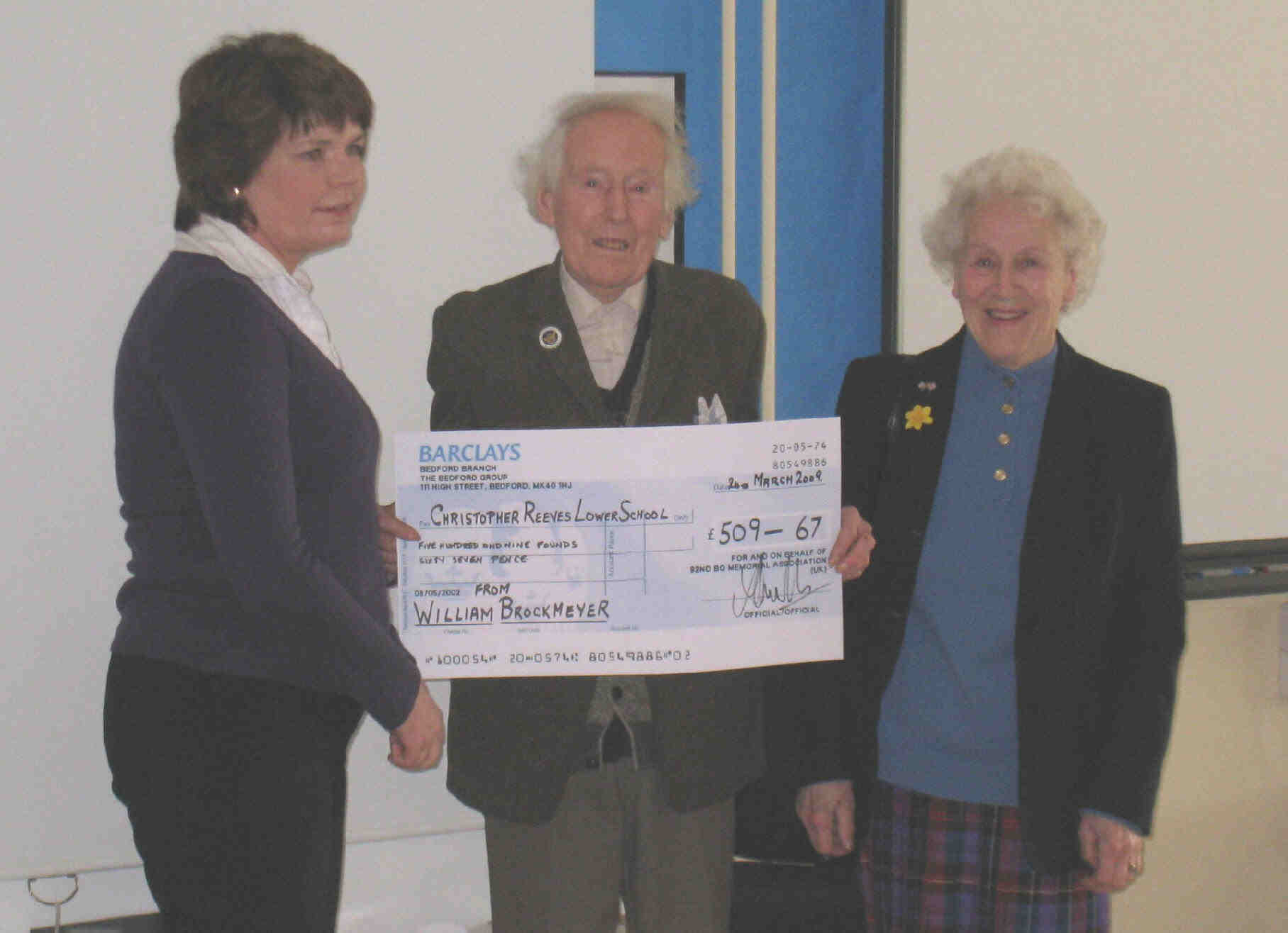 Above: Mrs Sue McNally, Walter and Eileen Nottage
NEXT MEETING
Our May meeting will be in the Village Hall on Tuesday 12th May at 7.30. It is our AGM: our opportunity to look backwards to what we have enjoyed and forward to what the future holds.
COMPETITION
None this month
HOSTESS
Our May hostesses are Carol Ormond and Jane Eshelby
Rachel Halton 720572
"Pulling Out The Stops"
An evening with Carlo Curley, the world famous American concert organist,
will be held onSaturday 12th September 2009 - at 7.30pm
in St Mary's Church, Felmersham
Entry is by ticket only £12 (no concessions) with allocated seating. Light refreshments will be available during the interval, and in addition there will be the chance to purchase a tape or CD of one of Carlo's performances. There will be a video screen to enable the audience to catch a glimpse of Carlo's "flying" hands and feet.
For further details of booking, seating plan and map, please visit www.felmersham.net/carlo.htm
To book allocated seating:
(with payment by cheque): Ken or Lorraine Shrimpton 01234 781381
(with payment by credit card): Central Box Office, Bedford01234 269519
To view the Carlo Curley website and hear him play, visit www.carlo.com
Harrold-Odell Country Park
Carlton Road, Harrold, Bedford MK43 7DS
Friends of Harrold-Odell Country Park
Conservation Tasks
Come and join in with the practical work to enhance the Park for wildlife and visitors on the following date, from 10.00am – 3.00pm:
Monday 18th May.
Wear appropriate clothing and footwear. Drinks provided. Come for an hour or two or stay as long as you like.
Health Walks
We are running health walks from 10.30am on every second Thursday, from the Visitor Centre Café. Dates are as follows:
May 14th, 28th
June 11th, 25th.
Each walk lasts just over half an hour and is guided by a trained leader. The aim is to improve your physical health and mental wellbeing.
Walking regularly can reduce your risk of heart disease, high blood pressure, strokes and depression.
You can book beforehand or simply meet at the visitor centre in the park on the day. Please contact us at the park on 01234 720016 or e-mail walk leader Ed at ed.burnett@bedscc.gov.uk. To reach the park follow road signs to Harrold and we are on the Carlton Road, postcode MK43 7DS.
Email: hocp@bedscc.gov.uk Website: www.hocp.net Tel: 01234 720016
Village Hall
Events
If you have an idea or can help with these let us know, and if you would like a venue for a private function, the very reasonable hire fee helps us maintain the hall.
Quiz Night Saturday 18th April
Thanks once again to Rob Lee who hosted another splendid quiz evening in the Village Hall. The winners of the first quiz of this year were "The Carbuncles" (pictured below).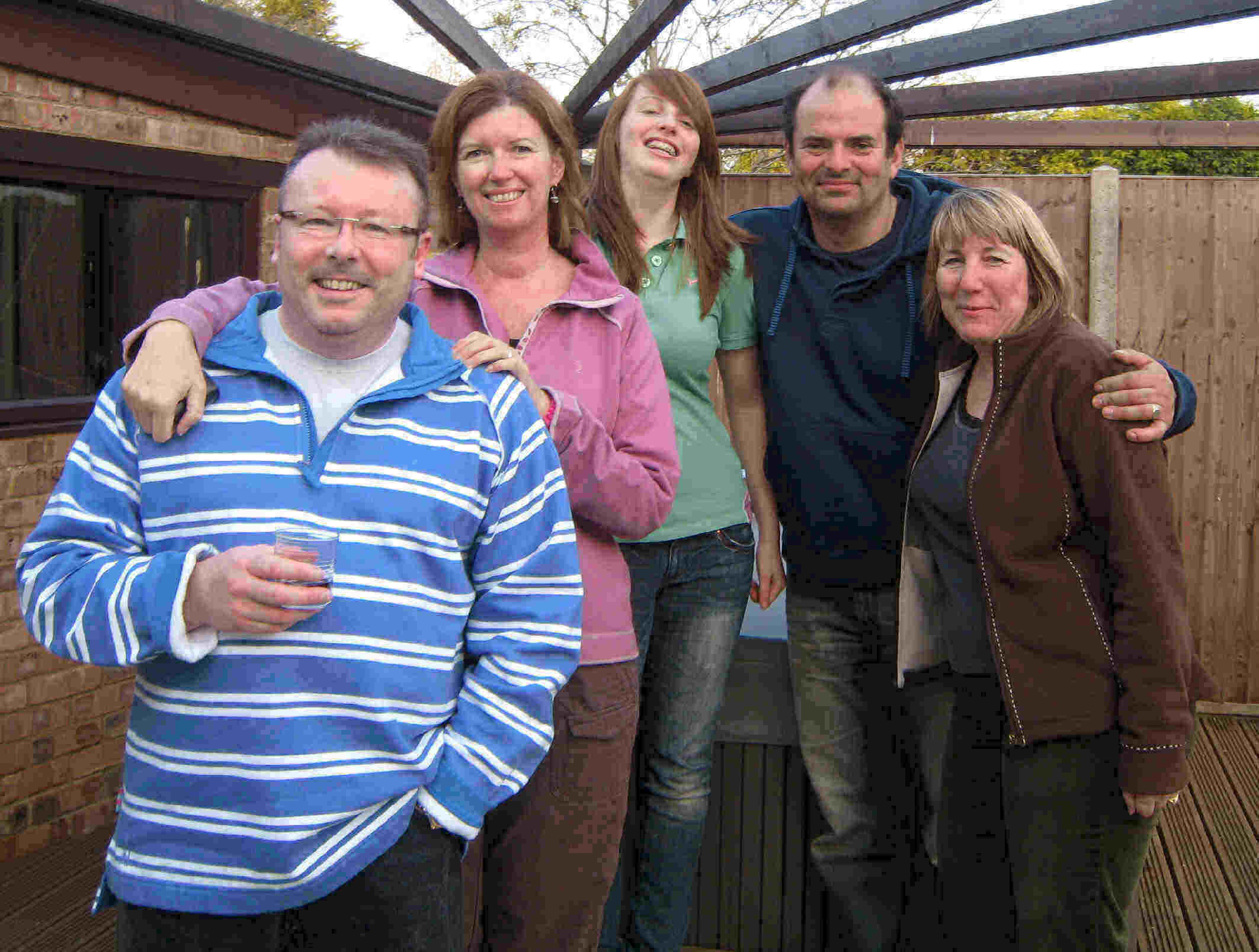 The Carbuncles": l. to r.: Bob and Caroline Shearer, Katherine, Tim and Nikki Freeman. Fiona Fellows was also in the team but is not pictured.
Forthcoming events:
Irish Night (featuring Hair of the Dog)
Date: 9th May
Time: 7:30 for 8:00
Tickets: £8 inc. Irish stew
Contact for tickets: Nicki Freeman 720893
The Mill Theatre, Sharnbrook
The Secret Garden 15th, 16th 19th –– 23rd May, 7.45 pm,
Matinée Saturday. 23rd May 2.30 pm
For all the family Area Première
Please note - No show Monday. 18th
Book & Lyrics by Marsha Norman; Music by Lucy Simon, based on the original novel by Frances Hodgson Burnett.
This charming Classic Book, brought to life with delightful music, tells the story of orphan Mary Lennox, who travels from India to her uncle's home in England. She struggles to fit in to her new home and family, until the discovery of the Secret Garden…
Tickets (£10-£12) available NOW from:
Sharnbrook Post Office (in person)
Bedford Central Box Office 01234 269519
10% discount on 10 or more in the same party (excl. Charity Gala performances)
Parking for Disabled; Lift Access, Two wheelchair spaces, (please book through Bedford Central Box Office), easier access seating Rows A - C. Hearing Loop effective Rows A -E
Coming up:
Pearls of the Mill A Special Concert to Celebrate 30 years of The Mill Theatre
Thurs. 18th, Fri. 19th, Sat. 20th June, nightly at 7.45 pm –
Featuring selections from 3 decades of our Shows, such as the inaugural production: Salad Days, Man of La Mancha, Pippin, The Hired Man, Godspell, Hair, Cabaret, Fiddler on the Roof, Oklahoma! - My Fair Lady and many more…Do join us!
Tickets £10 from the above Box Offices, or the theatre during The Secret Garden.
Entertaining Mr Sloane: 22nd – 26th September Director: Paul Frecknall
Performers! Open Read Through Tues. 26th May 7.45 pm
Auditions: Wed. 27th May 7.45 pm, Thurs. 28th May 7.45 pm. Enquiries: Enid Cooper: (01234) 708432
Diary
4th 10.00am Fete Painting Day, Linden House.
6th 10.30am Meeting point at Doris's, Goodly Heritage, The Bury, Pavenham.
9th 7.30pm Irish Night, Odell Village Hall.
12th 7.30pm W.I. AGM, Village Hall.
13th 7.00pm N.E. Beds Conservative Assoc. Presentation by The Princes Trust, St Peter's Room, Sharnbrook.
14th 10.30am HOCP health walk.
16th 9.45am All Saints' Amblers meet at The Bell.
16th 7.30pm Songs for a summer Evening, All Saints' Church.
18th 10.00am HOCP Conservation Tasks.
20th 10.30am Meeting Point at Jane's, Newton Ho., Avenue Rd., Newton Bromswold.
20th 7.45pm PCC Meeting, The Rectory.
23rd 10.30am Coffee Morning for Tea-Point Appeal, Rectory Farm.
28th 10.30am HOCP health walk.
Magazine Deadline
Please send all entries for the June 2009 magazine to Tricia Hudson (mag1 at odellbeds.net) or Catherine Corkery by May 12th 2009 at the latest. May we remind you that the editorial team exercises the right to edit, shorten or alter any items that are submitted. Also, the opinions expressed in the articles are those of the contributors and are not the responsibility of the editorial team.
Alex Stubbs Flooring
Carpets, Vinyls, Laminates, Safety Flooring, Adaptions, Refits, Repairs
Supplied and Fitted
07976 260572
01234 240954
Do you look after someone who is frail, ill or disabled?...
...that makes you a carer.
For information, support and advice you can now ring the Bedfordshire Carers Helpline: 0300 0123435

Great local pubs
---
Last revised: May 09, 2009.