ODELL VILLAGE NEWS
March 2009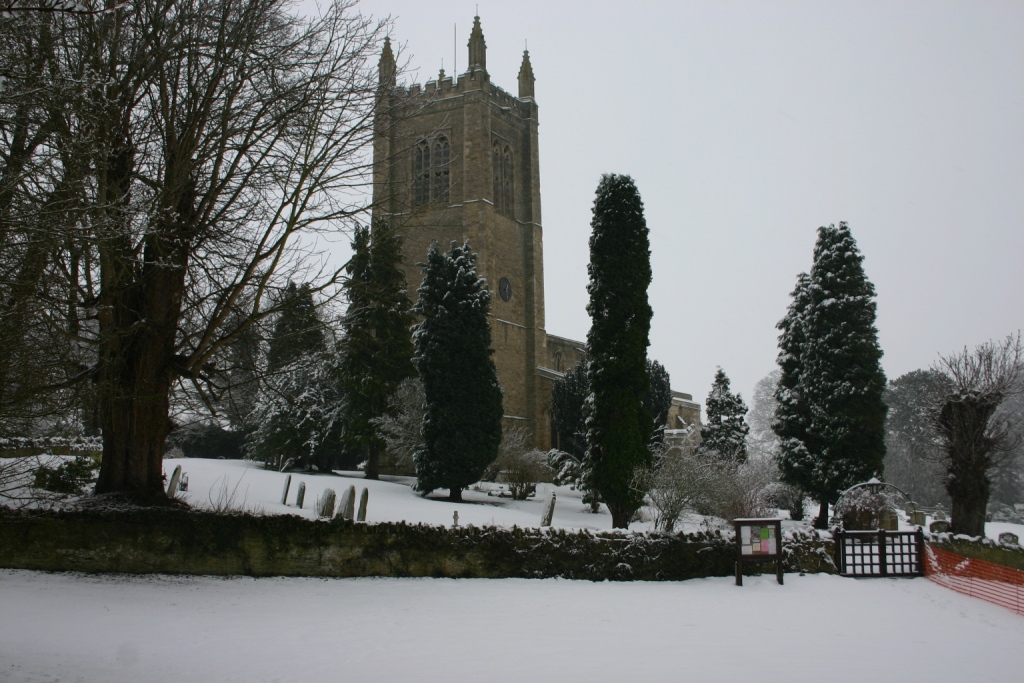 February snow pictures from John Chamberlain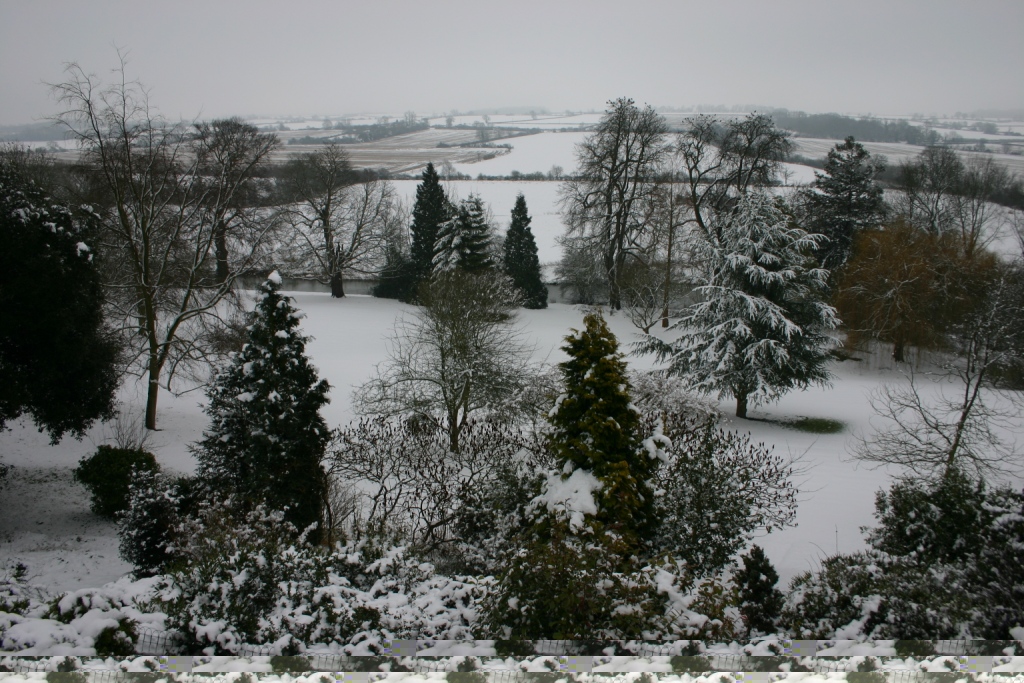 Senior Citizens' Fish and Chip Lunch
The annual Senior Citizens' Fish and Chip lunch will take place on:
Wednesday 4th March
at 12.30 for 1.00pm
in the Village Hall.
Coffee Morning in aid of All Saints' Tea-point and Toilet Appeal.
A coffee morning will be held at Rectory Farm on Saturday 23rd May from 10.30am. Bedding plants will be on sale. All proceeds will go to the Tea-point and Toilet Appeal.
Happy birthday to:
Liane Fulford, whose birthday is on the 4th and to everyone else with a birthday in March.
Round and About
Winter Wonderland (picture below taken Feb 5th 2009)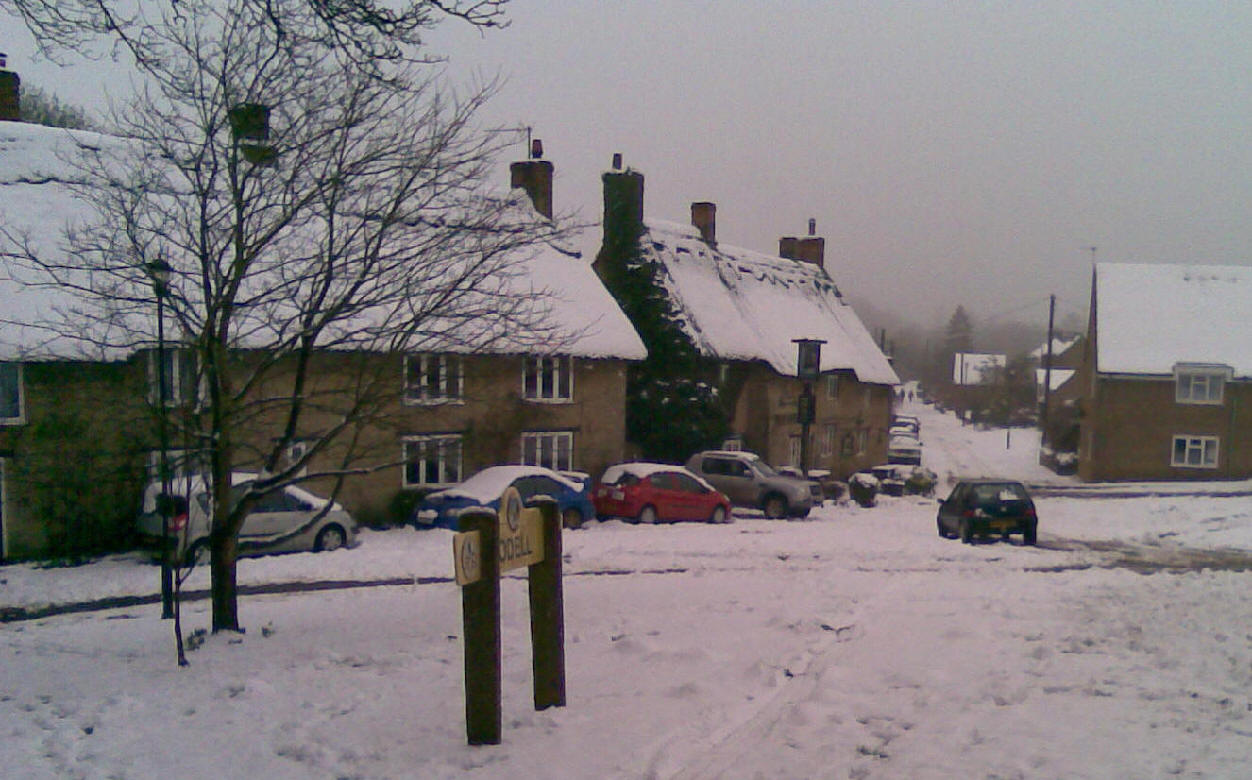 With the plunging temperatures of December and January we really should have been prepared. February has always been a bad month for weather in this country and, right on cue, as we entered the month of February the skies opened and down came the snow.
First, I should declare my case - I like snow. The very sight of snow falling gives me an inner glow. I cannot help it, I get such a lift ... provided, that is, I do not have to go anywhere. I know there is a down side to snow but in this article I am ignoring it.
In a normal winter, if we get snow at all, it falls overnight and we wake up to a light covering of snow which has usually gone by nightfall. This time, however, it has been different. Instead of a few hours of localised snow resulting in a light dusting we have had long periods of snowfall, not those little pellets we usually get, but large flowery flakes. Instead of falling during the hours of darkness we have been able to watch it fall, cloaking our landscape in beauty and splendour. Instead of being just one fall of snow which subsequently thawed, we continued to get more snow, day on day, for a whole week or more. We have seen quantities of snow this year that the media tell us we have not had in nearly 20 years.
That first Monday was glorious. I ventured out with the snow still falling. With my camera in hand, snapping to the left and to the right. I was not alone. Cameras were in everyone's hands. Many of the people that I would normally see at that time of the morning were nowhere to be seen. Others, seen only rarely, strode out - smiling broadly - cameras at the ready and also ready to tell everyone that they met just how much they liked the snow. There was such an air of light-hearted gaiety that day it is hard to explain.
Later, the doors opened and the children emerged joyously into a winter playground. No doubt fearful that it might soon disappear, they all seemed determined to get the most out of the occasion that they could. Sledges, snowballs and snowmen soon took over the landscape. Laughter filled the air and a holiday atmosphere seemed to have taken hold.
As the week progressed and the snowfalls continued that first spontaneous outburst of joy toned down a little but generally speaking everyone that I met seemed very cheerful about the situation and were in no hurry to see our winter interval come to an end.
As I write I suspect that the thaw is setting in - the water level in the river has certainly risen with alarming speed. I cannot, however, forget the face of the little boy shown on the television news. His face aglow, he confided to the camera : "There has not been this much snow since I have been alive".
Snow Facts:
The heaviest snowfall in Britain was in 1695, when it fell every day for five weeks in London.
So much snow fell in March 1891 that the West Country Express from London to Plymouth took four days to arrive.
Until the early 19th century the Thames regularly froze for up to two months and "frost fairs" were held on the ice with large bonfires roasting a whole ox. The last frost fair was held in 1814 when an elephant was led across the river at Blackfriars.
The snowiest British winter in the 20th c. was in 1947, when snow fell somewhere in the country every day from January 22nd until March 17th.
A fear of snow is called "chionophobia".
Barbara Corley
A Day Course in Willow weaving
Saturday 14th March
Yelnow Farm Odell
10am – 4pm
Cost £35, materials available
Bring your own secateurs and make an item for your garden
If you are interested, please phone Hannah on 07801814086
What's on at The Bell
The Wode Hill Jazz Band will be playing on Wednesday 4th March at The Bell from 7.30pm.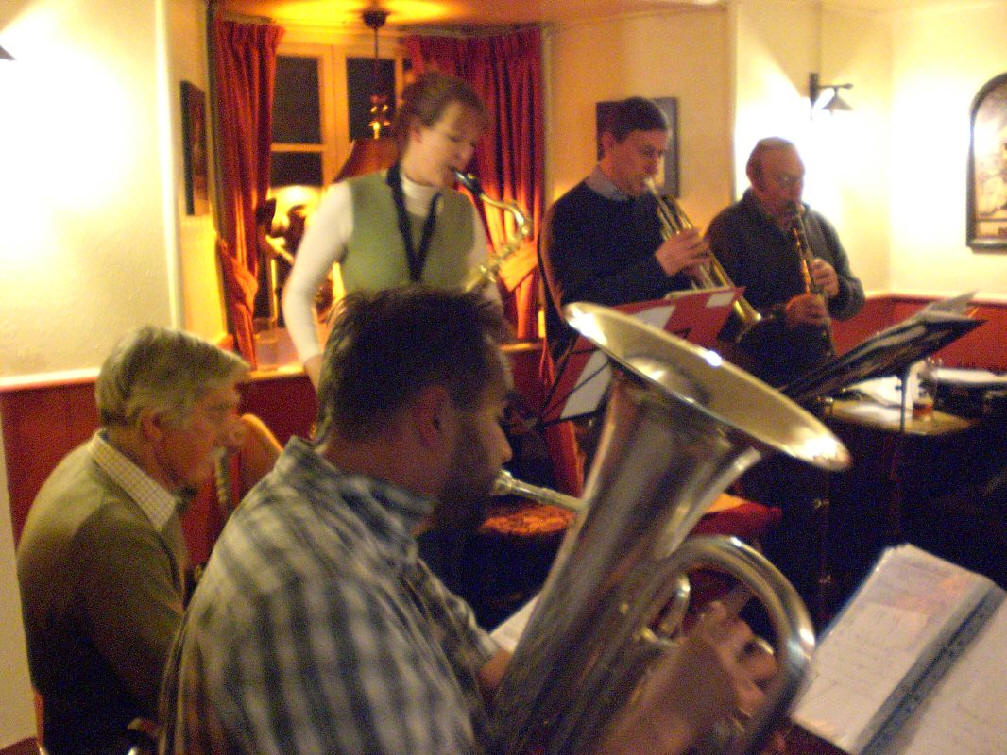 Friends of Harrold Medical practice
The next meeting of the Friends is to be held at the Surgery, Peach's Close Harrold on Tuesday 12 May 2009 at 7.30pm
If you want to have your say on what health care services are provided in your area or what improvements the Practice can make, please come and join us. We need representatives from all the villages that have patients that use the Practice.
Volunteer drivers are still needed for the new Medical Car Service. This project, which is being run in partnership with Wellingborough Community Transport, has been set up to take elderly and disabled residents to their medical/hospital appointments. Drivers' mileage expenses are paid. If you are interested, then call 01933 228844 for more details. Our continued thanks to those who are already helping with this project.
If you would like to find out more about the Friends and the work that we do please contact: Frances Hirst tel 01234 825212
People willing to supply lifts to and from surgeries.
Following is a list of the people currently willing to give lifts, to and from surgeries, to people who can't otherwise get there:
Kim Beardow 721246
Jill Cheadle 720261
Jonathan Harrison 721115
Steve Robinson 720113
Marion Senn 721176
Linda Tringham 720120
If anyone else is willing to be a volunteer please contact Jill on 720261.
W.I. News
Due to all the snow and ice making travel difficult, February's meeting was cancelled. However, hopefully the March meeting will go ahead!
Next Meeting
The next meeting will be in the village hall on Tuesday March 10th, at 7.30pm.
Wendy Lovatt will give a talk on Home-Start, an organisation which gives support to families who need extra help at a difficult time. This help may be practical or in the form of reassurance, and is always non-judgemental.
Competition
Bring along your earliest childhood photograph.
Hostesses
Sarah Bennett and Jill Cheadle.
Rachel Halton 720572
Odell Bridges
The long awaited repair and rebuild of the sluice bridge is at last under way.
All the river bridges have been gradually falling into varying states of disrepair and over the years various reports have been produced and surveys carried out, but always the result was that financial constraints meant the rectification work had to be put on the back burner.
Finally in 2008 the County Council released the money for the sluice bridge and the main bridge to be repaired and/or replaced, and the officer responsible has worked hard with the various agencies to get suitable plans raised and passed to enable the work to go ahead. With the environmental issues involved it has been no easy task to realise the project but the sluice is under way and should shortly be finished.
The plans for the large bridge are well advanced and once a sticking point with the Environmental Agency has been overcome, this too should get under way.
More information will be added as and when it becomes available.
Bridleway No. 31 Odell and part of Bridleway No 8 Felmersham will be closed from 18th February 2009 until the end of March 2009. This is to allow repairs to the sluice to take place and installation of the new sluice bridge.
There is no alternative route for bridleway users during the closure period.
Harrold-Odell Country Park
Carlton Road, Harrold, Bedford MK43 7DS
Friends of Harrold-Odell Country Park Conservation Tasks
Come and join in with the practical work to enhance the Park for wildlife and visitors on 30th March, from 10.00am – 3.00pm:
Wear appropriate clothing and footwear. Drinks provided. Come for an hour or two or stay as long as you like.
Email: hocp@bedscc.gov.uk Website: www.hocp.net
Tel: 01234 720016
Health Walks at Harrold Odell Country Park
We are running health walks on the following Thursdays from 10.30 am: March 5th ,March 19th
Each walk lasts just over half an hour and is guided by a trained leader. The aim is to improve your physical health and mental wellbeing. Walking regularly can reduce your risk of heart disease, high blood pressure, strokes and depression.
You can book beforehand or simply meet at the visitor centre in the park on the day. Please contact us at the park on 01234 720016 or e-mail walk leader Ed at ed.burnett@bedscc.gov.uk. To reach the park follow road signs to Harrold and we are on the Carlton Road, postcode MK43 7DS.
Great British Fish and Chip Supper – Friday 15th May 2009
Want to do something different? Want to eat Fish and Chips, while raising money for charity? Hold a fish and chip supper on Friday 15th May 2009 whilst raising awareness of spinal cord injury and supporting the Spinal Injuries Association's information and support services. You can hold a fish and chip supper in your own home, at work or hold a larger supper at your local community centre.
SIA will provide a fundraising pack containing hints and tips, recipes, invitations and donation envelopes. By inviting 7 friends and asking them to donate an additional £5.00 means you will raise at least £35.00 from your supper but we will also give you additional fundraising ideas to raise even more money for SIA.
Every year in the UK over 1,000 people experience a spinal cord injury and there are an estimated 40,000 spinal cord injured people in the UK alone.
For more information or request a fundraising pack call Elizabeth Wright on: 0845 6786633 xtn 229 or email fishandchips@spinal.co.uk or visit www.spinal.co.uk
Village Hall
Events
If you have an idea or can help with these let us know, and if you would like a venue for a private function, the very reasonable hire fee helps us maintain the hall.
Programme for 2009:
Dr Busker, 21st March, and Irish Night (featuring Hair of the Dog) on 9th May.
The Mill Theatre, Sharnbrook
Coming up in March, from the vivid imagination of Sir Terry Pratchett:
Wyrd Sisters 24th - 28th March, 7.45 pm
From the vivid imagination of Sir Terry Pratchett, adapted for the Stage by Stephen Briggs. Loosely based on Macbeth – but with more comedy! Throw in witches, demons dungeons and a court jester who cannot tell a joke - you have a not-to-be-missed black comedy!
Tickets £9 - £11 will be available from:
Sharnbrook Post Office (in person)
Bedford Central Box Office 01234 269519
10% discount on 10 or more in the same party (excl. Charity Gala performances)
Take advantage of Advance Booking!
Tickets for The Secret Garden 15th – 23rd May, 7.45 pm, for all the family; from the charming Classic Book, brought to life with enchanting music, will be available during Wyrd Sisters, but only at The Mill Theatre
Bedfordshire County Council News Release
A reminder that since the 12th January residents of Bedfordshire have been able to recycle additional items in their recycling container;
· Paper, cardboard and cartons
· All plastic food packaging, yoghourt pots, polystyrene packaging, cellophane wrap and carrier bags (washed, please)
· Metal Packaging (including food tins and drink cans
· Worn out textiles, clothing, shoes and bedding. (Please give items in good condition to charities).
Foil and foil containers (please wash and squash)
Materials should be added to your bin or bag loose.
If you are unsure of what you can put in your recycling container or if you have any queries regarding Reducing, Reusing or Recycling your waste, please call Bedfordshire County Council on 01234 228385, visit www.bedfordshire.gov.uk or email waste.partnership@bedscc.gov.uk

Energy Efficiency
Energy saving light bulb myth buster
Why use them? Compact fluorescent light bulbs (CFLs) use 80% less electricity, save you about £3 a year each, and last up to 12 times longer than old fashioned tungsten bulbs.
What are they? Think of them as compact versions of the strip lights in work places since the 1950s.
Have they improved? You can now get all shapes and sizes, fittings and levels of brightness, including 150W equivalent and dimmable options. A recent blind test of 761 shoppers, found that 64% preferred the light from them.
Is it better to leave them running? No, switching them on uses the equivalent electricity as leaving them on for a few minutes. Most now light instantaneously.
How should I dispose of them? Use the service your municipal tip provides for the safe disposal of fluorescent tubes.
Is mercury an issue? Ironically, installing CFLs ought to help reduce the need for coal-fired electricity production - a major cause of global mercury emissions. CFLs contain mercury - about 5mg. Locked into its tube, this is harmless.
What should I do if I smash one? Ventilate the room for 15 minutes. Put on your rubber gloves, brush the bits into a bag, seal it and drop it at the tip next time you go.
Are tungsten bulbs banned? No. Manufacturers have agreed to withdraw them for sale, starting with 100W this year, 60W in 2010 and 40W in 2011.
Where can I find out more? Contact the Energy Saving Trust on 0800 512 012. Gordon Glass
Diary
March
2nd 7.30pm Lent Group meet at 3 Copper Beeches, Emmaus.
4th 12.30 Senior Citizens' Fish and Chip lunch, Village Hall.
4th 7.30pm Wodehill Jazz Band at The Bell.
4th 7.45pm Lent Group meet at 15 Beeby Way, Carlton.
5th 10.30am Lent Group meet at 23 Pavenham Rd., Carlton.
5th 10.30am HOCP Health Walk.
5th 1.15pm Lent Group meet at 19 High St., Harrold.
6th 10.00am Women's World Day of Prayer, Harrold URC Chapel.
9th 7.30pm Lent Group meet at 3 Copper Beeches, Emmaus.
10th 7.30pm W.I., Village Hall.
11th 10.30am Meeting Point at Sarah's, 9 Horsefair Lane.
11th 7.45pm Lent Group meet at 15 Beeby Way, Carlton.
12th 10.30am Lent Group meet at 23 Pavenham Rd., Carlton.
12th 1.15pm Lent Group meet at 19 High St., Harrold.
14th 10.00am Willow weaving, Yelnow Farm.
16th 7.30pm Lent Group meet at 3 Copper Beeches, Emmaus.
18th 7.45pm Lent Group meet at 15 Beeby Way, Carlton.
19th 10.30am Lent Group meet at 23 Pavenham Rd., Carlton.
19th 10.30am HOCP Health Walk.
19th 1.15pm Lent Group meet at 19 High St., Harrold.
21st 9.45am All Saints' Amblers meet at The Bell.
21st Dr Busker, Village Hall.
23rd 7.30pm Lent Group meet at 3 Copper Beeches, Emmaus.
25th 10.30am Meeting Point at Catherine's, Manor Cottage, Harrold.
25th 7.45pm Lent Group meet at 15 Beeby Way, Carlton.
26th 10.30am Lent Group meet at 23 Pavenham Rd., Carlton.
26th 1.15pm Lent Group meet at 19 High St., Harrold.
30th 10.00am HOCP Conservation tasks.
30th 7.30pm Lent Group meet at 3 Copper Beeches, Emmaus.
April
1st 7.45pm Lent Group meet at 15 Beeby Way, Carlton.
2nd 10.30am Lent Group meet at 23 Pavenham Rd., Carlton.
2nd 1.15pm Lent Group meet at 19 High St., Harrold.
Magazine Deadline
Please send all entries for the April 2009 magazine to Tricia Hudson (mag1 at odellbeds.net) or Catherine Corkery by March 12th 2009 at the latest. May we remind you that the editorial team exercises the right to edit, shorten or alter any items that are submitted. Also, the opinions expressed in the articles are those of the contributors and are not the responsibility of the editorial team.
Alex Stubbs Flooring
Carpets, Vinyls, Laminates, Safety Flooring, Adaptions, Refits, Repairs
Supplied and Fitted
07976 260572
01234 240954
Do you look after someone who is frail, ill or disabled?...
...that makes you a carer.
For information, support and advice you can now ring the Bedfordshire Carers Helpline: 0300 0123435

Great local pubs
---
Last revised: February 28, 2009.