ODELL VILLAGE NEWS
July/August 2009 - updated Aug 17th
Update on the Village Open Weekend - July 11th and 12th
There was a historical trail around the village, trips up the church tower, cream teas at the Village Hall and homemade cakes in the church, plus stalls and displays, music by the Wode-Hill Jazz Band and a female barber-shop quartet –as well as a 'Bring & Share' BBQ at the Village Hall on the Saturday evening. Proceeds were in aid of All Saints' Tea-Point & Toilet Project except bar takings, which went o the Village Hall.
However the highlight of the weekend was the village scarecrow competition.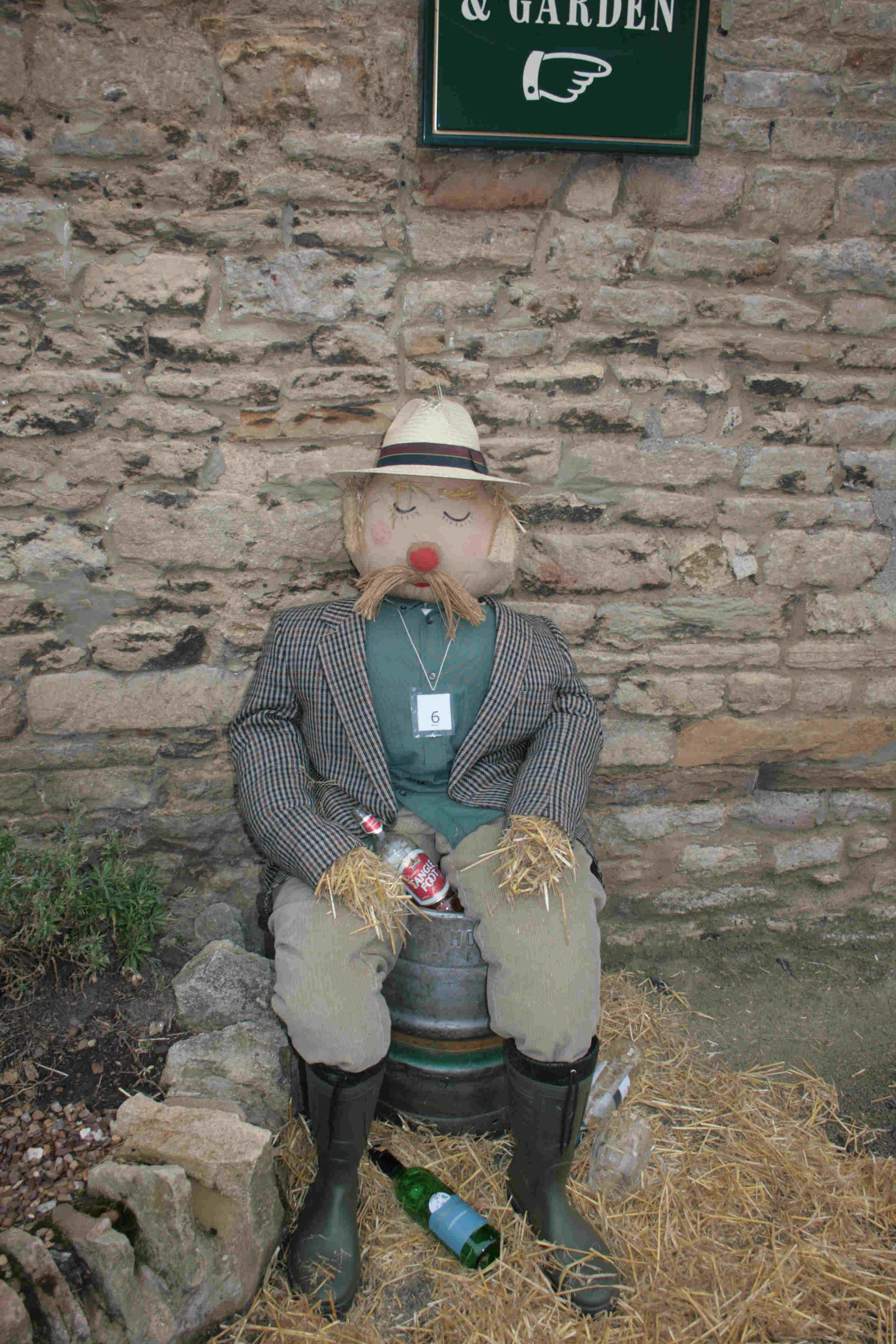 Everywhere you looked was a scarecrow. Above: outside the Bell
even in the Curchyard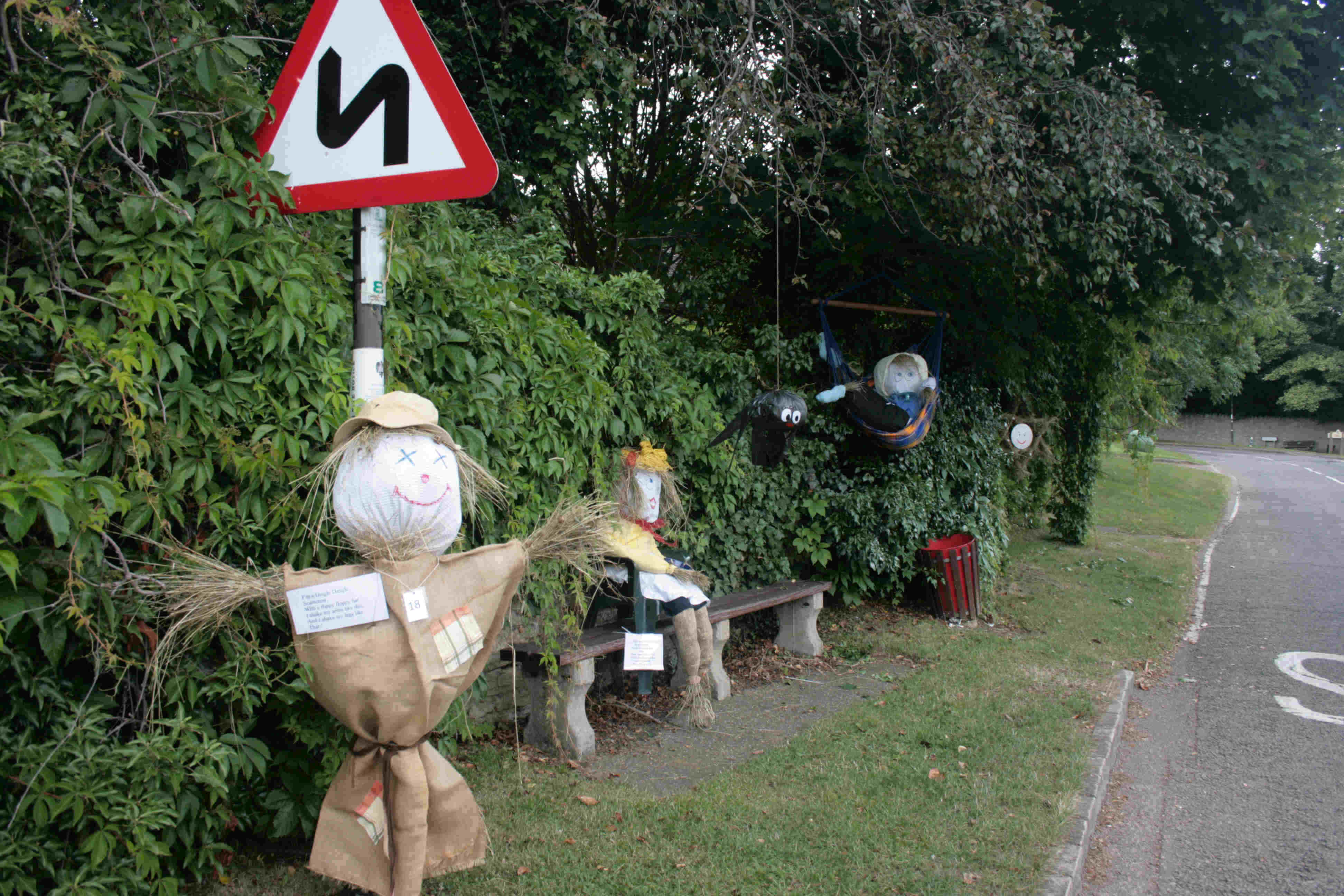 all along the roadside...above: little miss Muffet and Baby Bunting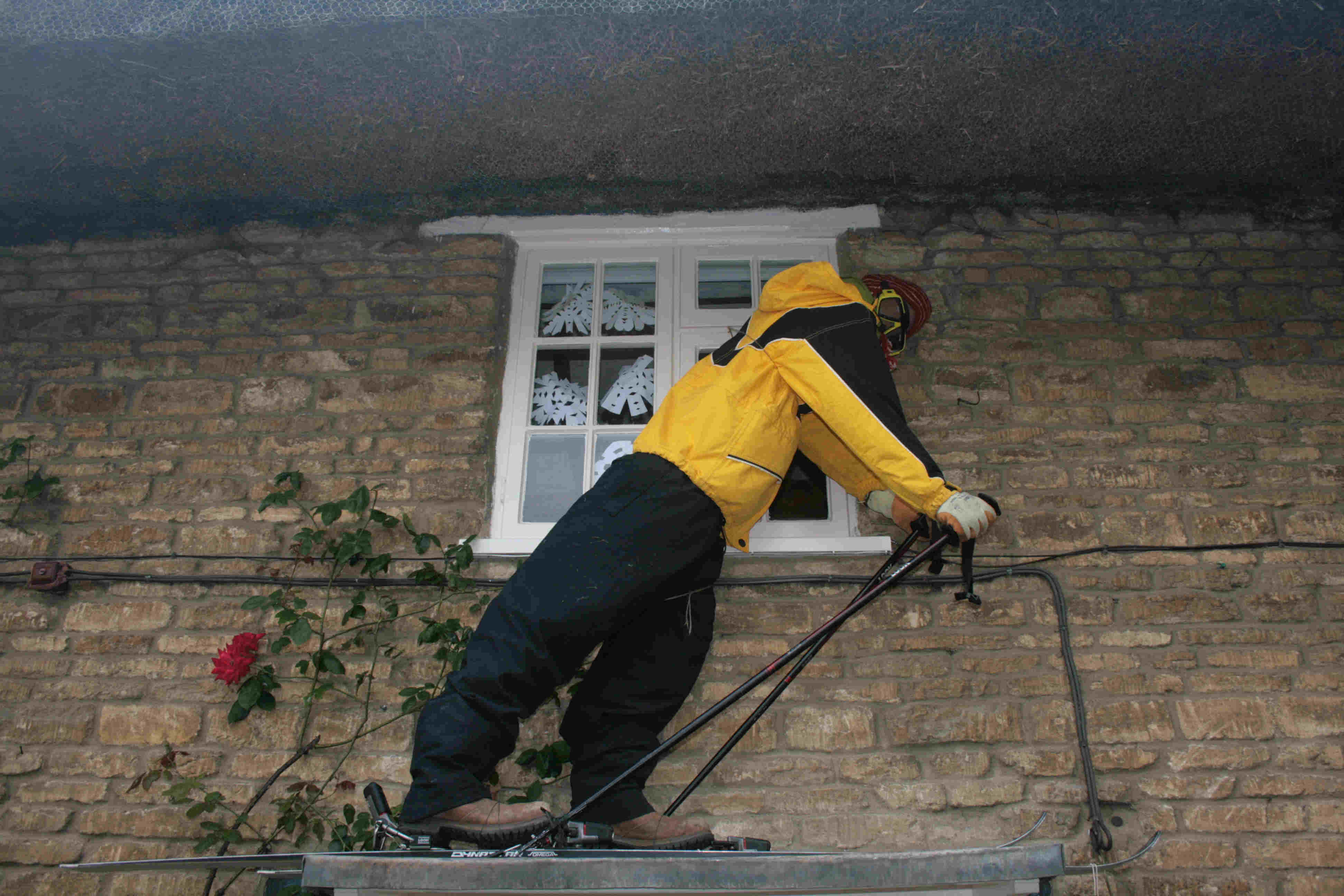 every hobby and occupation was represented... above: a skier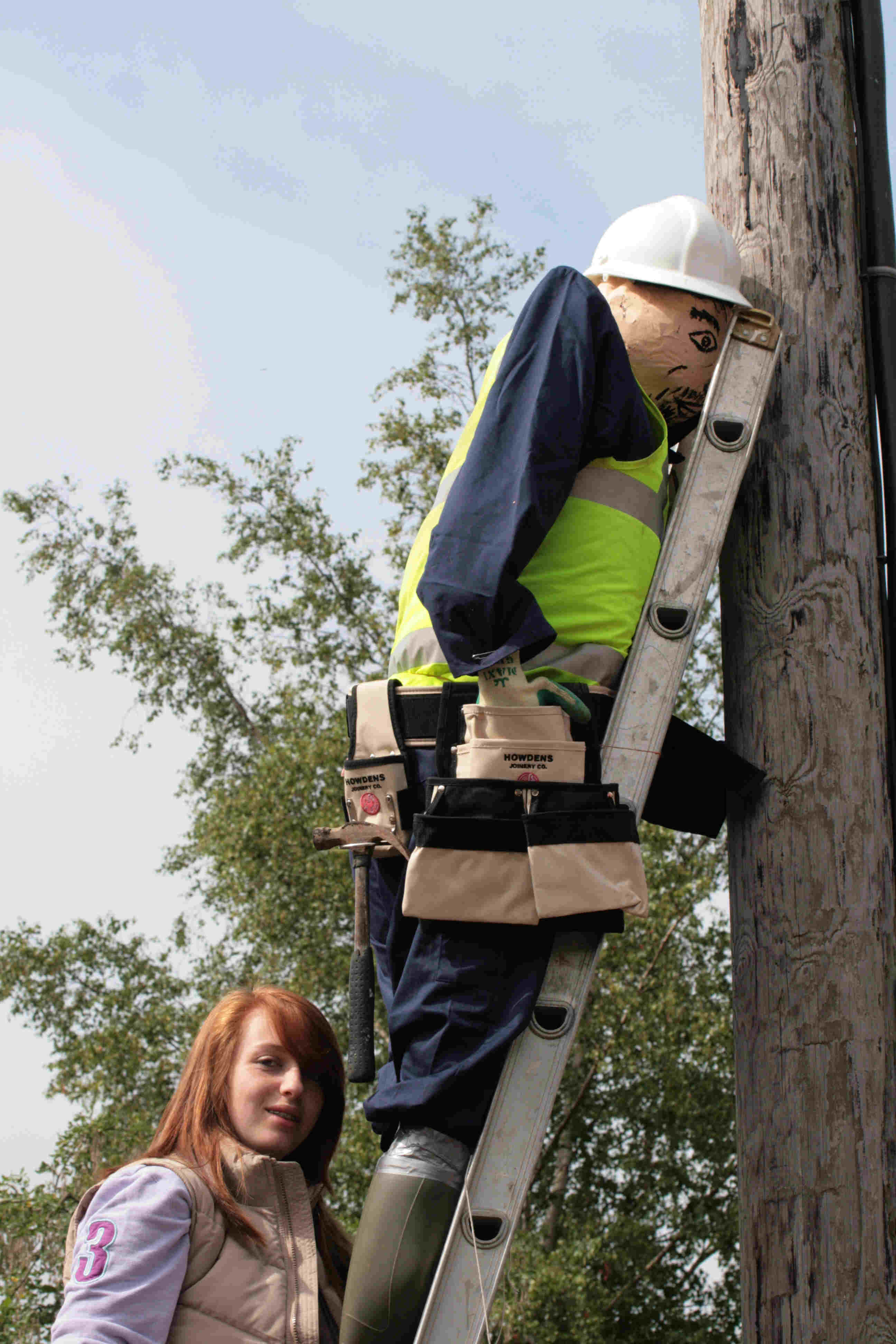 a fireman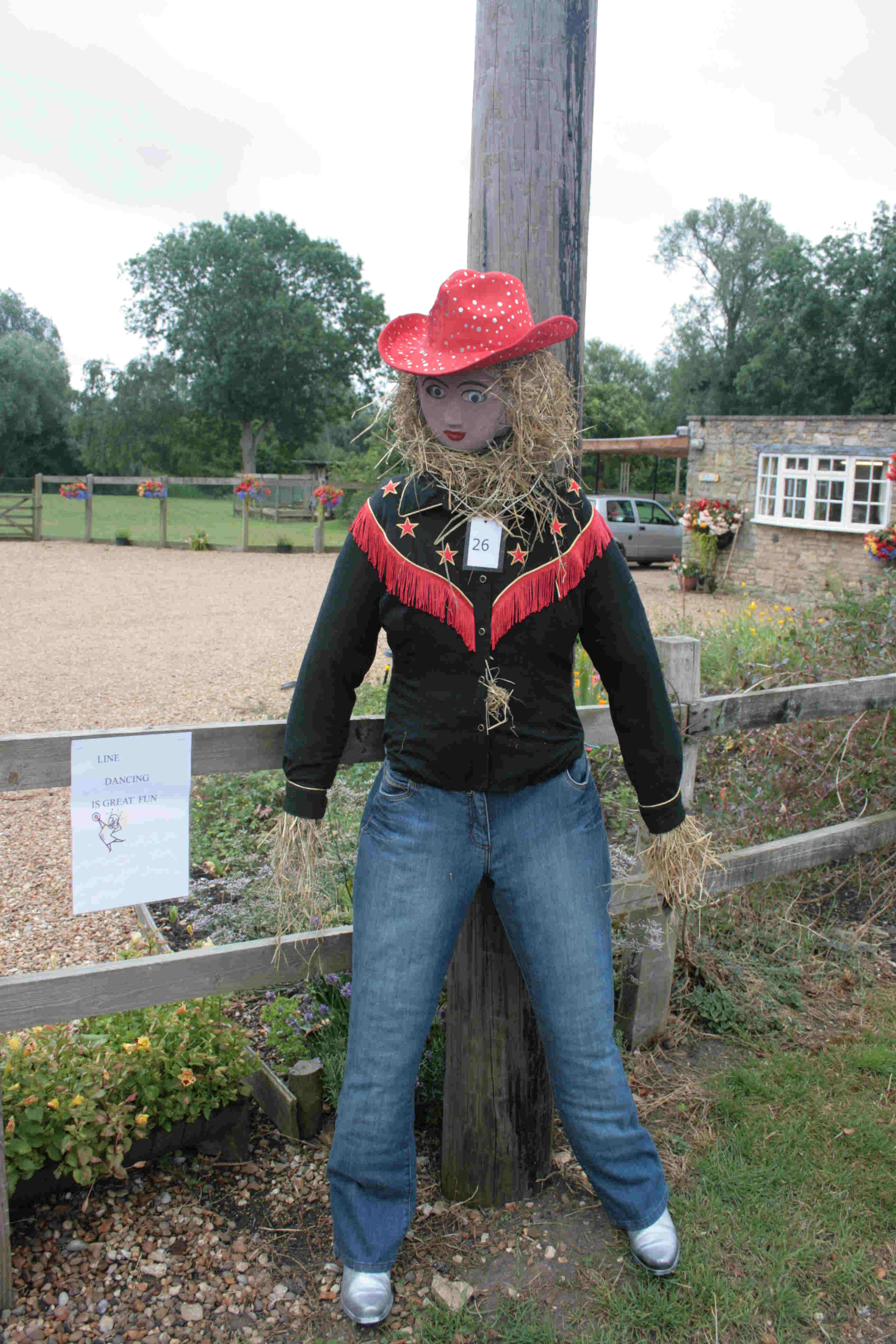 and a line dancer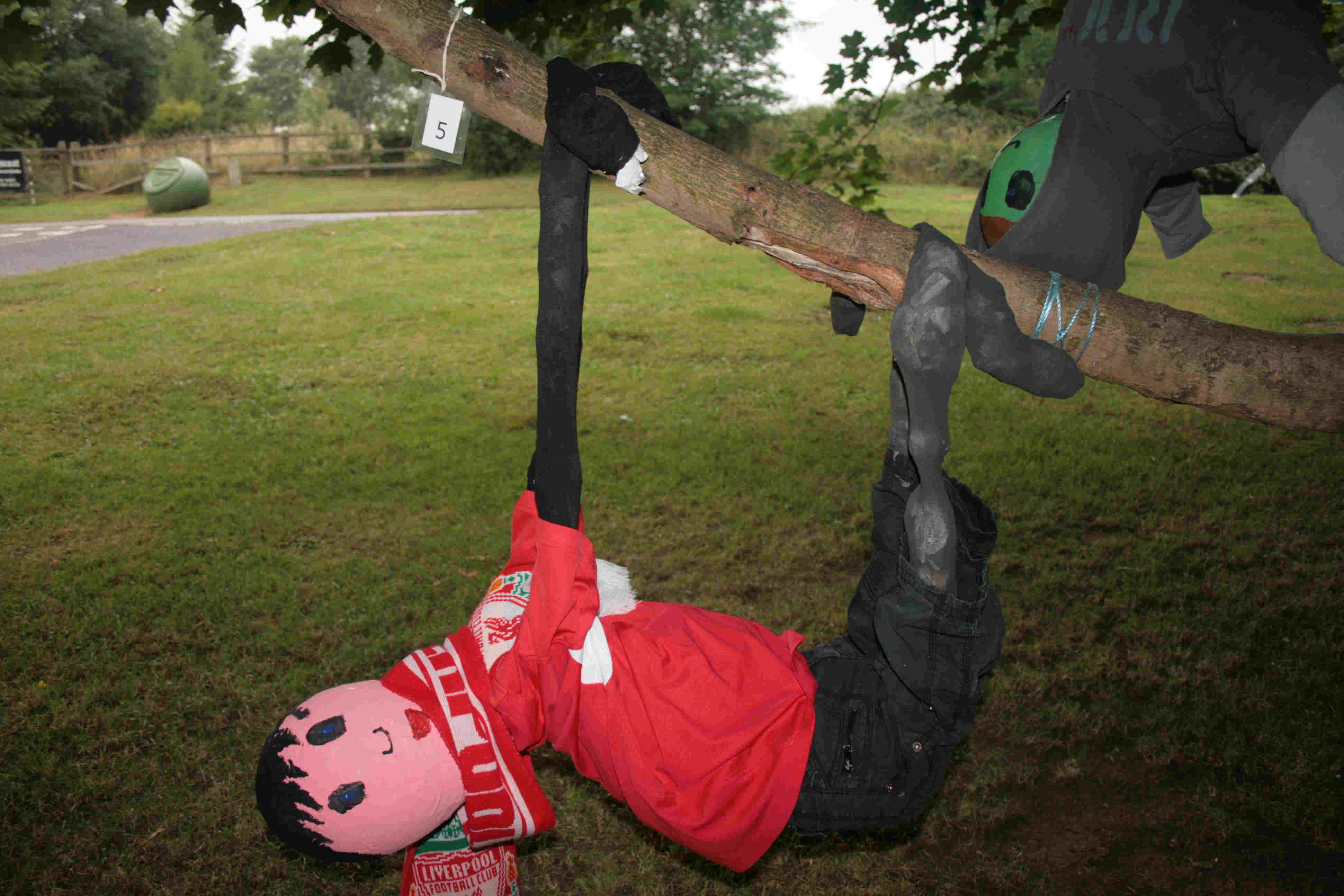 even a Liverpool supporter!
But best of all.....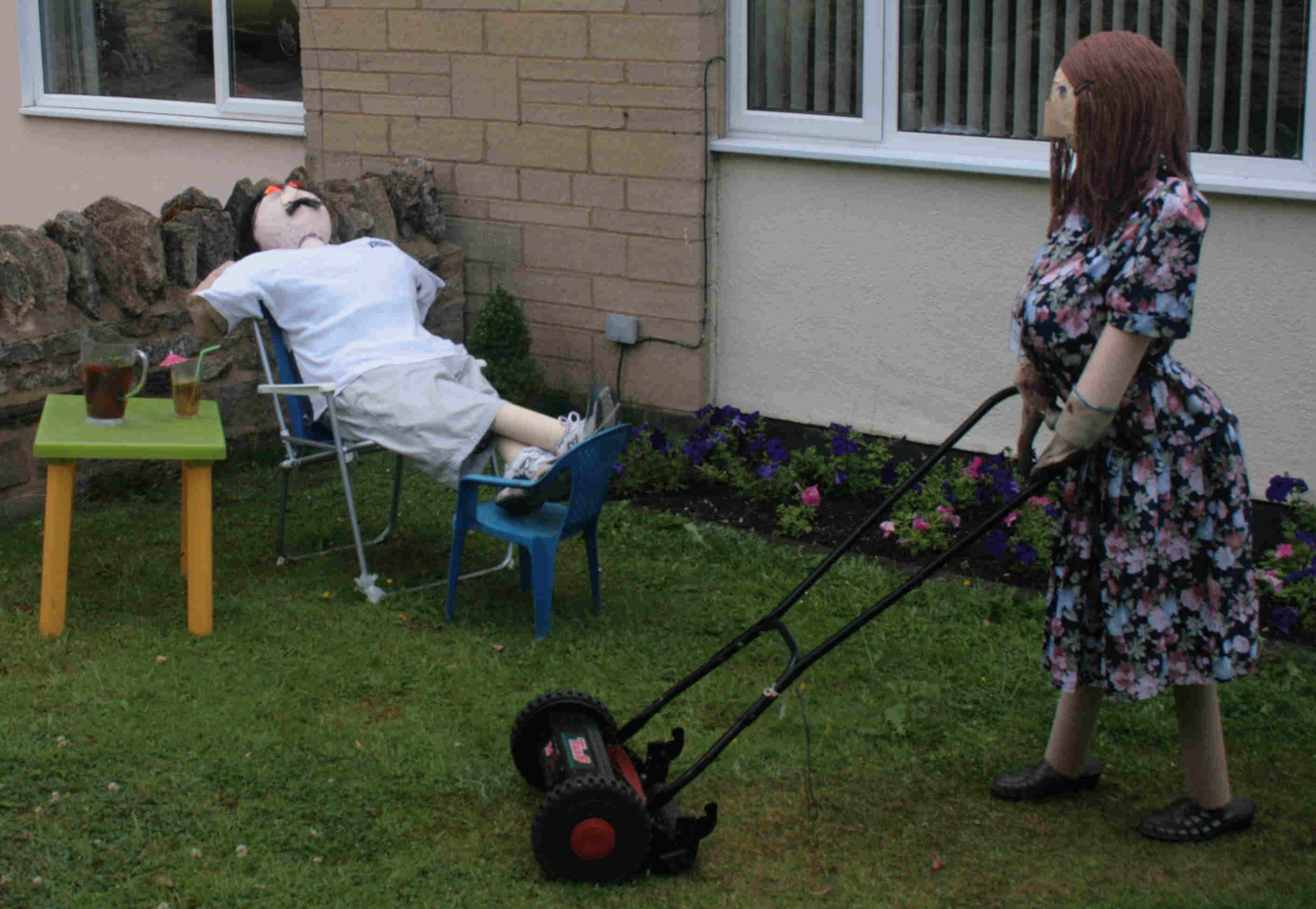 Above: The winning entry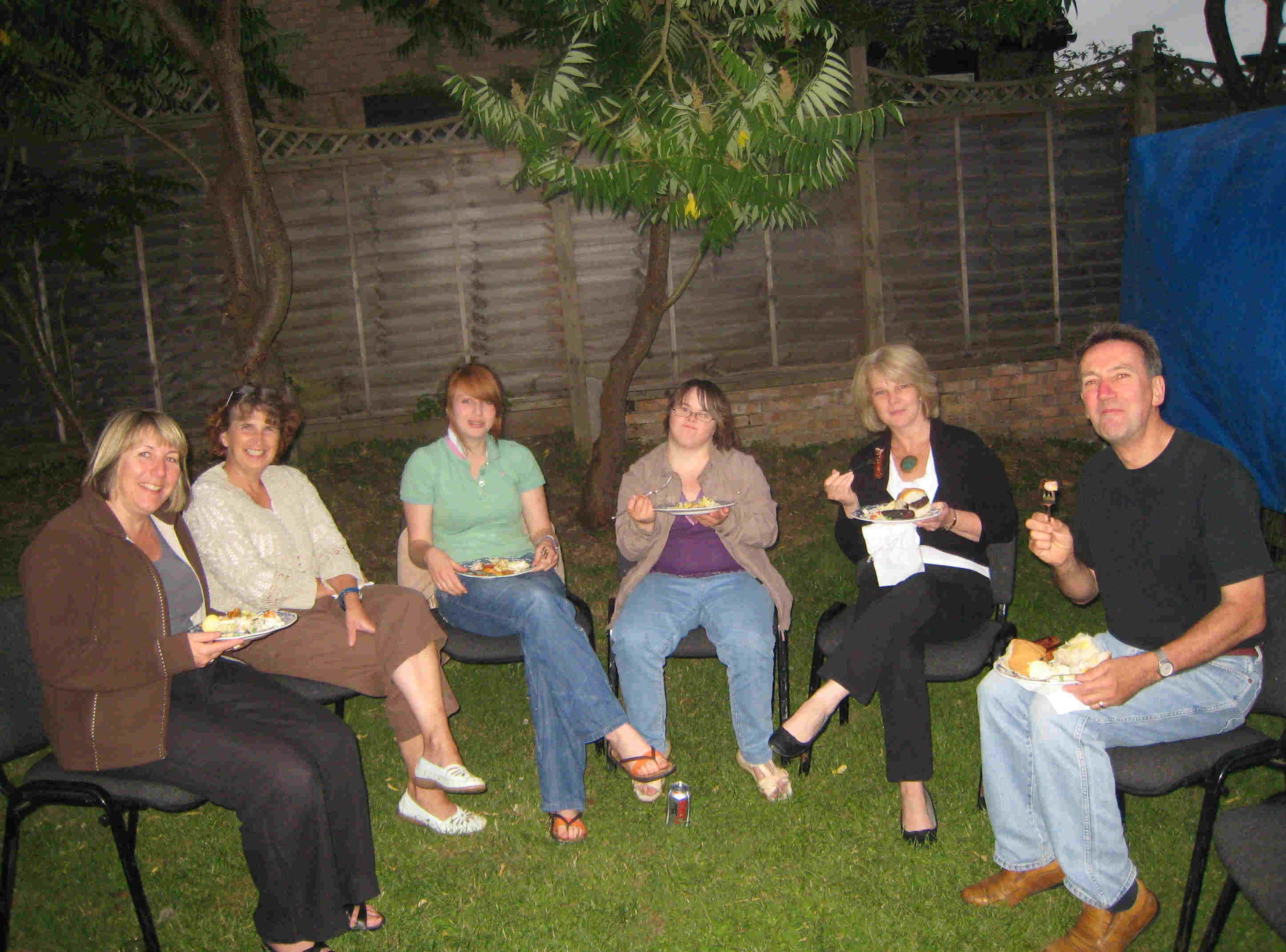 Above: the bring and share barbecue at the Village Hall
Many thanks to all who supported what was a really fun weekend for all!
ooo OOO ooo
Below - pictures from the Fete weekend - June 13th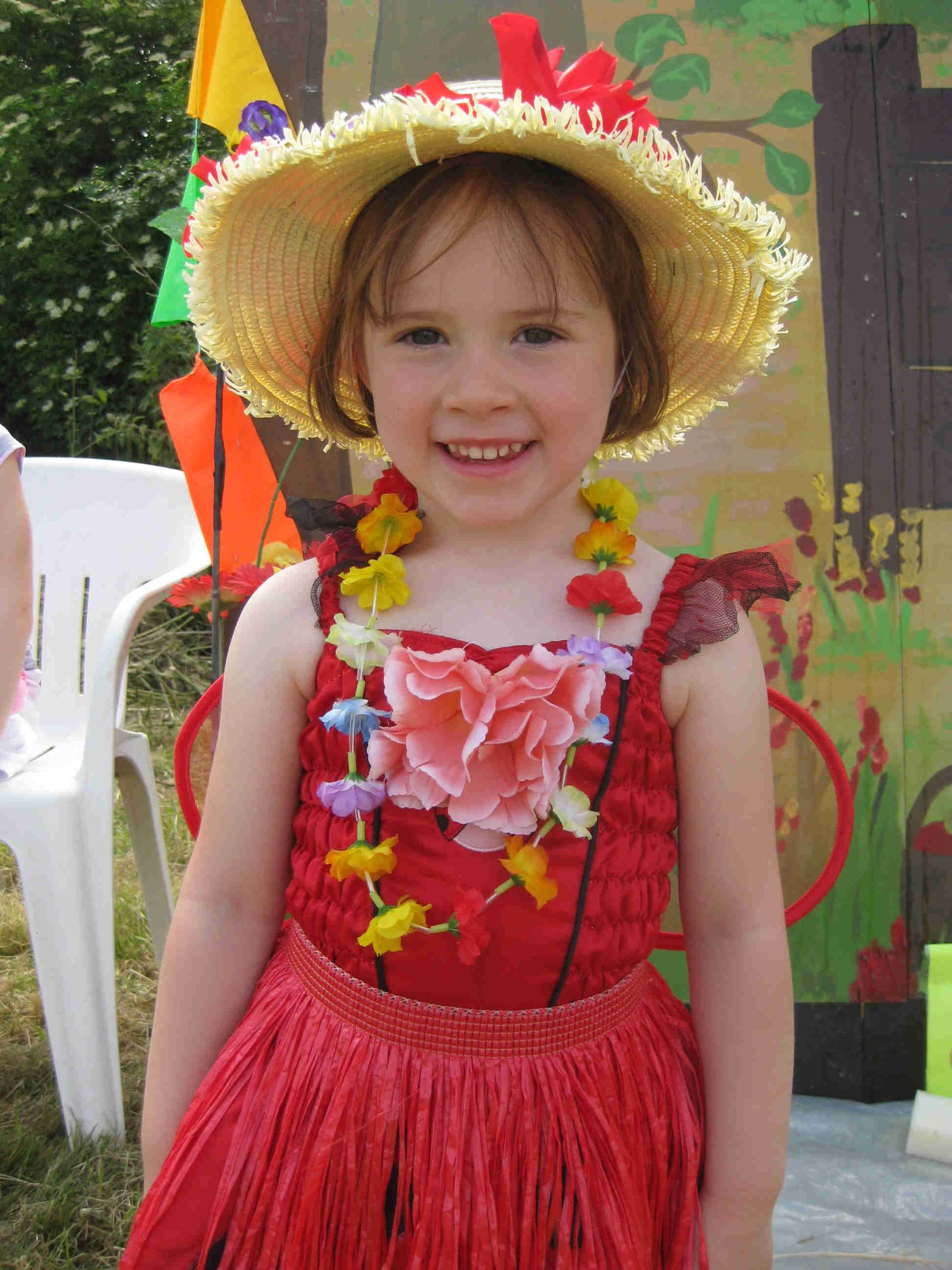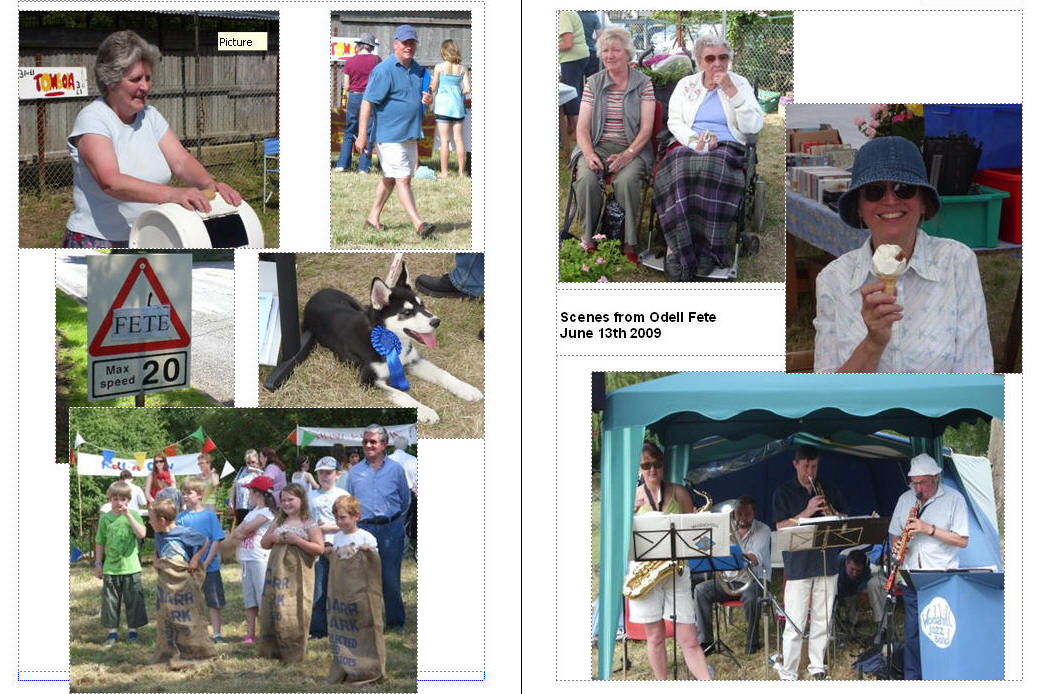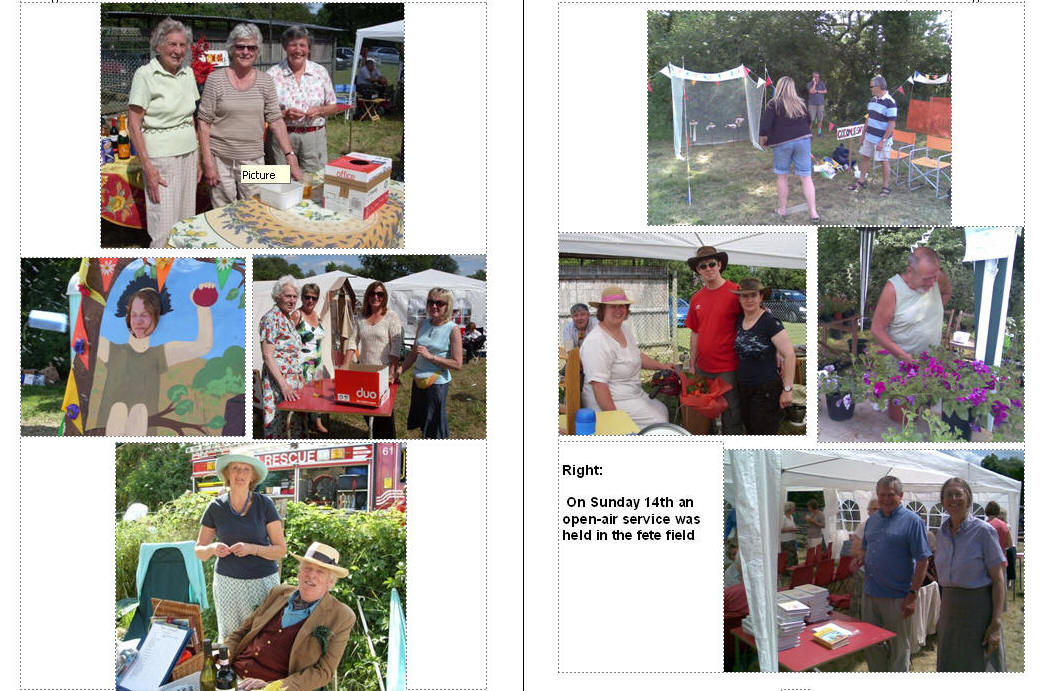 July 2009
People willing to supply lifts to and from surgeries.
Below is a list of the people currently willing to give lifts, to and from surgeries, to people who can't otherwise get there:
Kim Beardow 721246
Jill Cheadle 720261
Jonathan Harrison 721115
Steve Robinson 720113
Marion Senn 721176
Linda Tringham 720120
If anyone else is willing to be a volunteer please contact Jill on 720261.
Round and About
150 Years - and Still BOING
I am taking this opportunity to mark the anniversary of one of London's, if not Britain's, most iconic landmarks. Known and recognised throughout the world this famous symbol instantly says - England. I am, of course, talking about Big Ben celebrating 150 years of remarkably accurate time keeping this July. The Great Clock was set going on 31st May 1859 and the chimes of the Great Clock were first heard on the 11th July of the same year.
Most people, when talking about Big Ben, seem to refer to the complete building but this is not quite the case. The tower is the clock tower of Westminster and the clock is known as the Great Clock of Westminster. Big Ben is, in fact, the massive 13 ton bell that strikes the hour with impeccable timing.
The clock and tower were built as part of the design for the new parliament buildings after the old Palace of Westminster burnt down on the 16th October 1834. The new Parliament buildings were designed by Charles Barry but the design of the tower itself was sub-contracted to Augustus Pugin and was to be his final piece of work, and of his work on the tower Pugin was to say "I never worked so hard in my life".
Big Ben is the largest four-faced clock in the world. It was at the time of building and remains so today despite the fact that in the United States a four-faced clock and tower was erected in Milwaukee and completed in 1962. Yes, indeed, they did build it taller, however, the builders omitted to include either bells or chimes and so Big Ben still holds the title of the world's largest four-faced chiming clock. Each clock is 23ft in diameter, the minute hands are 14ft. long and the figures marking the hours are each 2ft. high. At the base of each clock face runs a Latin inscription which, when translated, reads "Lord save our Queen Victoria I".
During the London Blitz two of the clock faces received damage but the clock itself remained unharmed and the clock continued to run accurately throughout World War II with the great bell booming out across London. Photographs of Big Ben and the tower and the sound of the striking hours soon became a defiant symbol to the world that, no matter how much damage was sustained, London was still working.
Of the great bell itself, the first bell was transported to the bell tower amidst cheering crowds but, unfortunately, the great bell cracked beyond repair and had to be recast. This second bell was hauled 200ft up the tower to the bell chamber, taking 18 hours to accomplish. This second bell also cracked and a repair was made by placing a square piece of metal over and around the crack and the bell slightly moved so that the hammer strikes at a different place. Big Ben has chimed with an odd twang ever since, giving the bell its distinctive tone instantly recognised wherever it may be heard.
There are one or two curious, but little known, facts about Big Ben, both as a bell and a clock tower. The tower is 315.9 ft. high and stands on a 49 ft. deep concrete base, 9.8 ft of which is below ground level. Because of changing ground conditions, since construction, the tower leans slightly to the North West. The tilt may differ annually by several
millimetres. Old pennies are placed on the pendulum rod to fine tune the time keeping. A small stock of these old pennies has to be kept as they are no longer minted. There are cells within Big Ben tower in which M.P.s can be imprisoned for breach of Parliamentary privilege - the last recorded case was in 1880.
Big Ben is held in great affection throughout the population of the country, not just the people of London. A 2008 survey found that Big Ben was the most popular landmark in the United Kingdom. The great bell is used as a rallying cry for national occasions, anniversaries and celebrations. The great bell tolls in each New Year. It is Big Ben that marks the 11th hour of the 11th month for Remembrance Day and times the ceremonial at the Cenotaph. The chimes of Big Ben ring out over both radio and television to mark various news programmes. The film industry and television have all used the clock tower and the chiming bells to represent the nation. Nothing is more instantly recognised, anywhere in the world, than that defiant clock tower and the sound of that magnificent twang!
Barbara Corley
Senior Citizens' Summer Garden Party
Odell Luncheon Club invites you to a strawberry tea in Jim and Doreen Wheeler's garden:
Linden House, 93 High Street, Odell,
On Wednesday 22nd July at 3.00pm
All senior citizens are invited.
Please let Jill Cheadle (720261) know by Sunday 12th July if you wish to come.
Odell Parish Council has received a grant of £10,000 from SITA Trust for the installation of new windows, urgent repair of the entrance canopy and internal insulation of the hall.
SITA Trust provides funding through the Landfill Communities fund. Funding is available for community and environmental groups to carry out a range of improvement projects.
The funding allocated to Odell Parish Council will enable the above improvements to be carried out and the Parish Council is grateful to the Village Hall Committee who provided the 11% match funding without which this grant would not have been made.
This work will be carried out over the next few months in conjunction with the building of the new disabled facilities, which are currently under way. The combined effect of these improvements will greatly enhance the hall and provide a much improved environment for all the users of the village hall.
Mavis Knight
Clerk to Odell Parish Council
Wode-Hill Jazz Band
The Wode-Hill Jazz Band will make its regular appearance in The Bell – in the garden if the weather is good -on Wednesday July 1st.
The band will also be playing Gospel music in All Saints' Church on Sunday 12th July , as part of the Village Open Weekend, from 3.0—5.0pm interspersed with two 15-minute slots of barber-shop songs.
W.I.NEWS
There was no meeting in June as so many members were involved with the Fete. Our July meeting will be in the Rectory Garden on Tuesday 14th July at 7.30pm or, if wet, in the church. We will be having an evening of games.
August meeting
The August meeting is our annual BBQ. This year Roberta has kindly offered to host it in her garden as long as the weather is kind and the building work which is taking place on the Village Hall not too disruptive. Members will be notified if there is any change of venue
COMPETITION
July's competition is 'Best dressed sports lady'
HOSTESS
Members are asked to bring a few nibbles along to the July meeting, and the BBQ will be the normal bring and share. A list will be produced at the July meeting.
Rachel Halton 720572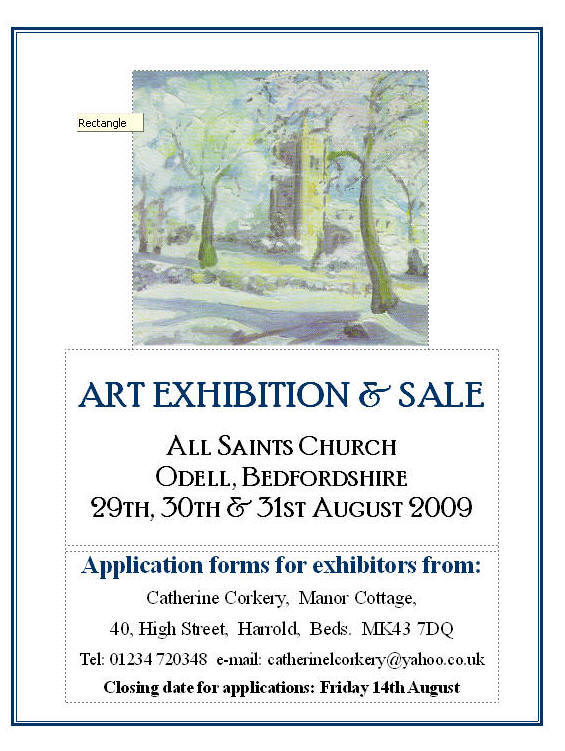 Harrold-Odell Country Park
Carlton Road, Harrold, Bedford MK43 7DS
Harrold-Odell Country Park News
As we step from spring into summer, those of us who work within the park are noticing the seasonal changes. The weather has been lovely and the café and ice cream van are doing a roaring trade.
The fish have been spawning like crazy as water temperatures rise in the river and lakes. Every day we're finding new ducklings, goslings and cygnets paddling frantically after their parents and wild flowers of all sorts are blooming in every corner.
The cattle are back in the river meadow and we ask that dog owners are careful to keep their pets close to them in this area. We are likely to experience a prolonged spell of dry weather and low water levels. When vegetation becomes dried out it's more liable to catch fire. We need to remind people that barbeques are not permitted in the park for your own and others' safety.
On May 28th we played host to two judges who came to assess us for the Green Flag Award 2009. We were lucky enough to be given this status last year. It is a mark of quality and also enables us to bid for grants of money to help enhance facilities within the park. We are hopeful of winning again but won't know until sometime in July. We would like to thank Trevor Smith and all of the volunteers of the Friends Group who work so hard to keep the park pristine and assist with events. If you'd like more information about any aspect of the park please call 01234 720016, e-mail hocp@bedford.gov.uk or go to the Friends website www.hocp.co.uk
June 16th is the start of the fishing season at Harrold. No day tickets are issued. Anglers need to join Vauxhall Angling Club and have a current Environment Agency rod licence. For more information and prices please see the Bailiff, Trevor Smith. He can usually be found in the shed behind the café or you can call him on 07989 522837.
This year we have been very pleased to welcome quite a few schools and community groups who have come out to learn about the ways of the countryside. Richard Dowsett and I have hosted pond dipping and scavenger hunts, conservation tasks,
nature walks and minibeast forays. In a couple of weeks I will be visiting Harrold Cubs to do a rock and fossil evening. We are now looking to work in partnership with the Chellington Centre and Julia Lawson, the Extended Services Co-ordinator for local schools. We have been invited to some workshop events in the coming weeks where we will be outlining what the park has to offer. Watch this space!
July Events
Thursday July 9th Health Walk around the big lake led by Ed Burnett, lasting approximately 1hr. Meet at 10.30am at the café. These walks are free and a regular event held every other Thursday of the month.
Saturday July 18th. 'The Odell Farmstead': a day of archaeological activities run by Bedford Museum from 11am – 3pm. Come and try flint knapping and discover more about the prehistoric history of the area around the park.
July 23rd Health Walk around the big lake—details as above.
July 19th Bat Walk, led by Beds. Bat Group. Max. 20 places so booking essential. Please call 01234 720016 or e-mail hocp@bedford.gov.uk This event is free.
August events
Thursday August 6th 10.30am Health Walk; leader: Ed Burnet.
Sunday 16th 12pm - 5pm Fossil Fun Day run by Beds and Luton Geology Group; £1 per child. Make rock pets, dino masks and much more.
Thursday August 20th Health Walk. Details as above.
For more details of all the above contact Janet Munro on 01739 957759 or e-mail hocp@bedford.gov.ukWebsite: www.hocp.net
Please look out for the events posters in the outside notice boards and inside the café.
Janet Munro Assistant Ranger
Friends of Harrold-Odell Country Park Conservation Tasks
Come and join in with the practical work to enhance the Park for wildlife and visitors on the following dates, from 10.00am – 3.00pm:
Monday 27th July, 24th August.
Wear appropriate clothing and footwear. Drinks provided. Come for an hour or two or stay as long as you like.
Village Hall
Events
If you have an idea or can help with these let us know, and if you would like a venue for a private function, the very reasonable hire fee helps us maintain the hall.
July 11th/12thOpen Weekend events will be taking place in the Village Hall.
The Mill Theatre, Sharnbrook
Entertaining Mr Sloane 22nd - 26th September 7.45 pm
Prepare to be shocked - and amused - by this classic, black drama of a murderous, sexual ménage à trois, from the pen of the famous playwright Joe Orton
Full of humour and innuendo, but with a very dark undercurrent…Not suitable for children
Tickets will be available from 1 month before first night, from:
Sharnbrook Post Office (in person) or Bedford Central Box Office 269519
Mack and Mabel
Musical Classic • 20th – 28th November
Enquiries: Please contact Enid Cooper 708432
Summer Concert
at Sharnbrook Mill Theatre
Opera, Musical Theatre, Song
Featuring: Tyler Clarke, Tenor, Royal College of Music
Guest Starring: Jamie Tyler, currently Eugene in the West End Musical 'Grease'
with Jean-Paul Pruna, Accompanist, Guildhall School of Music
Sunday 12th July, 6.30pm
Tickets £10 available NOW from: 01933 395775 or 01933 316416
Tyler Clarke and Jamie Tyler became Members of Sharnbrook Mill
Theatre Trust aged 9. Now professional artists, they and The Trust are delighted they are returning to 'where it all began'- The Mill Theatre. A special occasion - do join us!
Members and Friends of The Mill Theatre – You are invited to our
30th Anniversary Ball
Celebrating 30 Years of Shows at The Mill Theatre
At
The Sharnbrook Hotel, Park Lane / A6, Sharnbrook
Saturday 5th September 2009
6.30 for 7.00 pm
Carriages 12.30 am
Live Band Disco Three Course Dinner
Drink on arrival Auction
Tables of 10
Individual tickets £40 - by application to ball@sharnbrookmilltheatre.co.uk
Are you a regular visitor to the Mill Theatre?
Do you like to save money?
New chairholders of the Mill Theatre do!
'So, how do I become a New Chairholder?' It's simple!
In return for an investment of £100, Chairholders receive 12 Vouchers, collectively having a total face value of up to £143! Each Voucher is valid for 3 years and is exchangeable for one ticket, individually or in multiples, for your, your family or your friends' use ….or as a Gift.
To apply or to receive further details, please contact: Keith Lazenby,
Bedford 359733 …it's well worth it!
Diary
July
1st 10.30am Meeting Point at Sarah's, 9 Horsefair Lane.
1st 7.30pm Wode-Hill Jazz Band at The Bell.
9th 10.30am HOCP Health Walk.
11th Village and Church open weekend.
12th 1-5pm Music in All Saints', Wode-Hill Jazz Band at 3pm.
12th 6.30pm Summer Concert, Sharnbrook Mill Theatre.
14th 7.30pm W.I. in Rectory garden.
15th 10.30am Meeting Point at Eileen Shakespeare's, 24 Church Hall Road, Rushden.
18th 9.45am All Saints' Amblers meet at The Bell.
18th 11am HOCP day of archaeological activities.
19th HOCP Bat Walk
20th 7.30pm Odell Parish Council meeting, Village Hall.
22nd 3pm Senior Citizens' Garden Party, Linden House.
23rd 10.30am HOCP Health Walk.
27th 10am HOCP Conservation tasks.
29th 10.30am Meeting Point at Doris's, Goodly Heritage, The Bury,
Pavenham.
August
6th 10.30am HOCP Health Walk.
11th 7.30pm W.I. annual BBQ in Roberta's garden.
16th 12pm HOCP Fossil Fun Day.
20th 10.30am HOCP Health Walk.
24th 10am HOCP Conservation tasks.
29th 12noon Art Exhibition and Sale, All Saints' Church.
30th, 31st " " " " " " " " "
Magazine Deadline
Please send all entries for the September 2009 magazine to Tricia Hudson (mag1 at odellbeds.net) or Catherine Corkery by August 12th 2009 at the latest. May we remind you that the editorial team exercises the right to edit, shorten or alter any items that are submitted. Also, the opinions expressed in the articles are those of the contributors and are not the responsibility of the editorial team.
Alex Stubbs Flooring
Carpets, Vinyls, Laminates, Safety Flooring, Adaptions, Refits, Repairs
Supplied and Fitted
07976 260572
01234 240954
Do you look after someone who is frail, ill or disabled?...
...that makes you a carer.
For information, support and advice you can now ring the Bedfordshire Carers Helpline: 0300 0123435

Great local pubs
---
Last revised: August 17, 2009.