ODELL VILLAGE NEWS
February 2009
Senior Citizens' Fish and Chip Lunch
The annual Senior Citizens' Fish and Chip lunch will take place on:
Wednesday 4th March
at 12.30 for 1.00pm
in the Village Hall.
Please let Jill Cheadle know by Sunday 22nd February if you wish to join us. (01234 720261). Please note that no invitations will be sent out.
Happy birthday to:
Jack Holden Postles whose birthday is on the 10th and to
Victoria Beardow who will be 13 on the 22nd
A Day Course in Fruit Tree Pruning
Saturday 21st February
Yelnow Farm, Odell
10am – 4pm
Cost - £35 for the day
For further details please phone Hannah 07801814086
Own secateurs needed, soup available but please bring your own
sandwiches!
A Day Course in Willow weaving
Saturday 14th March
Yelnow Farm Odell
10am – 4pm
Cost £35, materials available
Bring your own secateurs and make an item for your garden
If you are interested, please phone Hannah on 07801814086
What's on at The Bell
The Wode Hill Jazz Band will be playing on Wednesday 4th February, from 7.30pm. These relaxed evenings of Traditional Jazz are proving to be very popular, so please remember to book a table if you also wish to have a meal.
On Sunday 22nd February, also from 7.30, we will be holding a Quiz Night at The Bell. Rob Lee, who sets the questions for the popular quizzes held at the Village Hall has kindly offered to be our quiz master, so I am sure that it will be a fun evening. Teams of no more than 4 please, £1 per player, winning team takes the lot. Good Luck!
Rachel, The Bell
All Saints' Amblers
Step into Spring and join us for a walk in the country followed by a pub lunch. Meet outside The Bell on Saturday February 21st at 9.45am – transport provided to start of walk if needed. Everyone welcome, including children and dogs on leads!
Friends of Harrold Medical practice
Annual Report
The meetings of the Friends continue to be well supported by our existing Members but we do still need more representatives from the villages who have patients that use Harrold Medical Practice.
Membership of the Friends is an excellent way to keep up to date with the services provided by Harrold Medical Practice and the local Primary Care Trust, as well as finding out how these will be affected by new Government initiatives.
Our main project this year has been working in partnership with Wellingborough Community Transport to set up a Medical Car Service, to take Elderly and Disabled residents to their medical/hospital appointments. Many thanks to those who have already volunteered to drive but we do need more drivers to make this scheme a success. If you are willing to use your own car to help less able members of the community please call 01933 228844 for more details. Your mileage expenses will be paid.
If you would like to take advantage of the scheme and want to find out if you are eligible then information for you is also available from 01933 228844.
Our income this year, from very generous "In Memoriam" donations and over £950 from book sales, has enabled us to continue helping Harrold Medical Practice, in particular by financing the servicing of equipment which we have already purchased.
If you would like to find out more about the Friends and the work that we do please contact: Frances Hirst tel 01234 825212
The next meeting of the Friends is to be held at the Surgery, Peach's Close, Harrold on Tuesday 10 February 2009 at 7.30pm
Harrold-Odell Country Park
Carlton Road, Harrold, Bedford MK43 7DS
Valentine's Day, Saturday 14th February, 2-4pm
Come and join in with willow weaving in the Park : weave a heart for your Valentine!
Cost: £2 per person.
Basket making in Felmersham Village Hall, Saturday 14th February, 9am-5pm
Basket making instruction. Materials will be provided. Cost will vary according to materials used.
Friends of Harrold-Odell Country Park Conservation Tasks
Come and join in with the practical work to enhance the Park for wildlife and visitors on the following dates, from 10.00am – 3.00pm:
23rd February, 30th March.
Wear appropriate clothing and footwear. Drinks provided. Come for an hour or two or stay as long as you like.
Email: hocp@bedscc.gov.uk Website: www.hocp.net
Tel: 01234 720016
Health Walks at Harrold Odell Country Park
We are running health walks on the following Thursdays from 10.30 am:
February 5th ,February 19th ,March 5th ,March 19th
Each walk lasts just over half an hour and is guided by a trained leader. The aim is to improve your physical health and mental wellbeing.
Walking regularly can reduce your risk of heart disease, high blood pressure, strokes and depression.
You can book beforehand or simply meet at the visitor centre in the park on the day. Please contact us at the park on 01234 720016 or e-mail walk leader Ed at ed.burnett@bedscc.gov.uk. To reach the park follow road signs to Harrold and we are on the Carlton Road, postcode MK43 7DS.
Round and About
The Magic is Fading
In this the pantomime season I was saddened to read in the newspapers that the traditional fairytale has had its day. Researchers have revealed that parents no longer read such stories to their children. They are - it seems - too violent and too scary. I find this odd because, on the rare occasions that I find myself watching children's television the amount of violence and the morphing of one shape into another is quite amazing.
But yet the stories are deemed too scary. One of the objections is the way in which too many "grannies" have a habit of turning into witches or wolves...and too many children get tempted away with the promise of apples and gingerbread. It seems sad to me, that these ancient folk-tales (because that is what they are) are destined to disappear. These stories, which are to be found in almost every culture in the world - in one form or another - have been part of the shared family experience of childhood for many generations. Some of these stories are very, very old. They go back beyond the time of television; they were around long before books became available for everyone to read. Indeed, these tales go back to a time when they were first heard at mother's knee, and were then passed on to generation after generation by word of mouth. Mankind has always been a story-telling species.
People today often associate the fairy story with the Brothers Grimm. These two brothers lived in any area now known as Germany and travelled around Middle Europe gathering together a number of these magical tales which they later put together and brought out as a book. Many of the stories that we know today come from this source.
According to researchers some 3,000 parents have been surveyed to find that many modern mothers have rejected the fairy story in favour of more modern tales. I could accept this sad situation far more readily if they just denounced the stories as too dated and out of fashion; that the 21st. century has advanced the population beyond the world of magic and fantasy where animals can talk and pretty little fairy folk flutter around on gossamer wings.
However, I suspect that the age of political correctness has also played its part in this sad demise. It is not considered 'PC' for Cinderella to be depicted as a woman used as a kitchen drudge. Neither is it 'PC' to call the "sisters" ugly. I also understand that it is felt to be wrong to give young impressionable girls the hope and aspiration to marry the handsome prince of their dreams. The 'PC' brigade has also got their fingers into the story of Snow White. Not only do they object to the word "white" but also to her association with "dwarfs". Never mind the fact that the word "white" is related to the word "snow" there is also the fact that a dwarf is meant to be a member of the fairy folk and not human at all. A witch is not supposed to be found in the natural world, only in the land of magic.
All of these tales are very moral. They advise children not to go away with strangers. Good always triumphs over evil. As for Cinderella's dreams of her prince...are these hopes any more remote than those of the youngsters trying to take part in the X Factor or other such programmes?
Some towns now ban the production of a professional pantomime in their theatres on the grounds of it not being 'PC'. In nursery classes many nursery rhymes are being re-written to remove anything that can be termed "offensive". Baa Baa Black Sheep is one example of this - let alone the fact that the rhyme dates back to the 13th.century and refers to a tax on wool. Noddy and Big Ears is another example of the heavy-handed 'PC' brigade. The Sure Start Centre and Equal Opportunities Commission freely admit that they are trying to "sanitise" these stories and rhymes of anything that might be perceived as "offensive".
I feel, however, that all this tampering is taking the magic out of these lovely old stories and rhymes. It is generating a sense of guilt in the reader of these ancient folk-tales which originate from a time of innocence when few people ever roamed more than a few miles from their home. It is sad that the fairy story is coming to grief for such a reason...what is wrong with a bit of magic in your life.
Barbara Corley
Archaeological Dig In the September 2008 magazine I mentioned the Time Team "dig" which took place at Colworth (Unilever) in August. I now hear that the programme is scheduled to take place on Sunday 22nd February 2009 at 5.30 p.m. on Channel 4. They have called the episode 'The Mystery of the Ice Cream Villa'
The Pavenham & Felmersham Cricket Club
Annual Brunch at The Village Hall, Pavenham.
Sunday, February 8th 2009, from 9.30am onwards.
After a month of dieting since Christmas, join us to break your fast and all your New Year resolutions.
Book a single place or larger groups (up to ten per table) and indulge in the best Brunch experience in the County.
Tickets, priced at £11 each (children half price) to include glass of "bubbly", choice of cereals and fruit, fantastic cooked breakfast and all the coffee and tea you can drink are available from :
Neil Blakemore on 01234 825868 or Mike Wagstaff on 01234 823388.
Free Sunday newspapers. Advance bookings only – no tickets available on the day.
Odell Parish Council
Minutes of a meeting of Odell Parish Council held on Monday, 19th January 2009 at 7.30 p.m. in Odell Village Hall.
Present: Cllr. R. Halton (in the Chair); Cllrs. B. Cheadle, A. Sharpe, S. Robinson.
Co-option of new Councillor
Mr. S. Robinson was formally co-opted and welcomed to the Parish Council.
Minutes of last meeting
The Minutes of the meeting held on 4th November 2008 were approved and duly signed as a true record of the proceedings.
Matters arising
Speed survey: this was briefly mentioned as Cllr. Crotty had asked at the previous meeting if a second survey could be carried out, this time during the normal school opening times. A response had been received which basically said 'No'.

Charity Status: Although the grazing land has to remain an official charity due to its endowment status, it has been possible to have the charity 'de-registered' so it no longer appears publicly as a charity and no documentation will be required in future.
County Council matters
It was duly noted that Cllr. Phyllis Gershon was unwell. The County Council is holding a Farewell Reception for Town and Parish Councils on 10th March at County Hall and one representative from each is invited. Cllr. Cheadle volunteered to be the representative on this occasion.

Village Hall Update
Cllr. Sharpe said the January Village Hall meeting had been cancelled so she had not been able to raise the matter of new windows or other items; she had emailed the Chairman setting out all the facts – namely that the Parish Council's grant application to SITA for construction of the disabled facilities had been rejected as the project was labelled an 'extension' and they do not fund extensions. SITA did however suggest we apply for an alternative requirement – e.g. new windows; the closing date for applications is the end of March and that will be the last time we will be eligible to apply to SITA as they are changing the eligibility rules and from then onwards only organisations that fall within a three mile radius of a landfill site (not the current ten miles) will be able to apply.

In view of the critical time scale involved which has to include obtaining sufficient quotes and other documentation, Councillors agreed that the Parish Council should go ahead with the proposal for replacement windows. An addition proposed by Cllr. Cheadle was the upgrading of the electricity supply, as the new disabled facilities would have new up to date wiring installed and the remainder of the hall had very old wiring.

It was agreed that Cllr. Sharpe would go ahead and obtain quotes for windows and Cllr. Cheadle would investigate finding electricians willing to quote for new wiring.

Planning: A new planning application had been submitted by the Clerk for the disabled facilities as the original one was out of date; the updated planning laws now mean more documentation has to be included and supplementary information had been requested by the planners. It is hoped all is now in place and the application will go into the system for consideration.

Funding: as previously stated, SITA have rejected the application for the disabled facilities; however, an application has also been made to WREN for the bulk of the finance. Their local panel is due to meet in February and if the application is approved by them, it will then progress to the regional panel who meet in March. A requirement of the landfill tax credit schemes is that 11% of the total cost has to be resourced from elsewhere and this is paid back to the landfill scheme; to this end two applications for funding to cover this have been made and we are hopeful that one will be successful.

A grant of £2000 towards the project has been gratefully received from the Simon Whitbread Charity. This grant exercise has highlighted how difficult it is in the current economic climate to obtain finance and all the smaller charities are claiming a huge increase in the number of applications to them, but they have of course limited funding.

Councillors were asked to consider the options should the large funding grant application be unsuccessful. Councillors were unanimous in their opinion that the disabled facility must go ahead this time, and agreed that should the grant not be forthcoming, the Parish Council would take out a Public Works Loan to cover the cost of the facilities. At the present time interest rates are very low and the repayments could be spread over many years; the benefit of a Public Works Loan is that the rate remains static but that it can also be repaid early, should the opportunity arise.

Highways
The Chairman reported that the light in the High Street outside the Freemans is still not working, and neither is the replacement put in at the end of the new footpath in Little Odell. These will be reported yet again.
It was also noted that the culvert outside 220 High Street cannot take the water in times of heavy rain, and the road floods.
Cllr. Robinson expressed concern over the state of the tarmac at the road sides in Horsefair Lane. A large amount of money was spent a few years ago on resurfacing but now the traffic is breaking up the tarmac – mainly due to the fact that there are no kerbs in place. Considerable discussion took place on this issue which, due to many factors, does not seem to have an easy solution. It is recognised that it may be difficult to get much satisfaction in any area over the next few weeks whilst the unitary situation is being finalised, but the Parish Council's highways liaison representative [Cllr. Crotty] will be asked to make contact to see if anything can be done.

Bedford Borough matters
Planning: 17 Horsefair Lane - permission refused for extensions, conservatory alterations and new front boundary wall and railings/gates.
Northend Farm – permission given for a single storey side extension.
Castle Farm House – application tabled for the demolition of derelict garden building and installation of hardwood conservatory onto existing base and stone walls. As there would be no actual new development no issues were perceived.

Country Park
Cllr. Halton had been unable to attend the latest meeting and was still awaiting minutes. She had received comments from various people that there were now getting to be too many signs in the park and it was felt these detracted from the 'country park' aspect. Cllr. Cheadle asked if a copy of their Constitution was available to check if they were starting to drift away from the original concepts.
There is ongoing concern over the parking which mainly seems to be worse at weekends; most visitors only go to the tea room and do not actually walk the park, so the tea room's success has created much of the problem. Cllr. Cheadle commented that there was ample space available within the park for a car park extension, and this should be considered.

Cllr. Robinson reported on his attendance at the open Country Park evening meeting held recently. From the large list of recommendations they had received, they were proposing to recommend concentrating on improving facilities for the visitors they currently have, and do not wish to promote the park to such an extent that it increases dramatically the number of outside visitors coming to the area. It should be noted however that the greater percentage of visitors to the park do actually come from outside the local area.

Freedom of Information Act
The approval for the original FoI Act expired at the end of December and all authorities are required to agree and sign up to a new model publication scheme, and to publish information in accordance with that scheme. The Parish Council duly approved the adoption of the new scheme which can be seen on the Parish Council's new website [currently under construction] at: http://Odell.bedsparishes.gov.uk. It is intended that most of the document required to be available under this scheme will be published on this website.

Parish Council website
Bedfordshire County Council, in conjunction with Norfolk, developed a scheme two years ago to host local Parish Council websites – at no cost – for the benefit of local communities. The Clerk stated the benefits of Parish Council sites which allow the operators to conform to legislation such as the Freedom of Information Act, and also to act as a notice board and forum for local parish council issues and consultations. Cllr. Sharpe expressed an interest in pursuing this and its maintenance, and the Clerk and Cllr. Sharpe attended an introductory session where the basis of the website was created. The website is intended to be complementary to the Odell Village website and is in fact linked to the latter, as it will
concentrate on Parish Council matters [including the Village Hall] and as such can keep the local community updated on a very regular basis as and when things happen. Any suggestions as to what could beneficially be included would be most welcome.

Finance
The Clerk referred to the reconciliation of accounts and explained some items showing there. In accordance with the external auditor's wishes, a separate bank account has been set up to house the balance of the grazing land rent. Income showed the grant of £2000 towards the disabled facilities. The proposed budget – previously circulated for consideration – was discussed in detail; this year the Parish Council has to pay the balance of the monies for the car park purchase and it is hoped to use the charity bond towards this. The value of the bond has been falling for the past 18 months and to date a current statement has not been received, so the up to date value is not known but it will not be sufficient to cover the amount needed.

The budget clearly shows that year on year the Parish Council has been subsidising payment from its bank reserves, which are now substantially depleted. There is a deficit of £1000 between payments out and the precept, and interest is now almost non-existent and so cannot be counted as a recognisable part of the income. Adding in the possibility of having to take out a loan, it was agreed – albeit reluctantly – that the precept would have to be increased to the figure of £6000 if the Parish Council was not to go into deficit. It was stressed, however, that in the event that a loan was not required for the disabled facilities, the precept could be reduced down to a level that would reasonably allow the Parish Council to operate and fulfil its functions. It was pointed out that for very many years [prior to the purchase of the village hall] the precept had remained static as income and expenditure had been easy to predict. The last two years had only seen an increase of £100 which had not covered the increasing costs of services. An example of how service costs have increased is shown by grass cutting expenditure which is now approximately 55% of the precept. It is also expected that Parish Councils will set their precept levels to allow for any possible contingency or emergency costs so they do not have to look for grants for every eventuality.

Correspondence and Requests
The only item of correspondence was a Borough Council poster highlighting changes in recycling. As the County Council has moved recycling from the Shanks plant at Elstow to a larger one in the Milton Keynes area, this now means that more items can be placed in the orange recycling bags/bins. Items now include milk and fruit juice cartons, margarine tubs and yoghurt pots, fast food packaging such as foil and plastic dishes, unusable clothing/linens/sheets [not suitable for charity etc.] and plastic bags. The Chairman will request copies of this information so it can be distributed throughout the village.

Specifically for the Business of the meeting
Cllr. Cheadle commented on the amount of litter along the roads, mainly thrown out of buses on the school routes. The removal of this appeared to be considered a 'health and safety' issue as there were no paths along parts of the route.
The Society of Local Council Clerks in conjunction with the Local Council Support Associates is hosting a conference on 9th March. It is intended to cover the key issues of current interest to local communities with the change to unitary authorities across Bedfordshire. The attendance of the Chairman and Clerk was agreed.
The Church is resourcing funding for internal development and has asked the Parish Council for a letter of support. This was agreed but as we are well aware there has to be a significant identified need otherwise letters of support are ignored. The Rev. Clark is to give advice on what is required in our supporting letter.
It was noted that the handrail is in place outside the Emergency Exit – thanks to Mr. Bridgman for completing this installation.
The Emergency Exit light is not working either inside or out – investigation required on whether the bulbs are at fault.

Date of next meeting
The next meeting will be held on Monday, 30th March at 7.30pm.

There being no other business, the meeting closed at 21.35.
Post meeting note: An electrician has surveyed the Village Hall and Stated that no upgrades are required.
Winter Awareness
Listen to the sounds of winter,
Listen for the sounds of Spring,
Listen when you're in the woodland,
Listen and you'll want to sing!
In the depth of frosted landscape
Spend a moment looking up,
Stand in wonder at those branches
Sparkling silver, offering up.
Stand and stare at ridge and furrow,
Mingle with those ochre hues,
See the forest fruits in colour,
Crabs and sloes, yellows and blues.
When the wind is howling, singing
Button up your winter coat.
Feel the glory of the winter
See that white, fast moving stoat!
Smell the wood-smoke in the treetops
In those darkened country lanes,
See the glowing lamp-lit windows
Through their curtain-coloured panes.
Winter weather can bring problems,
Sometimes they can be severe,
But there's majesty in winter
Bringing promised springtime near.
Roger Jackson
Bedfordshire County Council News Release
From the 12th January residents of Bedfordshire will be able to recycle additional items in their recycling container.
Residents will now be able to recycle;
· Paper, cardboard and cartons
· All plastic food packaging, yoghourt pots, polystyrene packaging, cellophane wrap and carrier bags (washed, please)
· Metal Packaging (including food tins and drink cans)
· Worn out textiles, clothing, shoes and bedding. (Please give items in good condition to charities).
Foil and foil containers (please wash and squash)
Materials should be added to your bin or bag loose.
If you are unsure of what you can put in your recycling container or if you have any queries regarding Reducing, Reusing or Recycling your waste, please call Bedfordshire County Council on 01234 228385, visit www.bedfordshire.gov.uk or email waste.partnership@bedscc.gov.uk
Bedfordshire County Council worked in partnership with Bedford Borough Council to ensure that over 30,000 bins were delivered to Bedfordshire households in time for Christmas, as promised. The first roll out has been completed, but if you missed out, you still have time to order a recycling bin by calling Bedford Borough Council on 0800 121 8888, or email callcentre@bedford.gov.uk
W.I. News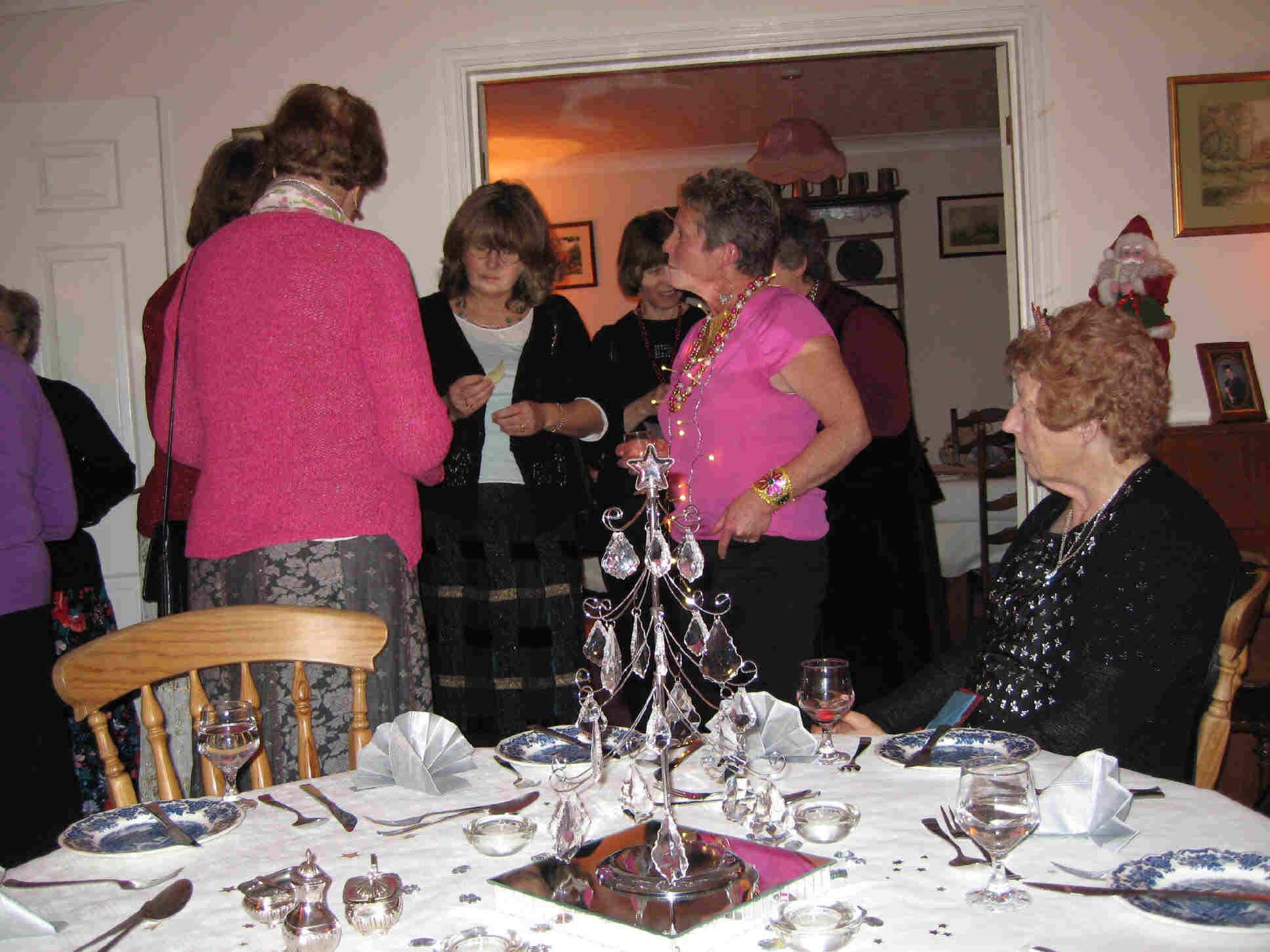 Above: WI Christmas Party
Below: Lynette in full 'bling'!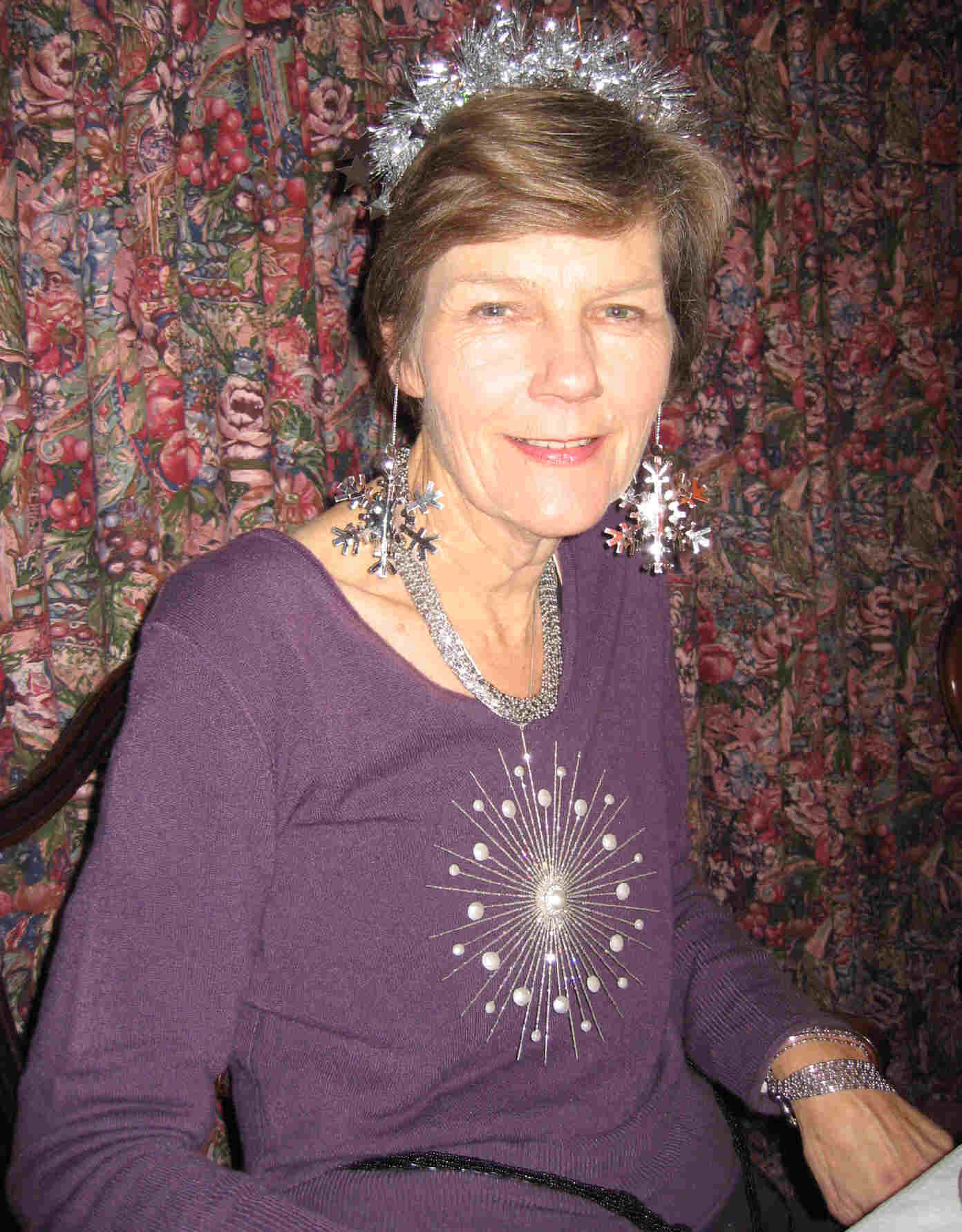 Our December meeting was our Christmas bring and share meal at the home of Jane Eshelby. The theme was 'bling' and the tables and members certainly sparkled with jewels, gold and silver. It was a very enjoyable start to Christmas and our thanks to Jane and the committee for making it such a success.
In January we were introduced to the game of Boccia: a little like Boules but with soft balls. We divided into pairs and all played each other with Doreen keeping control of us. The winners were Joyce Knight and Lynette Hall. The members had brought a selection of nibbles to share and with a glass or two of wine it made an excellent start to the New Year.
NEXT MEETINGS
Our February meeting will be in the Village Hall on Tuesday 10th February at 7.30pm. Anne Doody will be our speaker, her topic :'The Life of a River'.
COMPETITION
A River Poem
HOSTESS
Our February hostesses are Christine Clark and Lynette Hall
Rachel Halton 720572
Village Hall
Events
If you have an idea or can help with these let us know, and if you would like a venue for a private function, the very reasonable hire fee helps us maintain the hall.
Programme for 2009.
Look out for more details of the events coming up in 2009, including:
Dr Busker, 21st March, and Irish Night (featuring Hair of the Dog) on 9th May.
The Mill Theatre, Sharnbrook
Welcome one and all to our first ever
Open Day at The Mill
on
Sunday 22nd February 11am – 4pm
-when all will be revealed!!
Cameo performances Costume exhibition
History and Tours of The Mill Performance Workshops
Props, Lighting and Technical Demonstrations
Licensed Bar Light Refreshments Teas Free Parking
Opportunity to Book for all 5 shows in our 2009 Season
Coming up in March, from the vivid imagination of Sir Terry Pratchett:
Wyrd Sisters 24th - 28th March, 7.45 pm
Loosely based on Macbeth – but with more comedy!
Throw in witches, demons, dungeons - and a court jester who cannot tell a joke, you have a not-to-be-missed black comedy!
Tickets £9 - £11 will be available from Monday 16th February at
Sharnbrook Post Office (in person)
Bedford Central Box Office:
01234 269519
Take advantage of Advance Booking! Tickets for The Secret Garden 15 – 23 May, a delightful musical for all the family, will be available during Wyrd Sisters, but only at The Theatre.
Diary
4th 10.30am Meeting point at Doris's, Goodly Heritage, The Bury, Pavenham
4th 7.30pm Wode Hill Jazz Band at The Bell.
5th 10.30am Health walk, HOCP.
8th 9.30am Pavenham and Felmersham Cricket Club Brunch, Village Hall, Pavenham.
10th 7.30pm W.I. Village Hall.
14th 9am-5pm Basket making, Felmersham Village Hall.
14th 2-4pm Willow weaving, HOCP.
18th 10.30am Meeting point at Jane's, Newton house, Avenue Rd., Newton Bromswold..
19th 10.30am Health walk, HOCP.
21st 9.45am All Saints' Amblers meet at The Bell.
21st 10.00am Fruit Tree Pruning, Yelnow Farm.
22nd 11am-4pm Mill Theatre Open Day.
22nd 7.30pm Quiz Night at The Bell.
23rd 10am-3pm Conservation tasks, HOCP.
Magazine Deadline
Please send all entries for the March 2009 magazine to Tricia Hudson (mag1 at odellbeds.net) or Catherine Corkery by February 12th 2009 at the latest. May we remind you that the editorial team exercises the right to edit, shorten or alter any items that are submitted. Also, the opinions
expressed in the articles are those of the contributors and are not the
responsibility of the editorial team.
Advertisers
Many thanks to all our advertisers most of whom have let us know if they want to continue for another year (March 09—February 2010,) Our circulation is 250 including around 30 public places like pubs, doctors' waiting rooms, post offices and cafes in Odell, Harrold, Carlton,
Sharnbrook and Pavenham. We can still squeeze in one or two half page or small adverts. A half page costs £80 for all 10 issues. email adverts1 at odellbeds.net We welcome Lorraine and Raymond Banning as new advertisers this year. They have a successful piano teaching practice in central Bedford and still have a few vacancies. They offer a complete range from beginners through to diploma level. Children and adults are welcome.
Lorraine has over twenty years teaching experience and been featured on national television and radio. She also has wide experience in the therapeutic use of music in palliative care and special needs education. She has a diploma in piano performance and directs courses in music theory and appreciation, and is developing her performing career.
Raymond is Professor of Pianoforte at Trinity College of Music and has performed throughout the world. He has been featured in most of the major newspapers and music magazines, as well as BBC Radios 3 & 4 and Classic FM. His recitals at London's Wigmore Hall are frequently sold out, and he is in great demand for his masterclasses and courses for piano teachers and amateur pianists.
Alex Stubbs Flooring
Carpets, Vinyls, Laminates, Safety Flooring, Adaptions, Refits, Repairs
Supplied and Fitted
07976 260572
01234 240954
Do you look after someone who is frail, ill or disabled?...
...that makes you a carer.
For information, support and advice you can now ring the Bedfordshire Carers Helpline: 0300 0123435

Great local pubs
---
Last revised: February 07, 2009.