ODELL VILLAGE NEWS
September 2008
Birthdays
We would like to wish Christy Vyvyan a very Happy Birthday on 13th September, when she will be 9 years old.
Round and About
Lights, Camera, Action
It was quite late inevening when the phone rang and a complete stranger asked if I would like to visit an archaeological dig at Colworth.Unilever had known since the 1960s that there was something of interest in one of their fields and now the Channel 4 TV programme"Time Team" were going to investigate the site and turn it into a programme.
Needless to say I jumped at it.
This little-known corner of the parish of Odell has always been rich in surface archaeology.I had visited this field once before and I knew that pottery shards and pieces of tile littered the area but the question was, what lay below the surface.The local amateur archaeologists had already located artefacts from the Iron Ageand the Roman period and they suspected the presence of a Roman villa and possibly a bath house.Now the professionals were moving in.
The Time Team crew were now obviously in charge and they were happy to receive a limited number of visitors on site during the time of their filming over the last week-end of July. There would be one organised visit on the Saturday and Sunday morning and another in the afternoon.I visited on the Sunday morning - I think it was the hottest day of the summer to that date.The sun beat down relentlessly on to a bone-dry field,our feet kicking against the pottery artefacts littering the ground. Range Rovers bearing the Time Team logo moved restlessly about the scene and three earth-diggers loomed over their respective trenches.I saw all manner of electronic equipment just lying - almost as though discarded - on the ground.A TV camera - seemingly abandoned - Geiger counters and what the TV peopleto as "geo phys".Sadly for us as spectators - and no doubt due to the incredible heat - all work had ceased while everyone took a refreshment break which lasted the duration of our visit.We were told that Tony Robinson and Phil Harding were in site, together with their usual team of experts on all things Roman but, sad to say, they all stayed out of sight.
We visited six trenches in all, only two of which showed anything of visible interest.One contained a wall madesubstantial stonework and the other revealed an area of stonework they had yet to identify ... work being very much in progress.The "Finds Bench" was covered in trays and bowls where the 'finds' were cleaned up.The more precious items having been removed into a nearby marquee. A number of crates were placed around the area and these contained pieces of broken pottery and roof tiles, animal bones were everywhere to be seen.At this point some items were brought out from the marquee for us to see.Bags full of hob nails which would have lined the bottom of peoples shoes ... showing that the area had probably been a working site rather than high status ... another bag contained a variety of Roman coins (tiny little things much smaller than the old British farthing) but, we were told, of little value in Roman times.We were also shown,
almost with awe, a small piece of ornamented pottery which displayed a circular design in probably brown paint on a white ground.
The Time Team was"on site" for four days.They had arrived on the preceding Thursday to explore and prepare the ground.The film work was in progress for three days i.e. Friday, Saturday and Sunday.The Monday was spent assessing their work and 'finds' and re-instating the ground.It is their usual format.I am a great fan of the programme and I have seen it before.The three working days enable Tony Robinson to introduce the site of the week, say what they hope to find and add the immortal phrase"... and as usual we have just three days in which to do it". I can see no reason why our programme should be any differentfrom the rest.
They use three teams - Wessex University provide the team of archaeologists who do most of the digging, the Time Team crew provide the personalities and the TV coverage and the third team consists of local amateur archaeologsts and people who know the site.At the end of filming everything is removed to Wessex University to be collated.
Following this all artefacts are sent to the local museum - in our instance it will be Bedford Musem.
During a conversation with our guide I commented on the heat of the day and that their programmes usually appear to be shot during bad weather.She looked at me and laughed."You should have seen us last week" she exclaimed."We were filming in Yorkshire and it rained, hard, the whole time and everybody was ploughing about ankle-deep in mud - and at times it was even deeper.We have come straight from all of that - into this".She threw up her arms to indicate the bone-dry conditions and the blistering heat."What a difference."
She told us the site at Colworth was a complete enigma.With surface archaeology everywhere - up to that moment - everything below ground was a complete mystery.The Roman experts promised, however, it would all make an excellent programme.
The new series will be going out in the New Year between January and March but, as the programmes are not shown in any particular order, they could not give us the actual date at this time - but we would be kept advised.
So - there it is.Time Team- Channel 4 - some time in the New Year....don't miss it.
Barbara Corley
Senior Citizens Autumn Lunch
RSVP Jill Cheadle 720261 by Sunday 28th September
Wodehill Jazz Band at The Bell
The Wodehill Jazz Band will be entertaining in the garden of The Bell – weather permitting – on Friday 5th September at 7.00pm.
The Falcon at Bletsoe has changed hands.
Brendan, Lianne and Lee invite you to come and experience the warm ambience of The Falcon. Why not sample their new menu, which changes every month and which uses only local supplies and fresh produce, or just have a drink and enjoy the atmosphere. The Falcon is now also taking bookings for special functions.
W.I. News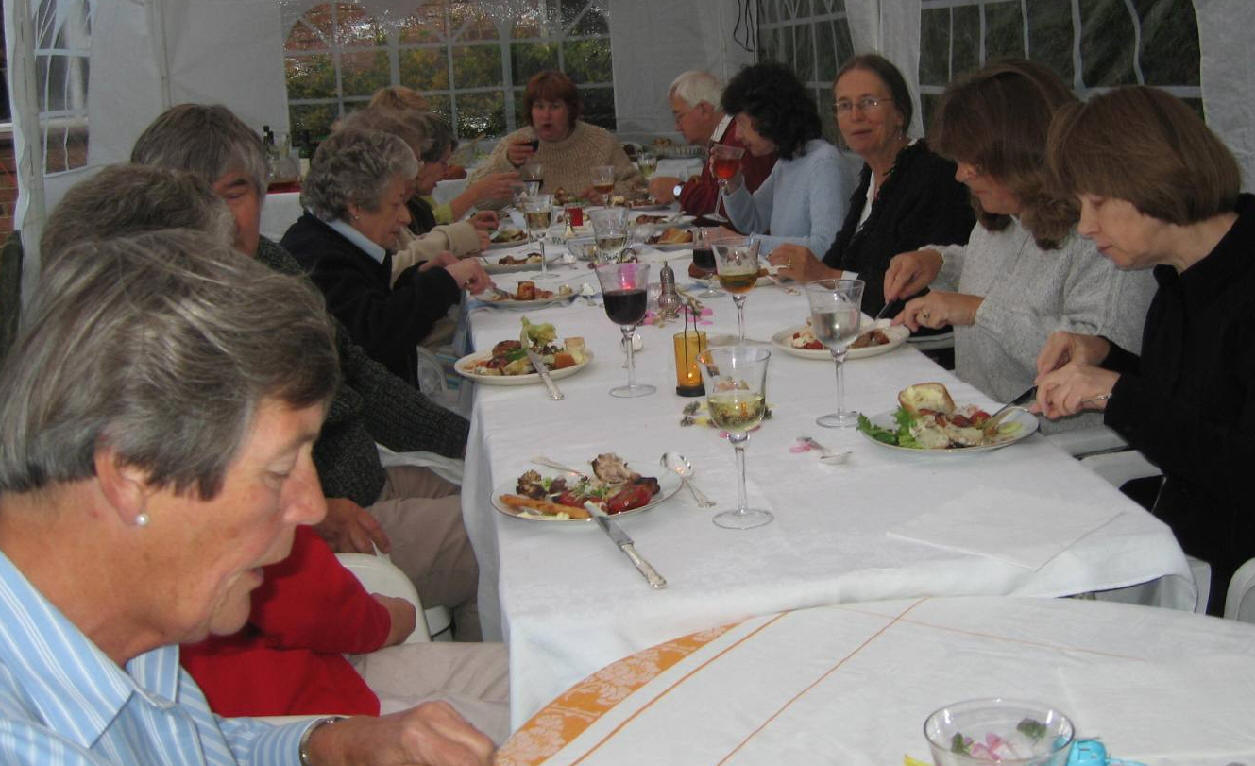 Above - indoor picnic enjoyed by all
Below - the 'stepping out' walk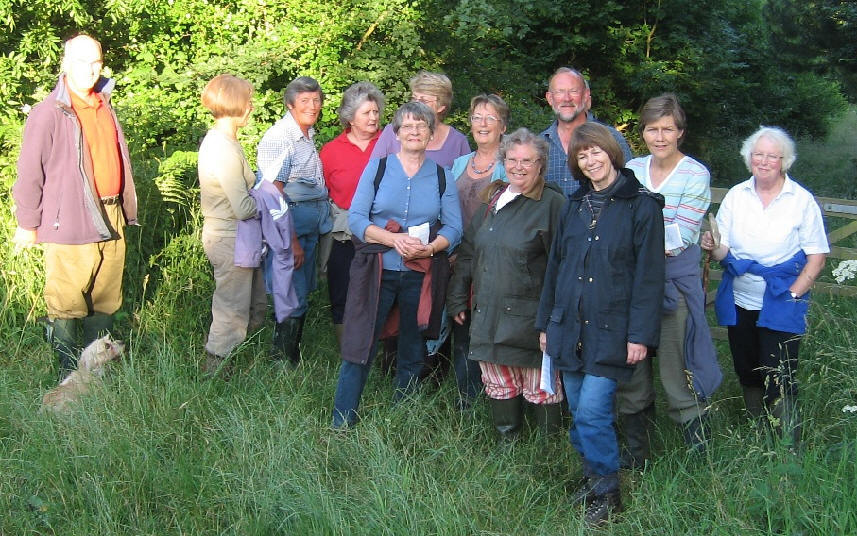 The July meeting saw us don our walking boots to trial the Stepping Out Walk devised by Lynette in order that we can enter a W.I. competition. We met at The Bell and headed to Odell Great Wood. It was a lovely evening and the circular walk was enjoyed by all. Christine had kindly offered the rectory for the non walkers to await our return and then we enjoyed a bring and share indoor picnic. Our thanks to Lynette and Christine for organising the event.
We remained outside for our August meeting which saw us have our annual BBQ at Mandy's house. That it didn't rain is probably the best we could say about the weather, but the food and company was as enjoyable as always.
NEXT MEETING
We return to the Village Hall for our meeting on Tuesday 9th September at 7.30. We welcome Michael Peachy to give us an Oil Painting demonstration.
COMPETITION
A picture of your favourite oil painting.
HOSTESS
Stasia Wherrett & Kathy Dunn Rachel Halton 720572
Harrold-Odell Country Park
Carlton Road, Harrold, Bedford MK43 7DS
Email: hocp@bedscc.gov.uk Website: www.hocp.net
Tel: 01234 720016
Friends of Harrold-Odell Country Park
The Friends' Group has been fortunate enough to have been given a grant from Awards for All that has enabled us to purchase two wheelchairs for use by visitors when in the Park. They are in the Discovery Room in the Visitor Centre and may be used by anyone, so even if you have a temporary disability and want to join in with activities or just go for a walk around the Lakes, you will still be able to do so.
Events at the Park are designed for people of all abilities. You don't have to know it all before you join in with an event!. If you have particular needs it may be helpful if you let us know and we can provide additional helpers and often equipment, to make it as enjoyable as possible.
Friends of Harrold-Odell Country Park Conservation Tasks
Come and join in with practical work to enhance the park for wildlife and visitors on the following dates, and keep fit for free!
Monday 29th September and Monday 27th October 10.00am – 3pm. Wear appropriate clothing and footwear. Drinks provided. Come for an hour or two or stay as long as you like.
Spoons and Spatulas
Sunday 28th September 12 – 3pm
Learn some of the tricks of the trade to make your own kitchen spatulas and spoons. Find out which wood is the best for this and have a go with some of the tools including a shave horse, pole lathe, spoon gouge and curved knife!
This is a drop in session. No need to pre-register.
Green Flag Award
The County Council's country park between Harrold and Odell has been recognised as one of England's best green spaces having been awarded Green Flag status.
The County Council believes the substantial improvements it has been making to the park in recent years has made the park welcoming, safe, well maintained and attracted strong involvement from the local community – all key areas to achieve the Green Flag award. The park was also judged on its environmental performance, buildings and signage.
County Councillor Bob King, Cabinet Member for Community Services said "Harrold Odell Country Park is a wonderful place with a huge variety of things to do. Visitors enjoy coming to relax and take time out from the stress and strain of modern life. The County Council is thrilled to receive this award which helps to show how important our green spaces are. A big thank you must go to the park staff and the Friends group who have worked hard to ensure the park enhances the quality of life for all its visitors."
The Green Flag Award is a key component of the Government's commitment to create cleaner, safer, green communities.
For information on all winners please visit: www.greenflagaward.org.uk
Welcome to Odell…
We would like to welcome two new families to the village this summer.
Nick, Shirley, Jenna and Jade Marais (below) have moved into Horsefair Lane.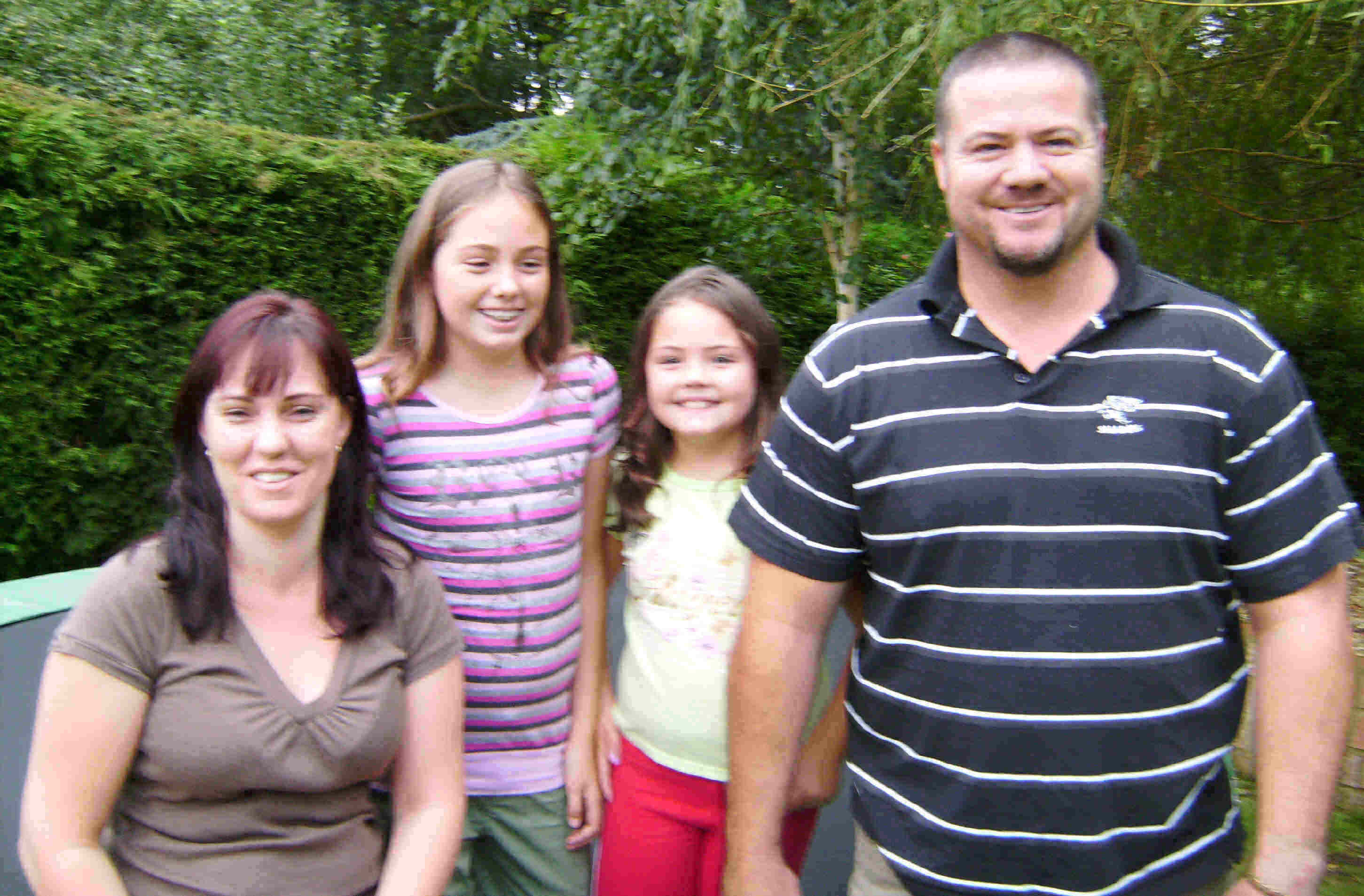 Elisabeth and Olivia Evershed are in the process of moving into the Old Schoolhouse in the High Street. Elisabeth is pictured below.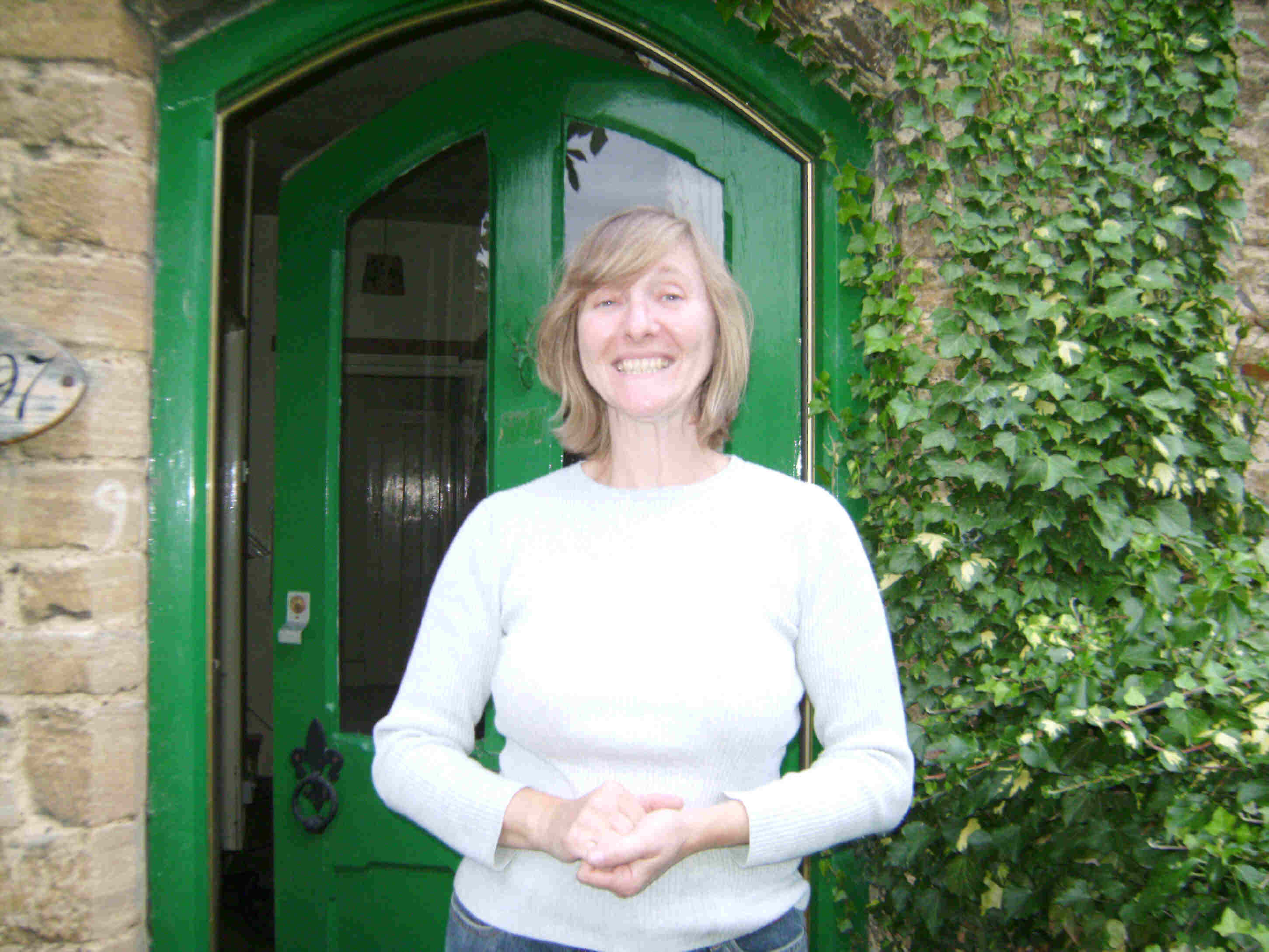 Village Hall News
Events
If you have an idea or can help with these let us know, and if you would like a venue for a private function, the very reasonable hire fee helps us maintain the hall.
Harvest Supper and Barn Dance
Saturday 27th September, 7.30pm.
Bring and share supper.
Country dancing with caller. Tickets £4, £2 children.
Contact Nicki Freeman (tel 720893) for tickets and to organise dishes.
Coming up…
Village Quiz, October 25th, 7.30pm for 8.00pm. £2.50 per person.
Start planning your teams of 6! Contact Rob (tel 720730) to book tables.
Ceroc Night, November 22nd—back by popular demand!
The Mill Theatre, Sharnbrook
We are pleased to announce this change to our 2008 programme:
Time of My Life by Alan Ayckbourn.
Tuesday 23rd – Saturday 27th September, 7.45pm.
Tickets £8 - £10, available from Tuesday 26th August, from:
Sharnbrook Post Office (in person)
& Bedford Central Box Office 269519*
10% discount for parties of 10 or more (excluding Charity performances).
*To book wheelchair space (2 spaces available).
Easier access seating rows A-C. NB Hearing loop rows A-E only.
For programme details please visit www.sharnbrookmilltheatre.co.uk
"Time of My Life presents a deftly comic picture of the excruciating tensions and fractures underlying most social get-togethers and the tissue-like fragility of family fortune and personal happiness." - vintage Alan Ayckbourn—not to be missed!
Aladdin – our own spectacular traditional pantomime.
Friday 5th – Saturday 13th December 2008. Nightly (not Sunday) with 2 Saturday Matinees.
Advance booking tickets will be available, only at The Mill Theatre, during Time of My Life.
Odell Police Report for July & August 2008
There have been 2 Crimes reported since the 1st July. These include 1 Criminal Damage to a Vehicle and 1 Theft from a Vehicle.
Many vehicle crimes can be prevented. Taking a few seconds of your time to clear property from your car, can prevent the inconvenience of a broken window or a damaged door.
Even a cradle for a Satellite Navigation System, or Mobile phone, may encourage an offender to break into the vehicle.
Many Burglaries can be prevented. Keep doors and windows locked at all times. Remove all keys from locks and keep them in a safe place and out of view. Avoid leaving property like handbags, keys or laptops in hallways, or where they can be seen outside the house.
Keep garden furniture, ladders and wheelie bins in a secure garage or shed or locked up away from the house, where they might be used to climb onto a roof or access a first floor window.
Be a good neighbour.
Be aware of sound like broken glass.
Report any suspicious activity or vehicle in the area.
24/7 General Assistance & Enquiries – 01234 841212
Riseley Police Station – 01234 842864 / 842865
In an Emergency - 999
What is Ringmaster?
Ringmaster is a computerised communication system run by Bedfordshire Police, which offers local information about crimes, incidents and events in the local area. For example if there has been a distraction burglary, bogus-callers, thefts from sheds, garages and houses in your area you can be notified by the police, and therefore be extra careful and vigilant.
The service is FREE to everyone.
You do not need to be a Neighbourhood Watch Member.
You can receive the information via email or a pre-recorded message, at a time to suit you.
Helps tackle crime in your area and gives you advice to help avoid being a victim.
If you are interested in joining the RINGMASTER SCHEME, please contact Riseley Police Station on 01234 842865 or email to:
SNT.CarltontoRiseley@Bedfordshire.pnn.police.uk
Diary
September
Fri 5th 7.00pm Wodehill Jazz Band at The Bell.
Sat 6th 3-5pm Cream teas and open tower at St Mary's, Carlton.
Sat 6th 7.30pm The Linford Ensemble, St Mary's Carlton.
Sun 7th 3-5pm Cream teas at St Mary's Carlton.
Tues 9th 7.30pm W.I. Odell Village Hall.
Wed 10th 10.30am Meeting Point at Sarah's, 9 Horsefair Lane.
Sat 13th 10-6.00pm Bike n' Hike 2008.
Sat 20th 9.45am All Saints' Amblers meet at The Bell.
Wed 24th 10.30am Meeting Point at Doris's, Goodly Heritage, The Bury, Pavenham.
Sat 27th 7.30pm Harvest Supper and Barn Dance, Village Hall.
Sun 28th 12pm Spoons and Spatulas, HOCP
Mon 29th 10am HOCP conservation tasks.
October
Wed 8th 12.30pm Senior Citizens Autumn Lunch, Village Hall.
Sat 25th 7.30pm Village Quiz, Village Hall.
Magazine Deadline
Please send all entries for the October 2008 magazine to Tricia Hudson (mag1 at odellbeds.net) or Catherine Corkery by September 12th 2008 at the latest. May we remind you that the editorial team exercises the right to edit, shorten or alter any items that are submitted. Also, the opinions expressed in the articles are those of the contributors and are not the responsibility of the editorial team.

Great local pubs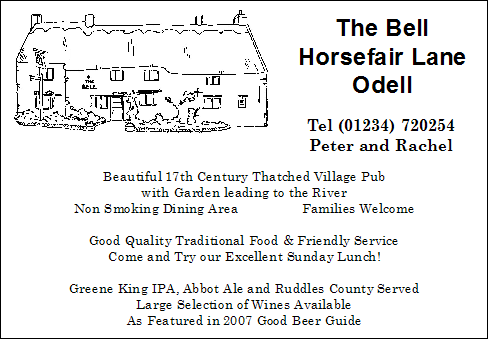 ---
Last revised: August 31, 2008.