ODELL VILLAGE NEWS
May 2008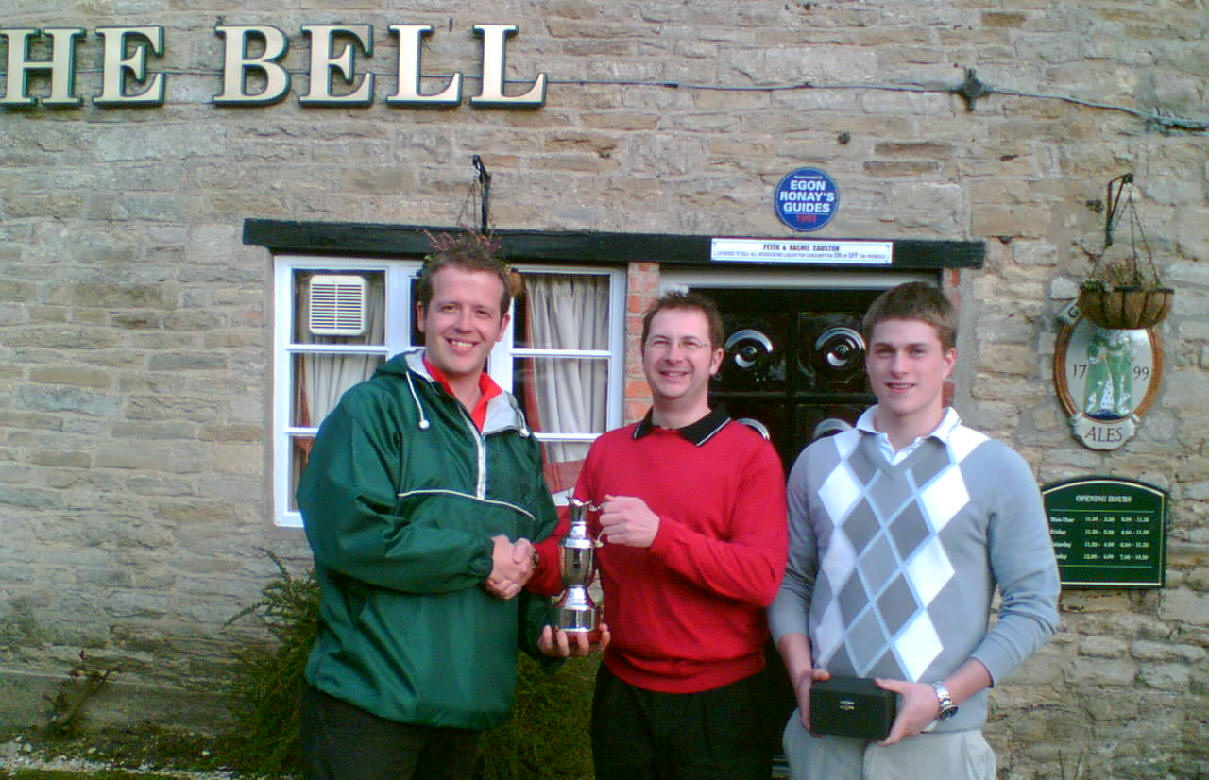 BOGS (The Bell, Odell Golfing Society): This year's outing to Oundle Golf Club was on 4th April.
Pictured above: 2007 winner Jon Ardley handing over the cup to winner Rob Carrington who also won the 'nearest to pin' prize.
Sean Goodman won the prize for the longest drive.
Fete Committee – Help Needed!
The Odell Village Fete has been part of village life for many years.
People from far around make a point of attending the fete every year and many have said how special the event is. Behind the fete though is a body of people making it happen, and master minding it all is of course the Committee. In recent years numbers on the Committee have dropped so low that now the Fete is in jeopardy. Can you give some of your time to keep this tradition (and source of much needed income for the village) alive? If you are willing to join the Committee and do your bit for the village call Steve on 720113.
Fete Committee Painting Day
Painting of signs etc. for the fete will take place at Jim and Doreen Wheeler's, Linden House, High Street, Odell, on Monday 5th May from 10.00am.
There will be a lunch time bar-b-q for helpers - please let Doreen know (720358) if you wish to stay for this. Bring your own meat, salad provided.
May 2008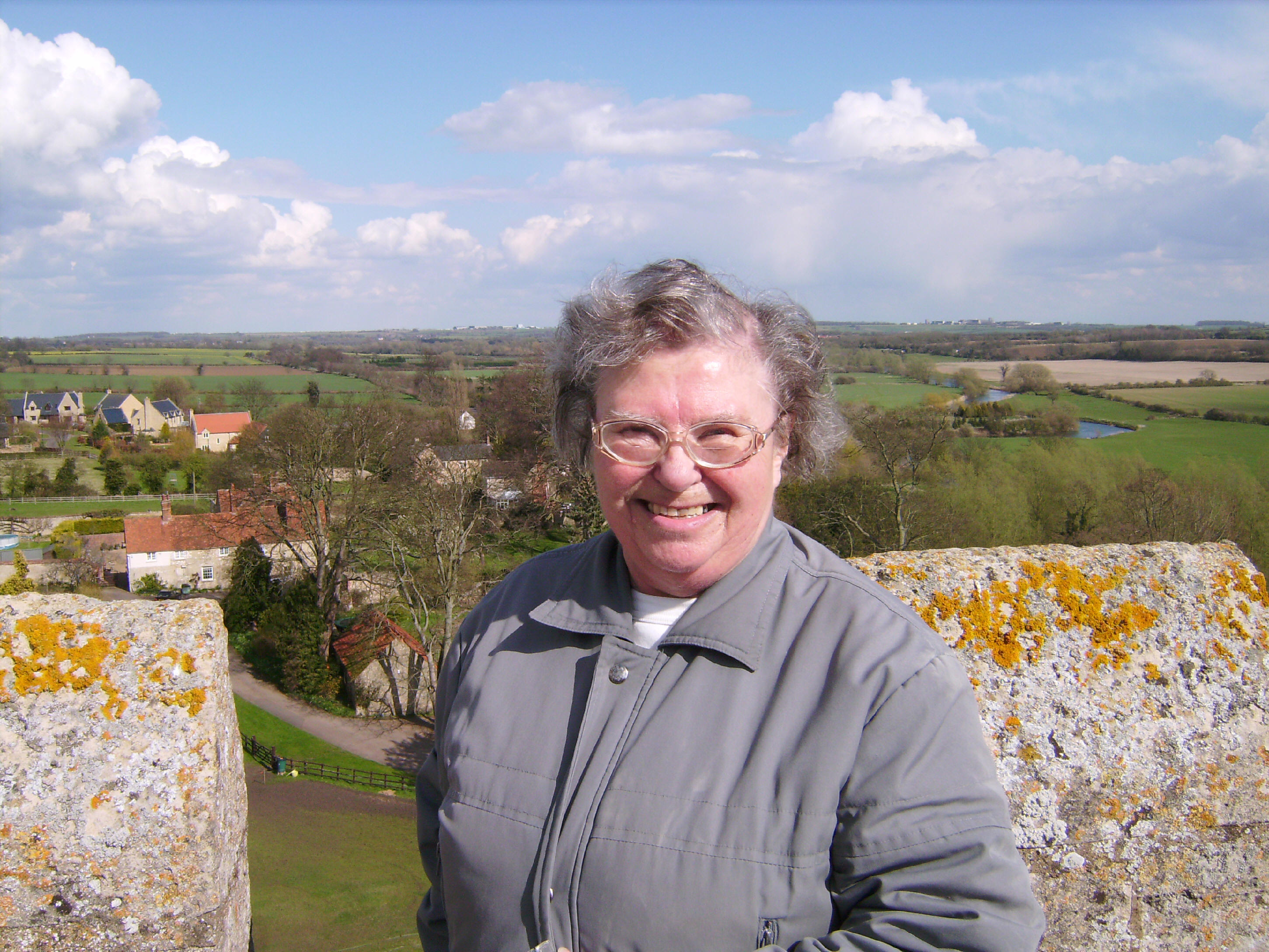 Round and About
A Towering Experience
Did you visit the church over the open weekend?Ever since I heard that the church tower would be open I was determined to climb it.I had heard the views from the top were fantastic and if only the weather held good my camera and I were going to be there and record the views.
I visited the church on Saturday afternoon.It was a beautiful, if somewhat windy, day and the sun shone brightly with large fluffy clouds passing in stately procession.As I approached the church the gateway was festooned with bunting gently lifting in the breeze.In the churchyard the last of the daffodils were still in bloom and the grass was studded with primroses.The church door stood invitingly open with the general buzz of conversation all around.
I joined a small party gathering at the foot of the tower.As we awaited our turn to enter the narrow stairwell we chatted together and it was a happy little band that presently began to mount the steps.
After climbing a short distance a small stairwayto the right.This led to the gallery overlooking the nave and also housed the organ.A slightly longer climb brought us to the bell ringers'chamber. Mounting the next stage of the stairway became increasingly difficult.The steps, at best narrow, were more or less in darkness and I had to feel my wayI could see absolutely nothing.Round and round, up and up, we went.Past the clock, onwards and upwards and then daylight appeared.This proved to be the bell chamber wherehad a chance to look down on the bells - still and silent.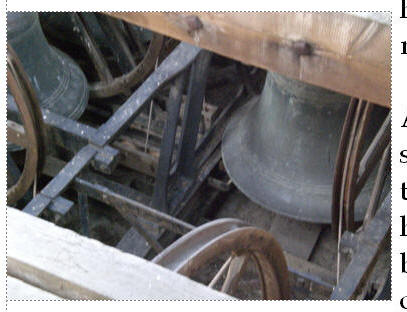 From here on it was just climbing, up the spiral stairway.Now it was really dark.Now the knees really began to ache and, yes, I admit it, my breathing was very laboured.We passed two narrow slit windows, covered in chicken wire (to keep the birds out - presumably) and then.... daylight.I won't pretend - by now I was glad to see it.It heralded the end of the climb.
The tower, however, held one more challenge.The tower stairway spiralled to the right, but to get out on to the roof you had to rotate your body to the left, against the flow of thepillar.The doorway itself was also a challenge. A high lintel had to be stepped over as you ducked through a small, low, doorway of Alice in Wonderland proportions.Now, I am not very tall and I had to bend myself double to get through, so how a tall man would negotiate the doorway must have been very challenging.
But ahead was the brightsky and with the aid of ahand I fairly shot through the gap....and the views were worth every agonising step of the way.The views towards Sharnbrook and Felmersham were amazing.The open countryside just fell away.On a dull day, however, I don't suppose the view would have been half as rewarding.Sadly the views across the lakes were not so photogenic because, as I am sure you all know....the afternoon sun lies in that direction and the dazzle was extreme.I did take one photograph, however, more in hope than expectation. Wonderful views across Tannery Lane but the main part of the village was obscured by the trees on Castle hill. Then, it was time to return. With one last glance around I approached that door, but the hardest part of all was to get organised for the descent as I tried to negotiate getting on to that spiral stair.Everything was back to front, due to that odd little chicane in the steps at that first top corner.Once this had been resolved the descent began in earnest.It was all happy chatter as we discussed what we had seen.Then - shocked silence as we all came to a startled standstill.The clock bells rang out right beside our ears.After a short pause I think everybody laughed.
On reaching the ground floor it was nice to be met with a cup of tea and a piece of cake - and best of all, a relieved chance to sit down.By now my knees were glowing.
I have to say, I wouldn't have missed it. I was determined to climb those stairs.I knew it was not going to be easy, but the rewards were great.I am putting the whole thing down to an experience that I am glad to have achieved ... but have no wish to repeat!
Barbara Corley
Senior Citizens' Summer Garden Party
Odell Luncheon Club invites you to a strawberry tea
In Jim and Doreen Wheeler's garden:
Linden House, 93 High Street, Odell,
On Wednesday 16th July at 3.00pm
All senior citizens are invited.
Please let Jill Cheadle (720261) know by Sunday 6th July if you wish to come.
W.I. News
We welcomed Linda Rodell of Bedfordshire County Council Recycling Team to our meeting this month. She gave us a slide presentation on the current practices within Bedfordshire and some amazing statistics on the amount of rubbish we as individuals can send to landfill sites every week. She then went on to detail the ways we can all help to recycle and to explain why they don't take some materials but suggested other avenues for their disposal. She was an excellent speaker and answered the numerous questions well.
As a bonus she was accompanied by a colleague who had a detailed knowledge of the dos and don'ts of home composting who was hoping to inspire us to take advantage of the subsidised compost bins. She too was happy to answer queries from members who were already composting but having problems getting started.
NEXT MEETING
This will be held on Tuesday May 13th at 7.30 in the Village Hall. This will be our AGM when we look backwards at what we have achieved and look forward to the coming year.
COMPETITION
No competition this month instead we congratulate our winner for the year.
HOSTESSES
Rachel Halton & Pat Harris
Rachel Halton 720572
Harrold-Odell Country Park
Carlton Road, Harrold, Bedford MK43 7DS
Email: hocp@bedscc.gov.uk Website: www.hocp.net
The Park has now got a skate park. This is situated parallel to the Carlton Road, lakeside of the shelter belt of trees beyond the Visitor Centre. Bring your skateboard and try it out.
Look at the notice board at the rear of the Visitor Centre to see the wildlife to look out for.
Monday 12th May 10am – 12pm
Digital Photography
Don't know one end of the camera from the other? Come along to this beginner's session. Learn how to operate your own camera and take some photographs in the Park.
You will need to pre-register for this event.
This event is free but donations are welcome.
Please contact us for further details.
Friends of Harrold-Odell Country Park Conservation tasks 2007
Come and join in with practical work to enhance the park for wildlife and visitors on the following date:
Monday 19th May 10am – 3pm
Wear warm clothing and footwear.
Hot drinks provided.
Come for an hour or two or stay as long as you like.
Marvellous Medieval May at Bromham Mill!
Medieval May Celebration at Bromham Water Mill, Bromham
Sunday 25th May and Monday 26th May 2008 open 11am until 5pm both days with last admission at 4 pm.
Fun for all the family and a chance to sample life in the 15th century in the living history camp. Our unique working watermill is also open on both days with information about country crafts and the Bedfordshire Countryside.
Attractions include · music and dance · medieval pastimes · cavalry displays · armoured knights
· archery displays medieval combat display · medieval crafts · childrens competition · food and refreshments
· picnics welcome car parking.
Adults £5.50/Children and Concessions £3.50 Tel: 01234 720016
Email: hocp@bedscc.gov.uk
Coffee Morning
Where: Roma's, 23 Horsefair Lane, Odell
Time: 11am
Date: Saturday 17th May
Raffle Cake stall
Bring and Buy
Proceeds to Fragile X Society
Friends of Harrold Medical Practice
It you want to have your say on what health care services are provided in your area or what improvements the Practice can make, please come and join us. We need representatives from all the villages that have patients that use the Practice.
Our latest project is working in partnership with Wellingborough Community Transport with the aim of setting up a Medical Car Service, to take Elderly and Disabled residents to their medical/hospital appointments. We need volunteer drivers who are willing to use their own cars and give their time to help less able members of the community.Mileage expenses are paid. If you are interested, then call 01933 228844 for more details.
The next meeting of the Friends is to be held at the Surgery, Peach's Close Harrold on Tuesday 20 May 2008 at 7.30pm. If you would like to find out more about the Friends and the work that we do please contact:
Frances Hirst tel 01234 825212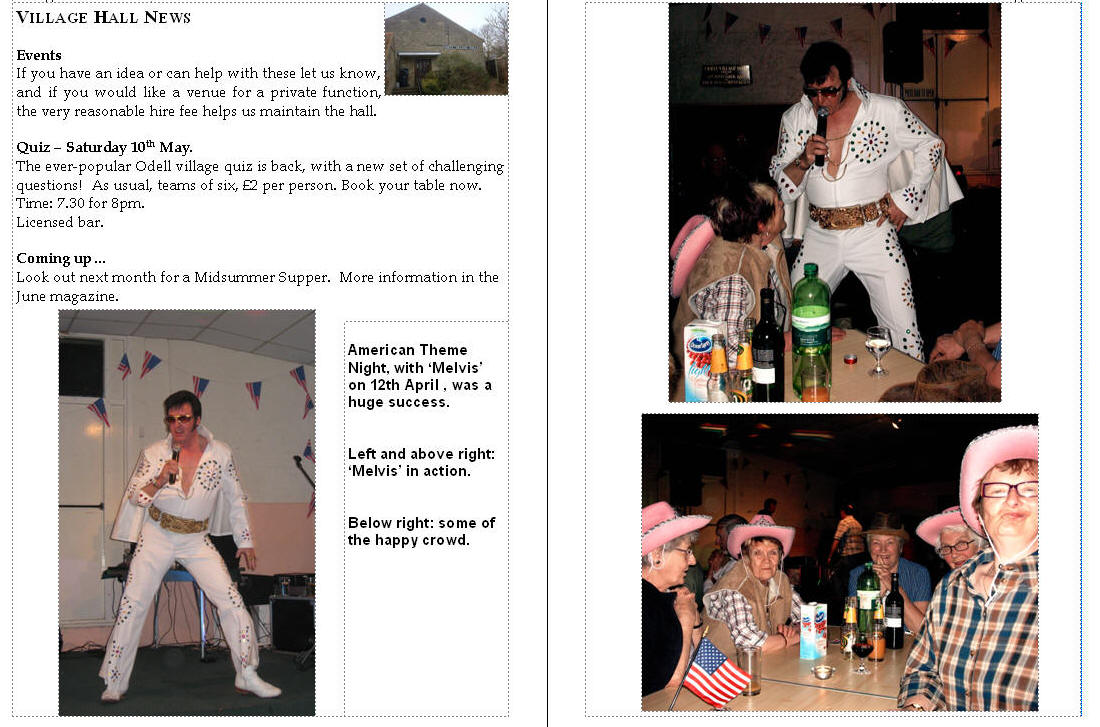 Waste Paper Collection - Thank you for bringing your waste paper to the bins. Though the return is small, every little bit helps financially and of course the waste is recycled.
Rob Lee (720730) on behalf of the Village Hall Committee.
The Mill Theatre, Sharnbrook
Reg. Charity No 242164
The Fix- 16th – 24th May, 7.45pm
By John Dempsey and Dana P Rowe
Regional Premiere – think Kennedy the Musical!
A musical tale of sex, scandal and rock and roll! A dramatic adaptation of one American family's greed, desires and passion to conquer politics!
An amateur production in association with Joseph Weinberger.
Tickets available from
Sharnbrook Post Office (in person)
& Bedford Central Box Office 269519*
10% discount for parties of 10 or more (excluding Charity performances).
*To book wheelchair space.
NB Hearing loop rows A-E only.
For programme details please visit www.sharnbrookmilltheatre.co.uk
Back to Broadway
Four young professionals bring your favourite West End Musical selections to life, in 4 spectacular and colourful performances atThe Mill Theatre -
They have already appeared across the West Midlands to great acclaim….
Performances:
Thursday 12th June in aid of Solvit.
Friday 13th June in aid of Barnardos
Saturday 14th June in aid of Rushden Rotary
Sunday 15th June in aid of Bansang Hospital, Gambia
Tickets: £15, to include a glass of wine, with all proceeds going to charity.
Available from Sharnbrook Post Office or 01832 730255.
ADOPT A GRAVE – Most of the more recent graves in our churchyard are tended with care and their flowers and plants contribute to the beauty and peace of our lovely churchyard. But we also have a number of very old graves that have no one to tend them, and some of these have become overgrown with weeds. We would like to clear these and plant them up with wild flower seeds which we have been given, but it will take some time to get round them all. Please let Christine know (720234) if you would like to help with this task by 'adopting' a grave to look after.
Diary
5th 10am Painting fete signs, Linden Ho., High St. Odell
10th 7.30 for 8.00pm Quiz, Odell Village Hall.
12th 10am-12noon Digital Photography at HOCP.
12th 8pm Meeting of 'Pilgrims' at Rectory.
13th 7.30pm W.I. AGM, Odell Village Hall.
14th 10.30am Meeting Point at Catherine's, Manor Cottage, Harrold.
17th 9.45am All Saints' Amblers meet at The Bell.
17th 11.00am Coffee Morning in aid of Fragile X, 23 Horsefair Lane.
19th 10am – 3pm HOCP Conservation Tasks.
25th 11am – 5pm Bromham Mill Medieval May.
26th " " " " " "
26th 8pm Meeting of 'Pilgrims' at Rectory
Magazine Deadline
Please send all entries for the June 2008 magazine to Tricia Hudson (mag1@odellbeds.net) or Catherine Corkery by May 12th 2008 at the latest. May we remind you that the editorial team exercises the right to edit, shorten or alter any items that are submitted. Also, the opinions expressed in the articles are those of the contributors and are not the responsibility of the editorial team.

Great local pubs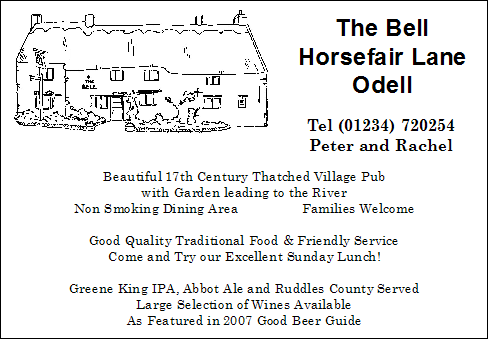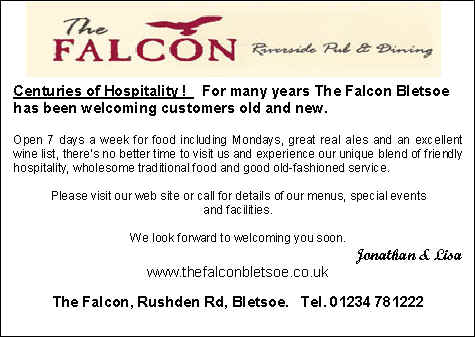 ---
Last revised: May 05, 2008.