ODELL VILLAGE NEWS
June 2008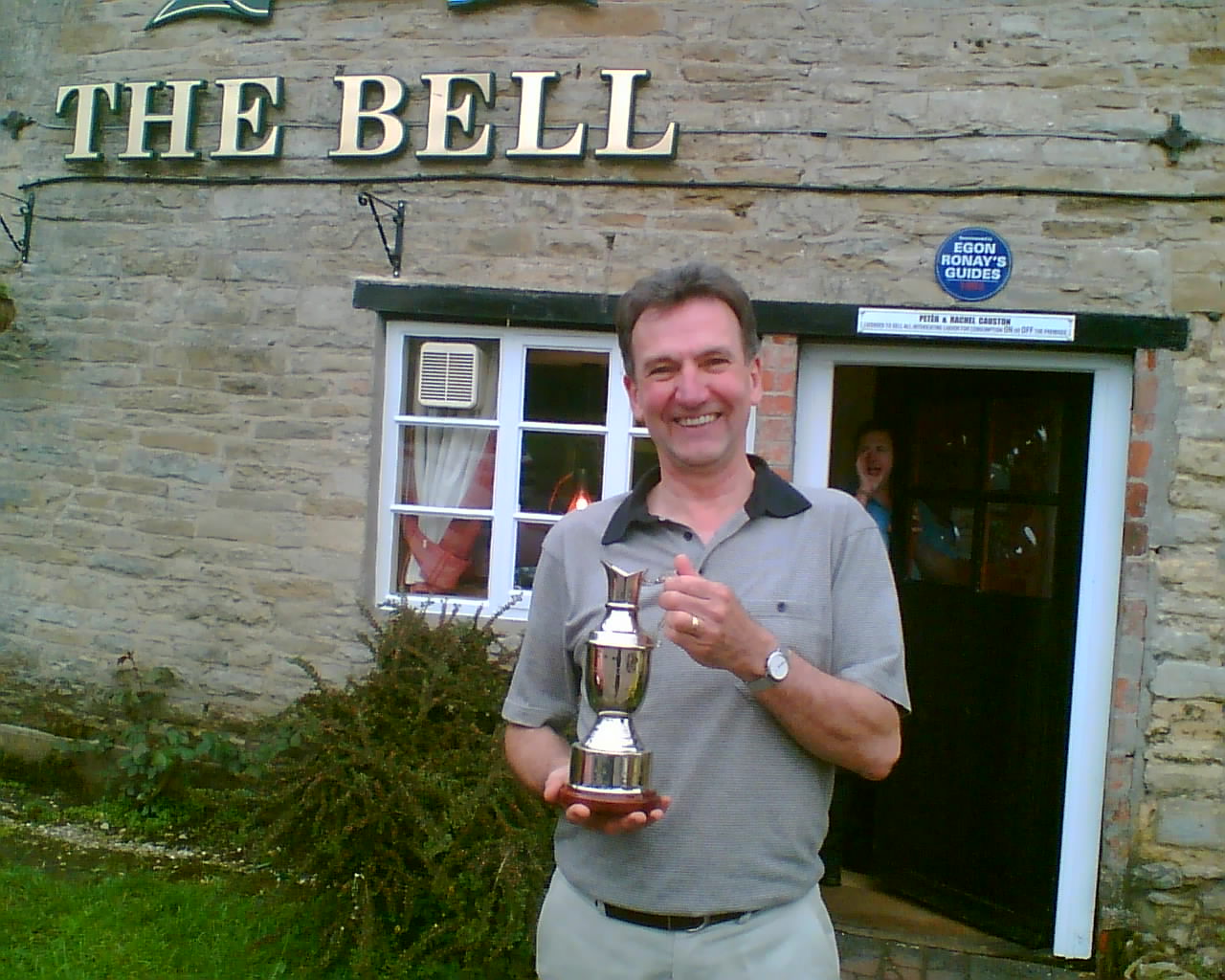 BOGS: Winner of the May 16th game at Brampton Park Golf club Graham Hill takes ownership of the cup at The Bell
Fete Committee – Help Needed!
The Odell Village Fete has been part of village life for many years.
People from far around make a point of attending the fete every year and many have said how special the event is. Behind the fete though is a body of people making it happen, and master minding it all is of course the Committee. In recent years numbers on the Committee have dropped so low that now the Fete is in jeopardy. Can you give some of your time to keep this tradition (and source of much needed income for the village) alive? If you are willing to join the Committee and do your bit for the village call Steve on 720113.
Odell Village Fete and Dog Show
Saturday 14th June 2.00pm
(In the Scout field, Horsefair Lane, Odell)
ENTRY: Adults £1.50, Children Free
PROGRAMME OF EVENTS
2.00 PM Grand Opening
2.00-4.00PM Dog Show
4.00 PM Judging of Children's Competitions
4.30 PM Raffle Draw and Prize Giving
ATTRACTIONS
Wodehill Jazz Band
Harrold Priory School Band
Boys Brigade
Teas Children's Tombola Ice Creams
Tombola Cakes Beat the Goalie
Books Refreshments Bottle Stall
Coconut Shy Children's Sports White Elephant
Produce Gifts Many Side Shows
Raffle
Dog Show
FAMILY DOG SHOW
(entry fee - £1 per dog per class)
Classes:
1. Children's Handling (14 years and under)
2. Puppies under 1 year
3. Country Sporting Dog or Bitch
4. Best Rescue or Re-home Dog or Bitch
5. Best Conditions Dog or Bitch
6. Dog or Bitch with Most Appealing Eyes
7. Best Cross-bred Dog or Bitch
8. Most handsome Dog
Prettiest Bitch
Children's Competition – Design an Olympic Flag!
The competition is to design a bright and cheerful flag based on the Olympic theme. Paper flags and sticks will be provided at the fete.
Help will be needed to set up the fete stalls on the afternoon of Friday 13th June, and then to dismantle everything after the fete has ended on Saturday 14th. Please come and join in!
RSPCA
The recent house-to-house collection in the village raised £92.01. This money is spent at the discretion of the local Branch for animal welfare in north Bedfordshire. Thank you to all who contributed. If anyone is willing to assist with the collecting in the future please contact Ann Hudson (720587)
Birthdays
Happy birthday to:
Mia Vyvyan who will be 7 years old on the 2nd June.
Eleanor Robinson on the 17th, and
Elliot Swift who will be 12 on the 19th
and to everyone else with a birthday in June.
To Coin a Phrase
Two months ago I wrote about Britannia - and how she was to be removed from our coinage.The Royal Mint has now issued pictures of the new money and I feel I ought to follow up my previous article with a comment on these new designs - or perhaps I should say, design.
I have to confess I am more than a little confused by it all and I just cannot understand why they have chosen to do what they have.Let me explain.Firstly, the £2 coin remains unchanged and the Queen's head will appear on all coins.The £1 coin, quite small in itself, will carry the Royal Coat of Arms set within its shield.Fair enough, I have no problem so far.For the remaining coinage, however, they are going to break down the Coat of Arms into sections ... and this is where I get confused.
No individual coin, apart from the £1 will carry a complete emblem.The 10p. piece, for example, will carry just two of the Lions of England, rather than all three,and one of these will be missing its hind leg.The 2p. piece will carry most of the Lion of Scotland,the back feet will be missing thus giving the impression that it is standing on stumps. The 1p. piece will bear the top corner of the Irish Harp and three isolated legs from the unseen third Lion of England.Now, if you think that's weirdhow about the other three coins.The 50p piece - the largest of all - will carry the lower corner of the harp plus one-and-a-half lions!The 20p. piece,stranger, bears the rear ends of two English lions and the missing leg and foot of the Scottish lion.As for the 5p. piece, words fail me, it is to show the central core of the Coat of Arms - which means - the back end of one lion, and empty corner from the surround of the Lion of Scotland,corner of the Irish Harp and finally one English lion accompanied by the head and two front legs of another lion - all of which will be so small as to be indefinable to anyone looking at it.
Why?Why cannot each coin display a complete symbol i.e all three lions, the entire Lion of Scotland and a complete harp.If they felt they needed more symbols why not include something to represent Wales.As it stands Wales is not represented at all.If the Royal Mint felt that short of symbolscould they not have kept Britannia - and maintained a link with our historic past.
What tourists from abroad will make of it I just cannot imagine.It will not mean anything at all to them - come to think of it - it doesn't mean that much to me either.
Barbara Corley
Greetings from Albi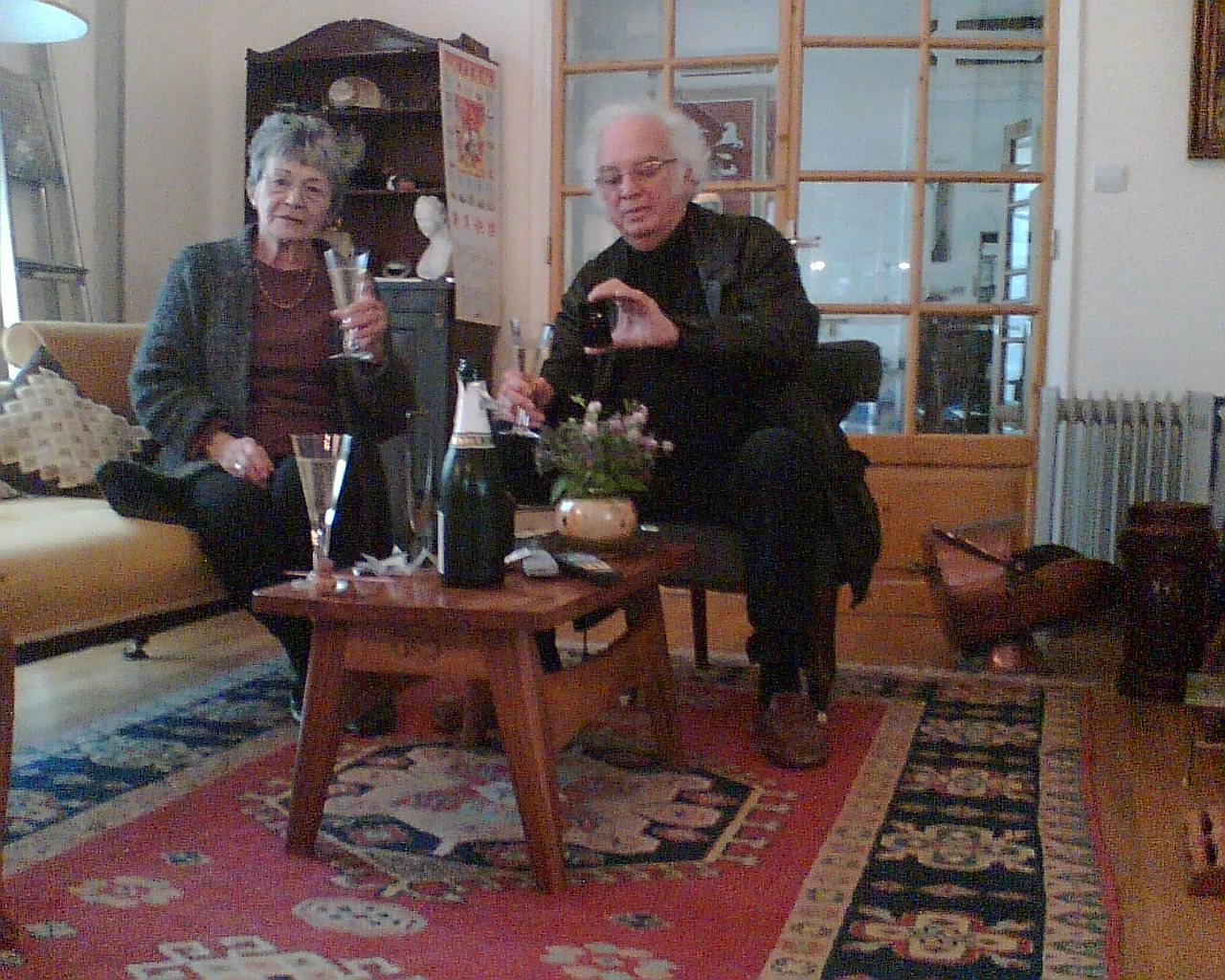 John and Noelle Zaradin send greetings to all their friends in Odell. John and Noelle moved to Albi, near Toulouse, last year and are enjoying the fine weather and wonderful views of the region. They welcome any visitors from Odell, and would love to hear everyone's news.
Wodehill Jazz Band at The Bell
The Wodehill Jazz Band will be entertaining in the garden of The Bell – weather permitting – on the following Fridays, at 7.00pm:
July 11th and 5th September.
Senior Citizens' Summer Garden Party
Odell Luncheon Club invites you to a strawberry tea in Jim and Doreen Wheeler's garden:
Linden House, 93 High Street, Odell, on Wednesday 16th July at 3.00pm
All senior citizens are invited. - Please let Jill Cheadle (720261) know by Sunday 6th July if you wish to come.
W.I. News
This month saw our AGM when we looked backward at what we have achieved and forwards to the future. Reports were presented by our treasurer, who assured us we were still solvent enough to enjoy a glass or two of wine at our social events and that all but one member had rejoined for the coming year. We had to say goodbye to Pat Harris whose changed work pattern meant she was unable to attend our meetings on a Tuesday night, we wish her well.
Doreen, our secretary took us through the past year reminding us of what we had achieved. The President then delivered her report in which she stressed the importance of everyone in the group contributing their ideas to the year's programme in order that the group continued to move forward. One theme emerged however from both the secretary's and the President's report and that was how important the group was for friendship and support.
Our competition cup and small prize was awarded to Carol Ormond with Jill Cheadle being our runner up and Barbara Corley a worthy third. Congratulations to them all.
The W.I's national resolutions were then discussed and decisions taken.
NEXT MEETING
There is no meeting in June as so many members are involved with the Village Fete.
On Tuesday July 8th. We will be trialling the Stepping Out walk. Walkers need to be outside the Bell at the earlier time of 7.00pm. Non walkers will be contacted by phone before the event and will be taken up to the Rectory, if they require transport, or should arrive at the Rectory from 7.30. Christine has kindly offered to host the event and lawn games will be available. The walkers expect to start returning from 8.00. It will be a bring and share picnic. Walkers can either carry their contribution with them or deliver it at an earlier time to the Rectory. Any queries please contact Lynette or Rachel.
COMPETITION
No competition this month.
HOSTESS
Christine Clarke
Rachel Halton 720572
Mobile Library
The mobile library will visit fortnightly on Thursdays -
Odell Green at 13.50 - 14.05.
Dates are: 5th & 19th June;3rd, 17th & 31st July.e library
Space For Everyone
Aeroplanes, bicycles, horses and cars
Have never yet got us as far as the stars
And even the spaceship with streamlined precision
Gets nowhere compared with a telescope's vision.
If ever we reached a far distant planet
And took all our everything with folk to man it
How would the government measure our assets?
Comparing our earthly and heavenly facets?
Would planning permission be needed up there
To set up our superstores, Ready-to-Wear,
Perhaps the Olympics would like to go there
And never return! - Extraordinaire!
How soon would a council set up a protection
For holes and craters? There'd be an election
And then a directive forbidding abuse
With rubbish our refuse collectors refuse.
Perhaps it's a blessing that it is so far
That we must just use for our wishing, a star.
Transport to school could be even more strain
With a space-shuttle stop at the end of the lane.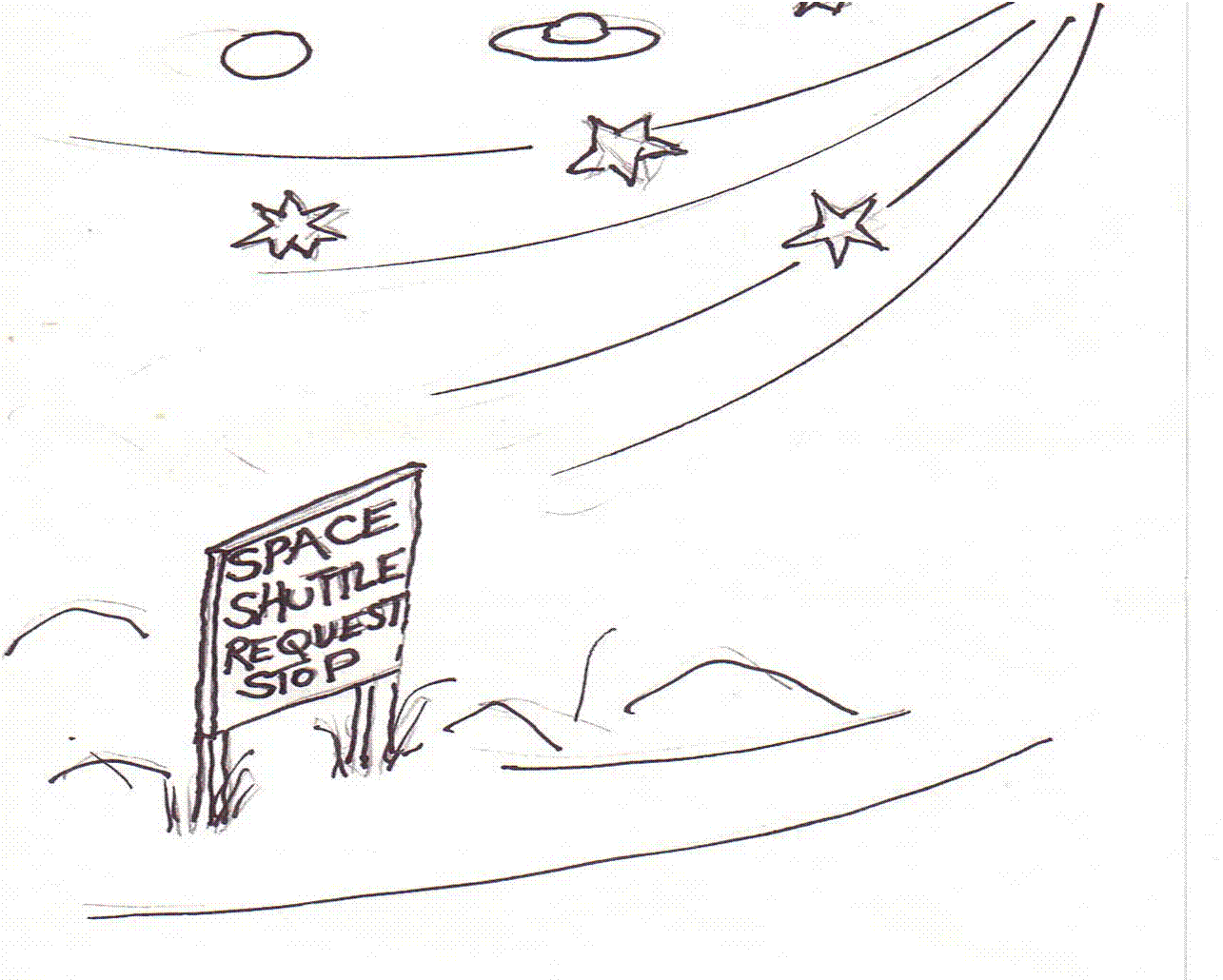 Roger Jackson
Odell Parish Council AGM – 19th May 2008
Present: Cllrs. B. Cheadle, P. Crotty, J. Gemmel, R. Halton,
A. Sharpe.
County Councillor Mrs. P. Gershon
Borough Councillor Mr. N. Charsley
In attendance: Mr. Chris Nicol [Beds. County Council]
Members of the public: Mr. J. Ardley, Mr. D. Romang,
Mr. T. Freeman
[Later] – Mr. S. Robinson
In view of activity during the day relating to the Odell bridges, Mr. Chris Nicol of Beds. County Council attended to give the meeting the up to date situation regarding these. Mr. Nicol said he had been contacted earlier in the day by Mr. Romang who expressed concern regarding the proposed bridge replacement work which would remove the weir and severely impact on the fish and other wildlife habitats.
Money had finally been put into the budget for the Odell bridges to be replaced this year and it is hoped completion would be well before the County Council ceased to exist. It was hoped to go out to tender this week and the intention is for the contractors to produce their quotations on the basis of design and build, although due to the fact that the new Mill bridge will be longer and higher, it is fully expected it will be of the truss type, and definitely not a like for like replacement of the existing bridge. The final decision will be made by a team of which Chris Nicol will be a member. A drawing of the type of bridge envisaged was tabled but it was emphasised that this was probably now out of date.
Mr. Nicol said he had not been fully aware of the strength of feeling regarding the fishing angle with regard to the removal of the weir, and he would go back to the Environment Agency with their concerns to see if any amendments could be made. The removal of the weir would result from the changes to the sluice bridge, which it was proposed would be replaced with a large diameter pipe with concrete fill at each side. The installation of the pipe would of necessity create restricted water flow, and this was the concern of the anglers. However, Mr. Nicol said that the proposal for the sluice replacement was for a 4ft diameter pipe; this could possibly be as large as 5ft which should help the water flow. It was important to note that the impact on village flooding was of primary concern.
Mr. Romang presented the anglers' case and also read out a letter he intends to send to the Environment Agency regarding the proposed work.
Mr. Nicol promised that all would be kept informed regarding the proposals.
The discussion on this item closed at 9 p.m. when Mr. Nicol left the meeting and the Parish Council meeting proper began.
Election of Chairman
Cllr. Sharpe proposed Cllr. Halton be re-elected; this was seconded by Cllr. Cheadle and agreed by all.
Election of Vice-Chairman
Cllr. Sharpe was re-elected as Vice Chairman for the coming year.
Apologies for absence
Apologies received from Cllr. J. Harrison.
Minutes of last meeting
The Minutes of the meeting held on Monday, 17th March were approved and duly signed as a true record of the proceedings.
Matters arising
Local Survey: Due to time constraints discussion on this was centred on the issues raised that were currently being addressed. These were the speeding problem, which is included in the Confident Communities project, and a children's play area which is currently under consideration in parallel with the disabled access to the village hall. Further issues will be discussed at a future meeting, including those raised by the children who responded. Cllr. Charsley commended the Parish Council on having received such a good response.

Confident Communities fund: The location of the speed monitoring was discussed, and a suitable location chosen. Cllr. Crotty will liaise with the County Council regarding this.
The litter picking areas were identified
Cutting back Vegetation – the Clerk had asked the County Council to contact Cllr. Halton regarding this but to date no contact has been made.
No further information has been received regarding the youth areas approved; further contact from the County regarding this is awaited.
Village Hall Update
Letter received and circulated from Mr. R. Lee stating that in view of the 'short time remaining on the Lease' the Village Hall Committee could undertake no fund raising for any of the outstanding village hall projects. The full contents of the letter were noted. Interaction between the Parish Council and the Village Hall Committee was discussed at some length and Mr. J. Ardley was included in these discussions.
The Clerk expressed her disappointment that the details of any new Village Hall Committee contacts had not been passed on; this meant that all requests for information had to go via the Chairman of the Hall Committee which was not standard good practice in any organisation.
The date and venue of the next Village Hall Committee meeting was given by Mr. Ardley and Cllr. Sharpe will attend as the Parish Council representative.
Car Park: The purchase of this is progressing; a draft agreement has been received and details of required amendments will be sent to our solicitor following this meeting.
Disabled access/New playground: these two items were considered in tandem as the disabled access can only be built once a new playground is in place. Two letters were tabled from Mr. G. Tringham of Horsefair Lane with signatures from other residents. These letters expressed various concerns the residents had in the event a playground was installed in the Country Park at the Horsefair Lane end; these included increased parking difficulties, flooding damage, vandalism etc.
However it was generally thought that there had been a reduction in parking problems recently due to signage and the angling club instructing its members not to park at the bottom of Horsefair Lane. It is not envisaged that the facility would be used by children from neighbouring villages as they all have very well equipped playgrounds. The whole idea of this play location is that it is in an area safe from traffic which can be easily accessed by local children on foot. However, the concerns of residents will be taken into account and any possible changes discussed with the Planners.
It has to be noted, however, that the future of the village hall is dependent on disabled facilities being made available – this is a legislative requirement and cannot be ignored. As these facilities cannot be installed until a new children's play area is in situ, this has to be the prime consideration if – in fact – the village hall is to continue to operate. This latter condition has been imposed by Bedford Borough Council and the Parish Council has no option but to comply.
Two proposals for suitable play facilities including fencing have been received and Cllr. Halton will arrange for these to be viewed by the Planner to confirm they meet the Planning requirements. The position in the Country Park will also be discussed with the County Council before any planning application is submitted to the County Council. Once these matters have been resolved satisfactorily, consideration can be given to making grant applications to fund both projects.
The disabled access is being discussed at this evening's Planning Committee meeting (19th May) where it is recommended for approval; a decision should be known the same.
The building of the disabled facilities can go ahead, and Cllr. Cheadle is investigating obtaining quotes for this work so that funding can be applied for.
Highways
Cllr. Crotty is meeting with Celia Sellars this week and will raise all outstanding issues with her. These include the number of holes around the village; blocked drains; weed spraying and the continuation of the footpath work under the Highways Partnership Scheme.
Bedford Borough matters
Cllr. Charsley gave an update on the unitary position. The transitionary period is being overseen by a committee of three Councillors from each authority. Next year when the unitary is in place, elections will be held but these will only be for a two year period as there will then be ward changes within North Bedfordshire.
It is expected that Odell, being such a small ward, will be attached to an adjacent ward but we will have to wait to see just what the new formation will be.
Cllr. Charsley said that Wymington Parish Council is thinking of purchasing its own speed gun; as they have a Special Constable, who is qualified to use this, it is possible that the facility could be loaned out to other parishes – probably on a fee basis – which would greatly benefit the smaller parishes such as Odell. Progress on this will be monitored.
County Council matters
There were no matters to discuss.
Finance
Insurance: The new Came & Company insurance which is underwritten by Norwich Union was compared with the renewal from Allianz. This showed a saving of £68 by using Came & Co. over Allianz. Councillors agreed to go with the new insurer this year.
Charity Status: The Clerk explained accounting difficulties created due to a recent change in Charity Commission Law which means that any Charity income has to be kept separate from the normal accounts;
according to our Exernal Auditor, this means a separate bank account has to be used. As the income is not regular year on year, it could mean bank changes being occurred on occasions. The Clerk is exploring the possibility of the dissolution of the Charity status, if this proves to be in no way detrimental, and Councillors approved this course of action should it prove possible and viable. Clarification is being awaited from the Charity Commission on this issue.
Sports & Social Fund: The monies attached to this fund attract a very small amount of interest and the Clerk proposed the account should be transferred into the current higher paying Bank of Ireland account, where the funds would be available to be used for the purpose for which they were intended. Councillors approved this course of action.
Annual Accounts: The annual accounts had been previously circulated and the accounts have been audited by the Internal Auditor; the Annual Account document for submission to the External Auditor was duly approved and signed.
Correspondence and requests
Only one request for funding received – in view of ongoing village hall commitments, this request had to be refused.
Specifically for the Business of the Meeting
The Chairman said that Homestart is looking for volunteers; she has the paperwork is anyone is interested.
Cllr. Cheadle said the village set of handbells has now been retrieved, having been out on loan, and are with him and available to interested parties. The Church has expressed an interest in using them as has Mr. Knowles, who would like them to be loaned to his Alzheimer's group.
The Chairman said she had been to a meeting of the Country Park where it was stated that flag status is being applied for. The skate park is up and running successfully with no reported problems at the present time.
Next meeting: The next meeting will be held on Monday, 21st July at 8.00 p.m.
There being no other business the meeting closed at 10.35 p.m.
Dandie Dinmonts
You may have met a new resident of Odell, Bonnie, a 4 year old Dandie Dinmont Terrier (a DDT). Bonnie has been rehomed and is really enjoying life in Odell. She is very friendly, loves to meet people, especially children, likes other dogs too, and is very playful, shaking her toys almost to pieces. She is very partial to feathers which she carries around the house before shredding them.
DDTs are an endangered native breed, in 2006 only 81 puppies were born, but they have a long history. They originated in the borders in 1700 and were first registered as Mustard and Pepper Terriers and were bred to kill vermin such as badgers and otters. They acquired their comical name in 1814 when Sir Walter Scott created a character called Dandie Dinmont in his novel Guy Mannering.
The Dandie Dinmont Terrier is either pepper or mustard in colour, Bonnie is mustard. She has an unusual coat; the top is quite crisp, but not wiry, and she has a soft linty undercoat and plenty of soft, silky fur on her head and long pendulous ears. She weighs 10kg so is really a medium dog on very short legs. You can see from the picture she has enormous pleading eyes, a large nose, and she also has a deep bark. We are told that they are very intelligent but extremely stubborn, we already have evidence of that as she takes over the running our home
If you meet her she would love you to stop and talk to her.
Energy Efficiency Fund for Community
Organisations.
A new fund promises to bring more sustainable space and water heating, electricity and insulation to community buildings. It will support solar water heating, heat pumps, wood pellet stoves and wind or water electricity generators.
The Community Sustainable Energy Programme aims to distribute £9 to community not-for-profit organisations in 2008/9. The fund will help pay for both feasibility studies and the costs of equipment and installation. It offers £5,000 (or 75% of costs, whichever is lower) towards a feasibility study, or £50,000 (or 50% of installed costs, whichever is lower), towards the recommended solution and its installation.
The fund is open to applications from community groups, charities and trusts, parish councils, schools and colleges, faith organisations and mutual societies. The quarterly deadlines for applications are 16 May, 15 Aug, 7 Nov '08 and 30 Jan '09.
The programme is managed by BRE and supported by the Big Lottery Fund. See:www.communitysustainable.org.uk for full details.
The Energy Efficiency Advice Centre on 0800 512 012 provides impartial advice on renewable energy technologies. This service can also connect homeowners with discounted loft and cavity wall insulation, including 100% grants for over 70s.
Harrold-Odell Country Park
Carlton Road, Harrold, Bedford MK43 7DS
Email: hocp@bedscc.gov.uk Website: www.hocp.net
The Park now has a skate park. It is situated parallel to the Carlton Road, lakeside of the shelter belt of trees beyond the Visitor Centre. Bring your skateboard and try it out.
Look at the notice board at the rear of the Visitor Centre to see the wildlife around the Park.
Saturday 28th June 10am – 12pm
Wild Flower identification. Investigate and identify the flowers in the Park as you walk along.
Sunday 20th July 12 – 3pm
Walking Sticks
Carve your own personalised walking stick from materials found in the Park. Make it just the right height and hand hold for yourself. All materials provided.
No need to book for either of these two sessions. Just come along.
School Holidays or Children's Parties
Speak to us if you have a group of children and want something different for them to do for a party or in the holidays.
Friends of Harrold-Odell Country Park
Conservation tasks 2008
Come and join in with practical work to enhance the park for wildlife and visitors on the following dates:
Keep fit for free! Monday 30th June and Monday 28th July 10am – 3pm. Wear warm clothing and footwear. Hot drinks provided. Come for an hour or two or stay as long as you like.
Tel: 01234 720016
Email: hocp@bedscc.gov.uk
will ay: 5th & 19th Village Hall News
Events
If you have an idea or can help with these let us know, and if you would like a venue for a private function, the very reasonable hire fee helps us maintain the hall.
Quiz 10th May
There was a bumper turn out for the quiz on the 10th, with a lot of people coming from outside the village for what is regularly a very popular and successful event.
The winning teams this time were:
1st: Does Grey Matter
2nd:Joint: Mad Dogs/Brains Aren't Everything
4th: (not pictured) Secret Six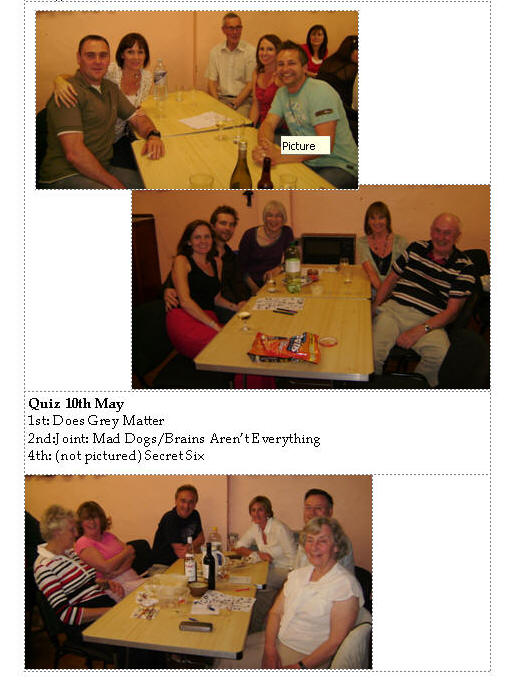 Many thanks to Rob and his helpers for putting on such a terrific evening.
This month:
Midsummer supper
Come and join in with some Midsummer madness and celebrate the summer solstice in the Village Hall, on Saturday June 21st. There will be a buffet and also entertainment
Time: 7:30 for 8:00
Tickets: £5 adults, £2.50 children.
Contact Nicki on 720893 for tickets.
Waste Paper Collection - Thank you for bringing your waste paper to the bins. Though the return is small, every little bit helps financially and of course the waste is recycled.
Do please support our events, and do suggest to us your ideas for alternative activities. Rob Lee (720730) on behalf of the Village Hall Committee.
The Mill Theatre, Sharnbrook
Diary Dates at The Mill:
12 – 15 June—Back to Broadway,
Four classically trained young actors will bring your favourite West End Musical selections to life, in four spectacular and colourful Performances for Charity at The Mill Theatre.
Tickets: £15 available now – to include a glass of wine - from Sharnbrook Post Office or 01832 730 255. All proceeds to these charities: Solvit; Barnardos; Rushden Rotary; Bansang Hospital, Gambia
Would you like to take part in our shows? Come along to our workshops to find out more!
Our Town - 23 - 27 September -
Delightful, not to be missed 'Life Time' Drama – an American Classic.
Auditions: 2 pm Sun 1 June.
Aladdin: 5 – 13 December – our very own Traditional Pantomime – Oh yes it is!
Workshops: 7.45 pm Mon. 2 + Wed. 4 June;
Auditions: 2 pm Sun. 8 June. Welcome!
Tickets available from
Sharnbrook Post Office (in person) & Bedford Central Box Office 269519*
10% discount for parties of 10 or more (excluding Charity performances).
*To book wheelchair space.
NB Hearing loop rows A-E only.
For programme details please visit www.sharnbrookmilltheatre.co.uk
Diary
2nd 8.00pm Pilgrims meet at The Rectory
11th 10.30am Meeting Point at Sarah's, 9 Horsefair Lane.
14th 2.00pm Odell Fete, Horsefair Lane.
15th 11.00am Church Service in Fete field.
16th 8.00pm Pilgrims meet at The Rectory
21st 7.30pm Midsummer Supper, Village Hall.
25th 10.30am Meeting Point at Eileen's, 24 Church Hall Road, Rushden
28th 10am Wild Flower Identification.
30th 10.00am Conservation Tasks, HOCP
30th 8.00pm Pilgrims meet at The Rectory
Magazine Deadline
Please send all entries for the Joint July/August 2008 magazine to Tricia Hudson (mag1@odellbeds.net) or Catherine Corkery by June 12th 2008 at the latest. May we remind you that the editorial team exercises the right to edit, shorten or alter any items that are submitted. Also, the opinions expressed in the articles are those of the contributors and are not the responsibility of the editorial team.

Great local pubs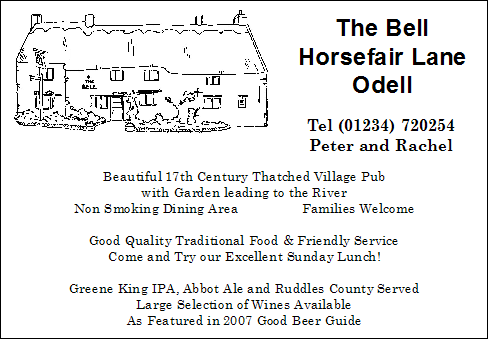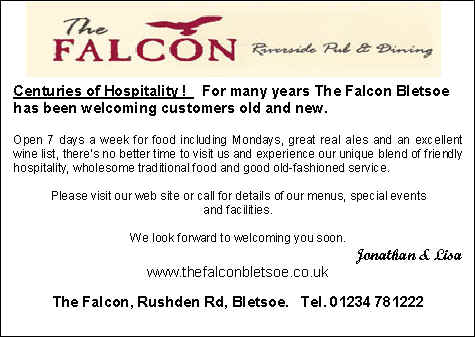 ---
Last revised: June 08, 2008.