ODELL VILLAGE NEWS
July/August 2008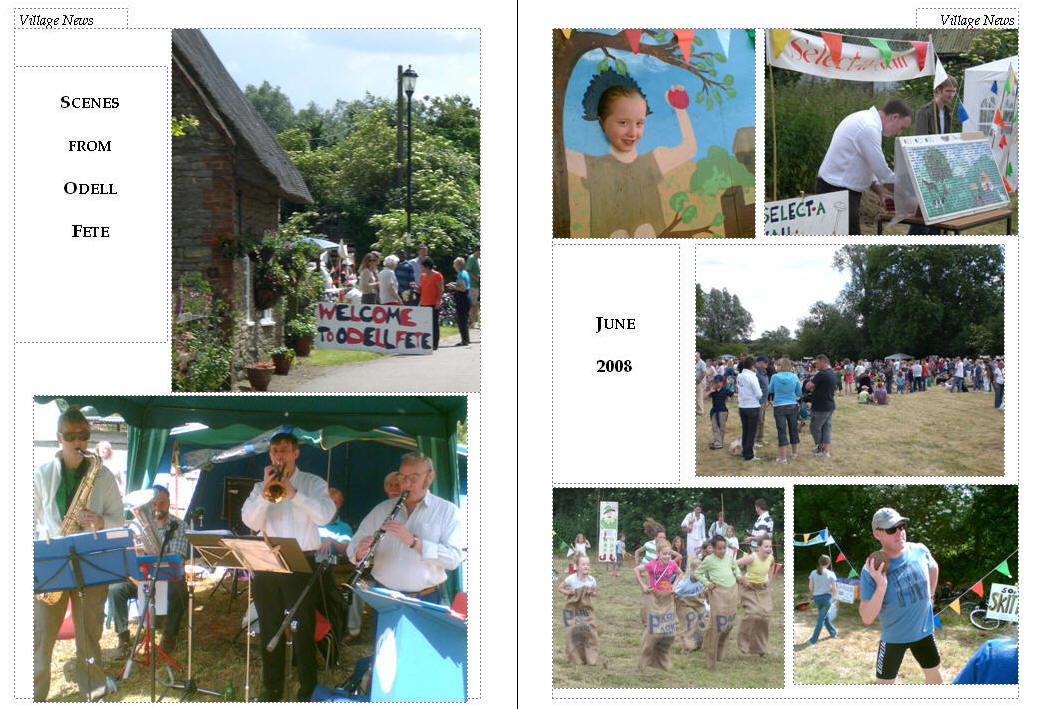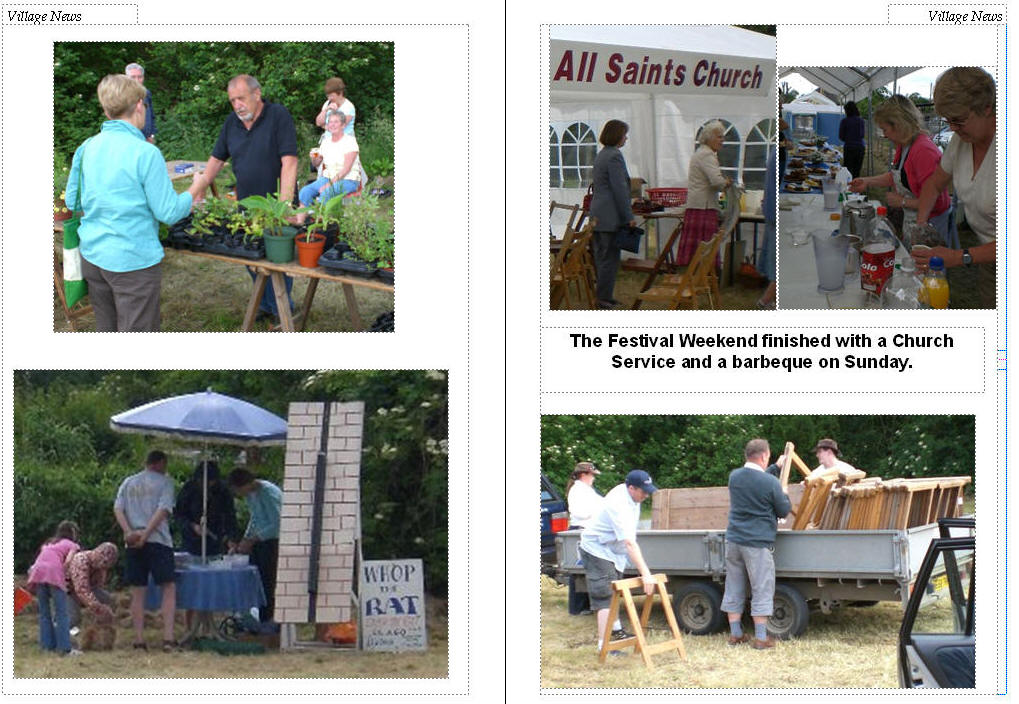 July 2008
Birthdays
Happy birthday to; Miles Tringham on 24th August……and to everyone with a birthday in July and August.
Round and About - The Overseas Connection
Thinking about Odell and its long history I was struck by how often this village has been touched by people and affairs from overseas. This village, especially in bygone days, was a small, isolated community and yet the finger of fate has touched us time and again. Let me take you on a walk through a slice of Odell's history.
In the 1970s that part of the parish of Odell now known as the Country Park was being excavated for sand and gravel, when the remains of a Romano/British farmstead were uncovered. The farm appears to have lasted for about 400/500 years. The original site is in the area in front of the ranger's lodge/tea rooms but is now covered by water. As time passed the area of the farmstead extended down towards Odell village. At the time of the Roman invasion the farmstead was well established and the inhabitants seem to have happily adopted the Roman lifestyle. Roman pottery has been recovered, together with a few pieces of Roman armour. A short section of Roman road has also been discovered crossing a corner of the parish. The farmstead fell into decline on the departure of the Roman legions.
The farm began to prosper again on the arrival of the Saxons, when they moved on to the farmstead. They dug a number of pits and wells into which they seemed to throw much of their rubbish - which has now been recovered. Odell also witnessed the arrival of the Vikings when the River Great Ouse formed the boundary of Danegeld. The burial of a Viking warrior was unearthed in Harrold and two Viking burial sites were found in the Odell area containing human remains. At some time during the Saxon period the village of Odell made its first appearance. Later a fortified building was built on the small promontory where today The Castle stands. This was an important Saxon stronghold occupied by a Thane of some importance. At the time of the Norman invasion this position was held by Levenot whose territory extended well into Northamptonshire. What happened to Levenot I have not discovered although as a Thane it was his duty to turn out in support of his King in times of war. Whether he died on the battlefield or survived to fly the country I do not know.
After the success of the Norman invasion Odell fell into the domain of William I who appointed Eustace, Earl of Bullion (later spelt Bulloign) to oversee the general area and shortly thereafter the parish was passed into the keeping of Walter Flandrensis (Walter the Flemming). The first mention of Walter was in 1068 and it seems likely that he accompanied William when he fought at the Battle of Hastings. Walter later adopted the title Walter of Wahull, Lord of Wahull (the early spelling for Odell). Walter started to build Odell Castle and this building work continued over several generations until the castle came to be of considerable size. The Wahull family were also responsible for financing the building of our present church. The title passed into the female line in the 1400s when the castle was deserted and fell into ruin.
The Saxon influence returned to Odell in the 16th century when Thomas Alston of the Inner Temple first rented and then bought the remains of Odell Castle and the surrounding estate which more or less consisted of the entire parish. The Alston family originated in East Anglia and were of Saxon origin. The Alston family held the estate until 1934.
Peter Bulkeley, a Rector of this Parish in the 17th c., fell foul of the rulings of Archbishop Laud. His non-conformist ways led to Peter Bulkeley, together with his family and a number of his supporters leaving the country to make a fresh start in the New World. In 1635, shortly after their arrival in Boston, the party moved inland to found the town of Concord, Mass. Both Peter and his son Edward took on the office of Minister for the new settlement. Over the years the town was to flourish, taking part in the War of Independence. In this connection they founded the Concord Minutemen, a group of volunteers who held themselves in readiness for instant action, proudly claiming they could be ready for action in one minute. In 1983 the re-enactment group of the Concord Minutemen visited Britain and took the opportunity to visit Odell for a day of celebrating their "roots" and meeting the present-day residents. The celebrations included a procession in costume from Odell Church to the Village Green followed by a demonstration of ceremonial drill - this was accompanied by a similar display by a Troop from the Sealed Knot.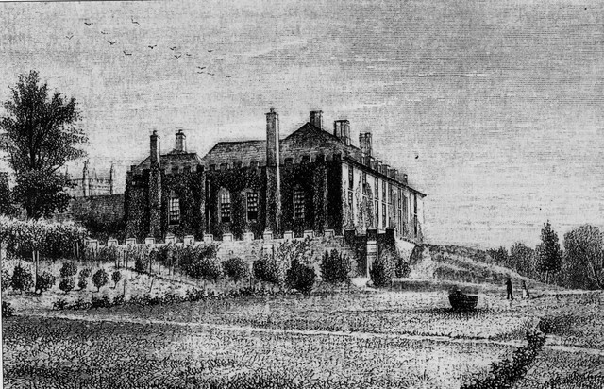 Odell castle pre fire: how it may have looked at the time of Sir Rowland Alston
In the 19th c. Mr. Guy Repton rented Odell Castle together with his wife Lady Jane Repton. I claim the overseas connection in this instance on the basis that Lady Jane held her title in her own right as she was a daughter of the Duke of Leinster (an Irish family).
The Rector of this Parish at that time was Charles Searle and he, together with Mr. Repton, most definitely maintained the overseas connection. Charles Searle came to Odell in 1856 and remained until 1864. On his arrival he was deeply shocked by the poor living conditions of many of the cottagers and he began to encourage the young men of the village to move overseas to make a fresh start in the New World, assisting many by paying for their passage. In this he was financially assisted by Guy Repton. From surviving correspondence he encouraged our young men to a life in New Zealand, Australia, Canada and the United States, a number of whom went on to considerable success.
Lastly I come to the late Lord Luke. The Lawson Johnston family founded the Bovril company which was originally called "Johnstons Fluid Beef" and as a young man the late Lord Luke was sent to Australia and South America to learn the beef industry. His father George had purchased Odell Castle together with the estate in 1934 and upon his father's death the late Lord Luke took over the company, and the building up of the Odell estate. He was also a member of the International Olympic Games Committee, travelling the world, and priding himself on having never missed an Olympic Games during his nearly 40 year tenure.
NOTE If you wish to know more about the history of Odell copies of the "Millennium Book of Odell"- a thousand years of Odell History at £10 a copy - are available from Barbara Corley, Horsefair Lane and Brian Cheadle, Rectory Farm or County Town Books
Wodehill Jazz Band at The Bell
The Wodehill Jazz Band will be entertaining in the garden of The Bell – weather permitting – on the following Fridays, at 7.00pm:
July 11th and 5th September.
Senior Citizens' Summer Garden Party
Odell Luncheon Club invites you to a strawberry tea in Jim and Doreen Wheeler's garden:
Linden House, 93 High Street, Odell, On Wednesday 16th July at 3.00pm
All senior citizens are invited. - Please let Jill Cheadle (720261) know by Sunday 6th July if you wish to come.
W.I. News
On Tuesday July 8th. We will be trialling the Stepping Out walk. Walkers need to be outside the Bell at the earlier time of 7.00pm. Non walkers will be contacted by phone before the event and will be taken up to the Rectory, if they require transport, or should arrive at the Rectory from 7.30.
Christine has kindly offered to host the event and lawn games will be available. The walkers expect to start returning from 8.00. It will be a bring and share picnic. Walkers can either carry their contribution with them or deliver it at an earlier time to the Rectory. Any queries please contact Lynette or Rachel. Rachel Halton 720572
Climbing Tower in The Country Park
The Parish Council has arranged for a climbing tower to be in the Country Park on Monday 28th July, from 10 am to 2 pm at the Harrold end of the Park.
Art and Craft Exhibition and Sale, St Mary's Church Carlton.
Saturday 12th July 10.00am to 5.00pm
And Sunday 13th July 1.00pm to 5.00pm
Entrance £1.00 includes free exhibition catalogue
Refreshments and light lunches served
For more details contact Sue Brown 01234 720442 or David Taylor 01234 720930
A SONG OF SUMMER
Now the fields are full of colour
Now the grazing flocks are shorn
Now it's Summer, Winter's over
Now it's light and fresh each morn.
How we've longed for green and yellow
How we've wished for days like these
How we've thought of evenings mellow
How we've dreamed of Summer's breeze
Even now when days are warmer
Even now as with one voice
Even now remember Winter
Even now let's all rejoice.
Roger Jackson
Harrold-Odell Country Park
Carlton Road, Harrold, Bedford MK43 7DS
Email: hocp@bedscc.gov.uk Website: www.hocp.net
Fishing has started again. You need to join Vauxhall Angling Club and you can get your fishing membership card from Trevor, the fishing bailiff, who is at the Park each day.
Sunday 20th July 12 – 3pm
Walking Sticks - Carve your own personalised walking stick from materials found in the Park. Make it just the right height and hand hold for yourself. All materials provided.
No need to book for this session. Just come along.
Tuesday 26th August 2008 from 8pm
Bat Walk
Bring a torch and dress appropriately. It may be hot, cold or wet! Under 16s must be accompanied by an adult. Please register for this event as numbers are limited.
School Holidays or Children's Parties
Speak to us if you have a group of children and want something different for them to do for a party or in the holidays. Adult groups welcome as well.
Friends of Harrold-Odell Country Park
Conservation tasks. Come and join in with practical work to enhance the park for wildlife and visitors on the following date:
Monday 28th July 10am – 3pm. Wear appropriate clothing and footwear. Drinks provided. Come for an hour or two or stay for as long as you like.
Keep fit for free!
The Friends' Annual General Meeting is on Thursday 3rd July at 10am in the Visitor Centre. All welcome.
Tel: 01234 720016
Email: hocp@bedscc.gov.uk
Mobile Library
The mobile library will visit fortnightly on Thursdays - Odell Green at 13.50 - 14.05
Dates are 3rd, 17th & 31st Julymobile library will visit fortnightly on Thursdays - Odell Green at 13.50 - 14.05
Village Hall News
Events
If you have an idea or can help with these let us know, and if you would like a venue for a private function, the very reasonable hire fee helps us maintain the hall.
Forthcoming events to look out for…
Harvest supper late in September. More details in the September magazine.
Waste Paper Collection - Thank you for bringing your waste paper to the bins. Though the return is small, every little bit helps financially and of course the waste is recycled.
Do please support our events, and do suggest to us your ideas for alternative activities. Rob Lee (720730) on behalf of the Village Hall Committee.
The Mill Theatre, Sharnbrook
Reg. Charity No 242164
Our Town
Tuesday 23 - Saturday 27 September, 7.45 pm
This wonderful play by Thornton Wilder set early in 20
th
Century, is an American Classic, in three parts. A delightful, heart-warming and fascinating study in character development and the community life of this period, you will follow the townsfolk of Grover's Corner through several years, as they come to terms with their changing society, the joys, the losses, the griefs…... as seen through the eyes of the host of the play, the stage manager.
'Whenever you come near the human race, there's layers and layers of nonsense'. Intrigued?
Tickets will be available from Tues. 26th August
A d v a n c e B o o k i n g for
Aladdin
Booking for our spectacular, traditional pantomime for the whole family, on stage Friday 5 - Saturday 13 December, with matinées on both
Saturdays, will be available during Our Town, only at The Mill Theatre.
Plan ahead !! Be sure to Book Early!!!
Tickets available from
Sharnbrook Post Office (in person)
& Bedford Central Box Office 269519*
10% discount for parties of 10 or more (excluding Charity performances).
*To book wheelchair space.
NB Hearing loop rows A-E only.
For programme details please visit www.sharnbrookmilltheatre.co.uk
Do you fish The Great Ouse for Chub – Barbel – Perch – Roach – Pike?
The Mill Theatre Island and Fishing Rights are owned by the
Sharnbrook Mill Theatre Trust. Fishing from the banks is for Members Only. Annual Trust Membership to include Fishing is just £25.00 pa.
Do join us! To do so or to find out more, please contact Virginia Pope on: 01933 359763.
Diary
July
3rd 10am Friends of HOCP AGM, Visitor Centre.
8th 7.00pm W.I. Stepping Out Walk from The Bell.
9th 10.30am Meeting Point at Christine's, The Rectory, Odell..
11th 7.00pm Wodehill Jazz Band at The Bell.
12th 10am Art and Craft Exhibition and Sale , St. Mary's Church, Carlton.
13th 1.00pm " " " " " " " " "
16th 3.00pm Senior Citizens' Garden Party, Linden House, High St.
19th 9.45am All Saints' Amblers meet at The Bell.
20th 12 noon 'Make Your Own Walking Stick', HOCP
23rd 10.30am Meeting Point at Catherine's, Manor Cottage, Harrold.
28th 10am Conservation Tasks, HOCP.
28th 10am-2pm Climbing tower, HOCP.
August
26th 8pm Bat Walk, HOCP.
Magazine Deadline
Please send all entries for the September 2008 magazine to Tricia Hudson (mag1 at odellbeds.net) or Catherine Corkery by August 12th 2008 at the latest. May we remind you that the editorial team exercises the right to edit, shorten or alter any items that are submitted. Also, the opinions expressed in the articles are those of the contributors and are not the responsibility of the editorial team.

Great local pubs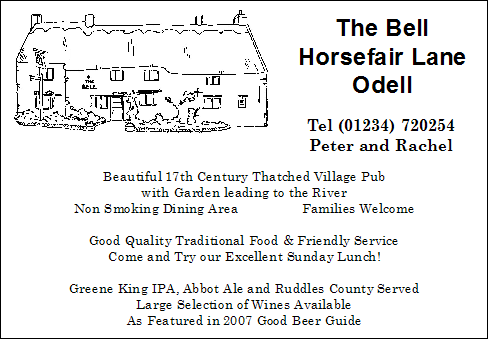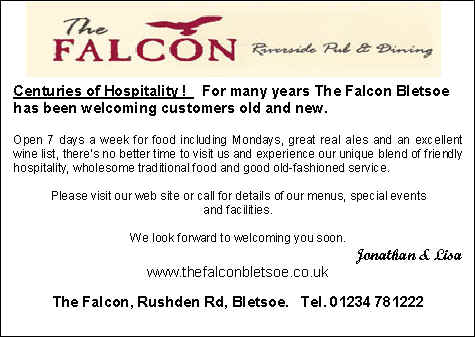 ---
Last revised: July 05, 2008.