ODELL VILLAGE NEWS
February 2008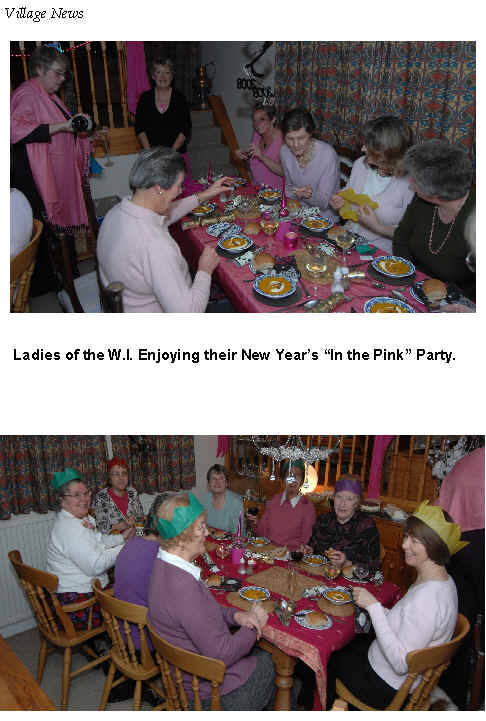 Birthdays
Happy Birthday to:
Jack Holden Postles whose birthday is on the 10th February,
Victoria Beardow who will be 12 on the 22nd and to
Charlotte Lloyd who was 6 on the 24th January.
We hope you all have wonderful birthdays….and of course happy birthday wishes to everyone with a birthday in February!
If you know of anyone who would like their birthday to be remembered in the magazine please either 'phone or send details by e-mail to the address in the front of the magazine.
Round and About
To Sleep, Perchance to Dream
Most of us have suffered the odd sleepless night, tossing and turning and moaning about how our lack of sleep will affect the following day. Some unlucky souls suffer more than others! Interrupted sleep is one of the most common complaints aired in the G.P's surgery and millions of pounds are spent on sleeping pills to help those having difficulty in dropping off at night. The British Association of Counselling has been reported as saying that 12m people have at least 3 bad nights sleep a week. Indeed, a lack of sleep is fast becoming a major health obsession with the British public.
Science tells us that what may seem to us to be a continuous night's sleep is actually broken into 90 minute spells. Upon falling asleep most people go into a period of deep slumber which will take up between 10% and 20% of a night's sleep. Following this first period comes the dream period - a time for memory storage. So, what is this thing called sleep? It is far more than just closing the eyes and an absence of body movement. It is to do with profound changes that take place in the cortex - that part of the brain that controls such functions as intellect, imagination, social responsibilities and love.
We are all governed by our own inborn "time clock". This timepiece, in early days, was in synch with sunrise and sunset, enabling primitive man to rise early ensuring a better chance of survival and success at hunting. Our time clock is, however, highly adaptable, as our experiences with world travel and jet lag illustrates. Many people worry when they find themselves tired in the afternoon and fall asleep, but this is a normal phenomenon in most people. The afternoon sees a natural "dip" in our day's energy pattern. The afternoon siesta is still quite common in many countries.
Winston Churchill was very keen on his afternoon sleep. Five centuries ago Britons enjoyed a "fyrst slepe", or an early evening nap, followed by supper and a period for prayers. People would stay up into the early hours and then retire for 5 or 6 hours sleep. I imagine, however, that this was a luxury for the more leisured people. I'll be bound the poor wretched peasant didn't share such a privilege.
The night of a regular 7 to 8 hour sleep is quite a modern practice, and is most likely linked to industrialisation and the requirement of working regular hours. However, just think back to Dickens' times. People worked a 14 hour day, six days a week and with no lie-in on a Sunday as this was a day for attendance at church. At night people returned from their labours to a home of cramped conditions where parents and children shared the same bedroom, sometimes the same bed. This was a noisy, often flea-infested environment where I doubt if anybody had 8 hours of uninterrupted sleep. However, this was considered normal and no-one complained about lack of sleep.
What is more, the human being's ability to sleep in virtually any circumstances is well documented. We have all dropped off in uncomfortable situations, like in a chair or on the beach and who hasn't slept on a long bus or train journey, but this does not even begin to compare with those who lived in the Victorian workhouse. The phrase "hangover" is not a modern one and has no association with alcohol. Instead it relates to a workhouse tradition, although for the life of me I cannot understand how they achieved any rest. Workers lined up along a bench (presumably they sat on it) and a rope was strung from one end to the other, allowing them to sleep by draping their arms over the rope which they "hung over" as it supported them.
In future, therefore, when remarking light-heartedly, about a sleeping companion that "he/she could even sleep in a clothes line" ...give pause and think of just how that saying may have originated ... and then see who is hung over!
Barbara Corley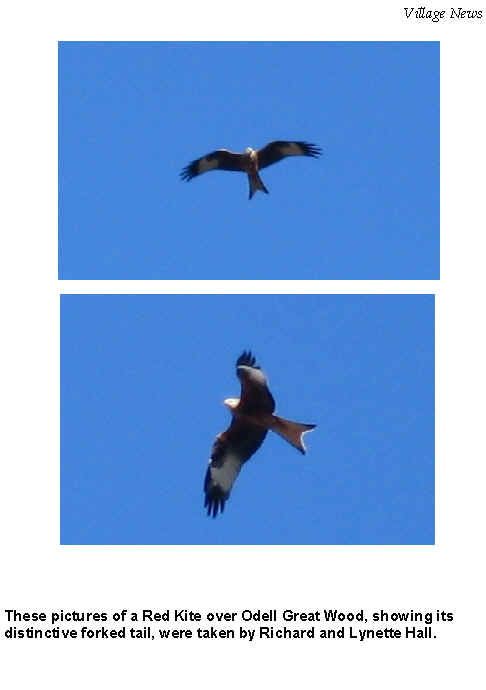 W.I. NEWS
Odell W.I. welcomed the New Year in 'In the Pink'. (see pic at top of page) Our party had a pink theme and all the members were asked to wear something pink. Rachel had decorated the tables and anything else she could find with fushia pink. Even the quiz had a pink theme with all the questions somehow relating to the colour. We had joint winning couples Joyce and Christine and Roberta and Jill: congratulations to them. The meal was a bring and share and was greatly enjoyed by all.
NEXT MEETING
This will be held on Tuesday 12th at 7.30 in the Village Hall. Our speaker will be Sorrel Pinder, her topic 'Balance and Flexibility'.
COMPETITION
Poem on Balance and Flexibility
HOSTESSES
Christine Clarke and Lynette Hall
Rachel Halton 720572
Request for help in tracing the history of the Norman family
I recently received this request about the 'Norman' family. Is there anyone who can give some information?
Dear Sirs,
I am researching my family history in Odell and would like to enquire if you are aware of any historian in the area who may be able to assist me in my search for more information about my relations from the area and how they will have lived in Odell.
Of specific interest to me is the family name Norman during the early 1800's. I have traced my 4th Great-Grandmother Priscilla Norman to Odell where she was born and died yet remained unmarried and had at least eight children. Priscilla was born in 1797 the daughter of Thomas Norman and Hannah Paine (I believe). Now with such a colourful life in the village, I can find out little more about her…(and I wonder) if there are any local people who maybe able to assist me.
Regards, Peter Wilson
And can anyone help with this enquiry about the whereabouts of Shirley and Mark Stratton, formerly of Odell?
Hello, my name is Gail Pike. I'm a friend of Roma Garon there in Odell. Our
fathers served in WWII together at Podington. I live in Charleston, SC. I've been to Odell a few times but it's been a while. My dad was friends with an old couple Charlie and Florence Stratton who lived on Church Lane and are buried in the churchyard in Odell. They had a daughter Shirley and a grandson Mark. I heard from Roma that Shirley is married and that Mark is now living in Australia. Is it possible that you could give them my email address and home address?
If you can help with either of these enquiries please e-mail the magazine or contact me. (See the inside front cover of the magazine for addresses).
Thank you, Tricia Hudson
Engagement Congratulations
Kathy & George Dunn and Sid & Betty Clark are delighted to announce the engagement of Gillian and Gary on Christmas Day. A long awaited lovely surprise for all. " LET THE STRESS BEGIN"!
The Three Chairs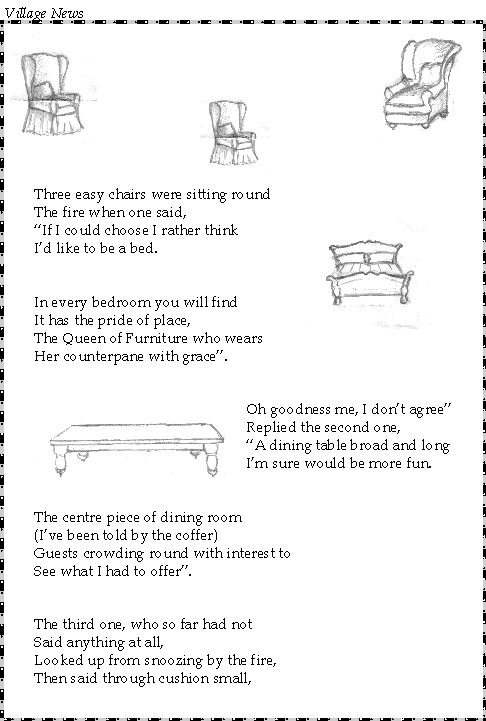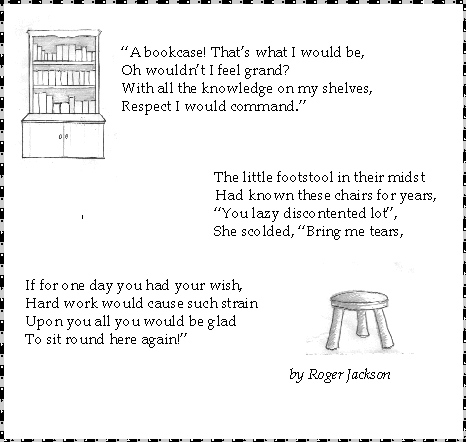 Senior Citizens Fish and Chip Lunch.

The annual Senior Citizens Fish and Chip lunch will take place on

Wednesday 5th March

at 12.30 for 1.00pm

in the Village Hall.

Please let Jill Cheadle know by the Sunday 24th February if you wish to join us. (01234 720261). Please note that no invitations will be sent out.

Harrold-Odell Country Park

Carlton Road, Harrold, Bedford MK43 7DS

Website: www.hocp.net

Thursday 6th Mar 10am – 1pm

Making Obelisks

Using materials from the Park make an obelisk for your garden. It will help support your plants and flowers or just use it as an architectural statement!

March/April (throughout the school holidays)

Easter Colouring Competition

Colour in a butterfly or a fish. Prizes for the best ones at the end of the holiday.

Friends of Harrold-Odell Country Park Conservation tasks 2007

Come and join in with practical work to enhance the park for wildlife and visitors on the following dates:

Monday 25 February and/or Monday 31 March

10am – 3pm

Wear warm clothing and footwear.

Hot drinks provided.

Come for an hour or two or stay as long as you like.

All the events are free but donations are welcome.

Please contact us for further details

Tel: 01234 720016

Email:

hocp@bedscc.gov.uk

Village Hall News

Events

If you have an idea or can help with these let us know, and if you would like a venue for a private function, the very reasonable hire fee helps us maintain the hall.

Burns Night 2008

By the time the magazine is printed the Burns Night will have taken place in the Village Hall on Saturday 26th January. A full write-up of the event will appear in the March magazine.

Cheese and Wine Party

Date: 16th February 2008, time: 8:00pm.

Tickets: £5 including a glass of wine and cheese buffet (bread, crackers, pâté, chutneys, cheese and nibbles). Licensed bar.

Tickets from Nicki-720893 & Karen-721590

Waste Paper Collection - Thank you for bringing your waste paper to the bins. Though the return is small, every little bit helps financially and of course the waste is recycled.

Do please support our events, and do suggest to us your ideas for alternative activities. Rob Lee (720730) on behalf of the Village Hall Committee.

Friends of Harrold Medical Practice

Annual Report

This has been another successful year and I would like to thank the Friends for their continued support.

The quarterly meetings have been well attended and have allowed the Friends to keep up to date with the services provided by Harrold Medical Practice and the local PCT. However our numbers are dwindling and we urgently need new members. If you are interested in having your say on, for example, what health care services you would like to see in our area or what improvements the Practice can make, please come and join us. We need representatives from all the villages who have patients that use Harrold Medical Practice.

Our income this year, mainly from very generous "In Memoriam"

donations and over £500 from book sales, has enabled us to continue helping Harrold Medical Practice in a number of ways, in particular by

improving the lighting in the waiting room, and renewing the liquid nitrogen contract (this is an annual commitment form the Friends).

If you would like to find out more about the Friends and the work that we do please contact Frances Hirst, tel. 01234 825212.

The Mill Theatre, Sharnbrook

Reg. Charity No 242164

11th – 15th March 2008 at 7.45 pm

The Importance of Being Earnest

- The Classic Comedy of Manners

Definitely not to be missed!

Tickets available from 4th February from

Sharnbrook Post Office (in person)

& Bedford Central Box Office 269519

Advance Booking for our Regional Première of the musical

The Fix:

16th – 24th May at 7.45 pm

will be available, only at Theatre, during The Importance of Being Earnest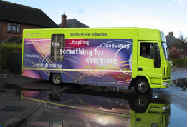 Bedfordshire Libraries
Mobile Routes Feb – Mar 08
The mobile library will visit fortnightly on Thursdays as follows:
(Jan 31st),
Feb 14th, 28th.
Mar 13th, 27th.
Odell
The Green 13.50 – 14.05
Sharnbrook
Pinchmill Close 14.15 – 14.30
Loring Rd/Lodge Rd 14.45 – 14.55
Home Close 15.00 – 15.55
Stileman Way/
Grange Gardens 16.00 – 16.40
Free insulation for over 70s
100% grant funded loft and cavity wall insulation is now available to all residents aged 70 years and above. This offer, which became available earlier this year, is made irrespective of your income and savings and whether or not you are in receipt of benefits. In fact, the only requirement is proof of age and name and address.
For most households, insulating has never made better financial sense. Following autumn's record oil prices and surging wholesale gas and electricity prices, insulation could be our last best defence against rising energy bills in 2008. All homeowners and private tenants qualify for discounted loft and cavity wall insulation. Fully insulating your home could easily reduce your fuel bills by £100 a year. The payback time is typically short and the long term financial and environmental benefits are high.
For more information, contact the Energy Efficiency Advice Centre on 0800 512 012.
Diary
4th 7.30pm Alpha course with supper; meet at Rectory
6th 10.30am Meeting Point at Catherine's, Manor Cottage, Harrold
12th, 19th, 26th 10.30am Lent Group, 1 Carlton Rd., Harrold
12th 7.30pm W.I. Village Hall
12th, 19th, 26th 8.00pm Lent Group 40 High St., Harrold
12th,20th, 27th 8.00pm Lent Group 15 Beeby Way Carlton
14th,21st, 28th 10.30am Lent Group 23 Pavenham Rd Carlton
14th,21st, 28th 1.30pm Lent Group 46 Harewell Way, Harrold
16th 9.45am All Saints' Amblers meet outside The Bell
18th 7.30pm Alpha course with supper; meet at Rectory
20th 10.30am Meeting Point at Sarah's, 9 Horsefair Lane
25th 10am HOCP Conservation Tasks
25th 7.30pm Alpha course with supper; meet at Rectory
Magazine Deadline
Please send all entries for the March 2008 magazine to Tricia Hudson (mag1@odellbeds.net) or Catherine Corkery by February 12th 2008 at the latest. May we remind you that the editorial team exercises the right to edit, shorten or alter any items that are submitted. Also, the opinions expressed in the articles are those of the contributors and are not the responsibility of the editorial team.
Great local pubs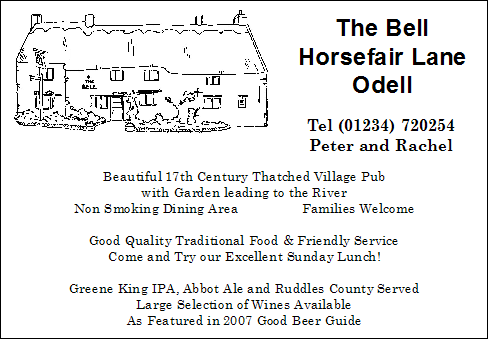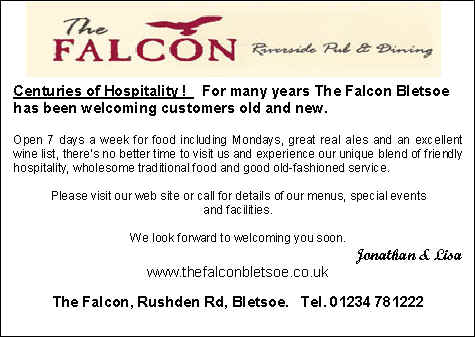 ---
Last revised: February 09, 2008.