ODELL VILLAGE NEWS
October 2007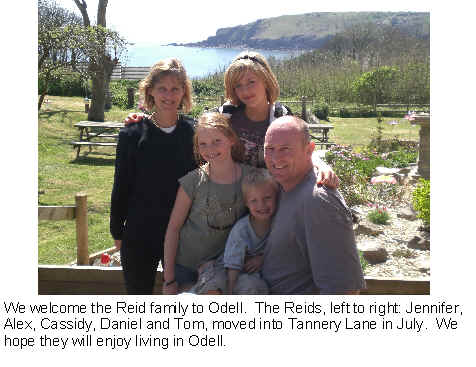 Round and About
Of Such Stuff Legends Are Made
It is amazing how, over the course of time, we have allowed writers and film producers to alter our perception of historical events. Hollywood, for example, loves the rich splendour and pageantry of what it calls historical drama but in its search for "a good story" stretches the truth. Why let facts get in the way of a good yarn! It is not just Hollywood, Shakespeare was not averse to bending the truth somewhat. Somehow, over the years, these exaggerations now appear to have been accepted as a part of the facts.
Take that wonderful story of Queen Boudicea leading her army against the Roman invaders, driving all before her as she reclaimed the Eastern Counties.
Today we perceive her leading her forces in chariots with great knives attached to the wheels, cutting a swathe through the Roman legions. Alas, alas … if only this were true – but what a great story it makes. Sadly those cutting blades were not a part of history. Many early armies tried to drive chariots with blades on their wheels but they proved wholly unmanageable and the chariots crashed and overturned when driven across country. An early chariot of Boudicea's time was recently recovered from the mud of The Fens. It had solid wooden wheels with a low platform slung between and a handrail to hold on to. The only horses native to England at that time were little more than robust ponies, known for endurance rather than speed. It makes for a good spectacle – but Boudicea's forces managed their brief rebellion without the aid of such vehicles. That one, it appears, is down to the Victorians.
Popular stories would have us believe that Julius Caesar was born by caesarean section – hence the name – but this could not possibly be true. The operation was certainly carried out in Roman times but, although this would occasionally save the life of the child, the mother always perished. Even if she did not die under the knife, at best she lingered only for a few days. Caesar's mother, however, is known to have lived on for many years.
History has not been kind to the Philistines. Today the word implies that someone is ignorant, unrefined and tasteless. However, the Philistines were one of the most highly civilised people of the age. Successful merchants, skilled producers of pottery and metal tools and sophisticated architects and town planners. They were, in fact, a powerful trading and industrial nation.
Richard III, we are told, had a hunched back and a withered arm. There are no records to support this fact. To the contrary, records show that he was a great soldier, a skilled swordsman and regularly took part in jousting. All this would not have been possible had he any disability. No, this one is down to Shakespeare – but it provided good theatre.
Popular legend would have us believe that Nelson wore an eye patch. Today, it is almost a part of his persona. Records, however, say that he did not wear one … he had no need to. True, he was blind in his right eye but there was no disfigurement. The idea of a patch probably arose from the fact that he sometimes wore an eye shade to protect his remaining eye.
King Canute, so legend says, sat at the waters edge and commanded the waves to go back. Now this is a shame and a complete reverse of what records say happened. Canute was a wise and clever man and was horrified to hear his courtiers say that he was so great that he could command the very waves and tides to go back. Now, Canute, more wise than they, knew that this was not true. Eager to prove his point he had his throne carried down to the sea shore and sat there ordering the waves to go back until the sea swirled about his feet. He considered he had proved his point that God was mightier than man … even when that man was a King. History, however, has remembered it otherwise and recorded him as a stupid man!
On the subject of the sea, two salty tales. Did pirates really make prisoners walk the plank? There is no evidence to support this. They certainly tortured their prisoners, they marooned people on islands and, indeed threw prisoners overboard – but they did not, it seems, make them walk the plank. This is Hollywood in search of that "good story". My second seafaring tale concerns another Hollywood myth … that the Romans used slaves and prisoners to man the oars of their war galleys. The Romans always used "free" men for this purpose, and paid them well. Slaves could not be trusted to act in the best interests of their masters – especially in combat. If they wrecked the galley they stood every chance of gaining their freedom from those who captured the ship. The same could also be said of the men who built the Egyptian pyramids. These were built by free men who received wages, housing, food and medical care while working for the Pharaoh.
Lastly, I come to Dick Turpin … that swashbuckling ladies man who loved his horse, Black Bess. A noble minded highwayman – a true gentleman of the road … or so legend goes. History, however, has recorded him otherwise. Records show him as a ruthless, vicious and violent thug who murdered his own partner. However, he was seen as a celebrity criminal at the time, and when he went to the gallows in 1739 he "made a good death". In other words he went bravely. Fifty years later he was all but forgotten. The legend of Dick Turpin and his loyal horse Black Bess belong to a writer called William Harrison Ainsworth who wrote a novel in 1834 about highwaymen. Researching his subject he resurrected the name of Dick Turpin and attributed to him every act of derring do of every highwayman that ever existed. Prior to the book there had been no mention of Black Bess. Ainsworth also created that famous ride to York. His public loved the book and thus a legend was born.
When in pursuit of a good story … should you allow the truth to get in the way? Writers and Hollywood have proved that it pays to follow the legend every time.
Barbara Corley
Birthday Greetings To:
Lottie Robinson on 18th October and to anyone else with a birthday in October.
Monday Club
Monday Club - a club for 5-11 year olds— meets at the Rectory, 3 Church Lane,
every Monday from 5.30pm to 6.30pm.
Games, Activities, Crafts, Bible stories, Music, Drama
Encouraging children to think about
the world they live in, their contribution to it and where faith fits in - while having fun!
For details contact: Sue Robinson 720113 or Christine Clark 720234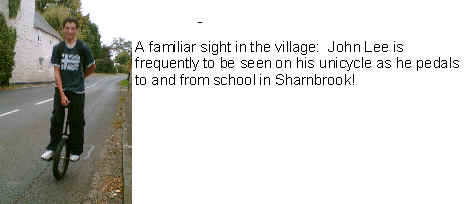 Art Classes
A new season of Art Classes is on offer at the United Reform Chapel in Harrold - every Thursday from 10.30 to 12.30. This mixed ability class for watercolour and pencil is led by Mr Ian Kellie - cost £4 a session. No need to book, just turn up!
Odell Luncheon Club
Senior Citizens Harvest Lunch
The annual senior citizens' harvest lunch will take place
in Odell Village Hall on Wednesday 3rd October
12.30 for 1.00pm
All senior citizens are invited
W.I. NEWS
We were pleased to welcome two speakers to our meeting this month: Anne Jackson and Sue Brown. They had come to talk to us about the Belarus Shoe Box Appeal. Sue told us how she had got involved through a family member whose stories about the country had moved her to tears. She gave us a short introduction to the history of the country over the last 50 years and this explained how the people had become so poverty stricken.
Anne then took over and gave a slide show of photographs she had taken last year when she had accompanied the trip to distribute the gifts.
They were very inspiring with the effort they put into this cause and we all left determined to do our bit to support them.
NEXT MEETING
This will be held on Tuesday October 9th at 7.30 in the Village Hall. We are going to discuss the topic 'How would you increase public spending?'
COMPETITION
Words of five or more letters from National Health Service.
HOSTESSES
Christine Devereux & Roberta Goodman
Rachel Halton 720572
W.I. Jumble Sale
Saturday 13th October
2.00pm
Odell Village Hall
Entrance 50p
Books Bric-a- Brac Nearly New Cakes Plants
Parish Council News

A meeting of Odell Parish Council was held on Monday, 17th

September 2007 at 8.00 p.m. in Odell Village Hall.

Village Hall Sign:

Cllr. Cheadle had dealt with the purchase of the new sign for the car park area and this was on view at the meeting. Cllr. Cheadle will arrange erection of this with Mr. C. Swift.

Local questionnaire: This is now ready for distribution; in the absence of the Chairman and Vice Chairman the questionnaires will be lodged with Cllr. Cheadle who will pass them to the Chairman on her return. These will be allocated to Councillors to distribute to all residents in their near vicinity as on a previous occasion.


Grazing field: This has now been re-let to Vivienne Croxford from Sharnbrook and the first half year's rent has been paid.


Village Hall Update

There has been no response from the Village Hall Committee regarding the new lease, so it is assumed this is satisfactory and can therefore be signed at the next meeting.
Cllr. Cheadle updated the meeting on the approach to the County Council regarding a play area in the Country Park. This was favourably received by the Country Park representatives but is now with the County Council for their consideration. The outcome is not expected to be known before the end of the year.
Negotiations are ongoing regarding the purchase of the car park and the upgrading of the emergency exit and it is hoped these matters will be finalised.

Borough Council matters


The Borough is currently undertaking its three yearly review of its Licensing Policy. The full policy can be viewed at the Council's website at www.bedford.gov.uk/licensingpolicy where it is possible also for comments to be made.

Cllr. Charsley said there is no perceived movement on the proposed Wind Farm at Nunns Wood and the Borough timescale on this is unknown. The proposed mineral extraction between Carlton and Felmersham has not been short listed by the County Council for further consideration. However the small scale quarrying of local limestone at Pavenham MD18 is to be listed. The document can be viewed at http://consultation.limehouse.co.uk/bedfordshire/drafts/12/index.html


The Borough Council is thinking of extending the licensing-related scheme currently operating within the town to the rural areas - Bed safe? – and to this end a fund has been provided to rural Borough Councillors to cover any associated costs.
County Council matters
The Liaison Forum is to be continued but in a new format and the first meeting was held on the 3rd September. Notification of this arrived too late for the Odell Parish Council representatives to be able to attend but the date of the next meeting has been set for 3rd December when the Constitution will be discussed. A grant of £2500 has been allocated to Cllr. Mrs. Gershon and there was a proposal at the September meeting that instead of splitting this between all the parishes, it could be allocated to one good cause within the Harrold Division and the Country Park was suggested as a possibility. This is also to be discussed further at the next Liaison meeting.

Highways: Cllr. Crotty said that just over 200m of new pavement had been completed under the Partnership Scheme and this now used up all the available money for Odell. The weeds had also been cleared. Celia Sellars had visited and in discussion with Cllr. Crotty said she will try to get the small potholes repaired that they identified on their walkabout, and will also try to get something done about the drains that cause repeated problems.
Cllr. Cheadle remarked on the encroachment of the grass onto the path from the Mad Dog which has reduced the actual size of the footpath to an unacceptable level and needs cutting back some 15 inches or so to make it safely accessible. The possibility of spraying was also raised and Cllr. Crotty will raise these issues again with Celia Sellars.

Finance: The annual accounts have been signed off and returned by the External Auditors.
A donation of £70 was again approved for The Villager.

Specifically for the business of the meeting
Cllr. Crotty commented on the foliage currently obscuring the 30mph sign. Cllr Cheadle said that despite his approach to the householder and a letter from the Clerk, nothing had been done, so it was suggested the Clerk should ask the County Council to take action.
Cllr. Harrison remarked on the fact that the very nice bench on Hartles Hill now had no view as it was impossible to see either through or over the hedge.

Cllr. Crotty again expressed concern over the 'bulge' in the Castle wall; Cllr. Cheadle said this was inspected as a result of a request but he does not know the outcome of the inspection. Cllr. Harrison commented that walls of this type have a particular problem as there is no drainage at the base and the water therefore collects and builds up. Cllr. Gemmel noted that from his house he could see a dead tree that appeared to be located in the immediate area of the bulge; some concern therefore that if this is the case, it could be a potential danger.

Date of next meeting: Monday, 19th November 2007
Roma's Rebels
'Roma's Rebels' (the line dancing girls ) celebrated their 2nd birthday in the Village Hall in September. They meet there every Wednesday evening and step the night away, not only helping to support the Village Hall but donating ALL profits to Harrold Medical Practice.
So far they have given over £2,000 to the surgery thus enabling them to purchase much needed equipment such as blood pressure monitors, Tens machines, a wheelchair, a 'charity brick 'a bicycle stand and recently a new machine ( on order) to help asthmatics, costing over £1,000 !!!
I felt that the 'Rebels'' generosity should be made known to us, the villagers, who may need the use of some of this equipment in the future, or like me, have already had the use of it !!!
Well Done. Kathy Dunn.
Roma would welcome anyone interested in the group to drop in on her class any Wednesday evening.
The Ladderback Chair and the Honeybee
The ladder-back with safety-pin
Holding down her cushion thin
Declined an invitation from her friend the honey bee.
The invitation that she'd had
Originally made her glad,
She always thought she'd like an invitation out to tea.
An invitation such as this

Was all that any chair could wish,

The honey bee enjoyed a reputation hard to please.

She'd never been known to invite

A creature who could not delight

Her, with their wit and conversation fluently at ease.
Alas, alack, the ladder-back
Was just about to answer back,
In fact she'd asked a spider if he'd say she'd love to come
When suddenly the dresser near
Said, "Chair legs aren't for walking ,dear"
No wonder that her spars and rails turned noticeably glum.
With great reluctance she declined
And hoped her friend would not much mind,
She also pointed out her inability to travel.
Imagine her delight again
When flying past the window pane
The friendly honey bee arrived, the mystery to unravel.
The reason why a chair can't walk
Gave further rise to lengthy talk
And soon a proposition formulated by the bee, was
In the circumstances
Ignore the dresser's glances
She'd fetch the necessary things and there would make the tea.
And so established this became
That chair and bee soon grew to fame.
The bee was so delighted with her conversation charms
That often in the evening
The bee would for the chair bring
A little pot of beeswax to enhance her wooden arms.
by Roger Jackson
French and German Classes in Odell
Have you ever wished that you could speak a foreign language or that you had kept up your language skills?
I have taught French and German for 10 years at a local secondary school and have worked as an Adult Education Tutor for Modern Languages evening classes.
From September I have been offering daytime or early evening classes of no more than 4-6 people at Beginners, Intermediate or Advanced levels. Learning is in small, friendly groups that give you the confidence to make good progress at a pace that suits you. Lessons are tailored to the needs of the individual groups but we are concentrating initially on the language required for holidays in French/German speaking countries.
For more information please telephone Janet Hall (01234 720682)
The Second Harrold Craft and Food Fayre
Saturday 6 October 10am to 3pm, Harrold Centre
Don't miss this unique opportunity to buy
locally-produced food items, crafts, gifts
and plants – all at very competitive prices.
Put the date in your diary
Come and do some early Christmas shopping!
Free Entrance. Refreshments
Harrold Badminton Club
Harrold Badminton club is looking for new members!
We meet at Harrold Priory School Hall every Tuesday, from 7-10pm.
For more information ring Peter Coleman on 721909
Christmas Shopping on your Doorstep!
A coffee and cake morning

in aid of

St. John's Hospice, Moggerhanger,

will be held at

Rose Cottage, High Road, Felmersham,

on Tuesday October 2nd

from 10.00am-1.00pm.

Everyone welcome.

Exclusive jewellery and accessories

Phoenix Cards and Stationery

Harrold-Odell Country Park

Carlton Road, Harrold, Bedford MK43 7DS

News and Events

During October the Visitor Centre and Café will be closed for maintenance work and improvements to take place. The toilets at the Park will be open as much as is practically possible during this time. Please look out for details at the Park, in newsletters and on the Friends' website

www.hocp.net as to when the Centre and Café will be re-opening. Rangers will be on duty as normal and the events

programme will take place as scheduled.

Fishing has started. Non-members need to join VAUXHALL ANGLING CLUB. Contact 07963 641463 email VauxhAc@yahoo.co.uk

If you already a member please stay within the designated zones.

The Big Draw

Sunday 21st October 1 – 4pm

Charcoal Making and Drawing

"Drawing it Together!". Use wood from the Park and make your own charcoal. Try oak, ash, alder and lots of other types to make your drawing. Prizes for the best ones!

Just come along to the Park on the Day.

Christmas Decorations

Sunday 25th November 1 – 4pm

Make some decorations for your home.

Using cones, twigs and greenery from the Park make some wreaths, trees, etc. The choice is yours.

Please reserve a place on this session.

Events are free of charge but donations are always welcome.

Friends of Harrold-Odell Country Park Conservation tasks 2007

Come and join in with practical work to enhance the park for wildlife and visitors on the following dates:

Monday 29 October Monday 26 November Monday17

December.

All tasks start at 10am and finish mid afternoon, but you only need stay as long as you want.

Tel: 01234 720016. Email: hocp@bedscc.gov.uk

The Mill Theatre, Sharnbrook

Richard Morris' high-spirited 1930s Musical Extravaganza

Thoroughly Modern Millie

16th - 24th November, 7.45 pm nightly - and Matinée 24th November

Tickets available from Monday 8th October from:

Sharnbrook Post Office (in person) or

Bedford Central Box Office, 269519 (*credit/ debit cards accepted).

Parties: 10% Discount for 10 or more (excluding Charity Gala or Revue Performances).

Disabled Access: Lift, 2 Wheelchair spaces, easy access seating (3 steps). Please book early!*

and for Patrons and Performers to look forward to:

Tues. 11th – Sat. 15th March 2008

Oscar Wilde's classic play The Importance of Being Earnest

Workshops: Tuesday 27th & Thursday 29th November

Auditions: Sunday 2nd December 2007

Friday 16th May – Saturday 24th May 2008

The challenging and moving, contemporary musical The Fix

Workshops: Monday, Wednesday, & Friday 3rd, 5th & 7th December 2007

Auditions: Sunday 9th December

Enquiries to: Enid Cooper 708432

Village Hall News

Events

If you have an idea or can help with these let us know, and if you would like a venue for a private function, the very reasonable hire fee helps us maintain the hall.

Coming events:

13th October – Quiz

. As usual, teams of up to six. Book your table now, as this event is very popular!

17th November – We're hoping to have an Irish Theme Night in the

Village Hall. More information next month.

Do please support our events, and do suggest to us your ideas for alternative activities.

Waste Paper Collection - Thank you for bringing your waste paper to the bins. Though the return is small, every little bit helps financially and of course the waste is recycled.

Rob Lee (720730) on behalf of the Village Hall Committee.

Diary

October

2nd 10.00am Coffee and cakes in aid of St John's, Rose Cottage, Felmersham.

10th 10.30am Meeting Point at Eileen's, 24 Church Hall Road,

Rushden.

3rd 12.30 Senior Citizens' Harvest Lunch, Village Hall.

6th 10am Harrold Craft and Food Fayre, Harrold Centre.

9th 7.30pm W.I. Village Hall.

13th 2.00pm W.I. Jumble Sale, Village Hall.

13th 7.30pm Quiz, Village Hall.

17th 10.30am Meeting Point at Jill's, Rectory Farm.

20th 9.45am All Saints' Amblers meet at The Bell.

21st 1.00pm Charcoal Making and Drawing, HOCP

29th 10.00am Conservation Tasks Day, HOCP.

31st 10.30am Meeting Point at Doris's, Goodly heritage, The Bury, Pavenham.

November

3rd 10.00am Fairtrade Café, Village Hall.

17th Irish Night, Village Hall.

19th 8.00pm Parish Council Meeting, Village Hall.

26th 10.00am Conservation Tasks Day, HOCP.

Magazine Deadline

Please send all entries for the November 2007 magazine to Tricia Hudson (mag1 at odellbeds.net) or Catherine Corkery by October 12th 2007 at the latest. May we remind you that the editorial team exercises the right to edit, shorten or alter any items that are submitted. Also, the opinions expressed in the articles are those of the contributors and are not the responsibility of the editorial team.

Great local pubs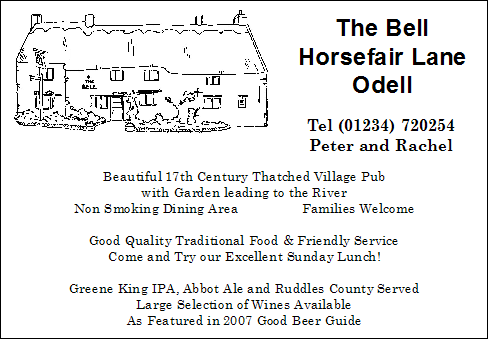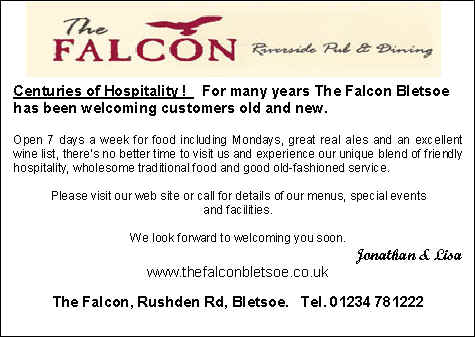 ---
Last revised: October 07, 2007.