ODELL VILLAGE NEWS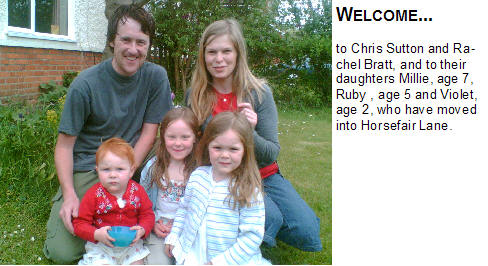 Round and About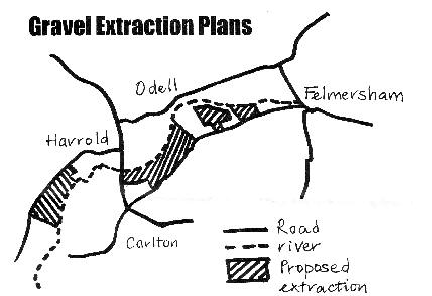 To Quarry or Not to Quarry
Bedfordshire County Council are drawing up plans for future quarry work in the County and they have their eyes firmly fixed on the R. Ouse valley between Felmersham and Carlton for one of these proposed sites.
They are asking for the opinion of local communities likely to be affected by such work and although the consultation meetings organised for this area are now past, I am placing before you what I feel would be the effect of such quarrying operations on this parish.
At the moment we are dealing with the planning stage and matters are yet to be finalised, but it is fair to say that Harrold and Carlton would appear to have already fought off plans for the river meadows lying between their two villages and now it is up to those of us who do not fancy the idea of quarrying for sand and gravel on the other side of the river to the parish of Odell to voice our opinions. It is time to contact the County Council and tell them, as individuals, why we oppose such work being carried out in this area. To tell them of the adverse impact it would have on the environment of this community from both a visual and noise point of view, let alone the effect it would have on the river itself and the wildlife. I understand the Parish Council have objected and it is now the turn of individual residents.
It cannot be doubted that the noise factor alone would be considerable. Just consider the amount of noise we hear when just one farm tractor is at work in the fields across the river. Magnify that by the size and engine capacity of several huge earth-moving vehicles constantly tearing into the valley surface, together with all the other ancillary equipment that would go with it. The sound would echo from one side of the valley to the other, shattering the peace and tranquillity of the area. This would be noise pollution on a grand scale. Probably work would take place seven days a week, twelve months a year and they are talking of the site continuing for twenty years!
The entire area of land involved in this proposed project is in three blocks. That most central to Odell lies in the fields on either side of the Bridle Path from Odell Bridge (The Mill) to the Felmersham top road (Site MD 49). A second block lies between this and Felmersham (Site MD 46) and the third block runs along the valley to the bridge at Carlton (Hill Farm, Chellington). Whether this will be one continuous site is not clear to me at this stage.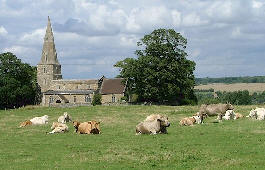 These sites contain areas of archealogical interest. Whether they intend to tamper with the lost village of Chellington I do not know, but this is the site of a plague village and seems to be somewhat distasteful. Then there is Chellington Church itself. The church dates from the 13th c. and has recently undergone expensive refurbishment, supported by the Heritage Trust, local charities and residents to convert the premises into a retreat with leisure facilities. This conversion took place as recently as 2/3 years ago and is just beginning to get on its feet. Whether people seeking a quiet retreat in the peaceful tranquillity of the countryside will fancy being in the middle of a working quarry seems doubtful.

Another victim of these proposals must surely be the Daisy Bank Kennels and Grooming Parlour. Whether caring owners would choose to leave their treasured pets (both dogs and cats) trembling on the brink of such earthworks is open to question. The sound alone would terrify most animals, let alone those already bereft of their owners and home comforts. I would suspect that both the Chellington Centre and the Daisy Bank Kennels risk falling on hard times.

Our lovely river is currently running clean and pure. Ask the fishermen, they regularly pull out fish that can weigh anything up to 30 lbs. How long would this continue? The area is a flood plain constantly overflowing its banks. How long, I ask, before the water gets polluted. What effect will this have on the wildlife? There are deer and foxes, sometimes the badger wanders by. The river itself is home to our precious colony of otters and these animals require peace and quiet. If the waters are affected what will happen to these lovely creatures, to say nothing of the waterfowl, kingfishers and heron?

Yes, I know, there is a great need for sand and gravel, it will provide jobs for people - but I suspect not local. I daresay, in due course, the land will be restored to us, in one form or another. However, the big holes that will be left behind after the quarrying will change the water level of the river - it cannot help it. The area may well be turned into a nature reserve (we only have to look at the Country Park) but this will take about thirty years to achieve....after the work has been completed.

We also have to consider access. This may well not affect us directly but our local bridges will not carry, either in weight or width, the heavy vehicles using the quarry site. Neither will the Felmersham top road provide a suitable access. It is not exactly renowned for being either very wide or very straight. The access at either end of this road is within a village. The road is narrow with property on either side. There is only one thing they can do and that is to drive in a new access road. They would have to compulsorily purchase yet more productive

farmland just to bring in this access road and thus spoiling the area even more.

With proposed wind farms on one side of the valley and quarry work on the other we seem to be in danger of becoming a village within an industrial site.

We have been asked to submit our views and I have to admit that I have used this article to express how I feel. Please do not leave it to someone else...if we all leave it to someone else our views may never be expressed until it is too late. The Council have set out the following details:

Proposed sites: 46 Felmersham, MD 49 Felmersham/Odell, Land at Hill Farm, Chellington.

Internet: To view consultation documents - www.Bedfordshire.gov.uk and follow links to Environment and Planning, where there will also be a site to register your comments.

To write or Email (but please do not telephone). Make clear which sites you are talking about.

To write: Minerals Plan, Minerals & Waste Planning Team,

Bedfordshire County Council, County Hall, Cauldwell Street, Bedford. MK42 9AP

E Mail: mwplans@bedscc.gov.uk

Barbara Corley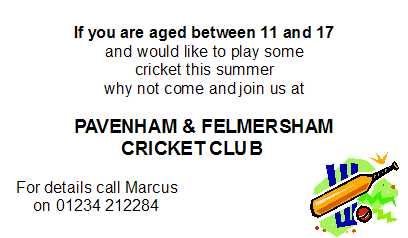 Events over the Fete Weekend in Odell:
Friday 8th June
Don't miss the setting up 2.00 – 7.00pm on Friday 8th June
Everyone welcome – come whenever you can!
-if not-

see you all on Saturday for a wonderful family day at our

traditional village fete – by the riverside
also
Sunday 10th June
All Age Church Service at the fete ground followed by a magnificent BBQ to thank Horsefair Lane residents and all the helpers and their families.
Saturday 9th June at 2.00pm
Odell Village Fete and Dog Show
In Scout Field, Horsefair Lane, Odell
Entry Adults £1.50, Children Free
Attractions
Stantonbury Brass Band
Boys Brigade
Teas Children's Tombola Ice Creams
Tombola Cakes Beat the Goalie
Books Refreshments Bottle Stall
Coconut Shy Children's Sports White Elephant
Produce Gifts Many Side Shows
Raffle Dog Show
Programme of Events
2.00pm Grand Opening by Mrs Noreen Sturridge
2.00-4.00pm Dog Show
4.00pm Judging of Children's Competitions
4.30pm Raffle Draw and Prize Giving
Family Dog Show
(entry fee - £1 per dog per class)
Classes:
1. Children's Handling (14 years and under)

2. Puppies under 1 year

3. Country sporting dog or bitch

4. Best rescue or re-home dog or bitch

5. Best condition dog or bitch

6. Dog or bitch with most appealing eyes

7. Best cross-bred dog or bitch

8. Dog or bitch the judge would most like to take home

9. Best in show
Fete Committee Painting Day
Painting of signs etc. for the fete will take place at Jim and Doreen Wheeler's, Linden House, High Street, Odell, on Monday 7th May from 10.00am.
There will be a lunch time bar-b-q for helpers - please let Doreen know (720358) if you wish to stay for this. Bring your own meat, salad provided.
Odell Monday Club
a club for 5-11 year olds -
5.30pm – 6.30pm
at The Rectory
3, Church Lane, Odell
Games, Activities, Crafts,
Bible stories, Music, Drama
Encouraging children to think about
the world they live in,
their contribution to it and where faith fits in - while having fun!
For details contact: Sue Robinson 720113 or Christine Clark 720234
Thank You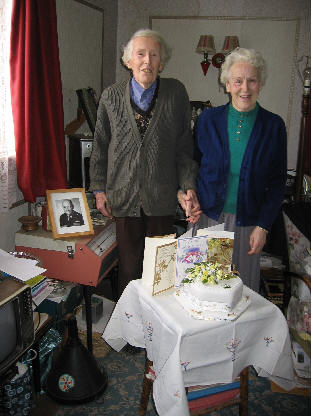 We would like to say thank you to everyone who helped to make our Golden Wedding Day so special: to all friends from near and far, and for the lovely cards and flowers, and to everyone at All Saints' and for the gift and card. Thank you, too, to Christine, for such a lovely prayer.
Many thanks too to Doreen and Jane for yet another surprise when we went to Emmaus for lunch – another cake and a lovely flower decoration and everything looking very golden! It was a lovely week to remember.
With love, Eileen and Walter.
Alistair Burt Surgery
Alistair Burt, MP for NE Bedfordshire will be holding a surgery at the Harrold Centre on Saturday May 12th, 10.00am until 12 midday.
Midsummer Party
at
Harrold Playing Field
Saturday June 16th
7.00 for 7.30pm until late
Tickets £28.00 Tel: 720638
All proceeds in aid of Harrold Cricket Club and Harrold Lower School
French and German Classes in Odell
Have you ever wished that you could speak a foreign language or that you had kept up your language skills?
I have taught French and German for 10 years at a local secondary school and have also worked as an Adult Education Tutor for Modern Languages evening classes.
From April/May I will be offering daytime or early evening classes of no more than 6-8 people at Beginners, Intermediate or Advanced levels. You will be learning in small, friendly groups that give you the confidence to make good progress at a pace that suits you. Lessons will be tailored to the needs of the individual groups but we will concentrate initially on the language required for holidays in French/German speaking countries.
For more information please telephone Janet Hall (01234 720682).
The Annual Meeting of Odell Parish Council held on Monday, 19th March 2007
Chairman's Report 2006-2007
The Parish Councillors are myself, Mrs. Rachel Halton (currently Chairman), Mr. Brian Cheadle Vice Chairman, Mr. Paul Crotty, Mr. Jonathan Harrison, Mrs. Amanda Sharpe and Mrs. Suzanna Swift. The Borough Councillor is Mr. Nick Charsley, the County Councillor is Mrs. Phyllis Gershon and our clerk is Mrs Mavis Knight.
I now propose to give a brief summary of our work during the past year. This will bring together the information given to you in the reports in the Parish Magazine throughout the year.
During the past year the Parish Council has expended a great deal of time and effort on the purchase of the Village Hall for the benefit of the community. We are grateful to the Rural Grants Committee of Bedford Borough Council for a very generous donation of £45,000, and to several smaller charities, which has allowed us to proceed with the purchase. Terms have now been agreed with the vendor and it is hoped to complete the transaction in the near future.
Cllr. Crotty continues to undertake the duty of Parish Liaison Officer with the County Council's Highways representative Celia Sellars.
Regular meetings have been undertaken in order that problems can be discussed and resolved. This year's work has included patching the road surface where necessary, reinstalling kerbing on Castle Hill, the installation of two bollards to protect the seat at the bottom of Horsefair Lane, the clearing of the footpath between the Little Odell junction and the Mad Dog, and with the money given to us under the Highways'
Partnership Scheme, the continuing improvement of the footpath from the phone box. It has also been agreed that some remedial work is required on the footpath between Little Odell and Odell.
The village seats have been inspected and a new bench has been ordered to replace the one on Hartles Hill. Our thanks to Cllr Cheadle who is undertaking its installation.
After investigating the options for grass cutting we are staying with our existing contractor but may use other contractors for specific jobs.
We have been advised that funding deliverable over the next four years is now available for remedial work to be undertaken on bridges in Bedfordshire. However we have not yet been informed of when work is likely to be carried out on Odell Bridge.
Various planning applications have been discussed over the year and the decisions of the Parish Council were reported back to the B.B.C. planning department.
The big issue is still the decision about the Podington Wind Farm and at the time of writing no date has been set for the proposal to be heard by the Council.
We heard a presentation from Paul Marsden about 'Cold Calling Areas'. The Councillors supported the idea but felt that they didn't want the signage that was available. Cllr Swift undertook on our behalf the distribution of leaflets which outlined the scheme and advised on what action to take.
We were pleased to welcome the present Mayor of Bedford Mr. Frank Branston to our meeting in September, together with Borough Cllr. Ian Clifton. He spoke about various issues and then welcomed questions from the Parish Council.
It was decided to support the Odell Luncheon Club with a donation of £300 as Councillors considered this a worthwhile community project.
Councillors undertake various duties throughout the year on behalf of the Parish Council and I thank them all. Cllrs Cheadle and Halton attend the North Bedfordshire Community Liaison Forum and were fortunate to obtain a small grant from them for the Luncheon Club. Cllr. Halton continues to liase with the Harrold and Odell Country Park Management. Cllr Swift was responsible for the Christmas tree and festive lighting and as noted above Cllr Crotty liases with the Highways' Dept.
This concludes the Chairman's Report for 2006-2007. Many thanks for your attention.
Other Matters
New seat:

Cllr. Cheadle has removed the old seat and assembled the new one ready for installation. This will be done when repairs to the base have been carried out.


Highways

Cllr. Crotty, has spoken to Celia Sellars again regarding the state of the pavement between Odell and Little Odell and was promised this would be in the programme for the next financial year. He had also reported the blocked drain at the top of Horsefair Lane and the continuing leak in the road near 123 High Street.
Cllr. Cheadle also said that at the recent Liaison Meeting he had spoken to Celia about the water on Hartles Hill. Although Anglian

Water has been to the site he does not believe it is a broken pipe but a blocked drain. Cllr. Cheadle said that when Horsefair Lane was resurfaced, he believed the residue was swept into the drains and hence there is a blockage between the first and second drain which is causing the problem.
Cllr. Cheadle commented on the intrusion of the grass onto the footpath, cutting the footpath area down some 15 inches or so.
He wondered if it would be possible for a party of Community Service Workers to undertake this clearance as it was noted a group of these had recently been working in the Country Park and at the Church. This route will be investigated.

Bedford Borough matters including Planning
Planning application 07/00529/FUL – stable block on land adjacent to Northend Farm – comments have been submitted.
Podington Wind Farm – papers received regarding objection letter from English Heritage with full response from consultants.



The dates for the rural skips to be placed in Odell this year are Sunday, 10th June from 12 – 3 p.m. and Sunday, 21st October from 12 – 3 p.m.

The Borough Council now has an Out of Hours Noise Patrol which operates every Friday and Saturday night between 9.30 p.m. and 2.00 a.m. to deal with noise from: Neighbours, Parties, Pubs and Clubs, Factories and Warehouses. Leaflets are available concerning this facility.


The Scrutiny Committee asking again for any areas the Parish Council would like to be considered during this coming year.

County Council matters



The tree surgery work which closed part of Footpath No. 26 has now been carried out.


Government White Paper


The Unitary Authorities part of this is under way with submissions being considered by Government. Their initial findings were due at the end of March after which there will be a local consultation period. Most other detail in the Paper is still under discussion so little point in considering now.


Parish Plan


Councillors expressed little enthusiasm for embarking on this exercise, even though it was pointed out that the Parish Council would not be heading any such scheme. It was felt there would be little enthusiasm locally so few volunteers could be expected to come forward. The Clerk tabled the Parish Plan from Steppingley which is viewed locally as a very good indicator for small parishes, together with the presentation given at the Cardington Parish Plan meeting by a representative from Stevington on the procedures and progress of their plan. These will be circulated and Councillors were asked to take time to study them to give a better insight into what goes into a Parish Plan and its preparation.


Finance


It was noted that the County Council's grass cutting contribution to Odell Parish Council this year will be £600.82, which is the same figure as last year so no increase!
Lubbock Fine's auditing contract expired in 2006 but this has been extended for a further year.
The financial bank movements shown on the cumulative accounts were discussed and noted.
The Chairman pointed out that the 9% increase showing on local Council Tax bills represented an increase of only £300 on the previous £3600 which was approved to provide a contingency as owners of the Village Hall. Also the Parish Council had promised a donation to the Luncheon Club now that the previous funding from the C.C. Liaison meeting has been discontinued..


Specifically for the Business of the meeting
Borough Cllr. Nick Charsley reported little of note with the exception of a new plan to remove the river protection – for the same reason as removing the protection from specific landscape areas.

An amendment was carried on the former proposal which means an emergency meeting is to be held on Wednesday where again the Council will try to remove the river protection; again the objectors will try to block this action.

Cllr. Halton proposed that the playing field area should again be included in the grasscutting contract now the Parish Council was the potential owner; even though much of it will be dug up it would be advantageous to keep it tidy.


The next meeting will be held on Monday, 21st May and will be the Annual General Meeting.

Rachel Halton

W.I. NEWS

It was a fun evening at the W.I. meeting this month, thanks to our excellent speaker Natalie Nardone. Her subject was Belly Dancing, in particular Egyptian Belly Dancing. She had trained in classical ballet but was unable for medical reasons to continue so branched into theatre and choreography work. When doing research for a particular event she stumbled across Belly Dancing and was instantly smitten, learnt how to do it herself and has been passing her skills on ever since.

Its origins go back to the worship of Gods and Goddesses with many of the dances celebrating the bringing of life and the fertility of women. Women rarely perform outside the home now but do dance as a form of entertainment within it, the skills still being passed on to the young girls. It was first seen outside Egypt at a World Exhibition in Chicago in 1894 when the dance chosen to be performed was loosely translated as the dance of the belly and the name has stuck.

She demonstrated two differing dances for us, one incorporated many of the elements of the traditional Belly dance and the other was a graceful dance with a veil.

It was then time for us to have a go, to try and copy some of the lovely graceful arm movements and delicate footwork. We were enthusiastic but definitely need a great deal more practice.

NEXT MEETING

This will be held on Tuesday May 8th at 7.30p.m. at the Village Hall. It is our A.G.M. and a chance to discuss this year's Resolution.

COMPETITION

None this month

HOSTESSES

Kathy Dunn & Doreen Wheeler

Rachel Halton 720572

Bell Odell Golf Society (B.O.G.S.)

The winner of the Bell Odell Golf Society Stapleford Competition held at Pavenham on 20th April was Ron Heatley (pictured below), with a score of forty points. He had a handicap of twelve, to be slashed for the next day! Ten members from Odell and the surrounding area took part.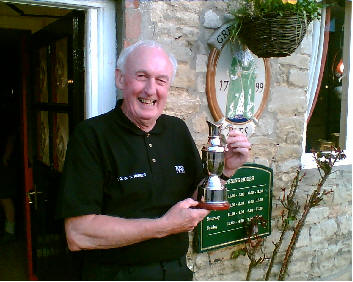 Steve Robinson
Ouse Valley Arts Festival 2007
Tuesday 1 May – 7.30pm. Forging Art for Pleasure, Sharnbrook Village Hall. £5 (£2.50 conc.)
Wednesday 2 May – 7.30pm. Quartet Camerata, Chellington Centre. £12 (£6 conc.)
Thursday 3 May – 8.00pm. Bedford Gallery Quire
St Peter's Church, Harrold. £10 (£5 conc.)
Friday 4 May – 7.30pm. Liquorice Allsorts Clarinet Quartet, The Barn, Carlton. £10 (£5 conc.)
Saturday 5 May – 7.30pm. Sights and Sounds of the Swing Era
Bromham Village Hall, £8 (£4 conc.)
Sunday 6 May – 7.30pm. Gary Seiling in Concert
St Leonard's Church, Stagsden. £8 (£4 conc.)
More detailed programme can be obtained from 01234 781372 and tickets for all events from Bedford Central Box Office (01234 269519)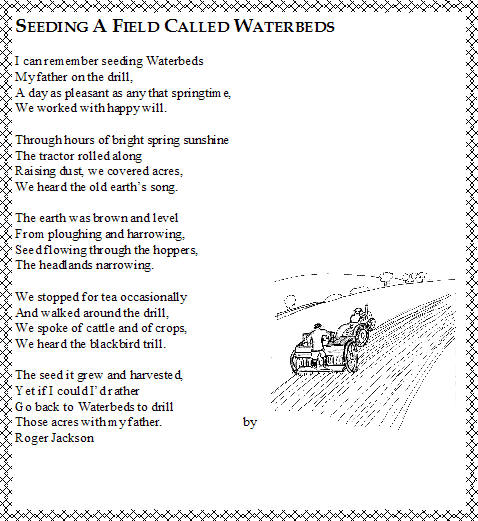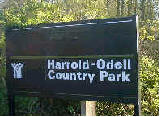 Harrold-Odell Country Park
Carlton Road, Harrold, Bedford MK43 7DS
During May why not take a look at the Country Park or go further afield and see what else the County Council has to offer in the way of countryside heritage. With lighter evenings it is a good opportunity to take a walk or a ride around and take the time to look at birds, animals, plus trees and plants.
Medieval Bank Holiday Weekend at Bromham Mill
May 6th and 7th - 10 a.m. until 4 p.m. A unique chance to come and catch a glimpse of medieval life, with craftsmen, living history, jousting and battles. Adults £5.50 and children £3.50.
National Mills Weekend – Saturday and Sunday May 12th-13th
Bromham Mill is open on May 12th and 13th from 1 pm to 5 pm. There will be a special demonstration on both days of traditional woodland crafts. The mill coffee shop and gift shop will be open with delicious cakes and the mill machinery can also be viewed. The Gallery will be open to see work by local artists some of which are for sale.
Advance notice – Bromham Mill Apple Day 2007 – Sunday October 14th
Stevington Windmill - May 12th and 13th open from 11am until 3pm both days, with a team of volunteers undertaking maintenance. Come and have a look inside and see how the windmill – a rare example of a complete post mill – works. Weather permitting, the sails will be turned and you may be able to help turn the mill itself on its central post!
May Festival at Moot Hall – May 12th
12-4pm Elstow Village Green – There has been a May fair on the Green for centuries. Join the fun with maypole dancing, refreshments, Morris dancing, and car boot sale. Moot Hall museum is also open and why not visit the Abbey as well?
Countryside Crafts at Harrold-Odell Country Park – May 27th 1 – 4pm
Join in with cutting willow to make charcoal, loading and unloading a kiln and setting off a burn. Using materials from the Park make a walking stick or learn how to construct a hurdle.
Friends of Harrold-Odell Country Park
Conservation tasks
Come and join in with practical work to enhance the park for wildlife and visitors on the following dates:
Monday 21 May and Monday 25 June
All tasks start at 10am and finish mid afternoon, but you only need stay as long as you want.
Group Visits
If you would like to bring a group of children to the Park, an event can be organised for them. Adult groups also welcome. Contact us for further details.
Events at the Park are free but donations are always welcome. Please contact us to reserve a place as numbers may be limited.
Tel: 01234 720016
Email: hocp@bedscc.gov.uk
Village Hall News
Events
If you have an idea or can help with these let us know. The Hall may be hired for a private function for a very reasonable fee.
Village Quiz, Saturday April 21st
The large number of teams entering the quiz proved the ever-increasing popularity of this event, with several teams from outside the village.
Once again the evening was hugely enjoyable, due to the great efforts of quiz master Rob and all his helpers on the evening.
The winning teams were: 1st, 'The Ad Hoc Luvvies'; 2nd, 'The Misfits' and 3rd, 'Brains Aren't Everything' (although they certainly helped on this occasion!).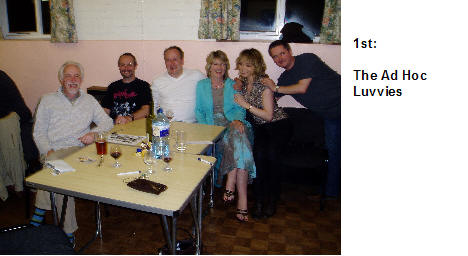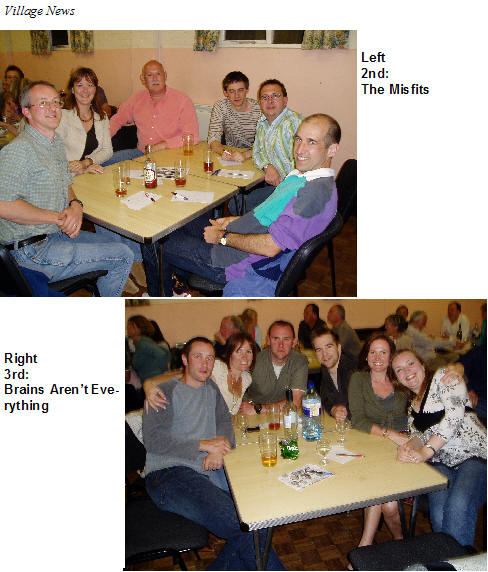 The Mill Theatre, Sharnbrook
Reg. Charity No 242164
Stephen Sondheim's A Little Night Music
Friday 27th April – Saturday 5th May at 7.45 pm.
Tickets are available NOW at Sharnbrook Post Office (in person)
or Bedford Central Box Office, 269519 (*credit/ debit cards accepted).
Parties: 10% Discount for 10 or more (excluding Charity Gala or Revue Performances). Disabled Access: Lift, 2 Wheelchair spaces, easy access seating (3 steps). Please book early!*
Last of the Summer Wine - Treading the Boards
Friday 25th May at 7.45pm.
This is a memorable evening of anecdote, song and stories from the show that is: 'Last of the Summer Wine' - see and hear Tom Owen, enjoy a glass of wine and benefit the Bedford Hospital Charity.
Tickets £10, to include glass of wine, available now from Sharnbrook Post Office, or 01234 356051.All profits to Bedford Hospitals Charity.
Diary
Tues 1st-5th 7.45pm A Little Night Music, The Mill Theatre.
Tues 1st 7.30pm. Forging Art for Pleasure, Sharnbrook.
Wed 2nd 7.30pm. Quartet Camerata, Chellington Centre.
Thurs 3rd 8.00pm. Bedford Gallery Quire, St Peter's, Harrold.
Fri 4th 7.30pm Liquorice Allsorts Clarinet Quartet, The Barn,
Carlton.
Sat 5th 7.30pm Sights and Sounds of the Swing Era, Bromham
Village Hall.
Sun 6th 7.30pm Gary Seiling in Concert, St Leonard's, Stagsden.
Mon 7th 10.00am Fete Working Day, Doreen Wheeler's.
Tues 8th 7.30pm WI AGM Village Hall.
Wed 9th 10.30am Meeting Point at Eileen's, 24 Church Hall Rd.,
Rushden.
Wed 9th 10.30am Sue Ryder coffee morning, Rose Cottage,
Felmersham.
Sat 12th 10.00am Alistair Burt surgery, Harrold Centre.
Wed 16th 12.30pm Christian Aid lunch Village Hall.
Sat 19th 9.45am All Saints' Amblers meet at The Bell.
Mon 21st 10.00am HOCP conservation tasks.
Mon 21st 8.00pm AGM Parish Council, Village Hall.
Wed 23rd 10.30am Meeting Point at Jill's, Rectory Farm.
Sun 27th 1-4pm Countryside Crafts, HOCP.
Magazine Deadline
Please send all entries for the June 2007 magazine to Tricia Hudson (mag1@odellbeds.net) or Catherine Corkery by May 12th 2007 at the latest. May we remind you that the editorial team exercises the right to edit, shorten or alter any items that are submitted. Also, the opinions expressed in the articles are those of the contributors and are not the responsibility of the editorial team.
Great local pubs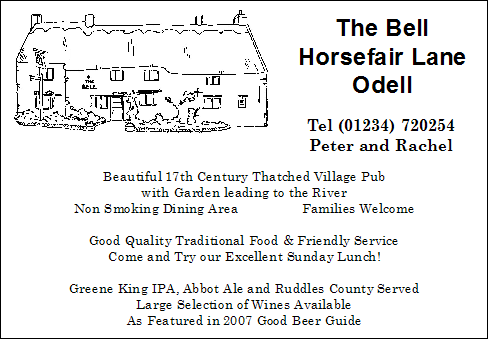 ---
Last revised: May 04, 2007.