ODELL VILLAGE NEWS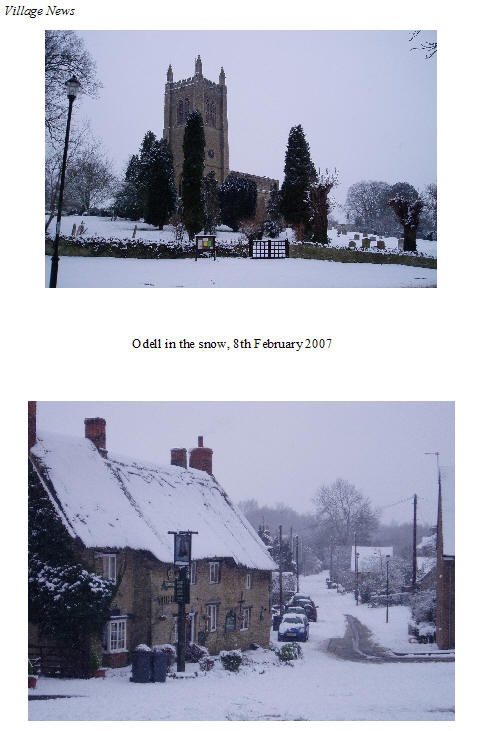 Fete Meeting
There will be a meeting in the Bell for Fete committee members and everyone else who is interested on

Monday, March 5th at 8.00pm.

A date for your diary: the Fete working day will be held on Monday 7th May.

Birthdays in March

Happy birthday to Liane Fulford on 4th March

And to everyone else with a birthday this month!

Round and About

Wellie, Fancy That!

Every morning and afternoon I pull on my Wellingtons and head for the Country Park. They are a part of my daily life and claim a prominent position in the cupboard. As I sit precariously on the edge of a chair to haul on this somewhat mundane and unpretentious set of footwear it seems an unlikely candidate as an item of high fashion.

The Wellington boot, as the name suggests, first saw the light of day at the request of one Arthur Wellesley, Duke of Wellington. As he marched his armies across the battlefields of Europe he craved a suitable style of footwear that would serve his daily purpose. He spent hours on horseback and this required a heel, he ploughed his way through muck and mud and he needed a waterproof form of protection for his feet and legs. He commissioned his London bootmaker, Hoby, to create such an all purpose item.

Galvanised rubber had not even been thought of, let alone invented, and the original Wellington boot was made of knee-high black leather with one inch high stacked heels and square protected toes, plain and functional they helped to win the Battle of Waterloo. On his return to England everything that the great man did became the centre of attention and his boots, of all things, became a fashion icon. It did not take Beau Brummel long to spot the potential of this kind of footwear and he commissioned a pair to be made by his own bootmaker, a trifle more shapely and stylish to be sure.

Within two years the beaux and dandies of High Society London declared it to be unseemly for a gentleman to be seen walking abroad in anything other than a pair of highly polished, knee high boots. Although some sported golden tassels and other such ornamentation these were all basically fashioned on Wellington's original boot. It did not take long for every aspiring male in the land to crave a pair of Wellington's boots and bootmakers were soon catering to the mass market. A Northamptonshire firm listed their price at one pound and five shillings (in today's money £63.50) and following this the price steadily came down.

At Wellington's funeral there was a mass-outpouring of public grief, as befitted the hero of Waterloo, and the sight of his riderless horse walking behind the funeral carriage with a pair of his famous boots reversed in the stirrups had such a great effect on the huge crowds watching the funeral cortege as it passed them by, that many onlookers were reduced to tears.

When Sir Robert Peel first unleashed his new-fangled police force (the Peelers) they were all kitted out with "wellies" - a term first recorded in 1845. From this date forward England explored the world and sent it armies to war wearing the good old "wellie", still made of leather, of course. In America it is said that they conquered the Wild West wearing a shorter version of the Wellington boot.

In course of time manufacturers discovered how to vulcanise rubber and it was not long before the rubber boot outclassed the original leather but now England was facing stern production competition from Goodyear in the United States and in the rush for raw materials rubber tycoons caused turmoil in the native forests of South America. A British naval officer, quick to see an opening, collected 70,000 seeds from the rubber trees in Brazil and carried them to Kew Gardens. Here the seedlings were nurtured and went on to help to create the British rubber plantations in S.E. Asia. By now the outraged Brazilian Government was too late to do anything about it.For the first half of the 20th c. rubber was all the rage world

wide. In 1903 it was declared the rubber boot was one of the greatest benefits of human use. The leather boot had seen our armies through many conflicts and now the rubber descendant came into it's own during World War I. They were of no use for marching or during attack but they were unsurpassed in the waterlogged trenches and offered protection against trench foot. They were much coveted by the Germans and in the noted Christmas Truce in 1914 when both sides left the trenches and exchanged gifts many a German soldier traded for a pair of Wellington boots. It was during this war that wellie whanging first appeared. Bored troops, trapped in the trenches, helped to pass the time by trying to hurl a boot into designated craters. A form of this honourable pastime can now be seen as a popular event at many a village fete.

Mocked as it was the humble wellie was to re-appear again during the Second World War, not only on the muddy battlefield but also on the feet of the Home Guard and the Land Army. When, in 1941, the Japanese Invasion of S.E. Asia cut off the U.K. supply of rubber the general public were asked to give up their precious Wellington boots.

Could the Duke of Wellington have ever guessed, as he strode the battlefield of Waterloo, the glorious future of his humble footwear as their

popularity spanned the world. Even as I write this, I would imagine that most households contain at least one pair of Wellington's boots - although, may I say it, today they are probably green!
Barbara Corley

Ouse Valley Singers
Date for your diary:

Saturday 30th June, evening concert in All Saints' Church with the Ouse Valley Singers. More details nearer the time.

Garage Wanted

Odell resident seeks lock up garage to rent. If you have a garage you no longer use and would be prepared to rent out or transfer the lease if BPHA owned (Horsefair Lane block) I would love to hear from you. Any rubbish clearance can be arranged free of charge. Please contact James on 07905 303224.

Alistair Burt Surgery

Alistair Burt, MP for NE Bedfordshire will be holding a surgery at the Harrold Centre on Saturday May 12th, 10.00am until 12 midday.

W.I. NEWS

At our February meeting we welcomed Anne Doody, who gave a very interesting talk entitled "God's Acre – Churchyard Wildlife". Anne presented her talk with slides showing the different wildlife to be found in churchyards all over Britain. The talk was of particular interest to us in Odell as we now have an area devoted to wildlife conservation in the churchyard of All Saints' Church.

March meeting.

The next meeting is on Tuesday March 13th at 7.30pm in the Village Hall. There will be no guest speaker - the meeting will be presented by members of the W.I. The topic of the meeting will be 'Decorative Easter Eggs'. Everyone welcome.

Competition: A homemade Easter card.

Hostesses: Rachel and Lynette.

Contact Rachel Halton 720572 for more details.

RSPCA in Odell

Needed for April – someone to organise the annual collection in Odell for the RSPCA. The money raised is used locally to relieve animal suffering and helps pay essential vet bills when owners are unable to meet the full cost of treatment. Odell has been noted in the past for its generous giving to this cause.

If you can help please contact Ann Hudson tel. 720587

Help Needed

From time to time the elderly and infirm in the village need help with transport to Harrold or Sharnbrook surgery for appointments or to collect medication.

So far, the following people have volunteered to help:

Kim Beardow 721246

Jill Cheadle 720261

Jonathan Harrison 721115

Linda and George Tringham 720120

Marion Ingrey-Senn 721176

If you think you can also help with this occasionally, please let Jill Cheadle know (720261) as it would be useful to draw up a list of names and numbers which could be called upon when necessary. All help would be very much appreciated.

Kidney Research UK

"Walk the famous London Bridges to help promote awareness of kidney disease and fund research to save lives"

London Bridges Walk – 24th June 2007

Want a walk with a difference? Fancy seeing the stunning sights of London, while raising money for charity? See London's spectacular sights while raising awareness of kidney disease and supporting research to save lives by walking eight of London's bridges on Sunday 24th June 2007.

The Bridges Walk starts and finishes at Potters Fields near Tower Bridge, and walkers will snake across eight bridges, including Tower, London, Southwark, Millennium and Blackfriars bridges.

Registration fee is £7.50 per walker and there is no minimum sponsorship requirement but walkers are encouraged to raise as much sponsorship as they can. Proceeds will be used to further the work of Kidney Research UK and help improve the lives of people living with kidney disease.

Kidney Research UK is the leading national charity funding research to save lives from kidney disease. This cutting edge research focuses on the prevention, treatment and management of kidney disease. The charity also dedicates its work to patient care and educational initiatives. Currently in the UK, 2.5 million people are suffering chronic kidney disease. This figure is set to rise to 12.5 million people over the next 10 years, so we need to act now!!!

Community Fundraising Manager, Elizabeth Wright, says, "The walk is a wonderful opportunity to view the many historical sites along the Thames, and the route offers great views of London. The atmosphere on the day is second to none and it is open to anyone who wants to help make a difference."

For more information or to take part in the London Bridges Walk please call Kidney Research UK on 08456 121226 or visit www.kidneyresearchuk.org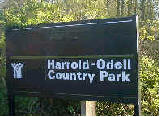 Harrold-Odell Country Park

Carlton Road, Harrold, Bedford MK43 7DS

Making garden obelisks

Thursday 15 March 10am – 2pm

Using materials from the trees and shrubs in the Park make an obelisk to support your garden plants as they twist and turn through the structure. Show them off to their best advantage. Take your finished obelisk away with you. All materials provided. Contact the Park to book a place on this session.

Events at the Park are free but donations are always welcome.

Friends of Harrold-Odell Country Park conservation tasks

Come and join in with practical work to enhance the park for wildlife and visitors on the following dates:

Monday 26 March

Monday 30 April

All tasks start at 10am and finish mid afternoon, but you only need stay as long as you want.

Tel: 01234 720016

Email

: hocp@bedscc.gov.uk

Podington Cricket Club 2007

Podington C.C. enjoyed a particularly good season in 2006, with the 1st XI being crowned Northants County League Division 4 Champions. The junior sides were also successful and a number of youth players stepped up to senior cricket and contributed to the success of the senior sides. The new season is eagerly awaited and the club will once again be running junior Under 11, 13, 14, 15 and 17 sides. We will have senior teams in the Saturday Northants County League Div 3 (1st XI) and Div 8 (2nd XI) and a Sunday friendly XI. It is a friendly Village Club and throughout the season there are additionally a number of friendly,

benefit and tour games as well as social events in the Club.

To prepare for the new season indoor nets will be held at Sharnbrook Upper School:

U17s and seniors – Friday evenings 7-9pm, 23rd February – 30th March inclusive.

U11, 13 and 15s (With ECB qualified coaches) – Monday evenings 6-7.30, 19th February – 26th March inclusive.

For more information contact Duncan Talbot, Dungee Road, Odell on Bedford 720028.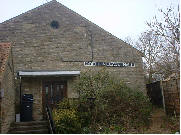 Village Hall News

Burns Night Supper 20th January 2007

We would like to thank everyone who helped us hold another successful Burns Night Supper. It was an enjoyable evening with good wholesome cooked food and dancing well into the night. More importantly, we raised the grand total of £360 which is being donated to a music project at the Carers Rest run by North and Mid-Beds Alzheimer's Society. Once again, many, many thanks for your generosity.

Doreen Wheeler and Leslie Knowles.

Coming up...

Make a note of the date of the next Village Quiz: 21st April, at 7.30 for 8.00pm. As usual, tables of six. More in next month's magazine.

Waste Paper Collection - Thank you for bringing your waste paper to the bins. Though the return is small, every little bit helps financially and of course the waste is recycled.

Rob Lee (720730) on behalf of the Village Hall Committee.

The Mill Theatre, Sharnbrook

Reg. Charity No 242164

Willy Russell's Breezeblock Park.

Tuesday 6th – Saturday 10th March, 7.45 pm

At once painfully funny and sharply moving, this clever comedy, by the writer of Blood Brothers and Shirley Valentine, is set on a Liverpool housing estate at Christmas, and reflects the sadness and madness of happy family life.

Christmas Eve, and a close-knit family gather for the festivities. But, lurking beneath the glitzy gift wrap, tired tinsel and fairy lights lie concealed jealousies, petty squabbles ….and a secret. As the drinks flow, feathers fly…and a daughter's news threatens to tear the family apart……

Tickets are available NOW at Sharnbrook Post Office (in person)

or Bedford Central Box Office, 269519 (*credit/ debit cards accepted).

Parties: 10% Discount for 10 or more (excluding Charity Gala or Revue Performances).

Disabled Access: Lift, 2 Wheelchair spaces, easy access seating (3 steps). Please book early!*

Whilst at The Mill Theatre, as a heavy demand for tickets is expected, why not take advantage of Advance booking for:

Stephen Sondheim's A Little Night Music

Friday 27th April – Saturday 5th May at 7.45 pm.

This enchanting, witty musical, is set during an unforgettable weekend in the country at the turn of the 20th Century, a past era of elegance and enchantment, and features the massive hit "Send in the Clowns". Certainly not to be missed!

Age 9-18?

to book, please ring 781210 or via
Youth Summer School 2007
Are you aged 9-18 years? Book now for our Youth Theatre Summer School.
Then this could be a wonderful start to the summer holidays….
Monday 23rd July to Friday 27th July, 9 am – 4 pm,
with a performance in the Theatre at 7.30 pm on Saturday 28th July.
Professional Tuition – Limited Places – Course £100, deposit £20.
For full details and to book ring 01234 781210, email : erical@email.com
(This was heavily oversubscribed last year, so a £20 deposit will secure your place).
Diary
Fri 2nd 10.00am Women's World Day of Prayer Harrold URC
Sat 3rd 10-12.30 Fairtrade Coffee Morning, 1 High St Carlton
Mon 5th 8.00pm Fete Meeting in The Bell
Wed 7th 12.30 for 1.00 Senior Citizens Fish and Chip lunch, Village Hall
Tues 13th 7.30pm W.I. Village Hall
Wed 14th 10.30am Meeting Point at Doris's, Pavenham
Thurs 15th 10 – 2.00pm HOCP Making garden obelisks
Sat 17th 9.45am All Saints' Amblers meet outside The Bell
Sat 17th 7.30pm Fairtrade fashion show, St. Andrew's, Kimbolton Rd.
Wed 21st 7.45pm PCC Meeting at The Rectory
Sun 25th 11.00am Joint Service at St. Mary's Carlton
Mon 26th 10.00am Friends of HOCP Conservation
Wed 28th 10.30am Meeting Point at The Rectory
Sat 31st 10.00am Church and churchyard spring clean
Magazine Deadline
Please send all entries for the April 2007 magazine to Tricia Hudson (mag1@odellbeds.net) or Catherine Corkery by March 12th 2007 at the latest. May we remind you that the editorial team exercises the right to edit, shorten or alter any items that are submitted. Also, the opinions expressed in the articles are those of the contributors and are not the responsibility of the editorial team.
Great local pubs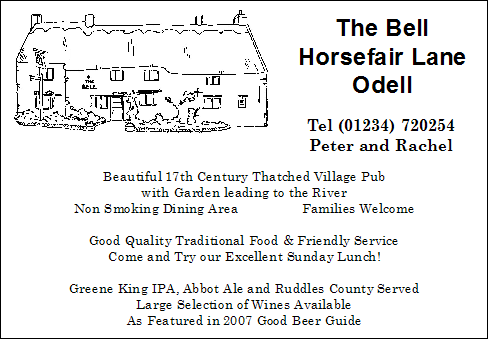 ---
Last revised: February 25, 2007.