ODELL VILLAGE NEWS
December 2007 - January 2008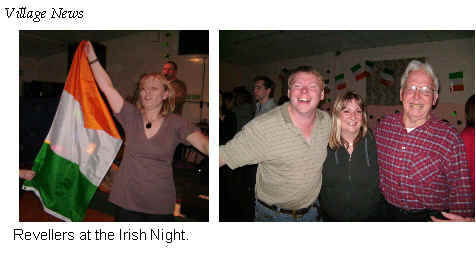 see Village Hall News

Round and About

Happy Christmas Everybody

The crackers have been bought, the mince pies are ready and the mistletoe is hanging in the hall. Christmas is a family time of year, surrounded by warm and familiar customs that we grew up with and which, in our turn, we will pass on to our children. These old, familiar ways are Christmas itself. Christmas has evolved over the generations and yet there are things we do today that were carried out by our forebears centuries ago. So, what are these traditions and why do we do them? - I will try to shed a little light on some of them.

The meaning of the word 'Christmas' comes from the Old English "Cristes Maesse" and means 'Christ's Mass', a service which, in early times, was attended by everybody. Indeed, it was against the law not to attend Mass. Having attended the service the people would return home to feasting and revelry according to their station - and the depth of their purse.

Christmas pudding originated as a kind of soup and according to what you could afford - or put by - contained raisins and wine. The poor largely subsisted on soup of one variety or another and only on rare occasions could they add "expensive" ingredients and only at Christmas could they afford fruit and wine. Over the centuries the rich kept adding more and more ingredients until we arrived at the pudding we know today. Ironically, mincemeat pies were so called because that is exactly what they were. Filled with minced meat, nuts and fruit, and in order to keep the meat fresh they added spices but, as you know, this is now a meat-free pie...but have you ever wondered about the suet contained in them!

The "X" abbreviation of Xmas for Christmas is by no means a modern invention. The first letter of the Greek word for Christ is "Chi" and is represented by a symbol closely resembling the letter "X". According to folklore, those born on Christmas Day will never encounter a ghost, nor will they have anything to fear from spirits. They are also protected from death by drowning or hanging.

The custom of using holly and mistletoe to decorate the house is a survival of early beliefs and traditions. Boughs, or clumps, of evergreen would be hung from the ceiling to ward off evil spirits...and people were very superstitious in early days.

Mistletoe was particularly popular with the Druids. Christmas wreaths were traditionally symbolic of the crucifixion. Holly representing the crown of thorns and the red berries is a sign of Christ's blood. At some time the wreath moved to Christmas. The tradition of hanging gifts on trees actually dates from the age of tree worship and the belief that the tree was the giver of all good things.

Christmas carols were introduced to formal Church services in the early 13th century as an act of worship by St. Francis of Assisi. The idea of carols quickly caught on and spread across Europe and remain popular to this very day.

In 1647 Parliament passed a law making Christmas illegal. Festivities were banned by Oliver Cromwell, who considered all feasting and revelry on a Holy Day to be immoral. Indeed, the Puritans considered Christmas to be a time for fasting and anybody caught celebrating was arrested. Only at the time of the Restoration did the idea of a celebration return - but beware - the law itself has never been repealed!

All the above festivities were known to our early forefathers and although some have evolved they are still known to us today. The following traditions mainly date from Victorian times and have a more modern feel to them.

The first Christmas card was designed in 1843 when 1,000 cards were produced on behalf of Sir Henry Cole to be distributed amongst his acquaintances. The Victorian postman was popularly called a "robin"

because a red waistcoat was part of the uniform. Christmas crackers first appeared in 1847. Thomas Smith had imported some French novelties to sell as Christmas gifts but they did not prove to be popular. Anxious to move them on he tried wrapping them in fancy paper and as an extra bonus added the snap for novelty value. The idea was a great success. The snap is produced by dipping the end of thin cardboard strips into a combustible chemical and then coating the tips with fine

sandpaper. The friction of separation caused the snap. The largest cracker was pulled in 2001 at Ley Hill School in Bucks. It measured 63m and it took 40 people to pull it apart. The world's largest reported snowman was built in 1999 by residents of Maine in the U.S. and was 13ft. tall.

An Austrian priest called Joseph Mohr was asked, at a moment's notice, to prepare a special carol to be sung either unaccompanied or by guitar. The church organ had failed on Christmas Eve and all were in despair. He sat down and wrote perhaps the most evocative carol we know: "Silent Night". In 1939 Montgomery Ward,

founder of the U.S. department store Wards, hired Robert May to write a poem that in-store santas could give away over Christmas. May wrote a poem called Rollo the Red Nosed Reindeer. The company liked the poem but not the name Rollo. This was changed to Rudolph and when set to music Rudolph the Red Nosed Reindeer became popular worldwide. The record for the most popular Christmas song ever written seems to be a contest between "White Christmas" from a film of the same name and another American song "Jingle Bells". This latter started out as a song for Thanksgiving and was written by James Pierpont in 1857. The original title was "One Horse Open Sleigh".

Just in case you ever wondered, the total number of presents given away in the song "The 12 Days of Christmas" comes to 364, one gift for every day of the year - apart from Christmas Day itself!

May I take this opportunity to wish all my readers a Very Merry Christmas and a Happy New Year.

Barbara Corley

W.I. NEWS

November's meeting was one of our self-organised evenings and proved to be one of our best. The day had been Exercise Knot, a national casualty bureau exercise which aimed to test the resilience, capacity and capability of the casualty bureau system to cope with major disasters. The WI nationally had been asked to be part of the 4000 volunteers needed to test the emergency call handling system, and some of our members took part. We had been given scripts which we had to use when we 'phoned a number at a given time throughout the day. We exchanged anecdotes of our experiences and felt proud to have been part of this vital exercise.

We have signed up to the WI Carbon Challenge which measures the individual and collective carbon footprint of our members. We spent part of the evening filling in the forms which will be entered onto the national database, and we plan to revisit this within the next 12 months to see if we have lessened our impact on the environment. If you are interested in measuring your carbon footprint visit wi.footprint.wwf.org.uk.

The highlight of the evening was the sampling of the chocolate goodies which members had brought. We have always prided ourselves that we are a modern WI who buy their jams in Sainsbury's, so there was no pressure to cook for ourselves but to bring along our favourite chocolate indulgence. The choice was a dream for chocolate lovers everywhere and it was very hard to identify a favourite, however, the winners were a chocolate roulade, fruits dipped in chocolate, Delia's truffle torte, a gooey indulgence of chocolate, alcohol and the occasional raisin and some chewy cookies which we were told had a Mars bar as a key ingredient!

The meeting ended with a huddle of members intently listening to Jill's wonderful experiences in Kenya and it was shame when it was time for us all to go home.

Next Meeting This will be held on Tuesday December 11th when we will be combining a race night with Christmas nibbles.

Hostesses: Hostesses are Carole Ormond and Mandy Sharpe.

January Meeting

Due to Rachel not being available to host the Christmas Meal this year it has been decided to have a New Year meal instead. Date 8th January, venue Greystones.

General Notice

Members were warned about a scam whereby a leaflet is put through the door from a company called PDS which says that a package could not be delivered and to ring a phone number. This actually connects to a premium rate line and should not be used. Contact the Royal Mail fraud squad if one of these leaflets is put through the door.

Lynette Hall, on behalf of Rachel Halton in her absence

Odell Senior Citizens Luncheon Club

Christmas Lunch

We you to join us

on Wednesday 12 December 2006

at 12.30 for 1.00pm

For Christmas lunch

In the Village Hall

Please let Jill know (on 01234 720261) by

Sunday 2nd December if you are able to join us.

N-E Bedfordshire Conservative Association – Sharnbrook Branch

invites you to a fascinating, illustrated presentation by Susan Phillips, Bureau Chief - Europe, Al-Jazeera –

English who will be lifting the veil of The World of Al – Jazeera At St Peter's Room, Sharnbrook on Friday 30th November at 7.30 for 8.00 pm
Ticket: £8.50 including light buffet and a glass of wine, available from Theo. Gibbs 782377
Odell Parish Council
A meeting took place on 19th November 2007 in the Village Hall.
Local Survey: This was delivered to 112 households in late October; to date about 20 have been returned and it was agreed to set a deadline of the next Parish Council meeting [January] for the return of completed surveys. All residents are asked please to take a few minutes to complete this and return to any Parish Councillor.
As it is now four months since the new Lease was passed to the Village Hall Committee and no feedback or comments have been received, it is assumed the Lease must be acceptable and councillors formally agreed the Lease should be signed and passed to the Village Hall Committee for completion.

An amicable agreement has been reached with Mr. Martin Bridgman and the Parish Council formally passed a resolution to sign the outstanding 106 document; this was unanimously approved. In return Mr. Bridgman has agreed to upgrade the current fire exit door and entrance to allow a more safe and satisfactory disabled access, particularly necessary whilst the current dispute continues with the Borough Council's Planning Department over the disabled access application. Additionally negotiations are in the final stages for the purchasing of the car parking area at the front of the Village Hall.

Cllr. Halton has been negotiating with the County Council via Lindsey Bignall regarding the possible siting of a small young children's play area in the Country Park, to satisfy the stringent conditions imposed by the Borough Planner before a Change of Use can be considered for the old unused play area adjacent to the Village Hall. Until Change of Use can be formally established, the Borough Planners will not entertain any application for a disabled access on that area. The County Council has given 'Corporate Asset Management Approval' to the Parish Council's proposal which means that the process can now be formally started. The County Council wants any play area to blend in with the surroundings which means more use of wood than metal in the construction of both the play equipment and the required fencing. Lindsey Bignall has very kindly offered to undertake the initial planning process as the skate park facility has given her considerable experience of how this should be handled. She will contact the suppliers who can accommodate the County Council's requirements and put together a proposal. After the initial stage has been completed and approved it will then be handed back to the Parish Council for any continuing negotiations and actions.
One of the Borough Planner's requirements for a new play area is for a bin to be provided, but currently there is no facility for bin emptying within the Park. This factor will be explored more fully when the process is at a later stage.
Cllr. Charsley will check if Bedford Borough Council has any 'playground money' available as there seems to be a suggestion that this is a possibility.
Cllr. Charsley reported that the grants for the 'Be Pub Safe' initiative have now been approved. This is a scheme which is operating satisfactorily within Bedford itself and the Borough Council wants it to be extended to rural areas. More information will be reported once further details are known.
There is currently a concern that Stagecoach may withdraw one of its services in this area and this again will be reported more fully once more information is available.

Planning: Permission refused for the replacement of an existing concrete Dutch barn with a 3 bay oak garage at Old South End Farm.
Application withdrawn for the erection of 4 detached dwellings at 119 Odell Road.
Permission granted for house extensions at 2 Tannery Lane.

Highways: The section of new path under the Highways Partnership Scheme has been completed very satisfactorily; some spraying has been carried out to remove the excessive weed growth on existing paths and it is hoped this will be extended when County Council financial constraints allow.
Considerable time and effort was spent on considering the County Council's 'Confident Communities Fund' initiative which allocates £3500 to Odell to spend. However, there is a restricted list of options available, the most attractive of which are far too costly to consider. It was felt the form was far more onerous and complicated than it need have been and a decision on completion was delayed until the January meeting. Councillors were asked to consider individually the options in depth and come to the next meeting with their preferred options. The Clerk will try to obtain more clarity on some items in this scheme.

Country Park
The Chairman had been unable to attend the latest meeting but gave a report from the Minutes. Some of the issues under way include applying for the Green Flag before December; erecting 'No Cycling' notices [again] on the north side of the lake; a new notice board is ready to be installed. They have been advised that an application to the Heritage Grant would be more appropriate than the Project Planning application made in June, so this will be applied for in December. The Visitors Centre has had a significant make-over and is now very much improved. The willow structure artist continues to provide excellent pieces for the park and has applied for a grant so he can become resident. The fishing rights have been let to Vauxhall Angling Club.

Finance: Came and Company's offer of a reduced rate insurance for local councils, underwritten by Norwich Union, was noted. All the information required for them to issue a formal quote next year has been supplied to them.
Mavis Knight Clerk for the Parish Council
Thank you!
I would like to take this opportunity to thank everyone who walked with me, sponsored me, looked after my children and generally made it possible for me to trek in Peru in aid of Breast Cancer Care!
As a result of overwhelming generosity I personally raised over £3,000 and as a group our grand total was in excess of £110,000 which will make a huge difference to the charity's work supporting those affected by breast cancer.
On a different note, as we have now moved overseas to live in Zurich for a few years I would also like to thank everyone who made us so welcome here and provided us with so many happy memories of our time in Bedfordshire.
Many thanks to all our friends.
The Peverell Family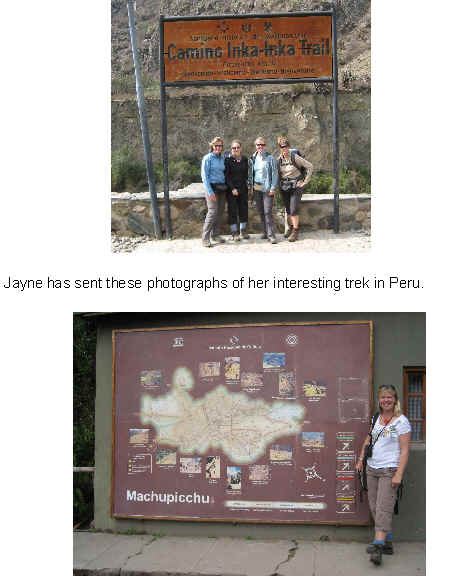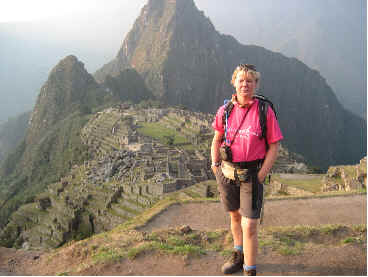 Harrold-Odell Country Park
Carlton Road, Harrold, Bedford MK43 7DS
Tel: 01234 720016
The Friends of the Park have prepared a calendar featuring wild flowers and plants growing in the Park. Not only can you keep your appointments up to date but you can tear off the photos as they are perforated and can be used as postcards! All the photos were taken by Karen Howard. The calendars cost £5 each and are available from the Park Office. Profits from their sale will benefit the Park.
Christmas Quiz
Throughout the School Christmas Holidays
Go into the Visitor Centre. Look at the photographs in the Discovery Room. See if you can identify who, what or where they are in the Country Park. Fill in an answer sheet and post it in the box provided. At the end of the holidays you could win a prize! Competition open to all ages. Do you have any old photos of the Park? If so please bring them along and we will feature suitable ones on our website.

Sunday 27th Jan 12 – 3pm

Making bird/bat boxes

Des - res for your local wildlife. Advice about where and how to site the box. See what you can attract to your garden.

Learn more about your countryside locally. This is a drop-in session so no need to book.

Friends of Harrold-Odell Country Park Conservation Tasks 2007

Come and join in with practical work to enhance the park for wildlife and visitors on the following date:

Monday17

December.

All tasks start at 10am and finish mid afternoon, but you only need stay as long as you want.

Email: hocp@bedscc.gov.uk

Holly Wreaths – help needed.

Help needed immediately with Holly Wreaths for Christmas

Home working possible - piece-work rates

Tuition and Gloves supplied - All welcome to apply

Tel 01234 721296

Village Hall News

Events

If you have an idea or can help with these let us know, and if you would like a venue for a private function, the very reasonable hire fee helps us maintain the hall.

October Quiz

Thank you to everybody who contributed to the raffle in memory of Doreen Doughty. As a result I am able to send £130 to Willen Hospice.

Pat Asbery
Irish Night Saturday 17th November

It takes a lot to drag people out of their warm and cosy homes on a damp, cold November evening, but the spirited 'Irish Night' in the Village Hall made the effort more than worth it. No-one could remain seated or stop their feet tapping as the amazing 'Hair of the Dog' sang and played great numbers such as "Jackie Wilson said.." (Dexys Midnight Runners) and fast moving Irish jigs.

Many thanks to the ladies who cooked up the delicious Irish stew and to all the organisers of this very successful and enjoyable evening.

20th December – Christmas Party

. 6—7.30pm. School will have finished and Santa will be preparing his sleigh, so the children can have an evening of traditional party games and nibbles in the Village Hall. Bring and share party food. Children must be accompanied by an adult.

Contact: Karen 721590 or Nikki 720893 for more information.

Burns Night 2008

We are planning to celebrate Burns Night on Saturday 26th January 2008 in the Village Hall. There will be the traditional haggis supper, (piped into the hall in the traditional manner!) dessert and a wee dram.

Vegetarians are catered for but do let the committee know if this is your preference when you buy your ticket.

Scottish dancing will follow the meal. Doors open 7.30pm.

Tickets: £9 and £8. Contact Leslie on 721860 or Doreen on 720358

Waste Paper Collection

- Thank you for bringing your waste paper to the bins. Though the return is small, every little bit helps financially and of course the waste is recycled.

Do please support our events, and do suggest to us your ideas for alternative activities.

Rob Lee (720730) on behalf of the Village Hall Committee.

The Mill Theatre, Sharnbrook

Reg. Charity No 242164

Coming up in 2008:

Oscar Wilde's Classic Comedy of Manners:

The Importance of Being Earnest—11th – 15th March, 7.45pm

The Contemporary American Musical by John Dempsey & Dana P. Rowe

The Fix: - 16th – 24th May, 7.45pm

This regional premier is a musical tale of sex, scandal and rock and roll! – think Kennedy the Musical! Auditions: Sunday 9th December (enq 708432)
Thornton Wilder's:
Our Town—23rd – 27th September, 7.45pm.

An American classic! Follow the lives and loves of the people of Grover's Corners as they journey through the years.

Finally—Mill Theatre is proud to present a spectacular traditional

English Pantomime…Aladdin! - 5th – 13th December, 7.45pm

Tickets available from:

Sharnbrook Post Office (in person) or

Bedford Central Box Office, 269519 (*credit/ debit cards accepted).

Parties: 10% Discount for 10 or more (excluding Charity Gala or Revue Performances).

Disabled Access: Lift, 2 Wheelchair spaces, easy access seating (3 steps).

To become A Chairholder of the Mill Theatre

- or to gift to someone this Christmas: receive 12 Vouchers, valid for 3 years, of total face value of up to £132 - for just £100! Exchangeable for tickets for any show (excluding Charity Performances & Revues) - conditions apply - please contact: Keith Lazenby, 24 Pemberley Avenue , Bedford (359733)

Diary

December

1st 7pm Bring and Share Supper with Ugandan Choir, Hobbs Green Farm.

7th 10-12 Christmas Hamper Coffee Morning, Hobbs Green Farm

11th 7.30pm W.I. Village Hall

12th 12.30pm Senior Citizens' Christmas Lunch, Village Hall.

15th 10.00am Church decorating for Christmas.

17th from 10am HOCP Conservation Tasks Day

20th 6-7.30pm Children's Party Village Hall.

23rd 10.00am Communion and readings, prayers and meditation on Christmas.

23rd 6.30pm Carols by Candlelight.

25th 10.00am All Age Service and Holy Communion.

January

1st 9.45am All Saints' Amblers meet at The Bell.

7th 7.30pm Alpha course at the Rectory.

8th W.I. New Year's Meal at Greystones.

9th 10.30am Meeting Point at Jane's, Newton House.

14th 7.30pm Alpha course at the Rectory.

21st " " " " " "

26th 7.30pm Burns Night celebration, Village Hall.

27th 12-3.00pm Making bat and bird boxes, HOCP.

28th 7.30pm Alpha Course, at the Rectory.

Magazine Deadline

Please send all entries for the Feb 2008 magazine to Tricia Hudson (mag1 at odellbeds.net) or Catherine Corkery by January 12th 2008 at the latest. May we remind you that the editorial team exercises the right to edit, shorten or alter any items that are submitted. Also, the opinions expressed in the articles are those of the contributors and are not the

responsibility of the editorial team.

The magazine team would like to wish all our readers a very Happy Christmas and New Year!

Great local pubs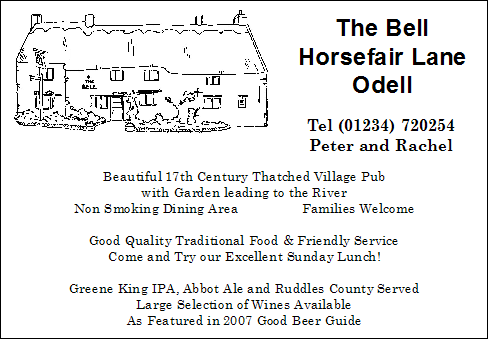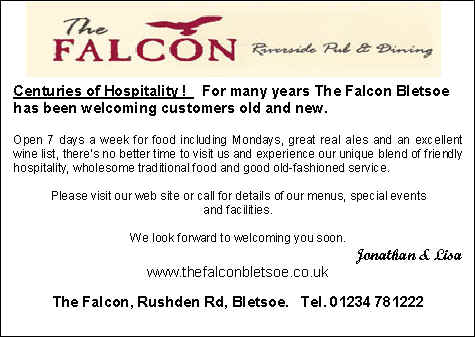 ---
Last revised: December 09, 2007.