ODELL VILLAGE NEWS
Odell Village Fete and Dog Show
Saturday 9th June at 2.00pm
In Scout field, Horsefair Lane, Odell
Entry Adults £1.50, Children Free
Programme of Events
2.00pm Grand Opening by Mrs Noreen Sturridge
2.00-4.00pm Dog Show
4.00pm Judging of Children's Competitions
4.30pm Raffle Draw and Prize Giving
Attractions
Stantonbury Brass Band
Boys' Brigade
Teas Children's Tombola Ice Creams
Tombola Cakes Beat the Goalie
Books Refreshments Bottle Stall
Coconut Shy Children's Sports White Elephant
Produce Gifts Many Side Shows
Raffle Dog Show
Family Dog Show
(entry fee - £1 per dog per class)
Classes:
1. Children's handling (14 years and under)

2. Puppies under 1 year

3. Country sporting dog or bitch

4. Best rescue or re-homed dog or bitch

5. Best condition dog or bitch

6. Dog or bitch with most appealing eyes

7. Best cross-bred dog or bitch

8. Dog or bitch the judge would most like to take home

9. Best in show
Odell Village Fete
I am told that the origins of our annual village fete go way back to the time when the parochial church councils were formed and assumed liability for repairs to the fabric of the church, and needed to find ways to raise the necessary cash. Then and ever since, the village has loyally supported the fete, and many of you have contributed to its success. Each year the money raised has helped to keep our lovely church in good repair. However, this year, the churchwardens, PCC and fete committee are all in agreement that the proceeds from the 2007 fete should be split 50/50, half going to the Village Hall fund. In future years, careful consideration will be given to both church and village needs in deciding how best to appropriate the funds.
We want this year's fete to be the best ever, and have already booked the Stantonbury Brass Band. But we need your help! PLEASE CONSIDER what help you can give this year, with setting up and taking down, with manning stalls, managing car-parking, providing raffle-prizes etc. etc. Come and be part of the fun!
Contact Steve Robinson on 720113, Jane Eshelby on 01933-410959 or me, Christine Clark, on 720234.
Come and join ….
Odell Monday Club
a new club for 5-11 year olds
starting after Easter – Mon 23rd April
5.30pm – 6.30pm
at The Rectory
3, Church Lane, Odell
Games, Activities, Crafts,
Bible stories, Music, Drama
Encouraging children to think about
the world they live in,
their contribution to it and where faith fits in - while having fun!
For details contact: Sue Robinson 720113 or Christine Clark 720234
Ouse Valley Singers

Date for your diary:

Saturday 30th June, evening concert in the church with the Ouse Valley Singers. More details nearer the time.

A date for your diary:

the Fete working day will be held on Monday 7th May.

Birthdays in April

Happy Birthday to:

Rebecca Causton, 2 on the 3rd
Tania Fulford, 11 on the 5th,

...and to everyone with a birthday in April.
Round and About
Thats Eggsellent.
Easter has always been celebrated by the Church as one of the greatest festivals in the year.
However, if you look beyond the religious ceremonies you will find that the season is awash with long-held customs and traditions, some of which date back to quite an early age and many of them are still with us today.
Easter, in Britain, is named after the Anglo Saxon Goddess Eostre - Goddess of the Dawn....and of spring. Many of the Easter symbols are to do with the rebirth of nature and of good luck, and represented by spring chicks, lambs and, of course, young rabbits. These are all symbols dating back to Eostre except, that is, for the rabbits. Eostre was represented by the spring hare and this appears to be one of the rare changes that has taken place.
As I have mentioned before, life for our forebears was governed by the seasons and winter was long, dark and miserable. The arrival of spring meant warmth from the sun and longer, light evenings. This was a time for celebration. The rebirth of nature was everywhere. Leaves were appearing on the trees, the grass was studded with bright flowers and young birds and animals were all around. The over-wintered cows and sheep had produced their young and the broody hen at the cottage door had her young chicks running everywhere.
The little chicks, of course, come from eggs and all things "egg" are associated with Easter. Indeed, where would Easter be without the egg! In earlier days the pastimes all involved real eggs (chocolate was yet to come). People would paint their eggs with bright colours to decorate the table whilst in the North of England they would hold races to see who could roll their egg the furthest. Another custom, a rather odd one this, was for an egg to be placed in the palm of the hand and banged against that of an opponent. The egg to break first was the loser. What my research did not tell me was whether the eggs were cooked but if they were raw it must have been a very messy affair. Eggs would be hidden about the house or garden for children to collect. With the arrival of the chocolate egg many of these customs came to an end but children still gather eggs in their baskets, although today this idea seems to be returning to us via the United States.
Eggs would traditionally have been cooked on Good Friday and painted and decorated before being placed on the table. When the eggs were eaten, and you were lucky enough to find one with a double yolk, this was taken as a sign of a coming child and possibly the promise that good luck and fortune would follow.
Easter was a time to celebrate and so, of course, out came the village hobby horse and the Morris Dancers. Another special treat were the "Mumming" plays. These plays were performed by troupes of professional "mummers" who would travel the countryside in a cart, to carry their props and costumes, and the cart, in its turn, would also be used as the stage upon which these plays were performed.
This was also a traditional time for getting married. The Easter Bride! In earlier times a bride did not always have a new dress for the occasion but would arrive at the church in her Sunday Best. All she could achieve was a new bonnet - often decked out with spring flowers and the guests would also be wearing their Sunday Best when the ladies would also be wearing new bonnets. The bridal procession to and from the church may well have been the start of the Easter Parade.
How could we leave this festive scene without a mention of the Easter Parade. These parades take place all over the world although they take on a varying form in the different countries. The Eastern Bloc in Europe have a taste for the military parade whilst in New York the public carry flowers into church and the great and the good put on all their finery whilst others gather to watch. Which brings me to London…and what do we do?..we hold a procession of horse-drawn carts!
It all began in 1866 when the London Harness Club decided to hold a gathering in Battersea Park. This gave the carters and the costers an opportunity for a bit of a knees up. This was in the days before television and entertainment was hard to find. People turned out to look at the gathered carts and their attendant horses, many of which had been decked with ribbons and horse brasses. The idea caught on. As the years passed by the decorations for the horses and carts became more elaborate and the drivers dressed, where appropriate, in their pearly costumes. This event is now held annually on Easter Monday and is open to all classes of working horse. This parade of working horses has now become a very popular event attracting many entrants and vast crowds and has moved a long way from its original humble roots.
Barbara Corley
Alistair Burt Surgery
Alistair Burt, MP for NE Bedfordshire will be holding a surgery at the Harrold Centre on Saturday May 12th, 10.00am until 12 midday.
Hilda Wright, 21.03.21 – 19.02.07
We are sorry to report the death of Hilda Wright, a resident of Odell Village for many years.
Hilda was born in the Cotswolds on the 21st March 1921. She met Sid when she was 13 years old, he came to her parents as a lodger. Fifteen years later they moved to Wiltshire and stayed there for ten years with their three children.
In 1966, on 14th March, they moved to Odell. Sid worked for Lord Luke, Jim and Chris too; Jean followed later. Hilda found it quite lonely at Yelnow, but when she moved to the village she made lots of friends. She was always cheerful and never complained.
Sid and Hilda did lots of walking in their retirement, but latterly Hilda was only able to get out in her wheelchair, pushed by family and friends. Hilda will be sadly missed by her family and all her friends.
Hilda's daughter sent us this obituary of Hilda. We would like to extend our sympathy to all the family.
W.I. NEWS
Easter was in the air at our March meeting. It was members' craft night and we had come to decorate an Easter egg. Doreen gave a brief talk on the subject and showed us some she had made earlier and then introduced us to the large variety of materials she had assembled for us to use.
She had earlier coated the polystyrene eggs with a flat coat of poster paint in a variety of suitable colours and we were invited to choose and begin. For once silence fell on the hall as members concentrated on their individual design.
It was very enjoyable evening with many members decorating several eggs, all were unique and several members took materials home in order to make more.
Next Meeting
This will be held on Tuesday April 10th at 7.30p.m. at the Village Hall. The speaker will be Natalie Nardone and her topic 'Belly Dancing'
Competition
Jewellery to dance in
Hostesses
Lynette Hall & Joyce Knight
Rachel Halton 720572
French and German Classes in Odell
Have you ever wished that you could speak a foreign language or that you had kept up your language skills?
I have taught French and German for 10 years at a local secondary school and have also worked as an Adult Education Tutor for Modern Languages evening classes.
From April 1st I will be offering daytime or early evening classes of no more than 6-8 people at Beginners, Intermediate or Advanced Levels. You will be learning in small, friendly groups that give you the confidence to make good progress at a pace that suits you. Lessons will be tailored to the needs of the individual groups but will concentrate initially on the language required for holidays in French/German speaking countries.
For more information please telephone Janet Hall (01234 720682).
RSPCA in Odell
Needed for April – someone to organise the annual collection in Odell for the RSPCA. The money raised is used locally to relieve animal suffering and helps pay essential vet bills when owners are unable to meet the full cost of treatment. Odell has been noted in the past for its generous giving to this cause.
If you can help please contact Ann Hudson tel. 720587
Ouse Valley Arts Festival 2007
Friday 27 April - Saturday 5 May -
A Little Night Music
Sharnbrook Mill Theatre Trust production of the enchanting and witty musical by Stephen Sondheim.
Saturday 28 April - Cantamus in Concert
This hugely-popular choir perform at All Saints Church, Turvey.
Sunday 29 April - Walk, talk and lunch
A tour of the fascinating grounds of Moggerhanger House followed by a talk and buffet lunch in the House.
Monday 30 April - Jazz Workshop and Youth Music Showcase
This showcase at Biddenham Upper School gives a range of soloists and ensembles the chance to perform in public.
Tuesday 1 May - Forging Art for Pleasure
A talk and demonstration by Michael Croker of the techniques of a particular artist, at Sharnbrook Village Hall
Wednesday 2 May - Quartet Camerata
Renowned quartet play music for strings at the Chellington Centre.
Thursday 3 May - Bedford Gallery Quire
Step back in time and hear music as played and sung in eighteenth century churches at St Peter's Church, Harrold.
Friday 4 May - Liquorice Allsorts Clarinet Quartet
Bedfordshire based quartet perform a mixture of classical and light music for the clarinet at The Barn, Carlton.
Saturday 5 May - Sights and Sounds of the Swing Era
Cambs & Beds Lindyhop Experience and Ouse Valley Swing Band join forces for an evening of music and dancing from 1930s and war years at Bromham Village Hall.
Sunday 6 May - Gary Seiling in Concert
The art of the organ demonstrated in this evening of music for organ and harpsichord at St Leonard's Church, Stagsden.
More detailed programme can be obtained from 01234 781372 nearer the time and tickets for all events from Bedford Central Box Office (01234 269519)
Help Needed
From time to time the elderly and infirm in the village need help with transport to Harrold or Sharnbrook surgery for appointments or to collect medication.
So far, the following people have volunteered to help:
Kim Beardow 721246
Jill Cheadle 720261
Jonathan Harrison 721115
Linda and George Tringham 720120
Marion Ingrey-Senn 721176
If you think you can also help with this occasionally, please let Jill Cheadle know (720261) as it would be useful to draw up a list of names and numbers which could be called upon when necessary. All help would be very much appreciated.
Harrold Cricket Club Harrold Lower School
Midsummer Party
at
Harrold Playing Field
Saturday June 16th
7.00 for 7.30pm until late
Tickets £28.00 Tel: 720638
All proceeds in aid of the above organisations
Harrold-Odell Country Park
Carlton Road, Harrold, Bedford MK43 7DS
Easter Holiday Colouring Competition!
Colouring sheets are in the Discovery Room inside the Visitor Centre. See how much you know about the Countryside Code. Colour your sheet in. Can you find the hidden kingfisher? Post your completed entry in the box. (Running Tues 17th March—Tues !7th April).
Prizes will be awarded at the end of the competition.
No need to register for this event just come along and enjoy yourself.
Spring Migrants
Tuesday April 17th 10am – 12pm
Discover our spring wildfowl on the lakes and river. Listen for songbirds and look out for spring visitors. You don't need to be an experienced bird watcher to attend. Bring some binoculars if you have them.
Limited numbers. Please call us to register.
Countryside Crafts
Sunday 27th May 1 – 4pm
Join in with cutting willow to make charcoal, setting off a burn, loading and unloading a kiln. Charcoal made at Harrold has not travelled thousands of miles to get here, is cut from a sustainable source (nature reserve) and is widely reputed to burn easily, hot, clean and long.
Charcoal will be available for sale at the end of the session. Using material from the Park make a walking stick or learn how to construct a hurdle. All materials and tools supplied.
Friends of Harrold-Odell Country Park
Conservation tasks
Come and join in with practical work to enhance the park for wildlife and visitors on the following dates:
Monday 30 April, Monday 21 May
All tasks start at 10am and finish mid afternoon, but you only need stay as long as you want.
Events at the Park are free but donations are always welcome. Please
contact us to reserve a place as numbers may be limited.
Tel: 01234 720016
Email: hocp@bedscc.gov.uk
Village Hall News
Events
If you have an idea or can help with these let us know, and if you would like a venue for a
private function, the very reasonable hire fee helps us maintain the hall.
21st April – Quiz. Some easier questions this time!, so book your table, then start swotting! Usual format; teams of up to 6.
5th May - "Irish night". Dance to "Hair of the Dog" and enjoy an Irish Stew, all for the grand price of £8. Tickets available in April.
Waste Paper Collection - Thank you for bringing your waste paper to the bins. Though the return is small, every little bit helps financially and of course the waste is recycled.
Rob Lee (720730) on behalf of the Village Hall Committee.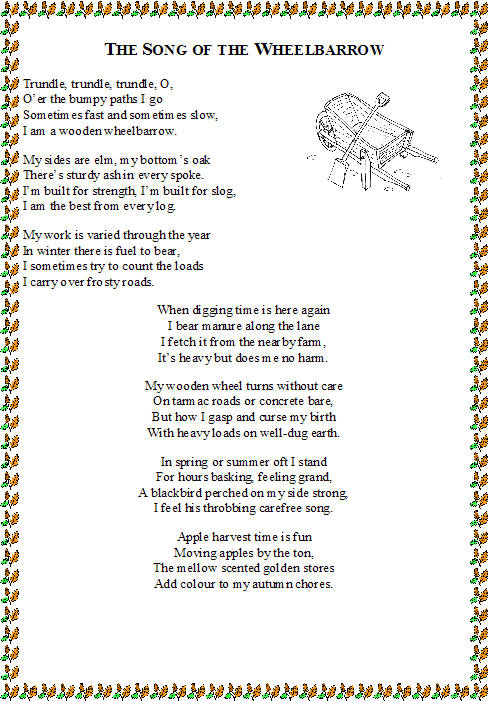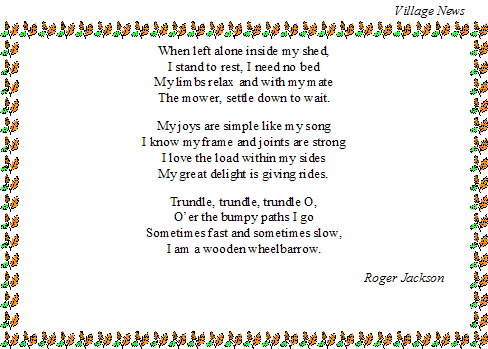 The Mill Theatre, Sharnbrook
Reg. Charity No 242164
An invitation to a past era of elegance
and enchantment:
Stephen Sondheim's A Little Night Music
Friday 27th April – Saturday 5th May at 7.45 pm.
"Lost loves…tender memories….secret yearnings…shy beginnings…scandalous affairs…"
… and a captivating Sondheim score including the ever-popular "Send In The Clowns"
Tickets are available NOW at Sharnbrook Post Office (in person)
or Bedford Central Box Office, 269519 (*credit/ debit cards accepted).
Parties: 10% Discount for 10 or more (excluding Charity Gala or Revue Performances).
Disabled Access: Lift, 2 Wheelchair spaces, easy access seating (3 steps). Please book early!*
FOR ONE NIGHT ONLY:
The unique opportunity to see and hear Tom Owen, enjoy a glass of wine and benefit the Bedford Hospital Charity:
Last of the Summer Wine - Treading the Boards
Friday 25th May at 7.45pm.
The story of two men, who happen to be in the same strange business, and who happen to be father and son. Through narrative, film,
photograph and song it tells the careers of both men – the highs, the lows, the laughter, the tears.
This is a memorable evening of anecdote, song and stories from the show that is: 'Last of the Summer Wine', written by and Starring - from 'Last of the Summer Wine'-Tom Owen, at Sharnbrook Mill Theatre.
Tickets £10, to include glass of wine, available now from Sharnbrook Post Office, or 01234 356051.
All profits to Bedford Hospitals Charity.
Diary
Mon 2nd 8.00pm URC Harrold Churches Together service.
Tues 3rd 8.00pm St Mary's Carlton service.
Wed 4th 8.00pm St Peter's Harrold service.
Thurs 5th 7.15pm URC Harrold Passover Meal.
Fri 6th 2.00pm All Saints' Odell Service of Meditation.
Sat 7th 10.00am Church Decorating, All Saints'
Sun 8th 6.00am Dawn Service, Chellington.
Sun 8th 10.00am All Saints' Odell All Age Holy Communion.
Tues 10th 7.30pm W.I. Village Hall.
Wed 11th 10.30am Meeting Point at Sarah's, 9 Horsefair Lane.
Tues 17th 10.00am Spring Migrants, birdwatching HOCP.
Sat 21st 7.30pm Quiz, Village Hall.
Mon 23rd 5.30pm Odell Monday Club, The Rectory.
Wed 25th 10.30am Meeting Point at Eileen's, 24 Church Hall Rd., Rushden.
Fri 27th – 7.45pm A Little Light Music, Mill Theatre, to 5th May.
Sat 28th 9.45am All Saints' Amblers meet outside The Bell.
Sat 28th Cantamus in Concert, Turvey.
Sun 29th Walk, Talk and Lunch, Moggerhanger House.
Mon 30th Jazz Workshop, Biddenham Upper School.
Mon 30th 10.00am Conservation Tasks, HOCP.
Magazine Deadline
Please send all entries for the May 2007 magazine to Tricia Hudson (mag1@odellbeds.net) or Catherine Corkery by April 12th 2007 at the latest. May we remind you that the editorial team exercises the right to edit, shorten or alter any items that are submitted. Also, the opinions expressed in the articles are those of the contributors and are not the responsibility of the editorial team.
Great local pubs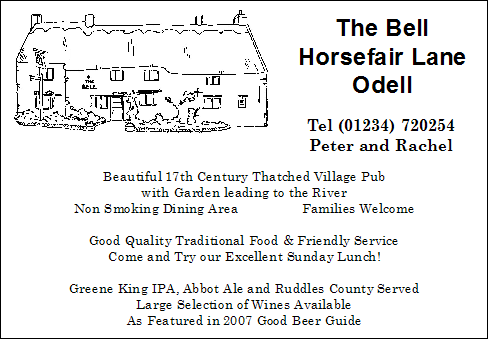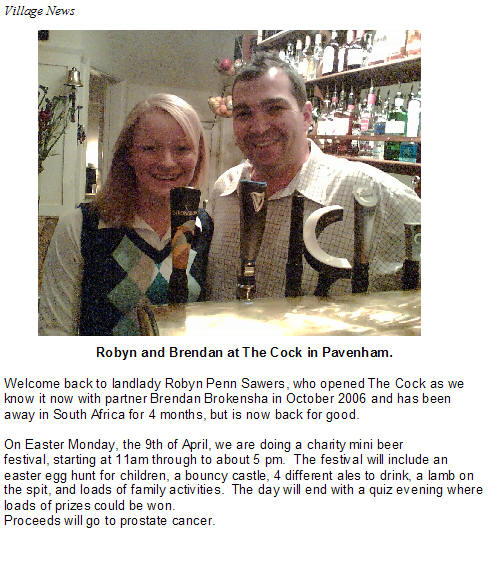 ---
Last revised: April 06, 2007.