ODELL VILLAGE NEWS
September 2006
Round and About
Tales from the Riverbank

Walking the riverbank everyday, as I do, gives me an excellent opportunity to keep an eye on the various wildlife that can be seen there, and I offer you a brief glimpse into what I have seen this summer.
There did not seem to be many goslings this spring, which makes two years running now, and the broods on the river became very mixed with the Greylags (I only counted 25 at the height of their number) arriving first and were duly gathered into a crèche. The Canada geese produced their young a little later and in a more sporadic manner. Strangely, the parent Canadas ran their youngsters alongside the Greylag brood, presumably to gain protection for their own smaller babies. As the goslings grew, however, they largely separated into their ethnic groups, but there still remain a number of mismatched birds!
I counted four coot nests along the riverbank in the spring but high water in May drowned them all out. Watching the birds frantically building their nests higher and higher to try and protect them from the rising water was rather sad, as it all ended in disaster anyway. A lot of nests were drowned and that, in my opinion, is the reason for the small amount of youngsters this year in many breeds of water birds. After the river flooded over the May Bank Holiday there was a very busy programme of rebuilding once the water began to subside.
I had been watching a pair of greater crested grebe romancing each other. Their courtship display kept me amused for days; they were such a comical pair. Completely lost in their own little world, with their crests erect, they faced each other and rose up upon their tails. Presentation nest material was also much to the fore as the courtship progressed. Finally the nest was built and they began sitting, but, alas, that high floodwater in May brought everything to an end. When the water went down a pair of coots took over the nest and I have not seen the grebe since!
I have also had a lot of enjoyment from the mallards this year. I think four pairs nested, but that floodwater did produce problems. Before the high water arrived one mallard mother got a huge brood on to the river. I couldn't count them; there must have been at least twelve and probably more, moving about the river like one solid shield of ducklings.
I watched a little family drama with this group. A dog (not mine I am glad to say) had entered the water and tried to catch the ducklings as their mother anxiously herded them across the river to the safety of the undergrowth on the further bank. The dog, however, persisted. Mother duck, now at the rear, kept turning round and facing the dog with flapping wings and much quacking. The dog persisted and she finally turned to face him, her beak wide open, and with a strange noise coming from her mouth she charged straight at the pursuing dog, but to no avail. Such a brave act for such a small bird and, of course, her heroics failed. In one, final, desperate act she went into the dying duck routine. With much quacking and flapping and half submerged she passed in front of her tormentor's head until she finally distracted him and the dog began to follow her, away from her precious little brood - who promptly bolted into the bushes. Mother duck continued her little act as she led the dog towards a group of swans, probably hoping the swans would drive it off – but they did not – they just moved away. At this late moment, with much fuss and commotion, a drake arrived on the scene… just like a male, never there when he's needed. Mother duck flew into the air and went in search of her young. It has taken quite an age to relate this little story but it was all over in moments.
For weeks I searched for her, anxious to know how she fared. Although I saw ducks with young the ducklings only numbered one and in another case two, and I did not think they could be my brood – surely she could not have lost that many. In any case, the little ones seemed to be younger. Halfway through July I saw a welcome sight: a mother duck with nine youngsters almost as big as her. I felt my search had been rewarded – surely this was my little family. After all, I had only seen one large brood on the river. Another thing, if she has managed to raise nine of her ducklings then – well done mother duck! Well done.
Another strange sight greeted my eyes in the heat of July. Something swimming in the river caught my attention, and whatever it was created quite a bow-wave. It seemed to be head and shoulders out of the water – what could it be? I tiptoed closer, but it was not alarmed. Could it be a young otter, I wondered, but surely it would not be on its own. As I got closer I realised it was a huge fish…mouth gaping…it was circling in the water. Was it feeding or gasping for air? – I shall never know!
As far as I can see, sadly there is only one family of cygnets on the river. There are six well-grown young, and all doing fine. But what a sight the butterflies have been this summer. I have not seen this many in the meadow for years. What a delight. Then they cut the grass – and they all disappeared. Barbara Corley
W.I. NEWS
We welcomed Anitra Lockwood to our meeting in July. She was going to speak to us about her experiences on being 'A Christian in a Muslim Country' but asked if instead she could show us a video and photographs of the awful devastation caused by the earthquake in Pakistan at the turn of the year. The hospital she works in training midwives was near the worst affected region. She spoke vividly of the hardship that people encountered then and are still having to cope with now. However one positive outcome was that in some instances more understanding and tolerance was being shown between the followers of the different religions.
In August we had our Bring and Share Barbecue at Rectory Farm. The warm still evening was ideal and the rain didn't come till we had finished eating. An enjoyable time was had by all and our thanks to Jill Cheadle for hosting it and to Richard Hall for his masterly barbecue skills - no burnt sausages this year!
Next Month's meeting
We meet on Tuesday 12th September at 7.30p.m. in the Village Hall for a cookery demonstration by Edith Garea. All welcome.
Competition and Hostesses
The competition is 'Homemade shortbread'. Our hostesses are Stasia Wherrett & Kathy Dunn.
Rachel Halton 720572
Odell Parish Council
A meeting of Odell Parish Council was held on Monday, 17th July at 8.00 p.m. in Odell Village Hall.
No Cold Calling Scheme. Mr Paul Marsden spoke to the meeting about Trading Standards 'No Cold Calling' Scheme. He explained the details of the scheme which basically consists of explanatory and advisory leaflets and stickers with useful telephone numbers on them for people to call before opening their door to any cold caller. Additionally there are the large signs which can be erected at either end of a village to act as a deterrent to any potential cold caller. After some discussion it was decided to adopt the scheme and Cllr Swift offered to oversee the distribution of the leaflets

Odell Bridges: The Clerk had hoped to give an update on the position but no response had been received in time from the County Council officer.
Bedford Borough Mayor. Councillors agreed the Mayor should be invited to the September meeting.

Borough Council matters
Under the Minerals and Waste Development Framework, the Harrold site has now been removed from the plan but no reason given. Although the land at Hill Farm, Chellington, is still on the plan, Cllr Charsley felt that in view of the removal of the former land, it was more likely this would also be removed.
County Council Matters
The Highways Department is requesting a copy of parish councils' plans as these will then be analysed to identify those areas of highways work that are important to each parish. Councillors discussed the usefulness of producing a parish plan and the Clerk said Cardington had funds to cover this, although it was felt if a similar small parish could be found who had produced a plan, it might well be possible to produce one without outside intervention. This will be explored by the Clerk.
No contact has yet been made from the County Council with regard to the further footpath improvements under the Highways Partnership Scheme. The Clerk will follow up on this again.

Planning
Permission granted to Northend Farm, 43 High Street for extensions to the house and barn conversion.
Planning permission refused for erection of bungalow in the garden of 20 Horsefair Lane.

Podington Wind Farm
E-mail from Cllr Crotty regarding the Podington Wind Farm discussed. It is now possible this will be discussed at the September planning meeting and CLOWD are planning to run coaches from each village to the meeting, with each village invited to make a contribution towards the cost. The content of this message will be discussed with Cllr Crotty on his return from holiday.

Specifically for the Business of the meeting
Cllr. Halton said she did not like the bollards erected round the new seat in Horsefair Lane, and asked if something could be planted to hide these. Cllr Cheadle commented that these were not as expected, as he had asked for kerbing to be installed. Councillors were asked to give consideration to what could be done here and report at the next meeting.

Cllr. Halton said the pathway at Little Odell is now awful; last year she requested the County Council to do something about it but nothing was done. It now needs cutting down; the worst part is from the Little Odell junction to the Mad Dog. It was felt the whole path between Little Odell and the village needed spraying and rubbish and weeds are growing through the tarmac. The Clerk is to take action on this.

The County Council had not yet cut the area by Harrold Bridge as requested following the last meeting. The Clerk will chase up on this again.
The next meeting will be on Monday, 18th September at 8.00 p.m.
Buckle Up to Save a Life.
The laws surrounding child car restraints will be tightened in September 2006 in a bid to save up to 2,000 child casualties every year.
Until now, Department for Transport (DfT) regulations generally advised parents to use child seats and boosters "if they are available". However, the rules have been tightened because most new cars now have rear seat belts, which can be used to secure child restraints and seats.
Drivers remain responsible for children under 14 years belting up in their vehicle. Motorists who break the law face a £30 fixed penalty notice. If the case goes to court, they could get a £500 fine. The revised law will be enforced by police officers on the street.
The new regulations state that children under 3 years must always use the correct child restraint in the front and rear of cars, vans and other goods vehicles where belts are fitted. Children from their 3rd birthday up to 135cm in height (or their 12th birthday, whichever they reach first) must now also use the correct restraint in these vehicles where belts are fitted. In vehicles without seatbelts, such as classic cars, children can use the back seat but they cannot sit in the front passenger seat where they must always be restrained in any car.
It will also be illegal for rear-facing baby seats to be in the front passenger seat if the passenger seat has an active frontal airbag because, if the safety device were to inflate, serious harm could be caused.
Q: What Sort Of Child Restraints Should Motorists Use And When?
A: There are four basic types of child restraint. These are:
- rear-facing baby seats for children weighing up to 13kg (approximately from birth to nine months)
- forward-facing child seats for children weighing 9kg to 18kg (approximately nine months to four years)
- booster seats for children weighing 15kg to 25kg and upwards (approximately four to six years)
- booster cushions for children from 22kg to 36kg (approximately six years and over)
Q: Are There Any Times When Children Don't Have To Be Restrained?
A: Children under three years may travel unrestrained in the rear of a licensed taxi/private hire vehicle if a child restraint is not available. For children three years to 135cm in height, there are three exceptions when they must travel in the rear of a vehicle and must use an adult seat belt if a child restraint is not available:
- in a licensed taxi or private hire vehicle
- for a short distance for reason of unexpected necessity
- where two occupied child restraints prevent the fitment of a third
Source: Police National Legal Database, August 2006
Free 6 Week Training Course for People Aspiring to Be Professional Interpreters.
The course will run for 6 weeks (every Friday), starting from Friday 29th September from 10:30 am—4:30 pm at Bedford Central Library. For more
information on registering or details on the course, please call: 01442-867212.
The course is supported by Bedford Partnership Board (Bedford Borough's Local Strategic Partnership) and will be facilitated by Herts Interpretation and Translation Service. It is open to all residents of the borough who are fluent in English and any other language/s and interested in becoming professional interpreters.
Harrold/Odell Country Park
The Art of Photography:
Wednesday 13 September 10am –2pm
Bring your digital camera to experiment with. Catch a bird in flight or the sun reflecting on the Lakes. How much light is too much? Can you avoid the wobbles?
Spoon and Spatula Carving: Saturday 16 September 10am – 2pm
Join the Countryside Officer to learn some of the tricks of the trade to make your own kitchen spatulas and spoons. Find out which wood is the best for this and have a go at some of the tools including a shave horse, pole lathe, spoon gouge and curved knife!
Please contact the Park if you would like to come on these two sessions as numbers may be limited.
Friends of Harrold-Odell Country Park
Conservation tasks
Come and join in with practical work to enhance the park for wildlife and visitors on the following dates:
Monday 25 September
Monday 30 October
All tasks start at 10am and finish mid afternoon, but you only need stay as long as you want.
Tel: 01234 720016
Email: hocp@bedscc.gov.uk
Village Hall News
Events
If you have an idea or can help with these let us know, and if you would like a venue for a private function, the very reasonable hire fee helps us maintain the hall.
John Zaradin concert Saturday 5th August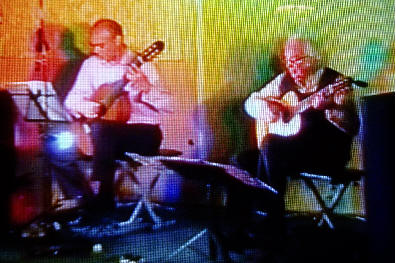 The Village Hall in Odell was packed on the evening of Saturday 5th August as devotees of John Zaradin met to witness what was possibly the most exciting event to have taken place in the Village Hall - the World Premiere performance of John's composition 'Azrac, Suite for Two Guitars'. This composition grew out of his 'Azrac, Suite for
Guitar and Orchestra' and is a special adaptation for two guitars, performed on the evening by John and a colleague, Eric Hill. Their technician David Ecclestone provided technical support.
The Suite consisted of six movements, each with a different flavour.
After each movement was played John gave the audience a unique insight into what had inspired each composition and into the problems faced by the composer as he endeavoured to give shape to his ideas. He explained, for instance, that the air of menace in the moody 2nd movement "Fantasia" was inspired by the terrifying experience of being lost in the Amazon jungle. In contrast, the fourth movement is fast and energetic, based on the 'Forro', a dance from the Brazilian Basin – and certainly it was difficult to keep feet still during this movement.
John and Eric played in perfect harmony to create an outstanding and moving performance, for which applause hardly served as a measure of the audience's appreciation.
Forthcoming events:
Saturday 23rd September: Judging of Children's Sunflower
Competition. Would all children please bring their sunflowers to the
Village Hall on the day; there will be a disco (doors open 6.00pm) when the winners will be announced. Tickets £5 per family from Rob Lee 720730 or Nicky Freeman 720893.
Saturday 25th November: The Time of Our Lives Music Theatre will return to Odell. Look out for more details in October's magazine.
The Mill Theatre, Sharnbrook
The Diary of Anne Frank – Tues 26th – Sat 30th
September, 7.45pm.
A poignant wartime drama dramatised by Frances Goodrich and Albert Hackett; adaptation by Wendy Kesselman. The factual story of a 13-year-old Jewish girl, who, with her family and their friends, is forced into
hiding in an attic in Nazi-occupied Amsterdam…
"Whoever is happy will make others happy too. He who has courage and faith will never perish in misery."
(From 'The Diary of a Young Girl' by Anne Frank).
Tickets (£8/10) are on sale now from:
Sharnbrook Post Office – in person – Your local booking point.
Bedford Central Box Office # 01234 269519—also Credit/Debit Cards Party bookings 781372. (10+? 10% discount, not Charity/Gala shows)
Access for the disabled: new Foyer to first floor Lift – easy access via Clubroom – Bar – covered river view balcony to 2 wheelchair positions - (please book at Bedford Box Office), also to Rows A, B and C – NB 3 steps.
Advance booking during the above, only at The Mill Theatre, for:
Rodgers and Hammerstein's
Oklahoma! – 17th-25th November, 7.45pm; Matinee on 25th at 2.30pm.
Diary
September
3rd 11am Joint service at Harrold URC
3rd 6.30pm Prayer and Reflection, All Saints'.
6th 10.30am Meeting Point Eileen's, Corner House, Rushden.
9th 10am Farmers' Market at Harrold URC.
12th 7.30pm W.I., Village Hall.
13th 10am Art of Photography, Harrold/Odell Country Park.
16th 10am Spoon and Spatula Carving, HOCP
18th 8pm Odell Parish Council Meeting, Village Hall.
20th 12noon Senior Citizens Harvest Lunch, Village Hall.
23rd Judging of sunflower competition and disco.
25th 10am HOCP Conservation Tasks Day.
25th/ 26th Alpha Course (contact Rev Jean Burrows).
29th 10.30am Interpreters Course, Bedford Central Library.
30th 10am Church decorating for harvest.
30th 7.00pm Harvest Supper in Village Hall.
1st 10am Harvest Festival All age Service, All Saints'.
Magazine Deadline
Please send all entries for the October magazine to Tricia Hudson (mag1@odellbeds.net) or Catherine Corkery by September 12th 2006 at the latest. May we remind you that the editorial team exercises the right to edit, shorten or alter any items that are submitted. Also, the opinions expressed in the articles are those of the contributors and are not the responsibility of the editorial team.
Electronic mail address
email is web@odellbeds.net

FAX number
01234-721004

Back to the Odell Home Page
---
Last revised: September 16, 2006.