ODELL VILLAGE NEWS
March 2006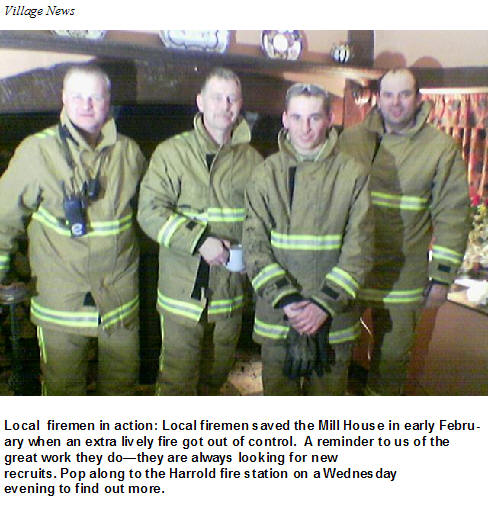 Round and About
When is a Law not a Law?
They say that the law is an ass. When I read the newspapers I am often amazed at the number and variety of charges that can still be brought against members of the public, and just how very out-of-date some of them appear to be.
Every few years, it seems, The Law Society have been sifting through some of their more archaic laws attempting to bring the legal system more up-to-date. More that 2,000 obsolete laws have been repealed since 1965, when such reforms were first started. This, however, still leaves more than 4,000 Public and General Acts, 11,000 Local Acts and 13,000 Private Acts dating prior to 1801 which are considered to be totally irrelevant to life today but are technically still in force.
Following the sad tale of the whale recently trapped in the Thames, I have always known that dead whales are the property of The Crown but have never known any more about it. It seems that according to a law created in 1324, the head of any such creature found on the British coastline, belongs to the king. The tail is the property of the queen. However, the bones are to be used to "furnish the queen's wardrobe", the whalenbone, presumably for use in the royal corsets. Bearing in mind earlier corsets were made of pieces of wood held together by string I can only imagine the royal ladies of earlier days were only too delighted to get their hands on the whalebone!
The kind of misdemeanours, however, still punishable by law are really quite amazing. According to an Act of Parliament dated 1847 it is an offence to shake your doormat outside the door after 8.00am and it is punishable by a fine of £1,000. It is also against the law to beat your carpet!
Wearing a suit of armour when attending Parliament was outlawed in 1279 by Edward I. I can understand the bearing of arms but who would want to wear a full suit of armour - unless taking Parliament by storm. The width of carpet, of course, between the Government and Opposition benches adheres strictly to two sword lengths.
Every few years the Law Society dusts down a few more of their early law books to uncover such gems as the general public can still be charged with, such as being found drunk in charge of a cow - or a steam engine. Don't tell the children, but it is against the law to slide on snow or ice - so what that does for skiing, skating or sledging for the general public is one thing - but what price the Winter Olympics.
There are yet more heinous crimes such as flying a kite! Under the Obscenity Laws comes the crime of singing profane or lewd songs - which is particularly worrying in the present day when you consider the content of many of the current chart toppers. If this latest law was fully carried out most "pop" artistes would all be firmly behind bars. Then there is "wilfully" or "wantonly" disturbing residents by "pulling" or "ringing" on a door bell.
The above examples illustrate the long history of law-making in this country and if our children are not to be in trouble when next sliding on the snow the updating and repealing of such Acts must surely continue.
Barbara Corley
Senior Citizens Fish and Chip Lunch.
The annual Senior Citizens Fish and Chip lunch will take place on Wednesday 15th March at 12.30pm for 1.00pm, in the Village Hall.
Please let Jill Cheadle know by the 5th March if you wish to join us. (01234 720261).
News From The Bell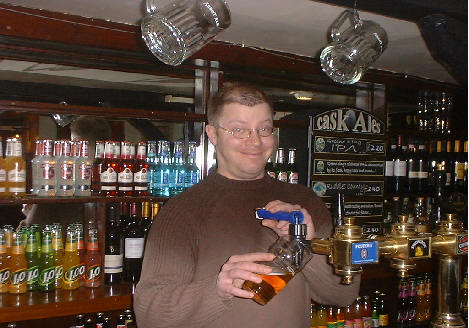 Firstly, we would like to wish all of our customers and friends a very happy New Year. Also, a big thank you to all of our regulars who continue to support the pub. It is particularly pleasing for us to see people who haven't used the pub, over the last couple of years, returning and enjoying The Bell again.

For those of you who don't already know, The Bell has recently undergone a refurbishment throughout and now looks just as attractive on the inside as it does from the outside. So, if you haven't paid us a visit for some time, please come and have a look. A big thank you goes to Paul Johns who carried out the work for doing such a wonderful job – if you are in need of a decorator he's the man for the

job!

Finally, a message to all of you real ale lovers – we serve Greene King IPA, Abbot Ale & Ruddles County on hand pull and take great care to ensure that it is served in tiptop condition. This has resulted in lots of positive comments on the quality of the beer. so please come and give it a try. We look forward to serving you soon. Rachel and Peter

Moggerhanger Park – February 2006

Where is Moggerhanger Park? … is a question I hear a lot. Sadly,

historical treasures such as ours are often over-looked and the public is simply not aware what lies on their doorstep in the Bedfordshire region.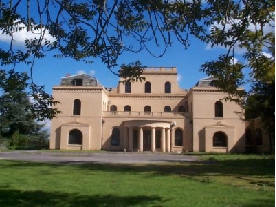 Moggerhanger Park is a Georgian Grade I listed Historic House set in the middle of the Bedfordshire countryside. In November 2005, we were awarded the prestigious title of "Best Restoration of a Georgian Country House' by The Georgian Group. This provided welcome confirmation that our aim of restoring the house in accordance to the original design of its architect had been successful.
Sir John Soane was one of the foremost architects of his day and his achievements include designing the Bank of England, the interiors of 10 (and 11!) Downing Street and Dulwich College.
With the imminent completion of the house, our thoughts are now turning to work on the grounds. Various features of note include the Woodland Walk (open daily), a Georgian Ice House and Walled Gardens. This is in addition to the 162 listed trees which are planted throughout the estate.
Last year ended on a bright note as November saw us awarded £98,000 from the East of England Development Association (EEDA) to enable us to improve our facilities.
With the winter weather upon us, we are keen to start work on a new car park so that we no longer need to rely on the front lawn. This will also coincide with improving our driveway, signage and external lighting. Although we realise this will create a degree of disruption, we hope our visitors will agree that the long-term benefits will be significant.
Our first summer of opening last year by far exceeded our expectations. Despite delays in completing the restoration work, we managed to open the Tea Rooms at the end of April 2005 and they continue to operate daily from 11am to 4pm. Offering a variety of refreshments and light lunches, real tea selections, fair trade coffees and desserts – there is sure to be something for everyone's palate.
The adjacent Servants Hall can be hired out for private functions and celebrations.
Due to popular demand, we have now extended our Catering Facilities with the opening of a Bistro Bar on Thursday and Friday evenings. Spaces are limited so it is essential to make a booking to avoid disappointment.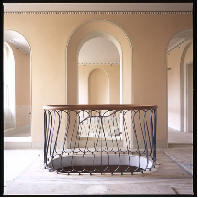 During the winter months, Moggerhanger House provides a unique atmosphere for executive conferences and corporate functions. We are currently able to provide day conferences and anticipate having residential accommodation available from 2007.
Our 'Tourist Season' recommences at the beginning of June; however, we have plenty of events planned for the upcoming months. Details can be found on our website – www.moggerhangerpark.com.
House Tours recommence on Saturday 3rd June (another date for your diary!) and will run on a daily basis until mid-September. Tours will start at 12.00pm and 2.30pm and are charged at £5.00 for adults, £4.00 for concessions and under 16's free of charge. If you would like any further information regarding any aspect of the estate, please do not hesitate to contact the office on 01767 641007.
Wendy Van Pelt Marketing and Bookings Officer
W.I. News
'Travels with my camera' was the title of our evening with Laurence Jones. He is a member of Bedford
Camera Club and we were entertained with six of his slide and sound shows that he had entered into club competitions. They covered not only aspects of his travels in Canada and Australia and Europe but also areas nearer home in the Ouse Valley. He obviously has a love of flora and there were some wonderful slides of poppies and other common flowers together with some exotic orchids. A very
entertaining and enjoyable evening.
March meeting
We are pleased to welcome Dot Wigg on the 14th of March at 7.30 p.m. in the Village Hall. Her talk is entitled 'Tea with the Queen'. Her talks are always very amusing and we are looking forward to an entertaining
evening. Visitors are always welcome, just turn up or contact any W.I. member.
Competition and Hostesses
Hostesses are Jane Eshelby and Lynette Hall and the competition is 'Royal Memorabilia'.
Jumble Sale
After much discussion it was decided to continue the W.I. for a further year, as a result we need to fund raise. We have therefore decided to hold a Jumble Sale which we hope the village will support. Details as
follows.
Rachel Halton 720572
W.I. Jumble Sale
March 18th at 2.00 p.m.
In the Village Hall
Entrance £1.00 to include tea and biscuits
Cakes, produce, nearly new, books, toys
Bric-a-brac
Men's, women's and children's clothing
Harrold-Odell Country Park
Events at Harrold-Odell Country Park
Saturday March 11th. 10am – 1pm
Otters in Harrold and around Bedfordshire - the current situation and how to identify their presence. A talk and slide show on Bedfordshire otters followed by practical training in recognising their signs around Harrold-Odell Country Park. Warm clothing and strong footwear required. Please book early to reserve a place.
There is no charge for this event but if you make a donation it will help us to put on further events.
Friends of the Park Conservation Tasks
Why not join in with some practical work to enhance the Park both for wildlife and visitors? You can get fit and enjoy yourself at the same time! The next session is on Monday 27th March. All tasks start at 10am and last until around mid afternoon but you can leave when you want to. Please wear practical clothing and footwear.
Tel: 01234 720016
Email: hocp@bedscc.gov.uk
Village Hall News
Events
If you have an idea or can help with these let us know, and if you would like a venue for a private function, the very reasonable hire fee helps us maintain the hall.
Burns Night
Leslie and Doreen would like to thank everyone who gave assistance at the Burns night supper in January. The profit of £409 has been donated to the North Beds Alzheimer's Society for the Carer's Rest, a drop-in center for both carers and people living with dementia in Bedfordshire.
Leslie and Doreen
2006 in the Village Hall:
Wednesdays – Line Dancing; Thursdays – Yoga.
Watch out for a Barn Dance in April (8th to be confirmed) and the Return of The Quiz on May 6th!
Waste Paper Collection – thank you for bringing your waste paper to the bins. Though the return is very small, every little bit helps financially and of course the waste is recycled.
Do please support our events, and do suggest to us your ideas for alternative activities.
Rob Lee (720730) on behalf of the Village Hall Committee.
Village of the Year – has your village got what it takes?
Has your village ever considered entering Calor's Village of the Year competition? If not, why not?
If your village is buzzing, with residents taking an active interest in what goes on and making the most of local opportunities, then your village could be picked to represent Bedfordshire this year.
The procedure for entering your village is very straightforward and Bedfordshire RCC will be able to guide you through the process. So why not give it a go? If your village would like to enter Calor's Village of the Year competition or if you would simply like more information, please contact Eleanor Fox on 01234 832615 or email eleanorf@bedsrcc.org.uk
The Mill Theatre, Sharnbrook
2006 SEASON
Humble Boy: 7 – 11 March, 7.45pm.
All is not well in the Humble hive.....
Thirty-five year old Felix Humble is a Cambridge astro-physicist in search of a unified field theory. Following the sudden death of his father, he returns to his middle England home and his difficult and demanding mother, where he soon realises that his search for unity must include his own chaotic home life...
We are made party to a family in crisis, where a death has brought about a series of changes that may push fragile relationships over the edge. But...mix in an over-bearing mother, a ghost and a whole hive of bees, and we're ready for a unique comedy drama about the big things and the little things...and the energy that binds it all together.
A clever, poignant comedy by Charlotte Jones.
Tickets: £8 – 10 available now from
·

Sharnbrook Post Office – in person – Your local booking point.

·

Bedford Central Box Office # 01234 269519 (Credit/Debit Cards accepted)

·

Party bookings (01234) 781372 (10+? 10% discount, excl. Charity/Gala performances)

Access for the disabled: new Foyer to first floor Lift – easy access via Clubroom – Bar – covered river view balcony to 2 wheelchair positions - (please book at Bedford Box Office), also to Rows A, B and C – NB 3 steps.

Advance booking will be available during 'Humble Boy', only at the Theatre, for:

Return to the Forbidden Planet

Science Fiction Cult Rock Musical by Bob Carlton.

12 – 20 May, nightly at 7.45pm.

9 – 18? Youth Theatre Summer School 2006: Monday 24th July – Saturday 29th July. For details and to reserve your place for 6 days of professional tuition contact Erica Lester, 781210, or erical@email.com

North-East Bedfordshire Conservative Association

Sharnbrook Branch Sharnbrook, Souldrop, Yielden, Melchbourne, Knotting

Warmly invite you to their

Spring Coffee Morning

Thursday 9th March 10.30am – 12.00 noon

14, Stileman Way, Sharnbrook

By kind permission of Mr and Mrs Derek Mitchell

Bring and Buy, Raffle. Admission £2.50 – tickets available from

Theo Gibbs 782377

Diary

March

3rd 10.00am Womens World Day of Prayer, Harrold Chapel.

8th 10.30am Meeting Point at Doris's, The Bury, Pavenham.

8th 7.45pm PCC Meeting, Rectory Farm.

11th 10.00am Talk on Otters, Harrold/Odell Country Park.

12th 6.00pm Lent Service, St. Peter, Pavenham.

13th 8.00pm Parish Council Meeting, Village Hall.

14th 7.30pm W.I. Village Hall.

15th 12.30pm Senior Citizens Fish and Chip lunch, Village Hall.

18th 2.00pm Jumble Sale, Village Hall.

19th 6.00pm Lent Service, St Lawrence, Wymington.

20th 7.30pm Licensing Service for Rev. Christine Clark, All Saints'.
22nd 10.30am Meeting Point at Catherine's, Manor Cottage, Harrold.
26th 10.00am Mothering Sunday Service, All Saints'.
26th 6.00pm Lent Service, St Mary, Yelden.
27th 10.00am Friends of Harrold/Odell Country Park Conservation morning.
April
2nd 6.00pm Lent Service, St Nicholas, Wilden.
10th 7.30pm PCC AGM, Village Hall.
Magazine Deadline
Please send all entries for the April magazine to Tricia Hudson (mag1@odellbeds.net) or Catherine Corkery by March 12th 2006 at the latest. May we remind you that the editorial team exercises the right to edit, shorten or alter any items that are submitted. Also, the opinions expressed in the articles are those of the contributors and are not the responsibility of the editorial team.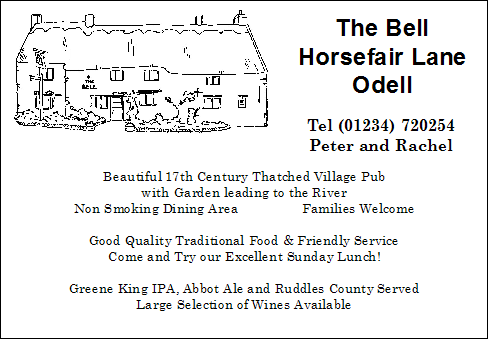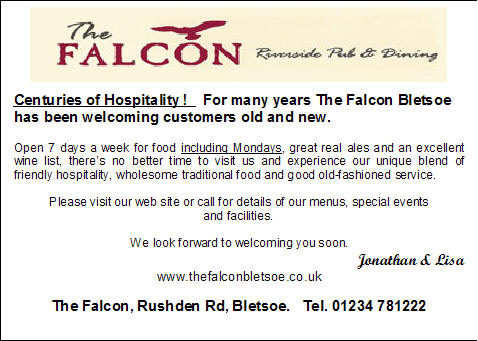 Electronic mail address
email is web@odellbeds.net

FAX number
01234-721004

Back to the Odell Home Page
---
Last revised: February 26, 2006.