Odell Fete and Dog Show
Saturday 10th June 2006, 2.00pm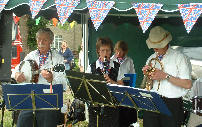 This year the Odell fete will take place on Saturday 10th June in the Scout Field, Horsefair Lane. The fete will be opened at 2.00pm by the new Minister of All Saints', Rev. Christine Clark.
There will be all the usual stalls:
Boys Brigade, Jazz Band, Family Dog Show, Tombola, Children's Sports, Children's Stalls, Ice Creams, Refreshments, Many Sideshows, Gifts, White Elephant, Bottle Stall, Books, Cakes, Produce.
'A Birthday card for the Queen' competition.
This year the fete will mark the 80th birthday of Her Majesty the Queen with a birthday card competition for children. The finished cards should be brought along to the fete for judging.
Wodehill One-Steppers Jazz Band
Once again, the Wodehill One-Steppers Jazz Band will entertain fete-goers in the fete grounds. The Band plays regularly in local events and has been spotted in the garden of The Bell in Odell in summer months!
Entrance to the fete will cost £1.50; children free.
Fete weekend Barbeque 11th June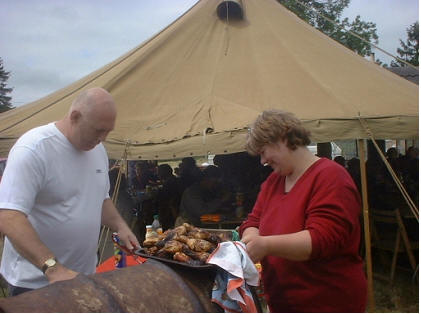 Following the church service in the Scout Field on Sunday morning all residents of Horsefair Lane and Mill Lane and fete helpers are invited to a BBQ at 12.30 pm. Meat and salads will be provided but please bring your own crockery, cutlery and drink.
Please let either Mandy Sharpe (720414) or Jill Cheadle (720261) know if you are able to come.
Birthday Greetings To:
Alexander Tringham who will be 4 years old on 16th June,
Eleanor Robinson on the 17th June
Elliott Swift on the 19th June
and to anyone else with a birthday in June!
Round and About
Born to be Queen
This year the Odell Fete is celebrating the occasion of the Queen's 80th birthday and in support of this event I proffer my own contribution.
Born in a private house during the General Strike of a quiet, retiring couple, Elizabeth was never expected to play more than a small walk-on part in English history, but destiny was to take a hand.
George V loved his little granddaughters and would often take Elizabeth on to his knee, or get down on his hands and knees to play with her - a thing he was never able to bring himself to do with his own children. In return the little girl called him "Grandpa England". The early years for Elizabeth and her sister Margaret were carefree and surrounded with dogs and horses. Queen Mary felt that their days were filled with too much innocent fun and that the little girls should apply themselves more. Elizabeth, however, did have a more serious side to her and a confidence beyond her years. She was to need all the confidence she could muster, because destiny was about to show its hand.
At the age of 10 everything changed. George V died and her Uncle Edward (known as David) was now King, but he declared he could not be crowned unless he could marry the woman he loved. The Church, Parliament, and his mother, were totally against this, however, and after much heartache on all sides (a period of her life Elizabeth has never forgotten) Edward abdicated and her own father was declared King. At a stroke Elizabeth was no longer an obscure princess but the Heir Apparent.
During the war years the King and Queen stayed in London while the two princesses were at Windsor. As soon as she was old enough Elizabeth joined the ATS and could change a wheel and service an engine with the best. When peace was declared she could be seen on the Palace balcony with her family and Churchill but she soon slipped away and joined the crowds partying in the streets of London.
The Queen first met Philip when she was 12 years old and he was a 17 year old naval cadet, but she was 21 before the relationship became serious. Their wedding in 1947 was considered to be the first bit of real glamour seen in the country since the conclusion of the war. Normality was beginning to return, but these were the austerity years and people throughout the land sent her their clothing coupons to help with her Hartnell wedding dress and, as a special treat, the children all had a day off school.
Her early married years, spent as a naval wife on Malta, offered the Queen the only really normal married years of her life. The failing health of her father, the King, saw her undertaking some of his royal duties and, leaving her two young children at home, she undertook an overseas tour of duty on his behalf. He saw her off at the airport and is said to have stood and watched until her plane was out of sight, perhaps he realised he would never see his daughter again.
February 1952 found Elizabeth and Philip visiting the Treetops safari lodge in Kenya, with the young mother excitedly climbing the trees into the lookout centre, and it was here that the news was broken to her. Her lady-in-waiting was to say "she climbed the tree a princess and came down The Queen". Elizabeth returned to a rainswept England to claim her throne. It was a small, isolated, figure that descended the steps of the plane "her face showing strain but her manner disciplined". Here she was greeted by Churchill and Government leaders...her royal life had begun. She took up her duties as sovereign the moment she stepped on land.
The Coronation took place at Westminster Abbey on the 2nd. June 1953, a major celebration in the country. The Queen made a personal request that the service be shown on television but her Government were aghast. Television was too frivolous a media to be allowed to show a State Occasion. The Queen, however, got her way.
Not many people owned a set in those days but the population was determined to see their new, young, Queen crowned. The country went wild, many went out to buy a new TV set just for the occasion, others visited relatives or friends to watch on their set and people were glued to the television all day. And strange sets they were, in those days. Receiving only black and white, on narrow 9" screens with a glass bubble hung in front to enlarge the picture.
During the years that Elizabeth has been on the throne she has reigned - but not ruled. The running of the country is the business of her Government and she has seen ten Prime Ministers, from Churchill to Blair. She is said to have a good relationship with all her P.Ms no matter how republican in nature and that they have seen in her a long-term, steadying influence with a wealth of experience. The Queen has seen many changes over the years. Wars have come and gone, an Empire has evolved into a Commonwealth, and the anniversaries are mounting up with perhaps the most popular being her Golden Jubilee when The Mall was a sea of red, white and blue and over 1m people are said to have packed the area to join in the celebrations.
The Queen is celebrating her 80th Birthday. Elizabeth and Philip are also looking forward to their 59th wedding anniversary later in the year.
After all these years they are both still very dependent upon each other. One of the Queen's ladies remarked "the success of their marriage is because they remain such good friends and they both share a good sense of humour". One weekend Philip had just returned from Italy with some special, large, dessert apples. He was cutting one up when the Queen asked "What have you got there?"..."Apples" he replied "Do you want a piece?" He promptly tossed a segment across the table and Elizabeth deftly caught it mid air.
The family often talk nostalgically about the Royal Yacht Britannia and there is always much laughter when recalling certain events ... such as Charles and Anne fishing from the stern and a ship's stoker catching their lines from below and attaching fish to their hooks - straight from the freezer. How the children excitedly withdrew their lines, delighted at their catch, and not realising that the fish were still frozen.
The Queen receives about 130 letters a day which she tries to read herself and still undertakes overseas tours. She attends 500 engagements a year, including Privy Council Meetings, 20 Investitures, banquets and receptions together with a number of garden parties. The Queen never cancels...she declares "You have to remember whoever you meet will remember the occasion forever and you must never do anything to spoil it". Surely, Elizabeth our Queen is the ultimate celebrity.
Barbara Corley
Jazz in the Garden
Summer is on its way! Wodehill Jazz Band will be playing in the garden of The Bell on Friday 16th June at 6.30pm, weather permitting.
Future date at The Bell: Friday 18th August.
W.I. NEWS
It was our A.G.M. this month when we reviewed the past year, and looked forward to the next. Our
competitions this year led to three people in joint first place, our congratulations to Jill Cheadle, Carol Ormond and Barbara Corley.
After finishing the business of the A.G.M. we moved on to debate this year's W.I. resolutions. The topics under discussion were the lack of
government incentives or directives for new and refurbished
developments to include the installation of micro renewable energy
systems and the lack of any effective strategy for increasing the amount of exercise in the population by providing local and affordable options. Both resolutions were supported and our decision will be passed to our area representative .
June meeting
There will be no meeting in June as so many of the members are involved in the organisation of the village fete.
Rachel Halton 720572
Senior Citizens' Summer Garden Party
Odell Luncheon Club invites you to a Strawberry Tea
in Jim and Doreen Wheeler's garden
Linden House
93 High Street
Odell
on Wednesday, 12th July
at 3.00pm
All senior citizens are invited
Please let Jill Cheadle (720261) know by 2nd July if you wish to attend
Harrold/Odell Country Park
If you enjoy your garden, especially during the summer months, come along to the session on "Making Garden Obelisks". You will use
materials that are grown in the Park and you will be able to take away your finished item to use straightaway.
Making Garden Obelisks - Thursday 15 June 10am – 2pm
Using materials from the Park make an obelisk to support your garden plants as they twist and turn through the structure. Show them off to their best advantage.
Moth Trapping - Saturday 22 July 8.30pm onwards.
Using light-traps learn to identify the many species of moth living in the Park at this time of year.
You will need to contact us to reserve a place on these events as spaces may be limited. There is not a charge for the sessions but donations are always welcome to enable us to put on more in the future.
Friends of Harrold-Odell Country Park: Conservation tasks
Come and join in with practical work to enhance the park for wildlife and visitors on the following dates:
Monday 26 June, Monday 31 July.
All tasks start at 10am and finish mid afternoon, but you only need stay as long as you want.
Tel: 01234 720016
Email: hocp@bedscc.gov.uk
Village Hall News
Events
If you have an idea or can help with these let us know, and if you would like a venue for a private function, the very reasonable hire fee helps us maintain the hall.
John Zaradin concert
We are very pleased to announce that we will be having a Cheese and Wine Evening on Saturday 5th August at 7.30pm, with John Zaradin and Eric Hill performing "Azraq Suite for two Guitars", written by John.
"Azraq Suite" is an exciting new work in 6 movements which creates a kaleidoscope of the contrasting moods evoked by the territories inhabited by the Spanish guitar - from its life in the old world of the East, North Africa and the Iberian peninsula, crossing the Atlantic to the American continents and the new world.
Tickets are £10 (which includes a glass of wine) and are available from Sue Robinson, 720113 or Karen Fulford, 721590
Wednesdays – Line Dancing; Thursdays – Yoga.
Quiz, Saturday 13th May.
As usual, the quiz was very well attended, with teams entering from
outside the village of Odell as well.
Results were as follows: First, 'Only Five'; Second, 'Brains Aren't Everything' and Third, 'Eastenders'.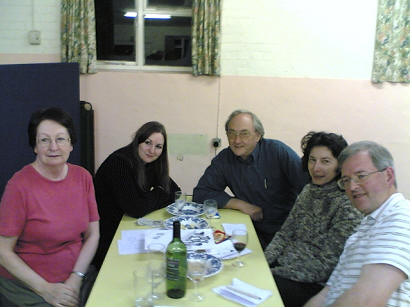 1st: Above: 'Only Five'
2nd: Below: 'Brains Aren't Everything'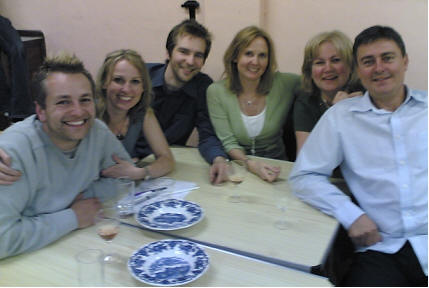 3rd: below: Eastenders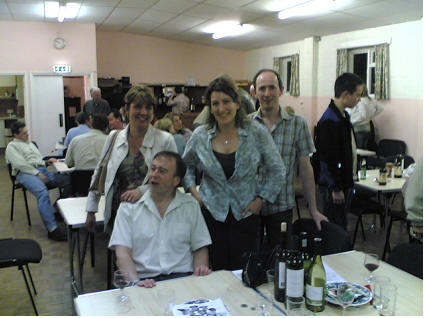 Waste Paper Collection – thank you for bringing your waste paper to the bins. Though the return is very small, every little bit helps financially and of course the waste is recycled.
Do please support our events, and do suggest to us your ideas for alternative activities.
Rob Lee (720730) on behalf of the Village Hall Committee.
The Mill Theatre, Sharnbrook
2006 SEASON
The Diary of Anne Frank – 26th – 30th September
Details will be available in July/August edition of the Odell magazine.
Tickets will be on sale from mid-August at Sharnbrook Post Office & Bedford Central Box Office.
Oklahoma! – 17th-25th November
Advanced booking during 'The Diary of Anne Frank'.
Auditions: non-principals Sun 4th, principals Mon 5th June.
Contact Enid Cooper 01234 708432
For production details/confirmation of both 'the Diary of Anne Frank' and 'Oklahoma!' telephone Peter Allen, 01234 708308 (evenings).
Tickets available from:
Sharnbrook Post Office – in person – Your local booking point.
Bedford Central Box Office # 01234 269519 (Credit/Debit Cards

accepted)
· Party bookings (01234) 781372 (10+? 10% discount, excl. Charity/ Gala performances)
Access for the disabled: new Foyer to first floor Lift – easy access via Clubroom – Bar – covered river view balcony to 2 wheelchair positions - (please book at Bedford Box Office), also to Rows A, B and C – NB 3 steps.
Right: The Mill Theatre's most recent production, 'Return to the Forbidden Planet', Bob Carlton's cult musical, which ran from 12th—20th May.
Youth Summer School 24th – 29th July: aged 9-18? Act now! A few places left.
Diary
June
3rd 10.00am Fairtrade Coffee Morning, The Rectory.
10th 2.00pm Odell Village Fete, The Scout Field, Horsefair
Lane.
11th 10.30am Family Service in Scout Field.
11th 12.30pm BBQ in Scout Field.
14th 10.30am Meeting Point at Christine's, The Rectory, Church
Lane.
16th 6.30pm Wodehill Jazz Band in garden of The Bell, weather permitting.
28th 10.30am Meeting point at Sarah's, 9 Horsefair Lane.
Magazine Deadline
Please send all entries for the joint July/August magazine to Tricia Hudson (mag1@odellbeds.net) or Catherine Corkery by June 12th 2006 at the latest. May we remind you that the editorial team exercises the right to edit, shorten or alter any items that are submitted. Also, the opinions expressed in the articles are those of the contributors and are not the responsibility of the editorial team.