ODELL VILLAGE NEWS
July 2006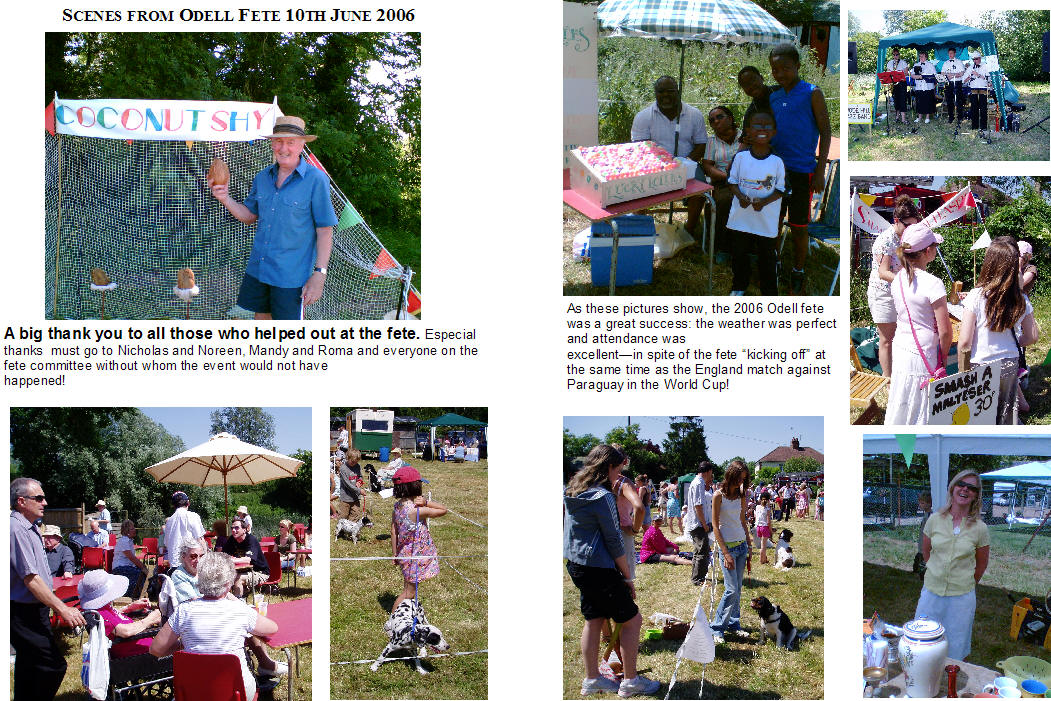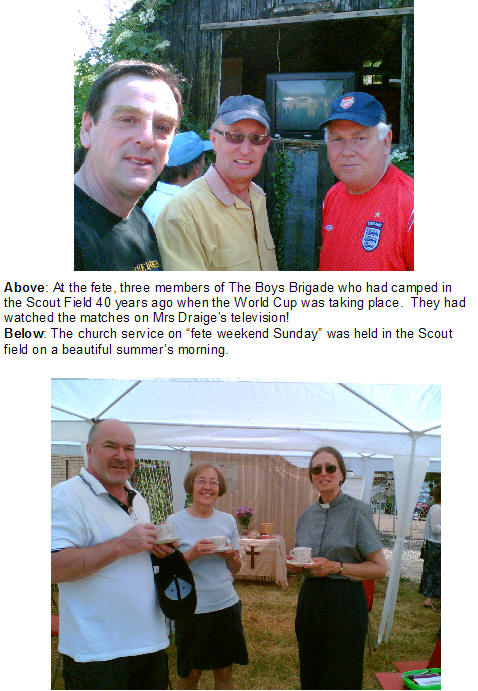 Round and About
St. George for England
It had not been my intention to mention football - it's not exactly my game - but when push came to shove I could not help myself because, arising out of the World Cup, is another matter that is giving me much pleasure.
It's all those flags! - those happy, merry, flapping flags. They are everywhere! You can see the Flag of St. George on display in shop windows, decorating offices and pubs and draped across houses, but the ones that I like the most, however, are the ones fluttering from spikes on car windows. I don't know what it is, but they just make me smile. They look so joyful, streaming from the vehicles as they drive along the roadway.
About 12 years ago England went through a very dark period. The country seemed to have lost its way and to lack a sense of purpose and this all came to a head when Tony Blair introduced devolution to Scotland and Wales...it had a terrible effect on the country's morale. As a nation we had been encouraged to think of ourselves as British rather than English and at a stroke this was all over. Britain no longer seemed to be Britain but several disparate parts all pulling in different directions. The Union flag no longer seemed to represent us any more. It appeared that England had lost its identity.
Slowly, very slowly, over the last few years, this has all begun to change. Instead of flying the Union Jack people have begun to turn to an even older flag. Somewhere, deep in the memory of the nation, people began to remember that England did have a flag, a flag of it's very own, and had done so for many hundreds of years ... the Flag of St. George!
I seem to remember that it really got off the ground at the time of the Commonwealth Games in Manchester. The nations of the Commonwealth all came with their national flags, the various component parts of Great Britain all wished to appear under their own name and individual colours and that England now had to decide what flag should represent England. In years past there would have been no question, we would have flown the Union Jack ... but that now represented the entire British Isles...and we were on our own.
At this, our time of need, St. George came marching out of the shadows of history with his banner flying. We also required an individual anthem to represent England and was it, I wonder, based on the Last Night at the Proms, when the Games organisers recalled that the flying of the flag was always accompanied by the singing of 'Land of Hope and Glory' - a cracking good tune! Whatever the case...the ground was set, the supporters seemed to love it and they adopted the flag and the anthem as their own. It all had a rather comfortable feel about it. When the Olympic Games came around last year they repeated the procedure and it all seemed to be the most natural thing in the world.
Nowadays when you watch television coverage of a national event, like a major celebration, the Queen's Jubilee or even a carnival, it is the red and white flags of St. George that predominate. The people seem to have spoken, certainly the football fans have, and we have changed our allegiance and wholeheartedly adopted the new flag - or should I say the 'old' flag with considerable ease. We seem to have claimed our own identity. We now fly, by choice, the flag of England and leave the other members of Great Britain to fly their own individual flags.
I know a lot of people have trouble with flags, particularly British flags. Personally I cannot understand it. Every nation in the World has a flag. It is only a bit of cotton cloth fluttering in the breeze. It cannot hurt anyone.
There is something rather lovely, even graceful, about a flag gently lifting and waving in the breeze...and something rather cheeky when the smaller flags flutter and dance. So to me it does not matter what flag it is. These brightly coloured "jewels" representing many nations, or possibly just bunting, leave me with a feeling of happy contentment.
Barbara Corley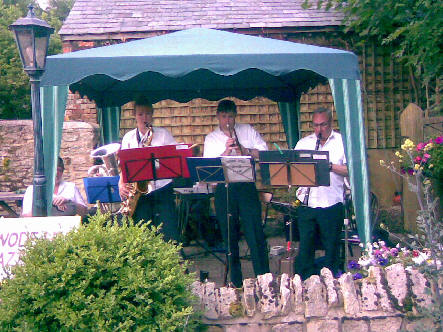 Jazz in the Garden
Wodehill Jazz Band provided light summer entertainment to a packed audience in the garden of 'The Bell' on the balmy evening of June 16th. They will be playing again in the garden of 'The Bell' on Friday 18th
August, weather permitting.
Cancer Research 10km Run At Burghley House on 2nd April
Leslie Knowles, who took part in this run in memory of Rebecca Knowles, John Salter (Sharnbrook) and Emma Mayston, writes:
I would just like to offer my sincere gratitude to all of you who donated money for my run. I was hoping to raise £200 which quickly reached £400 and I am delighted to inform you all that I have just posted a cheque for £759.00 (includes £120 Gift Aid) to Cancer Research U.K. Many, many thanks.
Leslie Knowles
W.I. NEWS
There was no meeting in June as so many of the members are involved in Odell Fete. We meet again at 7.30 p.m. on July 11th in the Village Hall when we are
looking forward to welcoming Anitra Lockwood who is going to recount some of her experiences on being 'A Christian in a Muslim Country'.
August is the month of our Barbecue which this year will be on August 8th at Rectory Farm. We make an earlier start to our meeting of 7pm in order, we hope, to make the most of the evening sunshine.
Competition and Hostesses
The competition in July will be a poem about love and peace and our hostesses will be Mandy Sharpe and Barbara Corley.
August will be a bring and share buffet.
Rachel Halton 720572
SENIOR CITIZENS SUMMER GARDEN PARTY
Odell Luncheon Club invites you to a Strawberry Tea
In Jim and Doreen Wheeler's garden
Linden House
93 High Street
Odell
On Wednesday, 12th July
At 3.00pm
All senior citizens are invited
Please let Jill Cheadle (720261) know by 2nd July if you wish to attend
Friends of Harrold Medical Practice
The practice is pleased to announce a new service to patients who wear NHS hearing aids. Paul Carne from the Bedfordshire Hearing Advisory Service runs a drop-in clinic once a month at the practice. Paul's next visits will be on Friday 7th July and Tuesday 8th August, from 2.00 to 4.00pm. Paul can help out with the cleaning and re-tubing of ear moulds and can give advice on hearing related problems (including advice on replacement equipment) as well as demonstrating some of the equipment available from Bedfordshire County Council's Sensory Team. He can also supply replacement batteries.
The practice accumulated a large amount of unwanted medicines and are pleased to report that some of these are being shipped abroad to a Children's Hospital in Cambodia courtesy of Sharon Jackson. Within the Bedford Primary Care Trust the total cost of wasted drugs amounts to a staggering £768,000!
Just a reminder regarding reading material for your forthcoming holidays! When you drop into the practice remember to look at our selection of paperbacks – value for money at 50p!!
Harrold/Odell Country Park
During the summer months why not enjoy a walk around the Park or take the opportunity of learning a new skill? Events are free but donations are welcomed. Please contact us for further details.
Harrold-Odell Country Park, Carlton Road, Harrold MK43 7DS
Tel: 01234 720016 Email: hocp@bedscc.gov.uk
Moth Trapping: Saturday 22 July 8.30pm onwards.
Using light-traps learn to identify the many species of moth living in the Park at this time of year.
Coming up in September:
The Art of Photography: Wednesday 13 September 10am – 12pm
Bring your digital camera to experiment with. Catch a bird in flight or the sun reflecting on the Lakes. How much light is too much? Can you avoid the wobbles?
Spoon and Spatula Carving: Saturday 16 September 10am – 2pm
Join the Countryside Officer to learn some of the tricks of the trade to make your own kitchen spatulas and spoons. Find out which wood is the best for this and have a go at some of the tools including a shave horse, pole lathe, spoon gouge and curved knife!
Friends of Harrold-Odell Country Park
Conservation tasks
Come and join in with practical work to enhance the park for wildlife and visitors on the following dates:
Monday 21 August
Monday 25 September
All tasks start at 10am and finish mid afternoon, but you only need stay as long as you want.
Tel: 01234 720016
Email: hocp@bedscc.gov.uk
Village Hall News
Events
If you have an idea or can help with these let us know, and if you would like a venue for a private function, the very reasonable hire fee helps us maintain the hall.

John Zaradin concert Saturday 5th August
On Saturday 5th August, at 7.30pm, John Zaradin and Eric Hill will be performing the "Azraq Suite for two Guitars", written by John.
"Azraq Suite" is an exciting new work in 6 movements which creates a kaleidoscope of the contrasting moods evoked by the territories inhabited by the Spanish guitar - from its life in the old world of the East, North Africa and the Iberian peninsula, crossing the Atlantic to the American continents and the new world.
Tickets are £10 (which includes a glass of wine) and are available from Sue Robinson, 01234 720113 or Karen Fulford, 01234 721590
Wednesdays – Line Dancing; Thursdays – Yoga.
Waste Paper Collection – thank you for bringing your waste paper to the bins. Though the return is very small, every little bit helps financially and of course the waste is recycled.
Do please support our events, and do suggest to us your ideas for alternative activities.
Rob Lee (720730) on behalf of the Village Hall Committee.
The Mill Theatre, Sharnbrook
2006 SEASON
The Diary of Anne Frank
Tues 26th – Sat 30th September, 7.45pm.
A poignant wartime drama dramatised by Frances Goodrich and Albert Hackett.
Adaptation by Wendy Kesselman.
Tickets will be on sale from 14th August from:
Sharnbrook Post Office – in person – Your local booking point.
Bedford Central Box Office # 01234 269519 (Credit/Debit Cards accepted)
Party bookings (01234) 781372 (10+? 10% discount, excl. Charity/ Gala performances)
Access for the disabled: new Foyer to first floor Lift – easy access via Clubroom – Bar – covered river view balcony to 2 wheelchair positions - (please book at Bedford Box Office), also to Rows A, B and C – NB 3 steps.
Advance booking for -
Oklahoma! – 17th-25th November, Matinee on 25th
will be available at The Mill Theatre during 'The Diary of Anne Frank'.
Be Prepared – and save money too!
How many tickets to The Mill Theatre do you expect to buy for your family and friends – say, over the next three years?
Currently 9 top price tickets would cost £99. But, if you became a Mill Theatre Chairholder, for £100 – just £1 more – you would receive 12 vouchers, worth up to £132! – (12 x £11) – each exchangeable for 1 ticket at anytime over the next 3 years. That's a possible bonus of almost 3 Top Price Tickets! A few conditions apply, but it's well worth it! And it's so easy to arrange too! Applications forms are available from Erica Lester 781210, Theo Gibbs 782377 or Keith Lazenby 359733.
Bridge and Bridleway open.
Thank you to our patrons and the users of the bridleway for your kind cooperation and understanding during the reconstruction of our bridge, following the revelation of a major structural fault. The bridge and bridleway are now fully accessible again. Please accept our apologies for any inconvenience caused.
The Governors and Members of the Trust extend their gratitude to Messrs Abrahams and Blakemore for providing alternative parking facilities for the theatre during this period.
Diary
July
Wed 5th 10.30am Meeting Point at Jill's, Rectory Farm.
Fri 7th 2—4pm Hearing Clinic Harrold Medical Practice.
Sat 8th 10am – 5pm Art and Craft Exhibition and Sale, Carlton
Village Hall.
Sun 9th 1– 5pm " " " " " " " "
Tues 11th 7.30pm W.I. Odell Village Hall.
Wed 12th 3.00pm Senior Citizens' Strawberry Tea at Linden
House.
Wed 19th 10.30am Meeting Point at Christine's, The Rectory, Odell.
Sat 22nd 8.30pm Moth trapping, HOCP.
August
Sat 5th 7.30pm John Zaradin and Eric Hill performing,

Village Hall.
Sun 6th 6 – 8 pm All Saints' Church open for prayer and reflection.
Mon 7th 3 – 5pm " " " " " " "
Tues 8th 2 – 4pm Hearing Clinic, Harrold Medical Practice.
Tues 8th 7pm W.I. Barbecue, Rectory Farm.
Wed 9th 3 – 5pm All Saints' Church open for prayer and reflection.
Thurs 10th 7 - 9pm " " " " " " "
Fri 18th 6.30pm Wodehill Jazz Band at The Bell, weather permitting.
Mon 21st 10.00am Conservation task day, HOCP.
Magazine Deadline
Please send all entries for the September magazine to Tricia Hudson (mag1@odellbeds.net) or Catherine Corkery by August 12th 2006 at the latest. May we remind you that the editorial team exercises the right to edit, shorten or alter any items that are submitted. Also, the opinions expressed in the articles are those of the contributors and are not the responsibility of the editorial team.
Electronic mail address
email is web@odellbeds.net

FAX number
01234-721004

Back to the Odell Home Page
---
Last revised: July 01, 2006.