ODELL VILLAGE NEWS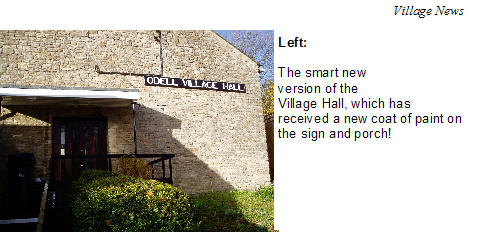 December 2006
Odell Senior Citizens Luncheon Club
Invites you to join us
on Wednesday 13 December 2006
at 12.30 for 1.00pm
For Christmas lunch
In the Village Hall
Please let Jill know (on 01234 720261) by
Monday 4th December if you are able to join us.
Round and About
A Season for Goodwill
As I wish you all A Very Happy Christmas - as indeed I do - I feel I should add a cautionary note before you embark on your seasonal celebrations. You do realise that Christmas is illegal, don't you? As you sit down to Christmas dinner and party into the night, you do realise that the Police could come a-knocking at your door!
There have been many legal Acts and Laws brought into being over the centuries that have never been repealed. They may be archaic but they remain in the Law Books and, in theory, we could all be arrested this Christmas! Let me draw your attention to just a few.
There is nothing new about Christmas killjoys....they have been around for centuries and vary from those who tell us that we celebrate Christmas on the wrong day, in the wrong month and even in the wrong year ... to the Holy Days and Fasting Days Act of 1551 which decrees that it is obligatory to attend Christmas Day church services - on foot!
Oliver Cromwell's Parliament is seen by many to have more or less abolished Christmas with one stroke of the pen. The Puritans, including Cromwell, believed that Christmas festivities such as church services and the giving of gifts was wasteful anddecadent. His Parliament banned Christmas pudding, mince pies and anything perceived to be remotely to do with gluttony and, of course, they banned dancing! These laws have never been repealed and so all the above are, technically, against the law of the land.
In 1644 Parliament banned the religious celebration of all Holy Days, including Christmas, thus bringing about the termination of Christmas carols.
Henry VIII, usually seen to be a somewhat jovial kind of a chap, - and heavily into practising the sports of the day - apparently did not feel this to be appropriate for Christmas and brought in a law declaring all sport over the Christmas season to be forbidden. Again this law has never been repealed - but we are advised that present-day football teams are more active over the Christmas period than at any other time of the year.
Come Christmas dinner and you had better hide the turkey. According to a 1588 Law imposed by Elizabeth I, goose is the only bird that may be eaten on Christmas Day. The Americas had just been discovered and, no doubt, those early explorers on their return home, had brought with them the ancestors of our present-day turkeys. Traditionally the English had always eaten goose at Christmas and even as late as Victorian times goose was still the preferred bird to take centre-place on the festive table.
And there, dear reader, is the dilemma. Just what are we to do this Christmastide? According to the Law Books it is illegal to attend church services on Christmas Day, to sing carols and give presents. We are not permitted to eat turkey, Christmas pudding or mince pies ... and as for partying - well!
I am sorry to bring such an unseasonal tone to this festive time of year - however, I do urge you not to spend too much time agonizing over these old laws - none have been upheld for hundreds of years. Perhaps, instead you would care to ponder that in Britain, this year, we will be consuming 10m turkeys, 120,000 tons of potatoes, 15,000 tons of sprouts, 7.5 tons of carrots, 1,200 tons of parsnips and 16m packets of stuffing. Just in case you are flagging, we will also consume 12m Christmas puddings, 250m mince pies and 11m Christmas cakes. Now, there is food for thought!
Barbara Corley
Geoffrey Ardley
The family and close friends of Geoffrey Ardley would like to give most sincere thanks to all those who gave such enormous help and support following their very sad loss and at the funeral. It was very much appreciated. Jackie Stubbs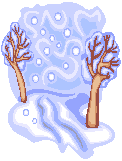 Winter Long Ago
Long ago when autumn deepened
Into winter's tale of woe,

When the old oak beams were bulging

Stacked with stooks from summer's mow,

Then it was that folks drew nearer

To their chimney nooks at night

Burning logs of wood they'd gathered

Bright the hearths but dim the light.

In the morning pumps were frozen

Fingers blue and ears bright red

How the cowman cursed his living

As he staggered from his bed.

When the first streaks of the dawning

Glinted on the tiny panes

How the milkmaid longed for breakfast

As she stumbled in the lanes.

Later when the sun had risen

Then the school bell put a stop

To the work of lads and lassies

As they toiled at farm or shop.

Ponds were frozen so the farmer

With his stick broke ice and there

Frosty water gulped by cattle

Made their eyes stand out and stare.

Servants in the larger houses

Beat their arms upon their sides

Rubbed their chilblains, coughed and often

Warmly would in kitchen hide.

Geese that cackled in the orchard

Over ice hard tufts and mounds

Made the farmhand think of Christmas

Then he'd guess their weight in pounds.
Few could read but in the evening
Many a one brought out the Book
Children gathered round the reader
Leaning over for a look.
Most folk went to bed quite early
Saving lamplight, fuel and food
So it was until the springtime
When their spirits were renewed.
Winter season more than others
Somehow sets the scene again
Even now with times so different
Some things of the past remain.
Roger Jackson .
Holly Wiring – Help Needed
Help needed in Odell with holly wiring during December. No experience necessary. Home working possible. Tel. 01234 721296
W.I. NEWS
This month Odell W.I. debated the topic 'Supermarkets-friend or foe'. Members had been asked to look out for any relevant articles in newspapers and magazines and take note of news items on the television. Roberta had printed some information from the internet and brought along two bags of identical shopping one from a supermarket and one sourced locally. Lynette had compiled a check list of topics we might consider.
The group broke into two smaller ones and a great deal of animated discussion took place before we reconvened with a list of pros and cons from each group. These were practically identical and the conclusion was reached that although supermarkets did have faults we would hate to be without them in these busy times and they could provide better value on basic products.
December and January meetings
December's meeting is our Christmas meal at the home of Doreen Wheeler. We meet at 7.30 p.m on 12th.
New Year
We meet on Tuesday 9th January at 7.30p.m. in the Village Hall for a
Beetle drive. All welcome - just turn up or ring the number below.
Competition and Hostesses
The competition for January is a 'Homemade Puzzle'. Our hostesses are Carole Ormond and Mandy Sharpe.
Rachel Halton 720572
Thank You
I would just like to say a big thank you to people who supported me to take part in the Sharnbrook Upper School sports tour to Canada and USA to play hockey, especially Tim Freeman my programme sponsor, Roma and her customers and Peter Coleman. I had a great time in Canada,
playing against and meeting fellow Canadian students. I went whale watching, watched an ice hockey match and attended a Canadian football match. Las Vegas was amazing, walking down the strip at night will be a memory I won't forget.
Thanks again. Bethan
Odell Village Hall
The Parish Council and Village Hall Committee are delighted that agreement has been reached with the owner of the Village Hall for them to purchase it, together with some of the play area for the village.
We are most grateful to the Rural Grants Committee of Bedford Borough Council for its generous contribution to the purchase price together with smaller grants from the Ibbett Trust and the Gale Family Charity.
It is hoped that the legal work can be completed by the end of the year. Attention will then be focused on starting the work for the disabled access.
Help Needed
From time to time the elderly and infirm in the village need help with transport to Harrold or Sharnbrook surgery for appointments or to collect medication.
So far, the following people have volunteered to help:
Kim Beardow 721246
Jill Cheadle 720261
Jonathan Harrison 721115
Linda and George Tringham 720120
If you think you can also help with this occasionally, please let Jill Cheadle know (720261) as it would be useful to draw up a list of names and numbers which could be called upon when necessary. All help would be very much appreciated.
Parish Council Meeting
Odell Parish Council Meeting held on Monday, 20th November 2006
Grazing land: The tenant has now signed and returned the new lease and paid the first half year's rent in full.
Purchase of Village Hall
General update given; the Parish Council is in the process of appointing a Solicitor.
Borough Council matters.
Parishes are being encouraged to fund a PCSO either individually or perhaps for smaller ones, as a joint exercise, but how this would work in practical terms is not abundantly clear. As far as Odell is concerned, it was not felt that there was a sufficient problem to justify the need for even a part share of a PCSO at this moment in time.
Bedford Borough is also looking for parish assistance to help finance its summer play schemes. Again, Odell does not use these so currently of no interest.

Planning issues
06/02332/FUL The Lodge, Odell – permission refused.
Application received for a Wind Farm at Nun Wood.
County Council matters
Notification from the County Council that they are in the process of erecting interpretive panels within the parish relating to White Lane and Yelnow Lane. These panels give information and advice to users plus contact details for the Rights of Way Team. Such signage is already in place at another site and has received positive public reaction.

Country Park
Little to report as there is a meeting next week when updates should be given on proposals and the enhancement plan. Cllr. Crotty asked if the large flocks of Canada geese impacted on the native wildlife in the area and, if so, was anything being done or going to be done about them. Cllr. Halton said she will ask the question next week.

Grasscutting 2007
Councillors agreed that both contractors should be asked again to quote for the 2007 season.

Finance
Cllr. Halton spoke about the Luncheon Club and the small budget it had to work to. It was generally considered that the Luncheon Club fulfilled a need within the village and was a significant benefit for the elderly residents who used it. As the Club has some funding in hand for this year, it was agreed that a figure of £300 should be written into the Parish budget for the forthcoming year which can be reviewed annually.
The draft budget proposal was then further considered, with particular emphasis on the fact that the Parish Council will be the owners of the village hall. A new item has been introduced into the budget for the hall and although the Village Hall Committee hope and expect to be self-sufficient, as a responsible owner the Parish Council should be in a position to help out in an emergency situation. It was agreed that this year the sum of £500 should be written into the budget this year specifically for the village hall and this will be itemised separately in the accounts.

Specifically for the Business of the meeting
Cllr. Cheadle said he had bought and replaced a bulb in a light attached to a house in Horsefair Lane. He noted a problem with both lights attached to the houses in that they collect flies and cobwebs. He asked if there is any type of cowling available to stop this and was advised to ask DSD if they had advice or appliance.Cllr. Cheadle asked if funding could be made available for the purchase of a Christmas Tree for the Green this year; there are now no local supplies available. Councillors agreed funding for this.
Cllr. Sharpe commented on the problem again with leaves on both the path and road over Castle Hill – from the Green up to the Church Lane turn. The Borough Council will be asked if they can do a clear up operation.
Cllr. Crotty said he liked the entrance/exit 'fence' on the boundaries of Turvey and asked if Odell could have something similar. Some idea of costs will be obtained but locations have to be agreed with the appropriate County Council department and any nearby householders.
Cllr. Halton raised the question of a Parish Plan. It was agreed that as a starting point the relevant person from Cardington should be invited to the January meeting to give an overview and answer any questions.
The Chairman asked for it to be Minuted that Councillors recognised the amount of work the Clerk had undertaken this year in respect of the acquisition of funding etc. for the village hall.

Meeting dates 2007
The proposed list of dates for 2007 were circulated; these follow the same pattern of the third Monday in alternate months and are as follows:

January 15th: March 19th: May 21st: July 16th: September 17th: November 19th
Rachel Halton

Harrold-Odell Country Park
Carlton Road, Harrold, Bedford MK43 7DS
Over the holiday period why not come for a walk around the Country Park? You cancombine it with the Quiz or just enjoy being out in the fresh air and looking at the wildlife. If you are looking for local gifts for Christmas there are calendars of the Park, created by one of our volunteers from the Friends Group, for sale at £5 each. These are available from the Park Office or the Café.
Christmas Holiday Quiz for All Ages
From December 19 – January 2
Collect a quiz sheet from the Discovery Room in the Visitor Centre. Solve the clues hidden around the Park. Hand in your answers at the Park Office. Lots of prizes at the end of the holidays!
Winter birds at the Park.
Monday 22 January 2007 10am – 12pm
Identify our winter wildfowl on the lakes and river. You don't need to be an experienced bird watcher to attend. Bring some binoculars if you have them.
Events at the Park are free but donations are always welcome to enable more events to be put on in the future.
Friends of Harrold-Odell Country Park Conservation tasks
Come and join in with practical work to enhance the Park for wildlife and visitors on the following dates:
Monday 29 January and Monday 26 February 2007
All tasks start at 10am and finish mid afternoon, but you only need stay as long as you want
Tel: 01234 720016
Email: hocp@bedscc.gov.uk
Village Hall News
Events
If you have an idea or can help with these let us know, and if you would like a venue for a private function, the very reasonable hire fee helps us maintain the hall.
The Time of Our Lives Music Theatre, Saturday 25th November
The Time of Our Lives Music Theatre visited Odell once again on 25th November and, as ever, played to a packed hall.
This time the theme of the evening was 'The Golden Age of Theatre' and the audience was treated to a very amusing and entertaining overview of the theatre from the days of the Mummers, through Shakespeare and the Music Hall and Farce, to the present-day musical theatre of Andrew Lloyd-Webber, with never a dull moment. It was impossible (for some of us!!) not to join in with the singing of such popular numbers as 'Two Lovely Black Eyes'!, while others found themselves in full voice with the rather more up-to-date rock numbers such as 'Don't Stop Me Now' – in fact, there was something for everyone!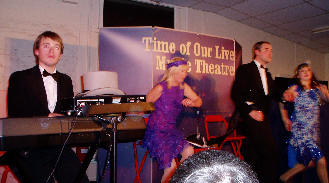 All in all, an excellent evening's entertainment and I'm sure The Time of Our Lives Music Theatre will be invited back to Odell before very long.
Right: a scene from 'Murder at Bullshot Manor'
(Hiss, Boo!)
Christmas Party – We are hoping to hold a Christmas party for the youngsters but still trying to find an evening when the hall is not booked! Watch out for notices!
2007…
Burns Night Supper, Saturday 20th January.
We are planning to celebrate Burns Night once again in the Village Hall. There will be the traditional haggis supper, dessert and a wee dram. Vegetarians are catered for but do let the committee know if this is your preference when you buy your ticket. Scottish dancing will follow the meal.
Tickets: £9 and £8. Contact Leslie on 721860.
In the meantime Merry Christmas and Happy New Year to you all.
We are looking forward to 2007 in the Village Hall when we WILL have our new access. Thanks to The Parish Council this work can go ahead as they have secured funding to purchase the hall for the benefit of the village. This secures the hall as a community venue in perpetuity, and we very much appreciate their support.
Just to remind you:
Mondays - 6:45er's

Tuesdays - Dog training and WI

Wednesdays - Line Dancing

Thursdays – Yoga
Waste Paper Collection - Thank you for bringing your waste paper to the bins. Though the return is small, every little bit helps financially and of course the waste is recycled.
Do please support our events, and do suggest to us your ideas for alternative activities.
Rob Lee (720730) on behalf of the Village Hall Committee.
The Mill Theatre, Sharnbrook
What's On in the New Year……
Breeze Block Park
6th – 10th March 2007
A funny, most moving play, by the writer of Blood Brothers and Shirley Valentine, Willey Russell.
A Little Night Music
27th April – 5th May (Ouse Valley Festival 2007)
Stephen Sondheim's most enchanting, witty and delightful musical includes the massive hit 'Send in the Clowns'.
And later in the year…
Suddenly at Home 25th – 29th September
Francis Durbridge's classic whodunit – where things never appear as they seem…
Not suitable for children.
Thoroughly Modern Millie
16th – 24th November
Richard Morris's high-spirited musical extravaganza – ideal for the whole family.
Performers:
Breeze Block Park. Workshops now on Mon 27th November (not Tues 28th) and Thurs 30th November at 7.45 pm. Auditions: Sunday 3rd
December, 2pm.
A Little Night Music. Workshops: Monday 4th December and
Wednesday 6th December at 7.45pm. Auditions: Sunday 10th December at 2pm.
Enquiries: Peter Allen 708308
Tickets
Sharnbrook Post Office – in person – Your local booking point.
Bedford Central Box Office # 01234 269519
Party bookings (01234) 781372 (10+? 10% discount, excl. Charity/Gala performances)
Disabled parking. Lift and access: 2 wheelchair positions, subject to availability. Please book at least 2 days in advance of required date.
The Mill Theatre Experience – All Wrapped Up!
Become a Chairholder of the Mill Theatre – or gift to a relative or a special friend this Christmas, thus receiving 12 vouchers, valid for 3 years, exchangeable (singly or severally) for tickets face value of up to £132 – for just £100! Conditions apply.
Diary
December
Sat 2nd 7.30pm Quiz, Village Hall.
Wed 6th 11.30am Meeting Point Bring and Share lunch at Doris's.
Fri 8th 10.30am Christian Family Care Coffee & Hamper Morning.
Tues 12th 7.30pm WI Christmas supper at Doreen Wheeler's.
Wed 13th 12.30pm Senior Citizens Christmas Lunch, Village Hall.
Sat 16th 10.00am Church Decorating
19th-2nd Jan Christmas Quiz, HOCP
24th 10.00am Spoken Holy Communion, All Saints'.
24th 6.00pm Carols By Candlelight, All Saints'.
25th 10.00am All Age Service of Worship.
January
1st 10.00am All Saints Amblers Walk—meet at The Bell.
9th 7.30pm WI Odell Village Hall.
10th 10.30am Meeting Point at Jane's.
15th 8.00pm Odell Parish Council Meeting, Village Hall.
20th 7.30pm Burns Night, Village Hall.
22nd 10.00am Winter Birds Identification, HOCP.
22nd 8.00pm Fete Meeting, The Bell.
24th 10.30am Meeting Point at Eileen's.
27th TBA Open Evening with Bishop of Bedford.
28th 11.00am Joint Churches Service with Harrold and Carlton.
29th 10.00am HOCP Conservation Tasks.
Electronic mail address
email is web@odellbeds.net
---
Last revised: December 09, 2006.