ODELL VILLAGE NEWS
November 2005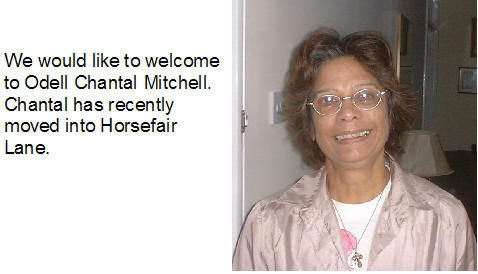 Birthdays
Happy birthday to Georgina Ardley on the 29th and to everyone else with a birthday in November.
Round and About
The Spreading Chestnut Tree
Have you noticed the wonderful show of conkers this year, surely one of the best seasons for years. These magnificent, stately trees, which produce such an abundance of candle-like blossoms in the early summer produce a second treat for us when the fruits ripen, the casings split and the rich glossy brown chestnuts are revealed within. They must be one of the most rewarding trees to grow - providing you have enough room - in either park or garden.
I say rewarding to grow, but our friends from Health and Safety are on to them. Declaring the trees to be a hazard due to falling conkers and a danger to boys climbing in the branches to gain access to the nuts. This is a shame because children for generations have always looked forward to the conker season, and,apparently this enjoyment is not just confined to children.
The origin of the game is shrouded in mystery, but there are references to the game dating back as far as 1653 when it is recorded that boys were playing with "cob nuts strung upon a ribban." There are also references in the 18th century to a game called "coggars" played with snail shells! However, the game we recognise today as "conkers" is about 160 years old and is recorded as "being played on the Isle of Wight" in 1848 when it was mentioned in 'Every Boy's Book'. I fear its days are numbered, however, as Health & Safety declare that children must be supervised, wear goggles, helmets and gloves, lest they rap their knuckles or flying debris enter their eyes. What children's sport can survive all this?
Adults, however, can presumably carry on. Each year the Annual World Conker Championships are held in the tiny village of Ashton, in Northamptonshire (near to Oundle) where the event is supervised by the Ashton Conker Club. In 1965 they jokingly issued a challenge to all-comers and from this date it has grown into an international event open to all-comers of whatever age. Contestants arrive from all over the world, including Australia, Russia, Italy, the U.S., Ireland, Germany, Canada, The Ukraine, France, Poland, New Zealand and South
Africa. Some take the competition seriously while others take a more light-hearted approach and arrive in fancy dress.
Last year's winners came from Peterborough and Northampton , and on Sunday 9th October 2005 contestants met again on the village green to vie for the championship. The junior champion was a boy from Wellingborough, the ladies' champion came from Boston, Lincs. whilst England and Scotland fought it out for the men's cup with a man from York
taking the title. The contest attracted approximately 5,000 people and raised £20,000 for charity.
These beautiful, statuesque trees, so much a part of our countryside today are not, however, a native species to this land, and did not reach our shores until 1603. The trees originated in the borderland between Greece and Albania but the beauty of the tree meant their popularity spread across Europe. It was not just their beauty that made them so
popular. What was also highly valued was the considerable crop of chestnuts that were used, when crushed and ground, for horse and cattle fodder and considered to be more nutritious than oats.
The tree was also a favourite with the blacksmiths who planted them widely. They found that a concoction derived from the bark of the tree and the nuts were beneficial in the treatment of stomach ailments in horses and it also benefited their rheumatic pains. Recently this has also been found to benefit humans.
So widespread was the custom of planting a chestnut tree beside the
village forge that it became something of a trademark for the blacksmith and, indeed, so popular was it that it even got a mention in a popular song of the times. In due time the tree became known as the "horse" chestnut tree because of its close association with the smithy and the health of horses.
Barbara Corley
Odell Luncheon Club
Invites you to join us
on Wednesday 14 December 2005
at 12.30 for 1.00pm
For Christmas lunch
In the Village Hall
Please let Roma know (on 01234 720431) by
Tuesday 6 December if you are able to join us.
W.I. NEWS
We were delighted this month to have the opportunity to see round the newly converted centre based on Chellington Church. We were met at the door by our guide for the evening, John Tusting, whose pride in the building and what has been achieved was evident. He showed us the upgraded domestic facilities and then the new extension which must have the most spectacular view of the valley. What was remarkable for us was the complete absence of any street lights. Then on into the old church which now contains the accommodation in the form of bunks in small cubicles. These are neatly tucked into the former side aisles, leaving the nave free for a meeting, entertaining and eating area. The former altar area now forms a quiet contemplative space and houses the old font. The old and new are beautifully put together.
We then left the centre and returned to the Village Hall where John Tusting told us a little about the history of the church. It was declared redundant in 1970 and would have been boarded up if the Youth Outreach section hadn't considered it suitable for use as a centre.
Conditions were basic but it was heavily used initially creating a huge impact on the children from urban deprived areas who came, but gradually, with new legislation on Health and Safety, Sanitation and Children's Welfare, it was realised it would have to close. The decision was made and only had to be ratified by the church council but the youth of the diocese were outraged and successfully campaigned to have the decision reversed. An architect was appointed; English
Heritage persuaded to approve the plans, not without difficulty, and fund raising began. The appeal benefited enormously from local
charities and individuals as well as other trusts and a year from the first sod been turned the church was declared open to visitors.
The centre is fully booked 'till March at weekends, but the centre is
available during the week and weekends for all groups of any
denomination. A beautiful peaceful space for any meeting.
November meeting
We welcome a speaker from Sainsbury's to the Village Hall on Tuesday 8th November at 7.30. She will be talking about new ideas for Christmas food.
Hostesses and Competition
Hostesses are Mandy Sharpe and Audrey Dempsey. The competition is 'A favourite Cookery Book'
Rachel Halton 720572
Odell Parish Council
A meeting of Odell Parish Council held on Monday, 19th September 2005 at 8.00 p.m. in the Village Hall, Odell.
Old School Bell: A decision can be expected shortly from the Rural Grants Committee.
Seat - Horsefair Lane: Cllr. Cheadle has installed this and has been in contact with the people who wish to contribute and have a plaque
affixed commemorating Geoff & Barbara Harrison, former residents of Odell. Cllr. Cheadle had asked Celia Sellars for a quote for a kerb round the front of the seat to prevent any further inadvertent vehicular damage to the new seat.
Grasscutting: It was proposed that costs should be investigated for alternative options.
Borough Council matters
The Core Strategy leaflet produced by the Borough with an attendant questionnaire was circulated.
Leaflets from the Borough regarding the Bedford Borough Youth Council were tabled for distribution/display.
County Council matters
The Mobile Library reorganisation was discussed; it was noted that Odell will benefit from having the Library visit EVERY Friday instead of fortnightly, albeit for a slightly shorter period. It was worth noting, however, that there is a "Home Delivery" service available where books etc, can be delivered direct to an individual's home in case of incapacity.
Public Path Diversion Orders confirmed for Footpath Nos 11,22, 23 and 25.
Engineers' report on the old bridge had been circulated prior to the meeting. Cllr. Bridgman has been trying to find out what follow up action is to be taken [as has the Clerk] but to date without success.
Planning matters
Applications circulated between meetings:
79 High Street - erection of stone wall and gate at end of driveway;
125 high Street - erection of 1 detached dwelling - this has now been withdrawn.
16 Horsefair lane - 2 storey side extension and single storey rear
extension - notification of Permission Refused received.
Permission granted for 75 High Street - erection of conservatory and double garage.
An application was tabled for 14 Horsefair Lane.
Country Park
Cllr. Halton reported that work is to be carried out to the Odell
entrance. With regard to the bridle gate, it is proposed to leave the opening without installing a gate. Should this not prove satisfactory a new gate could easily be installed. The events are progressing well and there is a lot of interest. The "Friends" are carrying out monthly tasks and any new volunteers would be very welcome.
Cllr. Cheadle commented that parked cars belonging to visitors to the Country Park make it almost impossible for carers etc. to find anywhere to park when they arrive. The Highways department will be contacted for advice and the Country Park asked to display notices.
Finance
Reconciliation of accounts distributed and noted.
Disposal of Millennium Mugs
Cllr. Harrison had asked if the disposal of the remaining 92 mugs in his possession could be discussed, several Councillors expressed an interest in buying some.
It was proposed the availability of the mugs at only £2 each should be highlighted in the parish magazine. Please contact Rachel Halton on 01234 720572 if any are required.`
Correspondence and requests
Response from the Environment Agency regarding the clearing of the river tabled and discussed. It was stated that a detailed survey will be undertaken during the course of 'this financial year' to determine whether any maintenance work is necessary. Cllr. Sharpe undertook to personally contact the named individual on the letter to try to get a clearer and firmer response to the problem.
The North Bedfordshire Council for Voluntary Services are carrying out a mapping exercise of the voluntary sector in the county to discover what organisations there are, and how they can best support them. To this end they are asking all parishes for a list of community groups in each parish. The two organisations proposed by Councillors were the Luncheon Club [Roma Garon] and the 645 Club [Roy Dobbs] and this information will be passed to the North Beds Council for Voluntary Services.
Generally for the business of the meeting.
Cllr. Cheadle reported that the clearing work had been carried out
behind Mr Hudson's barn and also at the property opposite.
With regard to the seat opposite the grazing field, this has been inspected by Mr Swift who confirms the concrete has gone although it is not immediately dangerous, but it should be replaced at some time.
Cllr. Crotty commented on the flashing signs at the entrances/exits to many small villages which he feels do have an impact on approaching motorists' speeds. Podington are in the process of acquiring two of these and their Clerk will be asked for details.
Date of next meeting
The next meeting will be held on Monday, 21st November.

Wind Turbines
Planning application 05/02589/FUL : Wind Turbines, Airfield Road, Podington
A copy of this application will be available for inspection in the Village Hall in Odell on FRIDAY 4th NOVEMBER. The hall will be open for two sessions – from 2p.m. to 5p.m. and 7p.m. to 9 p.m. It is hoped that this timing will make it possible for anyone interested to call in and view.
Whatever your view of this application your opinion does matter. You only have till 21st November to make this known both to the Parish Council and to Bedford Borough Council.
Rachel Halton 720572
Mobile Library
The Mobile Library now visits us EVERY Friday for 15 minutes from 13.45 - 14.00 hrs by the flats. Thus, a longer fortnightly visit is being replaced by a shorter but more frequent weekly visit.
Sharnbrook Community College
Belly Dancing to Woodwork – We offer them all!
What are you doing this winter? Watching the same old programmes on TV? Why not get out, have some fun and make your future brighter by enrolling on an adult learning course at Sharnbrook and
Hastingsbury Community Colleges?
SPARK – the Bedfordshire Adult and Community Learning Service
offers a wide range of courses in the areas of Art and Craft, Computing, Health, Fitness, Sport, Dance, Modern Languages, GCSE and other
accredited courses, General Interest and Skills for Life (Numeracy,
Literacy and ESOL). Whatever your interests or aspirations, there is sure to be a course to suit your needs.
So what exactly is on offer?
Courses range from one day workshops, a few weeks or a full
academic year and are often aimed at beginners, intermediate or advanced levels. Several courses give you an opportunity to gain a certificate but not every one ends with an exam. Many courses are purely for leisure where you can have fun, learn a new skill and make new friends.
Ballroom Dancing Jewellery making Lace making Bridge Basic Horse Care & Management Belly Dancing
Legs, Tums and Bums Life Drawing Card Making
Oil Painting Computing
Patchwork Cookery Personal Image Digital Photography
Psychic Skills Film Studies Pilates

Flower Arranging Plumbing Food Hygiene PotteryFrench Spanish Guitar Sugarcraft

Holistic Therapies

Watercolours Interior Design Woodcarving

Introduction to British Sign Language Yoga Italian
And many more…
How can you find out more?
Call our Sharnbrook SPARK office on 01234 782581 and our team can send you a prospectus, answer your questions or book you onto a course. Alternatively you can log onto www.myfuturetoday.org.uk or pick up a prospectus from your local Post Office.
Would you like to teach?
Do you have a subject or skill you could teach to the local community? If so, SPARK would like to hear from you so that we can continue to develop the range of courses we provide. Call 01234 782581 and let us know.
Harrold-Odell Country Park
Why not join us for a Walk in the Park?
Sunday 20 November 10am – 12pm
Look out for hidden signs of animals that may be living in the Park. Maybe spot a deer, fox or see what else is around on four feet. Please contact us if you are coming.
Friends of Harrold-Odell
Country Park Conservation tasks
Come and join in with practical work to enhance the Park for wildlife and visitors on Monday 28 November. All tasks start at 10am and finish mid afternoon, but you only need stay as long as you want.
Tel: 01234 720016 or email: hocp@bedscc.gov.uk
Village Hall News
Events
If you have an idea or can help with these let us know, and if you would like a venue for a private function, the very reasonable hire fee helps us
maintain the hall.
Barn Dance - 8th October.
This proved to be a great success. The Committee look forward to inviting the dance band back for a future event.
Quiz - 19th November – Coming up this month – book your tables for this very popular event! Usual teams of 6 (no more, but can be fewer for the brainier ones!) at £2 per head.
Do please support our events, and do suggest to us your ideas for alternative activities.
Rob Lee (720730) on behalf of the Village Hall Committee.
Sudden Footpath closure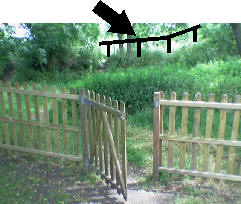 A sturdy fence was been erected to stop people crossing directly between the Bell and the river foot bridge. The land owner who has erected it may be entitled to do so if the mini fence erected by Greene King across the Bell garden has already been acting as an impediment to otherwise unobstructed regular public use for at least 20 years. Since it has a very pedestrian-friendly gate in it , most people think this is unlikely. The parish council discussed this on July 18th but were not prepared to do anything about it. A separate initiative will be launched to address the problem. Watch this space. The Bedford council contact on such matters is adrian.fett@bedscc.gov.uk and tel 01234 228335
.
The Mill Theatre, Sharnbrook
Reg. Charity No 242164 2005 Season
Scrooge - Fri. 12th - Sat. 19th November 7.45 pm.
Matinee Sat. 19th 2.30pm.
The Wonderful, Seasonal, Family Musical by Leslie Bricusse,
based on Charles Dickens' 'A Christmas Carol'
Tickets £9, £10, £11. Early booking is advised at:
·

Sharnbrook Post Office – in person - your local booking point

·

Bedford Central Box Office # 01234 269519 (Credit/Debit Cards accepted)

·

Party bookings: (01234) 781372 (10+ receive 10% discount, excluding Charity/Gala performances).
Access for the disabled: The new Foyer-to-Clubroom Lift and covered river view balcony from the Gallery Bar provide easy access to 2 wheelchair positions, also to neighbouring seating in the Auditorium. Patrons wishing to take advantage of easy access, please book in rows A-C. To book wheelchair positions, please contact Bedford Central Box Office & mention your need when booking.
Inaugeration of the lift and disabled access facilities.
On 19th September, a Gala Reception and Opening Performance of Alan Ayckbourn's hilarious comedy, 'Season's Greetings', marked the inauguration of the new Lift and Disabled Access facilities (please see above) in the presence of distinguished guests representing Charities, Benefactors, Local Businesses and Organizations, the Local Authorities and Friends of The Trust.
Peter Lester, Vice Chairman of The Trust, gave an amusing resumé of the history of the Theatre Company, from its foundation in 1943 by the Late F Jameson (Bill) and Poppy Lilley and Miss Betty Benson, and origins at The Church Hall, Sharnbrook, with their revue 'Take A Dip', in which guest Doreen Greenaway took part, to entertain the parishioners and billeted troops, and to raise money for the Royal British Legion to send food parcels abroad during the war. Peter further charted the Company's growth through the '50s and '60s; the trials, tribulations and triumphs of the Company acquiring a much needed 'home of their own', Bill Lilley's dream; the creation of The Mill Theatre, between 1974 - 1979, from Hipwell & Son's former flour mill, Stoke Mills, up to the latest landmark development – Access for The Disabled.
In reply, Brian Woodrow, Chairman of Bedford Hospital Charity's Primrose Appeal, gave a warm appreciation on behalf of the invited guests, and congratulated and complemented the Governors and Members of The Trust on their progress and this outstanding achievement, which would enable them to welcome all sections of the Community to the unique riverside theatre.
It was most appropriate that Mrs Elizabeth Gibbs (née Hipwell), a Governor of the Trust, whose family had milled at Stoke Mills from 1817 until its closure in 1969, should 'rise to the occasion' and Miss Betty Benson, Founder Member and Governor, and Honorary Secretary for some 50 years, should respectively Cut the Ribbons 'to open' The Lift and the Balcony Walkway; what a wonderful view the latter presents across the millpond, river and water meadows beyond. Welcome One and All!
Diary
November
2nd 10.30am Meeting Point at Jill's, Rectory Farm, Odell.
4th 2-5, 7-9pm Viewing of Wind Turbine plans, Village Hall.

8th 7.30pm W.I., Village Hall.
16th 10.30am Meeting Point at Eileen's, Corner House,

Wymington Park, Rushden.

19th 7.30pm Quiz, Village Hall.

20th 10-12 noon Organised walk in Harrold/Odell Country
Park.
21st 8.00pm Odell Parish Council Meeting, Village Hall.

28th 10.00am Friends of Country Park working day.

30th 10.30am Meeting Point at Doris's, Goodly Heritage, The
Bury, Pavenham.
December
6th 11.30am Meeting Point; Christmas lunch at 1.30pm.
Venue TBA.
9th 10.30am Christian Family Care Hamper Coffee Morning,
Hobbs Green Farm.
14th 12.30 Senior Citizens Christmas lunch, Village Hall.
for 1.00pm
Magazine Deadline
Please send all entries for the joint December 2005/January 2006 magazine to Tricia Hudson (patriciahudson at kbnet.co.uk), Anne Turner or Catherine Corkery by November 12th 2005 at the latest. May we remind you that the editorial team exercises the right to edit, shorten or alter any items that are submitted. Also, the opinions expressed in the articles are those of the contributors and are not the responsibility of the editorial team.
Electronic mail address
email is mag@jonhudson.net

FAX number
01234-721004

Back to the Odell Home Page
---
Last revised: November 12, 2005.