ODELL VILLAGE NEWS
March 2005
Round and About
The Perils of Country Walking
I could not believe my eyes. As I turned the page of my newspaper I beheld an article that took my breath away. Now I readily admit that political correctness coupled with the modern and increasing compensation culture regularly reduce me to a state of impotent rage, but this article must surely have plunged the depths, or even scaled the heights, of complete and utter stupidity….the perils of walking in the countryside and the necessity of taking out insurance to cover such a rash pursuit!
The incident quoted happened in Leicestershire, but I am quite sure that Bedfordshire is quite capable of adopting the same policy. A local civic society organise, on an annual basis, a gentle ramble through their local countryside and invite members of the public to join them and they would regularly advertise this dangerous expedition in their local community newspapers. When they submitted their advertisement for their latest expedition, however, they came up against an unexpected problem. The Leicestershire and Rutland Community Council sent them a multi-page questionnaire demanding to know if those on the walk would encounter such hazards as ploughed fields, overhanging branches and slippery surfaces. They were asked to specify whether such hazards were of a low, medium or high risk. When they enquired whether the form was a joke they were advised by the Council that it was a very serious matter and that insurance cover must be taken out to cover any accidents that might occur and that such cover could cost anywhere up to £2,000, depending on the risks taken. The Council further advised them that they promote about 60 other walks in the area and that the organisers had all filled in the risk assessment form and taken out the recommended insurance.
The newspaper had printed out six of the questions taken from the Risk Assessment form and, somewhat tongue in cheek, I have ventured to answer them, on my own behalf…whether or not you feel I should insure myself – I leave for you to decide!
Health and Safety Risk Assessment
1. Traffic: Does your walk involve using any roads? Like most residents, and users, of Horsefair Lane, I walk right down the middle of it.

2. Electricity: Are there any electric fences on the walk? Well, yes. The Country Park authorities put them up last year along a section of the river bank.

3. Weather: Would adverse weather conditions make this walk hazardous? Now – there's a question! Let us put aside the question of the flooded water meadows and consider the areas of deep, slippery and on some occasions boot retaining mud. The number of times I have taken a fall, due to such conditions, I dare not count.

4. Slips, Trips and Falls: Do you advise people to wear sensible clothing? Not applicable, but I have experienced my share.

5. Are there likely to be any of the Following?
·

Rabbit Holes: one of my favourite walks in the park is across the rabbit warren. Any number of the local bridle paths in the parish are well-endowed with this hazard.

·

Overhanging Branches: I thought trees were a natural part of the countryside, especially when walking in a wood! Although I accept there is not much danger of overhanging branches in the park – not with their policy of tree-slaughter.

·

Barbed Wire Fences: They are all over the place!

·

Slippery Surfaces When Wet: The number of tumbles I have taken over the years due to slippery conditions arising from mud, wet grass or icy weather – even cow pats have been a contributory factor – I care not to mention. These incidents, however, I put down to personal carelessness.

·

Stiles/Steps That Could be Slippery when Wet? The stiles in the park have now gone, of course, but other stiles in the area I deem to be unfriendly to dogs so, sadly, I cannot answer this one.

·

Water – Does your walk involve walking along a Canal tow-path, or near a River or Lake? · Ooooaaargh!

As a regular walker of the paths and byways of this parish I do wonder whether, when setting off with my dog, I am putting my life in grave danger!

Barbara Corley

Coppicing Day at Yelnow New Wood

from 10.00 until 4.00pm

on

Sunday 20th March 2005

Bedfordshire County Council will be sponsoring a coppicing day in Yelnow New Wood, off Yelnow Lane towards Sharnbrook, on Sunday 20th March from 10.00 to 4 00pm. It is the chance for you to spend a day in the open air and to have some fun learning about, and trying out, some ancient crafts.

Jim Jones from Yelnow Farm is giving up his time to work alongside a coppicing specialist for the day, to offer this free opportunity for 20 people to try their hands at something new.

If you are interested or need more information please contact Richard Hall on 01234 720723.

Odell Parish Council AGM

Annual General Meeting…The next meeting is the Annual Meeting to which all members of the Parish are invited. It will take place at 8.00 pm on Monday 14th March 2005 in the Village Hall.

Subsequent meetings in 2005 will be held as follows:- May 16th, July 18th, September 19th, and 21st November.
Jonathan Harrison. Parish Councillor
The Villager Mini Bus service times from 'The Bell' Odell
1st 2nd and 4th Wednesday of the month to Northampton
Depart 9.15 Return 13.15
3rd Tuesday of the month to Milton Keynes
Depart 9.15 Return 13.05
2nd Friday of the month to Peterborough
Depart 9.36 Return 15.10
A seat may be booked for these services by phoning 01234 228337
Every Thursday to Olney
Depart 9.30 Return 12.19
The mini bus is also available for private hire. Please ring 01234 781920.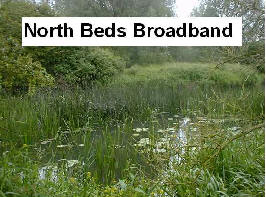 Broadband for Odell, Harrold and Carlton

BT 'Wholesale' have upgraded the local exchange so that now homes in Harrold, Carlton and Odell can enjoy an 'always on' fast internet service.

Depending on your needs, there are several different choices in terms of the service which is best value for you. Even though all Internet Service Providers (ISPs) use BT's new digital connections, the billing and technical support (the actual servers which store your emails and connect your internet browser to the world-wide web for example) can be provided by any of up to 200 different companies.

BT retail may be attractive at the basic level although the tariffs below £25 per month do tend to include a download size limit. At the time of writing they were also charging premium rates (50p/minute) for Broadband telephone support. They do offer some incentives however, like cheaper rates for your first 3 months and no sign-up fee. They will also supply a basic USB modem (worth about £20) free of charge -

this will allow you to have one computer connected to the internet. For those of you with more than one PC to connect up, they can all share the connection but for that you need a combined modem and router. At this point I recommend you contact our local expert Barry Wilson at Cactus Trading on 01234 721154 for advice on this and also on the choices of ISP.

I am encouraging people to look at Business Serve (see the Odell Website on www.kbnet.co.ukodell for more on this) since they took over from KBNet who for years have provided the Odell Website free of charge.

Because Business Serve has a large number of business customers, their network is particularly lightly loaded after 6pm and at weekends (i.e. fewer bottleneck situations). This means that they can offer a very attractive home Broadband Service with NO download size limits. It also means that, unlike the bigger mass-market players such as BT Retail, Wanadoo, AOL and others, they won't be tempted to introduce ways of charging customers more as the months roll by. What you sign up for is what you get - unlimited 512KB/s download ADSL supplied to them by BT Wholesale using your existing phone connection for £19.99 per month including VAT. There is a set-up fee of £58.75 but they will let you change after 6 months if not completely satisfied. Their support service is at the national rate of 3p/minute from a BT phone.
News from the Park
Events at Harrold-Odell Country Park
Guided Walks
Join us on a guided walk around the park, or beyond! Please ring or email to book your place.
Friday 11th March 2pm-4pm
Otter and Water Vole Walk (3 miles/9.5km)
Learn about these wonderful creatures, where they live and how we know they're around, even if we don't see them!
Friends of Harrold-Odell Country Park: Events
Join our growing band of volunteers and help us manage the country park. All training and tools are provided and no experience is required. Keep fit, learn new skills and meet people too!
Saturday 5th March 10am-1pm
Voluntary warden training
Become a voluntary warden and help us look after the park by being extra eyes and ears on the ground.
Sunday 13th March 10am-3pm
Tree and hedge maintenance
Help our hedges and trees survive with some essential management work.
All events are free, but if you come and enjoy yourself, why not make a small donation. We will use the money to put on more events in the future.
For further information about the guided walks or becoming a Friends volunteer, please contact us on:
Tel: 01234 720016, or email: lyndsey.bignell@bedscc.gov.uk
Olympic Dressage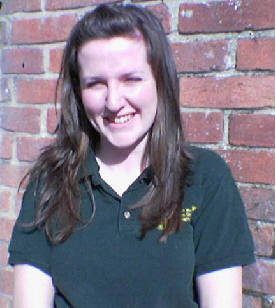 Odell's very own Natalie Bushell has been selected for the World Class finals
by the British Equestrian Federation. First she made it to the top 50 and most
recently the top 15 riders from whom the future Olympic Dressage Riders will be chosen.
In early March she will hear if she has made it to the top 5 – these are the lucky ones
who attract massive sponsorship to enable them to compete internationally in the run up
to the 2012 Olympics for which Natalie is aiming. Natalie has already competed as a
member of the Junior European Team 2003 and represented the UK in Holland and France.
We wish her good luck for the next round.
W.I.News
February's meeting was a members night where we shared our memories of our childhood and teenage years. We come from many different parts of the country, some from towns, some from country, which all had an effect on our upbringing and memories. Particularly interesting were the memories of how the war years had affected people -some good some bad. Our local ladies were speaking of dances with G.I.s at Harrold Hall while those from the London and Kent area spoke of bombs, doodlebugs and being evacuated.
Two things, however, which seemed to be common to us all, was the freedom we remember and, of course, that the sun nearly always shone.
March meeting
This will take place in the Village Hall on March 8th at 7.30pm. Our speaker will be Helen Dawkins who will be demonstrating and talking about how Black and White photographs can be restored and brought back to life.
Hostesses and Competition
Our March hostesses are Jane Eshelby and Jill Cheadle. Competition is 'A Black and White Photograph'.
Rachel Halton 720572
John Hancock
We would like to thank everyone who attended the funeral of John Hancock, and for the many cards and letters of sympathy that we have received. We have been overwhelmed by the kindness and support from family and friends.
John would have been touched by the attendance, and the wonderful tribute written by his friend John Osborn. Thank you John for a truly memorable and accurate tribute - John was lucky to have such a good friend.
We would also like to thank those who gave so generously to Cancer Research. At the last count, well over £1000 had been raised, which we hope will in some way help to prevent the illness that John fought against so bravely. Judy, Peter & Jackie Hancock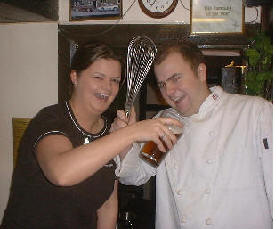 What's Happening at The Bell
The current absentee landlords have decided to drop their tenancy of The Bell which means that the position of pub managers Kyla and Richard is now up in the air. Kyla and Richard will take the opportunity to go travelling and will be leaving on 28th March. They would like to thank everyone for the support shown to them over the past 18 months. They have enjoyed their time here and will be sad to leave many new friends.
Meanwhile…..Mothering Sunday Lunch at the Bell on March 6th: 4 course meal £19.95 per person.
Bedford Area Bus Passengers Invited To Speak Out!
At long last bus users in the Bedford area have a say in how their services are operated following the formation of the Bedford Area Bus Users' Society (BABUS).
The need for the society was first identified at a Bus Surgery held in Harpur Square, Bedford in 2002, organised by the Bedfordshire Rural Transport Partnership and National Federation of Bus Users.
The inaugural meeting of BABUS took place in October 2004, a resounding success with 11 people coming forward to form the committee. However, there is still room for more committee members!
BABUS is the latest addition to a growing number of bus user groups across the country, and has an interest in all bus services operating from Bedford Bus Station.
The birth of BABUS comes at an ideal time; not only have there been extensive changes to bus services in the Bedford area over the last year, but also there are a number of exciting imminent improvements to bus information on the horizon, courtesy of Bedfordshire County Council.
The Society has three main aims:
to represent the interests of bus users in the Bedford area,
to encourage people to use buses
to act as a focal point between bus users, bus companies and the Borough and County Councils.
For further information, please contact Stephen Sleight, Field Officer (Transport) on 01234 838771 ext 115 or email stephens@bedsrcc.org.uk
Village Hall News
Events
If you have an idea or can help with these let us know, and if you would like a venue for a private function, the very reasonable hire fee helps us maintain the hall.
The new year has had a fine start with two cracking evenings: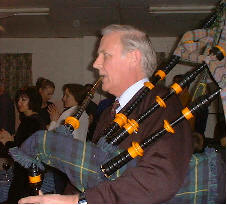 Burns Night - 29th January
Over 80 people sat down to "Neeps and Tatties" with Burns recitals from Martin Cameron. After the meal everyone danced through to the end of a long and thoroughly enjoyable evening. Proceeds from the evening were in aid of Alzheimers Society in Bedford which provides tremendous support locally. Thanks to Les Knowles and his band of helpers for putting it all together.
Time of Our Lives Theatre - 5th February
Once again we were treated to over 2 hours of solid song and comedy from this very versatile and favourite theatre group. Tickets were again sold out within days of a mention in last month's parish magazine!!
Events
Quiz - 19th March
It's the time again for our annual spring Quiz. Teams of up to 6 as usual. To avoid disappointment, book your team with Rob Lee 720730 or Pat Asbery 720594. £2 per person. 7.30 for 8 pm start.
Waste Paper Collection - Thank you for bringing your waste paper to the bins. Though the return is small, every little bit helps financially and of course the waste is recycled.
Do please support our events, and do suggest to us your ideas for alternative activities.
Rob Lee (720730) on behalf of the Village Hall Committee.
The Mill Theatre, Sharnbrook
2005 Season
Tuesday 8th – Saturday 12th March, 7.45 pm
The Dresser
The Wartime Theatre Classic by Ronald Harwood
Ronald Harwood's evocative, perceptive, and hilarious portrait of backstage life, inspired by memories of his years as Donald Wolfit's dresser; one of the most acclaimed dramas of modern theatre.
In a war-torn provincial theatre an ageing actor-manager, known to his loyal company as 'Sir', is struggling to keep a grip on sanity and complete his 227th performance of King Lear. Thanks to Hitler, all the able-bodied actors are in uniform and bombs are destroying theatres across the country, but the show must go on. Ensuring that it does is Norman, Sir's devoted dresser, who for sixteen years has fixed his wig, massaged his ego, reminded him of his opening lines, and provided the sound effects in the storm scene… A moving, 'must see' production.
Tickets (£8/10) available NOW from:
Sharnbrook Post Office – in person (cheque/cash) your local booking point
Bedford Central Box Office 01234 269519 (Credit/Debit Cards accepted)
PLEASE NOTE: Tickets are no longer available from The Castle, Wellingborough.
For Party bookings: Please 'phone Alison Bean 01234 781372
(10% discount for 10 or more, excluding Charity Gala performances).
Then…the emotional roller-coaster:
Spend, Spend, Spend 13th – 21stMay
Book in advance during this show only at the theatre.
Advance notice: Tickets available soon for …
Nelson Mandela and Winnie: A Love Story An original play in three acts.
One performance only at The Mill Theatre, on Saturday 4th June 7.45pm. A one-man performance by Michael Prior as Mandela
Youth Theatre Summer School
Mon. 1st – Sat. 6th August 2005
9-18 years old? Act Now! A week-long course under professional tuition, concluding with a performance on the Saturday. For details or to register, please contact Erica Lester, The Mill Theatre, Sharnbrook, Bedford MK44 1NP (781210).
Diary –

March
Fri 4th 10am Women's World Day of Prayer Interdenominational Service, Harrold Chapel.
Sat 5th 10am Voluntary Park Warden Training, Harrold/Odell Country Park.
Sun 6th 6pm Lent Evensong with Archdeacon Paul at All Saints'.
Tue 8th 10.30am Meeting Point at Jill's, Rectory Farm, Odell.
Tue 8th 7.30pm W.I., Village Hall.
Fri 11th 2pm Otter and Water Vole Walk, Harrold/Odell Country Park.
Sun 13th 10am Harrold/Odell Country Park Tree and Hedge Maintenance.
Mon 14th 8pm Odell Parish Council AGM, Village Hall.
Sat 19th 7.30pm Quiz, Village Hall.
Sun 20th 10am Coppicing at Yelnow New Wood.
Wed 23rd 10.30am Meeting Point at Catherine's, Manor Cottage, Harrold.
Thur 24th 7.45pm Maundy Thursday Service of Holy Communion (BCP), All Saints'.
Fri 25th 2pm Good Friday Service of Devotion, All Saints'.
Sat 26th 10am Church decorating for Easter, All Saints'.
Sun 27th 10am Easter Day Holy Communion (CW) All Saints'.
Mon 28th 1pm Easter Pilgrimage in St. Albans.
Calling all Paparazzi!
The editorial staff are always pleased to receive pictures of local events to include in the magazine. Now that many people have digital cameras it is easy to e-mail photographs - so please send in any that have local interest – but be sure that any people in the photographs are happy to be featured in the magazine!
Magazine Deadline
Please send all entries for the April 2005 magazine to Tricia Hudson (patriciahudson@kbnet.co.uk), Anne Turner or Catherine Corkery by March 12th 2005 at the latest. May we remind you that the editorial team exercises the right to edit, shorten or alter any items that are submitted. Also, the opinions expressed in the articles are those of the contributors and are not the responsibility of the editorial team.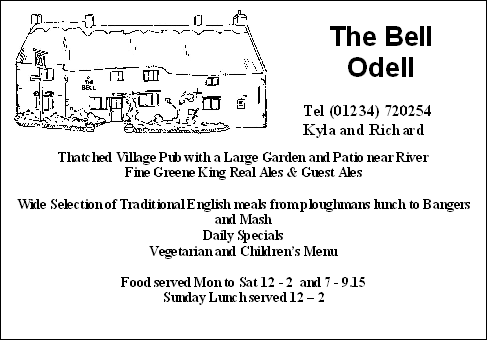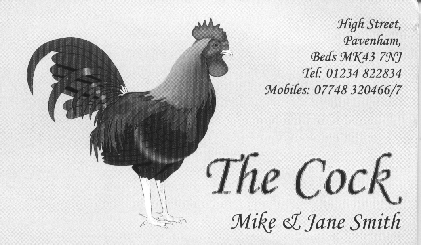 Mike & Jane

Welcome all customers, both old & new to the

recently refurbished

Cock at Pavenham

Hand Prepared & Home Cooked Food is available Wednesday to Saturday Evenings. Fresh sandwiches, Soups & Ploughmans are available at weekend lunchtimes

Large garden with fabulous views

Parties welcome in our separate dining room

We are keen that our food offering is of the highest quality using the freshest ingredients and make no apologies if availability is limited – so BOOK EARLY!

Quiz night every 2nd Monday in the month

Opening Times

Monday to Friday 5.00pm to 11.00pm

Saturday 12.00am to 3.00 pm & 6.30pm to 11.00pm

Sundays 12.00am to 3.00pm & 7.00pm to 10.30pm
Electronic mail address
email is mag@jonhudson.net

FAX number
01234-721004

Back to the Odell Home Page
---
Last revised: March 05, 2005.