ODELL VILLAGE NEWS
September 2004
Odell Village Fete 2004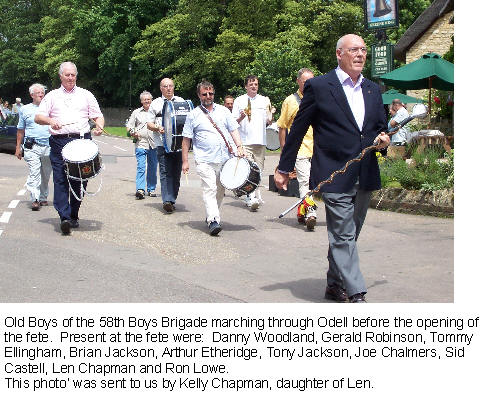 We now have the figure for the final profit made by this year's fete – a magnificent £2780.62. Once again, many thanks to all helpers and those who contributed in any way.
Garment found at fete: A grey cardigan was left at the fete. If you think you may own this please contact Jill Cheadle (720261).
The date for next year's fete has been set at Saturday 11th June.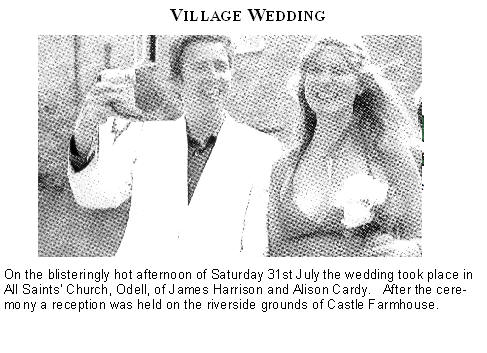 Round and About

Summer's Little Charmers

This has been quite a summer for the invasion of flying insects.

The first to come to my attention were the ants. They seemed to be everywhere. Swarms of them. Every crack and cranny seemed to exude vast quantities of them, to be joined later by the flying variety. Walking down the road I could see that, where people had block driveways, little heaps of sand had been forced up between the blocks by the colonies of ants below. I spent several weeks trying to remove them from my kitchen. I usually find scouring powder very effective - they don't like the ammonia - but to have success at this you have first to find the point of entry.

Walking in the meadow of the Country Park during the late spring and early summer I had to fight my way through clouds of large black flying insects. I could not think what they were and as time passed they seemed to be getting bigger. They were in the air, hanging from bushes and crawling in the grass. As they got bigger I was able to see what they looked like. I am no expert and could well be wrong, but they looked like immature dragonflies or damsel flies. They started off looking black but later proved to be dark green in colour. According to my reference book there are 44 varieties of these creatures in England and they can fly at up to 35 mph - 60 mph to catch their prey of flying insects. It seems they have been around for over 300 million years.

East Anglia has been the scene of a plague of hover flies, apparently blown over to our shores from Europe. These little chaps are of wasp-like appearance but completely harmless in that they do not sting, they just fly into your face and hair, and rather spoil your picnic and ice cream. On the other hand they are indispensable when it comes to pollinating fruit and flowers and gardens and orchards would fail without them.

Now it is the turn of the wasps. They have an unlimited ability to sting - unlike the bees - and their nest can contain up to 2,000 wasps at a time. The drone and worker wasps live for a few weeks between May and September but the queen wasp lives for a full year. They eat anything from spiders, meat or jam and are excellent at keeping down the number of caterpillars. The rising temperatures of August have seen a vast increase in their numbers.

At the time of writing they seem to be multiplying at an alarming rate and they, too, take their place in my list of ...'Summer's Little Charmers'!

Barbara Corley

Following Barbara's article in the July/August magazine, "To Coin a Phrase", Reverend David Payne sent a letter enquiring if anyone knew the origins of the phrase it's "all Sir Garnet"? He suggests the phrase may have been referring to Sir General Garnet Wolsey who was a stickler for order and precision. Can anyone throw any light on this or offer an alternative explanation?

Broadband Internet Access

Finally Broadband equipment is being installed in our local telephone exchange. This means that the majority of homes in Odell, Harrold and Carlton can have Broadband Internet Access by January 26th 2005 latest - so now's the time to start booking up for it. You can either contact BT directly (e.g. on their website

www.bt.com ) or contact your own favourite Internet Service Provider (ISP) to see if they will offer you a similar deal. The advantage of staying with your existing ISP may include arrangements for keeping your existing email addresses or that you happen to like their customer support service. Our friendly local KBNet who have provided the Odell website free for many years has been taken over by a bigger company called Business Serve. See www.kbnet.co.uk for details of their Broadband offering.

For those readers who still fail to get Broadband coverage, then there are alternative (Wireless) solutions such as the one from Mesh Networks. More about their service can be found on their website www.meshbroadband.co.uk. Contacts at the County Council are Martin Alcock on 01234 228919 and Paul Vann on 01234 228064

Odell Luncheon Club

Senior Citizens Harvest Lunch

There will be a lunch for Senior Citizens in Odell Village Hall on Wednesday October 13th

12.00 for 12.30.

All senior citizens invited – please accept this as the only invitation.

Please let Roma know ( 720431) by October 5th if you are coming.

A date for your diary: Odell Luncheon Club Christmas Lunch will be on Wednesday December 15th in Odell Village Hall.

Trad Jazz at The Bell

Friday 3rd September

The Wodehill One-Steppers will play in the garden of The Bell (weather permitting) on Friday 3rd September, 6 – 8.30pm

W.I.News

July's meeting was a private trip to the 306th Bombardment Group Museum at Thurleigh Airfield. It was a fascinating look back at the war times years. Although it dealt with the history of the 306th Bombardment group's involvement at Thurleigh its scope is much broader than the name would suggest. The museum covered all aspects of life in the war time years, including how the local population was affected. We were given an introductory talk which dealt with how the museum came into existence and the plans for the future. We were encouraged to ask questions and there was even a NAAFI for a cup of tea.

August saw us enjoying ourselves at our annual B.B.Q. I thought our luck of the last two years had run out as the night before and most of the morning had seen torrential rain, but mid-day came and so did the sun. We had a lovely sunny end to the day in Mandy Sharpe's garden. The food was cooked and eaten; we had a drink or two and enjoyed the company of our friends while night fell. A big thank you to Mandy for being such a delightful hostess and to everyone else for their contribution to the feast.

September meeting

We return to the Village Hall on Tuesday 14th September for our next meeting. We are pleased to welcome Jinder Sumal who is going to share a few of her quick and easy Indian recipes with us. She was at the Fete and her food was delicious.

Hostesses and Competition

Margaret Jones and Chris Devereux are our hostesses and the competition is 'An Indian curry recipe'.
Rachel Halton 720572
Congratulations

...to Hattie and Mark Slim on the birth of their third son on Saturday 21st August.

Odell Parish Council

Meeting 12th July 2004.

Grazing land. It was decided to accept the tenant's reduced offer of £400 because of the condition of the land. It was decided to approve a budget of up to £300 for the improvement of the land by weeding spraying and re-seeding.

Playground. It was decided to remove the swings since the Parish Council now has no lease on the playground and therefore cannot insure the swings.

Village seats. These are to be repaired and repainted as appropriate, but the weather has hitherto prevented progress.

Odell Mill race bridge. This is to be inspected by the Bedfordshire County Council, and notices about its use will be erected.

Scout field. It was decided to express an interest in the scout field, should the Lawson Johnston Estate wish to sell it.

Highways. Repairs to the High Street and to Odell Road are to be scheduled by the Beds CC.

The Flats. The lights at the flats are not all working and the Pilgrim Housing Association are to be told.

Horsefair Lane. The Lane is to be resurfaced in October this year.

Country Park. The Bedfordshire County Council have allocated reduced funds to the Country Park. They aim nevertheless to provide wheel chair access for Anglers and to maintain the fish stocks. The skateboard project was to take place in the first two weeks of the summer holidays.

The state of the gates was noted. They are in urgent need of repair. It is proposed to start a Friends of the Park association to help with design and maintenance.

A wind farm at Podington. It was noted that the DTI and DEFRA disagree about the merits of this form of energy. It is

understood that there will be an opportunity for the public to express their opinions.

Accounts for the year to 31.3.2004. These were approved and signed by the Chairman.

The Villager. It was decided to make a donation to the Villager of £70.

Footpaths. It was noted that the footpath south of the Odell bridge was very overgrown. The Bedfordshire County Council is to be told of this.

The next meeting is to be held at 8 pm on Monday 20th September.

Jonathan Harrison.

Parish Councillor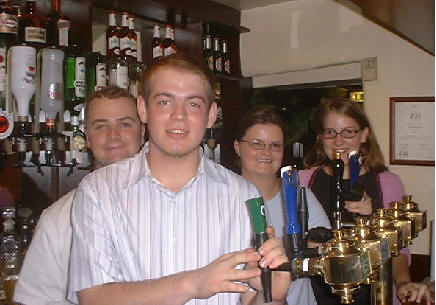 The Bell – New Lunch and Evening Menus

Richard and Paul at 'The Bell' are pleased to announce the introduction of new lunch and evening menus, complemented by a new selection of wines.

Bar and waiting staff are required.

Friday 3rd September: Trad Jazz band in the garden, weather permitting.

Village Hall News

Events

Live Music

- We are trying to arrange a live band for an evening's entertainment in late September. Watch out for details.

Proms - 11th September - We are planning to have a bouncy castle and Bar-B-Q at the Village Hall, through the afternoon into the evening. So why not join us as we celebrate and join the Last Night of the Proms!

Quiz - 16th October - The Autumn Quiz returns so prepare your teams for action.

Waste Paper Collection. Thank you for bringing your waste paper to the bins. Though the return is small, every little bit helps financially and of course the waste is recycled.

Do please support our events, and do suggest to us your ideas for alternative activities.

Rob Lee (720730) on behalf of the Village Hall Committee.

The Mill Theatre, Sharnbrook

The Lion in Winter - The wonderful historical drama by James Goldman.

Tuesday 21st – Saturday 25th September 2004, 7.45 pm.

Director: David Midlane

Wednesday 22nd September: Charity performance for The Friends of St. Peter's Church.

Tickets: £10 including glass of wine and nibbles, only available from the Village Trader.

All other tickets, £8-£9 available now from:
The Village Trader, Sharnbrook (in person) – your local booking point

Central Box Office, Bedford 01234 269519*;

*Credit/Debit cards accepted.

For Party bookings: Please phone Alison Bean 01234 781372
(10% discount for 10 or more, excluding charity performances)
The Mill Theatre Reg. Charity No 242164
Sharnbrook Amateur Theatre Trust Ltd
Visitors to The Mill Theatre during The Lion in Winter may take advantage of advance booking for :
My Fair Lady (Friday 12th – Saturday 20th November) before tickets go on public release.
Youth Theatre Summer School
A most accomplished performance of Willy Russell's sad, humorous, true-to-life musical 'Our Day Out' was staged on July 31st at the Mill Theatre, before a large audience of parents and friends; the cast of 26 students displaying their array of talents – dramatic, musical and comic – to good effect, a number acting for the first time, others returning having taken part in and enjoyed the previous two courses. The show that evening concluded a week of professional tuition, hard work and great fun, with new skills learnt, confidence and experience gained and with much pleasure being given to a most appreciative audience.
Dog Diary Date-Sunday 5th September.
19 Class Companion Dog Show in the grounds of Sharnbrook Mill Theatre. Kennel Club permission. All welcome. Dogs need not be registered at The Kennel Club. Entries from 11.00am on the day; judging from 12.00 noon. Rosettes to 6th place, prizes, perpetual trophies. Refreshments, Bar, Stalls, Raffle. – Free Car Parking.
Enquiries: Elizabeth/Theo Gibbs 781298/782377
For Sale
We have several Calor Gas Space Heaters, complete with gas cylinders, for sale, suitable for garages, workshops, sheds, etc. Offers invited. Please contact Jill Cheadle on 720261 or Martin Eshelby on 01933 410959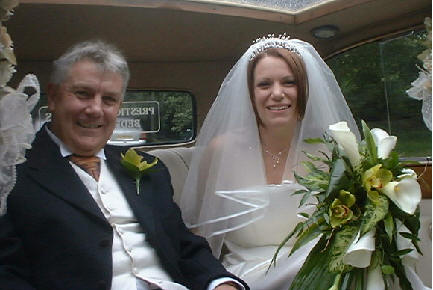 June Wedding

Just too late for the July/August magazine was the above picture of Nicola Smith shown here with father Ken before her wedding to David Watts on June 26th.

Thank You!

Kathy Dunn and family would like to thank everyone concerned for helping to make her 50th birthday weekend of August 14th go so smoothly. Everyone appeared to have a good knees up in the evening and the celebrating continued well into the early hours with thanks to the one day of warm summer weather.

A special thank you to the immediate neighbours who offered car parking facilities and camping areas for the northerners who braved the inclement weather to drive or fly down to join in the fun. The amount of cards and presents was quite embarrassing. Some of the cards were separated from the gifts, so if you havn't received a personal thank you please accept an apology and a great thank you. The rest of the week was spent going back and forth to Tesco bottle bank!!!!!!!!!!!!!!!!

Home-Start Bedford

Can you spare two to three hours a week to support local young children and parents?

Home-Start is a local voluntary organisation offering support and friendship to families with at least one child under 5 years of age, and who have been experiencing difficulties. Home-Start offers volunteer supporters:- Support and supervision, Out of pocket expenses, Free Volunteer Development Training Programme, a Quarterly Newsletter and a very worthwhile experience!

The next free Preparation Course:

Tuesday 14th September to Tuesday 26th October

One day a week for 7 weeks 10.00am – 2.30pm

Contact Home-Start on 01234 270601, or e-mail homestartbedford@hotmail.com
Diary
September
3rd 6-8.30pm Jazz band in garden of The Bell.
5th 11.00am Dog Show, Mill Theatre Grounds, Sharnbrook.
8th 10.30am Meeting Point, Rectory Farm, Odell.
11th 10-6pm Historic Churches Bike Ride.
11th Proms in the Village Hall.
14th 7.30pm W.I. Odell Village Hall.
18th 11-5pm Exhibition/sale wildflower & bird photographs, St. Denys Church, Colmworth.
19th 2-5pm As above
20th 8.00pm Parish Council Meeting, Village Hall.
21st 10.30am Meeting Point, Newton House, Avenue Rd., Rushden.
October
2nd 10.00am Church decorating for Harvest.
2nd 7 for 7.30pm Harvest Supper, Village Hall.
3rd 10.00am Service of Harvest Thanksgiving, All Saints'.
3rd 6.30pm Feast of Tabernacles, St. Bartholomew's Church, Green's Norton.
13th 12 for 12.30 Senior Citizens Harvest Lunch, Village Hall.
16th Quiz, Village Hall.
Magazine Deadline
Please send all entries for the October 2004 magazine to Tricia Hudson (patriciahudson@kbnet.co.uk), Anne Turner or Catherine Corkery by September 12th 2004 at the latest. May we remind you that the editorial team exercises the right to edit, shorten or alter any items that are submitted. Also, the opinions expressed in the articles are those of the contributors and are not the responsibility of the editorial team.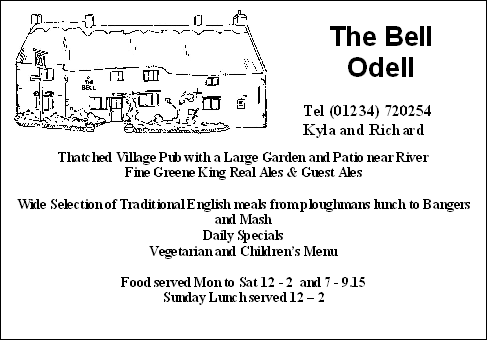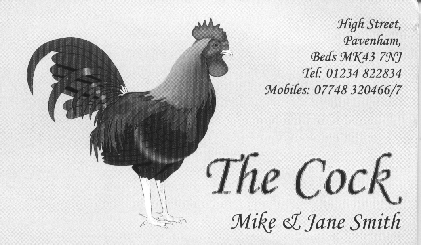 Mike & Jane

Welcome all customers, both old & new to the

recently refurbished

Cock at Pavenham

Hand Prepared & Home Cooked Food is available Wednesday to Saturday Evenings. Fresh sandwiches, Soups & Ploughmans are available at weekend lunchtimes

Large garden with fabulous views

Parties welcome in our separate dining room

We are keen that our food offering is of the highest quality using the freshest ingredients and make no apologies if availability is limited – so BOOK EARLY!

Quiz night every 2nd Monday in the month

Opening Times

Monday to Friday 5.00pm to 11.00pm

Saturday 12.00am to 3.00 pm & 6.30pm to 11.00pm

Sundays 12.00am to 3.00pm & 7.00pm to 10.30pm
Electronic mail address
email is jh at kbnet.net - I put it like this to avoid spam! - just retype with the 'at' being an 'at' sign and of course no spaces.

FAX number
01234-721004

Back to the Odell Home Page
---
Last revised: September 07, 2004.