ODELL VILLAGE NEWS
October 2004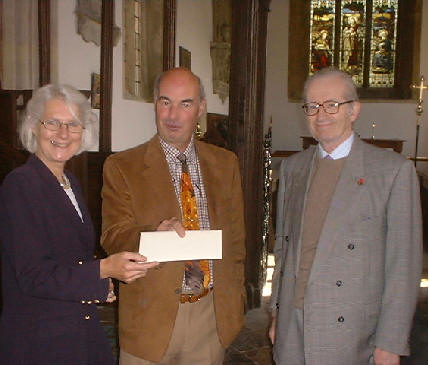 Lord and Lady Luke leaving Odell
On Sunday 19th September after the morning service the congregation of All Saints' said goodbye and thank you to Lord and Lady Luke who are leaving Odell and moving to Leicestershire. Their departure is a great loss to Odell which has been the home of 'The Lord Luke of Pavenham since the 1930s.
Lord Luke is the Patron of All Saints' Church in Odell and as such has given support to the church over many years. Lady Luke has been very involved in village life, showing an interest in and helping with a large number of the village activities. They will be greatly missed. We wish them much happiness in their new home.
Odell Parish Council

Fireworks
A voluntary code of conduct for bonfire night in Odell.
Following the 2003 bonfire period Odell Parish Council was approached by a number of concerned residents who felt that the fireworks celebrations had continued for a prolonged time.
The suggestion was that we might arrange a community bonfire and fireworks display.
Unfortunately due to the present regulations regarding extensive training, heavy insurance necessity and lack of a large plot of land owned or controlled by the Parish Council, this would be impossible.
Last year the various firework parties in Odell lasted for nearly a month. Whatever your personal feelings, one of the nice things about this community is the pleasant atmosphere that we all enjoy so it is in this spirit that I ask you (if you are thinking of holding a firework celebration this November) to consider joining in this voluntary scheme.
November 5th, Guy Fawkes night, falls on a Friday this year. Would you please consider holding your firework party on one of the following -:
Friday 5th November, Friday 12th November, Saturday 6th November, Saturday 13th November, Sunday 7th November, Sunday 14th November?
It is hoped that in this way the spread of fireworks would be reasonably limited, allowing any among us who have animals or do not like fireworks to be forewarned.
Please Join in and help to keep Odell a friendly and pleasant community
P.S. obviously given wet weather, changes would be reasonable. Do give me a call if you have any comments about this letter. Many thanks.
Amanda Sharpe - Bedford 720414.
Round and About
That Little Drop of Rain
What has happened to the weather? We wretched humans can only stand on the sidelines in awe as we watch the elements battle it out.
The later summer weather has thrown just about everything it knows at us this year. From the three hurricanes in the Caribbean and Florida, to the shocking floods that engulfed Boscastle, the pretty little fishing village where the flood waters tore the heart out of it.
Closer to home we have experienced the wettest August on record and in that same month we had the hottest night that Britain has ever known. As August gave way to September the temperatures soared to give us a brief but glorious Indian Summer before plunging us, yet again, into a period of rain.
What are we to make of this topsy-turvy weather of ours which exposes us to torrential rain and thunder storms one moment and a tropical heat wave the next? During August we were on the receiving end of more thunder storms than we usually see in a whole year. As a small child, when I asked what caused the thunder I was told it was a giant stomping about in the clouds and at that age I accepted the explanation without question.
Lightning contains great power and one single strike has a total output far in excess of the national grid. Lightning has been known to vaporise jewellery and metal items and has been known to strike the masts on a wooden ship, shattering the mast and reducing it to shavings. Indeed it has completely destroyed a number of wooden boats. Metal ships are far safer as the current usually passes through the hull into the water.
A storm cloud contains both positive and negative particles which move and interact. There are what they call "leaders" and "streamers" and when they meet they are super-charged, producing great heat and power, the air explodes in a bright flash of plasma and this is what we recognise as lightning. The accompanying thunder is caused by air rushing to fill the vacuum left by the lightning, creating a kind of sonic boom.
As a child I was satisfied by the explanation of a giant stomping around in the sky but what other stories have been made up to explain this spectacular phenomena at the same time so beautiful and yet so terrifying?
The old saying goes that if you hear thunder then the lightning did not get you and that if you see lightning then it missed you!
One story will tell you in explanation of thunder that God is moving his furniture and another states that God is playing bowls in the sky, and yet again that God is having his coal delivered. There are also a number of rather "pretty" explanations, such as that the angels are banging on their drums, or that the thunder is caused by the clouds clapping their hands, or even yet, that the clouds are kissing. A rather nice explanation has it that God has a golden carriage and that many of the roads in heaven are cobbled and that the noise of thunder is caused by the wheels rumbling over the cobbles.
Surely, what must be the latest addition to these explanations of thunder and lightning must be the one that tells us God is taking flash photographs and then complaining about the results!
Barbara Corley
Odell Luncheon Club
Senior Citizens Harvest Lunch
There will be a lunch for Senior Citizens in Odell Village Hall on Wednesday October 13th
12.00 for 12.30.
All senior citizens invited – please accept this as the only invitation.
Please let Roma know ( 720431) by October 5th if you are coming.
A date for your diary:
Odell Luncheon Club Christmas Lunch will be on Wednesday December 15th in Odell Village Hall.
Vaccine Clinics 2004 for patients registered with the Sharnbrook Surgery.
Monday 4th October – Friday 8th October inclusive, 2 – 3.00pm, for:
'Flu – over 65 years and those 'at risk'.
Pneumonia – over 75 years and those 'at risk'.
No Appointment Needed.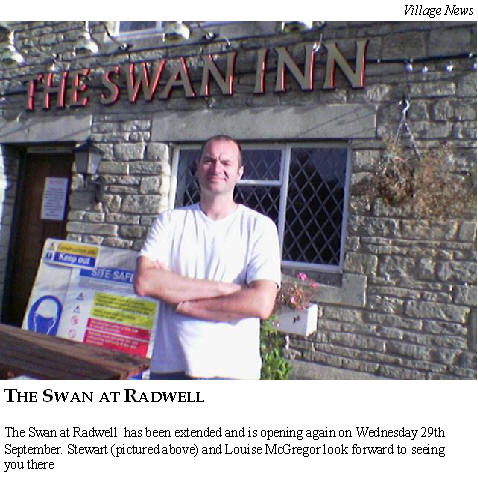 W.I.News
We were pleased to welcome Jinder Sumal and her family to our meeting this month. Her topic was Indian food and it was fascinating. She started the evening by giving us a quick history of Indian cuisine unbelievably some recipes go back 4000 years and have been passed down the generations. I had no idea how much food preparation and eating was interwoven into their culture, beliefs and outlook on life. She touched briefly on the spices they used, apparently the hotter the climate the spicier the food is and she had brought some samples along for us to see and smell. Then she went into the kitchen and before long the most wonderful aromas filled the air. With the help of her husband and daughter she cooked a feast, we has pakoras to sample, a yogurt dip, chapattis, chickpea curry and a chicken spice dish. She made it seem effortless and readily answered questions as she cooked. The only drawback is she works from instinct, as many of our mothers did, so there is no recipe for us to follow, only a list of ingredients. I fear if I attempt the same dishes it will take a great deal of practice before I could in anyway emulate her. A most memorable evening.
October meeting
We meet in the Village Hall on Tuesday 12th October at 7.30 for our next meeting. We will be pleased to welcome Kevin Viney who is coming along to talk about 'Hot Air Ballooning'. All welcome - just come along or contact any W.I. member.
Hostesses and Competition
Barbara Corley and Mandy Sharpe are our hostesses and the competition is 'A painted balloon'.
Rachel Halton 720572
News from the park
Despite being so wet, we enjoyed a busy summer at the park. Hopefully autumn will be drier and the leaves on the trees will put on a good display before they fall. Why not come for a walk in the park and enjoy the autumn colours. Or come along to one of our events listed below. We will also be running some conservation tasks and hope to set up a Friends group for the park. So if you're keen to learn new skills or meet new people, give us a ring on the number below to find out more.
The Big Draw at Harrold-Odell Country Park - Saturday 23rd - Monday 25th October
Join in this national event with materials and inspiration from the park. Harvest willow to make charcoal, which can then be used to create beautiful images of the park, or whatever else inspires you! Each day 10am - 4pm.
Cycle Day – Wednesday 27th October
A day for cyclists of all abilities. Have your cycle checked for safety and then do some cycle training to learn safe mounting, setting off, braking and awareness of other road/track users. All cyclists must be over 10. Booked sessions from 10am. Please call the number below to book your place.
The events are free, but donations are always welcome and enable us to put on future events. Children must be accompanied by an adult.
Lyndsey Bignell 01234 720016

lyndsey.bignell@bedscc.gov.uk
Lucky Escape
Youngsters driving madly through the village had a lucky escape late on the afternoon of Sunday August 29th when they lost control and smashed into the church wall. Luckily no-one was seriously hurt. A policeman attending was inclined to blame the state of the white line, not the fact that possibly they were doing just a little more than 30 miles per hour.

Broadband Internet Access

Finally Broadband equipment is being installed in our local telephone exchange. This means that the majority of homes in Odell, Harrold and Carlton can have Broadband Internet Access by January 26th 2005 at the latest - so now's the time to start booking up for it. You can either contact BT directly (e.g. on their website

www.bt.com) or contact your own favourite Internet Service Provider (ISP) to see if they will offer you a similar deal. The advantage of staying with your existing ISP may include arrangements for keeping your existing email addresses or that you happen to like their customer support service. Our friendly local KBNet who have provided the Odell website free for many years has been taken over by a bigger company called Business Serve. See www.kbnet.co.uk for details of their Broadband offering.

For those readers who still fail to get Broadband coverage, then there are alternative (Wireless) solutions such as the one from Mesh Networks. More about their service can be found on their website www.meshbroadband.co.uk. Contacts at the County Council are Martin Alcock on 01234 228919 and Paul Vann on 01234 228064

Village Hall News

Village Hall Access

This long drawn out process is still gathering a little momentum. New plans are being drawn up for presentation to the Planning Dept. and once costings have been confirmed, we should be able to submit an application for funding

assistance. A number of people are working hard to make this happen but we are at the mercy of many systems and processes; as things progress we will keep villagers up to date.

Events

Live Music. We have not had much luck arranging a live band for an evening's entertainment. Let us know if you are aware of "all-round" entertainers!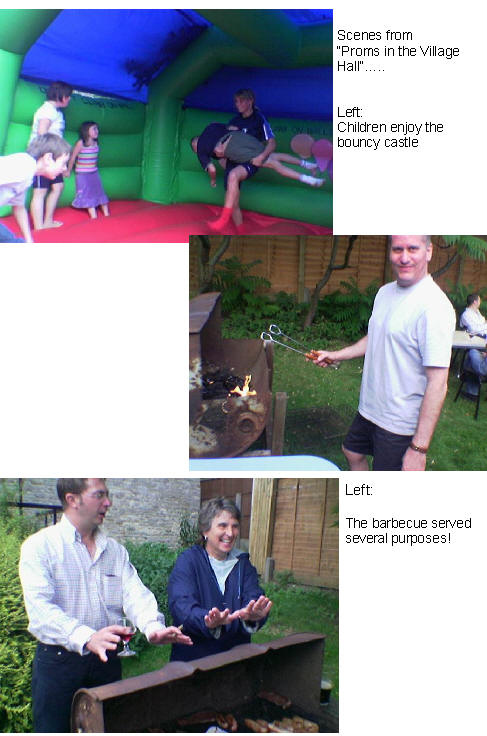 Proms - 11th September. A good number enjoyed an evening's 'Bar-B-Q' and presentation of the proms. The children enjoyed the bouncy castle throughout the afternoon and into the evening. We all danced and clapped and sang along like real promenaders when we weren't tucking in!!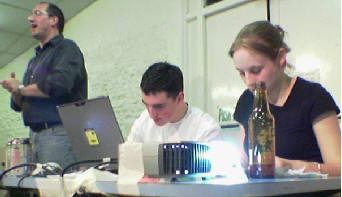 Quiz - 16th October. The Autumn Quiz returns so prepare your teams for action. Up to 6 members in a team @ £2 per person, 7.30 pm for 8.00 pm. Bar available. It would help to book a table as we were rather crowded last time!
Do please support our events, and do suggest to us your ideas for alternative activities.
Rob Lee (720730)
The Mill Theatre, Sharnbrook
2004 marks the 25th Anniversary of the Opening of The Mill Theatre
My Fair Lady - Book & Lyrics by Alan J. Lerner - Music by Frederick Loewe.
Adapted from Pygmalion by George Bernard Shaw
The Delightful Musical Legend for All the Family
Friday 12th* to Saturday 20th November, 2004 at 7.45 pm
Matinee : Saturday 20th November at 2.30 pm
Tickets now available from:
The Post Office, Sharnbrook - in person – your local booking point
Bedford Central Box Office 01234 269519 *Credit/Debit Cards accepted
For Party bookings: Please phone Alison Bean 01234 781372
(10% discount for 10 or more, excluding charity performances)
*NB: Friday 12th November is a Charity Gala Performance for Gladys Ibbett House, a Macmillan Cancer Relief Hospice. Tickets are only available from Angela Parker, 01234 266803.
Booking Point changes
In order to cope with an increase in demand and to offer a better selection of seats, we have stream-lined our Box Office arrangements so that tickets are now available from two points only - Bedford Central Box Office in the Harpur Suite, (where Credit/debit card bookings are accepted by telephone) and Sharnbrook Post Office, (where bookings are accepted in person from 9 am until 1pm and 2 pm to 5 pm daily and from 9 am until noon on Saturdays). Tickets will no longer be available from the Castle Theatre at Wellingborough.
We are greatly indebted to the Village Trader for the generosity and service they have shown us over many years, but hope that the longer opening hours available at the Post Office will allow even more of you to book locally. We are most grateful to the Staff at Sharnbrook Post Office for offering this increased service and hope you will offer them your patronage. Erica Lester, Honorary Secretary.
Companion Dog Show gives The Access for the Disabled Fund further
lift: Elizabeth and Theo Gibb, wish to express their sincere appreciation and gratitude to all who have contributed to the success of their 22nd dog show for the Mill Theatre, thus increasing the Fund by a further £300.
Diary
October
2nd 10.00am Church decorating for Harvest.
2nd 7 for 7.30pm Harvest Supper, Village Hall.
3rd 10.00am Family Service of Harvest Thanksgiving, All Saints'.
3rd 6.30pm Feast of Tabernacles, St. Bartholomew's Church, Green's Norton.
5th 10.30am Meeting Point at Eileen Shakespeare's, Corner
House, Wymington Park, Rushden.

12th 7.30pm W.I. Meeting Village Hall.

13th 12 for 12.30 Senior Citizens Harvest Lunch, Village Hall.

16th 7.30 for 8.00 Quiz, Village Hall.
20th 10.30am Meeting Point at Catherine's, Manor Cottage,
High St., Harrold.

23rd, 10am-4pm The Big Draw at Harrold-Odell Country Park.

24th & 25th

27th 10.00am Cycle Day, Harrold-Odell Country Park.

November

6th 10.00am Churchyard tidy

6th TBA Bonfire and fireworks, churchyard.
Magazine Deadline
Please send all entries for the November 2004 magazine to Tricia Hudson (patriciahudson@kbnet.co.uk), Anne Turner or Catherine Corkery by October 12th 2004 at the latest. May we remind you that the editorial team exercises the right to edit, shorten or alter any items that are submitted. Also, the opinions expressed in the articles are those of the contributors and are not the responsibility of the editorial team.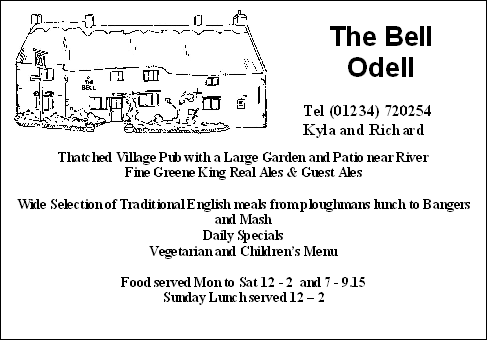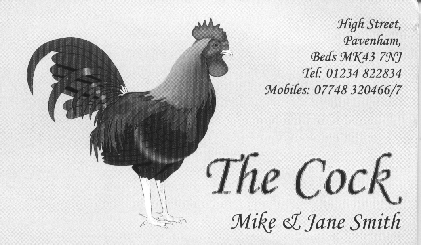 Mike & Jane

Welcome all customers, both old & new to the

recently refurbished

Cock at Pavenham

Hand Prepared & Home Cooked Food is available Wednesday to Saturday Evenings. Fresh sandwiches, Soups & Ploughmans are available at weekend lunchtimes

Large garden with fabulous views

Parties welcome in our separate dining room

We are keen that our food offering is of the highest quality using the freshest ingredients and make no apologies if availability is limited – so BOOK EARLY!

Quiz night every 2nd Monday in the month

Opening Times

Monday to Friday 5.00pm to 11.00pm

Saturday 12.00am to 3.00 pm & 6.30pm to 11.00pm

Sundays 12.00am to 3.00pm & 7.00pm to 10.30pm
Electronic mail address
email is jh at kbnet.net - I put it like this to avoid spam! - just retype with the 'at' being an 'at' sign and of course no spaces.

FAX number
01234-721004

Back to the Odell Home Page
---
Last revised: September 30, 2004.