ODELL VILLAGE NEWS
November 2004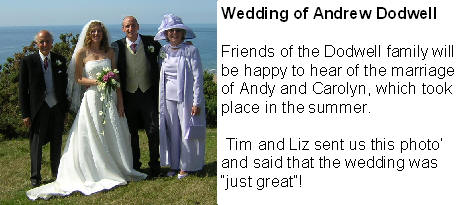 Churchyard Tidy and Bonfire Night
An autumn churchyard tidying day is to be held on Saturday November 6th, from 10.00am, followed in the evening by a bonfire and fireworks. Everyone in the village is invited to attend either or both events!
The bonfire and fireworks will start at 6.00pm in the churchyard. Soup and rolls will be provided. Do not bring your own fireworks as there will be a prepared display. Let Jill Cheadle know (720261) by Wednesday 3rd November if you are coming to this event.
Christmas Hamper Coffee Morning
In support of Christian Family Care
Friday 3rd December
Hobbs Green Farm
Church Lane, Odell
From 10.30am to noon.
Admission Free
Round and About
The Call of the Geese
I find myself returning to an old, familiar subject as once again my monthly article will be about the geese.
Following a season when there have been remarkably few goslings it comes as something of a surprise to see the number of geese migrating between the park and their local feeding grounds. I am not the only person to comment on these numbers either and I feel sure that the local geese have had their numbers augmented by seasonal visitors.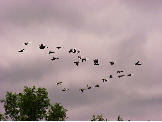 Once the corn has been harvested the geese take to the air and go scavenging in the local fields and at certain times their flight path goes right over the roof of my house. As the calling of the geese is more or less a constant feature where I live it takes a little while to realise that the sound is getting louder and louder. Finally the noise breaks through your sub-conscious and you become aware that the geese are about to fly overhead. I have always found it rather uplifting to watch these birds go by, calling loudly to each other as they go. I always end up on my doorstep searching the skies looking for the familiar "V" shaped formations.
But there is something different about the geese this year, even apart from the numbers. Usually they fly in short "V" shaped formations with other V shapes tucked into the slipstream. This year, however, they are forming huge wings that seem to stretch from the river to the High Street. Wave after wave of them and the sound they make is extraordinary.
At first the calling of these geese is faint, slowly building up momentum, until it seems to be irresistible and I just have to stop what I am doing and go out to watch them fly past. It happens twice a day. They must fly out, to the fields across the river towards Felmersham at first light, as they start to return again between 8.00 am and 9.00 am. They fly out again in the late afternoon and make their return in the fading light. Some of the tail-end-Charlies even seem to return after dark. You can hear them honking away long after the light has failed.
As the giant wing approaches the main lake the formation breaks, as the geese manoeuvre for a landing position. They vary height, as the area of flight seems to collapse in upon itself. Geese hit the water like a salvo of gunfire. They drop from the sky one after the other until there seems not to be enough space for them all on the lake surface. Indeed there often is not enough room for them all as some of the geese dive bomb those below and even land upon each other.
After a few brief weeks the flight path changes and although you can still hear the geese calling in the distance as they return from their new feeding grounds, your own particular patch of sky falls silent for another season.
My bird book says, of greylag geese "...…wild geese are not a common sight...and their haunts are moors and marshes in the north, and here and there on the coast, especially in the west". All I can say is, the author cannot have visited this particular corner of North Bedfordshire!
Barbara Corley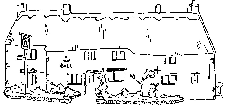 What's on at The Bell…

Monday Nights -

Curry Night

Choice of two meats, Curry, Rice, Poppadum and a pint of IPA or standard glass of red wine

£7.95

Thursday Nights – Happy Hour 7 – 9pm

Real Ale, Carlsberg, Bottled Beer and More at Happy Prices!

Quiz Night – Sunday November 14th

Teams of 4-6, £2 per person.

Prizes for the winners, loosers and spot prizes for the best team name!

Nibbles provided

Sign up today at the bar. Starts 7.30pm.

Staff wanted

More staff is required at The Bell. For more information 'phone Kyla, 01234 720254.

Fireworks

A reminder of the "voluntary code of conduct for bonfire night in Odell" as mentioned in the October issue of this magazine:

November 5th, Guy Fawkes night, falls on a Friday this year. Would you please consider holding your firework party on one of the following -:

Friday 5th November, Friday 12th November, Saturday 6th November, Saturday 13th November, Sunday 7th November, Sunday 14th November.

It is hoped that in this way the spread of fireworks would be reasonably limited, allowing any among us who have animals or do not like fireworks to be forewarned.

Many Thanks. Amanda Sharpe - Bedford 720414.

Odell Luncheon Club

Invites you to join us

on Wednesday 15 December 2004

at 12.30 for 1.00pm

For Christmas lunch

Please let Roma know (on 01234 720431) by

Tuesday 7 December if you are able to join us.

W.I.News

Having so often watched Hot Air Balloons drift across the valley in the summer it was a pleasure to welcome Kevin Viney to our meeting this month. He has run his own Hot Air Balloon business based in Olney for the last ten years. He introduced us to the history of the sport. I was surprised that it only became popular in the 1980s with the development of new materials and burner development. It is still a minority sport with most enthusiasts knowing each other. He then spoke of the equipment needed and showed us the maps used and spoke of some of the difficulties they encounter with regard to weather, landing sites and air space. The majority of people take their first flight to celebrate a special event or when they are in a particular part of the world like the African safari parks.

An interesting talk which provoked a great many questions.

November meeting

We meet in the Village Hall on Tuesday November 9th at 7.30 for our next meeting. The evening will be led by Doreen Wheeler and Kathy Dunn who will show us some of their ideas on making their own Christmas cards. We will then have the opportunity to try ourselves.

If possible it would be useful to bring a pair of scissors along.

Hostesses and Competition

Mary Lee and Jean Clarke are our hostesses and the competition is 'A

Christmas card rhyme'.
Rachel Halton 720572
Village Hall News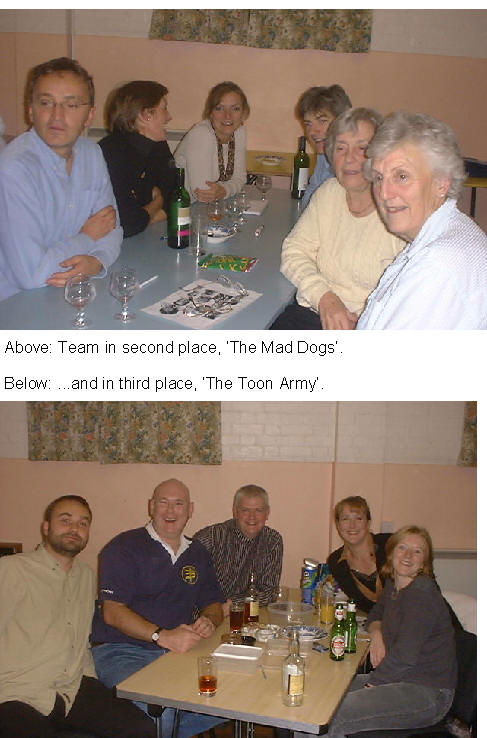 Village Hall Access
This long drawn out process is still gathering a little momentum, new plans are being drawn up for presentation to the Planning Dept. and once costings have been confirmed, we should be able to submit an application for funding assistance. A number of people are working hard to make this happen but we are at the mercy of many systems and processes, but as things progress we will keep villagers up to date.
Events
If you have an idea or can help with these let us know, and if you would like a venue for a private function, the very reasonable hire fee helps us maintain the hall.
Live Music - We have not had much luck arranging a live band for an evening's entertainment. Let us know if you are aware of "all-round" entertainers!
Quiz - 16th October - The Autumn Quiz returned and there was great competition between some strong teams. The Tanners came out winners, closely followed by The Mad Dogs and Toon Army. Well done to everyone who took part.
Xmas Party - 17th December
The Parish Council has secured a grant, which they wish to use for the benefit of a Xmas Party for the children of the Parish. The village hall committee is delighted to arrange the event and will present 1+1 Disco from 7 - 9 in the Hall. We hope to have as many children as possible so please let everyone know in case we miss any!!
There will be games, dancing, goodies to eat and fun throughout the evening. As there will be lots of children we do ask for your support in supervising them. Ideally toddlers especially should be accompanied and we ask for your support in arranging for someone to be responsible for your children, or for you to take responsibility for someone else's if you wish to attend as well. You are of course very welcome to join us anyway.
Please let us know how many children will be attending and if you can help so that catering can be arranged.
Times of our Lives Theatre Company - 5th February 2005
We are pleased to announce the date of a future production by our favourite theatre group. Keep the date free and watch for tickets going on sale in the New Year.
Rob Lee (720730) on behalf of the Village Hall Committee
The Mill Theatre, Sharnbrook
My Fair Lady - Book & Lyrics by Alan J. Lerner - Music by Frederick Loewe.
Adapted from Pygmalion by George Bernard Shaw
The Delightful Musical Legend for All the Family
Friday 12th* to Saturday 20th November, 2004 at 7.45 pm. Matinee : Saturday 20th November at 2.30 pm
Tickets now available from:
The Post Office, Sharnbrook - in person – your local booking point
Bedford Central Box Office 01234 269519 *Credit/Debit Cards accepted
For Party bookings: Please phone Alison Bean 01234 781372
(10% discount for 10 or more, excluding charity performances)
*NB: Friday 12th November is a Charity Gala Performance for Gladys Ibbett House, a Macmillan Cancer Relief Hospice. Tickets are only available from Angela Parker, 01234 266803.
Diary
November
3rd 10.30am Meeting Point at Eileen's, Corner House, Wymington Park, Rushden.
6th 10.00am Churchyard tidy

6th 6.00pm Bonfire and fireworks, churchyard.

9th 7.30pm W.I. Village Hall.

14th 7.30pm Quiz at The Bell.

17th 10.30am Meeting Point, Catherine's, Manor Cottage, Harrold.

27th 7.30pm Bedford Messiah Choir, Bunyan Meeting.

30th 10.30am Meeting Point, Jane's, Newton House, Avenue Rd., Rushden.

December

3rd 10.30am Christmas Hamper Coffee Morning, Hobbs Green Farm.

14th 11.00am Meeting Point Christmas lunch at Rectory Farm.

15th 12.30 Odell Luncheon Club Christmas Lunch in Village Hall.

17th 7.00pm Children's Christmas Party, Village Hall.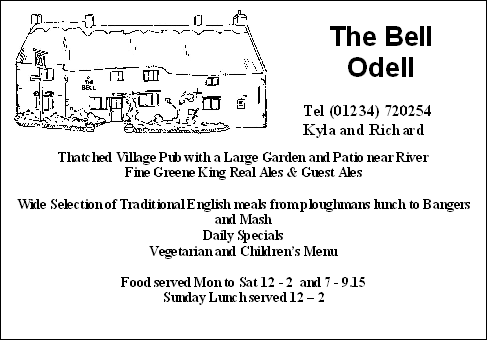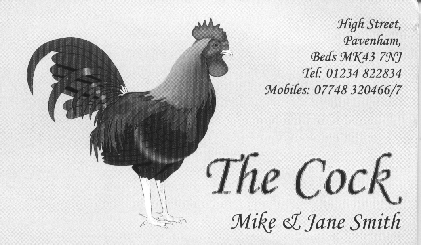 Mike & Jane

Welcome all customers, both old & new to the

recently refurbished

Cock at Pavenham

Hand Prepared & Home Cooked Food is available Wednesday to Saturday Evenings. Fresh sandwiches, Soups & Ploughmans are available at weekend lunchtimes

Large garden with fabulous views

Parties welcome in our separate dining room

We are keen that our food offering is of the highest quality using the freshest ingredients and make no apologies if availability is limited – so BOOK EARLY!

Quiz night every 2nd Monday in the month

Opening Times

Monday to Friday 5.00pm to 11.00pm

Saturday 12.00am to 3.00 pm & 6.30pm to 11.00pm

Sundays 12.00am to 3.00pm & 7.00pm to 10.30pm
Electronic mail address
email is mag@jonhudson.net

FAX number
01234-721004

Back to the Odell Home Page
---
Last revised: October 31, 2004.