ODELL VILLAGE NEWS
March 2004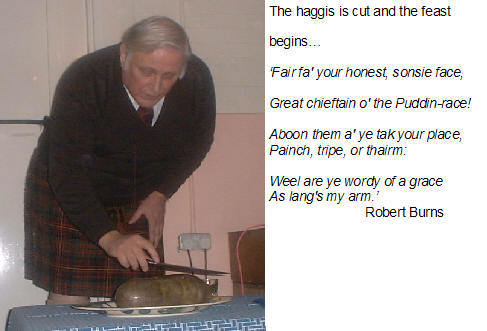 (see below for more on Odell's Burns Night celebrations!)
Round and About
Grandma's Handy Hints.
I was turning out a drawer the other day when I came across a relic from a bygone age - my grandmother's old cookery book. Tattered and old and lacking both back and front cover plus several pages besides, I cannot remember a time when this book was not a part of my life. Originally it belonged to my grandmother and later was used by my own mother throughout my childhood years - it is something of an old friend.
Apart from the recipes, which all seem to call for the use of four large fresh eggs, it has a wonderful section on household hints and it is when you read this section that it is forcibly brought home just how much life has changed for people over the last one hundred years or so. It is amazing just how many of these "hints" involve the use of vinegar or paraffin. The advice ranges over many subjects, from how to beat stuffed furnishings to making a bleaching lotion to treat stained hands and arms. I would imagine that many such remedies would now fall foul of the Health and Safety regulations of the 21st century and for this reason I am leaving many out - amusing though they may be!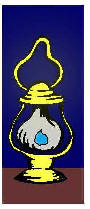 I cannot imagine that too many people today would be interested in how to clean the glass mantles of gas lamps, or how to cure the problem of shiny elbows on a gentleman's suit. Gone are the days when a man bought a new suit for his wedding and expected it to last for the next 20 to 30 years and considered it was the duty of his wife to keep the material looking presentable. However, I do love the proposed solution to cure worn and shiny shoe soles...'paint the soles with varnish and sprinkle sand on them'! For those people troubled by worn linoleum (most people had lino' in all rooms in those days) you were advised to break up and crush corks, mix with a liquid glue and then fill the hole, or holes, with the resultant mixture. Level the surface as much as possible with a knife and then use oil paint to match the pattern.
When boots were required for use in very wet or snowy weather, heat mutton fat and run it around each boot between the uppers and the sole paying particular attention to the instep, and this should keep out the wet. To revive the colour of old carpets, grate a couple of potatoes and cover with hot water. Let stand for 2 hours and then strain, apply the resultant water, with a brush, to the carpet. To remove ink stains from a carpet, use vinegar, then place blotting paper over the offending area and leave to dry. It may take two or three applications. To stop colours from running when doing the washing - add a little vinegar to the washing and rinsing water.
I would not advocate the use of any of the above to my readers but it does go to show the lengths people went to in order to preserve their possessions. However, some of the following sound more reasonable.
To remove candle grease from fabrics, remove as much grease as possible with a knife and then place blotting paper over the affected area and place a warm iron on top. When a candle is too large to fit the candle stick, plunge the end of the candle into hot water until the wax softens and then press firmly into the candle holder.
Should your house be invaded by beetles or ants strew powdered borax across the runs - I cannot speak for borax but I have used scouring powder to stop ants and they will not cross the stuff! To ease a drawer that constantly sticks, remove the drawer and apply a good coat of furniture polish. (A remedy I have used is candle wax). To clean stains on wallpaper - remove the crust from a slice of stale bread and rub the rest of the slice over the stained area as it will not leave marks as when using an India rubber. However, the contents of a loaf of bread today may be somewhat different from when this book was written.
My two favourites are as follows : "Rainy weather plays havoc with silk stockings. However, if 3 or 4 drops of methylated spirits are placed in the last rinsing water when washing, there will be no spotty marks, caused by raindrops, on stockings." "If the snap fastener on your gloves will not work properly there is usually a simple remedy. If it will not stay fastened it is because the dome is not wide enough. Give it a tap with a hammer." I tried this on a loose press-stud on one of my jackets. It worked fine for a couple of days and then worked loose again. I am now trying to work up the courage to give it a heavier whack from the hammer!
Barbara Corley
W.I.News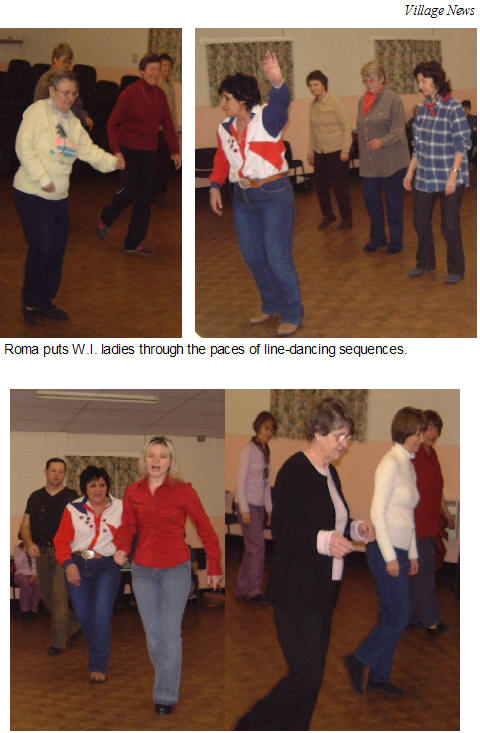 A big thank you to Roma Garon and her friends for organising our very lively Line Dancing evening. She had gone to a great deal of trouble to put together two routines for us to learn. Even the most left footed of us managed to perform something that resembled what we had been taught. Not content with that she and her friends preformed three much more complicated routines for our enjoyment, enabling us to stand, sit and admire while we caught our breath. The evening was a great success, thoroughly enjoyed by all the members.
Next meeting
This will be in the Village Hall on Tuesday March 9th at 7.30 p.m. We are looking forward to welcoming Mike Wynne the paramedic based at Harrold Surgery who will give us a insight into his work.
Hostesses and Competition
Hostesses this month are Audrey Dempsey and Joyce Knight. Our competition is 'A mythical cure or remedy.'
Rachel Halton 720572
Jumble Sale in aid of Odell W.I.

2:00 p.m. Saturday, 20th March in Odell Village Hall

Clothes Bric-a-Brac

Books

Tea & Coffee Cakes

Tel: 720358/720572 for more information or for the collection of any jumble. The Hall will be open from 10 am-11.30 am for any donations of jumble.

Please help us to keep the W.I. active in Odell.

Village Hall News

Events

If you have an idea or can help with these let us know, and if you would like a venue for a private function, the very reasonable hire fee helps us maintain the hall.

Dates for your diary

19th March - "Radio Days and TV Times"; another revue by the Time of our Lives Theatre Company. Tickets (£9) are now available from Pat Asbery (720594). A bar will again be available (but closed during the performance).

17th April - Quiz. The annual quiz returns. Teams of up to 6 as usual and £2 per person entrance. Start preparing your team for your specialist subjects and all round knowledge. 7.30 for 8.00 pm start.

The Ouse Valley Swing Band performed for us on February 13th. The Band contained 30 performers many of whom played solos, and all gave a great performance. Marianne and Jimmy were the lead vocalists whose range of songs was enjoyed by all.

Burns Night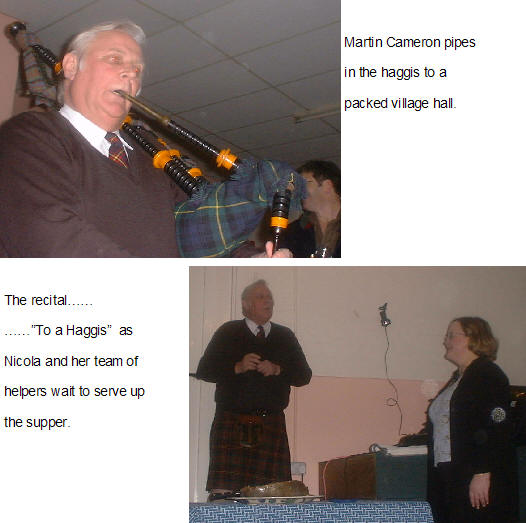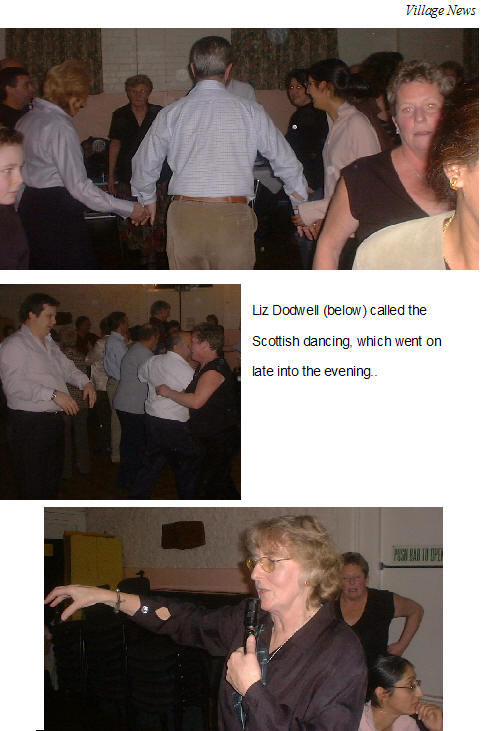 Scenes from Burns Night Celebrations in the Village Hall, January 31st.
Around 85 people enjoying Haggis and Neeps with a dram or two of whisky celebrated Burns Night. Mr. Cameron delighted one and all with a selection of Rabbie's finest words. The evening rounded off with dancing.
The organisers are looking for others to take over the mantle for the future arrangements of this much-enjoyed event. Please let Nicola know if you are able to help.
Our thanks go to Nicola and her team for again organising such a successful celebration. Also thanks to Liz Dodwell for the Scottish dancing as this may be the last occasion before she and Tim move to pastures new.
Keys
Please note that the front door lock has been changed and in keeping with good practice we have a new arrangement for opening the hall. A list of keyholders will be posted on the hall door. Harry Smith has kindly offered to prepare the hall for users ensuring heating is on as necessary and the doors opened and locked after activities. In the absence of Harry being available other keyholders will undertake this task. We hope this will not inconvenience anyone, as keys will not generally be handed out, but it is a sensible approach to ensuring the security of a valuable asset.
Waste Paper Collection. Thank you for bringing your waste paper to the bins. Though the return is small, every little bit helps financially and of course the waste is recycled.
Do please support our events, and do suggest to us your ideas for alternative activities.
Rob Lee (720730) on behalf of the Village Hall Committee.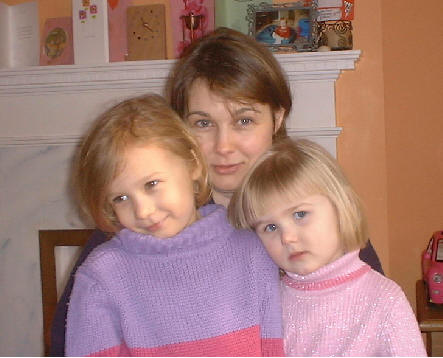 Welcome
Welcome to Mike and Jo Vyvyan with daughters Christy and Mia who moved into Horse Fair Lane in January. (Jo, Christy and Mia pictured above) We hope they will be very happy in Odell.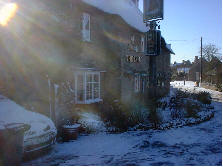 The Bell

Kyla and the team continue to run The Bell and thank everyone for their increased support since the prior management team left in January. They also asked us to mention that they are on the lookout for extra staff during the summer period.

The Mill Theatre, Sharnbrook

Alan Bennet's Comedy -

Habeas Corpus - March 9th –13th

The 'Permissive Society' is exposed in Alan Bennett's hilarious comedy – a brilliantly observed maze of mistaken identities and sexual encounters -

"He who lusts last, lasts longest."

Tickets available NOW (see below).

Wednesday 10th March Charity performance for the The Rotary Club of Bedford -Tickets from Brian Hanling 01234 356051

The Musical – Cabaret – May 14th – 22nd.

The Wonderful Historical Drama – The Lion in Winter – September 21st – 25th.

The Musical Legend – My Fair Lady – November 12th – 20th.

Tickets:
The Village Trader, Sharnbrook (in person) – your local booking point

Central Box Office, Bedford 01234 269519*;

The Castle, Wellingborough 01933 270007*

*Credit/Debit cards accepted.

For Party bookings: Please phone Alison Bean 01234 781372
(10% discount for 10 or more, excluding charity performances)
The Mill Theatre Reg. Charity No 242164
Sharnbrook Amateur Theatre Trust Ltd
Drama Summer School 2004.
Are you aged 9-18 years? A week long Summer School at The Mill Theatre under the direction of professional Drama Tutors is planned provisionally for Monday 2nd to Saturday 7th August, culminating with a performance on Saturday 7th August. The course fee is £100. Would you like to take part? To register your interest or for further details, please contact: Erica Lester 01234 782210
Diary

March

2nd 10.30am Meeting Point, Liz Dodwell's, Watermead,

Odell Rd., Harrold.
3rd 12.30 Odell Lunch Club, Village Hall.
5th 10.00am Women's World Day of Prayer, Harrold Chapel.
6th 7.30pm Posh Supper, the Barn at Hobbs Green Farm.

9th 7.30pm W.I., Village Hall.

17th 10.30am Meeting Point, Catherine's, Manor Cottage,

High St., Harrold.
19th 7.30pm Time of Our Lives Theatre Company, Village
Hall.
20th 2.00pm W.I. Jumble Sale, Village Hall.
30th 10.30am Meeting Point, Jill's, Rectory Farm, Odell.

April

9th Good Friday – Service details next month.

11th 10.00am Easter Day Service All Saints' Odell

12th Easter Monday Pilgrimage to St. Alban's Abbey.

17th 7.30pm Quiz, Village Hall.

21st 10.30am Meeting Point at Liz Dodwell's, Watermead, Odell Rd., Harrold
Magazine Deadline
Please send all entries for the April 2004 magazine to Tricia Hudson (patriciahudson@kbnet.co.uk), Anne Turner or Catherine Corkery by March 12th 2004 at the latest. May we remind you that the editorial team exercises the right to edit, shorten or alter any items that are submitted. Also, the opinions expressed in the articles are those of the contributors and are not the responsibility of the editorial team.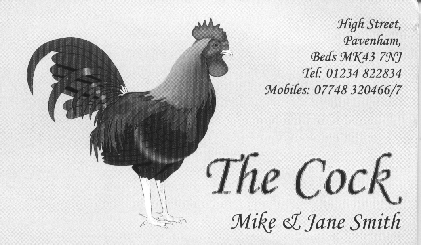 Mike & Jane

Welcome all customers, both old & new to the

recently refurbished

Cock at Pavenham

Hand Prepared & Home Cooked Food is available Wednesday to Saturday Evenings. Fresh sandwiches, Soups & Ploughmans are available at weekend lunchtimes

Large garden with fabulous views

Parties welcome in our separate dining room

We are keen that our food offering is of the highest quality using the freshest ingredients and make no apologies if availability is limited – so BOOK EARLY!

Quiz night every 2nd Monday in the month

Opening Times

Monday to Friday 5.00pm to 11.00pm

Saturday 12.00am to 3.00 pm & 6.30pm to 11.00pm

Sundays 12.00am to 3.00pm & 7.00pm to 10.30pm
Electronic mail address
email is jh at kbnet.net - I put it like this to avoid spam! - just retype with the 'at' being an 'at' sign and of course no spaces.

FAX number
01234-721004

Back to the Odell Home Page
---
Last revised: February 29, 2004.