ODELL VILLAGE NEWS
June 2004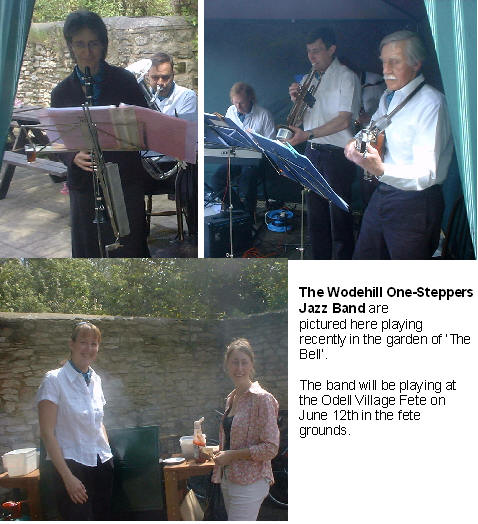 Odell Village Fete June 12th 2004

The Fete will be opened at 2.00 pm by Gerald Robinson, a veteran "Boys Brigader".

As well as the 'Boys Brigade' there will be all the usual attractions:

Family Dog Show Pony Rides Cash Raffle

Tombola Children's Sports

Lucky Programme Draw Children's Stalls Ice Creams

Refreshments Many Sideshows

Gifts White Elephant Bottle Stall

Books Cakes Plants Produce

The site is once again the field at the end of Horsefair Lane.

All proceeds go the All Saints' Appeal Fund

Festival Weekend Church Service 10.30am.

As in previous years, there will be a service of praise and thanksgiving in the tent in the scout field. The service will start at the later time of 10.30am. Once again we are delighted to welcome back the Rev. Dick Seed as our guest speaker. Dick has been involved with teaching and research at the St. Francis of Assissi Theological College in Nigeria for over three years and is very familiar to members of All Saints' as he has shared and led our worship in Odell on many occasions.

After the service, from 12.30 onwards there will be Thank You barbecue lunch in the scout field for all fete helpers and residents of Horsefair Lane, for whom meat will be provided. Please bring your own plates, cutlery, glasses and drink. Other residents of Odell are also very, very welcome but please bring some meat for the barbecue. Any offers of salads or puddings will be most gratefully received.

Please let Mandy Sharpe (720414) or Jill (720261) know if you are coming. If you forget to let them know – don't worry and come

Birthday Greetings To

:

Robert Merret on the 11th June

Eleanor Robinson on the 17th June

Elliott Swift on the 19th June (7 yrs)

And to anyone else with a birthday in June!

Round and About

Ouse Valley Way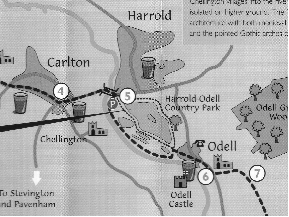 This latest long-distance walk was officially opened on Saturday 8th May 2004. The route follows the meandering, tree-lined course of the River Great Ouse from Syresham in Northamptonshire to where the river enters The Wash near to Kings Lynn, Norfolk. 150 miles from source to sea, this is one of Britain's longest river valley walks, from the Northamptonshire/Buckinghamshire border through the counties of Bedfordshire, Cambridgeshire and Norfolk, with the local section passing right through the heart of Odell.

The route through Bedfordshire has been divided into five sections of approximately 6-8 miles, passing through some of the county's most picturesque villages and finest countryside. The North Bedfordshire part of the route consists of three of these parts, being Turvey to Sharnbrook, Sharnbrook to Stevington and Stevington to Bedford. Each part of the walk is covered by a separate leaflet featuring a map of the route and highlighting features to be seen along the way. I also noticed a number of illustrations of foaming pints which I take to represent the various local hostelries along the route. Sadly, little of the walk takes you along the actual river bank, just touching on it here and there, but in the main links various existing footpaths, all of which are waymarked for the Ouse Valley Way which is symbolized by a pair of swans.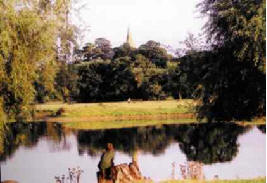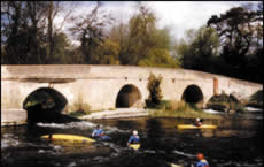 Our own section is Walk 1 - Turvey to Sharnbrook. Starting from Turvey the walker takes to the footpaths across fields, quite distant from the river, to Carlton, passing through the village to the Carlton/Harrold bridge and from there into the Country Park. Here the walker has the rare opportunity to take to the riverside or to use one of the footpaths around the lake, all coming together at the head of Horsefair Lane. Passing The Bell on the right the walker climbs the hill past Odell Castle and All Saints' Church. At this point The Ouse Valley Way turns off to the left, away from the river, and into Church Lane, continuing along the lane until the roadway bends sharply to the left. At this point the walker takes to the bridleway that bears slightly to the right, following the waymark signs to Woodend Plantation until you reach Yelnow Lane and on to Sharnbrook Upper School.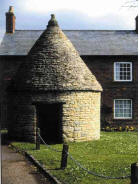 The local landmarks pointed out along the way are, of course, Harrold Bridge, originating from 1136 when it replaced an existing ford and where today it can be seen to consist of three different sections. Mention is also made of the Market House and the Butter Cross together with the circular lock-up. The 144 acres of the Country Park are well-featured with its various footpaths and picnic facilities.
Attention is drawn to the history of Odell Castle and Odell Great Wood has a specific mention as a Site of Special Scientific Interest being one of Bedfordshire's largest blocks of ancient woodland.
A pack of leaflets containing the routes 1 - 2 and 3 are available at The Rangers Lodge in the Country Park and a display map has been placed in the car park close to the start of the bridleway.
Barbara Corley
Many Thanks
Many times there have been notices in the magazine expressing thanks and saying how lucky we are to live in a village such as Odell.
Whilst I always knew Odell is a special village, I have now experienced the tremendous sense of warmth, support and concern from everyone. At the time of writing, Jim is having good days and not so good days. Hopefully, by the time this is printed, they will be mostly good days, but I would just like to thank everyone for their messages, help and support.
Many, many thanks.
Doreen Wheeler
A Parish Walk
The Rights Of Way Officer, Ed Burnett, has arranged to escort a party of us to Yelnow New Wood and Odell Great Wood
On Wednesday 7th July
Starting and finishing from outside The Bell
7.00-9.00pm
Everyone welcome
In 2002 about 20 of us joined Ed for an informative evening, why not join us this time.
No need to book and it is FREE, just turn up.
For more details contact Richard Hall on 01234 720723
Open Gardens Harrold
On Sunday 27th June ten gardens will be open in Harrold from 1.30pm to 5.00pm in aid of Corner Club and disabled access to the church. Lunches and teas will be available at the URC from 12.30 and teas will also be served at St. Peter's.
W.I.News
June meeting
Due to members' heavy commitment with the Fete there will be no meeting in June.
On Tuesday 13th July there will be a visit and guided tour around Thurleigh Airfield. More details in the July magazine.
The Wodehill One-Steppers Jazz Band
Holiday Fun at Harrold-Odell Country Park!
Events for children aged 7 – 13.
Tuesday 1st June – crafts from the Park
Explore the park and collect natural treasures to create anything from wind chimes to collages.
Wednesday 2nd June – willow weaving
Make hoops, trays, flowers or balls from willow wands freshly cut from the park. Help create a tree sculpture to surprise future visitors!
Thursday 3rd June – pond dipping
The old favourite, but from a different view! Help find the creatures which live in the river and lakes, then see what the world is like from the fish's point of view, using a reverse periscope!
All events run from 2 pm – 4 pm. Children under 8 must be accompanied by an adult. There is no charge, but a donation of £3 per child would help similar events to be run in the future.
Please book if you wish to attend: 01234 720016. Or e-mailrichard.dowsett@bedscc.gov.uk
Village Hall News
Events
If you have an idea or can help with these let us know, and if you would like a venue for a private function, the very reasonable hire fee helps us maintain the hall.
Waste Paper Collection
Thank you for bringing your waste paper to the bins. Though the return is small, every little bit helps financially and of course the waste is recycled.
Do please support our events, and do suggest to us your ideas for alternative activities.
Rob Lee (720730) on behalf of the Village Hall Committee.
The Mill Theatre, Sharnbrook
The Lion in Winter - The wonderful historical drama.
Tuesday 21st – Saturday 25th September 2004, 7.45 pm.
Director: David Midlane
My Fair Lady - The Musical Legend.
Friday 12th – Saturday 20th November. Co – Directors: Enid Cooper (01234 708432) & Melanie Coleman (01933 315043) from whom dates & details of Workshops & Auditions are available.
Tickets:
The Village Trader, Sharnbrook (in person) – your local booking point

Central Box Office, Bedford 01234 269519*;

The Castle, Wellingborough 01933 270007*

*Credit/Debit cards accepted.

For Party bookings: Please phone Alison Bean 01234 781372
The Mill Theatre Reg. Charity No 242164
Sharnbrook Amateur Theatre Trust Ltd
Youth Theatre Summer School 9 – 18? Act now!
Please note change of date: Mon. 26th – Sat. 31st July – not 2nd – 7th August; we apologise for any inconvenience caused.
Professional tuition, fee £100, concluding performance on 31st July. A few places left. For further details and reservations please contact Erica Lester: 01234 781210.
19 Class Companion Dog Show - Sunday 5th September.
Kennel Club permission - formerly Exemption. Sunday 5th September, Mill Theatre Riverside Grounds. All Welcome. Pedigree & Novelty Classes. Trophies – Rosettes - Prizes. Stalls – Refreshments – Licensed Bar – Free Car Parking. Enquiries: Elizabeth/Theo Gibbs 781298/782377
Diary
June
2nd 10.30 am Meeting Point at Catherine's, Manor Cottage, Harrold.
12th 2.00 pm Odell Village Fete, Horsefair Lane.
13th 10.30 am Church service in tent in Scout field, Horsefair
Lane.
13th 12.30 Barbecue for fete helpers and Odell residents, Scout field, Horsefair Lane

16th 10.30 am Meeting Point at Eileen's, Corner House, 38 Wymington Park, Rushden.

25th 11.00 am Meet the candidates ministers, for coffee at the Church

27th 1.30 pm Open gardens, Harrold.

29th 10.30 am Meeting Point at Jill's, Rectory Farm, Odell.

July

7th 7.00 pm Parish walk, starting from The Bell.
Magazine Deadline
Please send all entries for the joint July/August 2004 magazine to Tricia Hudson (patriciahudson@kbnet.co.uk), Anne Turner or Catherine Corkery by June 12th 2004 at the latest. May we remind you that the editorial team exercises the right to edit, shorten or alter any items that are submitted. Also, the opinions expressed in the articles are those of the contributors and are not the responsibility of the editorial team.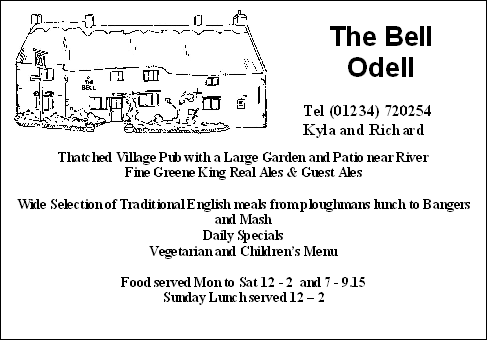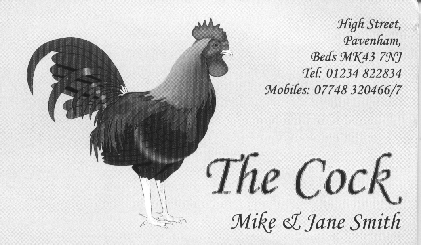 Mike & Jane

Welcome all customers, both old & new to the

recently refurbished

Cock at Pavenham

Hand Prepared & Home Cooked Food is available Wednesday to Saturday Evenings. Fresh sandwiches, Soups & Ploughmans are available at weekend lunchtimes

Large garden with fabulous views

Parties welcome in our separate dining room

We are keen that our food offering is of the highest quality using the freshest ingredients and make no apologies if availability is limited – so BOOK EARLY!

Quiz night every 2nd Monday in the month

Opening Times

Monday to Friday 5.00pm to 11.00pm

Saturday 12.00am to 3.00 pm & 6.30pm to 11.00pm

Sundays 12.00am to 3.00pm & 7.00pm to 10.30pm
Electronic mail address
email is jh at kbnet.net - I put it like this to avoid spam! - just retype with the 'at' being an 'at' sign and of course no spaces.

FAX number
01234-721004

Back to the Odell Home Page
---
Last revised: May 31, 2004.