ODELL VILLAGE NEWS

February 2004

Round and About

All Sorts of Liquorice

.

As sweets go Liquorice Allsorts are particularly well named when it comes to the wide-ranging uses to which liquorice has been put over the centuries. I am very fond of liquorice myself, and I am delighted to read that in the light of recent worries over obesity modern-day nutritionists are recommending the qualities of this natural growing root in the place of manufactured sweets and chocolate, and an explosion in its popularity is anticipated.

Liquorice has been around for thousands of years and has been used for so many different and intriguing purposes, some more light-hearted than others, I thought I would set down a few for your entertainment.

Liquorice is the sweetest natural substance known on earth - more than 50 times as sweet as sugar. It is so potent it can be detected even when diluted one part to 20,000 parts of water! The earliest mention of it has been found on stone tablets in Baghdad dated to the 7th century BC where, amongst other things, the ancient Assyrians used it to treat sore feet! Liquorice is the root of a shrub related to the pea family and is native to much of Southern Europe and Asia. Like so many of our spices, it was first brought to England at the time of the Crusades.

The Romans reduced it to a powder to relieve mouth ulcers and to treat wounds. When Tutankhamun's tomb was opened in the 1920s archaeologists found liquorice dating back to the time of the Pharoahs. Liquorice seeds were used as the basis for standard weights throughout the Mediterranean area and also in India over 2000 years ago. In Korea they used it to cure hang-overs and when mixed with honey is still used to cure head-aches as they believe it clears out all the toxins. Native American Indians would steep the leaves and use the resultant liquid as eardrops!

Since its arrival in England the root was first cultivated in a monastery garden at Pontefract for herbal use. It thrived in the area because of the clay in the soil and soon the town became the centre of Britain's liquorice industry. However, today only two processing factories remain, although the town boasts a street called Liquorice Way and they hold an annual liquorice festival in its honour. They manufacture such products as liquorice flavoured ice-cream, liquorice sauce and liquorice flavoured cheese! Most of the world's liquorice now goes to the U.S. to flavour tobacco.

Over the years liquorice has been put to a number of uses, usually of a medicinal nature. It is used to disguise the flavour of most cough mixtures. It is a popular form of laxative and is used for the treatment

of eczema and herpes and is very effective when dealing with peptic ulcers, arthritis and a number of allergies. Napoleon loved it and always carried small pieces in a special tortoiseshell box. In 1264 it was listed in the accounts of Henry III, priced at three pence a pound, being one third the price of cinnamon.

A policeman in Oldham once averted a gas explosion by using a piece of liquorice to plug a mains leak. Just after World War II liquorice was once again pressed into service, this time at the Pontefract Infirmary where they used a piece of liquorice as an internal support during an operation. When surgery was over the liquorice was left in place to dissolve naturally.

The film industry has also used it to good effect. In the film "Goldrush" Charlie Chaplin is seen to eat his bootlaces but, for this purpose, needless to say, the laces were made of liquorice. In the James Bond film "Moonraker" the villain of the piece, Jaws, is called upon to bite through a cable-car hawser. Do I have to say it? Of course, he was gnawing down on strands of liquorice braided together specially for the occasion.

Liquorice Allsorts - not such a misnomer after all.

Barbara Corley

Odell Lunch Club

A coffee morning will be held in Odell Village Hall on Saturday 7th February at 10.30am, in aid of the next Odell Lunch Club 'Fish and Chip Lunch'. There will be a Bring and Buy stall, a cake stall and a Raffle. Entrance fee £1. Please come and give your support.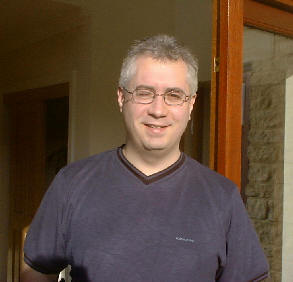 Welcome

to the Hammond family who moved into Tannery Lane in January. They are David (pictured right) and Sue with twins Christopher and Kelly. We hope they'll enjoy living in Odell.

W.I.News

We ended 2003 with a "bring and share" Christmas supper at the home of Rachel Halton. It was an excellent opportunity to relax with friends. After a delightful meal the members stretched their brains with a short quiz. Thanks to everyone for making it such a pleasant occasion.

January saw us gathering in the Village Hall to hear Richard Hall from Mill Lane speak on the History of Thurleigh Airfield. He himself worked there for many years and now helps at the Thurleigh Airfield 306th Bombardment Museum.

His talk started from when work began in July 1940 to build a Bomber Command Base as part of a massive nationwide building programme. A year later an R.A.F. party arrived to open the incomplete airfield. Eventually the 160 Squadron R.A.F. was formed there though their stay was brief. 18 Operational Training Unit then used it for a short time before it began a considerable expansion of facilities to accommodate an American Heavy Bomber Group. In September 1942 the 306th Bombardment Group arrived with its formation of B17 Flying Fortresses. They were to fly 341 daylight bombing missions over occupied Europe. With the end of the war, numbers were reduced but some aircraft remained to help in the aerial photography

of many parts of Europe.

Eventually the airfield was returned to the R.A.F. where it once again seemed likely to be expanded, but the rapid development of jet rather than propeller power meant longer runways were no longer required and so it settled down to its role in the continuing development of new aircraft for the R.A.F.

In 1994 Thurleigh Airfield was decommissioned and the site put up for sale, the local planners were not prepared to see commercial flying from there and the site was eventually sold to St Modwen property developers. The main occupiers use it for car storage.

One of the other tenants is Jonathan Palmer, who has developed a centre for corporate motor sport. He has generously donated one of the original WW 2 buildings on the site in order that the 306th Bombardment Group Museum could be formed to re-create the activities and atmosphere of the airfield and surrounding area during the war years. The museum will be open at weekends and bank holidays from 1st March to 31st October.

Next meeting

This will be in the Village Hall on Tuesday February 10th at 7.30 p.m. We are looking forward to welcoming Roma Garon who will attempt to show us how to Line Dance, - should be a lively night.

Hostesses and Competition

Hostesses this month are Stasia Wherrett and Jane Eshelby. Competition: 'A cowboy scarf for dancing.'
Rachel Halton 720572
Odell Parish Council
Matters arising from the Parish Council Meeting held in January.
1. Gas supply to Odell. Forty one responses were received of which twenty eight were in favour of having gas in the Village. The Gas Company were informed and their response is still awaited.
2. Speed checks in the Village between July and September identified three motorists dealt with. These were all speeding between 8 and 9 am.
3. The Parish Council currently has no lease on the Playground, the last one having expired. It was decided to ask the owner's agent about the ownership of the swings and the slide, and the insurance of these items.
4. Water has now been provided to the allotment land, and the pipe has been lagged against frost.
5. It was decided to accept Chris Horne's quotation for the grass cutting in the village. A close watch will be kept on the quality of the work.
6. It was noted that the white lines in the road on Castle Hill have been worn away and the Bedfordshire County Council will be requested to renew them.
7. It was decided to apply for a precept of £3,500 for 2004/5, the same level as the current year.
8. The Villager Bus held their AGM in November, and it was suggested that a monthly service to Cambridge could be offered if there was a demand for it. This could be in place of the service to Peterborough if that seems to be the wish of users. The present service to Peterborough is on the 2nd Friday of each month leaving the Bell PH at 9.36 am, arriving Peterborough Queensgate at 10.45 am. The return journey leaves the same spot at 2.00 pm arriving Odell at 3.09 pm. Those interested should advise any Parish Councillor of their wishes.
9. A complaint has been received about Fireworks, and the fact that there seemed to be firework parties over a long period before and after 5th November last year. This caused distress to a number of people and especially to dogs and other household pets. It was noted that the Parish Council could not organise one central party, partly because of the training required for such a public event and partly because the Parish has nowhere to hold such a party. It was decided to recommend to all parishioners that firework parties should be restricted to the weekend of 5th - 7th November this year. This will be announced again in the Parish Magazine for October 2004.
10. Bedfordshire Police are offering skills training for employment for anyone of any age seeking work. This is free of charge. Anyone interested should ask any Parish Councillor or ring 01234 842 810.
11. A vote of thanks to Lady Luke was carried, for her kindness in providing a Christmas tree for the Village Green, and the Swift family for erecting and illuminating it.
12. Parish Council meetings this year will be held in the Village Hall at 8 pm on these dates:- 8th March, 17th May, 12th July, 20th September, and 15th November.
13. Bedfordshire County Council have now advised us that attention will be given to the surfacing of Horsefair Lane in May 2004.
14. The Audit Commission has asked for the Parish Council's opinion of the services rendered by Bedford Borough Council. On a scale of 1 - 10, it was decided to rate these services at only 3. As an additional comment the Parish Council remarked that the high increase in the Rates seemed to indicate a high level of expenditure, with no discernible improvement in the level of the service.
Jonathan Harrison , Parish Councillor.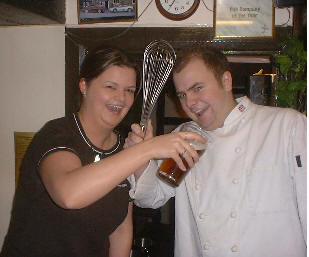 Restoring the Bell
With Nick and Debbie no longer running the Bell, their 'team' have stepped into their shoes for the time being, led by us: Kiwi (Kyla) and the mad English chef (Richard) pictured right. Why not pop in to see how we are doing? We need your support and are keen to get your ideas on ways to make the Bell ring like it used to! Kyla and Richard
Odell Descendents
I am trying to find out if there are any descendants of William Hunt (the rector of Odell Church from 1865 - 1891) or his children still living in the Odell area. I am particularly interested in descendants of his daughter Ida who married Charles Ashfield. Would you know anybody who would have any information that could help me out?
The reason for my interest is that I have recently purchased an original hand written diary for 1890 which is that of Ida Hunt. One of my hobbies is typing up old diaries and documents and when I have finished typing this one I would like to send a copy to her descendant if I can find one. Maybe Odell has a local history group that would also like a copy. If there is one please could you give me a contact number or address.
Ralph Carpenter
If you can provide any information regarding this item please send or e-mail it to Tricia Hudson (address in front cover of magazine) and she will forward it to Ralph Carpenter.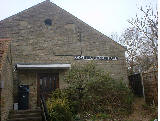 Village Hall News

Events

If you have an idea or can help with these let us know, and if you would like a venue for a private function, the very reasonable hire fee helps us maintain the hall.

A family Christmas party was held on 19th December with about 30 youngsters and parents in attendance. The noise was great!! A good time was had by all as the lead into Christmas week began. Thanks to everyone who helped, especially Nicky and Heather for arranging the making of hats and games.

By the time you read this another Burns Night celebration will have taken place.

Yoga has recommenced after the Christmas break so support Veronica Lafferty as she takes you through relaxing Thursdays!!

Dates for your diary

13th February - Ouse Valley Swing Band. We are pleased to be able to welcome this versatile band from Sharnbrook Upper School back to our hall. Tickets are available from the usual sources, priced reasonably at £4. Feel free to bring some supper, as a bar will also be available.

19th March - "Radio Days and TV Times"; another revue by the Time of our Lives Theatre Company. Tickets (£9) will be available at the Swing Band Concert and from the usual sources. A bar will again be available (but closed during the performance).

17th April - Quiz. The annual quiz returns. Teams of up to 6 as usual and £2 per person entrance. Start preparing your team for your specialist subjects and all round knowledge. 7.30 for 8.00pm start.

Keys

Please note that the front door lock has been changed and in keeping with good practice we have a new arrangement for opening the hall. A list of keyholders will be posted on the hall door. Harry Smith has kindly offered to prepare the hall for users, ensuring heating is on as necessary and the doors opened and locked after activities. In the absence of Harry being available other keyholders will undertake this task. We hope this will not inconvenience anyone, as keys will not generally be handed out, but it is a sensible approach to ensuring the security of a valuable asset.

Disabled access

We hope, in the next edition, to be able to report progress on making the access a reality in the coming 12 months. We believe we are now in a position to move forward with our plans following an unfortunate delay whilst some legal issues

were resolved.

Waste Paper Collection.

Thank you for bringing your waste paper to the bins. Though the return is small, every little bit helps financially and of course the waste is recycled.

Do please support our events, and do suggest to us your ideas for alternative activities.

Rob Lee (720730) on behalf of the Village Hall Committee.

The Mill Theatre, Sharnbrook

Alan Bennet's Comedy - Habeas Corpus -

March 9th –13th

The 'Permissive Society' is exposed in Alan Bennett's hilarious comedy – a brilliantly observed maze of mistaken identities and sexual encounters.

"He who lusts last, lasts longest."

The Musical – Cabaret – May 14th – 22nd.

The Wonderful Historical Drama – The Lion in Winter –

September 21st – 25th.

The Musical Legend – My Fair Lady – November 12th – 20th.

Tickets: available from one month before:
The Village Trader, Sharnbrook (in person) – your local booking point

Central Box Office, Bedford 01234 269519*;

The Castle, Wellingborough 01933 270007*

*Credit/Debit cards accepted.

For Party bookings: Please phone Alison Bean 01234 781372
(10% discount for 10 or more, excluding charity performances)
The Mill Theatre
Reg. Charity No 242164
Sharnbrook Amateur Theatre Trust Ltd
Planning your year ahead?
Drama Summer School 2004. Are you aged 9-18 years? A week long Summer School at The Mill Theatre under the direction of professional Drama Tutors is planned provisionally for Monday 2nd to Saturday 7th August, culminating with a performance on Saturday 7th August. The course fee is £100. Would you like to take part? To register your interest or for further details, please contact Erica Lester 01234 781210.
Artists and Craftsmen: Help us to help you! We are pleased to provide exhibition space in the Club room of The Mill Theatre for the sale of paintings and other craft items during shows; this in return for a donation of 10% of sales towards our Disabled Access Fund. We stage 4 main shows a year, which normally run for between 5 – 9 performances with audiences of up to 195 patrons. Please contact Peter Lester 01234 781210.
The Mill Theatre is also a unique Riverside Venue for your Special Event – with refurbished Function Room, adjacent fully Licensed Bar and sitting Area overlooking the River Great Ouse, kitchen and ample parking facilities. To hire the Mill Theatre or Club Room please contact Mim Bradshaw on 01234 781650.
Diary
February
3rd 10.30am Meeting Point, Jane Eshelby's, Newton House, Avenue Rd., Newton Bromswold.
7th 10.30am Coffee Morning in Village Hall in aid of Odell
Lunch Club.
7th & 8th 11.00am Snowdrop weekend at Moggerhanger Park.
10th 7.30pm W.I. Odell Village Hall.

13th Ouse Valley Swing Band, Village Hall.

18th 10.30am Meeting Point, Liz Dodwell's, Watermead, Odell Rd., Harrold.

21st 10.30am St. Albans Abbey Celebration of Christian

Healing.

25th 7.45pm Ash Wednesday Service, All Saints'.

March

2nd 10.30am Meeting Point, Eileen Shakespeare's, Corner

House, Wymington Park, Rushden.
Magazine Deadline
Please send all entries for the March 2004 magazine to Tricia Hudson (patriciahudson@kbnet.co.uk), Anne Turner or Catherine Corkery by February 12th 2004 at the latest. May we remind you that the editorial team exercises the right to edit, shorten or alter any items that are submitted. Also, the opinions expressed in the articles are those of the contributors and are not the responsibility of the editorial team.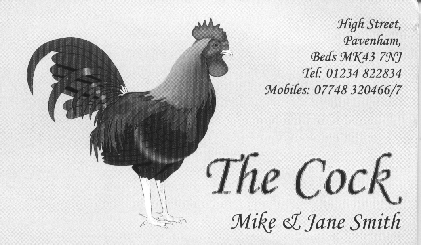 Mike & Jane

Welcome all customers, both old & new to the

recently refurbished

Cock at Pavenham

Hand Prepared & Home Cooked Food is available Wednesday to Saturday Evenings. Fresh sandwiches, Soups & Ploughmans are available at weekend lunchtimes

Large garden with fabulous views

Parties welcome in our separate dining room

We are keen that our food offering is of the highest quality using the freshest ingredients and make no apologies if availability is limited – so BOOK EARLY!

Quiz night every 2nd Monday in the month

Opening Times

Monday to Friday 5.00pm to 11.00pm

Saturday 12.00am to 3.00 pm & 6.30pm to 11.00pm

Sundays 12.00am to 3.00pm & 7.00pm to 10.30pm
Magazine Deadline
Please send all entries for the February 2004 magazine to Tricia Hudson (patriciahudson@kbnet.co.uk), Anne Turner or Catherine Corkery by January 12th 2004 at the latest. May we remind you that the editorial team exercises the right to edit, shorten or alter any items that are submitted. Also, the opinions expressed in the articles are those of the contributors and are not the responsibility of the editorial team.
Electronic mail address
email is jh at ti.com - I put it like this to avoid spam! - just retype with the 'at' being an 'at' sign and of course no spaces.

FAX number
01234-721004

Back to the Odell Home Page
---
Last revised: January 27, 2004.