ODELL VILLAGE NEWS
May 2003
Fire in the Bell
Recently the infamous chimney in the Bell caught fire yet again – somewhat of a mystery since the chimney was relined not so long ago. Thanks to a quick alert and a quick response from our local firemen the beer flowed throughout the event!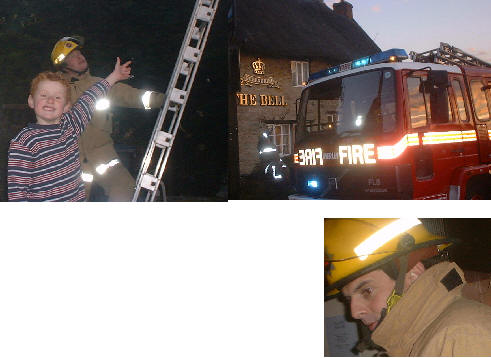 Odell Village Fete Saturday

June 14th 2003

Family Dog Show Pony Rides

Cash Raffle

Children's Collage Competition Tombola

Fire Brigade Children's Sports Local Band

Lucky Programme Draw Children's Stalls

Ice Creams

Refreshments Many Sideshows

Gifts White Elephant Bottle Stall

Books Cakes Plants Produce

Please everyone, make a note of the date of the fete now and put it in your diaries! We will once again hold the Dog Show that was such a success last year. Don't forget to invite all your family and friends for the day.

The site is once again the field at the end of Horsefair Lane.

Fete Working Party on 10th May, from 10.00am, at Doreen Wheeler's,

Linden House, Odell.

Request for help

If anyone can help with the fete, particularly on the day, would he or she please contact Jill Cheadle, tel. 720261.

All Saints Odell Flower Rota

The key for the church is at The Rectory and if you have any problems please contact Jane Eshelby on 01933 410959. The only flowers that need attention are the two vases up by the altar and the large vase behind the lectern.

May. 4th C. Scott

11th V. Streater

18th J. Roche

25th C. Corkery & J. Eshelby

Harrold 21st Pit Run April 26th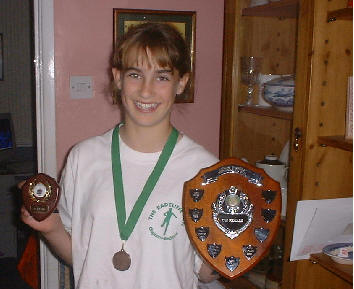 Once again Bethan Lee had an outstanding result. She was playing football in the morning and in the afternoon achieved first place in the under 16 female awards despite being only 13! She was was awarded 3rd place among all the local residents.
Jill Cheadle and Jane Eshelby took a more leisurely pace and raised over £70 between them.
Round and About
The English are a rare breed. We celebrate Burn's Night – but we are not Scottish. We celebrate St. Patrick's Day – and we are not Irish, but I wonder how many of us were aware of, or allowed to pass unnoticed, the 23rd April.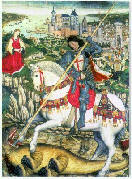 St. George is the Patron Saint of England (and of Portugal, I might add) and his emblem, a red cross on a white ground, is the national flag of England and forms the basic cross of the Union Jack. It is the flag adopted by the Church of England and is flown from church towers across the land. St. George is the Patron Saint of Chivalry and the Royal Navy also adopted the "colours" and they call their flag the White Ensign.
St. George, the man, is something of a mystery, but one thing is certain, he never set foot in England! He lived and died in Palestine at the time of the Roman Emperor Diocletian – a savage persecutor of all things Christian. St. George openly declared himself to be a Christian and brought down upon himself the full weight of Roman law. It was demanded that he take part in pagan ritual and sacrifice but this he refused to do, holding to his beliefs and, as a result, he was beheaded in Niomedia on the 23rd April in the year 303.
His story was quite well known throughout Europe from quite early on and his cross was an early Christian emblem adopted by the Crusaders. When they returned from the Holy Land the Crusaders claimed that St. George had appeared to them on the battlefield. In 1222 the Council of Oxford declared the 23rd April to be a national Feast Day. Years later Edward III was to adopt St. George as the protector of his newly formed Order of the Garter, declaring him to be the Patron Saint of England in St. George's Chapel at Windsor in 1348. During the wars between England and France during the reign of Edward III the English army fought under the battle cry of "Saint George for England".
Now comes the tricky bit… the dragon! Does this refer to the fact that George took on the dragon in the form of the power and might of Rome … but he did not exactly win that battle or could it have more to do with the stories brought home from the Holy Land by returning Crusaders. Later Caxton was to reproduce these tales in his popular Golden Legends in 1483. They included stirring accounts of knights riding to the defence of fair damsels in distress – as well as the legend of St. George.
Could it be that everything became terribly entangled and in the confusion it all merged into one.
Let me leave you with Shakespeare's rallying call from Henry V (minus just one word)
"Cry God for England and Saint George".
Barbara Corley
W.I.News
Our speaker was a little late arriving this month, so we are grateful to Barbara Corley for bridging the gap. She gave us an amusing insight into her experiences when she belonged to amateur dramatic groups in Richmond and Sharnbrook. Thank you Barbara. Mrs Lock apologized for the delay caused by a family crisis and then proceeded to give an interesting and thought provoking talk on her personal perspective of Herbalism. She wasn't only concerned with the physical properties of plants but felt there was a more spiritual element involved. She was also interested in the use of crystals for healing. She sparked some interesting questions and discussion.
Next month's meeting
We meet on Tuesday May 13th at 7.30 in the Village Hall - all welcome. It is our A.G.M, an opportunity to assess the last year and say thank you to everyone who helps keep the W.I. alive in Odell. We will also be discussing this year's National Federation of W.I.s' Resolutions.
Hostesses and Competition
Our hostesses are Audrey Dempsey and Kathy Dunn. There is no competition this month
Rachel Halton 720572
W.I. Coffee Morning
Thank you to everyone who helped to raise the magnificent total of £739.21 for the church window appeal, as reported in last month's magazine. Below are the results of the art competition we ran as part of the coffee morning.
Under 7s
Winner: Adam Hancock
Runner up: Rebecca Knight
Highly
Commended: Jack Chapman
Rachel Halton 720572
Odell Parish Council
At the Annual Meeting of the Parish Council on the 7th April 2003, Chairman Mrs Rachel Halton gave her report on the activities and business of the Council during the past year. These have been reported regularly in the Parish magazine during the year.
The following current matters were then dealt with:
1. The grass-cutting contract was awarded to Chris Horne, the price to be the same as 2002.
2. We have requested that the streetlights be repainted. Some have been done. We have been advised that in the opinion of the Bedfordshire County Council no more need be done.
3. We have reported the lights on the Castle hill, which are not working properly, and requested that they be fixed.
4. We have attended the Sharnbrook Upper School Community Executive Group, and learnt that the School is planning the construction of a Sports Facility for the School costing £1.3 million. It should be ready for use in September 2004. They will invite members of the public to make use of the Fitness Suite at a membership cost estimated at £27 per month.
5. We are to meet the Highway Engineer on the 16th April to demonstrate the need for attention to the potholes.
6. We have attended a Planning Workshop run by the Bedford Borough Council, at which we learned more of the way in which Planning applications are considered by the Bedford Borough Council.
7. The skips will be in the Village on 15th June and on 26th October this year, between the hours of 10 am and 3 pm.
8. The application to close Horsefair Lane on the day of the fete, 14th June, has been approved.
9. The appalling service of the Bedfordshire County Council to the rural areas of North Bedfordshire was deplored, as was the increase in the Council Tax.
10. The accounts of the Odell Parish Council have been audited and found correct in every respect. The time taken to complete the audit was deplored.
11. The Trading Standards Office has approved a number of suppliers of goods and services. A list of such suppliers is available from any Parish Councillor.
12. The absence of the 'Odell' sign at Little Odell was noted. Its replacement will be requested again.
13. The damage to the road sign opposite the Village Green, which indicates the bend, was again referred to. The Bedfordshire County Council will be reminded to replace it.
14. There is a Community Fund, provided under the Town and Country Planning Act, which is available for small organisations to draw on. Application should be made in the first instance to any Parish Councillor.
15. Under recent Legislation a license is required for Music and Dancing, however such events held in village halls or churches or church meeting rooms are to be exempt.
16. The development of the facilities in the Country Park is at present under consideration. It seems to be taking a long time, as there are conflicting interests.
17. The Bus service for school children going to Harrold Lower School seems to need co-ordination. The Bedfordshire County Council is to be approached to see if the service can be rationalised.
18. It was noted that the Planning Application to build the new Harrold Surgery on land adjacent to the car park in the Country Park had been refused.
19. It was noted that the recent litter picking along the road to Sharnbrook and along the High Street had been totally inadequate. The Borough Council is to be requested to do it again properly.
20. The Parish Paths Partnership (PPP) has suggested that bicycle stands be erected in the Village. It was recommended that this initiative be offered to The Bell for putting in their car park.
21. It was noted that the bridle paths in Odell Great Wood and Yelnow Lane had been improved. It was hoped by the PPP that the riders could be encouraged to use one side of the Bridle way, leaving the other side free and undamaged for walkers.
Jonathan Harrison, Odell Parish Council
Ouse Valley Arts Festival
April 25th – May 6th
At venues around the County featuring famous artists and local groups.
Evelyn Glennie
"The Karpenters", Bedford Sinfonia,
Naomi Williams and Rebecca Bottone,
"Cantamus" and John Zarradin, "Muse and Music",
Young musicians, Jazz, Art, Dance and other events.
For more information and tickets contact Bedford Central Box Office 01234 269519
Ouse Valley Arts Festival Opening Concert, St. Mary's Church Felmersham, Friday 25th April:
John Zaradin with Cantamus.

This year's Ouse Valley Arts Festival got off to a stunning start with the concert given by John Zaradin and Cantamus in St. Mary's Church, Felmersham on 25th April. The concert, on a South American theme, opened with two choral pieces, 'Ave Virgo Sanctissima' (Guerrero) and 'Missa "Ego flos campi" (Padilla), performed by Cantamus, with conductor Gary Mudd. They were followed by a selection of pieces of a South American flavour performed by John on classical guitar. The second half of the concert featured lively and colourful performances of 'Preguntale a ese mar' (Carreno), 'Duerme Negritto' (Yupanqui) and 'Muie Rendera' (Fonseca) by Cantamus. These were followed by more pieces dazzlingly performed by John (notably a malague

ňa which had us all tapping our feet and fingers) and finally a show stopping performance of three songs from the suite 'Caribbean Fantasy', written and played by John and sung by Cantamus. If the rest of the Festival is as brilliant as this concert then it will be a year to remember.

Village Hall News

Events

If you have an idea or can help with these let us know, and if you would like a venue for a private function, the very reasonable hire fee helps us maintain the Hall.

Time of Our Lives Theatre Company.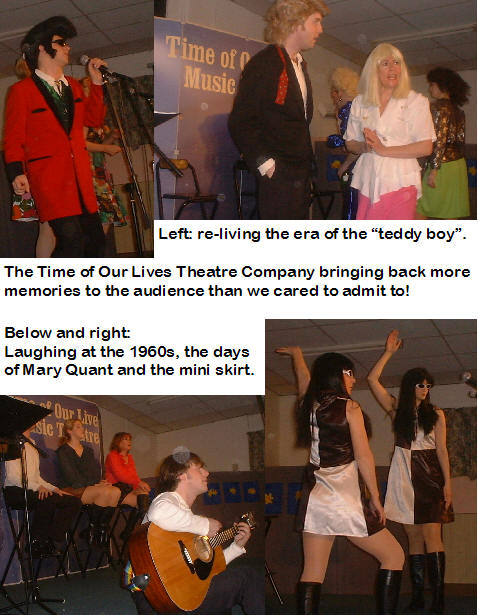 We were entertained by another great performance from this versatile band of actors on the 4th April. The show was a sell out and all thoroughly enjoyed themselves. We have been inundated with requests to book their next presentation and we await details, which will soon be forthcoming.
28th April 2003 - Annual General Meeting
By the time you receive this report, our Annual General Meeting will have been held. The annual report is shown below.
If you have used the Hall recently you will have noticed how shabby the tables have become. Thanks to a grant from the Borough Council we have been able to purchase some new tables. We were also able to buy new ceiling tiles, which now meet new safety legislation. Our thanks to the Council and to Cllr. Bridgman for helping us with these.
Dates for your diary!
10th May 2003 - Quiz
It's quiz time again! Usual rules apply, with teams of up to 6 people. Book your team's place to ensure a head start on everyone else. We only just had enough space for the last one so don't miss out on this year's challenge! £2 a head - book your team with Pat Asbery 720594 or Rob Lee 720730.
Waste Paper Collection
Thank you for bringing your waste paper to the bins. Though the return is small, every little bit helps financially and of course the waste is recycled.
Do please support these events, and do suggest to us your ideas for alternative activities.
Rob Lee (720730) on behalf of the Village Hall Committee.
2002/2003 Annual Report of the Odell Village Hall Committee.
Once again, we can look back on the last year with a good deal of satisfaction. We have had tremendous support for events this year, which have helped the finances. We need over £2000 a year to maintain the Hall. We have also needed to upgrade our electrical system this year, which should do us well for the foreseeable future.
It is especially pleasing when other people take on the challenge of organising a function for the benefit of our community. Special thanks go to Nicola Schoenenberger and band of helpers for the excellent Burns Night and Roma Garron and Valerie Streater for organising the Luncheon Club. Our congratulations also go to Roma and Valerie for securing a grant to enable this important luncheon event to happen and for bringing together so many former villagers with current residents.
We remain confident that a new access will help to make the Hall an on-going important village facility. Unfortunately our endeavours have been halted as we seek clarification of some legal points. It is likely we will have to revisit our lottery application as the government have proposed merging the two main lottery boards. We can only hope this does not reduce the opportunity for village halls to seek the much-needed finance to make these necessary adjustments.
We are pleased that local groups regularly use the Hall for their meetings and social activities. Our thanks go to the Parish Council, WI and more recently "Paddie Paws".
Our local Borough Councillor Martin Bridgman helped us with a grant application that secured £2450. This has enabled us to replace some tables as well as the ceiling tiles, which no longer complied with current safety legislation.
The support given to the Village Hall is much appreciated and we can at least use the annual report to give thanks to the many people who help to make the Hall a viable local venue. Thanks are offered to all who have organised and supported us, (and those I have failed to mention), Doreen Wheeler for making sure the bookings are faithfully kept and Derek Gadsby for ensuring the Hall is cleaned ready for users. I would like to pay particular thanks to Sue Knowles who has served as a secretary for the last few years and will be relinquishing the post at this AGM. Sue has supported us whilst studying hard for her Law Degree and now needs to concentrate hard on her final exams and continuing her law placement. We all wish her well in succeeding at this final hurdle and offer her our grateful thanks for her sterling support.
Of course this leaves a position vacant and should anyone feel they could lend some time and energy to filling this position, please contact any of the current committee.
The current Village Hall Committee is:
Chairman Rob Lee Vice Chairman Chris Swift
Treasurer Pat Asbery Secretary Sue Knowles
Members Brian Cheadle, Nicky Freeman, Karen Fulford, Harry Smith, Leslie Knowles and Graham Hill

Rob Lee On behalf of the Village Hall Committee
Smiling

Smiling is infectious,

You catch it like the flu.

When someone smiled at me today

I started smiling too.

I passed around the corner

And someone saw me grin.

When they smiled I realised

I'd passed it on to them.

I thought about the smile and

Realised its worth.

A single smile like mine could

Travel round the earth.

So if you see a smile begin

Don't leave it undetected;

Let's start an epidemic quick

And get the world infected.

Unknown.

Fire in the Bell

Recently the infamous chimney in the Bell caught fire yet again – somewhat of a mystery since the chimney was relined not so long ago. Thanks to a quick alert and a quick response from our local firemen the beer flowed throughout the event!

The Mill Theatre, Sharnbrook

Diamond Jubilee Season

Wild, Wild Women

– Friday 16th to Saturday 24th May

Bawdy musical by Michael Richmond and Nola York. A 'tuneful, thigh-slappin', foot stompin' musical romp'. Not to be missed!

Tickets available now from:

The Village Trader, Sharnbrook (in person)

Central Box Office, Bedford 01234 269519

The Castle, Wellingborough 01933 270007

To book for the following events, please contact Erica Lester 01234 781210 now!

Globe Theatre – Richard II – Thursday 19th June.

All male cast including award winning Mark Rylance. Tudor costume. Tickets: £35. Pick up by coach: Mill Theatre 4pm, then Bedford Modern School/Clapham Rd. parking bay.

Youth Summer School – 28th July to 28th August 2003. 9 to 18 years.

Course culminating with performance. Professional drama tutors. Course fee £100.

Do you enjoy saving money? Diamond Chairholders do!

Easy investment – great returns. Simply invest just £100 and receive it all back with high "interest" (£100 = a return worth up £120 at present seat prices).

Every Diamond chairholder will receive 12 ticket vouchers, valid for three years, exchangeable singly or severally for any available seats for SMTT Productions.

Plus: A Diamond Chairholder Concession Card entitling the holder to valuable discounts worth up to 20% off the total bill when dining or staying at the prestigious Mill House Hotel and Restaurant, Sharnbrook, subject to conditions sent on request.

To apply: please forward your name, address and e-mail address (if applicable) together with a cheque for £100 made payable to SMTT to Keith Lazenby, 24 Pemberley Ave., Bedford MK40 2LQ. You will shortly receive your set of vouchers and a Chairholder's Concession Card.
Diary
10th 10.00am Fete working party at Doreen Wheeler's, Linden House, High St., Odell.
10th 7.30pm Quiz, Village Hall.
13th 7.30pm W.I., Village Hall.
14th 10.30am Meeting Point, Eileen Shakespeare's – Corner House, Wymington Park, Rushden.
27th 10.30am Meeting Point, Jane Eshelby's, Newton House, Avenue Rd., Rushden.
Magazine Deadline
Please send all entries for the June 2003 magazine to Tricia Hudson (patriciahudson@kbnet.co.uk), Anne Turner or Catherine Corkery by May 12th at the latest. May we remind you that the editorial team exercises the right to edit, shorten or alter any items that are submitted. Also, the opinions expressed in the articles are those of the contributors and are not the responsibility of the editorial team.
Electronic mail address
email is jh at ti.com - I put it like this to avoid spam! - just retype with the 'at' being an 'at' sign and of course no spaces.

FAX number
01234-721004

Back to the Odell Home Page
---
Last revised: May 04, 2003.