ODELL VILLAGE NEWS
March 2003
Obituary – John Hampton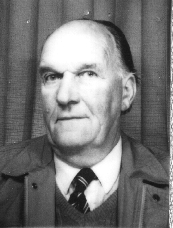 We are sorry to learn of the death of John Hampton who died in Bedford General Hospital (South Wing) aged 77 years. We send our love and prayers to Peggy and the family. John and his family lived in Odell for many years where he worked for Lord Luke and the "Castle Estate", living next door to the Bell before moving to the bungalows opposite. His cheerfulness during his time here will be well remembered, as will the poems that he submitted to the Magazine and which we all so very much enjoyed. Upon their move to Peach's Close, Harrold, he was occasionally to be seen as he journeyed through the Country Park in his motorised wheel- chair which, since he had lost both his legs, enabled him to travel about a little. The funeral service took place at St Peters, Harrold, on 19th February.

Odell Lunch Club for Senior Citizens

A Village re-union – the annual 'Fish and Chip Lunch' – will take place on Wednesday 5th March at 12.30 for

1.00 pm at Odell Village Hall. If any pensioner does not receive a personal invitation and wishes to come please phone Roma on 720431. Anyone who would like to come and meet old friends please join us for coffee at 2.00pm.

Odell Village Fete

Saturday June 14th 2003

Family Dog Show Pony Rides Cash Raffle

Children's Collage Competition Tombola

Fire Brigade Children's Sports Local Band

Lucky Programme Draw Children's Stalls

Ice Creams Refreshments

Many Side Shows

Gifts White Elephant Bottle Stall

Books Cakes Plants Produce

Please everyone, make a note of the date of the fete now and put it in your diaries! We will once again hold the Dog Show that was such a success last year. Don't forget to invite all your family and friends for the day.

The site is once again the field at the end of Horsefair Lane.

Round and About

Weatherwise.

We do seem to have had an awful lot of weather in the first few weeks of the year. Flooding in the New Year to be followed by a deep freeze. After this came even more floods. The end of January brought the country fierce blizzards (although Odell itself saw little snow), accompanied by strong gale force winds straight from the Arctic, with plunging temperatures. Then, once again, headlong into rain. Now that is a lot of weather for such a short space of time …even for England!

This is the first time that I have ever returned to the same subject two months running. However, if the year continues in the same way as it has started I thought it would be a good idea if I gave you a helping hand when it comes to understanding the weather forecasts we receive on a daily basis. My information, by the way, comes courtesy of Ian McCaskill who presented the weather for the B.B.C. for many years.

A Ridge is generally good news. An elongated trough of high atmospheric pressure associated with sun and dry weather. A Trough, however, is the exact opposite bringing low atmospheric pressure and long periods of rain.

Fronts come in three different forms and none of them is particularly friendly. The word 'front' is a situation where warm and cold airs come together. The two separate air masses cannot mix and their collision often brings cloud, rain or snow. A "Warm Front" usually approaches behind cold air, bringing with it cloud accompanied by drizzle or rain. A "Cold Front" is even worse. This is cold air coming in behind warmer air, bringing in heavy rain, wind and sometimes thunderstorms. Whatever it is, it's bound to be bad! We then come to the "Occluded Front" which will bring in even more rain as this is represented by cold air being lifted up by warmer air giving overcast conditions, frequently accompanied by rain.

Rain can bring some confusion. Different kinds of rain fall from different kinds of clouds. Many people feel that showers fall for a shorter period than rain but this is not necessarily so. When meteorologists talk about rain they mean rain falling from blankets of cloud (stratisform clouds) that often cover the whole sky. Rain, therefore, often comes down in a steady, broad downpour. Rain that stays around for many hours is called persistent rain, but it is possible for fragmented downpours from blankets of cloud known as "outbreaks of rain". On the other hand, "showers" come from tall 'cotton wool' cumulus clouds and tend to be local events.

Now we come to the really complex bit. Rain, as we well know, falls in drops. Drops larger than 0.5 mm in diameter are classed as rain. Anything smaller is classed as drizzle.

Frost is something we think we can see, but this is not always the case. Air frost means that air at the height of 2 meters (6 feet) is below freezing point. Even with an air frost the ground itself can remain above freezing. A "Ground Frost" however which is anything below 2 metres (6 feet) occurs when the air at ground level is chilled below freezing point. A "Black Frost" is represented as above, only it is not white. You cannot see it and may not realise it is there, apart from the temperature. Which leads me to "Black Ice". This is a thin coat of ice which can be created sometimes by freezing rain or even by fog. Car tyres can melt a white frost which can then re-freeze and form black ice. Its dark appearance is of great danger to people whether walking or driving as it can go unnoticed.

Snow is self-explanatory. It falls either as sleet, wet snow or real snow that will fall in quantities and conditions as explained by the forecaster; as showers, light or heavy falls or blizzard conditions and the latter is frequently accompanied by strong winds leading to drifting.

Wind Chill is a phrase which has only recently been introduced to our winter vocabulary. Forget the thermometer, this is how cold it really is because of the wind chill factor.

Visibility is a whole new set of rules. Poor visibility is when you cannot see more than 1,000 meters (3,280 feet). Fog is visibility of less than 1,000 meters or, if driving, less. "Thick Fog" is visibility of 50 – 200 meters (165 feet). "Freezing Fog" is made of water droplets below freezing point and when these droplets touch the ground the water often freezes. "Freezing Rain" or "Drizzle" consists of water droplets which are below freezing point but still remain liquid. When this falls to the ground it almost instantly turns to ice. "Mist" is not to be confused with "fog", which has larger droplets of water. Mist is less dense and visibility is more than 1000 meters. "Haze" is when visibility is reduced by dry particles in the air. "Hazy Skies" are formed by high thin clouds (often cirrus).

Winds are an increasing factor in our lives and here are a few details to ponder on:

"Gale Force" is winds of 39-46 m.p.h.

"Strong Gales" are winds of 47-54 m.p.h.

"Storm Winds" are winds of 55-63 m.p.h.

"Violent Storm" is winds of 64-72 m.p.h.

"Hurricane Force" is when winds exceed 73 m.p.h.

I do trust that my efforts this month do not leave you with a "deep depression" and are of some use when trying to understand your forthcoming weather forecasts.

Barbara Corley

Birthdays

Happy birthday to Liane Fulford who will be 10 on March 4th.

W.I.News

Margaret Linggood made a welcome return to us this month with her new talk 'Bacteria Part 2'. She took us into the magic world of bacteria in relation to compost heaps and soil goodness. It was a fascinating talk; Margaret has the gift of making complex issues seem simple and amusing.

Next month's meeting

We meet on Tuesday March 11th at 7.30 in the Village Hall. All welcome. We will be welcoming Mr Pickering from the Trading Standards Service.

Hostesses and Competition

Jane Eshelby and Carol Ormond are our hostesses in March and our competition is 'My favourite weighing machine'.

We thought you might like to share the winning entry in our competition this month, written by Carol Ormond.

Bug Limerick

If you get Helicobacter Pylori

In your stomach it can be quite gory

It can make you so ill

That you'll need to take pills

But that's not the end of the story.

There's a bug called Bifidus Essensis

That assists with your tummy's defences

This bug is really quite rude

Because it lives in our food

But at least it is one of the friendlies.

So how can we protect our interior

From all these unfriendly bacteria?

Hygiene can protect us

From bugs that infect us

Even the dreaded Listeria.

Joe Smith retires after Fifty Years Delivering Newspapers

.

Many people will be sorry not to see Joe bringing our daily newspapers round the village. Joe has been doing this for fifty years. He joined the Royal Navy when he was eighteen and during the Second World War was on the aircraft carrier 'Eagle' when it was torpedoed. Whilst jumping into the sea he pushed another sailor, who would not jump, into the water, before the ship went down. They were some time in the water before being rescued but met again after the war in Liverpool. Later, whilst on a Sloop called HMS Wren he found himself once more in the water after being torpedoed again. He has seen many places all over the world and after these sorts of experiences no wonder he was able to get our papers to us every day whatever the weather! We have got used to not seeing him on his bike over the last few years but the early morning scene in Odell will not be quite the same without his car somewhere along the village! We wish you well, Joe, and many thanks to you and your brother, Tom.

Village Hall News

Events

If you have an idea or can help with these let us know, and if you would like a venue for a private function, there is a very reasonable hire fee for helping us maintain the hall.

Burns Night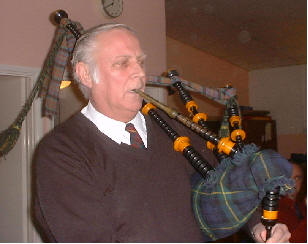 Many thanks to everyone who supported the Burns Night, especially Nicola Schoenenberger and her team for organising such a splendid evening. A traditional meal of Haggis, Neeps and Tatties was followed by Scottish dancing and much fun.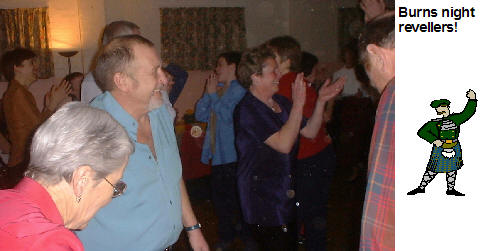 Dates for your diary!
4th April 2003 – Time of Our Lives Theatre Company.
Tickets are now on sale for what will be another great performance of this exceptional theatre group's latest production, which is entitled "The Best Of Times". Tickets are going fast and can be obtained from Pat Asbery (720594) for £8 each.
28th April 2003 - Annual General Meeting
The Annual Meeting will be held in the Village Hall at 8 pm. All villagers are welcome. Your Village Hall Committee is keen for new "blood", so please feel free to donate some of your time to help us with ideas and support events. You'll be made very welcome.
10th May 2003 - Quiz
It's quiz time again!! Usual rules apply, teams of up to 6 to challenge The Mad Dogs, last year's winners of a very exciting, nail-biting, nerve-wracking, gut-wrenching, kiss of death competition. Actually it was an enjoyable evening!
£2 a head - watch out for details.
Waste Paper Collection
Thank you for bringing your waste paper to the bins. Though the return is small, every little bit helps financially and of course the waste is recycled.
Do please support these events, and do suggest to us your ideas for alternative activities.
Rob Lee (720730)
on behalf of the Village Hall Committee.
The Mill Theatre, Sharnbrook
Diamond Jubilee Season
Now booking!
Amy's View - by David Hare
Tuesday 11th - Saturday 15th March 7.45 pm
A diffusive, incisive, funny and moving play written by one of our finest playwrights of today.
Esme Allen is a well-known West End actress. The visit of her daughter, Amy, with her new boyfriend sets in motion a series of events, which only find their shape 16 years later…
Performed in the West End in 1998, Dame Judi Dench starred as Esme, for which she won several awards, both in England and on Broadway. Tickets: Tues. 11th: £7; Wed.12th & Thurs. 13th: £8; Fri. 14th &
Sat 15th: £9
Booking Points:
The Village Trader, Sharnbrook (in person) - your local booking point
Central Box Office, Bedford 01234 269519;
The Castle, Wellingborough 01933 270007
For Party bookings: Please phone Alison Bean 01234 781372
(10 or more, 10% discount - excluding charity performances)
Take a Dip – A Diamond Celebration
60 years of Sharnbrook Theatre Trust Musicals
Thursday 3rd April – Saturday 5th April
A cabaret evening in the Clubroom to include supper, songs from the shows and a wartime medley. Come in costume if you wish!
Limited to 60 per evening so please book early.
Tickets: £15 inclusive, available from Village Trader only.
Youth Summer School – 28th July – 28th August 2003 – now confirmed.
For details and registration please apply to Erica Lester 781210.
Chair Holder's Plan
You are invited to become a chair holder of The Mill Theatre as we celebrate our Diamond Jubilee. For an investment of £100 you will receive 12 vouchers (worth up to £120) each exchangeable for one complimentary seat at any show of your choice (excluding charity galas) over the next three years.
Diamond Jubilee Offer at the Sharnbrook Mill House Hotel and Restaurant.
Diamond Chair Holders will receive a Chair Holder's Concession offering discounts of up to 20% off the total bill for the Chair Holder's party when dining or staying at the prestigious Mill House Hotel and Restaurant. For more details contact Keith Lazenby, 01234 359733.
North East Bedfordshire Conservative Association
"Memories of an Eclipse Chaser" (1991 - 1999) by Mr David Early,
Fellow of the Royal Astronomical Society, Night Sky Photographer.
A unique photographic slide presentation.
Saturday 22nd March 2003 – 7.00 for 7.30pm,
Sharnbrook Village Hall, Lodge Road, Sharnbrook
Tickets £8.50 Buffet Licensed Bar Raffle
Tickets available by prior application only (14th March latest) from:
Theo Gibbs 01234 782377 or Richard Davison-Francis 01234 781059
Diary - March
5th 12.30 Fish and Chip Lunch for Senior Citizens, Village Hall.
7th 10.00am Women's World Day of Prayer, Harrold Chapel.
8th 5pm Service to welcome new Bishop of Bedford, St. Paul's Church Bedford.
11th 7.30pm W.I. Odell Village Hall.
12th 10.30am Meeting Point, Catherine Corkery's, Manor Cottage, High St. Harrold.
22nd 10.30am Coffee Morning in Village Hall in aid of Church Appeal Fund.
25th 10.30am Meeting Point, Jen Cuddeford's, 36 Grange Gardens, Sharnbrook.
Magazine Deadline
Please send all entries for the April 2003 magazine to Tricia Hudson (patriciahudson@kbnet.co.uk), Anne Turner or Catherine Corkery by March 12th at the latest. May we remind you that the editorial team exercises the right to edit, shorten or alter any items that are submitted. Also, the opinions expressed in the articles are those of the contributors and are not the responsibility of the editorial team.
Electronic mail address
jh@ti.com

FAX number
01234-721004

Back to the Odell Home Page
---
Last revised: March 08, 2003.