ODELL VILLAGE NEWS
June 2003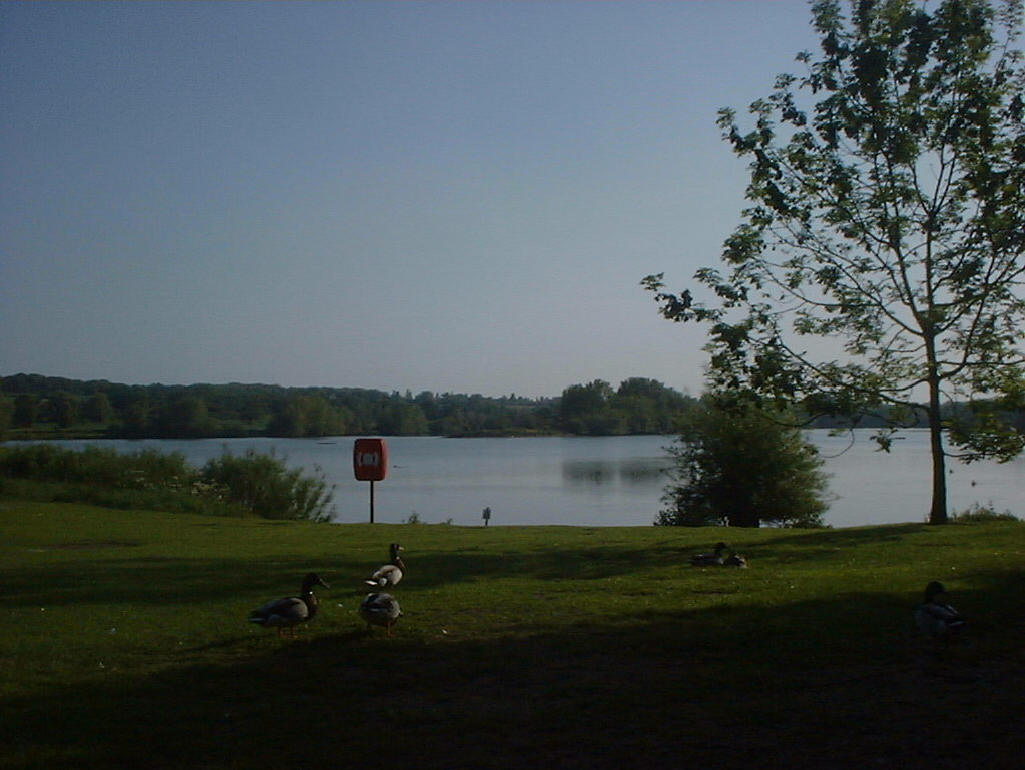 Photo above: Towards Odell woods, from the Harrold end of the main lake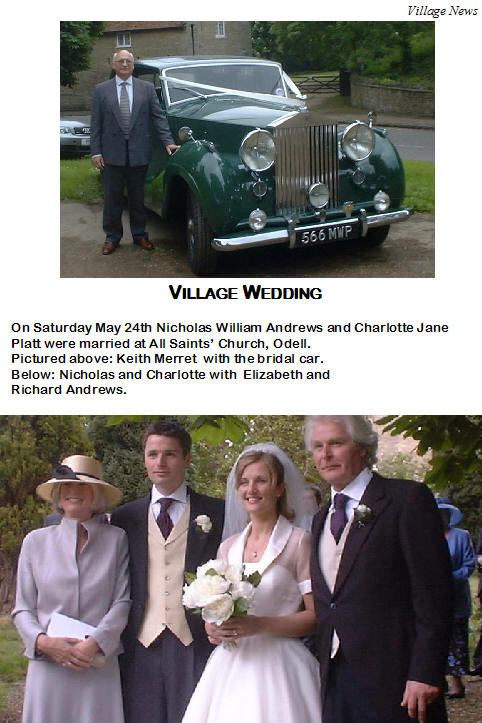 Odell Village Fete – Saturday June 14th 2003

Grand Opening at 2.00pm

by our Member of Parliament Alistair Burt.

Attractions include:

Family Dog Show Pony Rides Cash Raffle

Children's Collage Competition Tombola

Fire Brigade Children's Sports

The Wode-Hill One-Steppers Jazz Band

Lucky Programme Draw Children's Stalls Ice Creams

Refreshments Many Sideshows

Gifts White Elephant Bottle Stall

Books Cakes Plants Produce

The site is once again the field at the end of Horsefair Lane.

All proceeds go the 'All Saints' Appeal Fund'

Request for help

If anyone can help with the fete, particularly on the day, would he or she please contact Jill Cheadle, tel. 720261.

Family dog Show programme, Odell Fete, 14th June 2003, 2.00pm.

Class 1: Children's Handling (14 years and under).

Class 2: Puppies under 1 year.

Class 3: Country Sporting Dog or Bitch.

Class 4: Best Rescue or Re-home Dog or Bitch.

Class 5: Best Condition Dog or Bitch.

Class 6: Dog or Bitch with the most Appealing Eyes.

Class 7: Best Cross-bred Dog or Bitch.

Class 8: Dog or Bitch the Judge would most like to take home.

Best in Show.

The sponsors for this show are:

Mr. & Mrs. Hughes Anne Turner Molly Wallinger J. Harrison M. Clark Julie Pete Rev. D. Streater J. Eshelby Jacky Ward

The organizers of this show would like to thank them for their support

"Seaside Rock"

Monday 28th July - Friday 1st August 2003

10.00 am - 12 noon in Sharnbrook Village Hall

We are running a summer holiday club, which is set by the sea, with a mix of fun, games, big screen video, singing and dancing, sweets, seaside rock and much, much more! It is all set around the life of the fisherman, Peter, who became a follower of Jesus, and a leader in the early church.

Sharnbrook Village Hall will be transformed into a beach side location during that week and the Friday session will be extended to a Fish 'n Chips Party!

All children aged 5 - 9 years need to be there and to avoid stress all parents should keep the week free!

The club is arranged by Sharnbrook Evangelical Church and you can find out more by logging on to: sechurch.freeserve.co.uk and clicking on "Seaside Rock" or phone Tim Ford on 01234 781134.

BELL RINGERS WANTED

Imagine playing a musical instrument that would cost over a million pounds to build! (not that you'd ever get planning permission). Well we have one here in Odell and on Monday evenings, anyone keen to learn can learn to 'play' for free. Just contact Martin Eshelby on 01933 410959

Birthday Greetings To

:

Robert Merret on the 11th June

Eleanor Robinson on the 17th June

And to anyone else with a birthday in June!

Round and About

History of Stained Glass

The residents of Odell have recently been concentrating their efforts on raising funds for restoration work in our lovely old Church of All Saints. There are several areas of work proposed but in the main we have been hearing about the mediaeval stained glass windows set into the tracery lights.

I thought it would be a good opportunity to look into the history of stained glass which originated in the Middle and Far East, and dates back so far in time it is lost within the twilight mysteries of early fable. Whilst we in Europe experimented with iron and pottery the Orient was exploring the use of glass. From a very early time they had the skill to blow glass into beautiful bowls or goblets, or they could cast it, or cut it, into thousands of objects with which to furnish their temples, tombs, palaces and even their houses.

The earliest form of "window" can be traced back as far as 306 B.C., although at this time it was more a perforated wooden or stone screen into which they set small gem-like pieces of glass of many colours and used purely for decoration. This kind of panel or window enjoyed widespread popularity before the introduction of Christianity and can still be found in use in the Orient today.

Because glass, in these very early days, unless being blown, could only be found in small pieces the glazier could only fill these small spaces in the lattice-work of the screen with a combination of irregular shapes and sizes, to say nothing of colour, to form bright mosaics. As time passed however, they introduced scenes of foliage containing brightly coloured birds and butterflies and occasionally a small animal.

The early Greeks and Romans much admired this form of decoration and first brought the screens into Europe. With the coming of Christianity the possibilities of introducing glass featuring biblical scenes presented itself and early Venetian glass workers became proficient in the early use of European stained glass. A small colony of these craftsmen set themselves up in France in 979. There they revolutionised the art of stained glass for use in church windows, introducing a permanent process of painting on glass. By the 12th c. the value of this invention was introduced into the Church of St. Denis in Paris. These fine windows were so popular that the French considered such windows to be a necessary constituent of every ecclesiastical building.

The oldest picture window is "The Ascension" in the Cathedral at Le Mans, and believed to be the work of 11th c. artists. The drawing of the figures was still very Byzantine in character compared to the later glass at St. Denis which had now become Romanesque in style.

In the earliest windows of the 11th c. and 12th c. the figure subjects were painted upon small pieces of glass and embedded in an ornamental border. A number of these "medallions" would then be entered into the composition of a single window.

With the arrival of the French influence in this country our simple Saxon churches began to give way to the Gothic style much favoured in Europe at that time, and with the new churches came the stained glass windows. Barbara Corley

W.I.News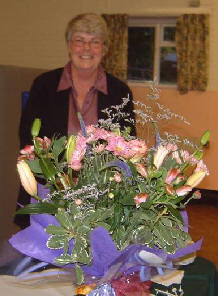 We gathered at the Village Hall for our A.G.M. and were pleased to welcome Pam Plum from Bedfordshire Federation of Women's Institutes. It was an opportunity for us to assess the last year and thank everyone who helps to keep the W.I. alive in Odell. After our business meeting we had a short break which allowed us to present our secretary Doreen Wheeler with a bouquet and to sing Happy Birthday to her while she blew out the candles on her cake, which we then helped her eat. For the second part of the evening we discussed this year's resolutions which dealt with aspects of childhood obesity, care of the elderly and the new apprentice scheme. After a short debate we voted to support all three motions at the A.G.M. in June.
Next month's meeting
There is no meeting in June as so many members are involved in the Fete. We meet again on Tuesday July 8th at 7.30 in the Village Hall, all welcome. Our speaker will be Mrs Ashwell on Beads and Beadwork.
Hostesses and Competition
Our hostesses will be Mandy Sharpe and Meg Clarke. The competition will be 'Your favourite necklace'.
Congratulations!
Congratulations go to Joshua Wright who recently achieved great success in the prestigious 'Junior Engineers For Britain K-Nex Challenge 2003'. Joshua, a pupil at Carlton Lower School, won the first round of the competition held in his school, then went on to become a Bedfordshire and Luton Finalist.
Odell Parish Council
19th May 2003
1 Mrs R Halton was re-elected Chairman for the coming year.
2 Mr Brian Cheadle was re-elected Vice Chairman likewise.
3 Streetlights: We continually contact the Bedfordshire County Council to repair the faulty streetlights.
4 School buses: It appears that discussions have begun with the Bedfordshire County Council about the start times for the Harrold Priory Middle School and the lower School. If these are made the same, it will be easier for all the children to travel on the same bus, notwithstanding that the lower school children travel free.
5 Litter: It was noted that the Bedford Borough Council only pick litter along the highway about once a year. We shall request a more frequent service. It may be necessary to organise a party to pick litter that has been thrown over the roadway hedges or fences, as this is outside the scope of the Bedford Borough Council capability.
6 Bedfordshire County Council: We have received the Council's plan for repair of potholes. This is scheduled for 2nd September this year.
7 Yelnow Lane: This has been closed to traffic for repairs. The use of it by Off-Roaders was deplored.
8 Little Odell: Residents in this area have requested a sign indicating that this is Little Odell. However the Bedfordshire County Council are in charge of all road signing, and we are powerless. The Post Office likewise are uninterested, therefore much mail gets misdirected. Delivery vehicles of any kind are frequently lost. This situation is
deplored.
9 Skateboard: We have decided not to have the Skateboard offered to us this year. In the past it has attracted Skateboarders from far afield, who have intimidated our younger children and disturbed the peace of Horsefair Lane, and the Village generally. Harrold Parish Council had invited us to join with them, but it was decided that they should be told that if they wanted the Skateboard, they should site it within their own Parish.
10 The next meeting is on Monday 21st July at 8 pm.
Jonathan Harrison, Odell Parish Council
Harrold – Odell Country Park
Many of you will remember the Local Community Survey which dropped through your letter box at the end of last year. Now is a good time to update you on how the results of the survey are being used and what's happening at the Park.
The Park is managed through a partnership of the Ivel and Ouse Countryside Project and Bedfordshire County Council. One of the aims of the partnership is to encourage greater community involvement in the management of the Park. We started this through the Local Community Survey to find out what local people want from the Park and have also established a Community Liaison Group as a forum for discussing the management of the Park.
Thanks to all of you who returned the Local Community Survey forms. We were overwhelmed by the response rate which, at over 20 per cent, clearly showed the local feeling for the Park. Of those who responded over 90% are regular visitors. The results of the survey have given us a good idea of what you want from your Park and will help us tailor the service to meet these needs.
On the whole people are happy with the Park and want to keep it as it is. We will ensure that the quality of the natural environment is protected or enhanced. But there are many things that can be improved. The biggest dislike is owners who don't clean up after their dogs, followed by not enough benches and picnic tables. People would like to see more events, conservation activities and educational courses and there is a lot of support for a 'friends' group. We also know that we need to do some work to cater for disabled users in terms of car parking, access to the information room and toilets.
Another useful piece of information gleaned from the survey is that most people would be happy to make donations for car parking. New signs in the car park have encouraged a steady trickle of donations in the box in the visitor centre. We hope to increase this by providing a secure donations box nearer to the car park. The money collected will be used towards the upkeep of the Park and for putting on events. This is particularly important as budgets are tight and we need to look into ways of generating income for the Park.
We are looking at the results of the survey with the Community Liaison Group. This group is made up of representatives of Harrold, Odell and Carlton Parish Councils as well as users of the Park including walkers, dog-walkers, horseriders, wheelchair-users and wildlife enthusiasts. The group will help to develop an enhancement plan for the Park based on the survey and other factors such as Bedfordshire County Council's corporate priorities and income generation. We are carrying out further consultations with schools and groups. The aim is to ensure that the Park is a useful community resource which meets the needs of its visitors and has a sustainable future.
We will keep you informed through regular articles in this magazine and through the notice board at the park. If you would like any further details about any aspect of the Park please contact:
Bill Thwaites, Countryside Ranger, 01234 720016, bill.thwaites@bedscc.co.uk
Lyndsey Bignell, Countryside Officer, 01767 316358, lyndsey.bignell@bedscc.co.uk
Trad Jazz at the Bell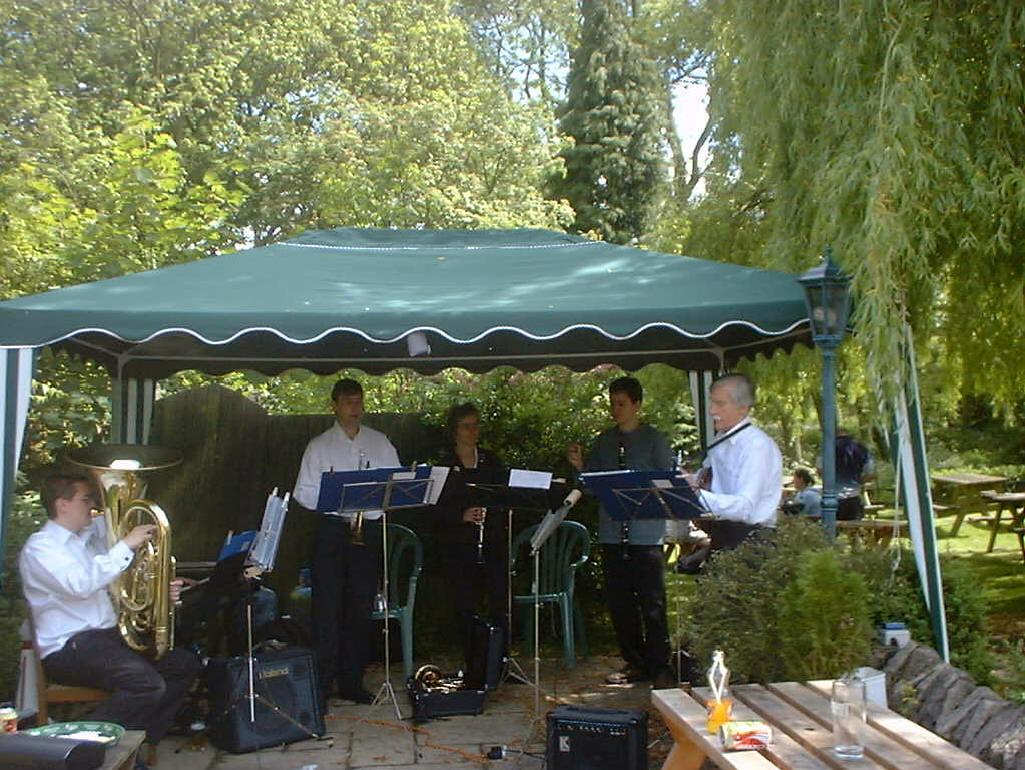 On Saturday May 24th the Wode-Hill One-Steppers Jazz Band entertained pub-goers in the sunshine in the Bell garden, pictured below. Watch out for future appearances!
Summer Sounds at The Royal Oak, Carlton
Mark Whitlock & Tonk Stringer Sunday 13th July at 3.00pm
The Bonas Brothers Sunday 20th July at 3.00pm.
Bedford Brass: Ten + 1 Sunday 27th July at 3.00pm.
Los Marbles Date to be confirmed.
Picnics and portable barbecues very welcome
Barbecue Service
Our pretty patio garden is available for private functions/barbecues from June to September. We will supply all the equipment you need for your function, with access to the bar area for your guests. All you need to do is to supply the food: we'll even do the washing up!!!
Please call Patti after 6.00 p.m. on 720114 for further details, or e-mail us on pat@pdearnaley.freeserve.co.uk
Village Hall News
Events
If you have an idea or can help with these let us know, and if you would like a venue for a private function, the very reasonable hire fee helps us maintain the hall.
Following the AGM, we have a new secretary, Karen Fulford, and a new committee member Sue Robinson. We say good bye with a great deal of thanks to Sue Knowles and Brian Cheadle, both of whom have been tremendous supporters of the Village Hall.
10th May 2003 - Quiz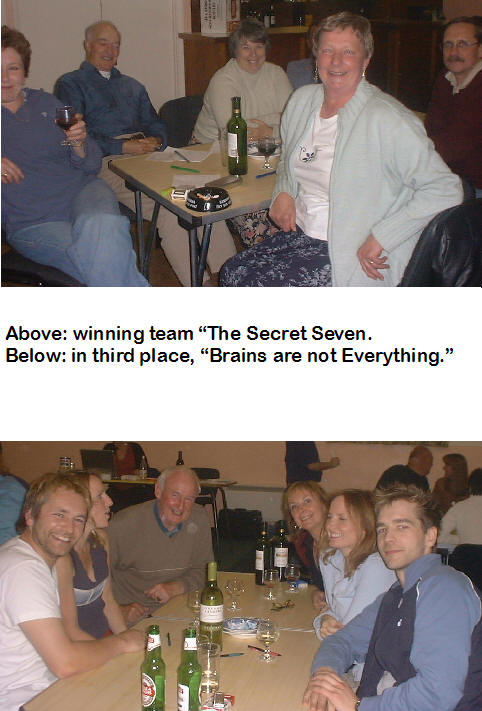 A good evening was had by all with "The Secret Seven" winning by a short head from "The Tanners" who pipped "Brains are not Everything" in a tie break for 2nd and 3rd place. It was good to see some new faces at this event and we hope they will come again! Thanks to everyone who took part and helped with the evening.
Dates for your diary!!
We are hoping to arrange a Race Night, Barn Dance and some Xmas events, so watch out for details.
Waste Paper Collection
Thank you for bringing your waste paper to the bins. Though the return is small, every little bit helps financially and of course the waste is recycled.
Do please support our events, and do suggest to us your ideas for alternative activities
Rob Lee (720730) on behalf of the Village Hall Committee.
Broadband in Odell
You should have had a leaflet from PMTC in Harrold who are coordinating a bid to get broadband internet access into Harrold, Carlton and Odell. The results of their submission to get a grant from the East of England Development Agency will be known in July. Meanwhile, in parallel, KBNet (sponsors of the Odell magazine website) and a group of local wireless enthusiasts are working on a more limited 'stop-gap' using WLAN technology hopping across the hills of Bedfordshire. The aim is to have something available for Odell and Felmersham. There are still some technical hurdles but watch this space and if you live in Odell or Felmersham contact Jon Hudson for more info on jh@ti.com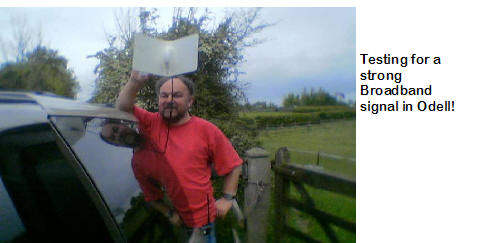 The Mill Theatre, Sharnbrook
A Chorus of Disapproval.
Tuesday 23rd to Saturday 27th September, 2003 - A comic masterpiece by Alan Ayckbourn.
Advance booking: Tickets available from The Mill Theatre during 'Wild, Wild, Women', then from:
The Village Trader, Sharnbrook (in person) – your local booking point

Central Box Office, Bedford 01234 269519*;

The Castle, Wellingborough 01933 270007*

*Credit/Debit cards accepted.

For Party bookings: Please phone Alison Bean 01234 781372
(10% discount for 10 or more, excluding charity performances)
Jesus Christ, Superstar
Friday 14th November to Saturday 22nd November, 2003 - Rock Opera by Andrew Lloyd Webber.
Tickets: High demand is expected; why not take advantage of Advance Booking at 'The Mill Theatre' during 'A Chorus of Disapproval' - perhaps make up a party. Plan ahead!
Workshops and auditions:
Workshops for individuals: Mon. 2nd & Wed. 4th June. Auditions: Sunday 8th June. Enquiries Susan Moore 01933 318318
Diary Dates: Details: Erica Lester 781210
Thurs. 5th June - AGM and Open Meeting. Members, we look forward to seeing you!
Thurs. 19th June – Richard II – Globe Theatre £35 inc. coach –a few seats still available.
From Mon. 28th July - Youth Summer School; concluding performance Sat. 2nd August - Parents and friends welcome; please contact Erica Lester for details.
Sun. 7th September - Companion Dog Show (KC)
(formerly known as Exemption). Mill Theatre Grounds, from 11 am. Pedigree & Novelty Classes. Proceeds to Mill Theatre Disabled Access Lift Fund. Details Elizabeth/ Theo Gibbs 781298/ 782377
North-East Bedfordshire Conservative
Association, Sharnbrook Branch.
Sharnbrook, Souldrop, Yielden, Melchbourne, Knotting
invites you to
Summer Sunday Lunch
on Sunday 29th June, 2003
12 for 12.30 pm – 2.30 pm
at Manor House, Middle Farm, Souldrop,
by kind permission of Mr & Mrs C.J. Dunmore.
Wine, Soft Drinks, Raffle.
Tickets: Members £8.50 Non-Members £10 (including first glass of wine) available from Theo Gibbs 782377 or Richard Davison-Francis 781059.
Diary

June

8th 10.30am Pentecost Praise in The Park.

11th 10.30am Meeting point at Catherine Corkery's, Manor

Cottage, High St., Harrold.

14th 2.00pm Odell Fete, Horsefair Lane.

15th 10.30am Service in Scout Field, Horsefair Lane.

24th 10.30am Meeting Point, Jill's, Rectory Farm.
Magazine Deadline
Please send all entries for the joint July/August magazine to Tricia Hudson (patriciahudson@kbnet.co.uk), Anne Turner or Catherine Corkery by June 12th at the latest. May we remind you that the editorial team exercises the right to edit, shorten or alter any items that are submitted. Also, the opinions expressed in the articles are those of the contributors and are not the responsibility of the editorial team.
Electronic mail address
email is jh at ti.com - I put it like this to avoid spam! - just retype with the 'at' being an 'at' sign and of course no spaces.

FAX number
01234-721004

Back to the Odell Home Page
---
Last revised: May 29, 2003.