ODELL VILLAGE NEWS
July/August 2003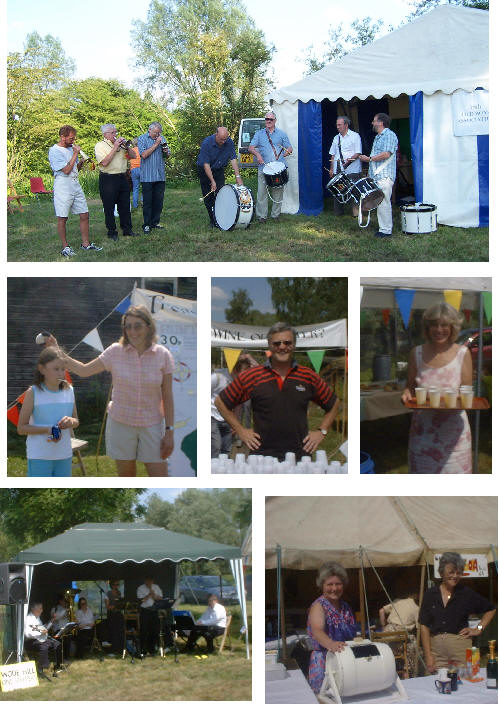 Odell Fete - see: Pictures from Odell fete - June 14th 2003
Odell Fete.
Saturday 14th June proved to be a perfect day for the fete. The humidity of the week before had cleared and we enjoyed an afternoon of unbroken sun and gentle breezes. Once again the Dog Show proved to be tremendously popular and brought many visitors to the fete. The bright and catchy tunes of the Wode-Hill One-Steppers Jazz Band provided the perfect backdrop for the fun and activities, while entertaining those more inclined to sit lazily by the river sipping Pimm's and eating strawberries and cream and delicious cakes from the tea tent. So perfect was the afternoon that it seems a record number of people came to the fete and were reluctant to leave, staying on long after all the events had finished.
The fete was followed by a special outdoor service in the Scout Field on Sunday 15th. Our visiting preacher was the Rev. Dick Seed, currently spending a few months in England before returning to his work in the St. Francis of Assisi Theological College in Nigeria. His amusing yet thoughtful sermon gave us all an insight into the cultural and tribal ways of the people of Nigeria and gave us food for thought on our own culture in Britain.
Odell Dog Show Results
Class Owner Dogs Name
1. Under 9 years Adam Green Spot
1. 9-14 years Kayleigh Betterton Bobby
2. Puppy Under 1 Yr. Paul Coffee Sweet Pea
3. Country Sporting .Jackie Ward Trooper – Spaniel
4. Best Rescue Andrew Newton Poppy
5. Best Condition Barbara Corley Cameo
6. Most Appealing Eyes Heather Ward Bess
7. Best Cross-bred Nicky Masterson Willow
8. Judge would most like to
take home Julia Hickman Twiggy
9. Best in Show Nicky Masterson Willow
Roma Garon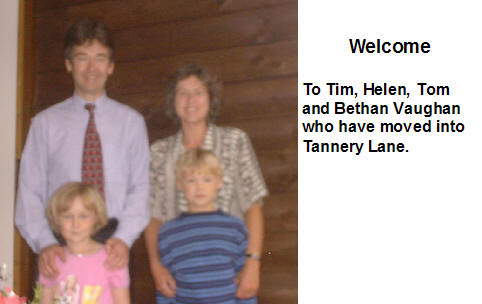 "Seaside Rock"

Monday 28th July - Friday 1st August 2003

10.00 am - 12 noon in Sharnbrook Village Hall

We are running a summer holiday club, which is set by the sea, with a mix of fun, games, big screen video, singing and dancing, sweets, seaside rock and much, much more! It is all set around the life of the fisherman, Peter, who became a follower of Jesus, and a leader in the early church.

Sharnbrook Village Hall will be transformed into a beach side location during that week and the Friday session will be extended to a Fish 'n Chips Party!

All children aged 5 - 9 years need to be there and to avoid stress all parents should keep the week free!

The club is arranged by Sharnbrook Evangelical Church and you can find out more by logging on to: sechurch.freeserve.co.uk and clicking on "Seaside Rock" or phone Tim Ford on 01234 781134.

Birthday Greetings To

:

Jonathan Sykes who will be 13 on August 15th and to Miles in Horsefair Lane whose birthday is also in August, and of course to everyone else who has a birthday in August!

Round and About

They give me a Buzz.

As this is the mid-summer edition of the magazine I wanted to write about something seasonal. Something that brought up in my mind's eye the thought of long, hot summer days strolling along the riverside watching the dragonflies, or drowsing in a sun-drenched garden filled with overblown flowers making the air heavy with their perfume. And what is the one thing still required to complete this picture – the soft drone of that ever-busy bumblebee.

Those pretty little balls of fluff that symbolise summer seem to lead a life of never-ending toil to further the continuation of their own kind as it nestles into a thick clump of meadow clover or buries itself into the pollen of a stately hollyhock.

We have 16 species of bumblebee ranging from bees that prefer the lowland scene of the South Downs to bees that remain in the Highlands of Scotland, some varieties of which are becoming incredibly scarce. The three bees, however, with which we are most familiar are the small garden bumblebee, the buff-tailed bumblebee – our largest bee – and the red-tailed bumblebee.

These delightful little creatures sadly only last one summer. The over-wintering queen is among the last of the season to hatch and her duty, as sole survivor, is to create a new colony the following spring. On emerging from hibernation she first gains strength from the pollen of the early catkins, without which the population could not survive. She must then build her nest either beneath a tussock of field grass, a deserted mouse hole or even the crack in a wall. To start with she produces just 6-8 larvae which develop into somewhat small under-nourished bees, but these are the bees that will tend to the care of the nest whilst the queen lays more and yet more eggs and as the season progresses the eggs produce bees of a larger and healthier size. The nest grows rapidly often reaching the size of a man's fist and can contain anything from 20-150 bees. From time to time you get a very large nest which can contain several hundred bees.

Bumblebees require a constant source of suitable plants on which to feed throughout the spring, summer and autumn months as they store just a few days worth of energy reserves and they are, therefore, very vulnerable to food shortages when flowers become scarce. They are especially attracted to lavender, bluebells, cornflowers, geraniums, delphiniums, foxgloves and daisies. Unlike wasps and honeybees they are most unlikely to sting as they bumble around amongst the flowers.

Without our wild bees our gardens would be a desolate place as these are the creatures that pollinate our plants and crops and without this pollination the crops would fail. Therefore gardens filled with flowers are a wildlife sanctuary to this industrious little worker humming away to himself as he works amongst our flowers, fruit and vegetables.

You know, we really could not feed ourselves without the help of this humble bumblebee.

Barbara Corley

W.I.News

There was no meeting in June as so many members were involved in the Village Fete.

Next month's meeting

We will meet on Tuesday July 8th at 7.30 p.m. in the Village Hall, all welcome. Our speaker will be Mrs Ashwell on Beads and Beadwork. August sees us meet at Mandy Sharpe's house for our annual Barbecue on Tuesday 12th at the slightly earlier time of 7 p.m. We were delighted to have fine weather last year and hope that we have similar luck again.

Hostesses and Competition

Our hostesses in July will be Mandy Sharpe and Meg Clarke. The competition will be 'Your favourite necklace'. August has no competition and we will have the normal bring and share salads and sweets.

Rachel Halton 720572

Can you help?

I am proposing to put on an exhibition of 'Odell/Harrold in Wartime'. Do you have any pictures taken during this time relating to either English or American troups taken in either/both villages at this time? If so please may I borrow them to use or have them copied for this exhibition to show what our villages were involved in during this time. Thank you. Roma Garon

Get Your Community Moving!

Find out how your community can benefit from a Parish Transport Grant of up to £10,000 from the Countryside Agency at a free half-day seminar:

Thursday 10th July

10am – 1.30pm (lunch included)

North Bedfordshire Council for Voluntary Service, 43 Bromham Road, Bedford

Parish Transport Grants provide funding for a wide range of small-scale projects that meet transport needs of the local community.

The event will include contributions from Sarah Durrant from the Countryside Agency, Stephen Sleight, (Rural Transport Partnership Officer), and four Parish Transport Grant case studies from across the East of England region.

For further information or to book a place please contact Stephen Sleight at Bedfordshire RCC on 01234 838771 extension 115 or Sarah Durrant on 01223 273584.

Bedfordshire Rural Communities Charity. Tel: 01234 838771

Bedfordshire Rural Communities Charity (BRCC) is a registered charity "working to encourage thriving, diverse and sustainable rural communities in Bedfordshire". We offer a wide spectrum of services to help support, train and care for people living in rural areas throughout the county.

BRCC runs the Millennium Volunteers Bedfordshire scheme for the Government Department for Education and Skills (DFES). It has been running for nearly 4 years now, and has supported voluntary opportunities for over 700 young people in the county. It enables young people to make a positive contribution to local communities whilst gaining valuable skills and obtaining a certificate that is a real asset on CVs.

We are currently looking for projects for our volunteers to help with and for more volunteers. If you know anyone aged 16-24, or have any work that we could help with that would benefit your community, please contact Ben on ext 108.

If you would like any further information on services we offer please contact Sue Keen, Information Officer, on ext 105.

Morris men visit odell

Morris men will come to Odell village green on the evening of Wednesday July 30th. This is always a fun event - not to be missed!

Village Hall News

Events

If you have an idea or can help with these let us know, and if you would like a venue for a private function, the very reasonable hire fee helps us maintain the hall.

Dates for your diary!!

We are hoping to have details of some events after the summer break, including a Race Night, Barn Dance and later in the year some Xmas events, so keep an eye on future editions and posters.

On the village hall front, it will be a quiet time so have a great summer enjoying well earned holiday breaks, if you are planning any. The village hall committee will however continue its endeavours on the need to add a new access for disabled people.

Ceiling tiles

We still need to replace some ceiling tiles. The majority have been replaced leaving those around the edges. These will need cutting and we would welcome some offers of help to sort these out. If we can get 8/9 people together we could sort them out one Saturday morning. If you can help, please let me know.

Waste Paper Collection

Thank you for bringing your waste paper to the bins. Though the return is small, every little bit helps financially and of course the waste is recycled.

Do please support our events, and do suggest to us your ideas for alternative activities.

Rob Lee (720730) on behalf of the Village Hall Committee.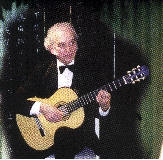 John Zaradin Concert

Saturday 23rd August 7.30pm All Saints' Church.

Tickets £10, (including light refreshments), available from Jill Cheadle, 720261.

John is our resident classical guitarist, of international fame. He has kindly agreed to entertain us with a concert in the church as part of our Festival weekend, proceeds of which will go to the All Saints' Appeal Fund.

The past year for John has been very busy. He has completed work on a guitar tutor "Getting Into Latin Guitar" which has been released by his publisher Mel Bay and has also spent the past 8 months touring in Central & South America giving live performances.

His "Latin American Suite for Guitar and Orchestra", which he premièred as performer and composer in Virginia, USA, last October, is scheduled for recording this August with a release at the end of the year. For the concert in Odell there will be music selected from this recording and from countries he has recently visited.

Home Grown - Sunday 7th September,

6.30pm

Members of the congregation will perform in the Church.

Lots of local young talent on display – and perhaps some more mature performers. All well worth your support.

Drinks and nibbles will be served

Out of the Blue - Sunday 21st September,

6.30pm

One of Oxford University's leading acappella groups performing in the Church a selection of numbers including some from their recent CD. Not to be missed, tremendous entertainment. (They recently performed in front of Bill Clinton, Nelson Mandella and Tony Blair to name but a few at a Rhodes' Scholar gathering in London!)

Drinks and nibbles will be served.

The Mill Theatre, Sharnbrook

A Chorus of Disapproval – A comic masterpiece by Alan Ayckbourn

Tuesday 23rd – Saturday 27th September.

Tickets: The Village Trader, Sharnbrook, in person

Central Box Office, Bedford 01234 269519

The Castle, Wellingborough 01933 270007

For party bookings: Phone Alison Bean 01234 781372

(10% discount for 10 or more, excluding charity performances.)

Jesus Christ, Superstar – Rock opera by Andrew Lloyd Webber

Friday 14th November to Saturday 22nd November

Companion Dog Show KC.(Formerly known as exemption).

Sunday 7th September. Mill Theatre Grounds. From 11.00am.

Proceeds to Mill Theatre Disabled Access Lift Fund.

For more information contact Elizabeth/Theo Gibbs 781298/782377.

Yelnow Wood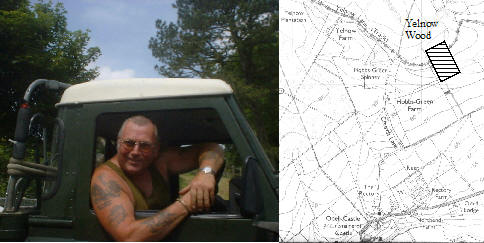 Ranger Gareth reports that Yelnow Wood is now looking magnificent with the paths newly cut for walking and an abundance of wildlife to see. In particular the new Oaks are coming on well. If you visit, please treat the area with respect!
Diary
July
8th 7.30pm W.I. Village Hall.
9th 10.30am Meeting Point.
9th 3.00pm Senior Citizens Strawberry Tea, 23 Horsefair Lane.
13th 3.00pm Mark Whitlock & Tonk Stringer, Royal Oak, Carlton.
20th 3.00pm The Bonas Brothers, Royal Oak, Carlton.
27th 3.00pm Bedford Brass: Ten + 1, Royal Oak, Carlton.
28th-1st 10.00am Seaside Rock Holiday Club Sharnbrook Village Hall.
August
12th 7.00pm W.I. Barbecue, Mandy Sharpe's.
23rd 10.00-5.00 Flower Festival, All Saints'.
24th 11.30-5.00 Flower Festival, All Saints'.
23rd 7.30pm John Zaradin Concert, All Saints'.
Magazine Deadline
Please send all entries for the September magazine to Tricia Hudson (patriciahudson@kbnet.co.uk), Anne Turner or Catherine Corkery by August 12th at the latest. May we remind you that the editorial team exercises the right to edit, shorten or alter any items that are submitted. Also, the opinions expressed in the articles are those of the contributors and are not the responsibility of the editorial team.
Electronic mail address
email is jh at ti.com - I put it like this to avoid spam! - just retype with the 'at' being an 'at' sign and of course no spaces.

FAX number
01234-721004

Back to the Odell Home Page
---
Last revised: July 06, 2003.