ODELL VILLAGE NEWS
February 2003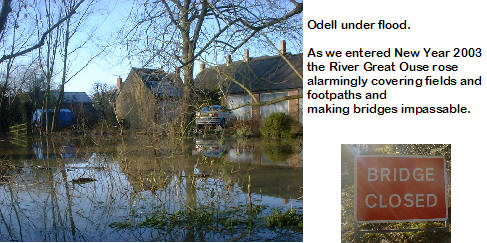 Birthdays
'Happy Birthday' to:
Jack Holden Postles who will be 2 on the 10th
Anthony Merret who will be 11 on the 14th
And to anyone else who has a birthday in February.
Odell Lunch Club for Senior Citizens
A Village re-union – the annual 'Fish and Chip Lunch' – will take place on Wednesday 5th March at 12.30 for 1.00pm at Odell Village Hall. If any pensioner does not receive a personal invitation and wishes to come please phone Roma on 720431 by 26th February.
Anyone who would like to come and meet old friends please join us for coffee at 2.00pm.
Round and About
Before I start my main item I would like to comment on the brilliant lights this Christmas. Odell really did look festive from the well lit-up tree on The Green to the households displaying lights around the roof or glowing from their windows, but for me the greatest pleasure came from the increasingly popular idea of draping lights in the trees and bushes of gardens. After dark it looked as though the branches had been festooned with bright, glowing jewels.
Rain, Rain – Go Away!
A very happy, if wet, New Year to you all! It is such a pity the festive season had to end the way it did.
It had been raining, on and off, since early October. Wave after wave of depression swept in from the Atlantic depositing vast quantities of rain all over us. In the last five years we have experienced an astonishing amount of wet weather including the wettest twelve-month period on record and the wettest autumn on record. The monthly rainfall records have been broken time and time again and we can hardly be surprised, in this low-lying area that the flood warnings came out yet again.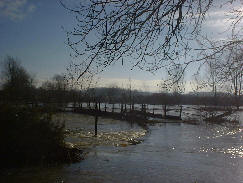 Not since our memorable Easter of 1998 have we seen waters rise this high. Of course, the water meadows have been flooded since before Christmas, but we expect that. The meadows are there to carry the floodwater whenever the Great Ouse breaks its banks, as it regularly does about four times each winter. Usually the floodwaters remain in the fields but this year the rain has been relentless. The river level has remained high and there has been nowhere for the excess water to go.

Water has been lying around for weeks. The fields had been flooded since before Christmas…and the rain just kept on coming. The moment the river level began to drop, up it came again with never a chance for the ground to dry out or for the floodwater to completely get away. Throughout the countryside streams and ditches were already full to overflowing and it just had to happen.

It was on Friday 3rd January that the floodwater reached its peak in Odell and, as usual, the same households found themselves in difficulty. Luckily, however, the water failed to reach the level it attained in 1998 and not so much damage was done, although on this occasion we actually had the Men from The Environment Agency on the scene!

As usual, on such occasions, the Country Park also disappeared under water with the two lakes at the Odell end combining forces across the bridal path. Despite last year's efforts to raise the level of the path running behind the main lake this path also followed its usual custom of disappearing under several feet of water. It will be interesting to see how the material of the new pathways stood up to the floodwater, a situation it will have to face on a regular basis.

The water level remained high for four days before beginning to subside, to be rapidly replaced by a change in the weather bringing freezing temperatures across the whole country. It now remains to be seen whether we have a proper, cold winter or return to the rainfall so recently experienced.

Barbara Corley

W.I.News

The New Year saw us return to our normal meeting place of the Village Hall; however we must thank Doreen and Jim Wheeler for welcoming us so warmly into their home for our bring and share Christmas meal in December. Doreen had gone to great trouble to decorate the table and room and it made a wonderful start to the festive season. After dining well, we exercised our brains with a short festive quiz put together for us by Carol Ormond. It was enjoyed by all.

Several visitors enlarged our audience in January. They had come along to hear Mr Antrobus speaking on 'Life in Bedfordshire during World War II.' He gave us a brisk but complete picture of how life on the home front was affected. He made it relevant to Bedfordshire with references to articles and information he had found in the Public Record Office in Bedford. Following his talk he showed us photographs taken at the time, in Bedfordshire, to illustrate aspects of life he had mentioned. He certainly recalled memories for some of our members and the evening finished as they recounted some of them.

February's meeting

We meet on Tuesday 11th February at 7.30 in the Village Hall; visitors as always very welcome. Our speaker will be Margaret Lingood from Carlton, her topic 'Bacteria Part 2'. We thoroughly enjoyed her talk last year, which is why we asked her to return, so we look forward to an entertaining evening.

Hostesses and Competition

Doreen Wheeler and Margaret Jones are our hostesses in February and our competition is 'A Bug Limerick'.

Rachel Halton 720572

Odell WI. Support for our Parish Church Window Appeal

Odell WI is planning to support the fund raising appeal to raise £25,000 for the restoration of the medieval stained glass window. We aim to do this with a series of related activities which should involve both the village community and families outside the village who worship at All Saints' Church.

●

The Rev David Streater and a WI member will visit the two schools in Harrold to talk about the appeal and to encourage the pupils to design a stained glass window or to draw or paint a view from a window. All youngsters who live in Odell but do not attend the Harrold schools will also be invited to take part.

● In early March every home in the village and every family who worships at All Saints' Church will be given a piece of ribbon and they will be asked to stick coins on it.

●

On Saturday March 22nd a coffee morning will be held in the Village Hall and along with the usual stalls there will also be an exhibition of the children's designs of stained glass windows and views from windows.

●

At the same time as coffee is being served the ribbons will be laid end to end from the church to see how far they can stretch into the village. The aim is The Bell but High Street and Horsefair Lane would be even better. We will invite the press to record it all.

Please support this unique initiative from the WI. We care about our Parish Church and we hope that you will support us in helping to raise funds to restore the medieval window.

.

Keep Warm in Winter

Are you keeping warm in winter? Do you find that you simply feel a slight, but continuous discomfort during the colder months? This could mean that your house is not as warm as it should be. However, making heating and insulation improvements to your house can be costly, even though, when done, the measures often save you money.

The Warm Front scheme offers assistance to those who have problems keeping their homes warm enough in winter. If you would like more information on these kinds of measures or would like to fill in a Home Energy Check form to find out how energy efficient your home is already, please contact:

Abigail Basketter at Bedford Borough Council on Bedford 227364.

Thank You

'Richard and Madeline Jeeves would like to thank everyone who once again were there to help when we were in danger of being flooded over the weekend of 3rd January. Folk just seemed to appear, the support and readiness to move furniture - first upstairs then back down again, make tea, supply and lift sandbags, is so appreciated. Thankfully the worst scenario didn't happen and the river returned to 'normal' within a couple of days. Though we have some months to go until drier weather arrives, we will hopefully not have to call upon help again. Since then, perhaps the several telephone calls and letters to the powers that be, may result in more 'good house-keeping' of the river but only time will tell.'

Paula Radcliffe Run - 8th December 2002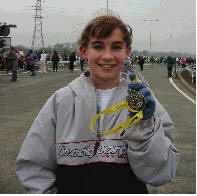 A few hours before Paula Radcliffe was voted BBC Sports Personality of the year in December 'The Radcliffe Run' took place on the new Clapham By-Pass. I took part in the 5km road race and raised £103 for local cancer charities. I want to thank everyone who sponsored me in the race. Thank you very much. Bethan Lee

Oakley Rural Day Care Centre –

Request for Assistance.

We are a registered charity formed in October 1997 with the aid of a grant from Opportunities for Volunteering and a lottery grant to provide Day Care facilities for frail elderly people from villages in North Bedfordshire. Our objective is to provide transport to and from the centre, a hot nutritious lunch prepared in our own kitchen, an interesting day of events including cookery, preparing craft items, gentle exercise, going out on visits, singing and companionship. We also provide interesting talks and visits from the local district nurse who will discuss relevant matters.

We are presently open for three days a week and can cater for 17 people per day. We are currently full with names on a waiting list.

We have a staff of three: a manager, assistant manager and a care assistant plus a team of volunteers. The trustees, management committee and treasurer are also volunteers.

With our present three-day opening, our daily per-person cost is £28. We charge the clients that can afford the fee just £5.50 a visit, the remaining funds being raised from donations and grants.

We need to raise some £35,000 per annum to keep the project running. If we can raise the extra funds (a further £25,000 per annum) we would like to increase our opening to 4 or 5 days a week as we are advised by social workers, doctors and Age Concern that there is a great need for the service we provide.

People are very welcome to visit the centre at any time, however they should call Mrs Lynn Defeo, Centre Manager on Tel. 07733.227374 beforehand and she will tell you the present opening times.

Our clients are lonely, frail, elderly, and mostly financially poor members of our society, some of them cannot even afford to pay the reduced daily fee, so any help the people in your area can provide would be gratefully received.

Odell Parish Council

● Mirror, Tannery Lane: Cllr. Cheadle had obtained a quote of £89 for a 24 inch mirror from Gibbs & Dandy; the Parish Council will fund this as a direct replacement for the broken one. Cllr. Crotty will try to obtain permission from the relevant property owner for the siting of one on the main road opposite Tannery Lane which the Parish Council will also fund, if permission is granted

● Freedom of Information Act: The Parish Council's adoption of the Model Scheme with the Clerk's accompanying note of explanation has been accepted and a public notice to this effect will be displayed.

● Police Speed Checks: Confirmation letter received that our request for positioning of future checks had been passed on. Speed check details for the quarter October - December indicates that this has been taken on board - 1 offender caught in the High Street on 9th October, 1 on 6th November and 2 on High Street/Tannery Lane on 11th December.
● The Agenda for the next Community Liaison meeting received and passed to Cllrs. Halton and Cheadle who will attend.
● The consultation paper for the next Periodic Electoral Review was tabled; this is also to be circulated as a comment document as it has critical importance both from the parish boundary point of view and the financial implications of additional County Councillors being appointed.
Councillors were asked to study the letters carefully and comment. Cllr. Cheadle said he had recently attended a meeting at which this was discussed and he stressed the importance of the Parish Council submitting comments. At the last review Pavenham had only escaped being incorporated into the Oakley parish by vigorous defending of their position with the Boundary Commission.
● Letter from the County Council tabled regarding its poor Comprehensive Performance Assessment; this letter attempted to justify the Council's performance and said it felt it had been unfairly treated.
● Letter from Highways division explaining delays in starting agreed projects due to the very bad weather experienced recently, but stressing these will all go ahead as soon as is practicably possible.
● Planning: No objections were raised to the planning applications for Riverview Cottage, 79 High Street, 45 High Street, and 222 High Street.Odell.

● Grasscutting 2003: Chris Horne confirmed that he will continue for the 2003 season.

Correspondence and Requests
● Sharnbrook School 'Paula Radcliffe Sports Hall' proposal: this had been circulated to all councillors who unanimously agreed support.
● Harrold/Odell Community Liaison Group: Cllr. Halton tabled the papers regarding this. She had attended the initial meeting but the proposed plans had not been disclosed to the meeting. It is now called the 'Ivel & Ouse Countryside Project.' Cllr. Cheadle referred to the bridge behind the Mill and Cllr. Halton said that Cllr. Harrison had had recent dealings with this, which appeared to be an ongoing problem.

Generally for the Business of the meeting

The problem of rubbish dumping at the entrance to Forty Foot Lane was raised. This is a Borough Council problem and Mr. McKever will be contacted regarding clearance.

Borough Cllr. Bridgman said the litter bin had been demolished by a motorist, together with the "Bend" sign. Another sign appears to have disappeared at the end of the High Street, as there are just two supporting legs standing - believed this may be an "Odell" sign. The County Council to be asked to replace these.

Cllr. Gemmel commented on the 3 street lights which are still not working. Mrs. Gershon suggested a letter should be sent to Terry Woodhouse who is in charge of Hyder at County Hall.

Cllr. Sharpe asked who was responsible for ditch clearance as during the recent heavy rain the overflowing of these had caused road flooding and considerable problems. The County Council has no responsibility for ditch clearance and although ditches are the responsibility of the relevant farmer, there is no legal obligation on them to carry out clearance.

Cllr. Crotty commented on the number of abandoned cars seen when travelling. He asked for the procedure regarding these. Cllr. Bridgman said the Borough Council posted a notice on any known abandoned vehicle giving a certain number of days, after which it was removed. However, the Borough Council has no responsibility for vehicles abandoned on private land.
Sand-bag provision

Mr. Hall referred to the December floods and although his own property was not affected, it was quite clear that the provision of sand-bags was very sparse. Regarding an actual policy on the issuing of sand-bags, the Chairman said that the policy seems to be that the Fire Service supplies them and the recipient fills them, but this cannot be definitely relied on! Cllr. Sharpe said she was prepared to hold bags for residents of Horsefair Lane.

It was clear that the onus is on the individual householders to ensure they have the bags and a supply of sand available and fill them when necessary.

Date of next meeting: Due to holidays the next meeting, which is the Annual General Meeting will take place on Monday 7thApril at 8.00p.m.

Rachel Halton 720572

Village Hall News

Happy New Year to you all.

Events

If you have an idea or can help with these let us know, and if you would like a venue for a private function, there is a very reasonable hire fee for helping us maintain the hall.

Dates for your diary!

1st February 2003 - Burns Night

A traditional celebration including Haggis, Neeps and Tatties followed by Scottish dancing. Tickets: £7.50 (Concessions: £5) from 720216 and 720358.

4th April 2003 – Time of Our Lives Theatre Company.

Following another great performance, we have a date for this exceptional theatre group's next presentation, which will be entitled "The Best Of Times". Watch out for details nearer the time.

Waste Paper Collection

Thank you for bringing your waste paper to the bins. Though the return is small, every little bit helps financially and of course the waste is recycled, so if you need to get rid of all that Xmas wrapping - put it in our bin!!

Do please support these events, and do suggest to us your ideas for alternative activities.

Rob Lee (720730) on behalf

of the Village Hall Committee.

The Mill Theatre, Sharnbrook

Diamond Jubilee Season

Now booking!

Amy's View - by David Hare

Tuesday 11th - Saturday 15th March 7.45 pm

A diffusive, incisive, funny and moving play written by one of our finest playwrights of today.

Esme Allen is a well-known West End actress. The visit of her daughter, Amy, with her new boyfriend sets in motion a series of events, which only find their shape 16 years later…

Performed in the West End in 1998, Dame Judi Dench starred as Esme, for which she won several awards, both in England and on Broadway. Tickets: Tues. 11th: £7; Wed. 12th, Thurs. 13th: £8; Fri. 14th & Sat 15th: £9

Booking Points:

The Village Trader, Sharnbrook (in person) - your local booking point

Central Box Office, Bedford 01234 269519;

The Castle, Wellingborough 01933 270007

For Party bookings: Please phone Alison Bean 01234 781372

(10 or more, 10% discount - excluding charity performances)

Mill Theatre dog fouling statement - at your discretion!

Please, don't foul up the country any more – please comply with the law. The grounds, including the access road of The Mill Theatre, are privately owned. The Public Bridle Path extends from Mill Road the length of the access road, continuing across the private car park between the two river bridges, then over the main river. It is increasingly evident that dog owners and their dogs are trespassing from this route, that their dogs are being allowed to foul the grassland and the general area and that owners/handlers are failing to clear up after their dogs. Failing to clear up after your dog is against the law.

Thank you. Theo Gibbs
Diary – February
1st 10.30am Celebration of Christian healing in the context of the Eucharist, St. Albans Abbey.
1st 7.30pm Burns Night, Village Hall.
8th 7.30pm Posh Supper, Watermead, Odell Rd.
11th 7.30pm W.I., Village Hall.
12th 10.30am Meeting Point at Jill's, Rectory Farm.
13th 8pm North Beds Healing Group meeting, Watermead, Odell Rd., Harrold.
15th/16th Snowdrop Weekend, Moggerhanger Park.
25th 10.30am Meeting Point at Eileen's, Corner House, 38 Wymington Park, Rushden.
March
5th 12.30 Fish and Chip Lunch for Senior Citizens, Village Hall.
7th 10.00am Women's World Day of Prayer, Harrold Chapel.
22nd Coffee Morning in Village Hall in aid of Church Appeal Fund.
Magazine Deadline
Please send all entries for the March 2003 magazine to Tricia Hudson (patriciahudson@kbnet.co.uk), Anne Turner or Catherine Corkery by February 12th at the latest. May we remind you that the editorial team exercises the right to edit, shorten or alter any items that are submitted. Also, the opinions expressed in the articles are those of the contributors and are not the responsibility of the editorial team.
Electronic mail address
jh@ti.com

FAX number
01234-721004

Back to the Odell Home Page
---
Last revised: February 10, 2003.