ODELL VILLAGE NEWS
September 2002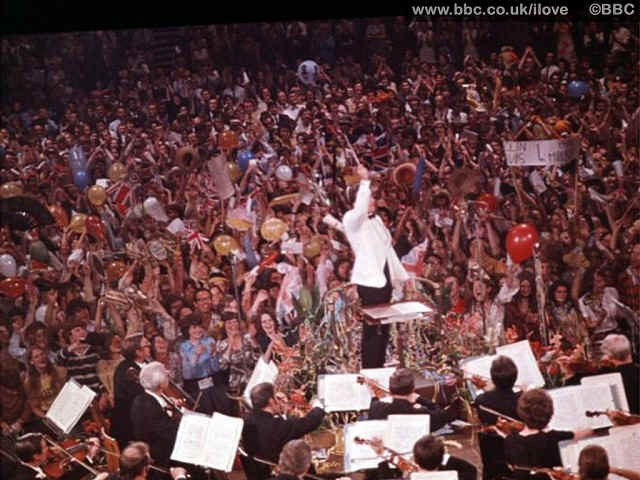 Last Night of the Proms in the Village Hall! - Saturday 14th September - 7.30pm onwards
Birthdays
We send birthday greetings to
Bethan Lee who will be 13 on September 16th
Daniel Bridgman who will be 12 on September 25th ….
And to anyone else with a birthday in September!
Round and About
The Rural Skate.
As part of the initiative to bring activities and fun to the children living in the North Bedfordshire villages throughout the summer months, Odell found itself hosting a Half Pipe skate-boarding unit last July. This is a facility available to the villages for a period of one week at any one time and is for use by children with roller-blades and skate boards.
The Rural Skate is a partnership between Bedfordshire Police, the Bedfordshire Rural Community and the local Parish Council. The mobile facility is put in place and insured by Bedfordshire Police, is accompanied by a list of "Dos and Don'ts" but is otherwise unsupervised.
The Rural Skate arrived, unannounced so far as local residents were concerned, on Thursday 11th July. This amazing edifice began to take shape in the field at the end of Horsefair Lane during the late morning and by tea-time some of the local children were making their first tentative shallow passes. It was also nice to see that those skaters who had helmets and knee pads were happily sharing with those of their companions who did not. Being term time the facility was little used during the day but came into its own during the evenings and at the weekend. On one occasion I saw as many as fourteen little brave hearts putting in their best endeavours at the same time. As regards one or two of them my heart was in my mouth.
What was not expected, however, was the arrival of the fan club. The Half Pipe, having previously visited a number of other villages, had worked up quite a following and as soon as they realised the location of the new site they followed by foot or, as it happened, by push-bike and motor cycle. From what I heard, some of those older boys had come from as far as Bozeat. The down side of all this being that many of them stayed long after dark.
Each time I passed the Half Pipe I would pause, often together with other adults, in the hope of witnessing some derring-do. However, I only saw one boy who could achieve a full sweep of the arc, and he could only complete one go at a time, usually collapsing in a heap as he reached the top! Many of the adult spectators muttered such remarks as…"I'd love to have a go…if only I were a few years younger". I have to confess it looked great fun – if only I were younger and more reckless – but alas, such things as skate boards and half pipes did not exist when I was that age!
Note: The loose stone-chipping path around the main lake has now been re-surfaced and once again makes a pleasant walk.
Barbara Corley
Bedford Mayoral Election
Voting takes place in our village on 17th October 2002
Voting open to everyone on the electoral register.
Local man Ian Clifton from Riseley standing as Independent Candidate.
For more information , contact Ian on (01234) 708893.
Look out for information on other candidates to reach you by October.
W.I.News
We had an interesting talk and slide show in July about Loos, Lavs and Privies. Our speaker had become interested in the subject during the course of his work and started to jot down the location of different types within Bedfordshire. This then led on to him delving into the history of Loos from ancient times to the present day.
August saw us at Greystones for our annual B.B.Q. and for the first time in many years we managed to eat outside. In fact it was so mild we talked on as darkness approached and the candles flickered on the table. It was a significant birthday for our member Barbara Corley so we celebrated in the time honoured way of singing Happy Birthday and inviting her to blow out the candles and make her Birthday wish, - a very relaxing evening with lots of gossip and laughter.
Next month's meeting
This will be in the Village Hall at 7.30 on Tuesday September 10th, all welcome, when we have a group of Hand Bell Ringers from Biddenham visiting us.
Hostesses and Competition
Our hostesses are Kathy Dunn and Rachel Halton and our competition is 'A Musical Pleasure.'
Jumble Sale
The W.I. is to hold a jumble sale on September 21st in the Village Hall at 2.00pm. Please support us in our fund raising efforts either by donating jumble or coming along on the day to pick up a bargain or just to have a cup of tea and a natter. Contributions can be delivered from 10am on the day or picked up before by ringing Rachel Halton 720572 or Doreen Wheeler 720358
Rachel Halton 720572
"Jeffrey Bernard is Unwell"
by Keith Waterhouse
The Forum Players, including former local members of Sharnbrook Mill Theatre, invite you to join them for this account of the life of the late, infamous 'Spectator' columnist, Jeffrey Bernard. Come and experience an evening of life recounted through the eyes of a drunken, cynical genius made famous by his personal and, at times, embarrassing columns about his own wretched experiences.
Performing at 'The Shed', Gordon Arms, Castle Road, Bedford.
Tues. 24th – Thurs. 26th September inclusive, 7.30pm.
Tickets price £6 (£4 concessions) can be reserved for collection on the door by ringing:
07715 058244 or 07780 606623.
Corner Club and Sparkle Club Garden Party
Many thanks to everyone who supported our Garden Party in July. We made the excellent sum of £356 which will be split between the two clubs.
Both clubs are run for adults with learning disabilities in North Bedfordshire, and between them they have some 150 members. As well as raising much needed funds, some members of both clubs came along and enjoyed the afternoon.
So thanks to everyone - your support is much appreciated.
Doreen Wheeler
John Chadwick (Lic Ac MBAcC) Acupuncturist

practising at

The Garden Clinic & Cobb's Garden Surgery in Olney

Acupuncture can help a wide variety of health problems, both physical and emotional. Acupuncture can also help you cope better with life's ups and downs.

Contact John for more information on whether acupuncture can help you. Tel (01234) 241459

Village Hall News

Events

If you have an idea or can help with these let us know, and if you would like a venue for a private function, the very reasonable hire fee will help us maintain the hall.

Dates for your diary!!

14th September 2002 – Last Night of the Proms

Can't get a ticket?! Why not join us in the village hall for a large screen viewing of this national institution. Bring some supper and maybe a bottle! Doors open from 7pm and it's FREE!!

12th October 2002 – Quiz

Start getting your team together for this popular event. Tricky questions, fun questions and even some easy questions; all waiting to be answered, with prizes for the highest scoring teams.

6th December 2002 – Xmas Disco

Sorry to mention Christmas, and it's still only August, but we will be having a disco in the village hall; and only £2.50 a ticket! What better value way to kick start Christmas for a 'fiver' a couple.

New Years Eve

Following last years event many of you have asked that we hold another "Open House". Bring your supper and a bottle, even a game or two, some music and see in the New Year. Is it really nearer to next January than last?!

We are currently completing an application for funding for our disabled access in the village hall. This is a time consuming process and we have a couple of other events we want to arrange before any works are undertaken.

Dates for 2003.

4th April 2003 – Time of Our Lives Theatre Company.

Following another great performance, we have confirmed a date for this exceptional theatre group's next presentation, which will be entitled "The Best Of Times". Get the date in your diary and watch out for details nearer the time.

We are also hoping to re book the Ouse Valley Swing Band early in the New Year.

Do please support these events, and do suggest to us your ideas for alternative activities.

Rob Lee (720730) on behalf of the Village Hall Committee.

The Mill Theatre, Sharnbrook 2002 Season

Following the frivolity of 'Lock up Your Daughters' - something for everyone between now and Christmas!

Dates of forthcoming shows and events:

Loot – A black comedy by Joe Orton, and a genuinely quick witted, pungent and sprightly entertainment.

Tuesday 24th September -Saturday 28th September 7.45 pm

Tickets: Tues. 24th: £6, Wed 25th -Thurs. 26th: £7.50,

Fri. 27th and Sat. 28th:- £8.

Tickets available from:

Sharnbrook Village Trader, High Street, Sharnbrook (in person)

Bedford Central Box Office, Harpur Street, 01234 269519 (credit/debit card facilities)

Wellingborough The Castle Box Office, 01933 270007 (credit/debit card facilities)

Group/Party bookings: Please phone Alison Bean 01234 781372

(10% Discount for 10 or more at the same performance. Offer excludes Charity Gala nights).

Don't Forget! – Sunday 1st September – EXEMPTION DOG SHOW (KC)

Mill Theatre. Entries from 11.00am – judging 12 noon.

4 Pedigree classes & 13 Novelty classes, including Fancy Dress (dog or dog + owner), Rescued or re-homed, Veteran (7years +), X-Bred, Best 6 legs!

Rosettes to 6th place. Refreshments – Bar – Stalls – Raffle.

Details: Gibbs 781298/782377

Me and My Girl - The "Lambeth Walk" Family Musical.

Fri. 8th - Sat 16th November. NB Matinee 16th November.

Primrose Appeal Gala Performance 8th November.

Christmas Revue - Cabaret and Supper with a Festive Flavour.

Fri. 29th & Sat 30th November and Fri. 6th & Sat 7th December.

Plan ahead - make up a party. Interested? Let Erica Lester know 781210!

Hire the Mill Theatre.

A unique Riverside Venue of Character for your Special Event this autumn. Recently refurbished clubroom with mood lighting, heating and double glazing. Adjacent licensed bar and sitting area overlooking the River Great Ouse. Kitchen and ample parking facilities. Subject to date availability. Please contact Mim Bradshaw 01234 781650 for details.

Village Wedding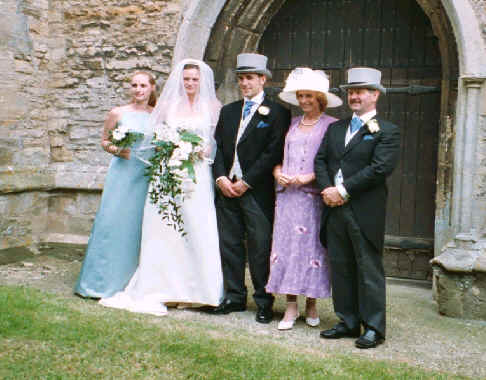 The wedding of Heather and Daniel O'Malley took place on
Saturday June 29th.
Pictured l to r: Elizabeth, Heather, Daniel and Jeanette and
Tony Roche.
September Diary

1st 11.00am Exemption Dog Show, Riverside Grounds,

Sharnbrook Mill.

7th 10.00am Children's Society London Bridges Walk.

10th 7.30pm W.I. Village Hall.

11th 10.30am Meeting Point, Catherine's, Manor Cottage,

Harrold.

14th 10.00am Sponsored Bike Ride.

14th 7.00pm Last Night of the Proms, Village Hall.

14th Farewell to Romanian Visitors BBQ at Liz and

Tim's, Watermead, Harrold.

21st 2.00pm W.I. Jumble Sale, Village Hall.

24th 10.30am Meeting Point, Jane Eshelby's, Newton House,

Avenue Rd., Rushden.

24th 7.00pm Care for Education' evening for school

Governors – see News from the Diocese.

24th 7.30pm "Jeffrey Bernard is Unwell" at 'The Shed'.

25th, 26th " " " "

28th 10.00am Church decorating for Harvest.

28th 7.00pm Jubilee Harvest Supper, Village Hall.

29th 10.00am Service of Harvest Thanksgiving, All Saints'.
Magazine Deadline
Please send all entries for the October magazine to Tricia Hudson (patriciahudson@kbnet.co.uk), Anne Turner or Catherine Corkery by September 12th at the latest. May we remind you that the editorial team exercises the right to edit, shorten or alter any items that are submitted. Also, the opinions expressed in the articles are those of the contributors and are not the responsibility of the editorial team.
Electronic mail address
jh@ti.com

FAX number
01234-721004

Back to the Odell Home Page
---
Last revised: September 14, 2002.