ODELL VILLAGE NEWS

November 2002

Senior Citizens Christmas Lunch in Village Hall

.

There will be a Christmas lunch for senior citizens in Odell Village Hall on Wednesday 4th December. More information to follow. Enquiries to Valerie Streater, 01234 720234.

Birthdays

We send our love and "Happy Birthday" wishes to Georgina Ardley who be celebrating her 3rd birthday on 29th November.

N.S.P.C.C. Collection

The recent House to House collection for the N.S.P.C.C. raised £100.36. Thank you to all who contributed.

W.I.News

We were pleased to welcome Sian Fox from Sainsburys to talk to us about exotic fruit and veg for our September meeting. She was a lovely bubbly lady with a mine of information at our disposal, ready to answer any question put to her. She prepared a variety of products for us to sample, with suggestions on how we could use and present them in our own homes

.

November meeting

We meet on Tuesday November 12th at 7.30 in the Village Hall to start our Christmas countdown. Joy from the Village Trader in Sharnbrook is coming to demonstrate Christmas Flower Arrangements. Visitors and guests are as always very welcome.

Hostesses and Competition

Lynette and Stasia are our hostesses and our competition is 'A Homemade Christmas Card'

.

Jumble Sale

Many thanks to all who supported us, by either supplying the Jumble or attending the Sale. We made enough profit to ensure we can keep functioning for another year.
Rachel Halton 720572

Len Clark 1925-2002
Len Clark was born in Newcastle in 1925 and many years later came to Bedford to work at the power station in Bedford. 10 years ago he married Meg. He died on 27th August 2002 after a year-long illness. Meg would like to thank all those friends and neigbours who supported her with kindness and help with hospital visiting in the last few months. Len will be sadly missed for his quiet friendly words to the many who knew him after he made Odell his home.
Yelnow Farm, Church Lane, Odell.
Back in August we held an Open Weekend in aid of the H.D.R.A. A total of £177.00 was sent to the charity to assist research into organic growing. We should like to thank Pat and Keith Allen for their cheerful and efficient help in achieving this amount, and Doreen and Jim Wheeler who made the occasion so much more enjoyable. Also a big thank you to people who have visited over the last three years and supported this cause.
Jim and Margaret Jones
Bedford Farmers' Market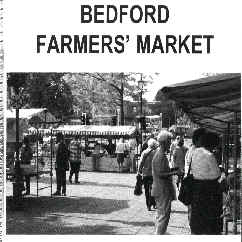 Is visiting St. Paul's Square, Bedford, on the 2nd Thursday of every month, 9.30am – 2.30pm. (November 14th, December 12th).
For all goods fresh from the farm
Vegetables Honey Poultry
Game Flour Plants
Eggs Red meat Fruit
Crafts Preserves Flowers
Village Hall News
Events
If you have an idea or can help with these let us know, and if you would like a venue for a private function, the very reasonable hire fee will help us maintain the hall.
Last Night of the Proms
A very pleasant evening was held in the Village Hall for a large screen viewing of this national institution. Supper was taken as was the odd bottle or two! Many thanks to Jon Hudson for setting up the screen and sound system, and to all who took part on the night.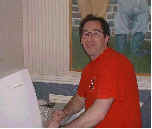 Quiz

A bumper turn out was had on 12th October for this popular event. Tricky questions, fun questions and even some easy questions were all attempted by the 11 teams who entered. If this carries on, we'll have to have a booking system!! For the first time ever we had a tie for first place and to cap it, a tie for third place as well. The joint leaders faced a tie-break which went to the third tie break question before The Mad Dogs pipped Harry's Heroes. In the third round tie The Odd Ones beat The Tanners after a two round tie-break. There were some very good scores out of a total of 124.

Dates for your diary

6th December 2002 – Xmas Disco

Getting closer to Christmas, and we will be having a disco in the Village Hall; and only £2.50 a ticket!! What better value way to kick start Christmas for a £5'er a couple.

New Years Eve

Following last years event many of you have asked that we hold another "Open House". Bring your supper and a bottle, even a game or two, some music and see in the New Year.

Our application for funding for our disabled access in the Village Hall is still being put together. It is a time consuming process to get it right and we will have a couple of other events before any works are undertaken.

Dates for 2003.

4th April 2003 – Time of Our Lives Theatre Company.

Following another great performance, we have confirmed a date for this exceptional theatre group's next presentation, which will be entitled "The Best Of Times". Get the date in your diary and watch out for details nearer the time.

We are also hoping to re- book the Ouse Valley Swing Band early in the New Year.

Do please support these events, and do suggest to us your ideas for alternative activities.

Rob Lee (720730)

on behalf

of the Village Hall Committee.

Round and About

I have known a number of cats in my time. They come in all shapes and sizes and a multitude of colours…and they all have one thing in common – the utter grace of them, right down to their toes. However, there are no ordinary cats.

They have this wonderful ability to make themselves comfortable, whether on the uppermost edge of a fence or tucked up in the comfort of the best armchair in the house. The cat is scrupulously clean, neat and tidy and when they sit down they wrap themselves about within the curl of their tail as if to emphasise this very neatness. There are 7.5 million pet cats in Britain compared to only 6.1 million dogs, making them the most popular pet in the country and strange to say, one in ten British cat owners have ended their marriage or long-term relationship because their partner did not like their pet!

The modern cat is descended from the African wildcat and evolved as a desert creature. The ancient Egyptians first domesticated them more than 6000 years ago. They were so revered that when a household cat died the human occupants of that house had to perform numerous mourning rituals, which included shaving off their eyebrows. Many of the ancient Egyptian tombs have revealed quantities of mummified cats.

Sadly, in medieval times people persecuted cats because they believed them to be agents of evil and in league with witches. In these earlier times the population feared what it did not understand and much of their fear of the cat was probably based on the enigmatic nature of the cat. They were considered to be creatures of the night with a strange ability to see in the dark, (their eyes require less than one sixteenth of the light that humans do), and they have an ability to squeeze through spaces deemed to be smaller than their bodies. Add to this their extraordinary skill to always land on their feet – even from a great height – we can, perhaps, get an idea of where this fear comes from. However, latterly it has been proved that they do not always land on their feet!

Cats can make as many as 100 different sounds, from miaows, purrs, yowls and chirrups. Studies at Cornell University, USA, even suggest that cats have tailored the sounds they can make in order to get what they want from their human owners. It would seem that they know which levers to press and what sounds to make to manage our emotions.

Some people can constantly fuss over a cat only to be constantly rejected whilst others make no effort whatsoever, only to have cats continually coming to them. It is all to do with body language and the unconcious signals we send out. Cats are attracted by calm and approachability. A cat's tail is a highly sensitive signal of its mood. An erect tail signifies happiness and content. A gentle ticking of the tip of the tail indicates pleasure or anticipation. A tail that twitches from side to side suggests frustration whilst a violent thrashing of the tail is a sign of anger.

A home with a serene and contented cat within it is a comfortable home. Your cat will always predict the time of your arrival and be there to greet you. A cat curled up upon your knees will purr with pleasure when you stroke it and in return will lower your blood pressure – one reason perhaps why cat owners are said to live longer. Cats make people feel better and are increasingly being introduced into residential homes to improve the health of the elderly and into hospitals to speed up recovery in children's wards.

As with humans, a cat's life expectancy is increasing – excluding traffic accidents – and the average cat can now expect to live to the age of twenty. However, it is perhaps wise to bear in mind the words of Rudyard Kipling in his 'Just So Story' for the cat:

Cat said "I am not a friend, and I am not a servant. I am the cat who walks by himself – and I wish to come into your cave."

Barbara Corley

The Mill Theatre, Sharnbrook

- 2002 Season

Friday 8th to Saturday 16th November

7.45 p.m.; Matinee 9th November, 2.30 p.m.

Me and My Girl

Music by Noel Gay, book & lyrics by

L. Arthur Rose & Douglas Furber. Book revised by Stephen Fry.

The delightful Family Musical,

telling the tale of a cockney barrow boy's climb up the social ladder; featuring the hits "The Lambeth Walk", "Leaning on a lamp post", "The Sun has got his hat on"….

Book early!

Tickets: Matinee Sat. 9th & Mon. 11th - £7;

Sat 9th eve. & Tues. 12th – Thursday 14th - £8;

Fri. 15th & Sat 16th - £8.50;

Available from:

Sharnbrook Village trader (in person)

Bedford Central Box Office 01234 269519*

Wellingborough Castle Box Office 01933 270007*

(*Credit & Debit Card facilities)

Group party bookings: Alison Bean 01234 781372

10% discount for 10 or more (excluding charity performances)

Primrose Appeal Gala Performance Fri. 8th November, tickets available from Brian Hanling 01234 356051.

ChristmasRevue

Fri. 29th & Saturday 30th November also Friday 6th & Saturday 7th December: Festive Cabaret by the Company of the Mill Theatre including supper prepared by The Mill House Restaurant.

Tickets £15, for Friday 6th December only, at time of going to press.

Please phone Erica Lester 01234 781210

To hire the Mill Theatre recently refurbished, heated and double glazed Clubroom and Bar for your special occasion, please contact Mim. Bradshaw 01234 781650

Corner Club

Making a Difference

The Corner Club aims to help adults with learning disabilities to be part of their local community. On Fridays, from 3:00 - 4:30 at Harrold Centre, we have a social club with various stimulating activities. In addition this

summer, we have enjoyed making music with Soundbeams, held a Boccia Ladder Competition, had a trip on the Leighton Buzzard Railway and participated in Harrold Pit Run.

Can you help? - on either a regular or occasional basis with making tea, helping with music or craft or just being a friend. If you are interested please call Doreen Wheeler (01234 720358) or Lucy Clements 217812.

You really could make a difference!

Diary

2nd 6.00pm Bonfire Night Party, The Park, Moggerhanger.

5th 10.30am Meeting Point at Jill's, Rectory Farm.

12th 7.30pm W.I. Village Hall.

14th 9.30am Bedford Farmers' Market, St. Paul's Square.

20th 10.30am Meeting Point at Catherine's, Manor Cottage, Harrold.

December.

3rd 10.30am Meeting Point at Eileen's, Corner House, Wymington Park, Rushden.

4th Tba Senior Citizens Christmas Lunch, Village Hall.

6th 10.30am Christian Family Care Hamper Coffee Morning, Hobbs Green Farm.

6th Tba Christmas Disco, Village Hall.

Magazine Deadline

Please send all entries for the joint December/January magazine to Tricia Hudson (patriciahudson@kbnet.co.uk), Anne Turner or Catherine Corkery by November 12th at the latest. May we remind you that the editorial team exercises the right to edit, shorten or alter any items that are submitted. Also, the opinions expressed in the articles are those of the contributors and are not the responsibility of the editorial team.

Electronic mail address
jh@ti.com

FAX number
01234-721004

Back to the Odell Home Page
---
Last revised: November 10, 2002.