ODELL VILLAGE NEWS
May 2002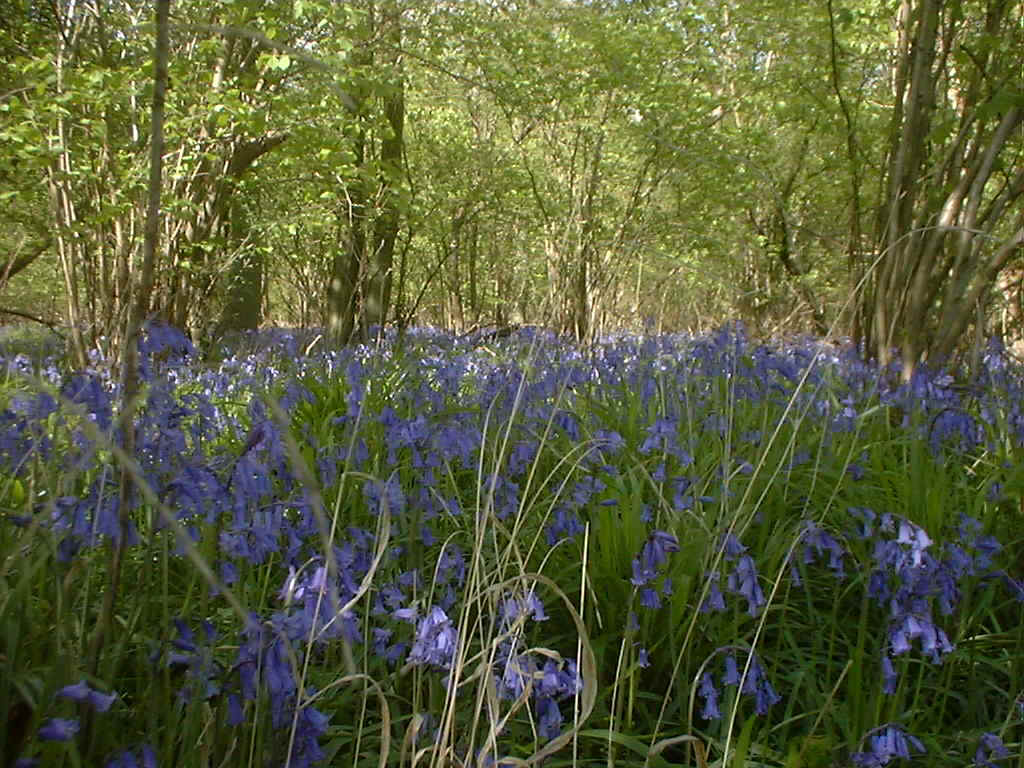 Above - Bluebells in Odell wood - April 28th 2002
Harrold 20th Pit Run and Golden Jubilee Fayre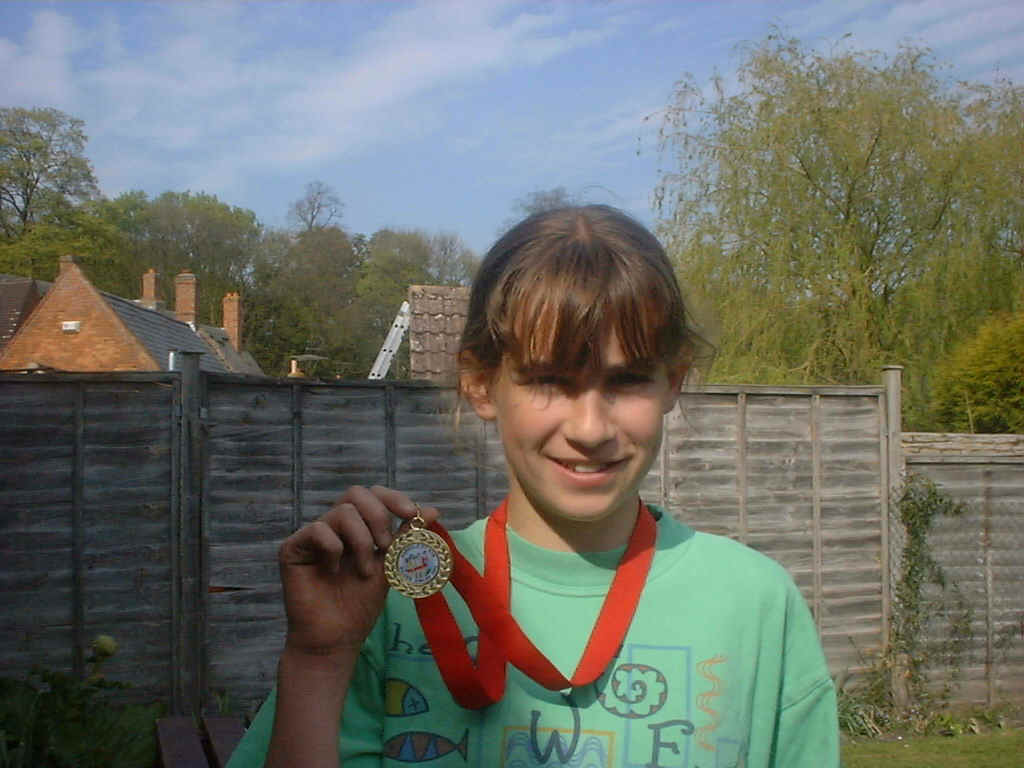 April 20th
This year the sun shone and a lot of people turned out to watch the races, and spend a few happy hours enjoying all the sideshows and stalls on Harrold Green.
Highlights for us started with Bethan Lee running for Corner Club and
winning the Girls' Middle School event, again (see page 26). Then Leslie Knowles was pushing the winner of the wheelchair event, closely followed by Eric Berridge who pushed into third place.
In the main race there were only three ladies admitting to being over 50 so I came first and Ann Hudson second as supervets. Thanks to everyone's generosity, Lucy, the dog, and I won the Rose Bowl for the maximum sponsorship, raising over £350, half of which will go to Aid for Romania. Thank you everyone! Liz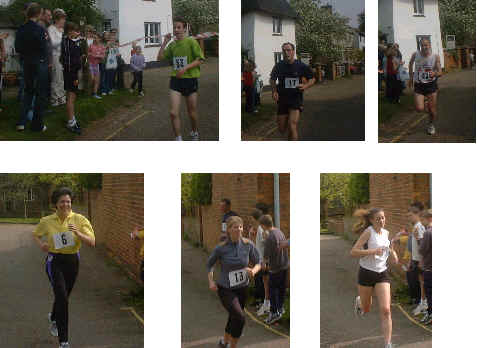 Top row: First 3 men
Bottom row: First 3 women
Odell Village Golden Jubilee Fete June 8th 2002
Hopefully everyone has kept the date free for our special Golden Jubilee Village Fete and Dog Show. Don't forget to invite all your family and friends for the day.
The site is once again the field at the end of Horsefair Lane. Residents have been warned!
The theme, of course, will be all things ROYAL
Family Dog Show Pony Rides Cash Raffle
Children's Collage Competition Tombola
Fire Brigade Children's Sports Local Band
Lucky Programme Draw Children's Stalls Ice Creams
Make Your Own Crown and Join the Parade Refreshments
Many Sideshows
Gifts White Elephant Bottle Stall
Books Cakes Plants Produce
FAMILY DOG SHOW
This year's special new event, organised by Roma Garon.
Classes will be:
Puppy under 12 months
Country Sporting dog or bitch
Best rescue dog or bitch
Dog or bitch with the most appealing eyes
Dog or bitch most like its owner
Dog or bitch in best condition
Veteran dog or bitch over 7 years
Children's handling, 14 years and under
And finally - Best In Show
So, start brushing and beautifying your dogs and yourselves for your debut in the ring! Special arrangements have been made to park cars containing dogs for the show in the field at the Country Park, but only if they arrive before the Fete opens at 2pm.
Once again, there will be all the usual Fun and Games so please start collecting, cooking, and offer your services to Jill Cheadle (720261) and Jane Eshelby (01933 410959) if you aren't already on their lists. Some vital helpers can't be here this year so we desperately need new volunteers.
With our minds thinking of the Queen and Royal Family, there will be a children's collage competition, and the chance to make and decorate your own crown and then join the Grand Parade to find out who is the winner.
Round and About
Perchance to Dream
What a strange thing it is that in our all too short a life we voluntarily spend one-third of that time fast asleep in our beds ... "tucked up tight", "snug as a bug in a rug", safe in "the Land of Nod". Even the words we choose to describe this state of unconsciousness (when, in a more primitive age we would have been at our most vulnerable) call to mind a sense of warmth, comfort and security. Many of the world 's most celebrated poets have sought to put into words this pleasurable suspension of our senses. Two thousand years ago Ovid said "Sleep - thou rest of all things, balm of the soul".
So what is this thing called sleep? In earlier times, when our forebears lived in a more labour-intensive world, people slept for a much longer period and even our grandparents required at least two more hours in which to refresh themselves to face another day. Sleep, whatever it may or may not be, is clearly a necessity, a time to re-charge the batteries. Whether our tiredness be mental or physical, sleep is what our body craves. The eyelids become heavy, the brain slows and try though you may sleep will overtake you. You may be at home watching your favourite television programme, out at the theatre or even driving your car. No matter how active you wish your brain to be - when you are tired there is nothing you can do to prevent it. In emergency circumstances people take drugs to stay awake and alert but time will always creep up on you and sleep will always take charge. Yes, I know ... I can hear you. There are some people out there saying, "I wish - I wish". There will always be exceptions to break every rule.
And yet ... our modern lifestyle calls for a round-the-clock effort on our part. We seem to get by on less and less sleep. We work longer hours, we spend our evenings on the internet, at the disco or the nightclub. Shops stay open for 24 hours a day and someone must use them in the middle of the night or they would not be open in the first place.
Sleep deprivation brings in its wake great personal distress and exhaustion, not only of the mind but of the spirit, leading to an impaired ability and to carelessness. We lose our concentration and become irritable. According to various poets "sleep is a gentle thing beloved from pole to pole", "To sleep - perchance to dream", and as "golden slumbers touch your eyes" sleep remains a fundamental mystery yet to be solved.
Update to the Work in the Country Park
Work on the bridleway and footpath was resumed on Tuesday 9th April (the day of the Queen Mother's funeral). First the JCB had to knock the top off the little hillocks of solidified stone chippings abandoned to the weather eight weeks earlier. A continuous layer of pink stone chippings was then laid from the Horsefair Lane entrance to the junction, turned right behind the lake and right again on to the footway to the Odell Road, Harrold. All this was then rolled and the bridleway section covered in a layer of the coarse sand-like material already used elsewhere on the bridleway.
I do not know whether all the work has been finished, as I am being pressed to deliver my article but I like what they have done to the bridleway and when the surrounding grass area heals it will look nice. The bridge over the drainage culvert is quite impressive and walkers would have no idea of the bricks and rubble hidden under the surface to ease the incline. I only wish I could say I like the path. It has cost the taxpayer a pretty penny and technically it looks quite good but it looks as though it has been made with vehicles in mind more than people. It is wide and impersonal like a stone road and all I can do is remember how it was many years ago. A narrow winding path meandering its way behind the lake, overhung by trees and surrounded by birdsong. You had to hop over little streams as they gurgled down to the lake and as you turned yet another bend in the path you would come across a deer or fox staring at you in startled surprise .....now it is a stone road from any place. Barbara Corley
W.I.News
Dr Mabel Blades joined us this month to talk about her hobby. This began many years ago when her husband presented her with two lambs as a birthday present. She successfully reared them and over the years other sheep breeds joined them till she had a flock of thirty animals. She tends, and clips them herself with occasional help from her husband and a local farmer. During this time she has also reared pot bellied pigs, hens and other animals. Recently her interests have changed and she and her husband have brought a 120 acre wood. They are in the process of returning it from a coniferous to a deciduous wood. She delighted us with her tales of the wild life that inhabits it.
Next month's meeting
Tuesday May 14th will see us gathered in the Village Hall at 7.30 for our A.G.M to be followed by a quiz.
Hostesses and Competition
Jill Cheadle and Carol Ormond are our hostesses. Rachel Halton
House Wanted
Tony and Jo Morris are urgently seeking a house/bungalow in the Odell, Felmersham, Sharnbrook, Carlton and Radwell area.
Roomy sitting room, dining room and good sized kitchen are essential. Other accomodation immaterial.
Price around £300,000. Cash immediately available.
Please telephone 782507.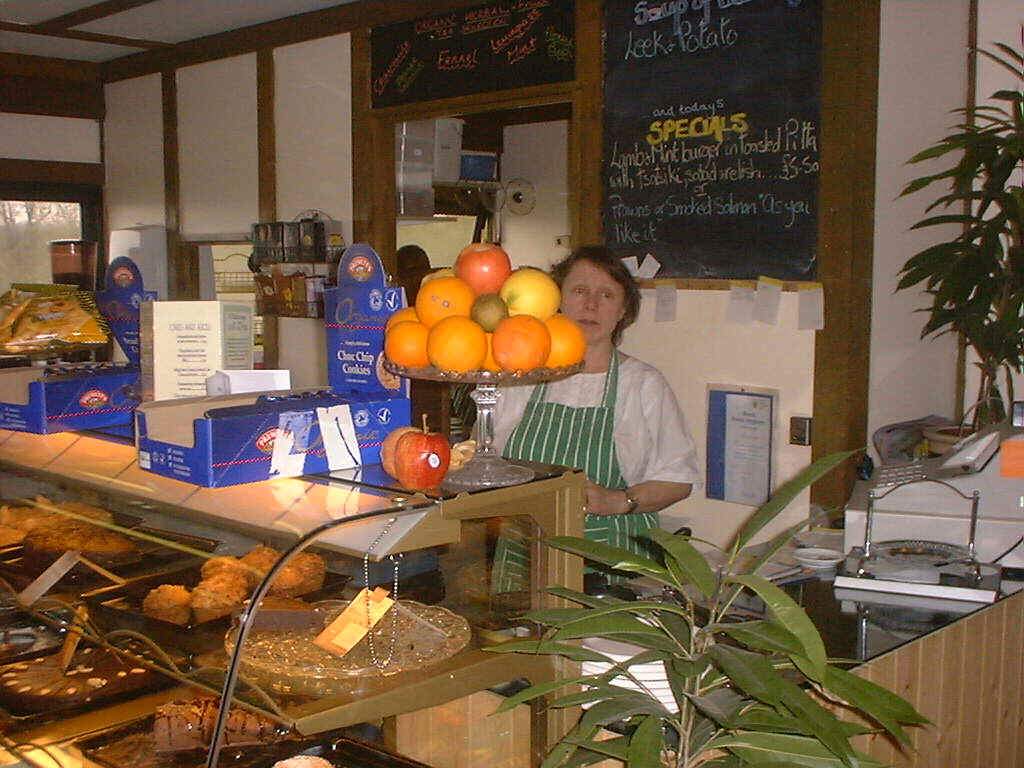 The Café in the Park
A warm welcome is extended to all visitors to 'The Café in the Park' by Trudy Norman and her staff. The café – situated on the former premises of 'Truly Scrumptious', offers home-made food of the best quality, often made using the finest local ingredients which are frequently organic. The menu boasts a selection of meals and snacks which cover all tastes; special diets, such as gluten-free, can also be catered for on request. As for the selection of cakes – simply mouth-watering! An early visit to the café is highly recommended!
The Café in the Park is open seven days a week, from 9.00am to 4.30pm.
Odell Parish Council
At the Annual Meeting of the Parish Council to which all parishioners are of course invited, the Chairman Mrs Rachel Halton gave her report of the activities of the Parish Council during the preceding year. It was a pity that not one parishioner actually attended.
1 Roads. The Beds. C.C. was constantly badgered to get potholes mended, and footways cleared, with some success. But the resurfacing of Horsefair Lane remains yet again as a promise to be done in the financial year 2002/3.
2 The allotments were re-let at £600 pa, this sum to be shared with the Church.
3 Dog owners have been requested to keep their dogs on a lead in Horsefair Lane, and everywhere to clean up after any fouling. Parishioners can report any offences confidentially on 01234 262277.
4 The police continue to make periodic checks on speeding in the Village.
5 The Clerk's salary has been increased to reflect the rising workload caused by new Legislation.
6 The Parish Council made donations as follows:
Earl Haig Poppy fund £100, Villager Bus £60.
Additional Parish Council business:
Country Park. Much has been done to improve the pathways, but the Parish Council has told Beds CC that there should be proper gates fitted to prevent overnight campers.

A new Notice Board had been ordered and it has since been erected by the Bus Stop.

The Village Hall Committee's Planning application for wheel chair access was considered and approved. However the lease on the Playground has now expired, and the Village Hall Committee is in negotiations with the owner of the land.

Parking restrictions. The Parish Council considers that there should be no yellow lines to indicate parking restriction in the Village.

Skips for bulk waste will be in the village on 9th June, and 27th October. The hours are from 12 noon to 3 pm on each day.

A request is to be given to the County Council for the lamp posts to be re-painted.

The names of the Councillors for the coming year are: Mr Cheadle, Mr Crotty, Mr Gemmel, Mrs Halton, Mr Harrison and Mrs Swift. A further Councillor is to be co-opted. Jonathan Harrison, Odell Parish Council
Village Hall News
Events
If you have an idea or can help let us know, and if you would like a venue for a private function, the very reasonable hire fee comes in handy too.
3rd June 2002 – Queen's Jubilee
An event is being planned and details will be given out shortly. Do keep the date free in your diary, to join a village celebration of this Royal event. Rob Lee (720730) on behalf of the Village Hall Committee.
The Mill Theatre, Sharnbrook
2002 Season
"Lock Up Your Daughters" Friday10th May to Saturday 18th May
By Laurie Johnson, Lionel Bart and Bernard Miles.
This bawdy musical was the opening production of the new Mermaid Theatre in 1959 and tells of the adventure of sailors eloping, mistaken identity, counter plot and cries of "Rape!" all set in 1730s London. Adults only! All shows 7.45pm.
Tickets: Sat. 11th- £8, Mon. 13th - £7, Tues. 14th -Thurs.16th - £8, Fri.17th and Sat. 18th -£8.50 Gala Performance for Bedfordshire W.I. Fri. 10th May. Tickets: tel 01234 359538
Tickets available now from:
Sharnbrook Village Trader, High Street, Sharnbrook (in person)
Bedford Central Box Office, Harpur Street, 01234 269519 (credit/debit card facilities)
Group/Party bookings: Please phone Alison Bean 01234 781372
(10% Discount for 10 or more at the same performance. Offer excludes Charity Gala nights).
Dates of forthcoming Shows, Workshops and Auditions
"Loot" Drama by Joe Orton. 24-27 Sept 2002 -7.45pm.
Rehearsals start 11th June.
Details: Susan Moore: 01933 318318
"Me and My Girl" The "Lambeth Walk" Musical, Fri 8th-Sat 16th Nov. 7.45pm.
Workshops: Mon 20th & Wed 22nd May 7.45pm.
Auditions: Sun. 26th May, time TBC.
Details: Melanie Coleman: 01933 315043 or Julie Futcher 01933 624308
Calling former "Sharnbrook Players"
Join us for "The Lambeth Walk"!
Sharnbrook Mill Theatre have been invited to perform, 'in costume', The Lambeth Walk from Me & My Girl in the Golden Jubilee Sharnbrook Playing Field Fete Arena on Monday 3rdJune, pm, perhaps with one or two Pearly Kings and Queens! We would be delighted if you would join us then and, prior to that, at the Mill Theatre to rehearse on Mon. 20 & Wed. 22 May at 7.45pm. Please contact Theo Gibbs 01234 782377.
Summer Drama School 2002 Mon. 29thJuly to Sat 3rd August, at Sharnbrook Mill Theatre, for those aged 9-18 years, under the direction of a professional Drama Tutor, culminating with a performance on Saturday 3rd August. Course fee £100. Please apply to Mrs Erica Lester, on 01234 781210 The Mill Theatre, Mill Road, Sharnbrook, Bedford. Just a few places left.
Hire the Mill Theatre.
A unique Riverside Venue of Character for your Special Event this summer. Recently refurbished clubroom with mood lighting, heating and double glazing. Adjacent licensed bar and sitting area overlooking the River Great Ouse. Kitchen and ample parking facilities. Subject to date availability. Please contact Mim Bradshaw 01234 781650 for details.
Any Answers?
My name is Lesley Allen (nee Cooper),and I am descended from
the Coopers of Odell ,there seems to have been quite a lot of them. My
particular ancestor moved to Harrold about 1835, his name was Thomas Cooper. Last autumn we paid a visit to Odell, had lunch in The Bell
and spent a pleasant hour looking through the three pictorial histories of the village. We then purchased the excellent Millennium Book and all this has given me the hope that there is a lot more information out there as the Coopers were such a local family. If anybody has any more details about this family I would love to hear from you. We intend to visit again later in the spring and see the village and river at its best.
I can be contacted at 4 Coombe Close, Stoke Mandeville, Aylesbury, Bucks HP22 5UD Tel 01296 612640
May Diary
1st & 8th 7.45pm Basic Course on the Healing Ministry, St. Andrew's Church, Bedford.
7th 10.30am Meeting Point, Jane Eshelby's.
11th 10.00am Fete working party and BBQ Linden House,
11th 3.30pmAbigail House:For young people: 'A Taste of Nepal', .
7.30pm Richard Hudson talks about Nepal, Abigail House.
14th 7.30pm W.I. Village Hall.
15th 7.45pm Basic Course in the Healing Ministry, St. Andrew's Church, Bedford.
18th 9.45 – 12.45pm. Bible Fun for the Very Young, Hoddesdon, Herts,
22nd 10.30am Meeting Point, Liz Dodwell's.
25th Pentecost Praise Celebration, St. Albans Abbey.
25th 10 – 12 noon St. Albans Diocesan Supporters Group meeting, Dunstable.
June Diary
3rd Queen's Jubilee Event
8th 2.00pm Village Fete
9th 10.30am Service of Praise held in tent, Horsefair Lane.
9th 12 – 3pm Skip in village.
19th Jenny Ottewell at Hobbs Green. Bring & Share Supper.
Magazine Deadline
Please send all entries for the June magazine to Tricia Hudson (patriciahudson@kbnet.co.uk), Anne Turner or Catherine Corkery by May 12th at the latest. May we remind you that the editorial team exercises the right to edit, shorten or alter any items that are submitted. Also, the opinions expressed in the articles are those of the contributors and are not the responsibility of the editorial team.
Electronic mail address
jh@ti.com

FAX number
01234-721004

Back to the Odell Home Page
---
Last revised: April 28, 2002.