ODELL VILLAGE NEWS
June 2002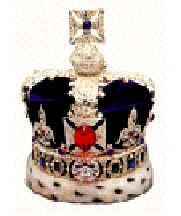 Odell Village Golden Jubilee Fete June 8th 2002
Hopefully everyone has kept the date free for our special Golden Jubilee Village Fete and Dog Show. Don't forget to invite all your family and friends for the day.
The site is once again the field at the end of Horsefair Lane. Residents have been warned!
The theme, of course, will be all things ROYAL
Family Dog Show
This year's special new event, organised by Roma Garon.
Family Dog Show
(entry fee – £1 per dog per class)
Classes are:
Puppy under 12 months
Country Sporting dog or bitch
Best rescue dog or bitch
Dog or bitch with the most appealing eyes
Dog or bitch most like its owner
Dog or bitch in best condition
Veteran dog or bitch over 7 years
Children's handling, 14 years and under
And finally - Best In Show
So, start brushing and beautifying your dogs and yourselves for your debut in the ring!
Special arrangements have been made to park cars containing dogs for the show in the field at the Country Park, but only if they arrive before the Fete opens at 2pm.
Once again, there will be all the usual Fun and Games so please start collecting, cooking, and offer your services to Jill Cheadle (720261) and Jane Eshelby (01933 410959) if you aren't already on their lists. Some vital helpers can't be here this year so we desperately need new volunteers.
With our minds thinking of the Queen and Royal Family, there will be a children's collage competition, and the chance to make and decorate your own crown and then join the Grand Parade to find out who is the winner.
Festival Weekend Church Service 10.30am.
On Sunday June 9th at 10.30am (NB later than the normal service) there will be the usual Church Service in the tent on site in Horsefair Lane. All are very welcome.
This will be followed by a Thank You lunch for residents of Horsefair Lane and all helpers. Bring your own plates, cutlery, glasses and drink.
It would greatly help with the organisation if you can please try to let Mandy Sharpe or Jill Cheadle know that you are coming.
Birthday Greetings To:
Robert Merret who will be 12 on the 11th.
And to anyone else who has a birthday in June.
Harrold Gardens Open
Sunday 23rd June, 1.30 – 5.30pm
Lunches, teas and tickets at
United Reform Church
In aid of local churches and charity.
Round and About
It's a Dogs Life!
I have recently been visiting the Wood Green Animal Shelter - and I have to say what a magnificent job they are doing and I would recommend anyone to re-home a pet dog or cat in this way. But, oh! what a desperate place it is.
With fields of gently grazing sheep and goats, or, horses and donkeys, (I didn't see any cattle) it has a deceptive front. I didn't visit the cattery or small animal section but with a legacy of £lm. they have already built a new cattery in the form of a series of cottages set within a garden to house 96 cats.
A new dog unit is currently being built but the present residents are housed in a number of carousels. The new animals are kept in a special assessment area and after a stay of about four days "acclimatising" they are moved into the re-homing area which houses about 60 dogs at any one time. There are four carousels divided into 9 pens which each take two dogs. The tenth sector is kept for access to the private quarters of each pen and for administration. There is also an on site veterinary section with hospital to care for those animals in need of medical attention.
You need to have your emotions under firm control when you visit this shelter. Many of the younger dogs seem to cope with kennel life quite well but others are completely traumatised by the whole experience. Some sit forlornly in a corner whilst others retreat into their private quarters and cannot be enticed out.
So many of these dogs are emotionally damaged. There is the little dog described as an escape artist. There is no fence too high that he cannot climb, no door he cannot unlatch or ventilator window he cannot get out of...all this and he only has three legs. Add to this the fact that he dislikes children and it has to make him a difficult dog to re-home. Then there is the butter-wouldn't-melt-in-his-mouth chap who could not be left alone for a moment. Such is his insecurity that within minutes he starts to bark, then relieve himself in every way before setting about destroying the furniture. One family did try to give him a home. He was not alone. His new owner was merely pegging a sheet out on the line. She could hear him barking and when she got indoors it was to find one of the armchairs completely wrecked!
Some of these dogs have been cruelly treated or neglected, others are so highly strung or so strong willed they have proved to be too difficult for their previous owner to handle. Large and small, they all end up at the Animal Shelter. They come in every shape and size and pedigree does not seem to save them. On my first visit I saw three standard schnauzers, a Tibetan terrier and a Basenji. Most surprising of all was the huge bull mastiff who practically filled his pen. He just sat there, motionless, staring unseeing into the distance. On my second visit, to my amazement, he had already been re-homed. But on this occasion it was the little Yorkshire terrier that upset me as, stiff-legged, he frantically defended his patch.
Saddest of all are the dogs who find their way to the Shelter due to a bereavement. Mostly these dogs are elderly and after years of cosseting by their doting owner they are totally bewildered by their new circumstances. Not only have they lost their owner but at the age of 10 - 12, and in one case 14 years, they find themselves in a cold, hostile environment of concrete floors and echoing metal cages. They tear at your heart and make you want to gather them all up in your arms and take them home with you.
In the last 12 years I have homed two rescue dogs. They both came with emotional hang-ups, but it was rewarding watching them respond to care and attention. All these dogs want is a place to call home and someone to love. Barbara Corley
Evening Walk to Yelnow New Wood
Wednesday 26th June 2002 7.00pm
A walk to Yelnow New Wood will assemble and start outside The Bell at 7.00pm. Ed Burnett the Parish Paths Partnership Officer for Bedfordshire County Council (another name for the person who looks after the Rights of Way!) will lead the walk. It should take about two hours and returning to the Bell for refreshments afterwards. Please turn up for a leisurely stroll and get to know a little more about your Parish. Richard Hall
Felmersham Pre-School Jumble Sale
In Felmersham Village Hall
Saturday 15th June, 2 – 4pm.
Admission 30p.
Refreshments available.
W.I.News
Our Annual General Meeting gave us a chance to look back on the year and to thank everyone who had helped to support the Odell W.I. whether by attending meetings and outings or participating in our work for charity. We raised approximately £700 for various causes. We had pleasure in presenting Jane Eshelby with the competition cup together with a voucher. The resolutions for next month's annual conference were discussed, the first relating to the decline in small abattoirs and the second to the import of foodstuffs. After a vote it was decided to support both.
Our committee and chairwomen remain unchanged but our membership has dropped to 15. If any ladies out there would like to join us they can be assured of a warm welcome.
This seems an appropriate time to refresh our minds of what the W.I. stands for: -
"The main purposes of the Women's Institute are to enable women who are interested in issues associated with rural life, including arts, crafts and sciences to improve and develop conditions of rural life, to advance their education in citizenship, in public questions both national and international, in music, drama and other cultural subjects and in all branches of agriculture, handicrafts, home economics, health and social welfare. It seeks to give to all women the opportunity of working together through the Women's Institute organisation, and of putting into practice those ideals for which it stands". The organisation is non-sectarian and non-party political.
The evening was finished by a small quiz kindly put together by Mandy Sharpe. The winning team was Joyce Knight, Carol Ormond, Margaret Jones and Rachel Halton. Well done.
Next month's meeting
There is no meeting in June as so many of the members are involved with Jubilee celebrations and of course Odell Fete. Any donations for the produce stall would be gratefully received, either on the day or before. In July we meet on Tuesday 9th July at 7.30 in the Village Hall to hear Dennis Bidwell's talk on 'Loos, Lavs and Privvies'.
Hostesses and Competition
Mandy Sharpe and Jane Eshelby are our hostesses in July and the competition is a Toilet Paper Collage. Rachel Halton 720572
Open Days at Yelnow Farm, Church Lane, Odell, 15th and 16th June.
Following on from our previous successful weekends, on 15th and 16th June we will be opening again for the Henry Doubleday Research Association as part of the national network of open days to promote research into organic growing.
Visitors are welcome to walk around the farm and kitchen garden, and see the ducks, geese and hens, the woodland, and wildlife pond and then to try their hand in the green woodwork shop.
Admission is £1 and refreshments will be available.
Opening times: 11am – 6pm.
Dogs welcome on leads. Hand thrown pottry, organic eggs and bedding and other plants will be for sale.
For further details please ring 01234 721296.
Odell Parish Council
Details of the recent meeting of the Odell Parish Council.
1.Mrs Halton was elected Chairman.
2 Mr Cheadle was elected Vice Chairman, and the Councillors attending included Mr Gemmel, Mrs Sharpe, Mrs Swift, and Mr Harrison. Mr Crotty had sent his apologies.
3 We have requested the Bedford Borough Council to clean the verges of the roads in the Parish but have had no satisfactory response. This will be pursued.
4 Rural grants are available, and we shall be supporting the Village Hall committee in their application.
5 An exhibition of Bedford B.C's plans for the town centre is to be set up in the Harpur Centre from 25 - 31 May this year.
6 We have requested that the street light standards be repainted.
7 We will apply for the loan of a skate board facility to be available for the children in the village during the summer holidays.
8 We have noted that the Police have dealt with speeding offences within the Parish as follows:
January 2, February 3, March 1.
We have yet to discover exactly how these offenders were dealt with. Was it a warning? A fine? Compulsory training or even imprisonment?
9 The County Council will offer financial support for luncheon clubs organised by parishioners in rural Parishes. Application can be made to any Parish Councillor.
10 We have requested Consignia (the Post Office) to repaint the pillar box by the bus stop.
11 We have requested that Bedfordshire County Council to give urgent attention to the state of Horsefair Lane, where the road surface has been damaged by the contractors who were dealing with the improvements to the pathways in the Country Park.
Jonathan Harrison. Odell Parish Council 16th May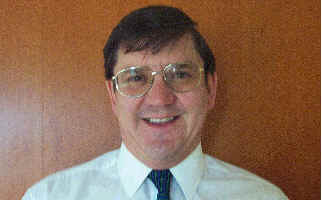 Thank you to all those of you who voted for me in the recent Borough Council elections, I am pleased to say that I will be your Borough representative for the next four years. If you have any questions or issues relating to the Borough Council that you would like me to take up, please contact me on Bedford 720720, or via e-mail Martin@odellgrange.freeserve.co.uk
Martin Bridgman
Corner Club presents:
A Golden Jubilee Concert
To celebrate the Jubilee and Disability Awareness Week
Entertainment provided by
Sound Investment & Hampton House Soundbeams
Thursday June 20th at 7.30pm
At the United Reform Chapel, Harrold
Tickets, price £2, or queries contact Doreen Wheeler (01234) 720358
Corner Club is a local voluntary group affiliated to Mencap. Charity no. 0156368
Village Hall News
Events
If you have an idea or can help with these let us know, and if you would like a venue for a private function, the very reasonable hire fee comes in handy too.
26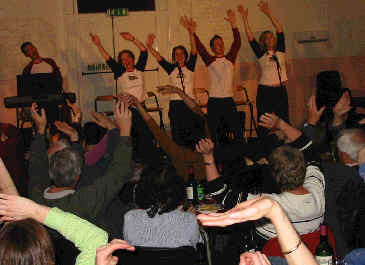 th April 2002 - Time of Our Lives Music Theatre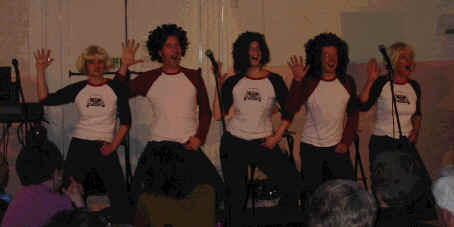 Once again this marvelous theatre group kept us entertained all evening. Two hours of great singing and tremendous humour had everyone rocking with laughter and re-living songs of recent years. Everyone was enthralled with the five talented entertainers who gave us another brilliant performance. And, yes we have been asked to invite them back again with their next show which is currently being put together.
3rd June 2002 – Queen's Jubilee
We are still attempting to book a band to complete our programme for the afternoon and evening. A treasure hunt is being held during the afternoon followed by a family bar-b-q. This in turn will be followed by a dance in a marquee. Details will be posted through doors in the next week or two so do keep this date free in your diary, to join a village celebration of this Royal event.
22nd April 2002 - Annual General Meeting
Our annual meeting was held on this date. The plans for our disability access were on display and received warmly by those in attendance. A copy of the annual report is shown below. The management committee has been informed that our planning application has been successful and we are now in a position to secure the necessary funding to achieve our desired outcome.
Do please support these events, and do suggest to us your ideas for alternative activities. Rob Lee (720730) on behalf of the Village Hall Committee.
2001/2002 Annual Report Of The Odell Village Hall Committee
Once again, we can look back on the last year with a good deal of satisfaction. Villagers continue to support events and the finances are very healthy. Again there has been a varied programme of events, not all arranged by the committee. It is especially pleasing when other people take on the challenge of organising a function for the benefit of our community. Special thanks go to Nicola Schoenenberger and band of helpers for the excellent Burns Night and Roma Garron for organising the Disco and Fish Lunch.
Events, particularly since Xmas, have received great support and helped to "swell the coffers" which gives us a great deal of confidence that creating a new access will help to make the Hall an on-going important village facility. We are pleased that local groups regularly use the Hall for their meetings and social activities. Our thanks go to the Parish Council, WI and more recently Sharnbrook Community College. The Scouts have now moved full time to the "Cub Hut" in Harrold and we thank them for their many years of support and wish them continuing success in their new home.
We have previously reported on the need to comply with new legislation in respect of accessibility for all. Plans for the long awaited new access will be on display and we welcome questions (and offers of help) from villagers.
We remain confident that we can raise the necessary capital from grant making bodies. Income from recent events will be used to indicate our own fundraising efforts and we have been promised a grant from our local Borough Councillor Martin Bridgman, to help with costs of other items which cannot be linked to the access grants.
The support given to the Village Hall is much appreciated and an annual report is at least an opportunity to give thanks to the many people who help to make the Hall a viable local venue. Thanks are offered to all who have organised and supported us (and those I have failed to mention), Doreen Wheeler for making sure the bookings are faithfully kept, and Derek Gadsby for ensuring the hall is cleaned ready for users.
The Current Village Hall Committee is:
Chairman Rob Lee
Vice Chairman Chris Swift
Treasurer Pat Asbery
Secretary Sue Knowles
Members Brian Cheadle, Nicky Freeman, Karen Fulford, Harry Smith, Leslie Knowles and Graham Hill
The Mill Theatre, Sharnbrook
2002 Season
Following the frivolity of 'Lock up Your Daughters' - something for everyone between now and Christmas!
Dates of forthcoming shows and events:
Loot – A black comedy by Joe Orton, and a genuinely quick witted, pungent and sprightly entertainment.
Tuesday 24th September -Saturday 28th September 7.45 pm
Tickets: Tues. 24th: £6, Wed 25th -Thurs.26th: £7.50, Fri. 27th and Sat. 28th:-£8.
Tickets available from 26th August from:
Sharnbrook Village Trader, High Street, Sharnbrook (in person)
Bedford Central Box Office, Harpur Street, 01234 269519 (credit/debit card facilities)
Wellingborough The Castle Box Office, 01933 270007 (credit/debit card facilities)
Group/Party bookings: Please phone Alison Bean 01234 781372
(10% Discount for 10 or more at the same performance. Offer excludes Charity Gala nights).
Exemption Dog Show. Sunday 1st September, Mill Theatre Riverside Grounds. Entries from 11am; judging 12 noon. Pedigree and Novelty Classes. Licensed Bar, Stalls, Light Lunches, Teas.
Details: Theo Gibbs 781298/782377
Me and My Girl - The "Lambeth Walk" Family Musical.
Fri. 8th - Sat 16th November. NB Matinee 16th November.
Primrose Appeal Gala Performance 8th November.
Christmas Revue - Cabaret and Supper with a Festive Flavour.
Fri. 29th & Sat 30th November and Fri. 6th & Sat 7th December.
Plan ahead - make up a party. Interested? Let Erica Lester know 781210!
Help give "The Mill Theatre Disabled Access Fund" a lift. Gail Thorburn, one of our more intrepid members will fulfil a lifetime's ambition this summer for this important cause with a sponsored parachute jump. A cushion of fivers would be wonderful to land on! To sponsor Gail (not necessarily with a fiver) please contact Erica Lester 01234 781210 or Theo Gibbs 01234 782377. Thank you in advance for your support. Happy landing Gail!
Shakespeare at The Globe - Twelfth Night.
Fri. 21st June Mill Theatre 4 pm, also Bedford pick up.
Price: £29/£31/£35 including coach. Phone 781210. A few left.
Summer Drama School - Mon. 29th July to Sat.3rd August. 9-18 year olds. Professional Drama Tutor. Performance 3rd August. Course Fee: £100 - some assistance available. Details and booking: Mrs Erica Lester 781210.
Hire the Mill Theatre.
A unique Riverside Venue of Character for your Special Event this summer. Recently refurbished clubroom with mood lighting, heating and double glazing. Adjacent licensed bar and sitting area overlooking the River Great Ouse. Kitchen and ample parking facilities. Subject to date availability. Please contact Mim Bradshaw 01234 781650 for details.
Can Anyone Help?
We recently received this e-mail. If anyone can give any information about this matter please contact me or the sender of the e-mail. (Address below).
"I have just happened across your Odell Village website and have become intrigued with it. Are there any Odell's living in Odell? Our last name is Odell, and when your village website popped up, so did my curiosity. I would be most interested in any information that you might have to offer.
I have already read your village history, which is quite thorough and most revealing. We are now living in Tupelo, Mississippi, the birthplace of Elvis Presley, but originally came from Michigan. My husband's family originally came from Pre-Revolutionary New York and England. Thank you for your most prompt attention to this matter. I have really enjoyed your website.
Sincerely, Mary Lee O'Dell" Rf.odell@worldnet.att.net"
June Diary
2nd Special Golden Jubilee Service, All Saints' Odell, 10.00am.

3rd Golden Jubilee Celebrations in the village.

6th Meeting of the North Beds. Healing Group, Watermead, Harrold. 8.00pm.

7th Service of Healing, Felmersham Church, 6pm.

8th 2.00pm Village Fete

9th 10.30am Service of Praise held in tent, Horsefair Lane.

9th 12 – 3pm Skip in village.

12th Meeting Point. Manor Cottage, Harrold. 10.30am.

15th Felmersham Pre-School Jumble Sale, Felmersham Village Hall, 2-4pm.

15th, 16th Yelnow Farm Open Days, 11am – 6pm.

19th Jenny Ottewell at Hobbs Green. Bring & Share Supper.

20th Golden Jubilee Concert, United Reformed Church, Harrold, 7.30pm.

22nd Eucharist in St. Albans Abbey to mark 125th anniversary of the diocese. 11.30am.

23rd Harrold Gardens Open, 1.30 – 5.30pm.

26th Meeting Point, Corner House, Rushden. 10.30am.

26th Evening walk to Yelnow New Wood, 7.00pm from Bell..
Magazine Deadline
Please send all entries for the joint July and August magazine to Tricia Hudson (patriciahudson@kbnet.co.uk), Anne Turner or Catherine Corkery by June 12th at the latest. May we remind you that the editorial team exercises the right to edit, shorten or alter any items that are submitted. Also, the opinions expressed in the articles are those of the contributors and are not the responsibility of the editorial team.
Electronic mail address
jh@ti.com

FAX number
01234-721004

Back to the Odell Home Page
---
Last revised: June 03, 2002.