ODELL VILLAGE NEWS
July/August 2002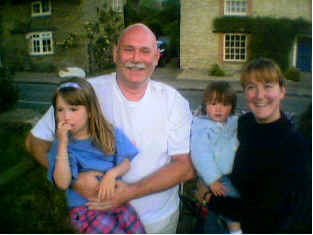 Welcome –

We welcome and say Hello to Steve, Sue, Eleanor and Lottie Robinson who have moved into 32 Horsefair Lane and we welcome them into All Saints as part or our congregation. Our love and prayers are with both families for their happiness in their new homes. Anne Turner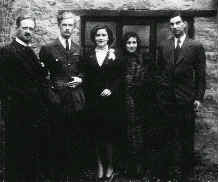 Who is the Person in the Photograph?
I have received a letter from Temperance ( nee Alston) in reply as follows:
Queensland, Australia.
Dear Anne, A friend in Bedford sends me all the Odell Church magazines and I enjoy them so much, read them from end to end, including the advertisements, so am kept well up to date with what is happening in Odell.
Imagine my surprise when on page 23 I saw a picture of a group of five people, three of whom I knew very well. And the caption was: "can you help solve this mystery". It states that the picture was taken in 1940 and shows Flt Off. Newton, nephew of Pat Warren, who crashed his plane in Odell. Who are the other people, etc.?
This is a wartime wedding photo; the bride was Valerie Harper who lived in Carlton, where the wedding took place. The young airman in the picture, the bridegroom was not Flt. Off. Newton, but was a Pilot Officer and I am almost sure his name was Peter Walker. I only met him a few times before the wedding, but I had known Valerie for years. The other girl is Valerie's cousin Peggy Clarke, who also lived in Carlton, and the young man on the right is Jack Harper,Valerie's brother. I think the other man on the left of the picture must be the clergyman - he appears to be wearing a dog collar! My mother and I were there!!
Valerie was a beautiful and charming girl; she and Peter had a short honeymoon, and then Peter was sent to Sth. Africa to help to train young South African pilots for the RAF.
Not very long after, he and a student pilot crashed, and they were killed. So Valerie was a widow not long after her marriage. After the war, I cannot remember the exact date she married Pat Warren, who we all knew was devoted to her, but he was very much older, at least by twenty years.
My brother Crewe and I attended this wedding, it was in Harrold, the reception held in the lovely garden of the house Pat had inherited from his Aunt, Mrs Somerville. I think it was called Harrold House. Pat Warren was a very nice man, and I believe he and Valerie were very happy, and had one child, a son. I lost touch with them when I emigrated to Australia in 1960 - except for Peggy, we corresponded for many years, and then silence, and I have been unable to find out what happened to her. I met Flt Off. Newton only a few times, I think his name was Terry, and he came over from Australia to join the RAF when war began. He was one of Valerie's most devoted admirers, she had many, she was a lovely girl but evidently Flt.Off. Newton was not the one for her.
It was such a tragedy when his plane crashed and he was killed, we were all in shock.
It was wonderful to see you in the summer of 1999. I would have loved to have stayed in Odell longer, and to have tried to find other people who may have remembered me, but I was not at all well, and without a car was finding it difficult to get about. I came to Bedford last year, but made the mistake of arriving in February - it was so cold! I would love one more visit, but fear I am too feeble. Old age is a nuisance, as my father used to say!!
I remember your father, and Reggie and Dorothy and their parents so well.
With best wishes from Temperance.
NB: Temperance and her family lived in the Castle where she had a very happy time and has, as you see, never forgotten Odell. Anne Turner
Odell Village Golden Jubilee Fete June 8th 2002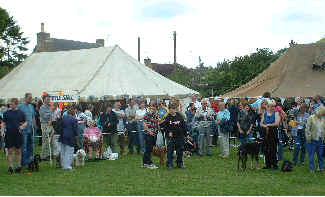 See seperate page of pics (from Home Page)
In spite of dismal weather in the days leading up to the Fete, Saturday 8th dawned bright and fair and the weather stayed good for the entire afternoon! The numerous side-shows, pony and train rides and stalls provided a wealth of entertainment, but the biggest attraction must have been the Dog Show which drew visitors to the fete from many miles away and proved to be a great success. Throughout the afternoon the 'Wode-Hill One-Steppers' Jazz band kept spirits high – even the dogs seemed to be in excellent temper!
The fete was followed by a special service of worship and thanksgiving in the Scout Field on Sunday 9th. The very entertaining yet thoughtful address was given by a visiting preacher, Mr.Roger Fawcett from Riseley. Although the service was held in our tiny village in North Bedfordshire, it felt like a global event with members of the congregation visiting from all corners of the world – a reminder of the brotherhood we share in the family of Christ. The service was followed by a wet but cheerful barbecue.
Competition Results.
The Lucky Programme winners are:
1st (hamper) Shirley O'Shaughnessy in Sharnbrook
2nd (meal at the Bell) Lizzie Jones of Odell
3rd (Milton Ernest tokens) MrsO'Neill of Bedford area
4th (set of dessert dishes) Pat Driver in Bozeat
Raffle Prizes:
1st (£105) Mrs. P Alexander of Felmersham
2nd (£52.50) Christine Chapman of Earls Barton
3rd (£26.25) Nigel Knowles
Unclaimed Prize
The £5 Treasure Hunt Prize won by Mr. Jon Manning, 33 High St., Thurleigh, remains uncollected. If anyone knows Mr. Manning please tell him to contact Tim or Liz Dodwell, 01234 720640.
Birthday Greetings To:
Jonathan Sykes who will be 12 on August 15th and to Miles in Horsefair Lane whose birthday is also in August, and of course to everyone else who has a birthday in August!
Round and About
Odell Dog Show, by Barbara Corley
In this Golden Jubilee year it was considered a good opportunity to introduce a new attraction to our annual fete and the Committee asked Roma Garon to organise Odell's first dog show as the central feature for the event. During the preceding week the weather had been heavy and overcast with frequent bouts of torrential rain and Saturday itself started off wet and dreary. By midday, however, the skies had cleared and soon the car park began to fill up and people to arrive. We had found a window in the wet weather and everyone was set to enjoy a lovely afternoon.
With all the stalls and sideshows around the periphery and a super little round-about for the children in one corner, the centre of the field was given over to the dog show, with chairs placed around the arena for spectators and waiting participants. It was estimated that some 70-80 dogs were present and the eight classes attracted 105 entrants with contestants coming in from Northampton and Rushden as well as the neighbouring villages. Our hard-working judge for the day was Beth Ring from Souldrop, apart from the well-supported Children's Handling Class which was judged by B. Hughes.
We had a light-hearted, happy afternoon when even the dogs seemed to be on their best behaviour and we did not have to wait very long for the rosettes to appear on the collars of the successful entrants. One of the nicest touches to the afternoon took place during the Children's Handling Class when a tiny tot entered her stuffed toy dog into the arena and put the toy dog through its paces alongside the children competing. There were dogs of every shape and size present on the day, from Irish wolf hounds to a tiny pug. No matter the size I did not hear any disagreement all afternoon, although I did hear that a couple of the dogs made it into the river for a cool down at one stage.
I understand that the refreshments marquee did a roaring trade, with the only drawback being, trying to keep the flying willow-seed fluff out of the cups of ready-poured tea. At times the fluff took on the proportions of a mini snow storm!
I later asked Roma for a comment and she said how pleased and surprised she was at the number of entries for a first-time show and that a number of people had asked whether there would be another show at some time.
On the subject of another show, Roma is organising a dog show to take place in the Country Park on Saturday 14th. September, most likely in the area around the Visitor Centre. Details will be available at a later date.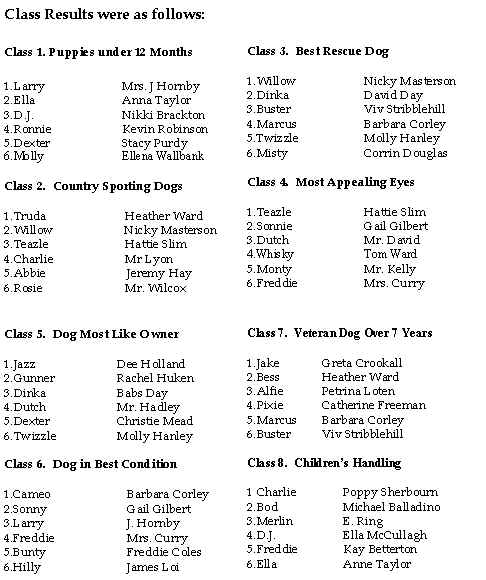 Best Dog in Show selected from lst place in each Class:
Truda, owned by Heather Ward. Class: Country Sporting Dogs.
Garden Party
At Linden House, 93 High St., Odell
On Saturday 20th July at 2.30pm
Proceeds to be split between the Corner Club and the Sparkle Club,
Weekly clubs run by volunteers for adults in North Bedfordshire with learning disabilities.
Teas – strawberries and cream
Cake stall, raffle, side shows
Queries to Doreen Wheeler 720358
W.I.News
There was no meeting this month as so many members were involved in Jubilee celebrations and of course Odell Fete. We are having meetings in July and August instead and we are hoping to get a group together in July to have a taster session at Sharnbrook Bowls Club followed by a drink; details to be discussed at our next meeting.
July and August meetings
In July we meet on Tuesday 9th July at 7.30 in the Village Hall to hear Dennis Bidwell's talk on 'Loos, Lavs and Privvies', while August sees us have our annual attempt to have an outdoor barbecue this year at Rachel Halton's on Tuesday 13th August at 7.00p.m. (Note the earlier time). If we have our normal wet/cold/gales or any other seasonal weather we will retire indoors.
Hostesses and Competition
Mandy Sharpe and Jane Eshelby are our hostesses in July and the competition is a Toilet Paper Collage. Rachel Halton will be hostess in August.
Rachel Halton 720572
Village Hall News
Jubilee Celebrations
Jubilee Celebrations were held on Monday June 3rd. In the afternoon, children of the village joined together for a treasure hunt in the woods, organised by Rob Lee.
Once they'd pieced together the sections of map and solved the clues, finding the treasure was easy and great fun.
The celebrations continued throughout the evening with a bouncy castle for the young at heart and a barbecue. We racked our brains as Rob fired "royal" questions at us in the 'How well do you know the Royal Family?' quiz, then sang and danced the evening away as we watched the Pop Concert at The Palace on a big screen in the Village Hall. Many thanks to all those who helped to make the day such a success.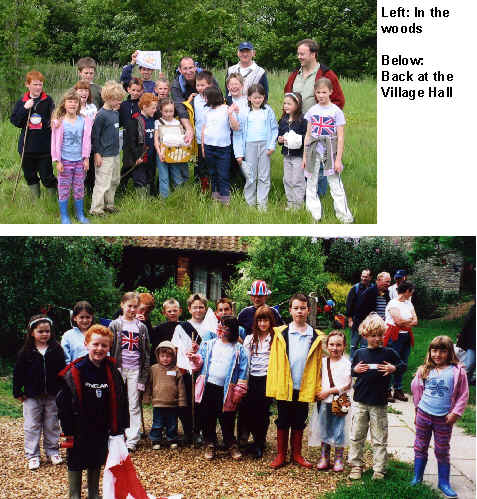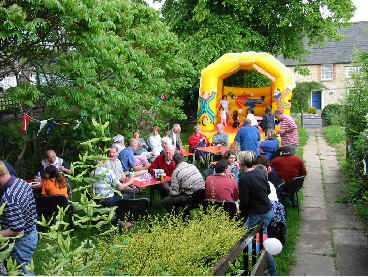 BBQ & Bouncy Castle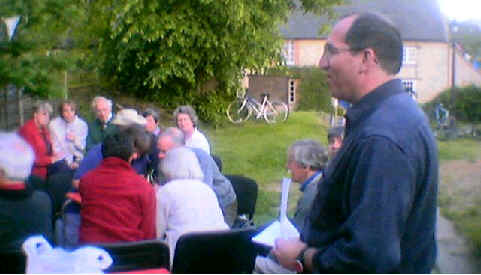 Left: Rob Lee's Royal Quiz
The Mill Theatre, Sharnbrook
2002 Season
Following the frivolity of 'Lock up Your Daughters' - something for everyone between now and Christmas!
Dates of forthcoming shows and events:
Loot – A black comedy by Joe Orton, and a genuinely quick witted, pungent and sprightly entertainment.
Tuesday 24th September -Saturday 28th September 7.45 pm
Tickets: Tues. 24th: £6, Wed 25th -Thurs.26th: £7.50, Fri. 27th and Sat. 28th:-£8.
Tickets available from 26th August from:
Sharnbrook Village Trader, High Street, Sharnbrook (in person)
Bedford Central Box Office, Harpur Street, 01234 269519 (credit/debit card facilities)
Wellingborough The Castle Box Office, 01933 270007 (credit/debit card facilities)
Group/Party bookings: Please phone Alison Bean 01234 781372
(10% Discount for 10 or more at the same performance. Offer excludes Charity Gala nights).
Me and My Girl - The "Lambeth Walk" Family Musical.
Fri. 8th - Sat 16th November. NB Matinee 16th November.
Primrose Appeal Gala Performance 8th November.
Christmas Revue - Cabaret and Supper with a Festive Flavour.
Fri. 29th & Sat 30th November and Fri. 6th & Sat 7th December.
Plan ahead - make up a party. Interested? Let Erica Lester know 781210!
Do you like saving money? Mill Theatre Chairholders do! In return for an investment of £100 they receive 16 ticket vouchers, 4 for each of 4 years – together worth up to £136 at current ticket prices. To become a Chairholder please contact Theo Gibbs 01234 782377 or Erica Lester 01234 781210 for an application form.
Help give "The Mill Theatre Disabled Access Fund" a lift. Gail Thorburn, one of our more intrepid members will fulfil a lifetime's ambition this summer for this important cause with a sponsored parachute jump. To sponsor Gail please contact Erica Lester 01234 781210 or Theo Gibbs 01234 782377. Thank you in advance for your support. Happy landing Gail!
Are you aged 9-18? There are just a few places left to take part in our Summer Drama School from Mon. 29th July to Sat.3nd August. Professional Drama Tutor. Performance 3rd August. Course Fee: £100 - some assistance available. Details and booking: Mrs Erica Lester 781210.
Hire the Mill Theatre.
A unique Riverside Venue of Character for your Special Event this summer. Recently refurbished clubroom with mood lighting, heating and double glazing. Adjacent licensed bar and sitting area overlooking the River Great Ouse. Kitchen and ample parking facilities. Please contact Mim Bradshaw 01234 781650 for details.
Exemption Dog Show Sunday 1st September 2002 in the grounds of the Mill Theatre.
Kennel Club Permission – dogs need not be registered with the Kennel Club. In aid of Mill Theatre Disabled Fund. Reg. Charity no. 242164.
All classes, dog or bitch.
Judge: Pedigree: Mrs Gwynne Herbert (Algwynne).
Trophy Best Exhibit Classes 1-4
Trophy 1. Any variety puppy 6/12 months
2. Any variety sporting
3. Any variety non-sporting
4. Any variety open.
Judge: Novelty Section: Mr Rick Sherwood (Shernold)
5. Newcomers (dogs who have never won 1st prize)
Trophy 6. Rescued or re-homed
7. Best x-Bred
8. Best six legs
9. Young handlers (14 years and under)
10. The one the judge would like to take home
11. Fancy Dress: Dog(s) plus handler(s)
Trophy 12. Sharnbrook: Special canine residents
Trophy 13. Senior Citizens (7 years and upwards)
14. Best matched brace
15. Best Irish brace (ill-matched pair)
16. Happy families – groups of dogs owned by one family
The following may not compete at Exemption Shows:
CC Winners, Res CC Winners, Junior Warrant Winners.
Rosettes to 6th place in all classes – prizes to 3rd place
Free Parking Light Lunches Teas Bar (in theatre)
Stalls Raffle
Entries on the day from 11.00am. Judging 12 noon.
Enquiries before the day: Mrs E.T. Gibbs (781298) or Mr Theo Gibbs (782377).
July Diary
9th Meeting Point, 10.30 am, Jill Cheadle's.
9th W.I. Meeting, 7.30 pm, Odell Village Hall.
10th PCC Meeting
20th Garden Party, 2.30 pm, in aid of Corner Club and Sparkle Club, Linden House, Odell.

31st Morris Dancers on Odell Village Green, 7.30 pm. – TBC
August Diary
13th W.I. Barbecue, Rachel Halton's, at 7.00 pm.
Magazine Deadline
Please send all entries for the September magazine to Tricia Hudson (patriciahudson@kbnet.co.uk), Anne Turner or Catherine Corkery by August 12th at the latest. May we remind you that the editorial team exercises the right to edit, shorten or alter any items that are submitted. Also, the opinions expressed in the articles are those of the contributors and are not the responsibility of the editorial team.
Electronic mail address
jh@ti.com

FAX number
01234-721004

Back to the Odell Home Page
---
Last revised: July 04, 2002.