ODELL VILLAGE NEWS

April 2002

Round and About

Harbingers of Spring

As each spring comes around Mother Nature stirs herself into her annual flurry of activity and we find ourselves welcoming the first snowdrops, enjoying the sweep of daffodils flourishing along many roadways and decorating practically every garden in the land. We see the hedgerows show their first tinge of green before steadily progressing to their full glory. The grass begins to grow and our lawns beckon to us as they demand the first cut of the year. These are signs we acknowledge each year as we move steadily towards the warmer weather but I understand there is one milestone that many areas of the country will be missing this year ... the sound of the cuckoo.

Each year we listen for the first cuckoo of spring and each year the media regularly record the date of the first call. According to 'The Woodland Trust', however, there has been a drastic decline in the cuckoo population and in some areas this loss is as high as 60%. Numbers have been falling for about 30 years and the situation is now so bad that this spring many parts of the country will fail to hear this haunting cry echoing across the countryside.

The cuckoo is a summer visitor, wintering in Africa south of the Equator, and making his return to Britain in March and April. The female lays anything up to 25 eggs each year and has the lamentable habit of placing her eggs into the nests of other birds, all of them smaller than herself. The favourite nests are mainly those of the reed warblers, meadow pippits and the hedge sparrow. The poor deluded foster parents desperately try to satiate the appetite of the monster chick in their nest, not realising that the first action of the interloper was to get rid of their natural offspring. Despite their parasitic habits, however, the cuckoo has always remained a firm favourite and has been welcomed back each spring.

This welcome return is now in question. The Woodland Trust is so concerned as to where and when the cuckoo will put in an appearance that they are asking people to let them know when they first hear this once familiar call. Not only when but, where applicable, how many individual birds can be identified. It is only the male bird that gives the distinctive cry and the female responds by making what can only be described as a bubbling sound. The Trust would also like members of the public who usually hear the cuckoo but realise that this year the sound is missing to get into touch with them as well.

The decline in the cuckoo population is thought to be due to a variety of reasons not least of all the change in climate but on top of the list comes loss of habitat. Not for the cuckoo, it must be said, but for the host parents leaving the cuckoo with nowhere to lay their eggs …which says much for the population of the reed warblers, meadow pippits and hedge sparrows!

We have always been lucky in this area, with the sound of the cuckoo echoing in from all directions, and this year I, for one, will certainly be listening out for that familiar first cuckoo of spring. Barbara Corley

Update to March 'Round and About': at the time of writing the lorries have not yet returned to Horsefair Lane and work on this side of the park is at a standstill. However, on the footpath leading to Odell Road, Harrold, work has recommenced. The path has been excavated to a considerable depth and railway sleepers placed along each side to support the edges. What the in-fill will be is yet to be revealed! Barbara Corley

W.I.News

Mr Ted Bartlett was well qualified to talk about 'The Victorian Music Hall and Variety Theatre' as he comes from a family background of entertaining. He himself first trod the boards at the early age of 9 with his uncle in a song and dance routine. They were known as 'Sandy and Son' and as he himself admits were usually found at the bottom of the bill in very small type. This was in 1941 and the great age of Variety Theatre was over but he took us back to its beginnings at the 'Eagle' in Mile Rd., London. The entertainment was usually by amateurs and was just a means of keeping customers in their seats after a meal and buying more drinks. It evolved into a tradition that made household names of some performers like Marie Lloyd and involved hundreds of professional acts who worked all over the country. Bedford's Music Hall still exists near the station but is now a Zionist meeting Hall.

It was an interesting and informative talk and we finished the evening by singing some of the old music hall favourites.

Next month's meeting

Tuesday April 9th will see us gathered in the Village Hall at 7.30 to hear Dr Mabel Blades talk to us about 'A Smallholding as a Hobby'.

Hostesses and Competition

Jenny Cuddeford and Margaret Jones are our hostesses and the competition is a Spring Posy.

Primrose Appeal Coffee morning

I would like to thank all the members of the W.I. who organised this event and also, a special 'thank you' to the members of the village who supported our Coffee Morning. Although we were disappointed in the numbers who attended we still managed to raise approximately £250. Rachel Halton 720572

House Wanted

Tony and Jo Morris are urgently seeking a house/bungalow in the Odell, Felmersham, Sharnbrook, Carlton and Radwell area.

Roomy sitting room, dining room and good sized kitchen are essential. Other accomodation immaterial.

Price around £300,000. Cash immediately available.

Please telephone 782507.

Odell Parish Council

Attention

- Election of Parish Councillors

The Parish Council has been advised that it is likely that all Parish Councillors will have to be elected in the future. It has been our practice in the past to co-opt Councillors, if there were insufficient persons willing to stand for election. The implication of this is that if there were not enough Councillors actually elected, then the Parish Council would be abolished, and the Parish merged with a neighbouring Parish.

Urgent!

Parish elections take place on 2nd May.

Anyone wishing to stand should get in touch with Rachel Halton (720572), Jonathan Harrison (721115) or Brian Cheadle (720261) ASAP.

Other matters:
The Parish Council has remonstrated over the condition of Church Lane and some minor repairs have been done.

A new notice board has been ordered for the village.

The skip will come to Odell on 9th June. Jonathan Harrison, Odell Parish Council
Welcome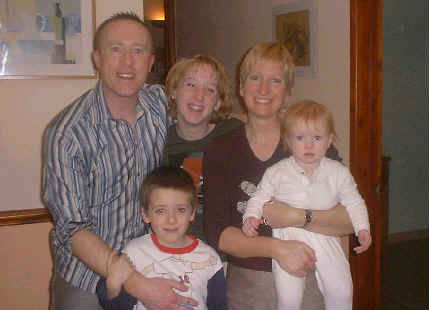 Welcome to the Redferns – Dave, Teresa, Amy (13), James (6) and Cary (1) who have moved into 90 High St.
Village Hall News
Events
If you have an idea or can help with these let us know, and if you would like a venue for a private function, the very reasonable hire fee comes in handy too.
13th February 2002 – Fish and Chip Lunch
Many thanks to Roma for arranging another special lunch. Roma has received a number of well-deserved "thank you" cards from diners and many other positive comments have been passed on. Thanks also go to the band of helpers, all of whom did a stalwart job.
16th March 2002 - Quiz
The annual quiz was held on 16th March in the village hall with a very good turnout. Thanks to all who came along, especially the helpers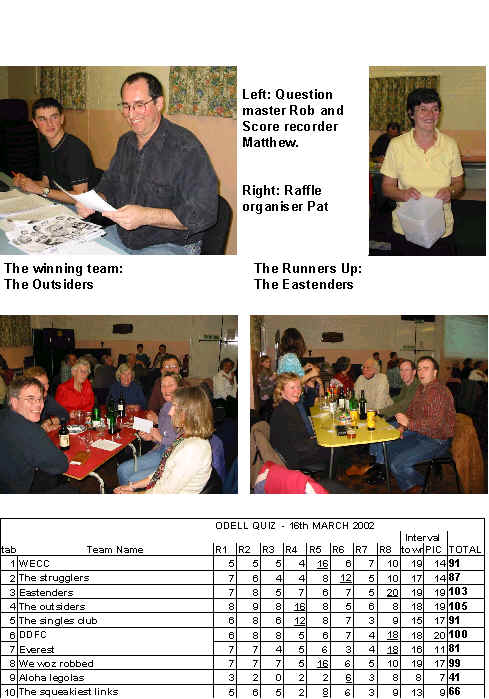 26th April 2002 - Time of Our Lives Music Theatre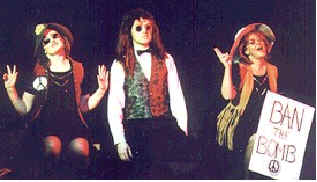 If you missed the brilliant "Gilt and Gaslight" extravaganza last year, then do not miss this year's production of "England Swings". The very talented foursome are back with a new production depicting "life in England, with the fun of jiving during the Festival of Britain in 1951 to pogo-ing at the Silver Jubilee in 1977".
There'll be music from Noel Coward to Punk, from Gilbert and Sullivan to Andrew Lloyd – Webber and packed with laughter. This was a sell-out last year. Tickets are now on sale!!
Don't miss them this time!
3rd June 2002 – Queen's Jubilee
An event is being planned and details will be given out shortly. Do keep the date free in your diary, to join a village celebration of this Royal event.
22nd April 2002 - Annual General Meeting
Our annual meeting will be held on this date. It is hoped to have news on the arrangements for our disability access. The management committee feel this is a crucial deadline for making the new access a reality if we are to meet the requirements of the legislation. Please do support the meeting, at which important decisions will need to be taken on the future of the hall.
Do please support these events, and do suggest to us your ideas for alternative activities. Rob Lee 720730 on behalf of the Village Hall Committee
Friends of Harrold Medical Practice
Sales of Books
The sale of donated books continues to raise a steady income. The sales for the last financial year totalling approximately £558. The surgery have asked that people only donate paperback books as hardbacks do not sell very well and the surgery are stuck with these, storage space being a problem for them. These paperbacks need to be in good condition. Thank you for your support.
Data Link
Data Link is a scheme for anyone living at home who might be reassured to know that essential information would be readily available to the Emergency Services should they suffer an accident or sudden illness.
Your details are stored in a clearly labeled plastic container, which is kept in your fridge. Two matching labels, known to the Emergency Services and other care agencies are displayed in your house. One on the outside of your fridge door and the other on the inside of your front door (placed so it is not visible from outside).
If you would like one of the above pots please call in at the surgery reception.
Local Medicines to Nepal Project
Sharon Jackson from Carlton, with the help of the doctors and staff at the surgery, has set up an innovative programme collecting and sending unused medicines to a medical centre in Kathmandu. The surgery is unable to reuse medication returned to the practice and all medication that is returned has to be destroyed. Sharon approached the practice some time ago and supplied them with a list of medication needed by the Kathmandu medical centre. At the practice we sort through the returned medication and pass the relevant drugs on to Sharon. Sharon then makes up a parcel and sends this off to Kathmandu. If you are interested in helping Sharon with the cost of postage, there is a collection box at the surgery or you can contact Sharon on 01234 721379.
Primrose Project Calendar
The surgery has asked us to thank all those patients who supported the above appeal by purchasing a calendar. The total sum raised so far is approximately £4,400. Arrangements are being made to hand the money over to the Primrose Appeal Co-ordinator.
Transport Problems
A new service is available– Red Cross Rider – to get you to your hospital/surgery appointment, shopping trip or to visit a friend. For more information on this service please call the British Red Cross (Bedford Branch) on 01234 349166.
Chairman : Mrs Frances Hirst Tel. No. 01234 825212
Treasurer : Mrs Marjorie Crabb Tel No. 01234 720257
Secretary : Mrs Joyce Clayson Tel No. 01234 720218
The Mill Theatre, Sharnbrook
2002 Season
"Lock Up Your Daughters" Friday10th May to Saturday 18th May
By Laurie Johnson, Lionel Bart and Bernard Miles.
This bawdy musical was the opening production of the new Mermaid Theatre in 1959 and tells of the adventure of sailors eloping, mistaken identity, counter plot and cries of "Rape!" all set in 1730s London. Adults only!
All shows 7.30pm.
Tickets: Sat. 11th- £8, Mon. 13th - £7, Tues. 14th -Thurs.16th - £8, Fri.17th and Sat. 18th -£8.50
Gala Performance for Bedfordshire W.I. Fri. 10th May
Dates of forthcoming Shows, Workshops and Auditions
"Loot" Drama by Joe Orton. 24-27 Sept 2002 -7.45pm.
Workshops: Tues 16thand Fri 19th April 7.45pm
Auditions: Sun.21st April, time TBC. Rehearsals start 11th June.
Details: Susan Moore: 01933 318318
"Me and My Girl" The "Lambeth Walk" Musical, Fri 8th-Sat 16th Nov. 7.45pm.
Workshops: Mon 20th & Wed 22nd May 7.45pm.
Auditions: Sun. 26th May, time TBC.
Details: Melanie Coleman: 01933 315043 or Julie Futcher 01933 624308
Silent Auction with Cheese and Wine
Sat 27th April, 8pm at The Mill Theatre - a fun evening!
Tickets: £5 available from Christine Norman 01832 733770, to whom please offer your gifts of items to sell (eg: objets d'art, furniture, craft items, unwanted presents, plants, tickets for events/visits etc,) and Promises of Services (eg: gardening, dress making, lessons/learn how to &, Caravan/Apartment/Cottage/Tent for a week/weekend, Birthday/Wedding Cake; use of swimming pool/sauna/tennis court; dog walking; a manicure/make-over/hair-do); the more, and more unusual/amusing, the better!
Calling former "Sharnbrook Players"
Join us for "The Lambeth Walk"!
Sharnbrook Mill Theatre have been invited to perform, 'in costume', The Lambeth Walk from Me & My Girl in the Golden Jubilee Sharnbrook Playing Field Fete Arena on Monday 3rd June, pm, perhaps with one or two Pearly Kings and Queens! We would be delighted if you would join us then and, prior to that, at the Mill Theatre to rehearse on Mon. 20 & Wed. 22 May at 7.45pm. (No obligation to audition for the show!). Please contact Theo Gibbs 01234 782377.
"Why don't you make your way there and …...".
Summer Drama School 2002 Mon. 29th July to Fri. 2nd August, at Sharnbrook Mill Theatre, for those aged 9-18 years, under the direction of a professional Drama Tutor, culminating with a performance on Saturday 3rd August. Course fee £100. Please apply to Mrs Erica Lester, on 01234 781210 The Mill Theatre, Mill Road, Sharnbrook, Bedford. Just a few places left.
Tickets are available now from:
Sharnbrook Village Trader, High Street, Sharnbrook (in person)
Bedford Central Box Office, Harpur Street, 01234 269519 (credit card facilities).
Wellingborough The Castle Box Office, 01933 270007 (credit card facilities).
Group Party Bookings: Please phone Alison Bean 01234 781372
10% discount for 10 or more at the same performance.
Ten Friends, Night Out? Families, groups or organisations booking together 10 or more seats on the same night benefit from a discount of 10 %! Please contact Alison Bean 01234 781372 to arrange. Offer excludes Charity Gala Performances.
April diary

1st Pilgrimage to St. Alban's Abbey.

9th Meeting Point, 10.30am Eileen Shakespeare's.

9th 7.30pm W.I. Odell Village Hall.

10th, 17th 7.45pm Basic Course in Healing Ministry, St. Andrew's Church, Bedford

20th Harrold Pit Run

20th Children's Work Training Session, Norton, Herts.

22nd Village Hall Committee AGM.

23rd 7.30pm onwards, Meeting of Parishioners followed by Annual Parochial Church Meeting, Village Hall.

24th Meeting Point, 10.30am, Jill Cheadle's.

24th Basic Course in Healing Ministry, details as for 10th.

24th Time of Our Lives Music Theatre, Village Hall.
Magazine Deadline
Please send all entries for the May magazine to Tricia Hudson , Anne Turner or Catherine Corkery by April 12th at the latest. May we remind you that the editorial team exercises the right to edit, shorten or alter any items that are submitted. Also, the opinions expressed in the articles are those of the contributors and are not the responsibility of the editorial team.
Electronic mail address
jh@ti.com

FAX number
01234-721004

Back to the Odell Home Page
---
Last revised: April 01, 2002.