ODELL VILLAGE NEWS
November 2001
Birthdays
We send our love and "Happy Birthday" wishes to Georgina Ardley who be celebrating her 2nd birthday on 29th November.
Round and About
Deja Vu
At about this time last year England plunged headlong into the wettest winter on record since 1766, resulting in thousands of people being flooded out of their homes.
Met. Office figures show an average rainfall across England and Wales of 1,299 mm (51 inches) in the 2000/01 period beating the previous record of 1,285 mm (50 inches) set in 1872. Whist we had a considerable amount of rain throughout the year the vast majority fell during the Autumn months. You may recall that it all started in Kent, Sussex, extending into Hampshire. We then learned that the City of York had been inundated by that other River Ouse, the worst flooding that City had experienced in 400 years. Shortly after this it was the turn of the western half of the country.
The pundits assured us that it was all due to global warming and that in future years we can expect to see our winters become more and
more subject to annual flooding. A year later I find myself looking at the situation today! It was in October last year that it all started and yet again I find myself looking out over a waterlogged landscape.
The country has already seen gales of up to 81 mph. We have faced rain, hail and thunder storms. Once again householders are being warned to expect flash floods and dangerous driving conditions.
Norfolk has already seen a mini tornado which left a swathe of damage consisting of debris, shattered roofs and up-turned trees across three villages. Much of the south coast was flooded, in certain places up to a depth of 2 ft. from torrential rain. In Lyme Regis the coastline was battered by waves topping 20 ft., whilst in Bournemouth an inch of rain fell in one hour and the town suffered their worst flood in ten years. Hampshire Police found themselves pleading with motorists to stay off the roads because of treacherous driving conditions. Flash floods have damaged buildings and brought chaos to roads. Doctors were forced to cancel three operations at Tunbridge Wells Hospital when two inches of flood water invaded the operating theatre. £800 worth of damages was caused at Brighton and the seafront was closed. Over 1000 homes were left without electricity in Dorset, Hampshire and Sussex after the downing of power lines.
Every time I watch the television news the scene seems to be backed by torrential rain. We have certainly received a considerable quantity of rain in Odell, (happily not in the above quantities) but you will probably recall that we escaped the very worst of the weather last year. However, as I look out of my rain streaked window today I begin to wonder if we are in for a repeat performance.
By the time you read this it will be the beginning of November and everything may have changed. We might even be enjoying a mini-heatwave. At the beginning of October the Environment Agency issued a statement saying that there are increasing concerns about flooding this winter because weather patterns similar to those that brought devastation last year are beginning to take shape again.
If weather conditions continue along the present course we could well be in for another wild, wet and windy winter. It could well be a case of standing by to batten down the hatches!
Barbara Corley
NSPCC Collection
The recent House to House collection which took place in the village raised an amount of £130.00 for the NSPCC. Many thanks to everyone who contributed.
Odell Scout Troop.
Meetings in November (7-9 pm):
7th Village Hall
14th Village Hall
Welcome
We welcome Jeremy, Helen, Emily and Catherine Hay who have moved in opposite the church.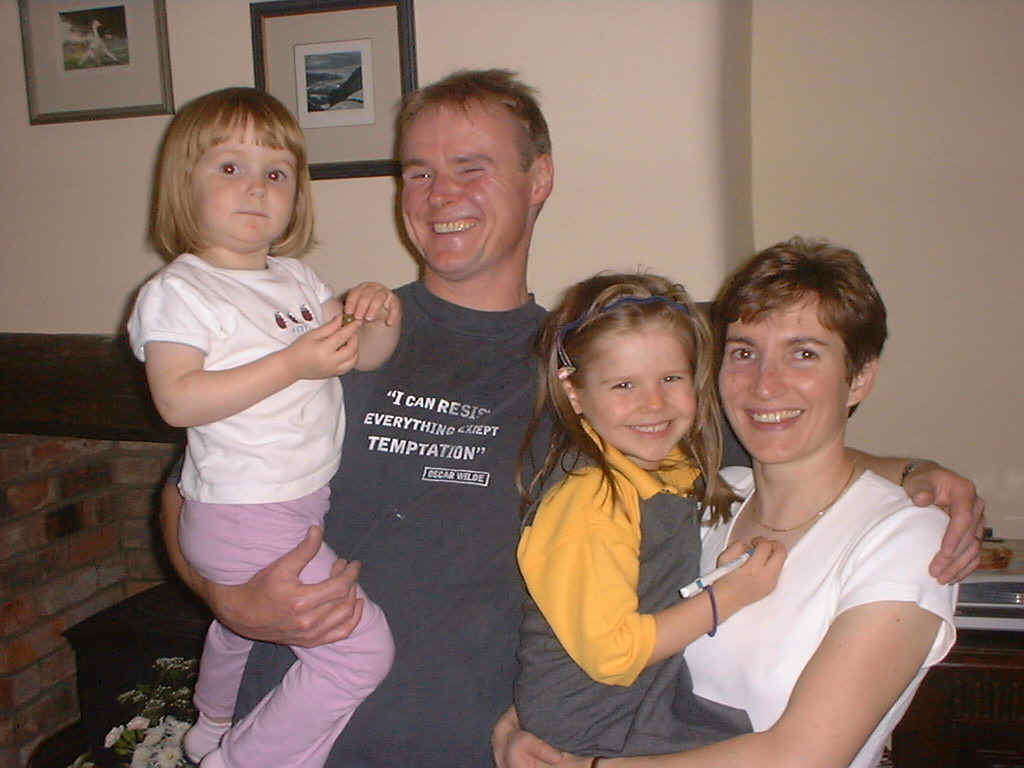 Village Hall News

Folk Music and Dance

– 10th November

A good night out for all musical tastes and good company.

Christmas Party – 16th December

We are keen to hold a party for all the family but particularly the children, so put the date in your diary.

New Year's Eve – 31st December (in case you forgot)

An open house is being planned for a New Year's Eve "get together". It is hoped to revive an enjoyable event from years gone by.

Do please support these events, and do suggest to us your ideas for alternative activities.

Rob Lee tel: 720730 on behalf of the Village Hall Committee

W.I.News

This month's meeting took the form of a fashion show and sale. We welcomed ladies from the village and other W.Is. to Odell Village Hall. The first part of the evening was a fashion show and we must express our thanks to our models for the evening: Barbara, Jane and Audrey from the W.I. and Collette, Noreen and Georgie from the village; we couldn't have managed without you. Thanks also to everyone who donated a raffle prize and helped in so many ways during the evening. The second part of the evening allowed everyone to try and find that perfect outfit or at least have a good gossip and giggle. Thanks to everyone for the support.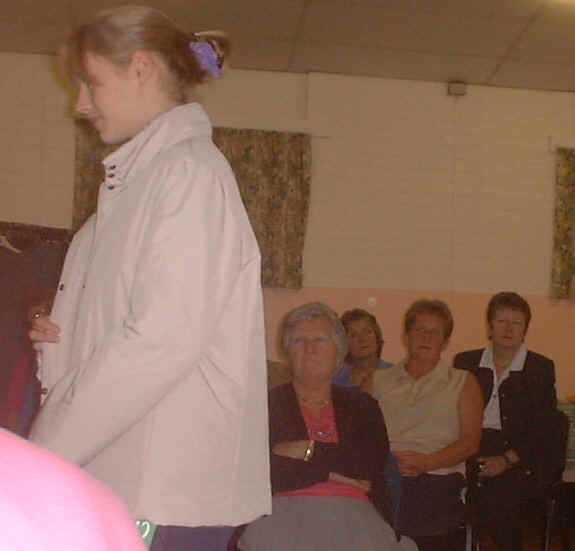 Next month's meeting
This will be on Tuesday November 13th at 7.30pm in the Village Hall. Penny McKenzie will be demonstrating Christmas Crafts. All welcome: just turn up or give me a ring first.
Hostesses and Competition
Mandy Sharpe and Jane Eshelby are the hostesses and the competition is "A Christmas Candle Decoration".
Rachel Halton 720572
Coffee Morning
A coffee morning and sale of Mencap cards will take place at
93 High St., Odell
on Saturday 17th November 10.30 – 12.00.
All proceeds to Sparkle Club:- a weekly club run by volunteers for adults with learning disabilities.
Please pop in for coffee, or, if you can't make it, I have catalogues from which cards may be ordered.
Doreen Wheeler .Tel. 720358
Concord Singers Christmas Concert
The Concord Singers from Harrold will give
a concert of Christmas music in St. Peter's Church , Sharnbrook, on December 8th at 7.30pm.
Wine will be served.
Admission £7.00, concessions £5.00, in aid of The Primrose Appeal.
The Mill Theatre, Sharnbrook 2001 Season
"Sweeney Todd" - The Demon Barber of Fleet Street
Friday 9th November – Saturday 17th November, 7.45pm.
Stephen Sondheim's thrilling musical adaptation of the mid-Victorian 'blood and thunder' melodrama –terror, crime, villainy …justice!
Tickets
Friday 9th November :
Gala Evening Performance for Rushden Chichely Rotary – tickets £10 available from 01933 312950 during office hours,
Saturday 10th & Monday 12th - £7.00
Tuesday 13th to Saturday 17th - £8.00.
See over for Booking Offices.
Christmas Revue
Friday 30th November, Saturday 1st December, Friday 7th and Saturday 8th December 2001, 7.45pm.
Tickets: £12.50 to include supper prepared by The Mill House Restaurant, Sharnbrook.
Following the upgrading of our Clubroom 'Studio Theatre' and Bar, a warm welcome awaits you!
Tickets for these shows are available from one month before performance from:
Sharnbrook Village Trader, High St., Sharnbrook (in person).
Bedford Central Box Office, Harpur St., 01234 269519
Wellingborough Castle Box Office, 01933 270007
Group/Party Bookings – Phone Alison Bean 01234 781372 (10% discount for 10 or more at same performance).
Mill Theatre Costume Hire is well worth a try for your Christmas Party or Fancy Dress costume. Please contact Virginia Pope 01933 356974 for further details.
November Diary

3rd 10 – 1pm Some Enigma of Healing, St. Andrew's Church, Kimbolton Rd., Bedford.

3rd` 6.30pm Bonfire Night, The Park, Moggerhanger.

7th 10.30am Prayer Morning, The Park, Moggerhanger.

7th 7.00pm Scout Meeting, Odell Village Hall.

10th 7.00pm Iulia Mocioc in Concert in Carlton.

10th 7.30pm Folk music and dance, Odell Village Hall.

13th 7.30pm WI Odell Village Hall.

14th 10.30am Meeting Point, Liz Dodwell's, Watermead, Odell Rd., Harrold.

14th 7.00pm Scout Meeting, Village Hall.

17th 11.00am The Park, Moggerhanger, AGM and Open Day.

17th 10.30am Coffee Morning & sale of Mencap Christmas cards. 93 High St., Odell.

21st 7.00pm Scout Meeting, Cub hut.

22nd 10.30am Demonstration of Christmas decoration making, St. Peter's, Sharnbrook.

27th 10.30am Meeting Point, Jane Eshelby's, Newton House, Avenue Rd., Rushden.

28th 7.00pm Scout Meeting, Cub hut.

December diary.

5th 10.30am Prayer Morning, The Park, Moggerhanger.

7th 10.30am Christian Family Care Coffee Morning, Hobbs Green Farm.

8th 7.30pm Concord Singers Concert, St. Peter's, Sharnbrook.

11th Meeting Point Christmas lunch. Venue tba.
Magazine Deadline
Please send all entries for the joint December/January magazine to Tricia Hudson (triciahudson@kbnet.co.uk), Anne Turner or Catherine Corkery by December 12th at the latest. May we remind you that the editorial team exercises the right to edit, shorten or alter any items that are submitted. Also, the opinions expressed in the articles are those of the contributors and are not the responsibility of the editorial team. We really would like to receive more articles for the magazine. Anything which might be of interest to the church or village is most welcome. In particular we are keen to encourage more pictures. (.jpg attachments to emails are particularly easy for us to process!)
Electronic mail address
triciahudson@kbnet.co.uk

FAX number
01234-721004

Back to the Odell Home Page
---
Last revised: October 27, 2001.